Have you ever tried making Chicken Kabobs in Oven? If not, you are missing something! They come out as juicy as the grilled ones and they are so flavorful thanks to the great kabob marinade with garlic, yogurt, lemon, spices and olive oil. Although these are baked in oven, the fun part about kabobs is still there. Grab your skewers and thread chicken and veggies on them!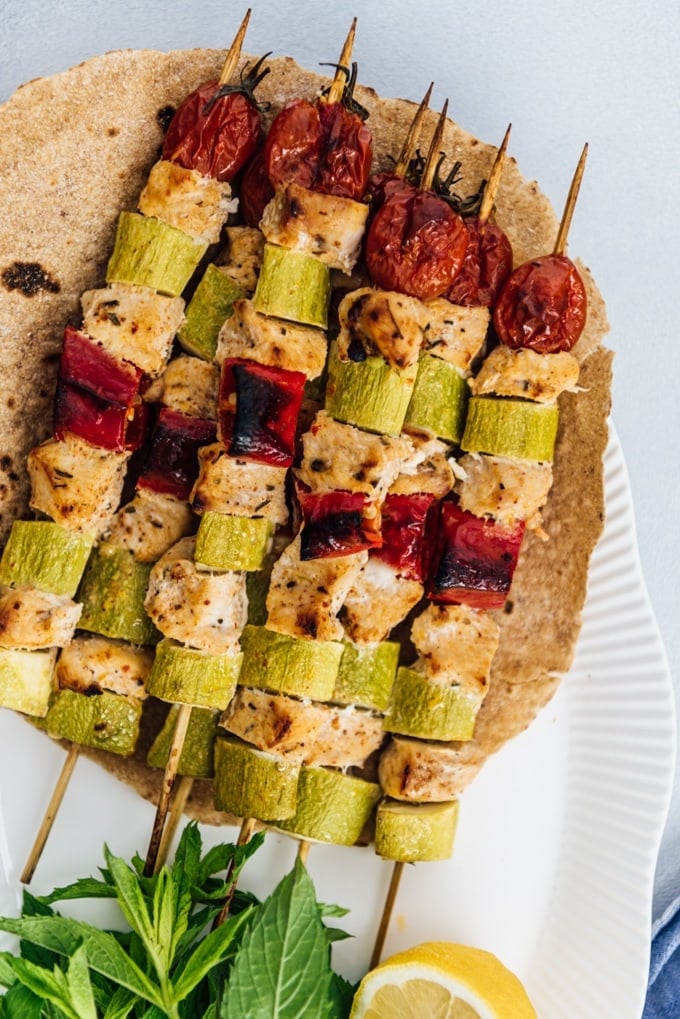 I first tried this chicken shish kabob recipe completely out of necessity. It was already April and the weather started to get a bit warmer so we planned a picnic on the following Sunday. Of course, we were planning to make grilled chicken kabobs.
However, the weather did not play along and it turned out to be rainy that day. Everybody was already dreaming of chicken kabobs so badly that we decided to still have them without any picnic outside. The problem was we live in a flat, so grilling at home is not an option. At that point, I asked myself: "How about baked chicken kabobs?" After all, I make Veggie Kabobs In Oven and they come out delicious. So, I made these chicken skewers in oven and they turned out to be awesome thanks to the marinade that is almost the same as the marinade in our Lamb Shish Kabob Recipe. Now folks at home welcome the baked shish kabobs as enthusiastically as the grilled ones.
How To Make Chicken Kabob Marinade 
I have to tell you that the marinade has a key role in this chicken kabob recipe. What goes in this amazing marinade?
Yogurt
Olive oil
Mashed garlic
Lemon zest
Salt
Black pepper
Chili powder
Aleppo pepper
Cumin
Thyme
The mashed garlic in it absolutely carries this chicken shish kabob to perfection. Lemon zest, olive oil and the spices give this marinade lots of delicate flavor. Yogurt inside make the meat soft and juicy. The marinade is just too important for the perfection of the flavor.
Can I use this chicken kabob marinade for grilled chicken kabobs too? Absolutely!
You will also need a few hours to let the chicken in marinade so that they can soak in the marinade properly and you can get the most of the flavor.
How To Prepare Chicken for Baked Kabobs
This is super easy and fun. Take your skewers and thread the chicken cubes and veggies onto skewers. The order of the chickens and veggies are completely up to you. Create your own combinations. Place them on a parchment paper lined baking sheet.
I can hear you asking "How should I cut chicken breast for kabobs?" Here is the answer:
Cut it lengthwise into two and then cut them into square chunks. 1 to 1 ½ inches is fine. Don't cut it too thin or too small for two reasons:
It will be really hard to thread them on skewers.
They will dry out easily.
If you are using wooden skewers, remember to soak them in water for an hour. This is very important.
How to Cook Chicken Kabobs in Oven
We have four easy steps to for this recipe ; marinading the chickens, threading the chickens and veggies on the skewers and baking.
First, start with the chicken shish kabob marinade. Whisk together yogurt, olive oil, salt, black pepper, chili powder, cumin, thyme, mashed garlic and lemon zest.
Second, cut the chicken in cubes (1 ½ inch) and put them in a deep dish. Pour the marinade over them and give it a good stir. Make sure all the chicken is covered with the marinade. You need to refrigerate it at least 1 hour, but 4 hours would be even better. Then your chicken will absorb the marinade flavors better and will be softer and tastier.
Third, grab your skewers. If you are using metal skewers, you're good but if they are wooden, remember to soak them for an hour. After soaking them for one hour, thread the chicken cubes and veggies onto skewers. Then place them on a parchment paper lined baking sheet.
Finally, bake your shish kabobs. You will need 30 minutes of baking time. First bake in the oven for 15 minutes, then flip them over and bake for another 15 minutes or until the chicken is cooked.
What To Do With Leftover Baked Chicken Skewers
It is very unlikely that you will have any leftovers from this delicious meal but if this is the case, it makes a great lunch next day. Remove from the skewers and reheat them in a non-stick pan. Either in a sandwich bread or wrapped in flour tortillas, it is a very practical go to lunch. If you want to go light, chop some greens and add in your leftover chicken and you will have a delicious chicken salad for lunch next day.
Keep in mind that chicken must be reheated only once. Try not to have any leftovers after reheating it.
Best Sides For Chicken Shish Kabob In Oven
The best chicken kabobs sides are as follows:
These baked kabobs disappear in no time when served with these. Protein packed and fibre-rich, these mediterranean chicken kabobs make a great dinner both for your family and your guests. They are so healthy and delicious when paired with one or more of these.
FAQs About These Baked Chicken Kabob Recipe
What kind of chicken to make kabobs?
Both chicken breast and chicken thigh are good options to make skewers. Chicken breast is easy to work with while chicken thigh is juicier and more flavorful. That's why the marinade has an important role when baking chicken breast.
Also, don't thread breast and thigh on the same skewers as they have different cooking rates.
What vegetables can I use?
You can play around the veggies you thread on the skewers. Traditionally in Turkey, we use peppers and onions only. Sometimes we prefer them with no veggies. However, I love them with veggies. Isn't it a great way to eat veggies anyways? My favorites are zucchini, tomatoes and peppers with chicken on the skewers but here are a few more options:
Eggplants
Carrots
Potatoes
Onions
Mushrooms
Corn on the cob
I even add fruit like pineapples or peaches sometimes to have a fresh and sweetish taste in my mouth. It is especially good when it is summer.
You can use the same marinade for the vegetables in a separate bowl. But I just drizzle a little olive oil on each vegetable after threading them on skewers right before baking.
How should I thread chicken and veggies on skewers?
Thread the cubed chicken and veggies on skewers in the order you like. They can touch each other but make sure they are not too tight. You might end up with some uncooked parts if they are too close to each other.
Can I use metal skewers?
You can definitely use stainless steel skewers when making chicken kabobs in oven. They are even better when making beef or lamb shish kabobs because they require longer time in oven.
On the other hand, wooden skewers are the best for this recipe because we don't need to clean them afterwards. Lol! Remember to soak the wooden skewers in water for before using so that they don't burn in oven.
How long should I soak wooden skewers?
When baking kabobs in oven, soak them for about an hour before using. However, if you are planning to make your kabobs on the grill, soak them longer. Overnight is the best.
How long should I cook chicken skewers in oven?
Chicken usually takes 20-30 minutes in the oven at 450F, depending on the size of the chicken pieces. You don't want your kabobs burnt or dried out so keep an eye on them while baking.
Baking them for 30 minutes is usually enough. Don't forget to flip them over after 15 minutes so that all sides are cooked. After 30 minutes, check them to see if all parts are cooked. Cook for another 5 minutes if needed.
How many kabob skewers per person?
You can serve these to 4 people. These measurements make 16 skewers in total, so you can serve 4 skewers per person.
I just put the leftover vegetables on the baking sheet without skewers, drizzle some olive oil over them and bake them at the same time. Serve them on the side of your kabobs as a bonus.
Can I freeze them?
It would be a good idea to freeze these chicken and veggie skewers uncooked. When you want to bake kabobs, just thaw them in the refrigerator overnight and then bake. They make a super easy weeknight dinner.
Can I make chicken kabobs in air fryer?
Yes! Preheat the oven at 350F. Place the chicken skewers into the air fryer basket and cook for 20 minutes.
How can I reheat chicken kabobs?
If you have any leftovers, remove them from skewers and store covered with plastic wrap in the refrigerator. You can reheat them either in oven (at 400F) or in a non-stick pan on the stove (over medium low heat).
Drizzle some water over the chicken pieces and reheat them covered. 5-10 minutes will be enough for either method. Don't forget that reheated chicken should be eaten up in one sitting. You can't reheat it more than once.
Now take out your meal out of the oven and tell your family to be ready for the best chicken kabobs ever!
More Baked Chicken Recipes You Might Like
Other Chicken Recipes You Might Like
Print
TURKISH CHICKEN KABOBS IN OVEN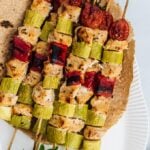 Chicken kabobs in oven are soft, juicy and flavorful thanks to a chicken kabob marinade made with yogurt, olive oil, garlic and spices.
Author:
Prep Time:

1 hour 20 minutes

Cook Time:

30 minutes

Total Time:

1 hour 50 minutes

Yield:

4

1

x
Category:

Dinner

Method:

Baking

Cuisine:

Turkish
Marinade:
1 cup

yogurt

¼ cup

olive oil

1

and ½ teaspoon salt

1 teaspoon

black pepper

1 teaspoon

chili powder

1 teaspoon

Aleppo pepper

½ teaspoon

cumin

1 teaspoon

thyme

2

cloves garlic, mashed

1 teaspoon

lemon zest
Chicken Skewers:
2

pounds chicken breast cut into cubes (

1 ½

inch)

2

red peppers, cut into

1

inch pieces

1

zucchini, cubed into

1

inch pieces
Cherry tomatoes
Instructions
Whisk together all the ingredients for marinade.
Put the chicken cubes in a deep dish, pour the marinade over them. Stir so that all of them are covered with the marinade. Refrigerate at least 1 hour, but 4 hours would be even better.
Soak the wooden skewers for an hour.
Thread the chicken cubes and veggies onto skewers. Place on a parchment paper lined baking sheet.
Bake in the oven for 15 minutes. Flip them over and bake for another 15 minutes or until the chicken is cooked.
Keywords: spicy kabobs, Turkish kabob, chicken kabob, kabob marinade