Iskender Kebab, also known as Iskender doner, is an incredibly delicious and rich dish packed with flavors. Loads of doner meat, pide bread, tomato sauce and yogurt are all on the same plate. It does take a bit of time, patience, and effort, but it is worth every second!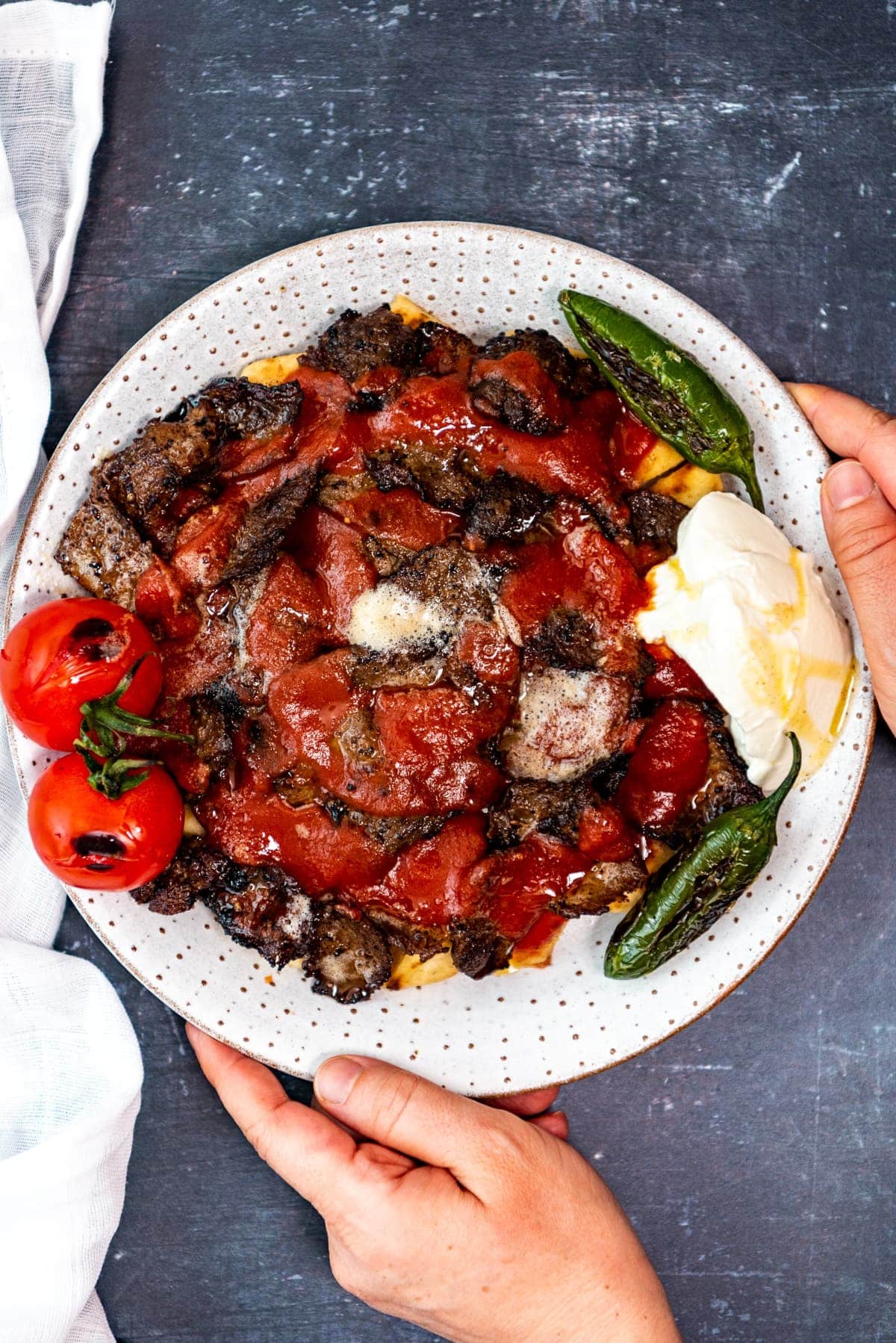 If you've ever been to a Turkish food restaurant, there's no doubt that you've come across delicious Turkish kebabs! Iskender kebap, which is like the advanced version of Classic Doner Kebab Recipe, is one of these kebabs. It is so famous in Turkey, especially in the city of Bursa.
Iskender kebab döner is one of the most popular Turkish dishes. It is packed with a ton of flavors to create a beautiful blend of refreshing yogurt, soft pide bread, salty-sweet tomato sauce, and rich meaty döner.
Today we will look at everything Iskender Kebab! Not only exactly how to make it and all of its ingredients, but also how to eat it, serve it, and possible substitutes you can use.
Jump to:
What Is Iskender Kebap?
Iskender kebab is just another traditional Turkish way of serving döner. It mainly consists of döner meat which is made from thinly sliced and cooked ground lamb or beef. The meat is unique in and of itself as it gets cooked vertically.
Normally, doner kebab is served either in wraps or with rice pilav and salads on a plate.
But iskender doner kebab is served on top of pide bread and tomato kebab sauce, accompanied by yogurt and topped with extra tomato sauce and browned melted butter.
This kebab is so popular in Turkey that you will find many restaurants that only serve Iskender! These are the places that have the tastiest iskender kebabs in the country. So if you happen to visit Turkey one day, look for an iskender restaurant to enjoy this out-of-this-world dish. And if you are lucky enough to travel to Bursa, eat it at Kebabçı İskender and thank us later.
What Does Iskender Mean?
Iskender kebab, or sometimes referred to as Bursa kebab, is named after the founder of this mouth-watering dish, Iskender Efendi. His family owned and operated a restaurant when Iskender suggested baking meat vertically. Ever since 1867 this dish has only increased in popularity and has achieved fame across the globe!
What Are The Ingredients?
To get the closest taste to the real iskender kebab, we use ground beef (15% fat) to make its doner. We combine it with some spices, onion juice, yogurt and milk just as we do in Homemade Classic Doner Kebab Recipe. Besides the doner, we need some bread, tomato sauce and browned butter for iskender döner.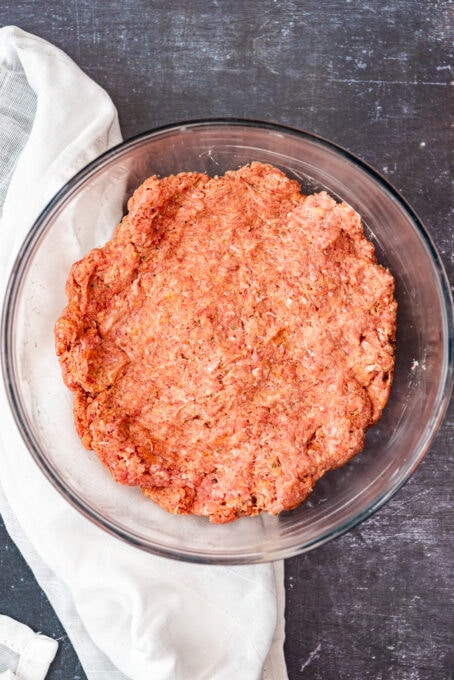 What Bread Is Used?
The only type of bread that you can use for Turkish iskender kebab is pide ekmek, a Turkish bread similar to pita.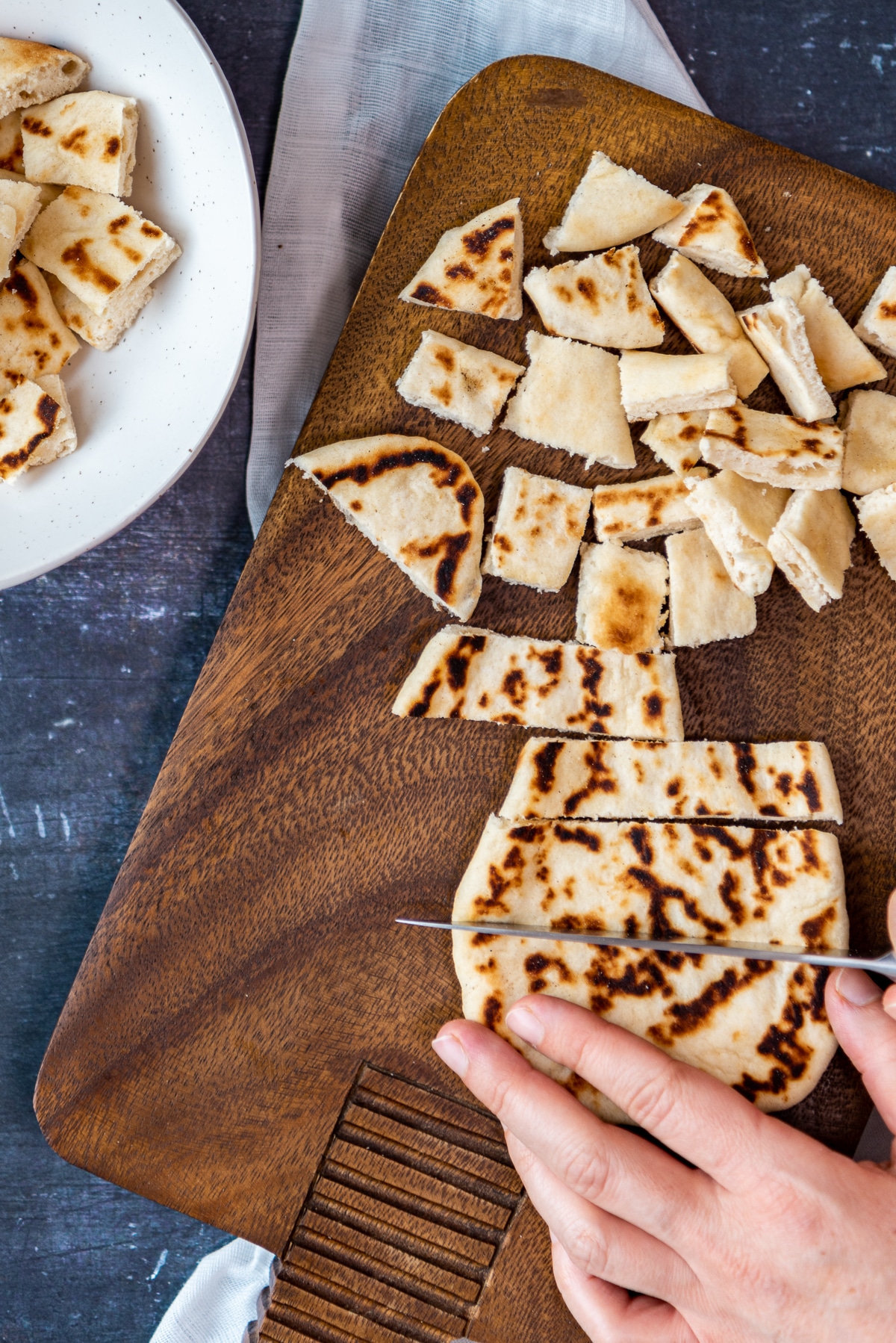 This is a yeast-leavened flatbread that forms large pockets when cooked. It is an incredibly popular type of flatbread in Turkey and especially baked during Ramadan month.
What Is In The Tomato Sauce?
Any iskender sauce consists of butter, tomato paste, salt, black pepper, and a form of tomato puree.
You can either choose homemade tomato puree (blended cooked tomatoes) or store-bought tomato juice or passata sauce.
Passata sauce is not a traditional ingredient in Turkey. We discovered it at markets in the UK. And to our surprise, this sauce helps a lot to reach the genuine iskender sauce taste we used to have in Turkey.
What Makes This Recipe The Best?
This recipe outshines any other of its type! This is because it has the closest taste and texture (virtually the same) to the real iskender kebabs served at local Turkish restaurants.
One of the reasons is that we make it with ground beef, just like we do in our homemade döner kebab recipe.
This is a dish that definitely requires some patience and planning, but it is worth the effort!
How To Make Iskender Doner
The recipe has 5 folds.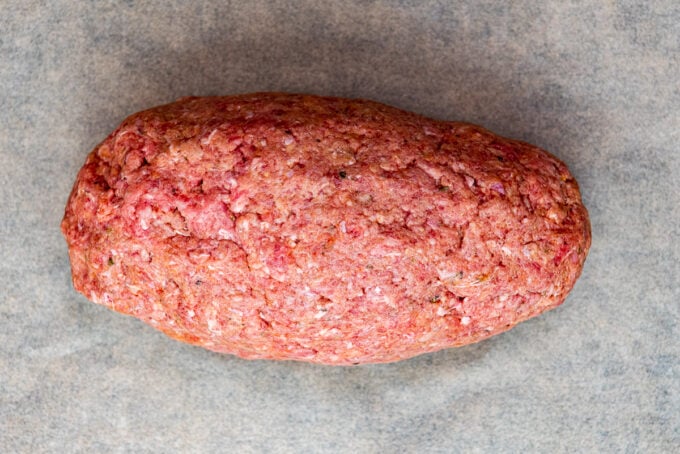 First, prepare the doner meat. To make this, combine beef, onion juice, seasonings, yogurt and milk very well. Shape it into a log, wrap and let it rest in the fridge for 2 hours. Then transfer it to the freezer and let it sit there at least for 8 hours.
Second, make the tomato sauce. Melt the butter in a saucepan, add the tomato paste and tomato juice, puree, or passata. Mix well before adding the water, salt, and pepper.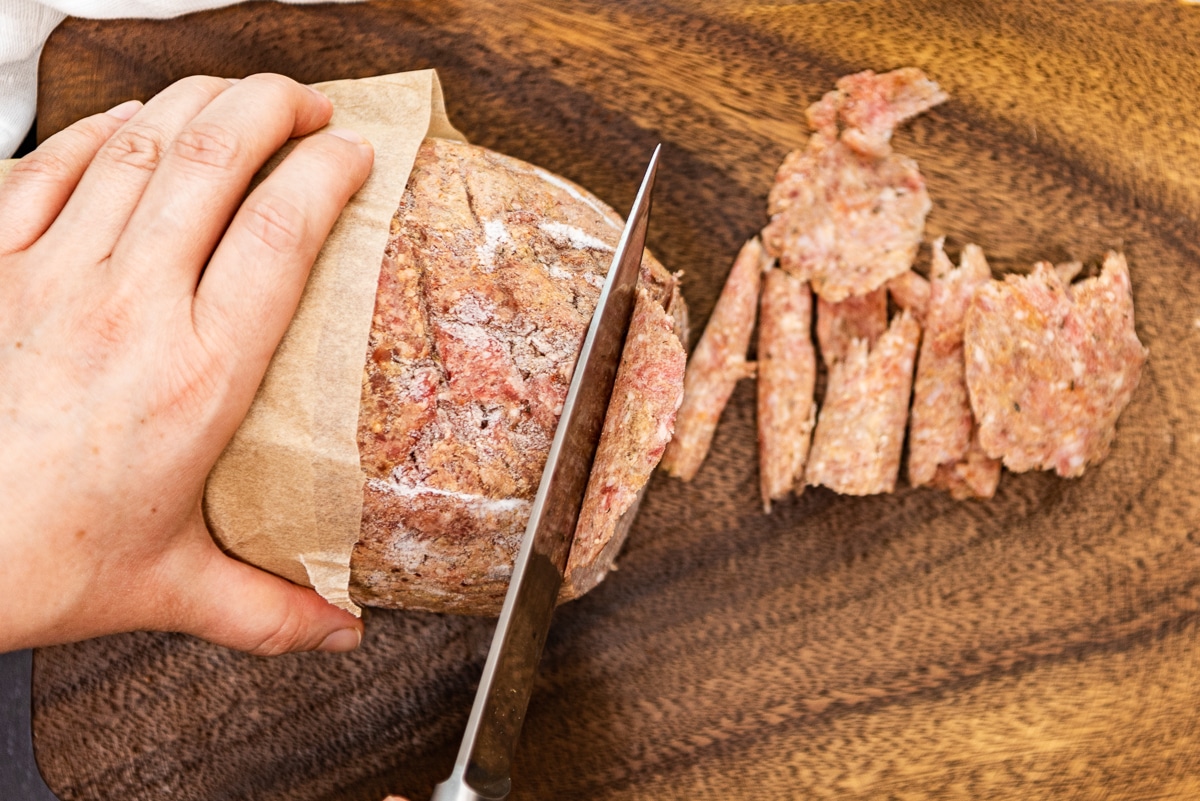 Third, cook the doner meat. Remove it from the freezer, let it sit at room temperature for 10 minutes and shave slices. Cook these slices in butter over high heat.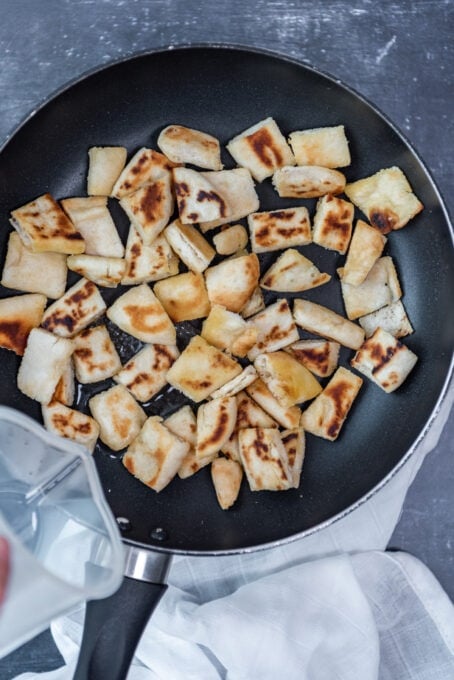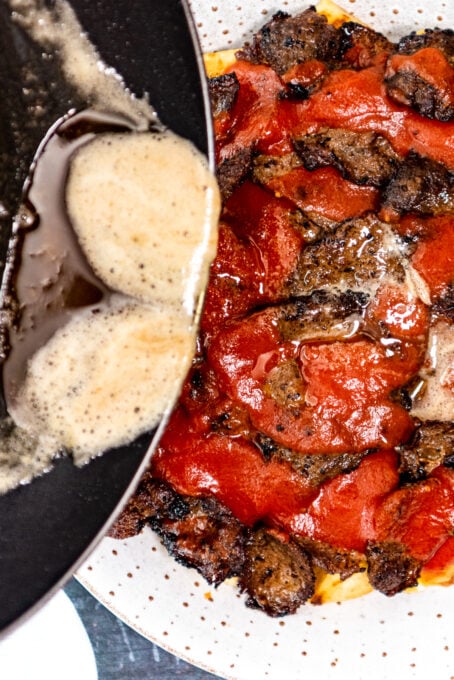 Fourth, heat the pide chunks in a hot pan with a splash of water. You can also add the drips in the pan in which you cook the meat.
Finally, brown the butter and serve the iskender kebab with tomato sauce and a drizzle of melted butter.
Serving
To assemble your iskender kebap, start by placing your heated pide bread pieces on a plate. Then drizzle over a bit of tomato sauce, followed by your cooked döner meat. Use as much meat as you want!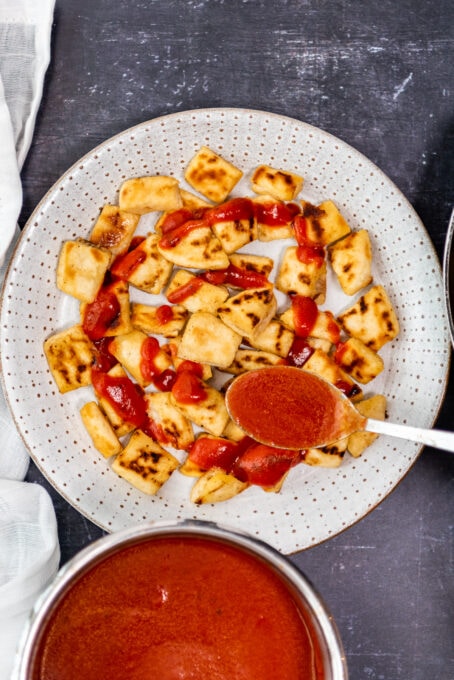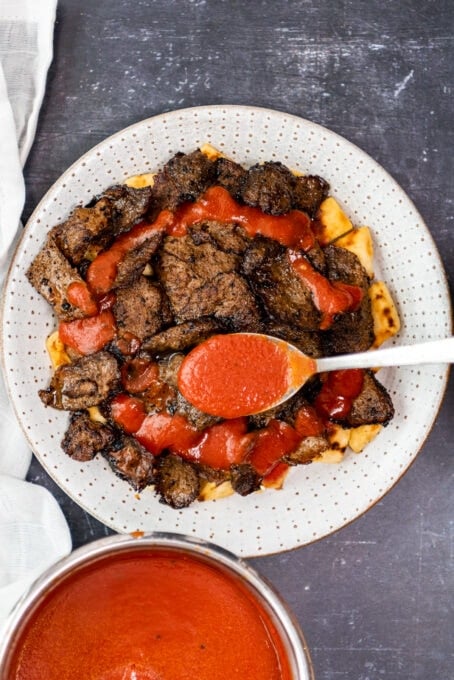 Next, add a generous amount of tomato sauce over the meat, and then a big dollop of regular yogurt or preferably strained thick yogurt. The yogurt helps balance the flavors.
Garnish the dish with some roasted or fresh tomatoes and green peppers on the side of the meat. Lastly, finish the dish by drizzling some freshly browned butter over it.
This dish is very fun to eat! You want to dig right into it once it is put on your table. But use your fork wisely! You want to grab a bit of everything on it. Also, beware of the plate if you are eating it at a restaurant because it is always served on a hot plate.
What Are The Best Sides?
A great side dish for iskender kebap would be a bowl of refreshing Turkish salad. Some chain restaurants in big cities serve it with French fries, but it is definitely not traditional. And really no need for it when you have one of the tastiest dishes in the world on your plate. So the only thing we would recommend to pair with iskender kebab is cold water.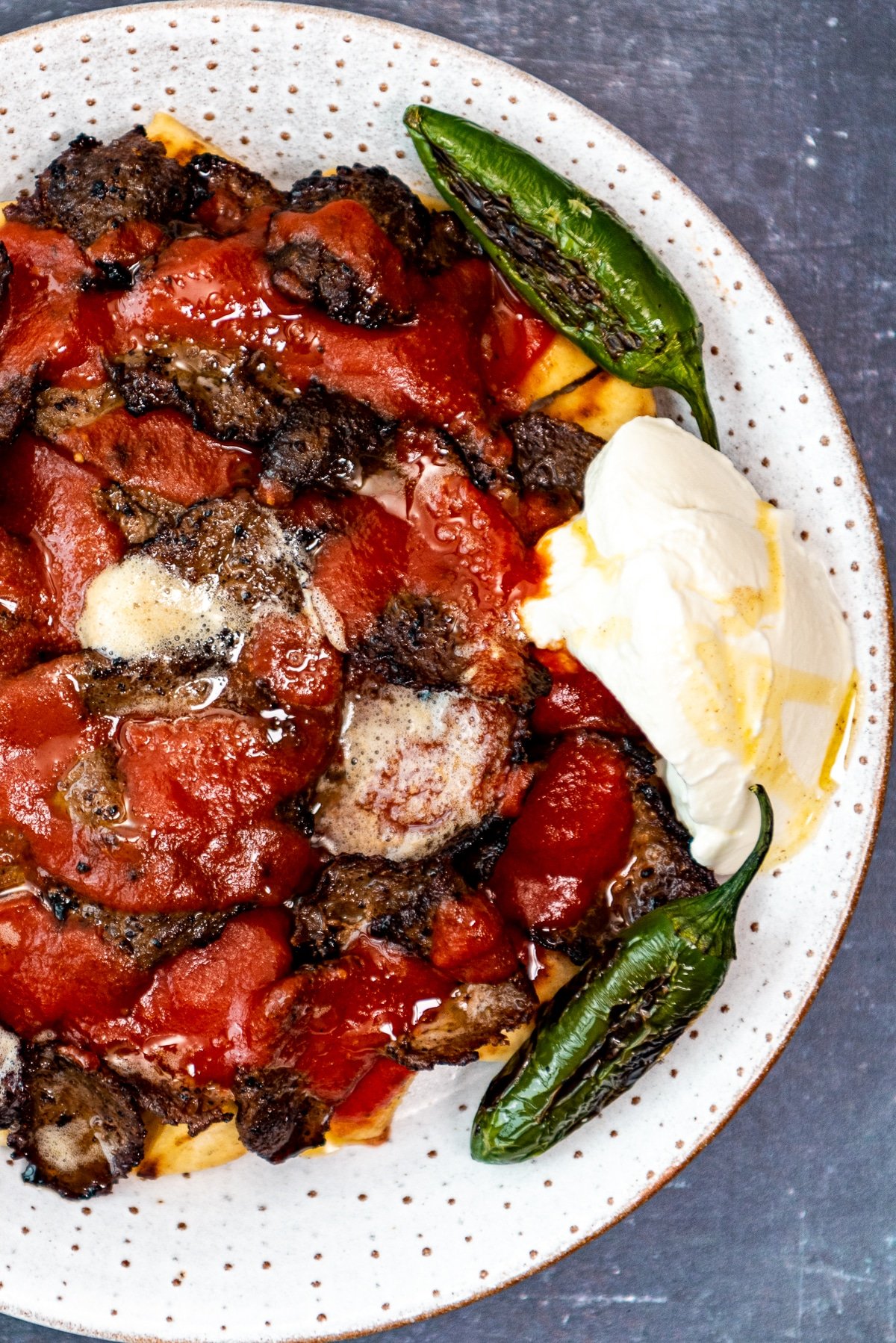 Can I Make This Recipe With Steak?
You can make this recipe with steak, but it won't have the same taste and texture as a traditional iskender kebab recipe. It would become a completely new dish.
What makes the meat in this recipe so unique is that it is made using döner meat, which isn't a solid piece of meat, but rather a blend of ground meat that has been frozen and cooked.
Not to mention you won't be able to get the steak slices as thin as it needs to be.
Can I Make It In Advance?
You can definitely make the döner meat log and tomato sauce in advance – we actually recommend it! This will save you a lot of time and makes assembling dinner much easier.
More Kebab Recipes
As always: If you make this recipe, let us know what you think by rating it and leaving a comment below. And post a pic on Instagram too—tag @give_recipe so we can see!
Sign up for the FREE GiveRecipe Newsletter to get the new recipes into your inbox! And stay in touch with us on Facebook, Pinterest, YouTube and Instagram for all the latest updates.
Print
📖 Recipe
Iskender Kebab Recipe
Iskender kebab is a pile of pide bread, doner meat and tomato sauce drizzled with browned butter. 
Author: Zerrin & Yusuf
Prep Time:

30 minutes

Cook Time:

20 minutes

Total Time:

50 minutes

Yield:

6

Category:

Dinner

Method:

Cooking

Cuisine:

Turkish
Doner Meat:
1 large onion

1 kilo/2lb ground beef (15% fat)

2 teaspoons salt

½ teaspoon black pepper

½ teaspoon cumin

1 teaspoon oregano

1 teaspoon garlic powder

½ teaspoon isot pepper (or paprika)

4 tablespoons yogurt

2 tablespoons milk

2 tablespoons butter to cook döner
Tomato Sauce:
3 tablespoons butter

2 tablespoon tomato paste

2 cups passata or tomato juice/puree

½ cup hot water

½ teaspoon black pepper

1 teaspoon salt
To Serve:
4 cups cubed pide bread

1 cup yogurt

4 tomatoes

4 green peppers

3 tablespoons butter, melted and sizzling
Instructions
Doner Meat:
Puree the onion in a food processor. Sieve its juice into a large mixing bowl. We just need the juice.

Put the ground beef, döner kebab seasoning, salt, yogurt and milk in the same bowl. Combine them well using your hand. Give it a log shape.

Transfer it on a baking paper and wrap it tightly. 

Let it rest in the fridge for 2 hours. Then transfer it to the freezer and let it sit there for 8 hours or overnight. You can remove it from the freezer when you are ready to cook.
Tomato Sauce: 
Melt butter in a saucepan. Add in tomato paste and tomato juice/puree or passata. Pour water over these. Add in salt and pepper and cook over medium heat until it boils. Reduce the heat to the lowest and let it simmer for 15-20 minutes.
Cooking Doner:
While your sauce is simmering, you can cook the doner. Remove it from the freezer and let it sit on the counter for 5-10 minutes. Hold the döner log with a piece of baking paper and carefully make large thin slices (like shaving) using a sharp knife. 

Heat one teaspoon butter in a non stick pan over high heat. Line sliced döner pieces in a single layer and cook both sides until nicely brown. 

Cook döner in batches and never overload the pan. You can transfer the cooked pieces on a plate and finally put them all the pan just to heat a bit right before serving.
Heating Pide Bread:
While you are cooking the doner, you can heat chopped pide bread in a pan with a splash of water. We want them soft, so you can add a little more water if needed.
Assemble the kebab:
Place heated pide bread chunks on a plate. 

Drizzle a little tomato sauce over them. 

Top it with cooked doner meat (as much as you want). 

Pour a generous amount of tomato sauce over meat.

Place a dollop of yogurt, roasted or raw tomatoes and green peppers on the side of the meat on the same plate.

Drizzle sizzling butter over these and serve immediately.
Nutrition
Serving Size:
Calories:

1075

Sugar:

14.7 g

Sodium:

2591.1 mg

Fat:

66.6 g

Carbohydrates:

55.1 g

Protein:

64 g

Cholesterol:

242.8 mg
Keywords: iskender kebab, iskender kebap, Turkish iskender