Turkish Pide Bread Recipe (Ramazan Pidesi) is incredibly easy and fun to make! It only contains a few basic ingredients which creates a deliciously soft and fluffy bread!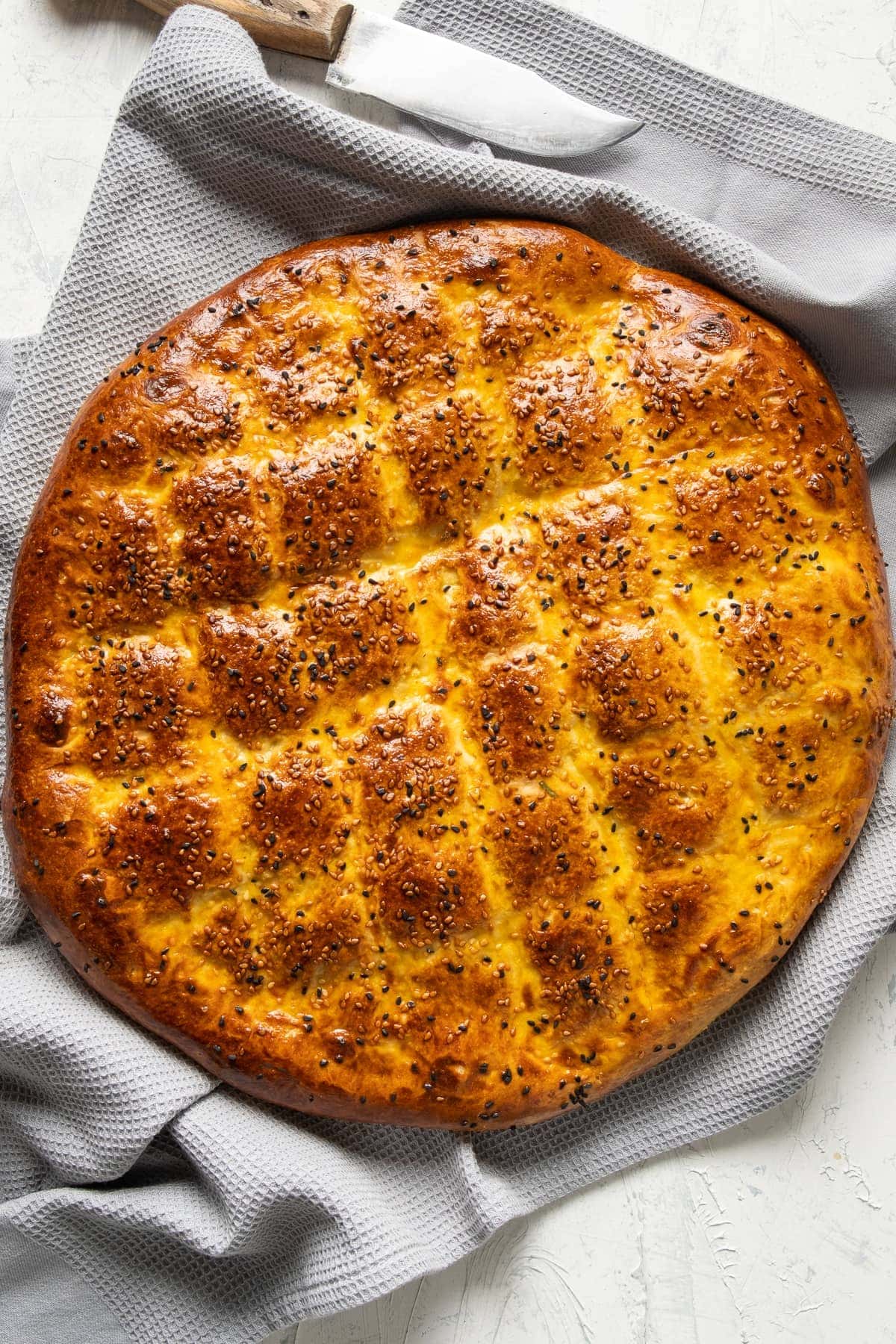 Pide bread is one of the traditional Turkish breads like bazlama bread, simit and lavash bread. Its dough is shaped by hand, dented with wet fingertips and then topped with sesame seeds. It is specially sold in bakeries during Ramadan.
You can't think of meaty doner kebab or Bursa iskender kebab without pide.
In today's article, we will be having a look at what exactly Turkish bread pide is, from the ingredients used, to the correct and authentic shaping and cooking method. We will also look at some storage methods, and how to best serve this flatbread.
Jump to:
What Is Ramazan Pidesi?
Bread means ekmek in Turkish and there are several types of ekmek in Turkish cuisine. This Ramadan bread is just one them.
Pide, pronounced "pee-DEH", is a staple bread in all Turkish households and is especially popular during the month of Ramadan.
This holy month is dedicated to spirituality and reflection and also has a time for fasting during the day. Once Ramadan fasting has been broken, a feast of flavors awaits and this special bread is always the star of it.
Ramadan bread, or in Turkish Ramazan pidesi, is a leavened flat bread that uses yeast. It is traditionally shaped by hand into either a circle or oval.
The texture of the bread itself is unmatched! It is soft, fluffy, and very porous. Another thing we love about this bread is its simplicity. It only contains a few basic ingredients, but the ratios they are used in leaves you with a beautifully balanced palate.
Pide bread is often served at iftar dinner time in Turkish culture during Ramadan called. The best thing to serve with soups. And traditionally you end the meal with the delicious Ramadan dessert gullac.
Pide Bread vs Pide
Both pide bread and pide are types of Turkish flat bread, but they are completely different.
We know that most of you love pide (pizza-like flat bread), which is one of the most popular Turkish foods. This bread recipe shouldn't be confused with that one!
So what are the differences? Please read on!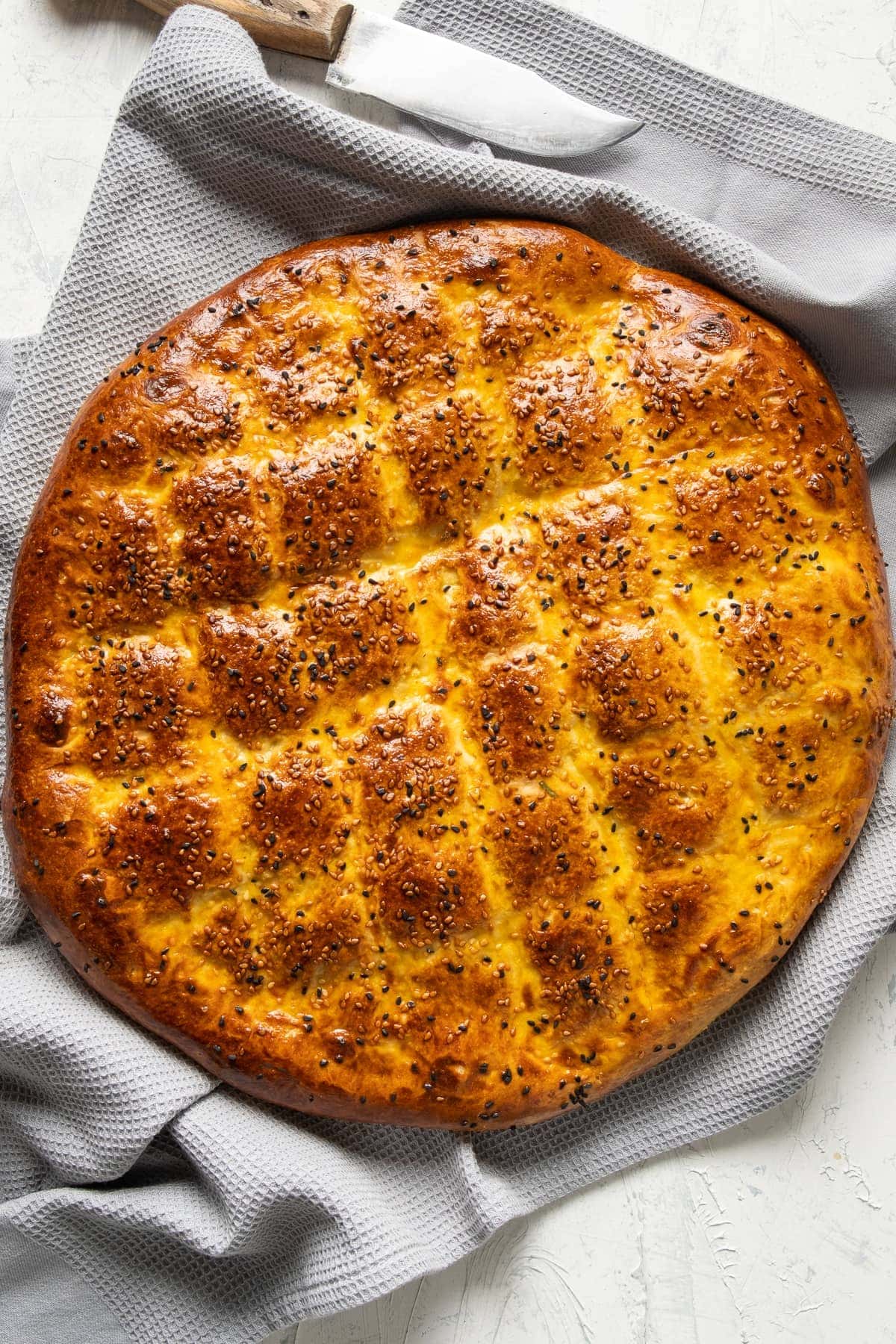 Pide Bread:
Shape: Typically oval or circular.
Texture: Soft and pillowy.
Appearance: Features indentations on the top, often sprinkled with sesame seeds and nigella seeds.
Serving Tradition: Traditionally paired as a side dish, complementing soups or main courses.
Pide:
Shape: Distinctly boat-shaped, reminiscent of a pizza.
Toppings: Adorned with a variety of fillings, including cheese, meat, and vegetables.
Design: The edges of the pide are folded over, encapsulating its toppings.
Serving Tradition: Typically served as a standalone main dish.
In a nutshell: Pide Bread is a soft, seeded bread often accompanying other dishes. Pide is a boat-shaped, topped delicacy, enjoyed as a primary meal.
Is It The Same As Pita?
No, pide bread and pita are not the same, though they both originate from the broad family of flatbreads. Here are the primary differences:
Origin:
Pide bread: It is a traditional Turkish bread.
Pita: This bread has Middle Eastern and Mediterranean origins.
Texture & Shape:
Pide bread: It is shaped by hand into an oval or circle. A border is created by hand, as well as diagonal lines to form diamonds inside.
Pita: Generally round and flat. It is known for its characteristic pocket that forms in the middle when baked. This pocket is ideal for stuffing with various fillings.
Usage:
Ingredients
This Turkish bread recipe only calls for a few simple ingredients that you already have at home.
Flour – We would recommend using all-purpose flour and make sure to have a bit more than 3 cups available for dusting and shaping. Bread flour works fine too.
Sugar and Salt – These ingredients help activate the yeast and also helps to balance the flavors.
Instant yeast – For this recipe, instant dry yeast works best as you can add it straight into the mixture.
Olive oil – Oil acts as a tenderizer in recipes and will help improve the texture of the bread.
Milk – Your milk must be lukewarm to help activate the yeast. Milk also enriches the dough and helps add color.
Water – The water also has to be lukewarm to activate the yeast. The water will be our binding ingredient in this recipe.
Egg yolk and Milk – This mixture will help add color to the top of the pide.
Sesame seeds – You can choose either white or black sesame seeds for your topping. We love using the black ones as they provide a beautiful contrast.
How To Make It
Prepare the dough:
Combine the flour, sugar, salt, and yeast in a large bowl. Add the oil and milk and gently mix the ingredients together with your hands. Slowly add water and continue mixing until you get a soft sticky dough. Cover the dough and allow it to rest until it has doubled in size.
Shape the dough:
Once the dough has risen, gently fold out the air. Place the dough on a baking sheet and shape it into a circle or oval with wet fingertips. Make a circle inside the dough, leaving a 3cm border that will act as the edge of the bread.
Using your wet fingertips again, make a deep diagonal pattern on the dough. Allow it to rest for another 15 minutes.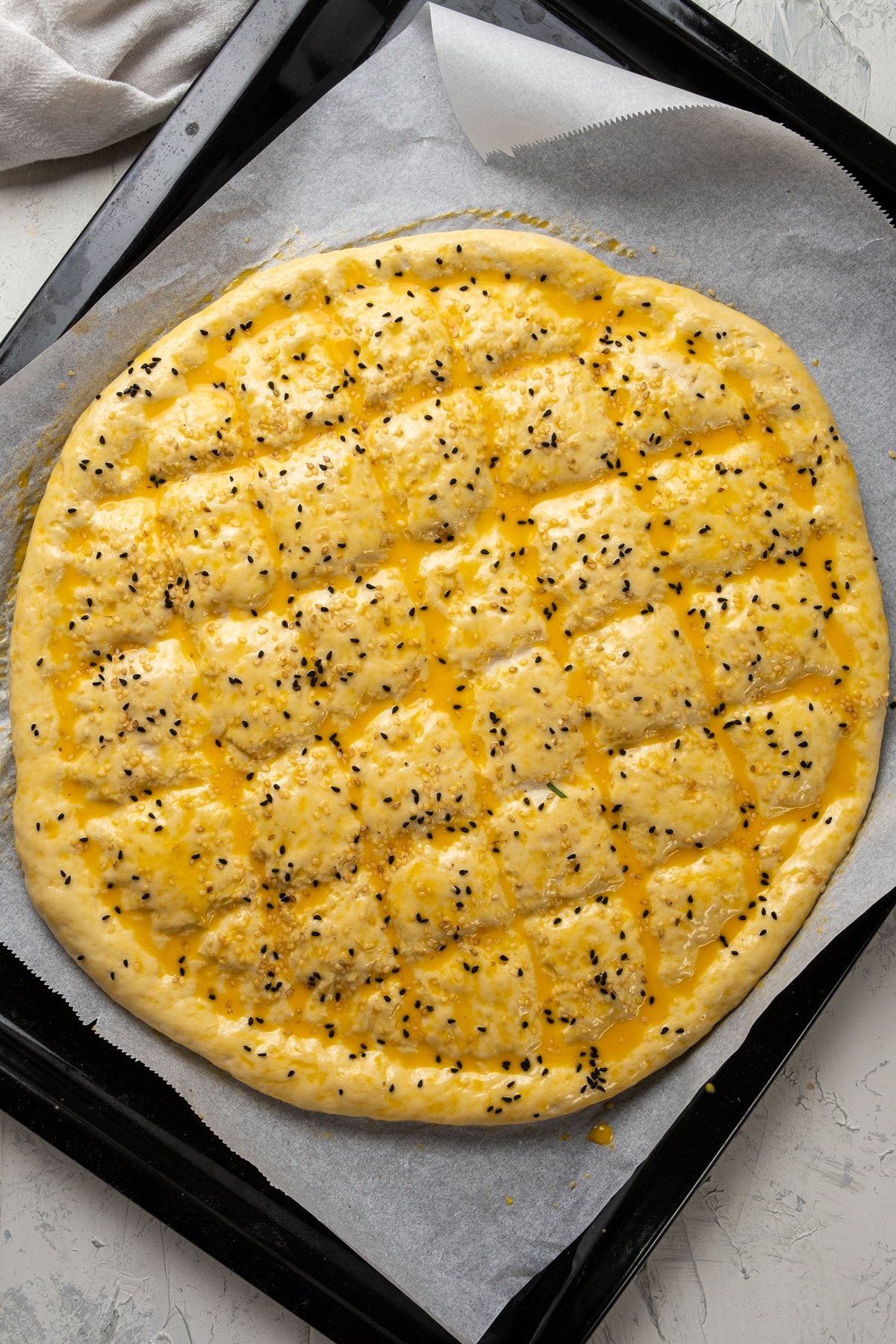 Make egg wash and bake:
While the dough is resting, preheat the oven to 400°F (200°C). Line a baking sheet with non-stick paper, or you can use a pizza stone.
Combine the egg and yogurt (or milk) together and whisk well. Brush the egg wash over the bread and sprinkle the sesame seeds over it. Bake the pide bread for about 20 minutes or until it is golden brown. Reduce the heat to 320°F (160°C) and bake another 5 minutes.
Remove it from the oven and cover it with a damp kitchen towel. Allow it to rest for 15 minutes before slicing and serving it.
Storage
Ramadan pide bread can be stored at room temperature in an airtight container for about a week.
Keeping your bread in the refrigerator will extend the shelflife, although it does have the tendency to dry it out, so we wouldn't recommend it.
Another alternative is to freeze your cooked pide breads. To do so, simply wrap each bread whole or sliced in ziploc bags.
Make sure to write the details of the bread on the bags before placing them in the freezer. Frozen pide bread will last up to 3 months!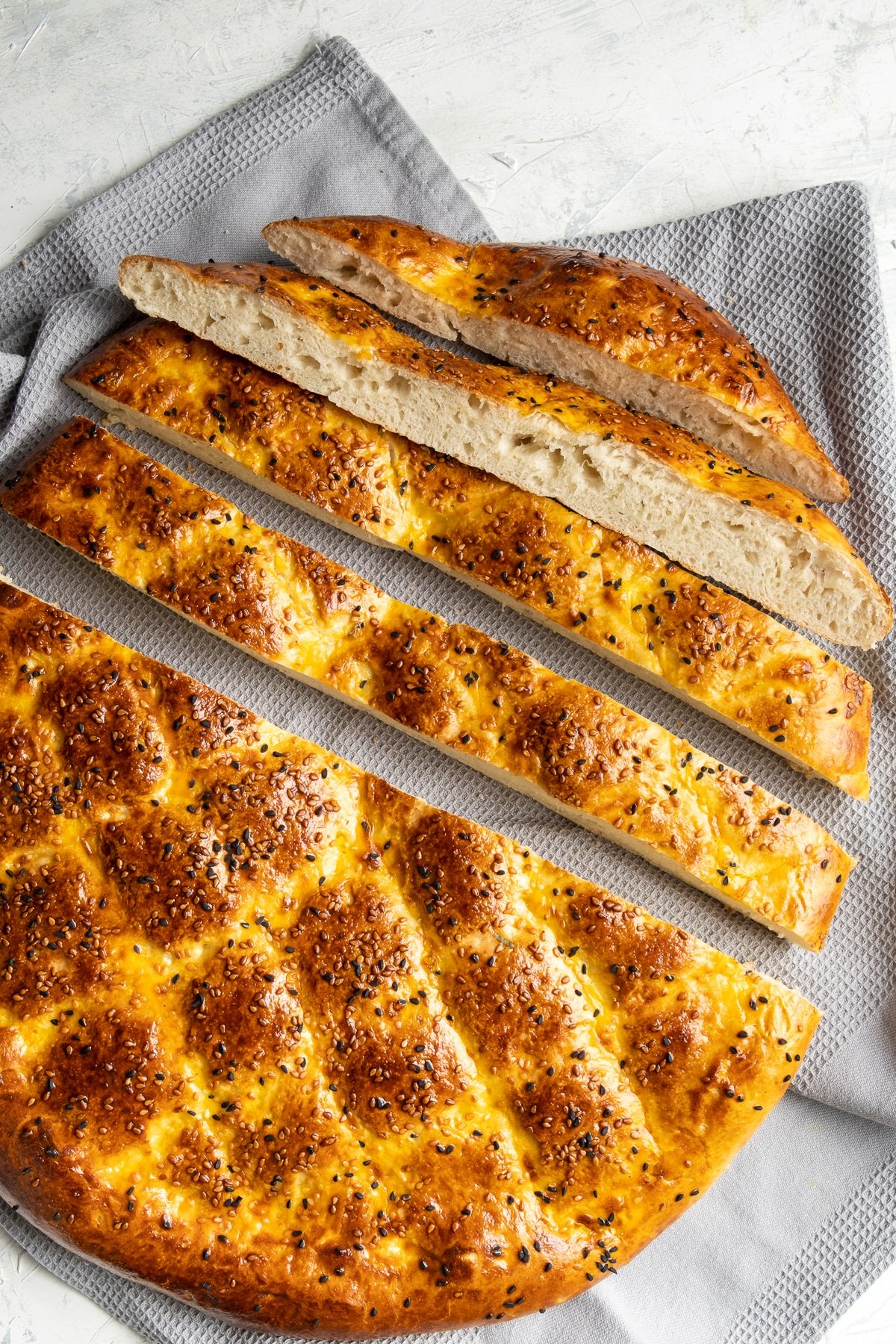 How To Reheat It
Ramazan pidesi can be reheated in a pan covered with a lid. Make sure to do so over low heat to prevent the pide bread from drying out or burning. Alternatively, you can reheat it in the oven.
A useful trick is to sprinkle some water over the bread before reheating it to help keep it soft and fluffy.
More Turkish Breads
As always: If you make this recipe, let us know what you think by rating it and leaving a comment below. And post a pic on Instagram too—tag @give_recipe so we can see!
Sign up for the FREE GiveRecipe Newsletter to get the new recipes into your inbox! And stay in touch with us on Facebook, Pinterest, YouTube and Instagram for all the latest updates.
Print
📖 Recipe
Turkish Pide Bread - Ramazan Pidesi
Homemade pide bread made with instant yeast and topped with egg wash and sesame seeds.
Author: Zerrin & Yusuf
Prep Time:

15 minutes

Cook Time:

25 minutes

Total Time:

40 minutes

Yield:

1 large loaf

Category:

Side Dish

Method:

Baking

Cuisine:

Turkish
Dough:
3 cup flour

1 teaspoon sugar

1 teaspoon salt

2 teaspoon instant yeast

3 tablespoons olive oil

1 cup lukewarm milk

2 and ½ tablespoon warm water
Topping:
1 egg yolk

1 tablespoon milk or yogurt

nigella seeds and sesame seeds
Instructions
In a large bowl, whisk together flour, sugar, salt and instant yeast.

Add in olive oil and milk. 

Gently mix with your hand. 

Slowly add in water and keep mixing with your hand.

When it gets too sticky, slightly wet your fingertips and keep mixing. The result will be a sticky soft dough. Don't knead it.

Grease the bottom and the edges of another bowl and transfer the dough into it. Cover it either with stretch film or a clean kitchen towel and let it rise. It takes between 40min-1.5 hours depending on the temperature. 

Preheat the oven to 200C/400F. Line baking paper on a baking sheet. You can use a pizza pan or stone if you have it. 

Gently release the air in the dough by turning it upside down in the bowl. 

Transfer it onto the baking sheet and spread it in the pan, wetting your fingers occasionally and pressing on the dough. Give it a round or oval shape. 

Wet your fingertips and make a circle on the dough leaving about 3cm from the edge. This will be the edge of the bread. 

And then again with your fingertips make a diagonal pattern on it. It will rise when baking, and these patterns are likely to disappear. So press on the dough as much as you can when making the pattern. Let it sit for 15 min.

For the topping, whisk together the yogurt and egg well. Spread this mixture over the bread with a brush or your hand.

Sprinkle seeds over it and bake until golden, for about 20 minutes. Reduce the heat to 160C/320F and bake for another 5 minutes. Remove from the oven.

Transfer it on a clean kitchen towel. Cover it with a slightly dump kitchen towel and let it rest for 15 minutes. This will keep the bread softer. 

After this time, slice and enjoy.
Nutrition
Serving Size:
Calories:

1918

Sugar:

6.1 g

Sodium:

2557.6 mg

Fat:

58.1 g

Carbohydrates:

298.6 g

Fiber:

13.3 g

Protein:

48.3 g

Cholesterol:

184.8 mg
Keywords: pide bread, Turkish pide bread, Ramadan pide