This Turkish stew with beef and vegetables is perfect for cold days. It is easy to make despite taking some time. The slow cooking process allows the meat to become incredibly tender and juicy.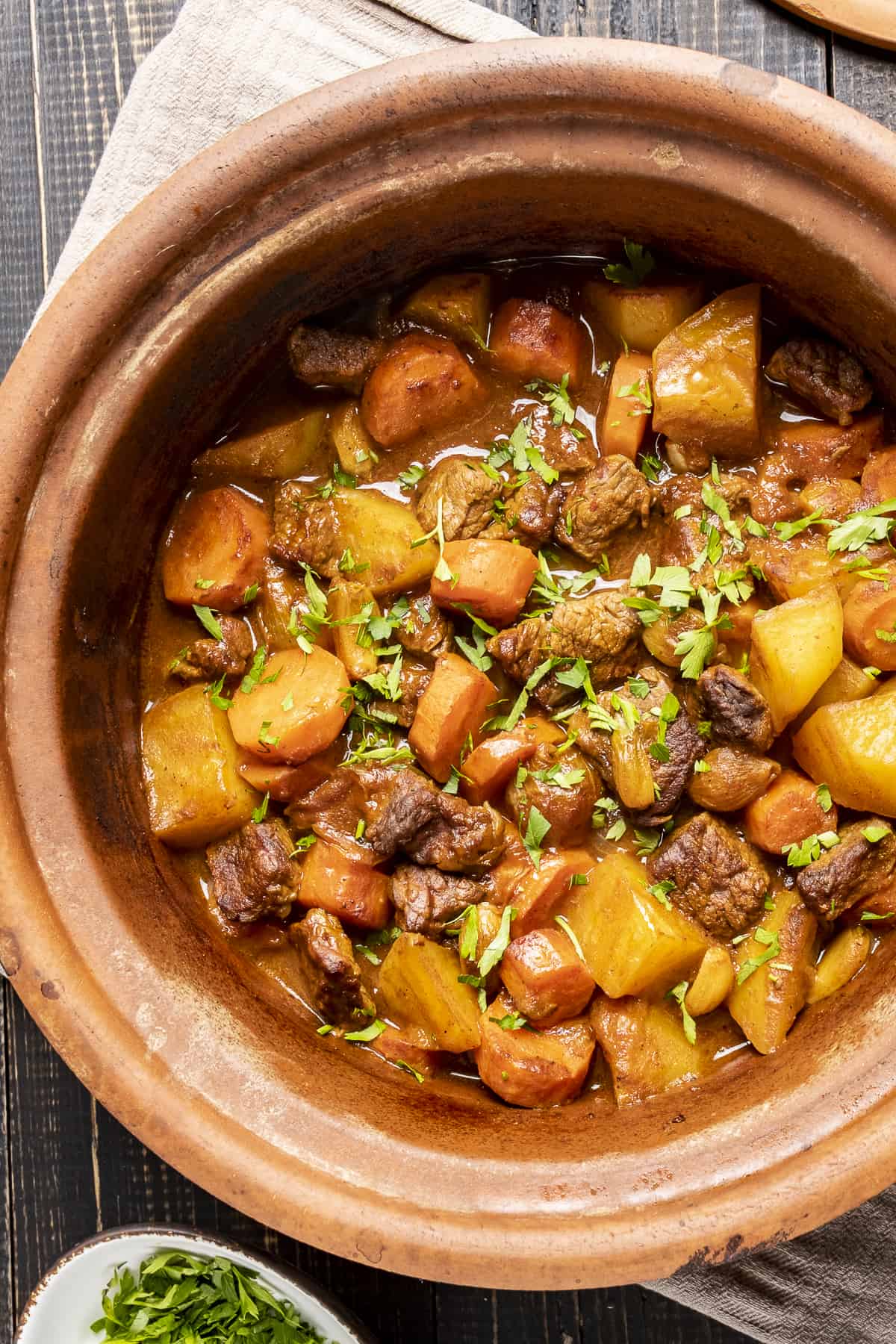 If you love meat dishes from Turkish cuisine, you might want to see our kebab recipes and Turkish karniyarik too!
Jump to:
What Is Turkish Style Stew?
A Turkish stew is a type of a dish where ingredients, mainly a combination of vegetables and meat, are cooked together in a flavorful liquid. This method lets all the flavors mix and gives the dish a rich, deep taste. Because they're cooked slowly, the meat becomes very tender and the vegetables get soft and tasty.
In classic Turkish stews, various meats can be used. Diced lamb and beef are the most traditional, but ground beef or chicken can also be found in some recipes. 
As for the vegetables, onions, potatoes, carrots, green or red bell peppers, tomatoes, eggplants, zucchini and green beans are commonly used. Depending on the region and the family recipe, other ingredients like chickpeas, peas, or okra might also be added.
In Turkey, stews hold a special place in the culinary world. If you visit an "esnaf lokantasi" – which are traditional Turkish restaurants – you'll find a variety of stews on the menu. These are the best places for locals to have a hearty, home-style meal during their lunch breaks.
The Most Popular Stews in Turkey
Kuru Fasulye: A comforting white bean stew.
Kuzu Güveç: A rich lamb stew with vegetables, traditionally cooked in a clay pot.
Etli Taze Fasulye: A stew with green beans and meat, most commonly lamb or beef.
Tavuk Sote: A classic chicken stew with tomatoes and peppers.
Bezelye Yemeği: A pea stew with pieces of meat, carrots, and potatoes,
Turlu: A vegetarian stew made with several vegetables like eggplants, green beans, zucchini, bell peppers, and tomatoes.
And today we will be sharing the recipe for Turkish beef stew, which is one of our favorite stews. It is a comforting dish that makes you want to savor every last drop in your bowl.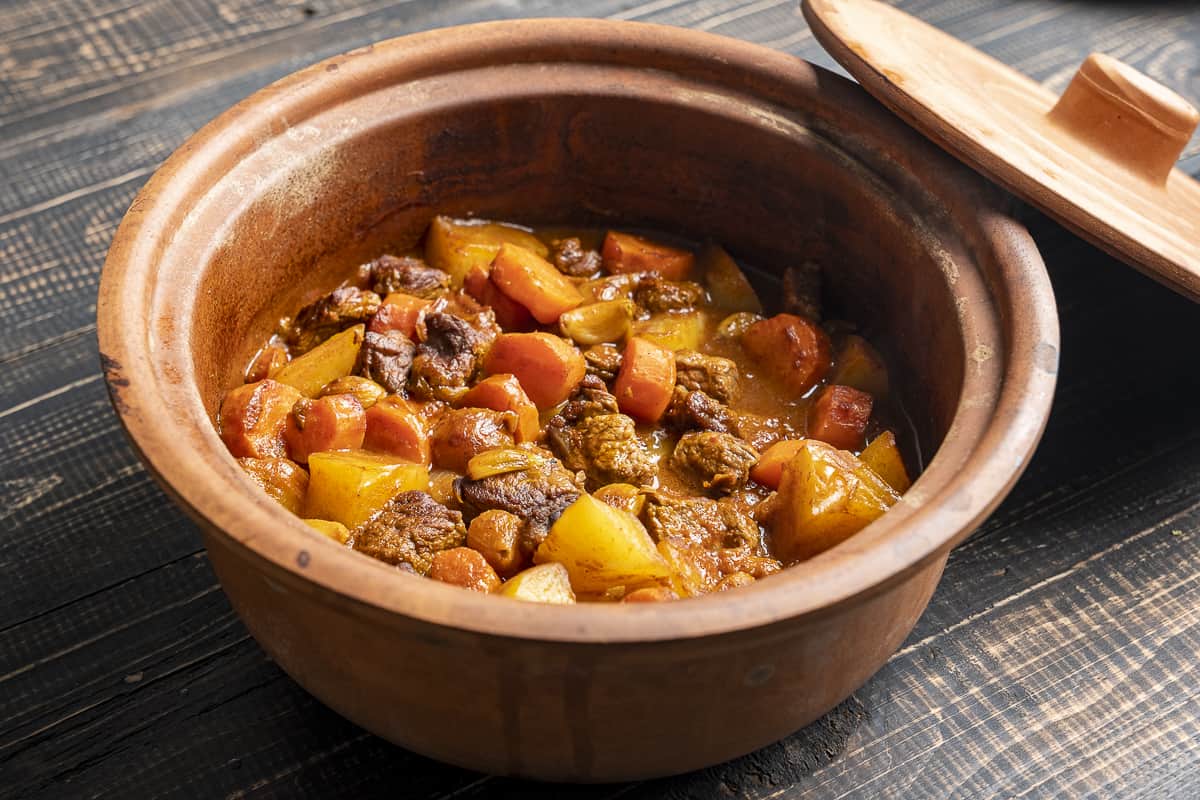 Why Should You Make This Recipe?
It is an easy beef stew that doesn't require a lot of work. Although it takes some time to make, it doesn't require a lot of labor. You can check in every 30 minutes.
The natural meaty juices, vegetables, and combinations of spices we use for this recipe are well-balanced and extremely flavorful.
The meat is incredibly soft. This is all thanks to the slow cooking technique we are using.
This recipe is freezer friendly. You can make this beef casserole in advance and simply freeze it for later use.
Ingredients and Substitutions
This is a Turkish casserole made with beef and vegetables. These are the two main categories of ingredients to focus on when looking at options.
Beef: When choosing a beef stew meat, we recommend not using lean meats. Make sure it is marbled (contains fat) because this will enrich the stew and make it soft and juicy too.
You can easily substitute the beef with lamb, turkey or chicken as well, but keep in mind that the cooking times will be much shorter.
Vegetables: We only add some onions (brown onion and pearl onions), garlic, potatoes, and carrots. We chop the brown onion and leave the pearl onions whole. You can either use one type of onion or use both as we do. All of these ingredients are incredibly flavorful once cooked, but won't overwhelm the flavors of the meat and spices.
If you'd like, you can add a wider variety of vegetables including green beans, celery, eggplant, red or green peppers and zucchini.
Choosing the Right Pot
We make this Turkish beef stew recipe in a traditional clay pot (güveç), a type of earthenware pot. This pot lends a unique, earthy flavor to the stew and ensures slow, even cooking. It is often used in Middle Eastern cuisines.
If you have never used clay pots, we have prepared a guide about cooking with clay pots. You might find it helpful.
No clay pot in your kitchen? Don't worry! You have other options too.
Here's a guide to selecting the ideal pot for this Turkish dish:
Dutch Oven: Ideal for both stovetop and oven use, the Dutch oven is a popular choice. Made of cast iron and coated with enamel, a Dutch oven provides even heat distribution, ensuring the beef cooks uniformly. Its heavy lid also keeps moisture in, making sure the stew doesn't dry out.
Casserole Dish: If you don't have an oven-safe stovetop pot, you can start your stew on the stovetop in any pot and then transfer it to a casserole dish for baking. Ensure the casserole dish is deep enough to contain the stew and its bubbling juices. If it doesn't have a lid, cover it with foil before placing it in the oven.
How To Make The Recipe
Now that we've covered the basics, let's dive into the step-by-step instructions to make this delicious Turkish beef stew.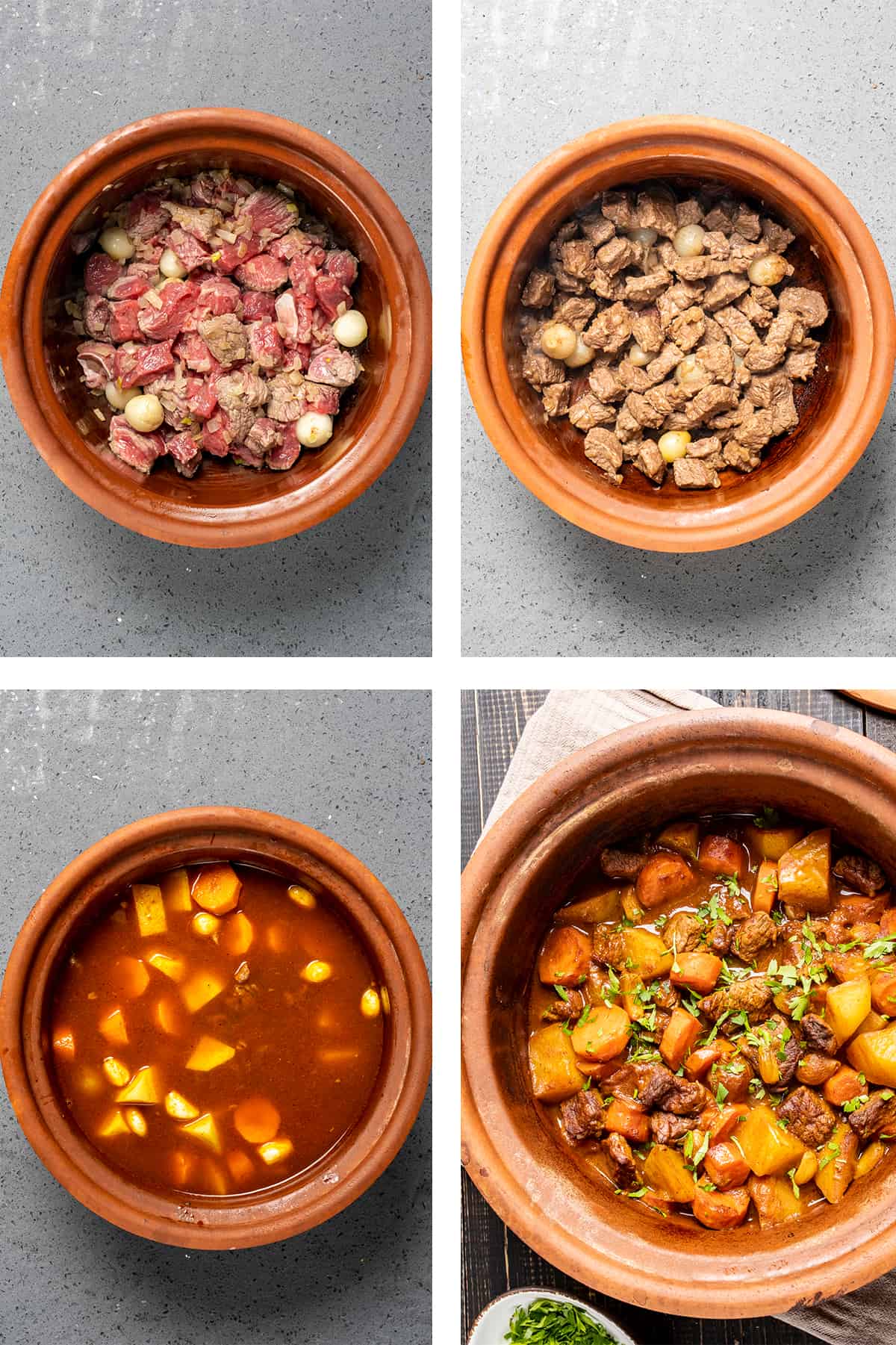 Heat some olive oil in a pot (a Dutch oven or clay pot). Then, add the onions and sauté them until translucent. Add the beef chunks and stir the mixture.
Cook the meat covered over medium-low heat until the meat starts releasing its juices.
While the meat is cooking, combine the tomato paste, salt, pepper, paprika, and 1 cup of hot water. Add this tomato sauce mixture to the cooked meat.
Simmer the mixture for at least 1 hour over low heat. After 30 minutes, check how much water is left and add some more if needed. This will help prevent the ingredients from burning.
After 1 hour of cooking, remove it from the heat. Add the potatoes, carrots, garlic cloves and another cup of hot water. Cover the top of the pot with its lid or foil and bake the stew in a preheated oven (350 F/180 C) for 45-50 minutes.
Once finished, serve the Turkish casserole immediately with some freshly chopped parsley.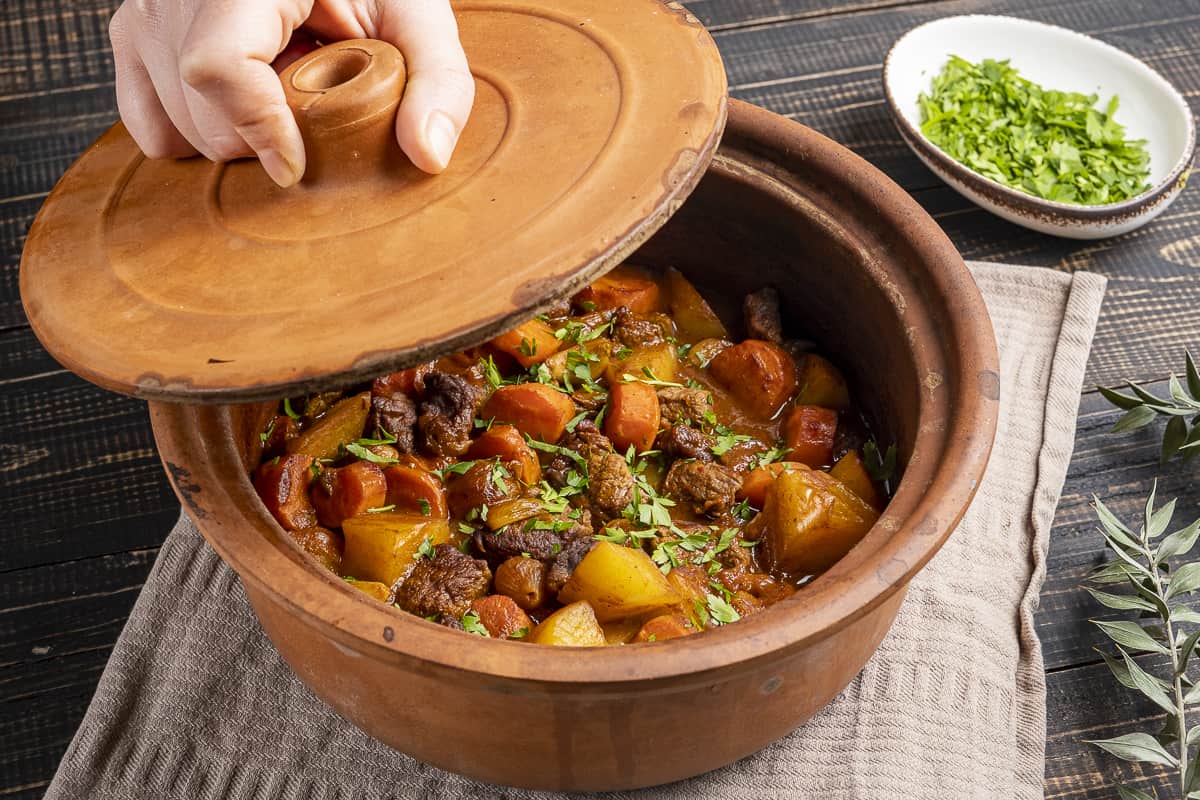 Variations
While this Turkish style beef casserole is already tasty, you can create variations of it as well.
Ground beef stew: Instead of diced beef, use ground beef (beef mince). This will reduce the cooking time a lot, giving you a delicious stew in about an hour.
Vegetarian Version: You can leave the meat out and make the dish with a variety of vegetables instead. Then, skip the stove-top cooking step and cook the dish in the oven until the vegetables are tender. Alternatively, you can substitute the meat with green or brown lentils. They will also add a meaty flavor and create a nice thick casserole.
Cheese Topping: Traditionally, Turkish casserole with beef is not topped with cheese. However, there are restaurants cooking it with a cheese topping. It is definitely a matter of preference. So if you want your stew cheesy, you can add some grated Turkish kasar cheese in the last 5 minutes of baking. You can substitute grated cheddar or mozzarella for it.
Expert Tips
Traditionally, this Turkish beef stew is made in clay pots called güveç. These pots can be used on the stove-top and inside the oven. However, you can also use oven-proof cookware like a Dutch oven.
You can use any beef cut that works well for casseroles and stews. Usually, the label will also give you an indication of the best way to cook the meat. We prefer using beef chuck and cutting it into smaller pieces. It becomes nice and tender after prolonged slow cooking.
You have to check the amount of liquid left after 30 minutes of cooking. If the water has been completely cooked out, your food will start burning. If you have almost no water left, you can add another quarter cup at a time and complete the 1-hour stovetop cooking. You can also stir every now and then to ensure your food isn't burning.
If you are not working with an oven-proof pot when cooking the dish, transfer the cooked stew into a baking pan and cover the pan with foil before baking it in the oven. We prefer using ceramic or glass baking dishes as they are easier to clean.
To store: Let the stew cool completely and then keep this casserole for 3-4 days in the fridge or for 1-2 months in the freezer. Make sure you transfer it from the clay pot into a baking pan or an airtight container. Clay pots are not recommended for storing food.
To reheat: It is best to reheat this casserole in the oven or on the stovetop with a splash of water. Thawing overnight is better if it is frozen.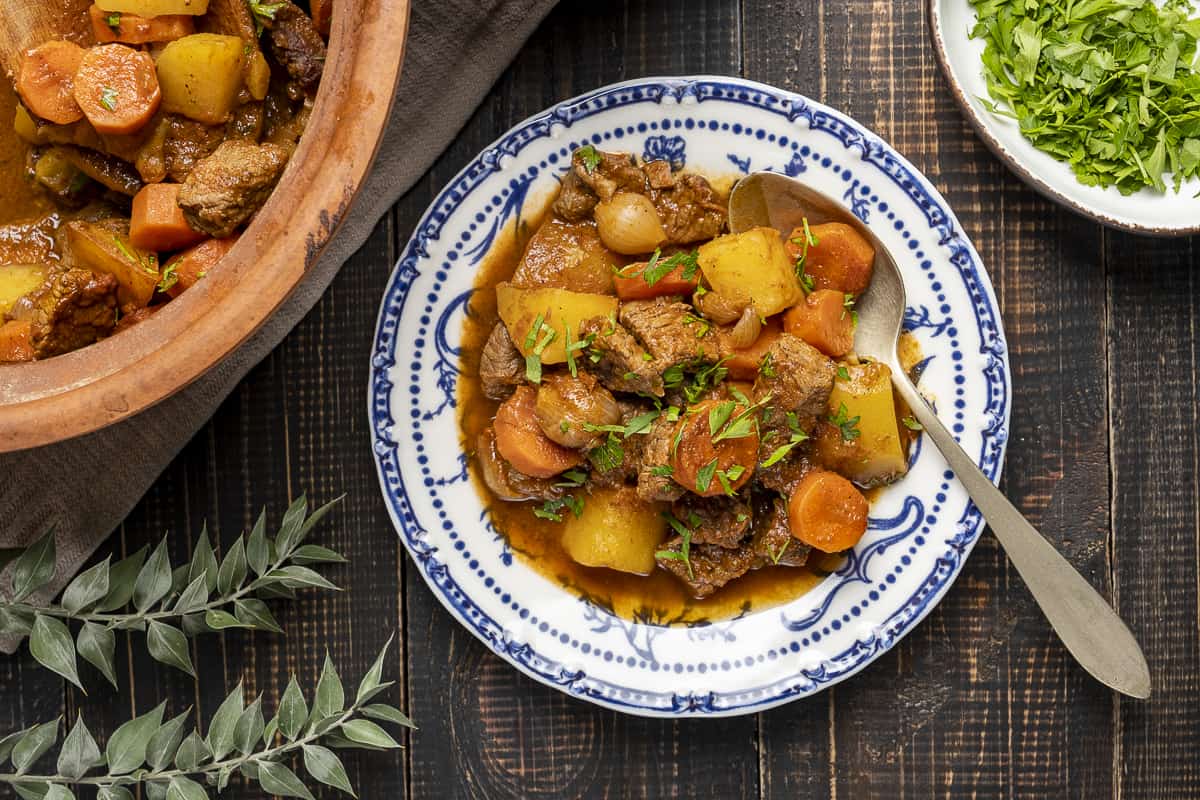 Serving Suggestions
This Turkish beef stew is incredibly versatile when it comes to accompaniments you can serve with it.
Breads: We highly recommend serving some bread that will absorb the delicious sauce the stew makes. Pide bread, Turkish flat bread, cornbread, or soft dinner rolls all make excellent sides for this beef stew.
Side Dishes: You can always have a look at some of our popular side dishes such as rice Turkish rice pilav, ic pilav, or bulgur pilavı. All of these sides will add a traditional feel to the table.
Salads: You can also make some salad like our shepherd salad or piyaz.
And, you can even serve a fresh dip on the side. We love to pair stews with cacik, Turkish yogurt or strained yogurt.
FAQs
Should I brown stew meat first?
Most beef stew recipes tell you to brown the diced meat first. The flavor of browned meat enriches the whole stew. However, in this Turkish beef stew casserole recipe, you don't need that extra step. Just let the beef pieces release water and then absorb it back. You will have a super flavorful dish.
What does tomato paste do for beef stew?
Tomato paste gives a nice color and deep tomato taste to the stew. Also, it helps thicken the dish.
Can I make this Turkish casserole in a stainless steel pot?
Yes you can use a stainless steel pot but make sure to transfer the dish into an oven-proof baking pan after completing the stovetop cooking process.
More Hearty Dishes
More Meat Dishes
As always: If you make this recipe, let us know what you think by rating it and leaving a comment below. And post a pic on Instagram too—tag @give_recipe so we can see!
Sign up for the FREE GiveRecipe Newsletter to get the new recipes into your inbox! And stay in touch with us on Facebook, Pinterest, YouTube and Instagram for all the latest updates.
Print
📖 Recipe
Turkish Stew with Beef
Beef stew with onion, garlic, potatoes and carrots. It is flavored with a tomato paste sauce and cooked in a clay pot first on the stove top then in the oven. A perfect comfort food.
Author: Zerrin & Yusuf
Prep Time:

10 minutes

Cook Time:

2 hours 15 minutes

Total Time:

2 hours 25 minutes

Yield:

4

Category:

Dinner

Method:

Cooking

Cuisine:

Turkish
4 tablespoons olive oil

1 onion, chopped

A handful of pearl onions, peeled but not chopped (optional)

500g (1.1 pound) diced beef (not lean) (or beef chuck cut into 1-inch pieces)

1 tablespoon tomato paste

1 teaspoon salt

½ teaspoon black pepper

½ teaspoon paprika

2 cups hot water, divided

2 medium potatoes, cut into 1-inch chunks

2 medium carrots, cut into 1-inch chunks 

6 cloves garlic

Parsley for garnish
Instructions
Heat olive oil in a clay pot or in a cast iron pot (or whatever pot you have).

Sauté onions until translucent.

Add in the beef pieces and give it a stir. Cook it covered over medium low heat until the meat releases juice and then it absorbs almost all of it.

In a small bowl, mix together tomato paste, salt, black pepper, paprika and 1 cup of hot water. Pour it over the beef in the pot and cook it covered over low heat for 1 hour. Check it after 30 minute or so and if there is too little water left, add some extra water (¼ cup) to prevent it from burning.

Preheat the oven to 350F/180C in the last 15 minutes of cooking. 

When the 1-hour cooking duration is over, remove it from the heat. Add potatoes, carrots and garlic into the pot. Pour the remaining 1 cup hot water. 

Cover the top of the pot with foil. If the pot you are using is not oven-proof, pour the dish into a baking pan and cover it with foil.

Bake for 45-50 minutes.

Garnish with chopped parsley when serving. 
Notes
This Turkish beef stew is often made in special 

clay pots called güveç

. You can cook with them on the stove and in the oven. But if you don't have one, any pot that can go in the oven, like a 

Dutch oven

, will work.
For the meat, pick beef that's good for slow cooking. The label might help. We like 

beef 

chuck

 cut into small bits. It gets really soft when cooked slowly.

After 30 minutes of cooking, see if there's still water in the pot. If it's almost dry,

 

add a bit more water

, about a quarter cup, and keep cooking on the stove for an hour. Stir sometimes so it doesn't burn.

If your pot can't go in the oven, put the stew in a baking dish and cover it with foil before baking. Glass or ceramic dishes are easy to clean.

To store:

 

Let the stew cool completely. You can keep this casserole for 3-4 days in the fridge or for 1-2 months in the freezer. Make sure you transfer it from the clay pot into a baking pan or an airtight container. Clay pots are not recommended for storing food.

To reheat:

 

It is best to reheat this casserole in the oven or on the stove-top with a splash of water. Thawing overnight is better if it is frozen.
Nutrition
Serving Size:
Calories:

413

Sugar:

6.5 g

Sodium:

720.1 mg

Fat:

20.7 g

Carbohydrates:

30 g

Protein:

28.5 g

Cholesterol:

73.8 mg
Keywords: beef stew, Turkish casserole, Turkish stew