The raisin in the picture is one of the most common ingredients that we use in various dishes. We call it kuş üzümü in Turkish. Kuş is for bird, üzüm is for grape. I think it has this name as they are small enough for birds. However, I wasn't sure how to call them in English. Turkish-English dictionaries say 'currant' for it, but when I searched on the net for the visuals of currants, they were totally different from this raisin. Finally Tracey from Tangled Noodle saved me from my confusions and clarified its English translation for me. Thank you Tracey! She says small variety of grapes called 'champagne grapes' are referred to as 'currants' when dried. And with the link she suggested, I learnt that "Although it may be confused with common black, red or white currants that grow on bushes, it is similar only in shape and size, but is not the same type of fruit. The dried grape that becomes a currant is often used like raisins as an ingredient when baking cookies and sweets." So I'll call them currants from now on.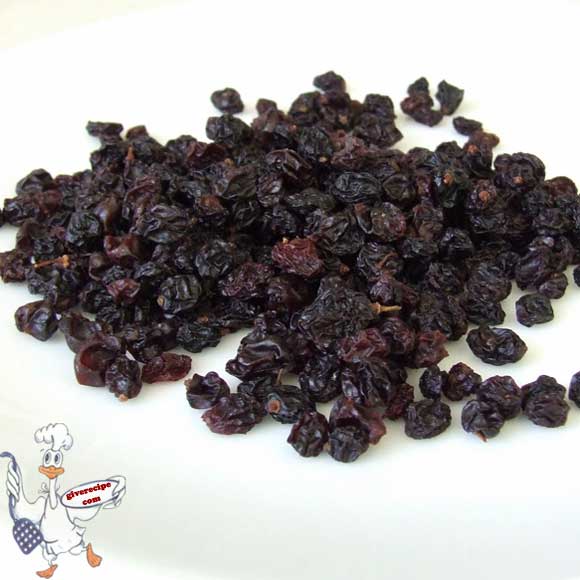 There are small grapes in a bunch of black grapes and they don't have seeds as they are not matured enough. These small grapes are picked seperately and dried, then they become currants (kuş üzümü). They give a bit sweet taste to dishes. We use it in cakes, cookies and compotes, but in Turkish cuisine, they are much liked in stuffed vegetables and rice pilaf.
Tip: To clean currants from their straws, coat them with a little flour, put them in a strainer with big holes. When you shake it, the straws will drop with flour.
Kuş Üzümlü Pilav

Ingredients
– 1 cup rice
– 2 cups hot water
– 1 tbsp butter
– 2 tbsp olive/vegetable oil
– 1 ¾ cup water
– 2 tbsp currants, straws removed and washed
–  2 tsp salt
-1 tsp lemon juice
Before washing, put the rice in a bowl, pour 2 cups hot water into it and add 1 tsp salt. Wait this for about 15 minutes. You'll see how it turns out whiter within this time. Then wash it well.
Melt the butter in a pan. Add olive oil. When it is heated, add rice and salt to saute. Add 1 tsp juice of lemon. Lemon juice helps rice not to stick each other, which is so important for Turkish pilaf. Stir it continually for about 5 or 7 minutes on medium heat. Sauting the rice in oil is so important in making pilaf. Otherwise, rice will just be boiled and won't give the desired taste. Then pour 1 ¾ cup water and currants, stir once and cover it. when it starts to boil after about 3 minutes, bring the heat to the lowest and do not open its cover for about 10 minutes until it absorbs all water. When there isn't any water left in the pan, take it from fire. Put a big piece of paper towel just on top of pilaf and cover it again. Wait it for about 15 minutes so that the paper towel absorbs all the moist in it. Then uncover it and throw the paper towel away. It's ready to serve.
You see how currants swell in pilaf although they are crinkle before being cooked.  They look so cute that I can put them in any dish.
To serve it in the shape you see here, wet a small bowl. Fill it with rice and turn it upside down carefully on a plate.
Craving For Blue
Here is another cartoon by mom. I think she was inspired by the fascinating sea in front of her house. She loves to have a cup of coffee on her balcony watching and listening that blueness. I missed chatting with her there, I wish we can visit her soon. More words are unnecessary for this cartoon. Just close your eyes, imagine that bluness and feel the gentle breeze licking your face.
IF YOU LIKED THIS RECIPE, THEN YOU WILL LOVE THESE: