This Turkish rice with raisins (iç pilav) is a wonderful side dish with a rich flavor that can also be served as a meal on its own. It has incredibly well-balanced sweet and savory flavors thanks to the raisins, spices (allspice and cinnamon), pine nuts and parsley.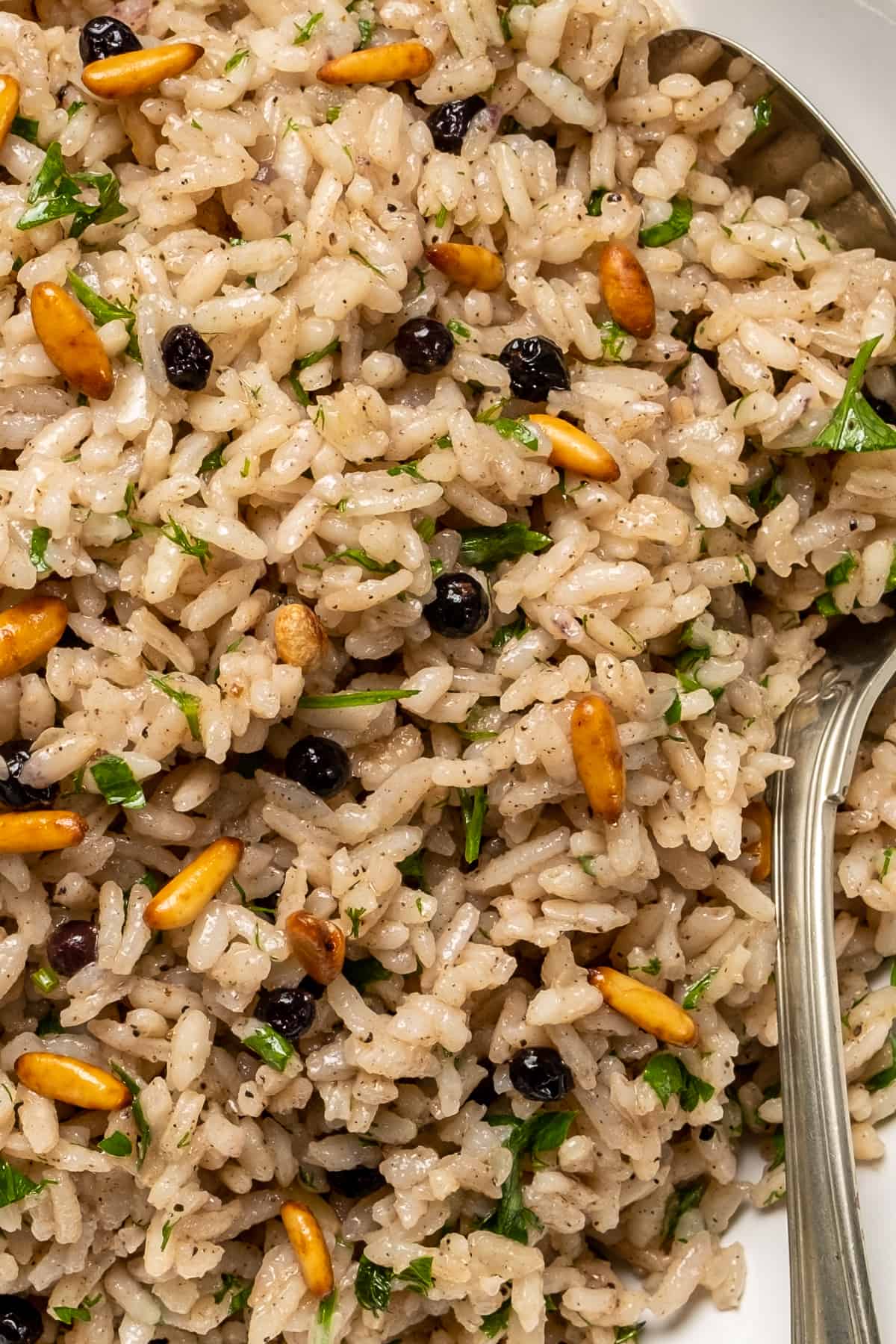 This is a classic Middle Eastern side dish also known as ic pilav in Turkish cuisine. It was traditionally used for stuffing chicken, turkey or lamb, but today it is widely enjoyed as a delicious accompaniment to weeknight dinners. And if you are looking for some other incredibly pilaf recipes, try our rice pilaf with orzo or our tasty bulgur pilavi.
Jump to:
What Is Ic Pilav?
İç Pilav (Turkish), which means stuffing rice, is a type of rice pilaf loaded with flavors. It is made with pine nuts, onions, rice, currants (raisins) and spices like allspice, cinnamon and black pepper and parsley.
It was traditionally used for stuffing lamb ribs, chicken and turkey, but it has changed a lot over time. Now it is used both for stuffing (even grape leaves dolma) and as a side dish to accompany chicken dishes like chicken kebabs and meat dishes like kofte and lamb shish kebabs.
Besides, it is sometimes served as a main dish on its own. We mostly add some meat (lamb, beef or chicken) when we want to enjoy it for main meal. So flavorsome and satisfying for all family members!
Unlike other Middle Eastern rice pilafs like Arabic rice or Lebanese rice recipe, Turkish ic pilav contains currants/raisins, allspice and cinnamon. Plus, it has no vermicelli pasta. They are all so tasty for sure, so you can make changes in the ingredients for your liking.
Why We Love This Recipe
It has well-balanced flavors. The spices, raisins, pine nuts, and rice creates a great combination of sweet and savory flavors.
It is a very easy recipe to make. Once the base has been made, all you have to do is cook the rice and allow it to rest – minimal work with maximum flavor.
This iç pilav recipe is meatless. It can be served as an accompaniment to a wide range of recipes, but you can also make it a complete meal by adding lamb, ground beef, chicken or liver.
About The Ingredients
Pine nuts: This recipe uses rice with pine nuts, and we personally wouldn't recommend any other type of nut. Pine nuts have a very mild nutty flavor that blends in seamlessly with the other ingredients. But in some areas, almonds or even pistachios are used in this Middle Eastern rice pilaf.
Rice: It is naturally the main ingredient in this recipe. We prefer using white rice like Baldo rice because of its characteristics. It is a plump, milled, short-grain variety found in Turkey and Italy. Alternatively, you can use Arborio rice or sushi rice. Also, you can use long grain rice like basmati rice or even brown rice if you want.
Water: We use just plain water, but you can use chicken broth or vegetable broth to make it even tastier.
Currants: This recipe traditionally uses currants, which are a type of small black raisins. We call them kuş üzümü in Turkish. If you can't find them, use your regular raisins or the smallest raisins you can find.
Spices: The spice mix we have used is perfectly balanced to give this pilaf a warm autumn-like flavor profile. With the addition of some sweet raisins or currants, the dish is lightened and makes a fantastic accompaniment at any time of the year.
Parsley: We can use fresh parsley in any dish as we LOVE the flavor. You can use fresh herbs like dill or mint or a combination of all these. All result in an amazing herb flavored spicy rice pilaf.
How To Make
This ic pilav recipe has the perfect blend of salty and sweet flavors. It is also a very easy vegetarian dish that can be whipped up in minutes! To make it even better you can easily make this a whole meal by adding some delicious chicken or lamb.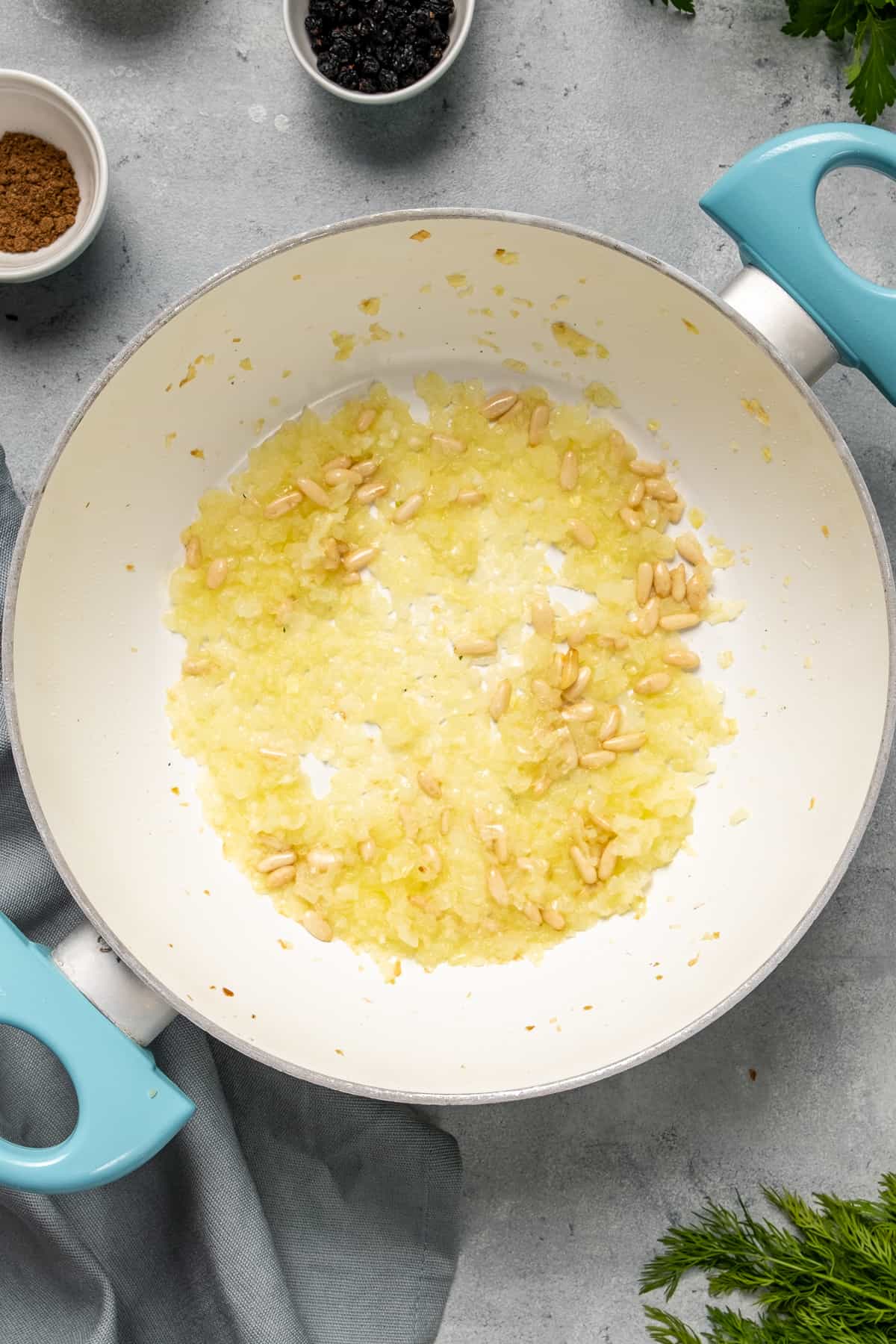 First, make the base of the pilaf. Start by heating the olive oil in a pan over medium heat, add in the chopped onions and pine nuts ( optionally save some of the raw pine nuts for topping. Please read the note below). Cook them for about 3-5 minutes or until onions become translucent.
Then, add well rinsed rice, salt, sugar, cinnamon, allspice, and raisins. Make sure to stir all of these ingredients together so that the rice is evenly coated. Cook them for about 5 minutes while stirring occasionally.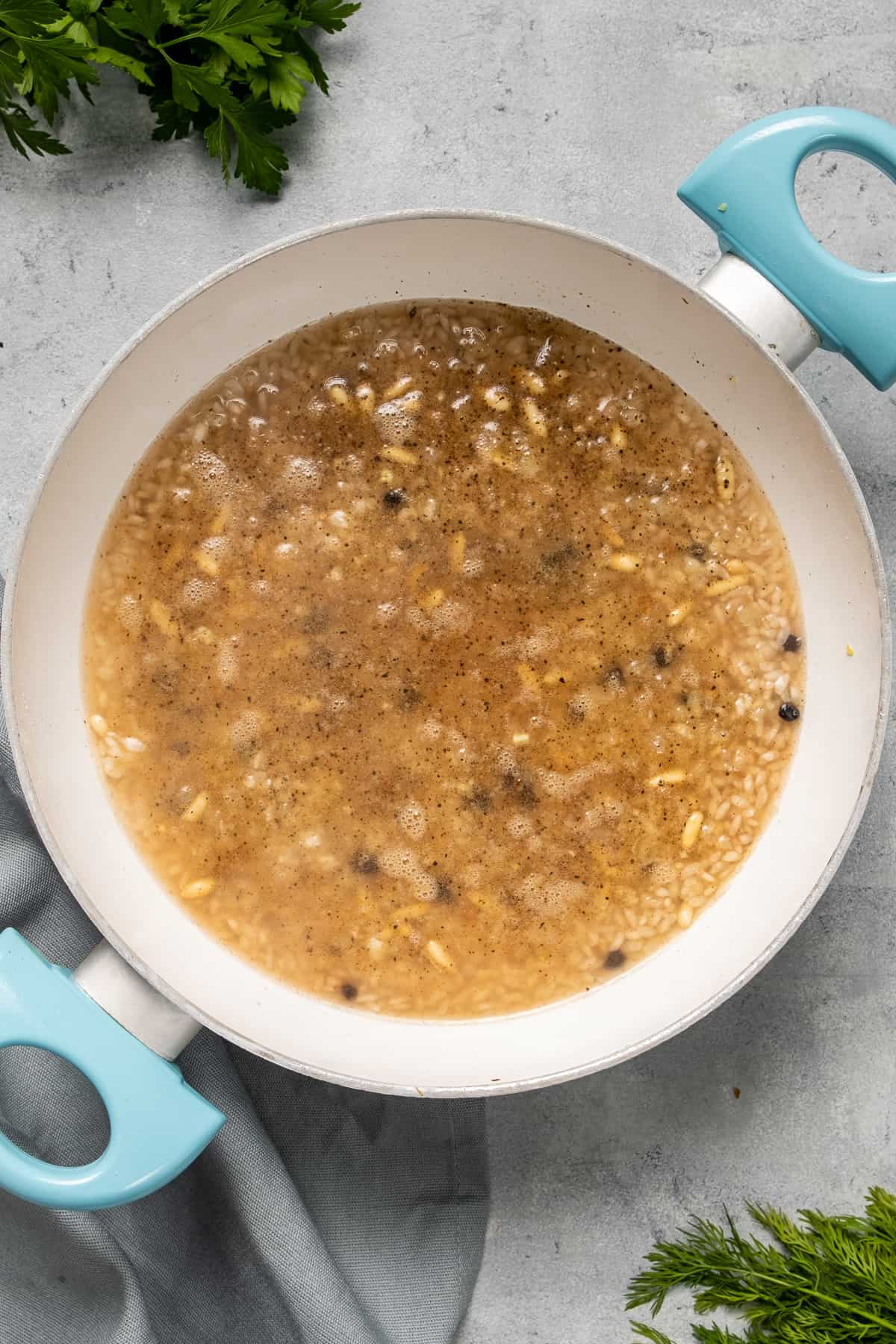 Next, cook the pilaf: Add one and a half cups of hot water to the mixture and bring it to a boil while being covered. Then, reduce the heat to the lowest temperature and allow it to simmer until the rice cooks and all of the water has been absorbed.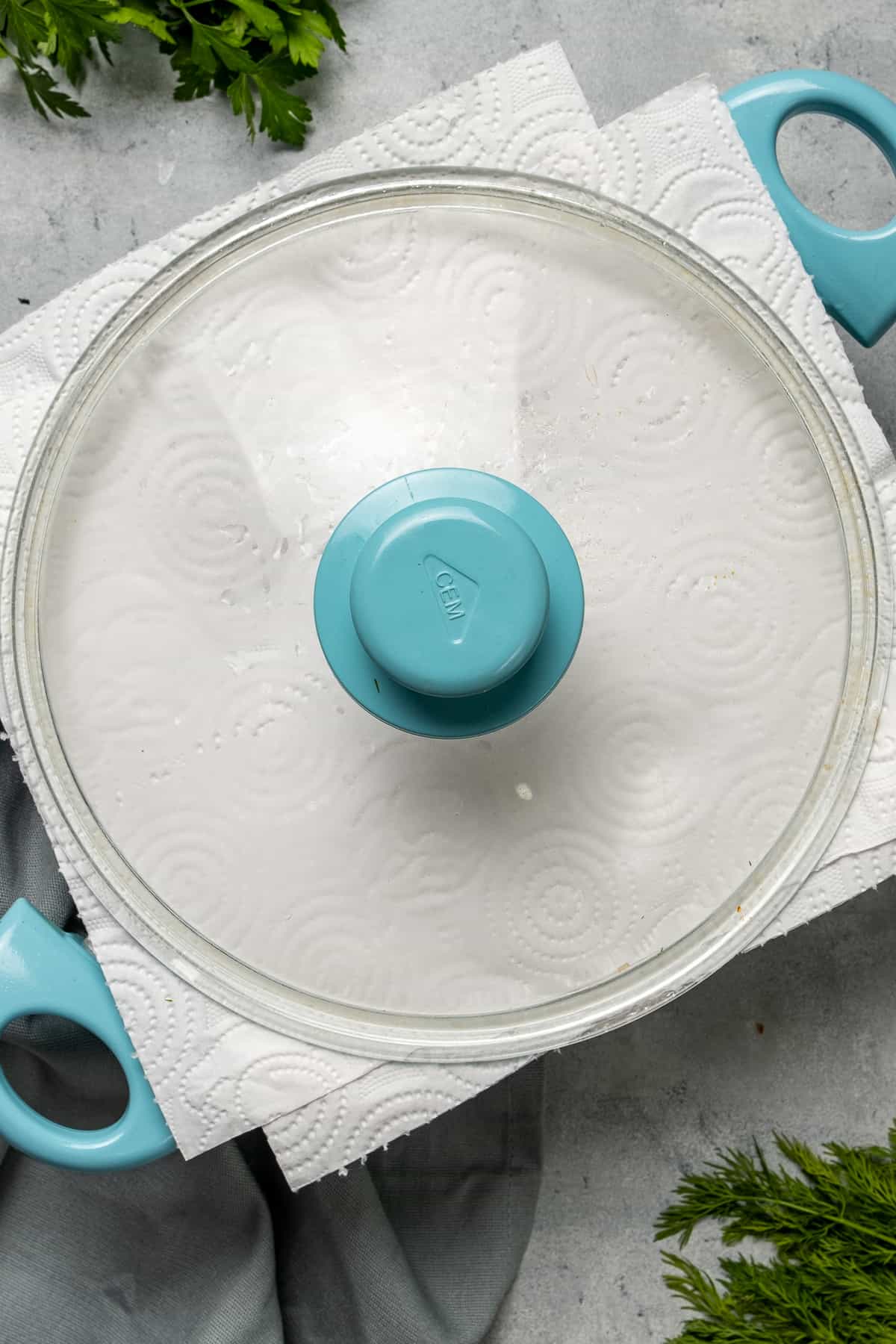 When no water is left, remove the rice from the heat and allow it to rest for about 15 minutes. While it is resting, remove the lid, place a piece of paper towel over the top and place the lid back on.
When the rice has fully rested, fluff with a fork and stir in some parsley.
Note: Optionally, you can toast some of the pine nuts in a pan until golden brown and serve your Middle Eastern rice dish with toasted pine nuts. You can also serve it at room temperature the next day!
Tips
No matter what type of rice you use, rinse it well for a wonderful fluffy rice pilaf. You can put rice in a fine mesh strainer and rinse under hot water by shaking it to remove excess starch.
It is very important to allow the rice to sweat a bit with the spices (before adding the water). This will help all of the ingredients release their flavor and ultimately create a much more aromatic dish.
You can substitute chicken stock for plain water to have more flavor.
Pilaf is a simple rice dish that requires long slow cooking, so please do not rush this by increasing the heat. Continue cooking it over low heat until all of the water has been absorbed.
You can add 1 tablespoon butter after the water is absorbed and let it melt when rice is still hot.
The paper towel trick is going to change your life! Once you remove the cooked pilaf from the heat and allow it to rest, place a sheet of paper towel over the pot and cover it with a lid again. This will help remove any humidity and create much fluffier rice!
You have to leave the rice to rest for 15 minutes. During this time more water is fully absorbed and the rice also develops its fluffy texture (especially when using the paper towel trick we just mentioned).
We would highly recommend the optional toasted pine nut topping. Simply toast them in a pan without oil and add on your rice dish as a topping. This will add a great toasted flavor and some crunch to your dish and give it an extra pine-nut flavor punch!
You can serve this iç pilav fresh while it is still warm, or serve it at room temperature the next day.
Variations
This recipe is a vegetarian side dish. However, turning it into a complete meal by simply adding some liver, chicken pieces, or cooked lamb is very common in Middle Eastern cuisine.
There are traditional versions of this dish that include lamb liver or chicken liver. To add cubed liver or any other type of meat, you can simply brown the meat in a pan first, then follow the pilaf steps as is.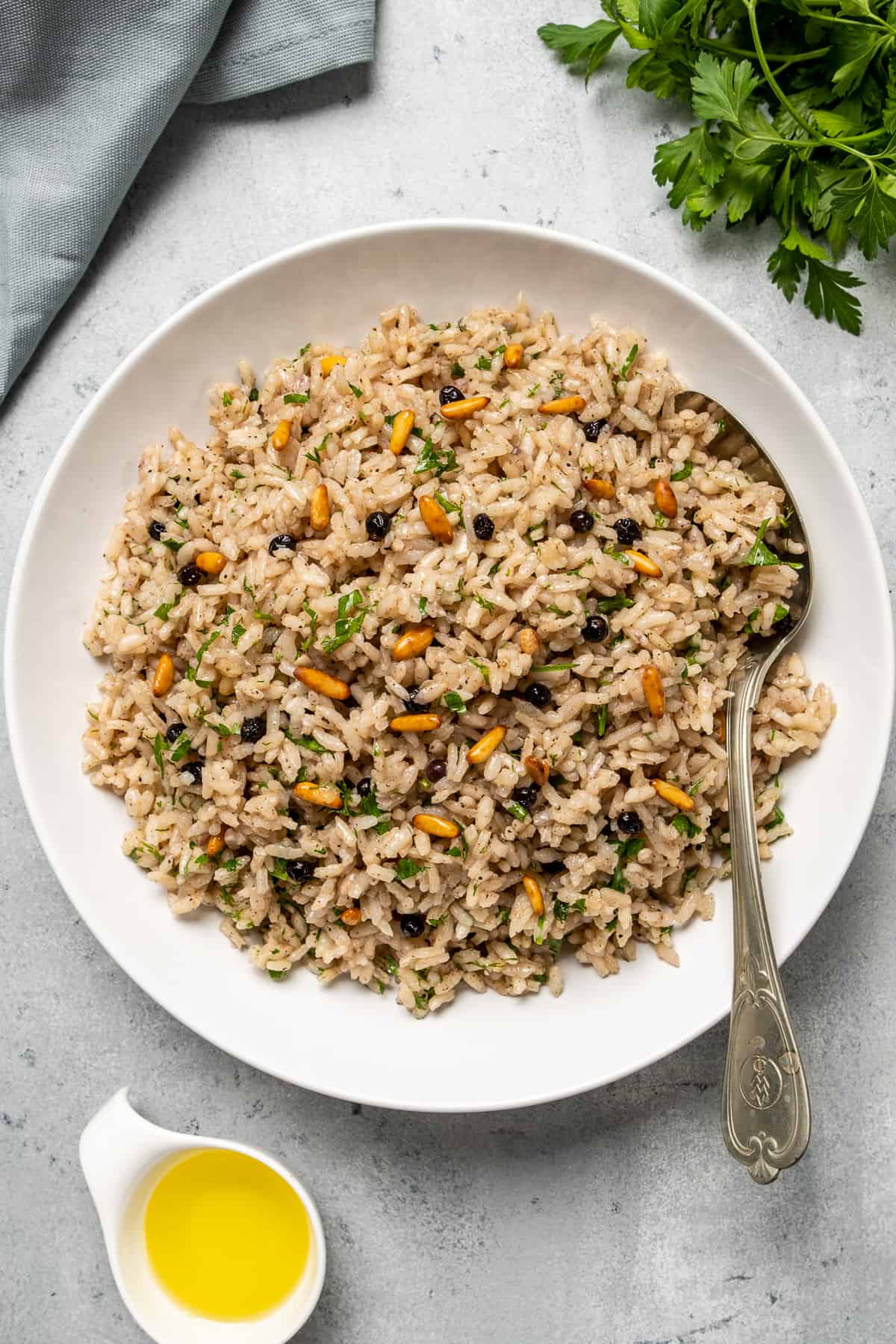 FAQs
Can I use saffron in this recipe?
Traditionally this middle eastern rice dish doesn't contain any saffron, however, you can easily add some if you'd like. Saffron will add a delicately sweet and floral taste to it that will go exceptionally great with lamb versions of this dish too.
Can I add lamb to this pilaf?
This is a recipe that can definitely be made ahead of time. To reheat it simply add a splash of water to the mixture. Slowly reheat the rice while gently stirring every few minutes. Alternatively, you can reheat the pilaf in a microwave.
Is it freezer-friendly?
It is definitely possible to freeze rice pilaf, but we wouldn't recommend it. The taste and texture simply won't be as good compared to freshly made. Our rice pilaf recipe is best on the day it has been made.
As always: If you make this recipe, let us know what you think by rating it and leaving a comment below. And post a pic on Instagram too—tag @give_recipe so we can see!
Sign up for the FREE GiveRecipe Newsletter to get the new recipes into your inbox! And stay in touch with us on Facebook, Pinterest, YouTube and Instagram for all the latest updates.
Print
📖 Recipe
Turkish Rice with Raisins and Nuts (Ic Pilav)
Rice cooked in olive oil with onions and enriched with pine nuts, currants/raisins and allspice, cinnamon and black pepper.
Author: Zerrin & Yusuf
Prep Time:

15 minutes

Cook Time:

20 minutes

Total Time:

35 minutes

Yield:

4

1

x
Category:

Sides

Method:

Cooking

Cuisine:

Turkish

Diet:

Vegan
3 tablespoons

olive oil

2 tablespoons

pine nuts

1

small onion, chopped

1 cup

rice, rinsed well

1 teaspoon

salt

1 teaspoon

sugar

¼ teaspoon

black pepper

1 teaspoon

allspice

¼ teaspoon

cinnamon

2 tablespoons

currants/raisins

1

and ½ cups hot water

¼ cup

parsley
Optional topping: 
1-2 tablespoons pine nuts
Instructions
Heat olive oil in a pan. Add in 2 tablespoons of pine nuts and onions. Cook until onions become translucent.

Add in rice, salt, sugar, cinnamon, allspice and raisins. Cook for 5 minutes stirring occasionally.

Pour 1 and ½ cups hot water and let it cook covered over medium heat until it boils.

Bring the heat to the lowest when it starts to boil and let it simmer until the rice is soft and all the water is gone.

When there isn't any water left in the pan, remove from the heat. Uncover, put a paper towel on the top and put the lid back. Let it sit for about 15 minutes. Uncover and add parsley. Give it a gentle stir.

For the optional topping, put pine nuts in a pan in a single layer without adding oil. Toast until golden brown.

Serve the rice with toasted pine nuts on the top.
Notes
Don't skip cooking the rice with spices for about 5 minutes. Don't pour water earlier than this.

Don't rush and cook it over medium high heat. A good pilaf needs some time. So cook it over low heat until all the water is absorbed.

You can substitute chicken stock for plain water to have more flavor.

Put a paper towel on the surface of the rice after removing it from the heat. This will help remove any humidity and result in a fluffier rice.

Don't serve it without letting it rest for 15 minutes.

We highly recommend the optional pine nut topping.They give a nice crunch.

You can serve this at room temperature the next day.
Nutrition
Serving Size:

1 bowl

Calories:

275

Sugar:

3.1 g

Sodium:

590.8 mg

Fat:

11.8 g

Carbohydrates:

39.6 g

Protein:

3.8 g

Cholesterol:

0 mg
Keywords: rice with raisins, middle eastern rice