There are few things in life as good as flavorsome Roasted Rice Stuffed Whole Chicken! This recipe is a newfound favorite and boasts wonderfully balanced aromatics and herbs. And what's even better is that the pan drippings can be used to make a delicious gravy!
Stuffed whole chicken has a special place among all our chicken recipes. It is the star of any special dinner occasion. We serve it with a big bowl of shepherd salad and with several mezzes and dips on the side.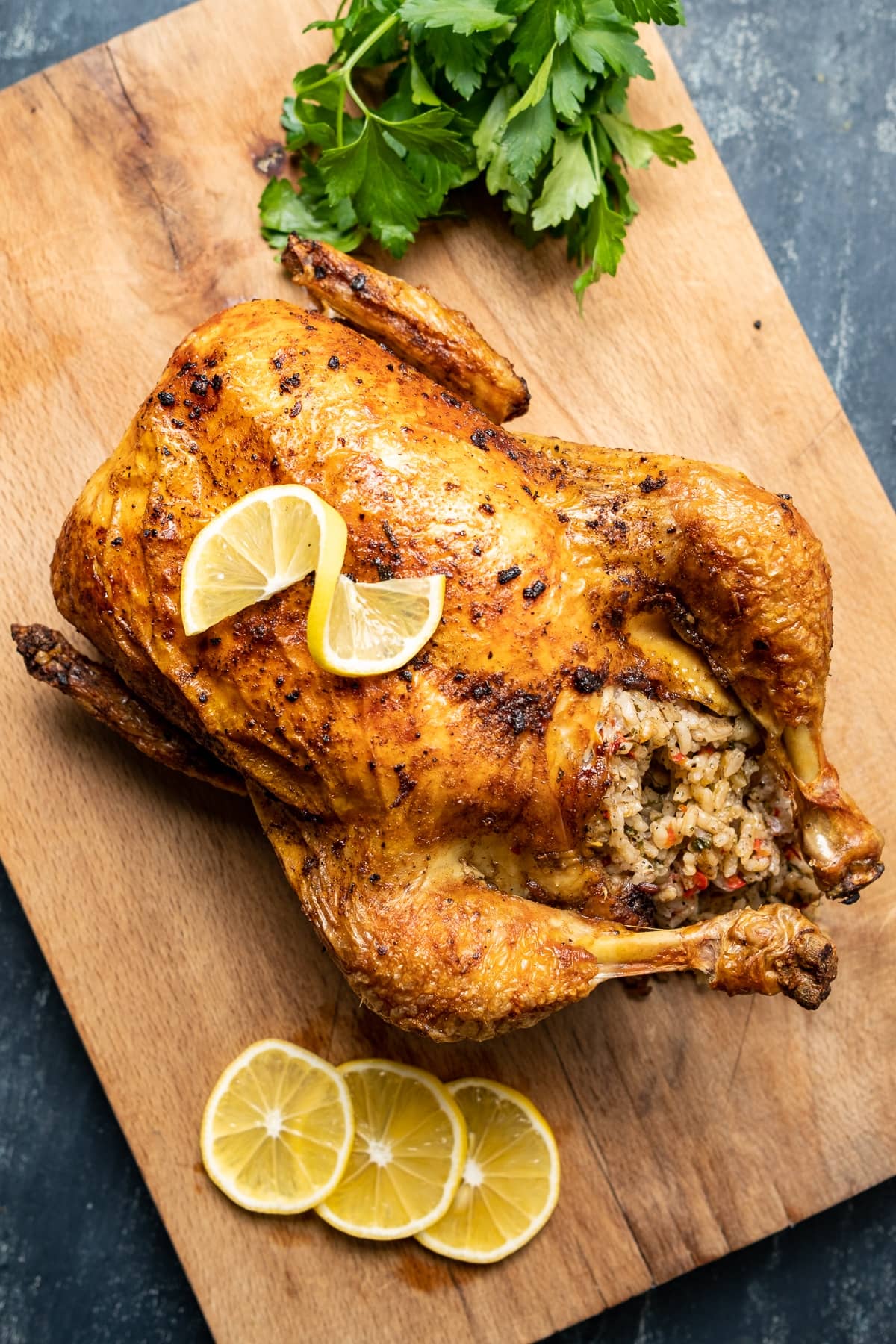 Everybody loves chicken, but that doesn't mean it cannot get better! Our recipe uses delicious vegetables, herbs, and spices to create a mouth-watering roast chicken stuffing. It will be the new talk of the town! And with any leftovers, if you're lucky enough to have some, you can shred it to make a no mayo chicken salad with avocado.
Today, we will look at exactly how to roast a stuffed whole chicken. We will also include some alternative flavors you can experiment with and answer a bunch of very frequently asked questions surrounding chicken.
Jump to:
Ingredients
This is a roasted whole chicken recipe with a rice stuffing. With this recipe, it's like we are cooking a main course and a side dish at the same time in one pan. Love that kind of meals!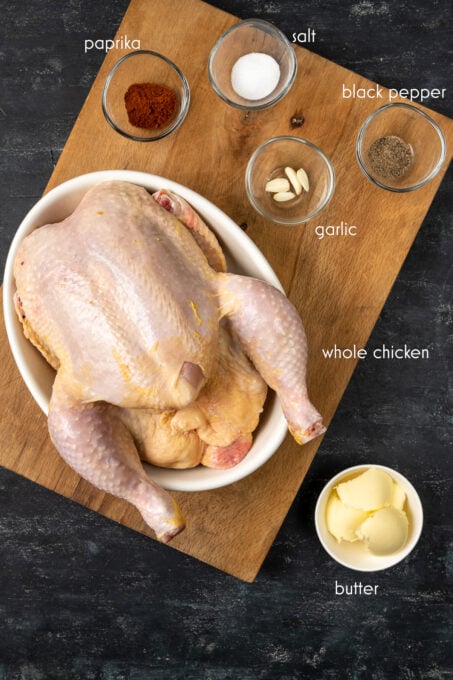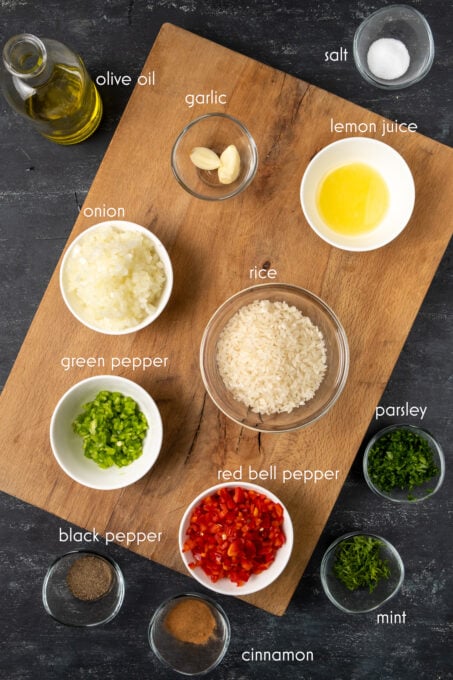 So we have two lists of ingredients. First one is for the chicken and the second list for the stuffing.
We use a marinade mixture with butter and spices to coat the raw chicken, which helps the chicken get golden and crisp on the outside and moist and soft on the inside.
As for the stuffing, we use rice, herbs, spices, onion, garlic and red and green bell peppers. This is such a great combination of flavors that one can eat it on its own for lunch or dinner. It is very similar to our iç pilav (rice with raisins and nuts), which is super tasty as well.
How To Make
This whole roasted stuffed chicken is on its way to becoming one of our favorite recipes ever! It has extremely crispy skin, moist juicy flesh, and wonderfully well-balanced and interesting flavors.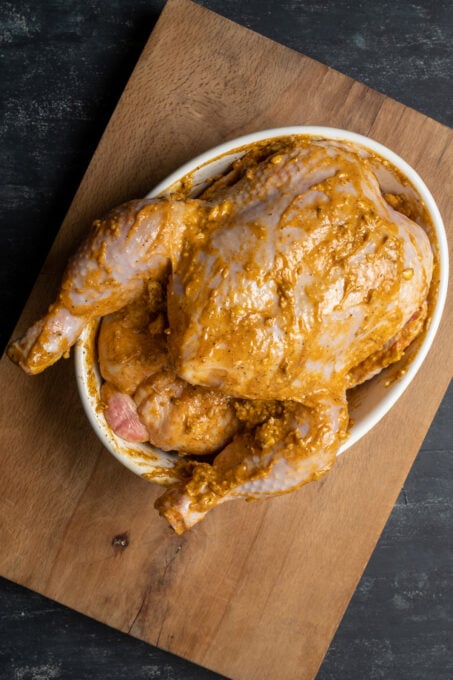 First, make the marinade. Combine all of the marinade ingredients and whisk well. Coat the whole chicken with marinade and place it in a tightly wrapped bowl or container to rest in the fridge for 3 hours.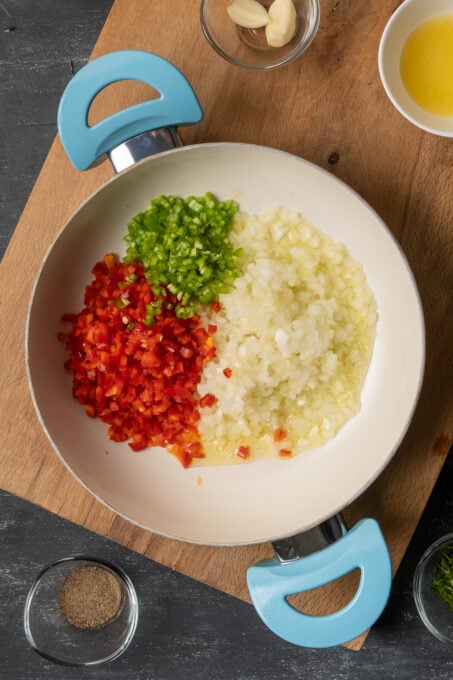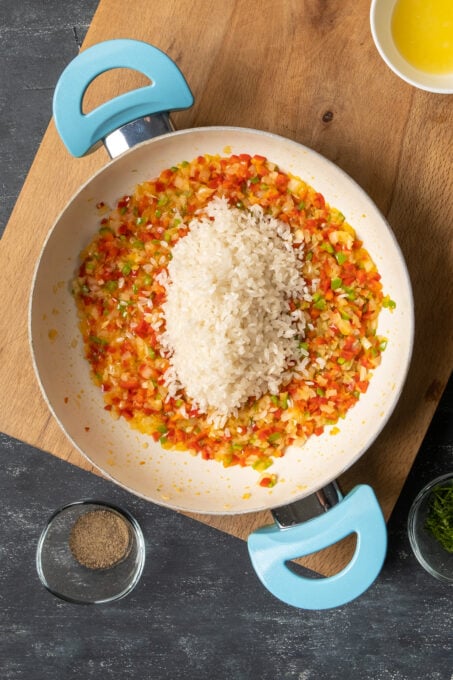 Second, make the rice stuffing. Heat the oil in a pan and sauté the onions and peppers. Once they are translucent, add the rice and salt. Fry them for about 2-3 minutes before adding the black pepper, cinnamon, and lemon juice.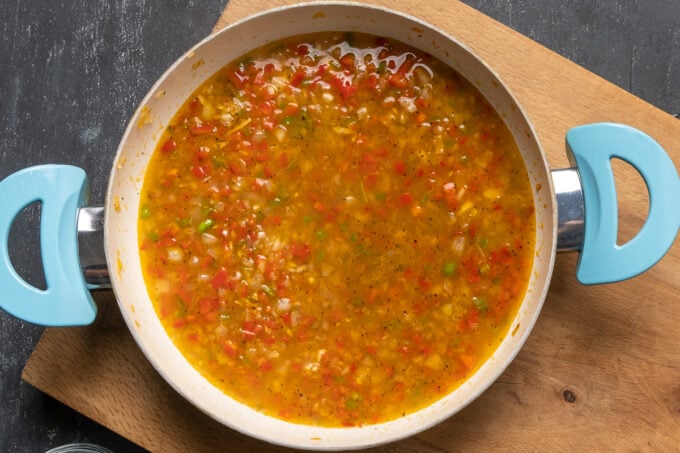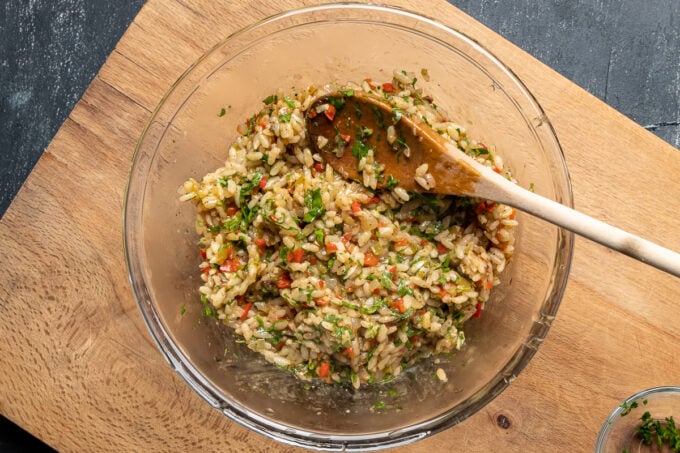 Add the water and bring the mixture to a boil. Lower the heat and allow the rice to simmer until all of the water has been absorbed. Remove from the heat and stir in the chopped parsley and mint
Third, prepare the chicken for stuffing. Preheat the oven to 425°F (220°C) and brush the pan with butter. Stuff the chicken with the rice filling and place it in the pan. Tie together the chicken legs to prevent the stuffing from falling out.
Fourth, bake the chicken. Lower the heat to 375°F (190°C) and bake the chicken for 1 hour 15 minutes. Brush the chicken with the juices and marinade every 30 minutes until the whole chicken has been fully cooked.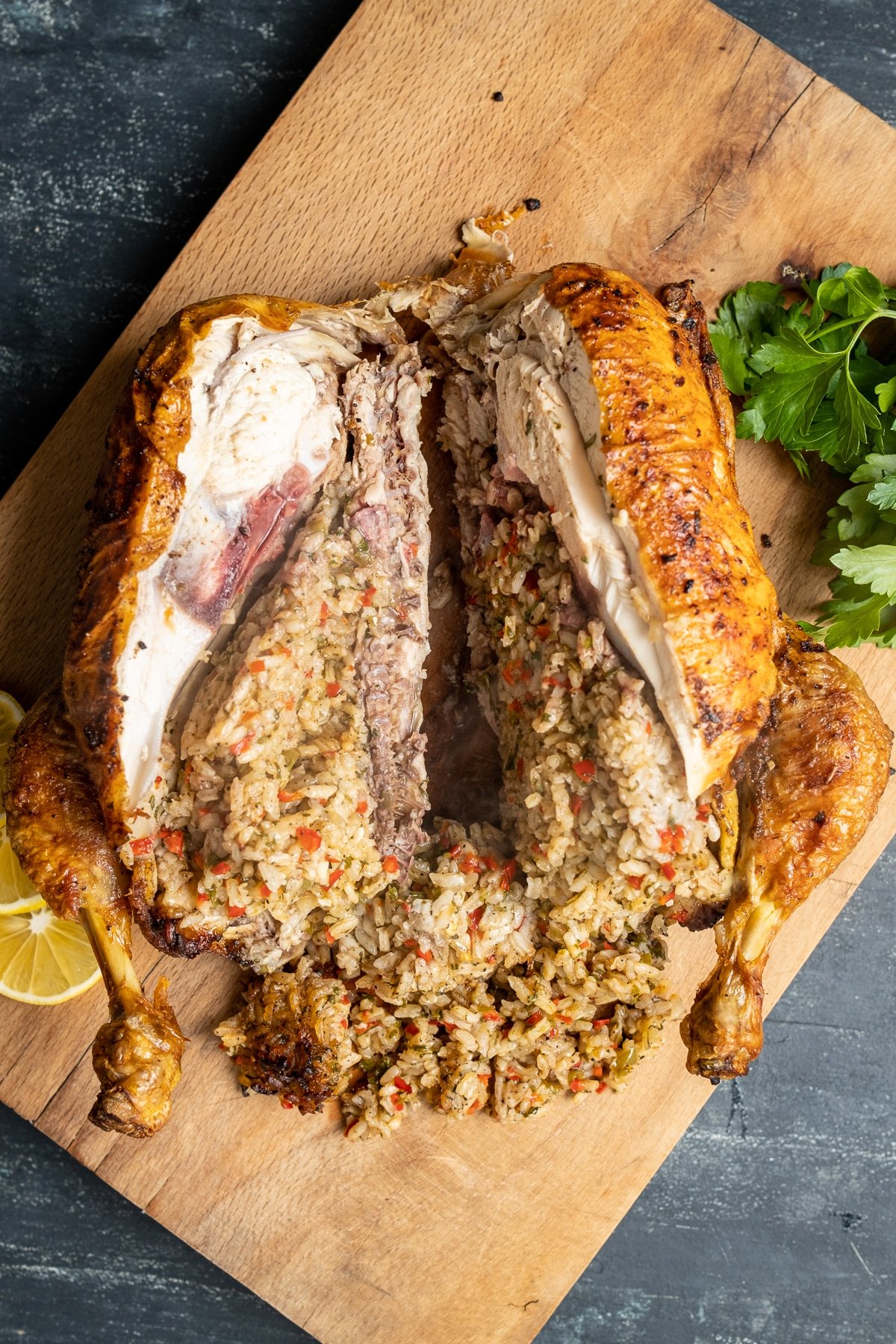 How Long To Cook
When cooking any piece of chicken, there are never precise cooking times, only a rough estimated time frame.
Each and every piece that you cook, including whole chickens, vary in size and therefore cooking times. The larger the piece, the longer it needs to cook.
Cook your chicken for the suggested amount of time, and if it is still not fully cooked through, continue cooking it for another 5-10 minutes. Make sure to check your chicken again to see if it requires even further cooking.
Your chicken is fully cooked when the internal temperature of the thickest piece reaches 165°F (74°C). All of your juices should be clear and the cooked flesh shouldn't be pink.
Do You Cook Rice Before Stuffing Chicken?
For rice stuffed whole chicken, you definitely have to cook the rice before stuffing it, however, you don't cook it all of the way. This is a mistake many people make and it leads to a mushy and overcooked stuffing.
Cook the rice for about ⅔ of the way before stuffing the chicken. It will continue to cook inside the chicken once the roasting starts.
Alternative Flavors for the Stuffing
What makes chicken so amazing is its versatility. You can literally stuff it with anything your heart desires. Your stuffing can be simple, or very complex. Some of our favorite alternative stuffings are vegetables like celery, potatoes, carrots, squash, mushrooms or a sun dried tomato and spinach stuffing. Also, you can substitute bulgur, wild rice or quinoa for long grain rice in this stuffed whole chicken recipe.
Always make sure that your flavors are well-balanced and that they actually go good with chicken.
Alternative Herbs
Herbs and chicken go hand-in-hand and you must choose the correct ones. We love a parsley and mint flavor pairing, however, it might not be everyone's favorite.
Alternative herbs that will go great with this stuffed whole chicken, in general, include thyme, rosemary, or sage. Basil is another herb that has been paired with chicken for decades, but we'd recommend incorporating it fresh.
You can also be a bit more experimental and try incorporating lemongrass or tarragon. Again, remember, your flavors should pair well together and be balanced!
FAQs
How do you keep roasted chicken moist?
The key to any roasted chicken recipe is to use a marinade. It helps add moisture in the hot oven while the chicken itself is still cooking.
Should you roast the chicken without foil?
We highly recommend roasting your chicken without covering it with foil. It allows the skin to become crispy and not soggy. If your oven has hot spots and your chicken is starting to burn, cover that area with a piece of foil if necessary.
How do you check the doneness of chicken without a thermometer?
If you don't have a thermometer to check the internal temperature of the chicken, then you can look at the following signs to check if your chicken has been fully cooked.
All the juices in the pan and that comes out of the chicken should be clear, not bloody or pinkish. You can also cut the thickest part of the flesh to check if it's pink inside. To be fully cooked it should be completely white.
You already have a thermometer? Then make sure it shows a temperature of 165F as stated by USDA.
Should you let the chicken rest?
Resting chicken is a very important step, especially with the larger pieces. You can place a piece of foil over the chicken and allow it to rest until you are ready to serve it – at least 5 minutes.
Allowing it to rest helps cool it slightly to a more edible temperature, and most importantly, it helps the flesh reabsorb some moisture to counter the dryness. This is a very helpful tip when you find yourself with dry chicken, regardless of the cooking method used.
Can you freeze raw stuffed chicken?
You can definitely freeze raw chicken that has been stuffed, and it's also very easy. Once your chicken has been stuffed, tie the legs together to prevent the stuffing from falling out. Then, wrap the whole chicken with plastic or saran wrap before placing it into the freezer. When you're ready to cook the chicken, defrost it in the refrigerator overnight. Do not cook semi-frozen chicken! A whole chicken should be defrosted overnight to be safe.
As always: If you make this recipe, let us know what you think by rating it and leaving a comment below. And post a pic on Instagram too—tag @give_recipe so we can see!
Sign up for the FREE GiveRecipe Newsletter to get the new recipes into your inbox! And stay in touch with us on Facebook, Pinterest, YouTube and Instagram for all the latest updates.
Print
📖 Recipe
Rice Stuffed Chicken
Whole chicken stuffed with a flavorsome rice filling makes a festive dinner for your family.
Author: Zerrin & Yusuf
Prep Time:

20 minutes

Cook Time:

1 hour 15 minutes

Total Time:

1 hour 35 minutes

Yield:

6

Category:

Dinner

Method:

Baking

Cuisine:

Turkish
For Chicken:
1 whole chicken (1kg/2.2 pounds), with skin

1 teaspoon butter for the baking pan
To Marinade:
2 cloves garlic, mashed

½ teaspoon paprika

½ teaspoon black pepper

4 tablespoon butter, softened

1 teaspoon salt
Rice Stuffing:
2 tablespoon olive oil

1 large onion, finely chopped

1 small red bell pepper, finely chopped

1 small green bell pepper, finely chopped

2 cloves garlic, minced

½ cup long grain rice, rinsed well

½ teaspoon black pepper

A pinch of cinnamon

1 teaspoon salt

1 tablespoon lemon juice

1 cup warm water

¼ cup parsley, chopped 

A few sprigs fresh mint, chopped
Instructions
To Marinade The Chicken:
In a small bowl, combine all the ingredients. Coat all sides of the chicken with this mixture very well. 

Put it in a bowl, cover with plastic wrap and let it sit in the refrigerator for 3 hours. 
To Cook The Rice Stuffing:
Heat olive oil in a pan. Saute chopped onion and peppers in it until the onions get translucent. 

Add in the rice and salt. Cook for 2-3 minutes, stirring occasionally. 

Add in black pepper, cinnamon and lemon juice. Stir well.

Pour water and cook covered until it boils.

Reduce the heat to the lowest once it boils and let it simmer covered until the water is fully absorbed. 

Remove from heat. Add in chopped parsley and mint. Give it a gentle stir and put it aside.
To Stuff and Bake The Chicken:
Preheat the oven to 220C/425F. Butter all sides of the baking pan with 1 tablespoon softened butter. 

Remove the chicken from the refrigerator and with the help of a spoon, stuff it with the rice filling and place it into the buttered baking pan. 

Tie the chicken legs with a heat-proof thread so that the filling inside the chicken won't come out. 

Bring the heat to 190C/375F and bake for 30 minutes. Remove the chicken and baste it with the juices. Put it back and bake for another 30 min. Remove it from the oven and baste for the second time. Put it back in the oven and bake for another 15min. You will bake it for 1 hour and 15 minutes. It is ready to be served.
Notes
The baking duration might change depending on the size of the chicken. It's better to check after this time. You might bake for another 15-20 minutes if your chicken is larger.

You can cover the roasted chicken with some foil and let it rest until the serving time. 

You can shred leftover chicken and keep it with rice in the fridge for 3-4 days.
Nutrition
Serving Size:
Calories:

551

Sugar:

2 g

Sodium:

899.2 mg

Fat:

38.3 g

Carbohydrates:

17.7 g

Protein:

33 g

Cholesterol:

147 mg
Keywords: stuffed whole chicken, stuffed chicken, stuffed chicken recipe