This Celeriac and Apple Soup is very easy to make. It is packed with delicious yet interesting and complex flavors.  A great way to break the cycle of boring repetitive soups!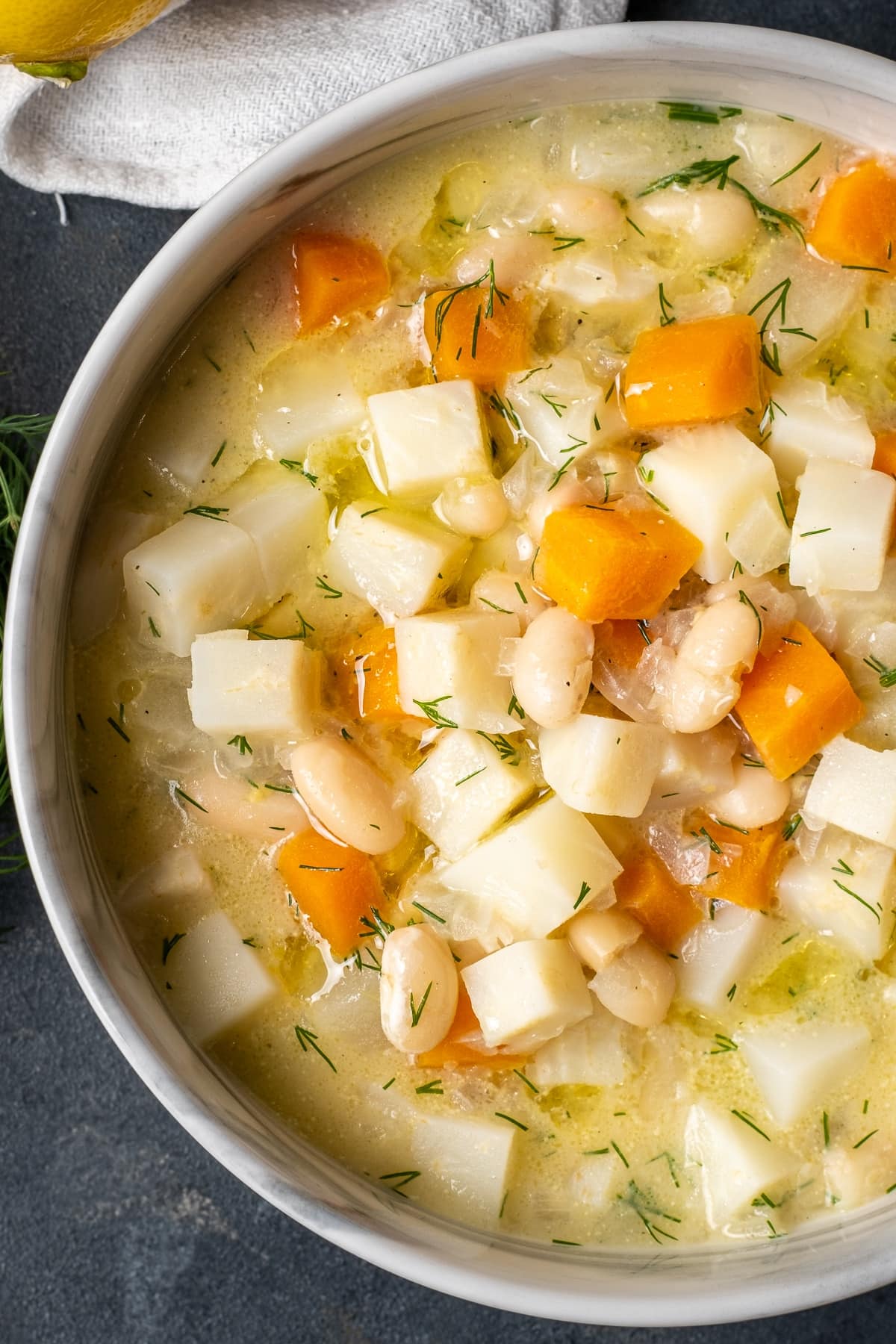 The celery root and granny smith apple in this recipe has the perfect balance of sweet, sour, and spicy flavors. It will change your whole view on celery soups. It takes less than 30 minutes to make and is also incredibly easy!
Today, we will look at this incredible celery root soup and all its elements. We will discuss how to prepare celeriac and keep it fresh, all of the ingredients for this delicious soup as well as some alternatives, and finally, how to actually make this celery root recipe.
Jump to:
What is Celery Root?
First things first, let's quickly discuss celery root. This vegetable also referred to as celeriac or turnip-rooted celery, is a root vegetable that closely resembles turnips.
This large round vegetable forms the bottom part of better-known celery stems and leaves. Although it isn't a very attractive looking vegetable, don't let that discourage you from using it as its taste is quite unique.
Ingredients
This apple and celery root soup should only be made with the freshest ingredients possible.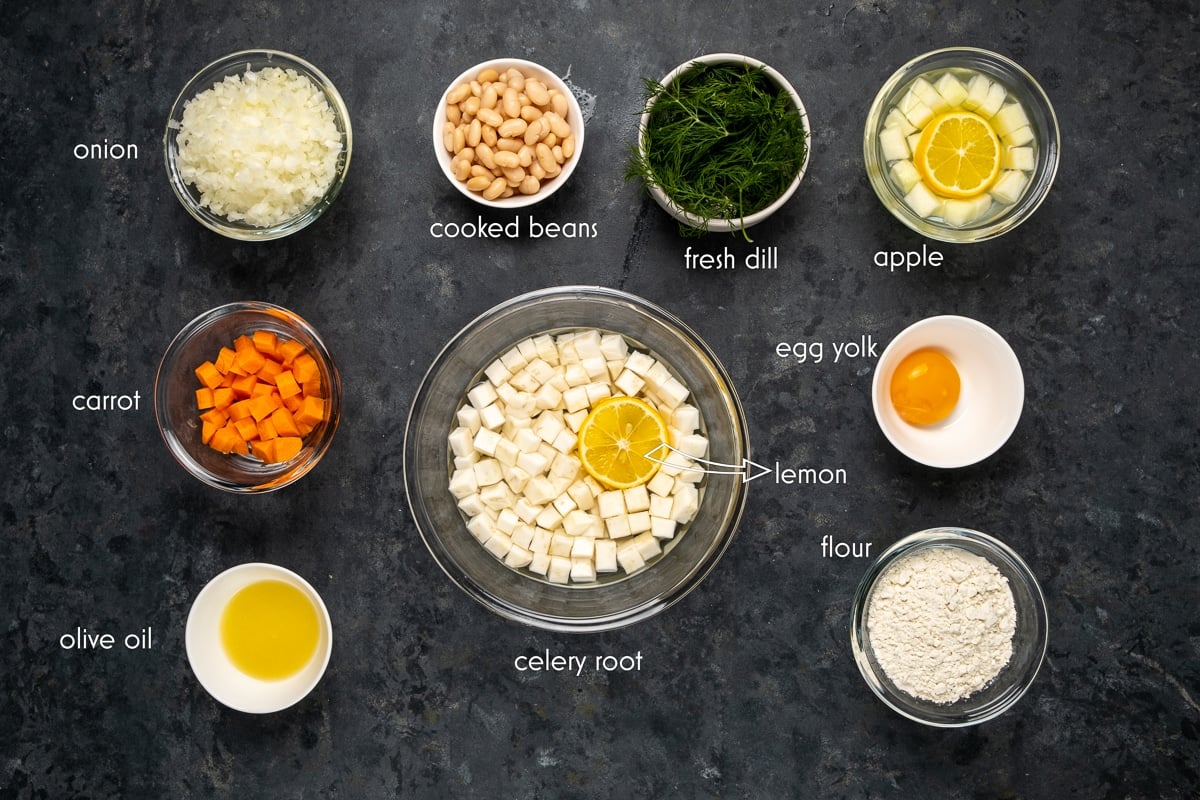 The bases of this soup are some basic vegetables like onions and carrots, but the real stars are the celery root and granny smith apple.
The celeriac has hints of spice and notes of sweetness. There are also definite earthy flavors that come through like with virtually all root vegetables.
The granny smith apple, or any other type of sour apple, balances the spice of the celery root beautifully and creates a much more complex flavor pallet.
The other very important ingredient in this celeriac soup is the egg yolk mixture. This is a very common technique that elevates soups tremendously! By combining the yolk with boiling water, it essentially cooks it while creating an almost creamy base for the soup.
Cooked beans make the soup even more nutritious and satisfying. Alternatively, you can add green lentils, rice or cooked buckwheat.
With the addition of a couple of seasoning ingredients, just like that, you have a filling and flavorful soup!
How To Make The Soup
This is a very easy recipe to make in less than 30 minutes. With only a few simple, well-balanced ingredients, you'll have a new favorite soup!
First, cook the vegetables. Heat the olive oil and cook the diced onions and carrots until they are tender. Add the celery root and apple and stir to incorporate.
Second, add beans and water. Once the vegetables are tender, add the cooked beans and water, and bring the mixture to a boil. Reduce the heat and allow it to simmer for roughly 10 minutes.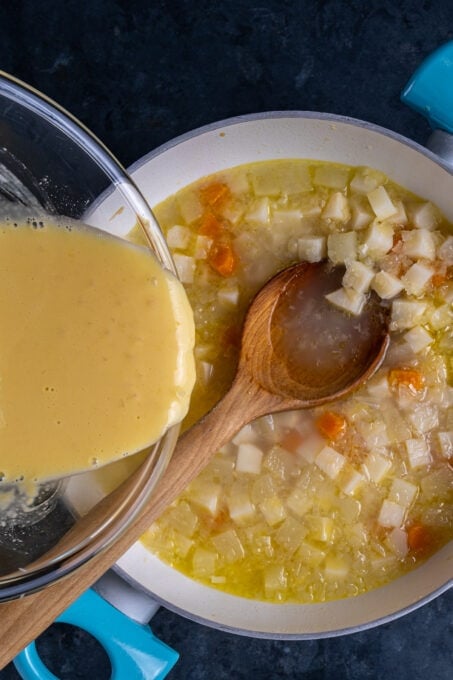 Third, make the egg mixture. In a bowl, combine the egg yolk, lemon juice, and flour. Add one ladle of simmering water while whisking quickly. Add two more ladles of water, following the same method.
Fourth, add the egg mixture into the soup. Once the water has been incorporated into the egg, you can add this mixture to the soup while stirring. Allow it to simmer for another 5-10 minutes.
Fifth, season and serve. Once all of the vegetables are soft, season the soup with some salt and pepper and serve with some freshly chopped dill.
Creamy or Chunky Soup?
This is definitely a chunky soup and we wouldn't recommend blending it. What makes this celery root recipe unique is the way the egg yolk is added.
It creates an entirely different texture that shouldn't be destroyed or removed. Without it, you don't have the same amazing recipe. İf you love chunky soups, check out our Green Lentil And Spinach Soup Recipe too!
Alternative Veggies to Add-In
There are many easy substitutions if you aren't a fan of celery root or if you simply cannot get your hands on some.
Kohlrabi is another very strange-looking, but delicious vegetable that is related to cabbage, kale, and broccoli. Another option that is easier to find are turnips or even easier, celery stalks!
With regards to the granny smith apple, although many people don't like its taste, it is truly different once incorporated into the recipe. However, if you are looking for a less sour alternative, try a golden delicious or Fuji apple. Then you will end up with a sweeter soup.
FAQs
Can you use celery root in soup?
Because of this vegetable's ugly exterior and extremely thick skin, many people think that it is inedible or unappetizing, but it's actually one of the more frequently used ingredients in soups.
Celery root adds a whole new flavor cue into sometimes bland soups. The slightly sweet and spicy flavors are perfectly balanced with virtually all ingredients and the vegetable itself cooks to a very appealing texture – not too crunchy, but not mushy. 
How can I cut celery root for soup?
As we've already mentioned, celery root has an extremely thick skin that isn't as easy to remove as with other vegetables. This usually discourages people from using it, but with our simple method, you'll get cooking in no time!
There are two ways you can remove the skin. The first is by using a peeler, although we've found that this method takes a long time.
The second and much easier method is to cut the skin off using a very sharp knife. The skin isn't edible so make sure to get all parts of it. And then just cut it in small cubes.
Does celery root turn brown?
Like many other vegetables, especially those that are lighter in color, celery root also starts turning brown once it has been peeled.
To prevent this, you can place the cut celery root into a bowl of cold water with a few drops of lemon juice. Alternatively, you can simply peel it right before you need to cook it.
Does celery root go bad?
Seeing that celery root is a fresh vegetable, it does eventually go bad. Luckily it has a longer shelf life compared to other fresh fruits and veggies.
The best way to prolong the shelf life of celery root is by wrapping it in paper and storing it in the refrigerator for roughly two weeks.
Cut celery root will start turning brown within a couple of minutes and will have to be used within a day or two.
More Chunky Vegetarian Soups
As always: If you make this recipe, let us know what you think by rating it and leaving a comment below. And post a pic on Instagram too—tag @give_recipe so we can see!
Sign up for the FREE GiveRecipe Newsletter to get the new recipes into your inbox! And stay in touch with us on Facebook, Pinterest, YouTube and Instagram for all the latest updates.
Print
📖 Recipe
Celeriac And Apple Soup
A comforting soup with diced celery roots, apples, carrots and cooked white beans. 
Author: Zerrin & Yusuf
Prep Time:

10 minutes

Cook Time:

30 minutes

Total Time:

40 minutes

Yield:

4

1

x
Category:

Lunch

Method:

Cooking

Cuisine:

American

Diet:

Vegetarian
1 tablespoon

olive oil

1 small onion, chopped

1 small carrot, diced

1 cup celery root, diced 

1 apple (granny smith), diced 

½ cup cooked beans

3 cup water

1 egg yolk

1 tablespoon lemon juice

1 tablespoon flour

½ teaspoon salt

¼ teaspoon black pepper

Fresh dill, for garnish
Instructions
Heat olive oil in a pan and cook diced onion and carrot for 3 minutes.

Add in diced celery root and apple. Give it a stir.

Add in cooked beans and pour water over these. Bring it to boil. Reduce the heat to low and let it simmer. 

In a small bowl, whisk together the egg yolk, lemon juice and flour. 

Take a ladle of simmering water and pour it into the yolk mixture. Whisk it super quickly. Repeat this with two more ladles of water.

Pour this mixture into the pot. Keep stirring the soup while pouring it. Let it simmer for 5-10 minutes.

Add in salt and pepper and remove from the heat. 

Garnish with chopped fresh dill before serving.
Notes
This is a chunky soup and we don't recommend blending it.
To stop the diced celery roots and apples from getting brown, put them in a bowl with a mixture of water and lemon. 
Be careful when adding the egg yolk and lemon sauce into the simmering soup. First add a ladle of simmering water from the pan and pour it into the yolk mixture. Immediately whisk it fast. Repeat this with two more ladles of water.
Nutrition
Serving Size:
Calories:

124

Sugar:

4.9 g

Sodium:

358.6 mg

Fat:

5.4 g

Carbohydrates:

16.4 g

Protein:

3.4 g

Cholesterol:

46.1 mg
Keywords: celery root soup, celery root recipe, celery root