Turkish Style Celeriac with carrot and quince flavored with lemon and orange juice make a wonderful side dish or a vegetarian meal. Perfect combination of sweet, savory, earthy and citrusy flavors. This recipe can make you a celeriac fan even if you are eating it for the first time.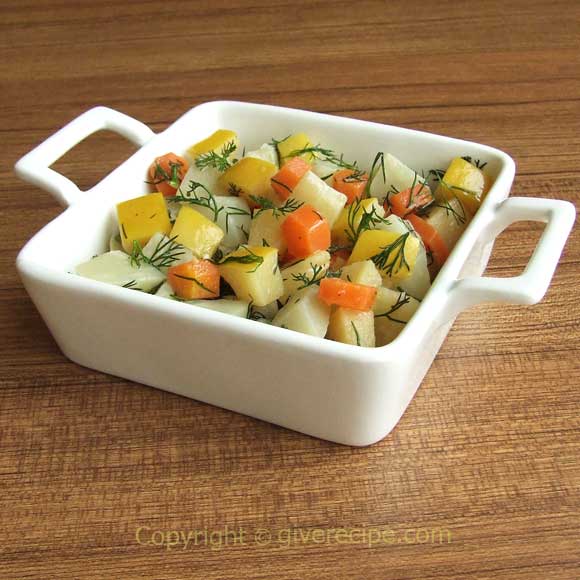 Living in Mediterranean area, Turkish people are quite friendly and they can easily communicate with someone they don't know. I would like to talk about greeting ways of Turkish people in this post.
You know communication starts with greeting, so it is a kind of social ritual which has a very important role in a society. There is no one way of greeting though. It might depend on several variables, so every culture has its own way of greeting. We can even say that greeting might differ in regions of a country or people from different social backgrounds may have different greeting styles, too. These differences can cause misunderstandings if a person is not familiar with them.
Which body language do Turkish people use for greeting besides saying 'hi' (merhaba)? Mainly, men shake hands, women kiss each other on cheek. This may also differ depending on relationships. If men are relatives or close friends, they also kiss on cheek. I think cheek kissing still needs a bit more explanation. The common way of it in the country is to kiss on both cheeks; yet, there are some regions where women kiss on cheek three times, one kiss on one cheek, two kisses on the other. Some women even do this twice on both cheeks! Can you imagine this? I've experienced this a few times in some parts of Turkey, and was very surprised when I was first kissed about 20 times by 5 women- if my maths is good enough to multiply 5 with 4. Yes, you read it right, 20 times! When they kiss you, you start to think as if it never ends. It's not important for them whether you kiss them too or not. They just want to welcome you in this way, so it will be rude to stop them. The only thing you can do is to wash your face very well when you come home. Men also kiss on cheek a few times in the same regions, but theirs is not a real kiss. They just touch their cheeks on each other's. Women and men in countryside don't kiss each other, they either shake hands or just make eye contact as greeting. However, in big cities  they kiss on both cheek (luckily just once!) if they have a close relationship, they just shake hands if they aren't close enough. They also hug each other if they haven't seen each other for a long time.
What about kids? Kids kiss hands of adults and adults kiss on their cheeks in return. Generally, kids are told by their parents to kiss the hand of someone no matter how close the relationship of their parents and that person is. They first kiss the hand and then make it touch on their forehead. This is a way of showing respect.
Another way of greeting is just waving hands if you don't stop and chat with each other.
So you know a bit more about Turkish style greeting.
Do you have a way of greeting in your culture different from these?
As for the dish above, it is one of my favorites in Winter. I love the combination of all ingredients here. Flavors of quince and orange juice make a balance with flavors of celery and carrot. And fresh dill adds a very nice texture and distinctive flavor to this very appealing Winter dish. Quince is mostly peeled and then put in this dish, but I love to see its bright yellow color, so I leave it as it is.
Print
Celeriac With Quince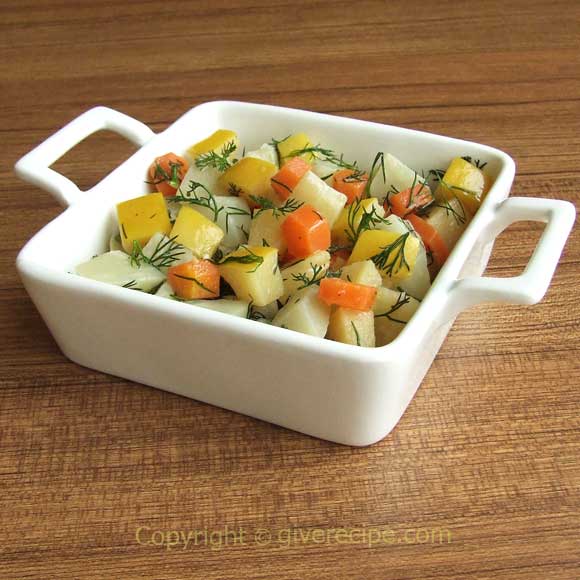 A lovely combination of quince and celeriac!
Prep Time:

10 minutes

Cook Time:

30 minutes

Total Time:

40 minutes

Yield:

4

1

x
Scale
Ingredients
2

celery roots, peeled and chopped

1

carrot, chopped

½

quince, seeds discarded and chopped

½

orange, squeezed

½

lemon, sequeezed
half bunch of fresh dill, chopped
salt to taste

3 tbsp

olive oil

¾ cup

hot water
Instructions
Put carrot, celeriac, and quince into the pot in this order.
Pour orange juice and lemon juice onto them.
Add olive oil and salt. Cover the pot and cook over medium heat for about 10 minutes.
Then stir it and pour hot water into it.
Cook for 15-20 minutes until tender. Do not overcook it or the veggies get mushy. Take it from heat, add chopped fresh dill and stir.
Serve it warm either as a main dish or side dish with meat or chicken.
IF YOU LIKED THIS RECIPE, YOU WILL LOVE THESE TOO: