If you are looking for a unique, flavorful, and fun snack idea or dinner recipe, then these Yaprak Sarma, Turkish style Vegetarian Stuffed Grape Leaves or Dolmas are perfect for you! They're packed with mouth-watering Mediterranean flavors and a unique blend of spice that makes every bite better than the last!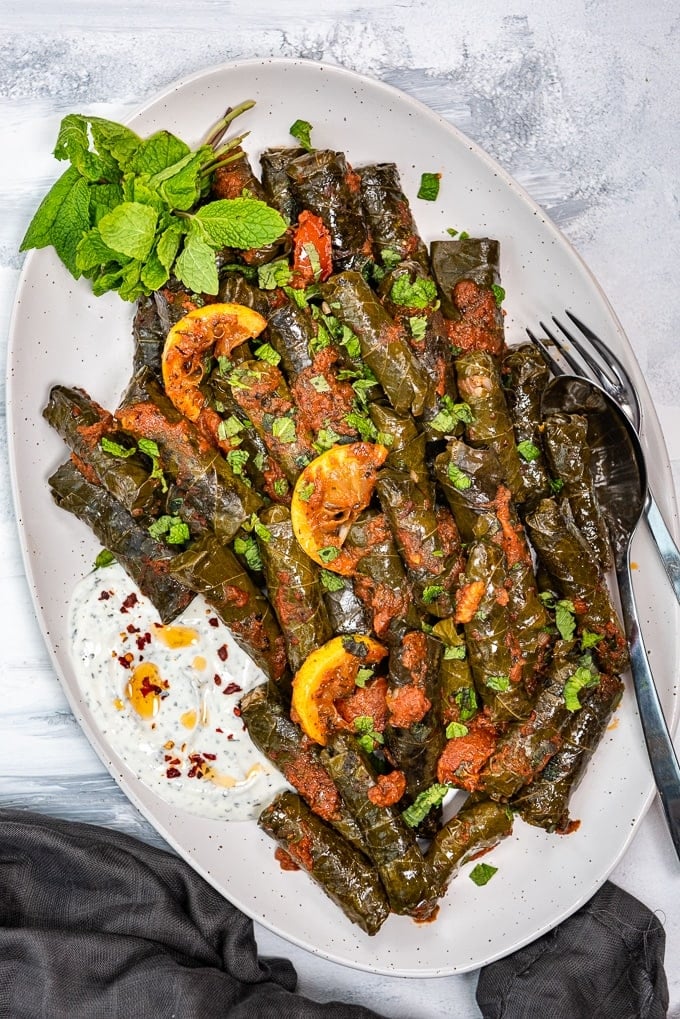 Stuffed dishes are the new talk of the town, but give your regular stuffed peppers a skip and make this delicious and unique Turkish stuffed grape leaves dolma or yaprak sarma as we say in Turkish. Once you have one, you won't be able to stop!
This recipe is made with grape leaves stuffed with rice and is completely meatless. It only contains rice, onions, tomatoes, a few spices and herbs, and of course, some grape leaves to stuff. It is called zeytinyagli sarma in Turkish cuisine when it is meatless.
It also only has four folds; prepare the leaves, make the filling, stuff, and cook! Also check out another version of Turkish sarma: Turkish Stuffed Cabbage Rolls.
Today, we will be taking a culinary journey and look at everything yaprak dolma; from what they are, what they are stuffed with, how you can make them at home, and even how you can serve them.
Jump to:
What Is Dolma in Turkish Cuisine?
Dolma is a Turkish word that refers to all types of stuffed foods. Vegetables and edible leaves are used as the container for the delicious filling, which can be anything from meat to grains or vegetables. And these stuffed foods are one of the tastiest Turkish dishes everyone should try.
For example, "Biber Dolmasi" means rice stuffed peppers, "Kabak Dolma" refers to stuffed zucchini, while "Midye Dolma" means stuffed mussels.
Stuffed grape leaves are often referred to as "Yaprak Dolma" or "Yaprak Sarma". This is because "yaprak" means grape leaves and "sarma" means wrapped, or rolled – exactly what this recipe is!
Turkish Dolmas can be served warm or cold depending on their filling; for example, meat or ground beef dolmas are usually served warm, whereas vegetarian dolmas are often served cold and with a generous amount of olive oil.
Dolmas also often have a sauce accompaniment that compliments the flavor of the dish itself. Serving this Turkish yaprak sarma or dolma with a refreshing mint yogurt sauce makes it even tastier!
What Are Dolmades?
Dolmades is simply the Greek word for Dolma (the Turkish word). Unlike Turkish dolma, which refers to everything stuffed, "Greek dolmades" is used for stuffed vine leaves, cabbage leaves or even zucchini blossoms.
Stuffed grape leaves have different names in several other cultures. They are called "yebra" in Syria, "dolme" in Iran, and "tolma" in Armenia. Each cuisine and country will have slight flavor variations and serving methods, but the concept remains the same. Read more >> Dolma In Different Cuisines.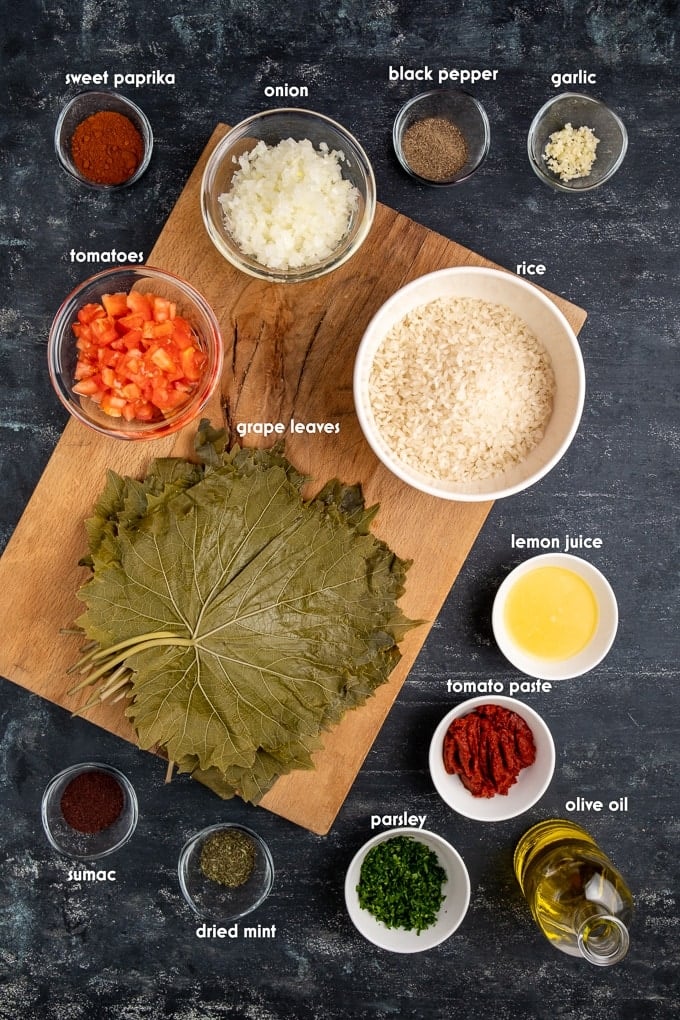 About The Ingredients
In Turkish cuisine specifically, there are two versions of stuffed grape leaves. The first version is completely vegan. The second version is with a ground beef and rice filling.
Vegetarian dolmades are served cold with additional olive oil on top, whereas the meat version is often served hot.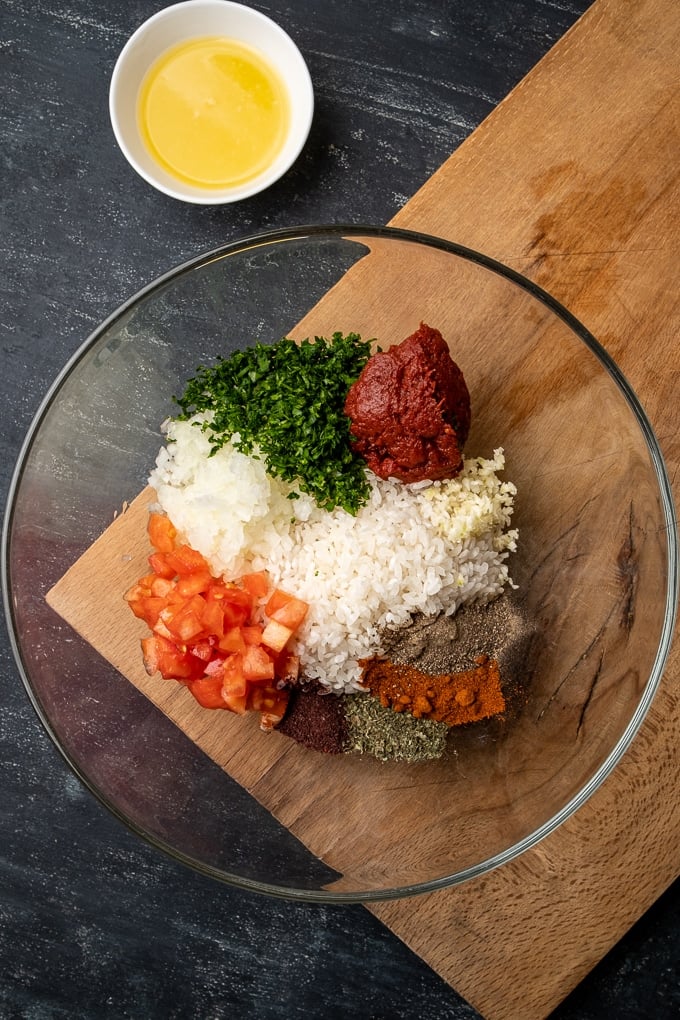 The base for any dolma recipe is always the same; rice, onions, herbs, spices, olive oil, and lemon. These ingredients might differ slightly in type and ratio, but regardless of the vegetables or meats used with them, they remain unchanged.
Tomato paste and tomatoes are used some regions of the country whereas these are left out in some other regions. Still in some regions, pine nuts and a little cinnamon are added in the vegetarian dolma filling.
What Are Grape Leaves?
Every time we mention grape leaves, some people are always very confused. It seems like few know that the leaves from a grapevine plant are edible.
But, be careful before just grabbing some from a vineyard, as not all of them work as well as others. Make sure that the leaves are flexible enough and don't have very hard 'veins'. The best variety of vine leaves to make dolma and dolmades is sultanas.
These leaves are preferred mainly because of their size and shape, which makes the rolling process very easy. They are also much stronger and more flexible compared to others.
You will also be surprised to learn how easy it is to find fresh grape leaves. A lot of wine or grape farms will allow you to grab some leaves from the vineyard, however, you can also easily find them at some farmers markets. We wouldn't recommend buying fresh grape leaves online, as they won't be fresh when they reach you.
Preserved grape leaves can be more easily found at some supermarkets and can even be bought online. Our favorite brand is Melis, which has a Turkish origin. You can find it at online Turkish stores. These are stored in brine (saltwater) so their shelf life is much longer compared to fresh ones. The only thing you need to do is to rinse them well to remove the excessive salt before making yaprak sarma. If you want, you can preserve your very own grape leaves. Check out our post about How To Preserve Grape Leaves!
How To Make
This grape leaves recipe is surprisingly easy to make despite looking complex. It is delicious, packed with Mediterranean flavors, and a must-have at your next dinner party!
Make The Filling: To make this easy filling, all you have to do is combine the ingredients in a large bowl, leaving out the grape leaves, ¼ cup olive oil and water.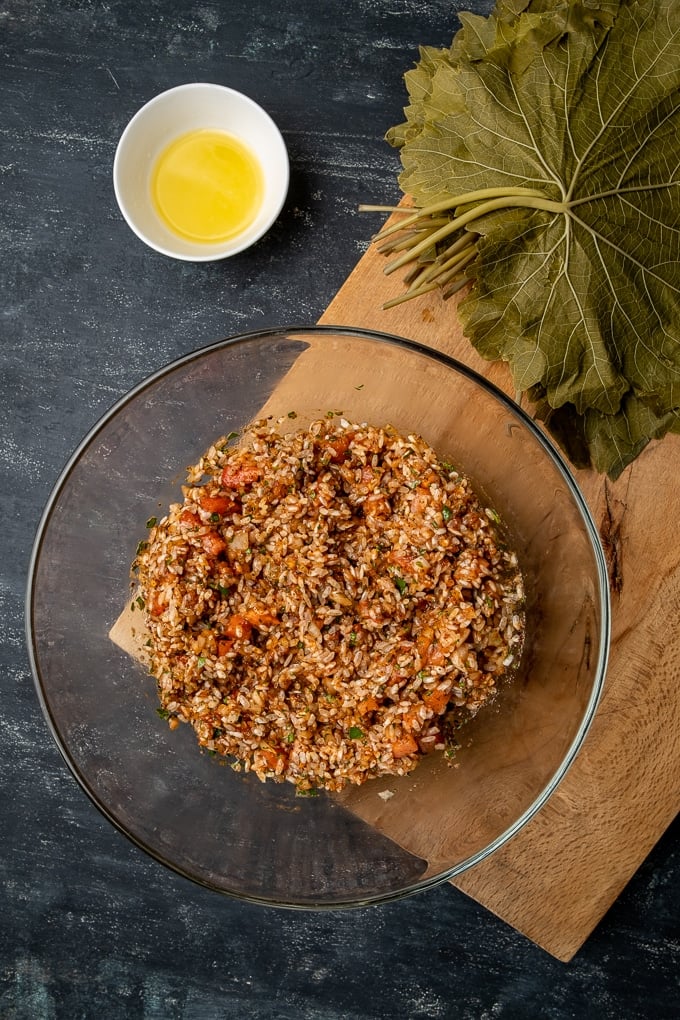 Prepare the Grape Leaves: If you have grape leaves in brine, you don't need to prepare them in any way. Simply wash them with water to remove the excessive salt. If you are using fresh grape leaves, blanch them in boiling water for 3-4 minutes, then transfer them into ice-cold water.
Once completely cooled, drain them and set them aside until needed. Once the leaves have been washed or cooked, cut off the stems as close to the leaf as possible (see the video in the recipe card below).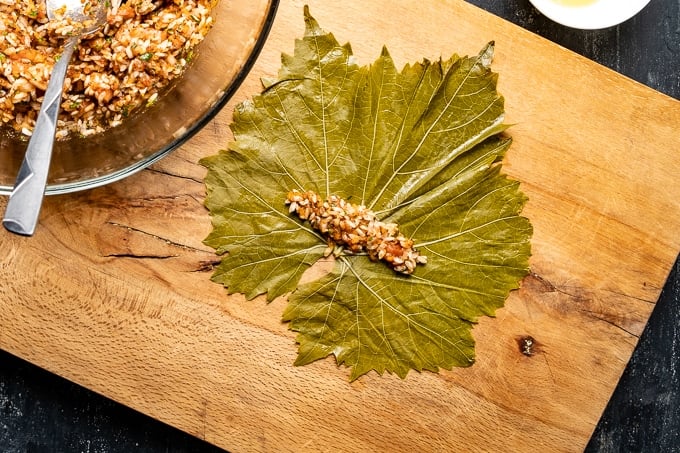 Stuff The Vine Leaves: Cut off the stems of the leaves. Place a leaf on a cutting board or on a plate, shiny side down. Place about 1 tablespoon of the rice filling near the end of the leaf, cover that filling with the top edges as you see in the pictures here.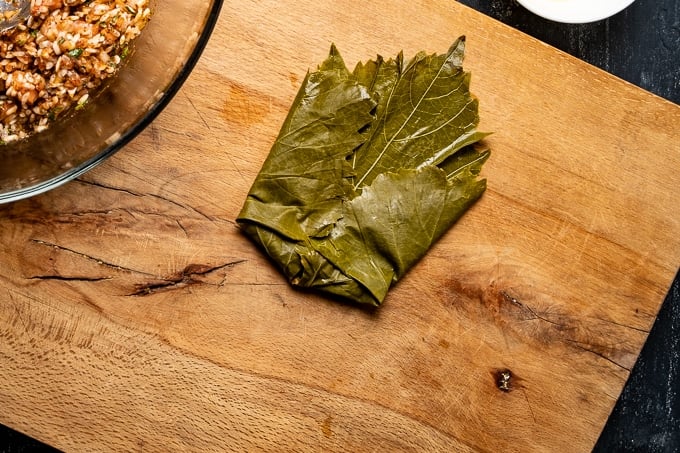 Fold the side edges to the center and roll it up as you see above.
Arrange the stuffed leaves in rows without leaving any space. Pour water and olive oil over the rolls. At this step, you can even add a splash of verjus if you have any. Place a heat-proof plate on the top to help the dolmas keep stable when cooking.
Let them cook covered over the lowest heat for 45 minutes, or until the rice has completely cooked inside the rolls. Once cooked, remove them from the pot and allow them to cool before serving.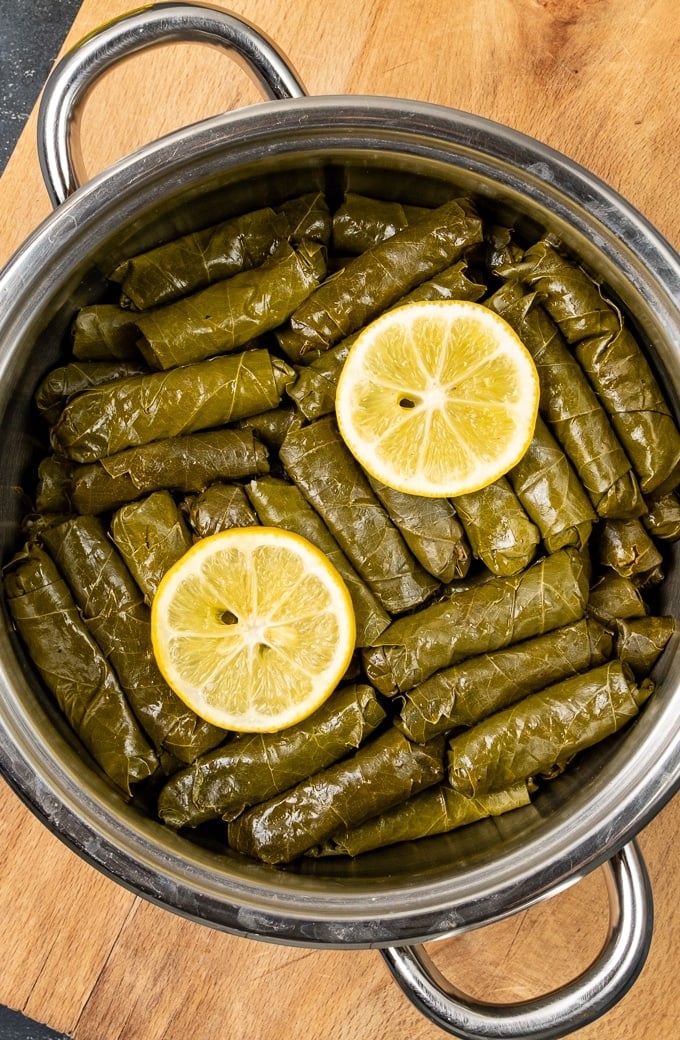 For serving, we highly recommend that you prepare an easy garlicky tomato sauce and pour it over the dolmas. This sauce will definitely take this yaprak sarma recipe to a whole new level.
Note: If there is any leftover filling, you can either keep it in the fridge and cook as a side dish next day or freeze it for a later use.
What To Serve With
These vegetarian stuffed grape leaves are the perfect alternative to traditional chips and dip. In Turkey, they are often served with plain yogurt, mint yogurt sauce or Turkish cacik, a cucumber and yogurt dip, very similar to tzatziki.
You can also serve yaprak sarma as is with an extra drizzle of olive oil and lemon wedges.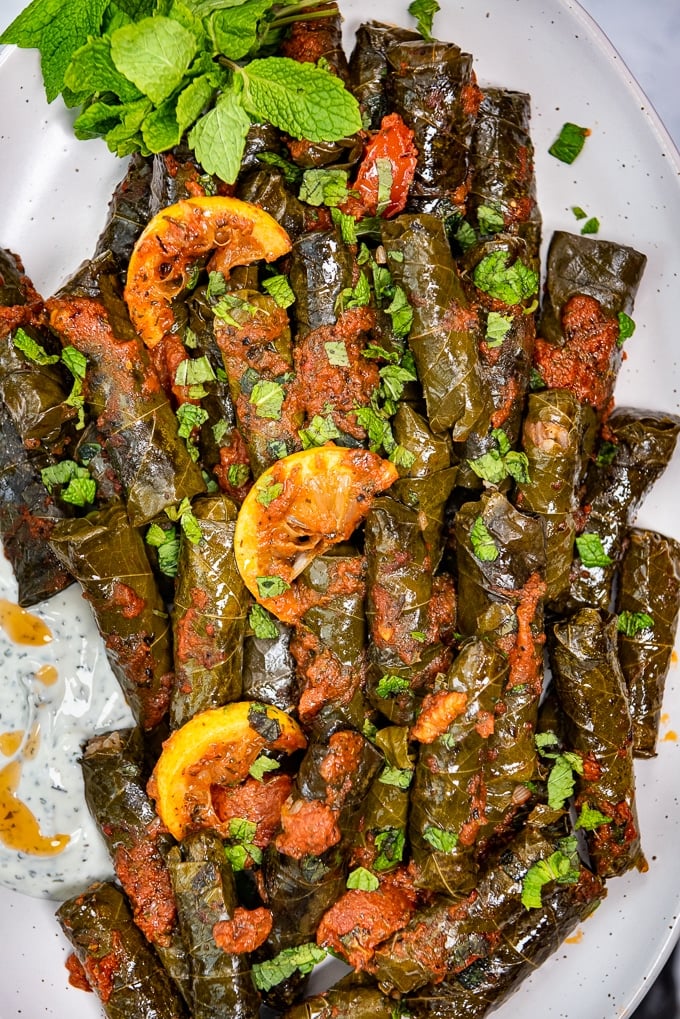 More Stuffed Veggies (Dolma) Recipes
More Turkish Recipes
As always: If you make this recipe, let us know what you think by rating it and leaving a comment below. And post a pic on Instagram too—tag @give_recipe so we can see!
Sign up for the FREE GiveRecipe Newsletter to get the new recipes into your inbox! And stay in touch with us on Facebook, Pinterest, YouTube and Instagram for all the latest updates.
Print
📖 Recipe
Yaprak Sarma (Turkish Dolma)
Grape leaves stuffed with a spicy vegetarian rice filling. These are best when cooled and with extra lemon juice.
Author: Zerrin & Yusuf
Prep Time:

45 minutes

Cook Time:

45 minutes

Total Time:

1 hour 30 minutes

Yield:

6

1

x
Category:

Side Dish

Method:

Cooking

Cuisine:

Turkish

Diet:

Vegetarian
To Stuff Grape Leaves:
2 cups

rice, rinsed well

1 cup

tomatoes, peeled and finely chopped

2 cups

onion, finely chopped

½ cup

parsley, finely chopped

4

cloves garlic, finely chopped

1 teaspoon

cayenne pepper

2 teaspoons

dried mint

1

and ½ teaspoons ground black pepper

1 teaspoon

sumac

2 teaspoons

salt

⅔ cup

olive oil plus ¼ cup for drizzling the stuffed leaves

1

lemon, squeezed

1 tablespoon

tomato paste

1

pound grape leaves

1

and ¾ cups water
Tomato Sauce For serving:
1 tablespoon

olive oil

1 tablespoon

tomato paste

1 teaspoon

dried mint (or fresh mint)

1

large tomato, diced

2

cloves garlic, minced

1 tablespoon

lemon juice
Instructions
Stuffing Grape Leaves:
In a large bowl, combine all ingredients except grape leaves, ¼ cup olive oil and water.
If you have grape leaves in brine, you don't need to do any work on them,  just wash them well to remove excessive salt. If you have fresh grape leaves, blanch them in boiling water for 3-4 minutes. Transfer into cold water and drain.
Cut off the stems of the leaves. (See the video)
Place a leaf on a cutting board or on a plate, shiny side down. Place about 1 tablespoon of the rice filling near the end of the leaf, fold and roll it up. (Please see it in the pictures above or watch the video to see how).
Place stuffed and rolled grape leaves into a pan either leaving the centre of the pan empty or in rows without leaving any space at the bottom of the pan.
If there is any leftover filling, put it in a cup or glass, place it into the centre (you can see it in the video) so that it is cooked at the same time with the leaves or freeze it for later use. If there is no leftover, just skip this step. But you can still place the rolls in the pot in the same way.
Pour 1 and ¾ cups water and ¼ cup olive oil over the rolls.
Cook covered over the lowest heat for about 45 minutes or until the rice inside the rolls is cooked.
Cool completely before serving.
Squeeze lemon over it.
Tomato Sauce For Serving:
Heat olive oil in a small saucepan over low heat. 
Add in tomato paste and dried mint, cook for about a minute. 
Add in diced tomatoes, minced garlic and lemon juice. Cook until tomatoes are soft, about 10 minutes.
Pour this sauce over the stuffed grape leaves before serving. 
Notes
You don't have to cook the leftover filling in the same pot as seen in the video. It is just the easy and quick way of cooking it. You can freeze it for a later use.
Nutrition
Serving Size:
Calories:

436

Sugar:

9.5 g

Sodium:

807.2 mg

Fat:

29.4 g

Carbohydrates:

43.4 g

Protein:

7.5 g

Cholesterol:

0 mg
Keywords: stuffed grape leaves, dolma, yaprak sarma