Meatless Stuffed Grape Leaves packed with Mediterranean flavours and spices are so darn good! You will feel the tartness of the leaves and all amazing spices at each bite. Make sure you squeeze lemon before eating for extra joy. You can even drizzle a little yogurt to double the joy. Don't worry if you have never made these stuffed leaf logs before. We've made a how to video for you! Find it below.
Are you having a party soon and looking for a unique party food recipe to amaze your friends? This is the recipe you are looking for. Serve these meatless stuffed grape leaves with a bowl of yogurt and watch how everyone enjoys dipping the stuffed leaves into it. This makes an epic alternative to any chips and dip combination.
In Turkish cuisine, there are a lot of dishes that are stuffed with different kind of mixtures. We can stuff any vegetable or even meat with something to combine flavours. We fill peppers, eggplants, tomatoes, potatoes, zucchinis. We stuff any vegetable with a kind of rice and herbs mixture, meat or sometimes with cheese. We also fill chicken, some fishes or a part of lamb with some other mixtures. Moreover, we can create the "container" ourselves by kneading different kinds of dough (of flour, ground wheat or semolina). I can share these later.
Meatless stuffed grape leaves recipe is one of the most popular Turkish dishes. It is one of those dishes that is always craved by everyone but not made that often as it takes some time to stuff and roll the leaves. It is on top of the list though when we have some important guests for dinner. People generally prefer it with a vegetarian rice filling (we call it grape leaves with olive oil), but some add ground beef into this rice mixture. Almost all vegetarian vegetable dishes are drizzled with a little more olive oil after it's cooked and served cold. We call them olive oil dishes.
If you ask me, vegetarian stuffed grape leaves are better as it's is a kind of cold served dish. And this makes them a great snack! If you add ground beef into the filling, you should serve it hot.
Believe or not, we can eat these meatless stuffed grape leaves at any time of day. We even serve it at breakfast. It is not weird when you see someone snacking on these right from the refrigerator at midnight.
I never make these in small amounts. I make a pot of stuffed grapevine leaves and keep the leftovers in refrigerator. Whenever I feel hungry, it makes me happy to know that I have some stuffed grape leaves waiting in my kitchen. I think, it's the same for others. When I open the refrigerator to eat one or three, okay maybe more stuffed leaves, I always see that it's not just me. And most probably, I find the pot empty the next time. You can imagine how it is hard to stop when you get one.
There are even different versions of  that rice mixture filling depending on the regions. Some make it with just rice and onion, some add a lot of greens in it, some add tomatoes and pepper paste, some add currant and pine nut, some add little sugar in it, some don't, some saute this filling mixture before stuffing the leaves, some don't. You see, there are a lot of versions, you can add your own ingredient to make it peculiar to yourself.
The recipe here is made in a Mediterranean style. It is quite tangy and combined with some great spices like sumac and dried mint. We add pepper paste in the filling, but you can leave it out if you can't find it. Or use tomato paste instead.
We updated the post with new photos and  a video in August 2016.
Print
Meatless Stuffed Grape Leaves
Grape leaves stuffed with a spicy vegetarian rice filling. These are best when cooled and with extra lemon juice.
Author:
Prep Time:

45 minutes

Cook Time:

45 minutes

Total Time:

1 hour 30 minutes
Scale
Ingredients
2 cups

rice, rinsed well

1 cup

tomatoes, peeled and finely chopped

2 cups

onion, finely chopped

1/2 cup

parsley, finely chopped

4

cloves garlic, finely chopped

1 teaspoon

cayenne pepper

2 teaspoons

dried mint

1

and 1/2 teaspoons ground black pepper

1 teaspoon

sumac

2 teaspoons

salt

2/3 cup

olive oil plus 1/4 cup for drizzling the stuffed leaves

1

lemon, squeezed

1 tablespoon

pepper paste

1

pound grape leaves

1

and 3/4 cups water
Instructions
In a large bowl, combine all ingredients except grape leaves, 1/4 cup olive oil and 2 cups water.
If you have grape leaves in brine, you don't need to do any work on them,  just wash them well to remove excessive salt. If you have fresh grape leaves, blanch them in boiling water for 3-4 minutes. Transfer into cold water and drain.
Cut off the stems of the leaves. (See the video)
Place a leaf on a cutting board or on a plate, shiny side down. Place about 1 tablespoon of the rice filling near the end of the leaf, fold and roll it up. (Watch the video to see how).
Place stuffed and rolled grape leaves into a pan as seen in the video leaving the centre of the pan empty.
If there is any leftover filling, put it in a cup or glass, place it into the centre (you can see it in the video) so that it is cooked at the same time with the leaves. If there is no leftover, just skip this step. But you can still place the rolls in the pot in the same way.
Pour 1 and 3/4 cups water and 1/4 cup olive oil over the rolls.
Cook covered over the lowest heat for about 45 minutes or until the rice inside the rolls is cooked.
Cool completely before serving.
Squeeze lemon over it and optionally drizzle with yogurt when serving.
Keep it in the refrigerator.
Notes
I used pepper paste, which is very common in Turkey but you can just leave it out or use tomato paste instead. It will still be so tasty.
You don't have to cook the leftover filling in the same pot as seen in the video. It is just the easy and quick way of cooking it.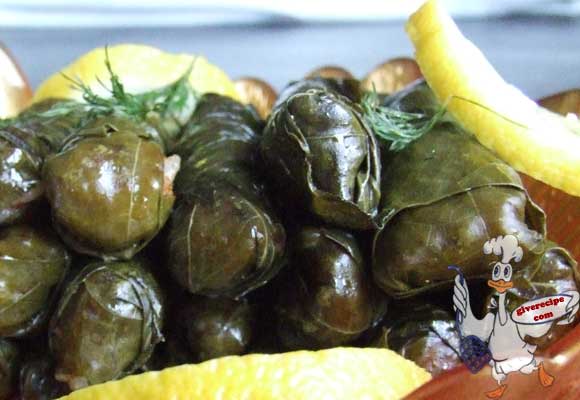 IF YOU LIKED THIS RECIPE, YOU WILL LOVE THESE TOO: