Verjuice is a green and sour juice made from unripe grapes. It is a fantastic alternative to lemon juice. Lemon is considered as the sole source of sour juices by many people, but it is not! In the past, people used to use unripe grapes to give their salads or dishes sour flavor as they weren't familiar with lemon. Now it is not as common as lemon, but people in Mediterranean Region and Agean Region in Turkey still use verjuice when it's in season. They use it either in salad dressings or in dishes like okra or kisir.
My grandma had a small vineyard in front of her home, and she would prepare verjuice in bottles for winter. She would never buy lemon. As a child, I would love to snack on these sour green beads, so I would always look forward to being called by grandma to pick unripe grapes. There was no blender those times, so she would press them with a stone and then squeeze in hands. I would love to drink a bit of this highly tart juice too!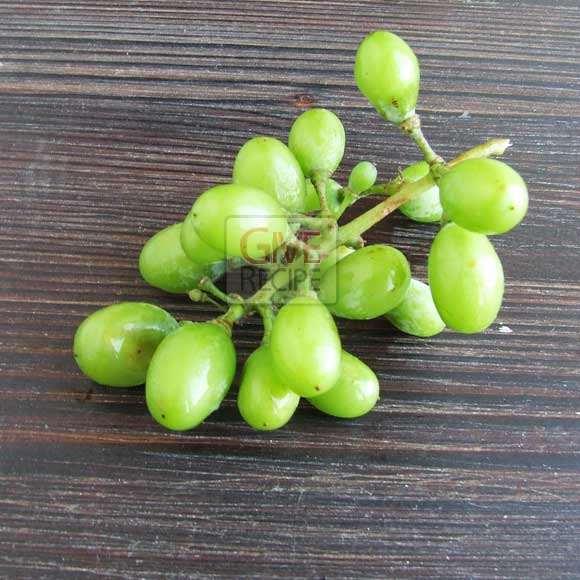 We went to Tire, Izmir last week and we were lucky enough to do some shopping at farmer's market, which is open once a week. It was like a big feast for us, farmers were so friendly that they allowed us to taste first. I didn't hesitate for a second to buy unripe grapes when I saw a lady selling it. I regret now not buying more!
As soon as we returned, I made a bottle of verjuice from the unripe grapes I bought there. Not to mash its seeds –as they make the juice bitter, I didn't use blender just like grandma. Would you like to learn how to make fresh verjuice at home? Here is the basic form of it.
Wash unripe grapes well.
Put them in a plastic bowl and press on them with the bottom of a jar. Mash them slight
Put a strainer on another bowl and transfer slightly mashed green grapes into strainer.
Squeeze unripe grapes with your hands on it. Its juice pours in bowl and the rest will remain in strainer.
Pour it in bottles to use later in salads, drinks or dishes.
Print
Homemade Fresh Verjuice
A great substitute for lemon or lime that is made from unripe grapes.
Author:
Prep Time:

10 minutes

Total Time:

10 minutes

Yield:

1

lt jar

1

x
Category:

Dressing

Method:

Squeezing

Cuisine:

Turkish
6

lb (2.72kg) unripe grapes
Instructions
Wash unripe grapes well.
Mash them gently in a plastic bowl with the bottom of a jar.
Put them in a strainer and squeeze them in your hands.
Transfer the juice into a bottle.
Keep it in the refrigerator for 1-2 months.
Keywords: verjuice, making verjuice