Okra Stew with Tomatoes also known as Bamya in Turkish cuisine is a classic summer dish, mostly served with rice. It is a simple recipe with fresh okra, tomatoes, onion, garlic and lemon juice. If you are an okra lover, you will be amazed with this tangy vegetarian okra stew.
When I decided to share Turkish okra recipe here, my husband told me not to do it. He said most people would leave the page in seconds just because of the vegetable okra.
Do you love or hate it? I know not everyone loves it, but I'm sure there are a lot of okra lovers out there who will want to learn a new way of cooking fresh okra.
It gets really hot during summer months in Turkey, so we mostly have light lunch and dinner with summer vegetables. The most popular food in Turkish homes during the season is Turkish Braised Green Beans with Tomatoes and this fresh okra stew recipe is very similar to it.
Interested in more vegetarin recipes from Turkey? Go check out our recipe for Jerusalem artichokes and celeriac recipe with quinces.
Best Ways To Cook Okra (Bamya)
Okra is known in several cultures around the world with different names like ladies fingers, bamya, bamia or bamiyeh. Similarly, there are various ways of cooking okra. My favorite one is this okra tomato stew. Other options might be frying, roasting and grilling.
Also, okra can be eaten raw or pickled too.
No matter how you cook it, I'm sure you don't want it to get slimy. Right, it's not appealing at all unless it is slime free. In fact, you can avoid slime with a few important okra cooking tips.
How To Prepare Okra
First, cut the stems off. Remove the tiny green parts only when cutting the stems, do not cut the cones completely. And do not pierce the pod in any way. If you damage it, it starts to weep and release slime.
Second, wash them gently in a bowl under water. Drain well. Don't wash them before removing the stems. This will bring the slime out.
Third, squeeze lemon over them and wait for about 5 minutes. This will make okra less fragile.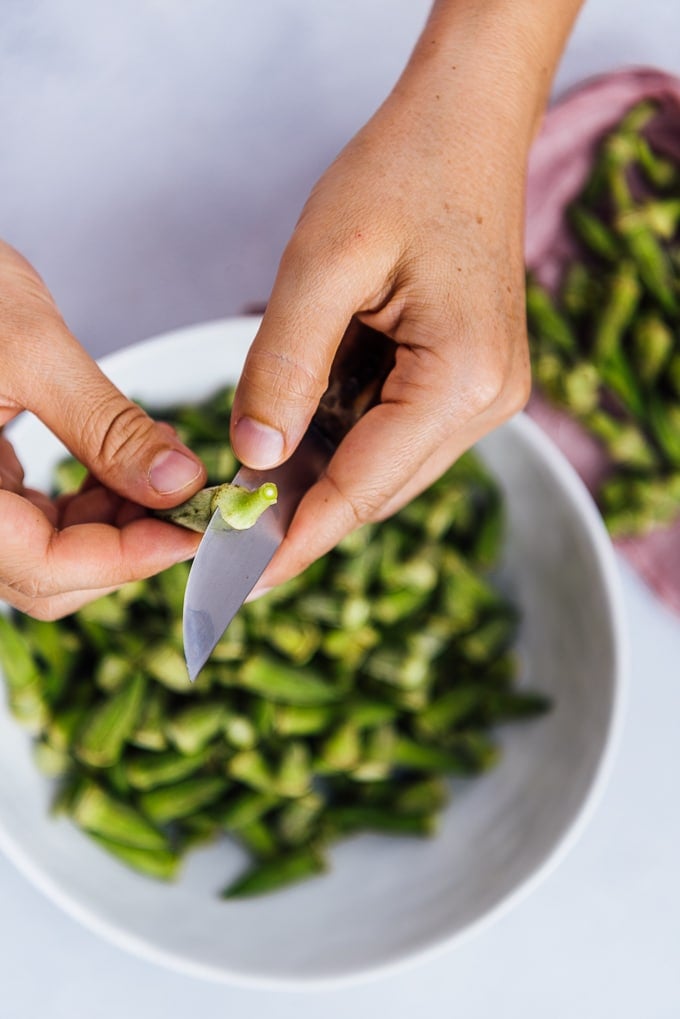 Slime Free Okra Cooking Tips
Leave okra whole, don't chop it when making stew. Otherwise, it releases slime, which won't be appealing.
Pour extra lemon juice over okras right after you add them into the pot.
Cook it over low heat.
Do not stir the dish while cooking for about 10 minutes. You can shake the pot if necessary.
Do not use metal spoon, use a wooden one.
I always cook okra in this way and it never gets slimy. After learning these tips, lets learn how to make a tasty okra dish.
Health Benefits
Okra or bamia has several health benefits. It is high in vitamin C, so strengthens immune system. Also, it is a great antioxidant, so helpful for heart and brain health.
Thanks to the slime it contains, okra is good for blood cholesterol levels. It is rich in fiber, which is good for digestive system. Moreover, it is low in calories, so okra might be the main vegetable for you if you're planning to go on a diet.
How To Buy Okra
Before the cooking procedure, there is something you should know while buying okra. If you are buying it fresh, you should get the bright ones with no color changes or damages. It is of course not the end of the world if there are tiny brownish spots, they are gone when cooked.
Also, you should prefer the short ones as their inside seeds are smaller, and it shows that they are picked at the right time. If they are too long, they are probably tasteless. They are not preferred in Turkish local markets, so much cheaper. On the other hand, you can make an amazing Okra Cornbread using big okra.
Storage
To store fresh okra, you should wrap them in paper towel to keep them in refrigerator. If you keep them in a plastic bag, they will go bad in a short time. And this keeping time shouldn't be more than 4 days.
How To Make This Recipe
This is simple bamya recipe with six easy steps.
First, clean the okra. Remove the stems as explained above. Don't damage the pod when doing this.
Second, wash okra gently. Squeeze lemon over it and wait for 5-10 minutes.
Third, saute diced onion in olive oil until translucent.
Fourth, add in diced tomatoes and garlic. Cook covered for about ten minutes.
Fifth, add in okra and squeeze lemon or pour about 2 tablespoons of verjuice over it immediately.
Finally, cook covered over low heat for about 10 minutes. Do not stir it during this time. After 10 minutes, stir it gently and keep cooking covered for another 20 minutes. If the tomatoes you use are not juicy enough, you might need to add some water (½ cup) at this step.
This bamya recipe is vegan, because I love it more. However, it has another variation with beef. If you want, you can first cook beef in a pot until almost done and then continue with the same steps here.
How To Serve It
Similar to several main dishes in Turkish cuisine, okra with tomatoes aka bamya is served warm with rice pilaf with orzo. Another option could be tomato bulgur pilaf. The combination of okra and rice or bulgur makes a perfect vegetarian lunch.
To complement the meal, I think the best side would be Turkish yogurt and cucumber dip called Cacik.
As always: If you make this recipe, let us know what you think by rating it and leaving a comment below. And post a pic on Instagram too—tag @give_recipe so we can see!
Sign up for the FREE GiveRecipe Newsletter to get the new recipes into your inbox! And stay in touch with us on Facebook, Pinterest, YouTube and Instagram for all the latest updates.
Print
Bamya Recipe (Turkish Okra Stew)
Okra stewed in tomato sauce makes a wonderful vegan lunch when served with rice pilaf with orzo.
Author: Zerrin & Yusuf
Prep Time:

15 minutes

Cook Time:

35 minutes

Total Time:

50 minutes

Yield:

4

1

x
Category:

Vegetarian

Method:

Cooking

Cuisine:

Turkish

Diet:

Vegetarian
1

lbs okra

1

onion, diced

2 tablespoon

olive oil

5

medium sized tomatoes, peeled and diced

4

cloves garlic, sliced

½

  lemon (to wait the okras in it)

½

  lemon (to squeeze in the dish)
Salt to taste
Instructions
Clean and wash okras. Squeeze lemon on them and wait for about 10 minutes. Touch them gently while doing all these.
Meanwhile saute onions in olive oil. When they get golden, add tomatoes and garlic slices. Stir it and cook for about 5 minutes.
Add okras, but do not drain the lemon juice in them. Put them into the dish together. Squeeze half lemon and pour it just on the okras without wasting any time. Don't forget, you will not stir it until it's done. Cover it and cook about 5 minutes.
Then pour 2 cups hot water, add salt and cover it. Cook it about 20 minutes until the okras get tender enough.
Serve warm with rice and lemon wedges.
Notes
Lemon is an important ingredient in okra dishes. It both prevents it from being slimy and gives a wonderful flavor to the dish.
Nutrition
Serving Size:
Calories:

500

Sugar:

19.4 g

Sodium:

2379.4 mg

Fat:

29.8 g

Carbohydrates:

59.2 g

Protein:

13.3 g

Cholesterol:

0 mg
Keywords: okra stew, stewed okra and tomatoes