This homemade wrap bread, also known as lavash bread recipe is made using only 4 simple ingredients that you probably already have at home! And it is hard to believe that within a few simple steps you can get this irresistibly soft, thin and flexible bread that has a ton of different uses.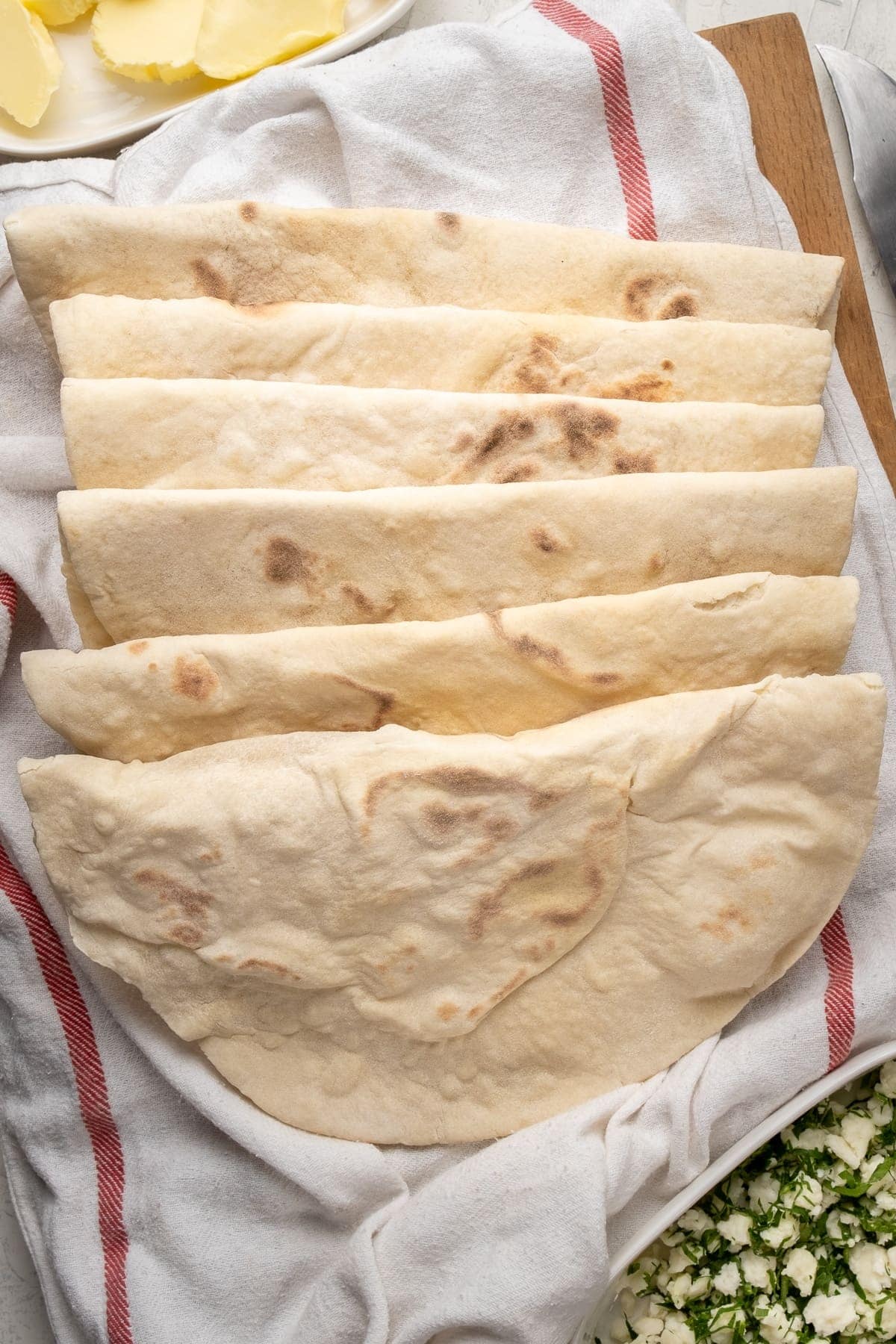 Lavash bread is the bread served with kebabs at Turkish restaurants. In our opinion, it is one of the most versatile pieces of bread you can make.
Lavash is one of the most loved foods in Turkey. You can use them to make adana kebab dürüm or doner kebab wraps. You can even create delicious crispy chips for dipping sauces like hummus dip. The possibilities are endless!
We all love homemade bread, don't we? We have several bread recipes for you here from homemade simit recipe to rustic Turkish cornbread recipe.
Today, we will be looking at all things lavash, from its origins to its ingredients, accompaniments, and ultimately how to make this delicious recipe. We will also discuss important storage techniques and alternative flours that can be used.
Jump to:
What is lavash bread?
Lavash is a type of flatbread that is used in many Middle Eastern and Mediterranean cuisines. This bread is generally made from either a leavened dough or an unleavened dough.
The unleavened lavash dough is made using only flour, water, milk, salt, and sometimes sugar. The leavened dough, and arguably the more traditional version, is made using flour, water, yeast, salt, and sugar.
This lavash dough is then rolled into a very thin round disc and cooked in either a hot clay oven or sometimes a wood or brick oven. Today, many people use a non-stick pan, wok, or griddle pan.
In Turkish cuisine, lavash bread is served as one of the sides for kabobs and used to make wraps, also known as dürüm. This wrap is made using lavash breads and kebabs.
Lavash vs flatbread
Many people have a misconception that lavash is the same as traditional flatbread. While they do closely resemble each other, the biggest difference is that flatbread is supposed to be thicker while lavash is meant to be thinner.
The shape of this Middle Eastern wrap bread also tends to be circular, compared to flatbreads which are more oblong in shape.
The use of lavash bread is also much more specific and is mostly used to make wraps, where many of the other flatbreads have multiple uses including being stuffed or serving as an accompaniment.
If you look at Turkish cuisine specifically, there are only two types of flatbread; pide bread and flatbread bazlama. Neither can be used to make wraps.
Which country is it from?
To pinpoint the origin of lavaş is very difficult because many cultures and cuisines have influenced each other extremely over the last few decades, even centuries!
Although there isn't an exact factual origin, no one can argue that it originated in the Middle East. The countries that use it most in their cuisines include Armenia, Azerbaijan, Iran, and Turkey. Each of these cultures has its own unique twist on the recipe and way that they use it.
Ingredients
This lavash flatbread recipe only uses 4 ingredients; flour, salt, yeast, and warm water.
We use all-purpose flour to help get the precise texture and gluten-structure that we need. We need the lavash dough to be flexible yet soft, something all-purpose flour is great for as it combines the characteristics of bread flour and cake flour.
The addition of yeast makes this lavash recipe a leavened one and it requires a resting or proofing period. It is very important to rest your dough and allow it to double in size. This step helps the dough develop gluten strands while also relaxing them. This will make the rolling out step much easier and leave you with a soft lavash wrap.
Warm water is needed to help activate the yeast, so please DO NOT use cold water!
How to make it
This lavash bread only has a few simple steps even the kids can help out with! This recipe has the best ratios that give you incredibly soft and flexible bread, perfect for virtually any use!
First, combine the ingredients. In a large bowl, combine the dry ingredients and mix well. Slowly add the warm water while mixing it with a fork. Eventually, you will have to start mixing it with your hands for about 5-10 minutes.
Place the dough into another bowl and cover it with a clean kitchen towel. Allow the dough to rest for 40-50 minutes or until it has doubled in size.
Second, shape the lavash pieces. Lightly dust the counter with some flour and place the dough down. Gently press down the dough so it deflates, then cut it into 10 pieces.
Cover the pieces with a damp kitchen towel to prevent them from drying out while you are rolling the other pieces. Let them rest for 15 minutes before starting to roll out.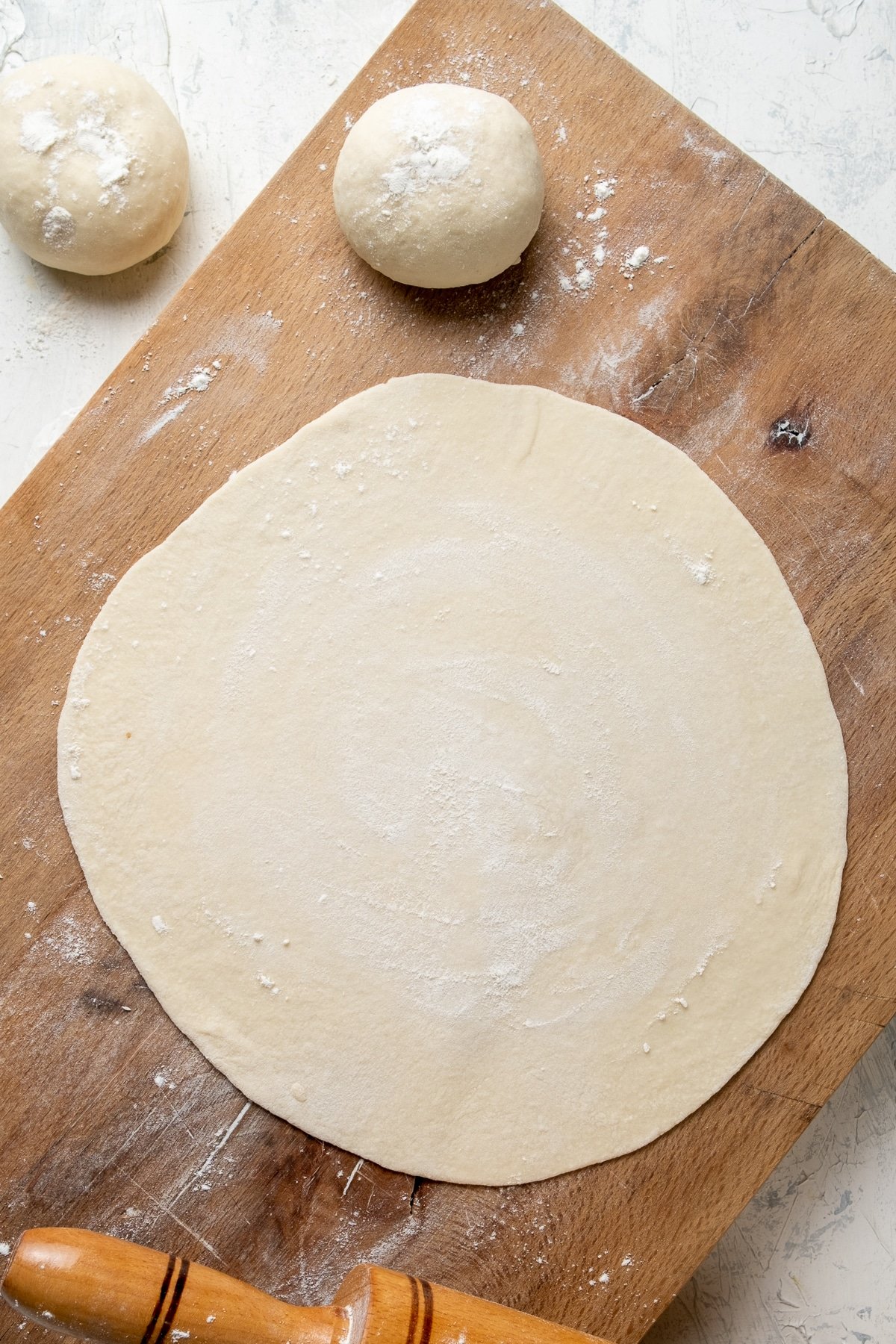 Third, roll each piece and cook. Cover each piece of dough with flour on both sides. Using a rolling pin, roll each ball as thin as possible. It shouldn't be bigger than your pan.
Heat a non-stick pan over medium heat. Add the lavash piece into the hot pan and allow it to cook for 30 seconds per side. DO NOT overcook it – it should be soft and flexible, not crispy.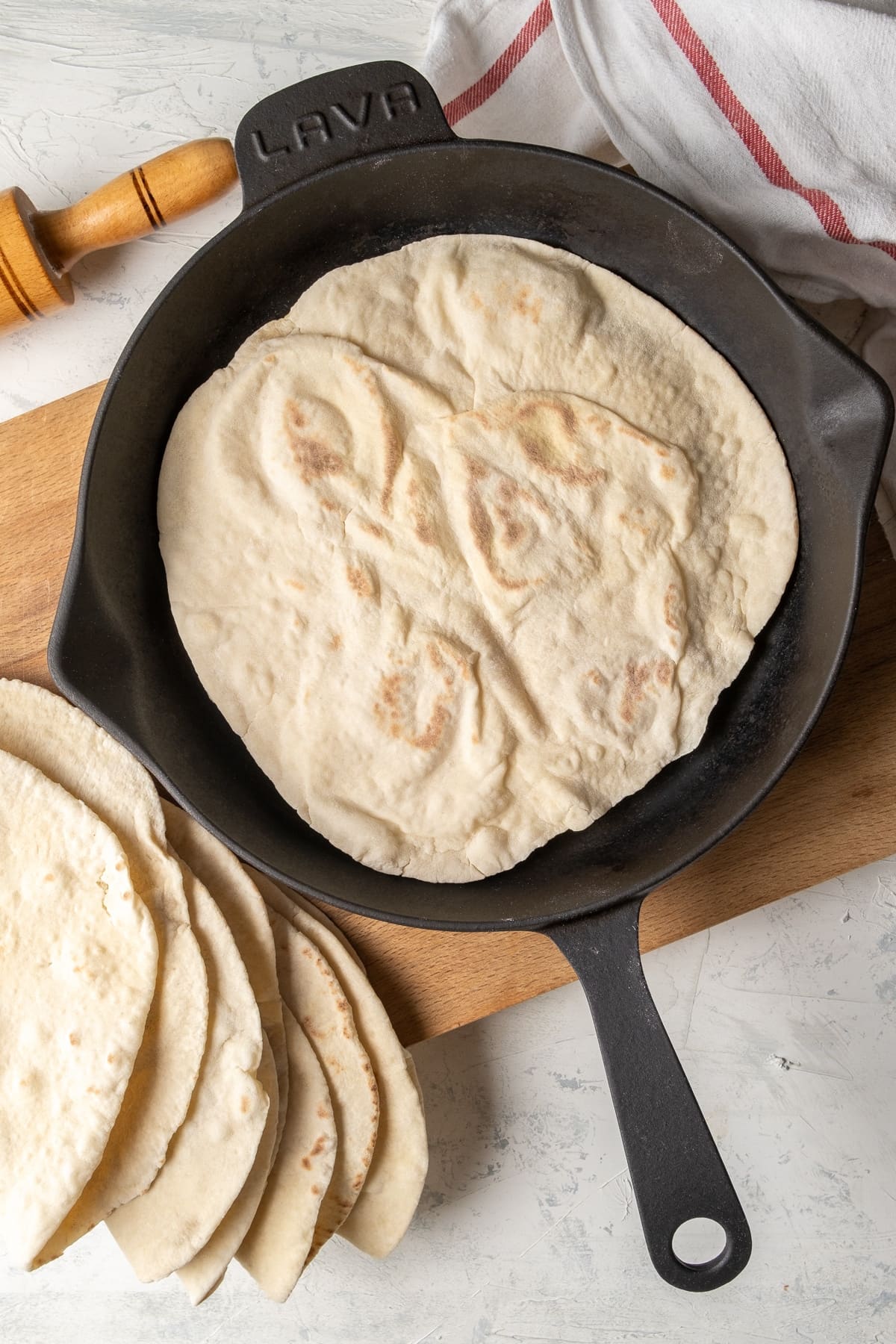 Set the cooked lavash bread pieces aside on top of each other and cover them with another kitchen towel to prevent them from drying out.
How to eat
Because of its soft and flexible nature, lavash bread is mostly used to make kofta kebab wraps, chicken doner wraps or cigkofte dürüms. Many people however love it in its simplest form; a wrap with delicious salted butter and a mixture of parsley and feta cheese.
You can also serve it along with some dips like aci ezme (Turkish style salsa), sun dried tomato sauce or haydari sauce and with salads like piyaz or shepherd salad.
How to reheat it
Reheating lavash is incredibly quick and easy to do. The best method to use is to simply reheat it in a non-stick pan. You may want to spray it lightly with some water to help soften it again, especially if it has already dried out.
Another method that works, but not as well as the pan one, is to reheat a few in a hot oven. This method works better if you want to reheat a few pieces, but requires constant rotating or turning to ensure each piece heats thoroughly.
How to store it
Lavash dries out extremely quickly because it is so thin. This is why it is important to constantly keep your raw dough and cooked pieces covered with a kitchen towel.
When storing, it is also very important to keep them covered. Stack the sheets together and cover them with a kitchen towel. Wrap the whole covered stack in plastic wrap. This will help keep them soft for 2-3 days.
Can I freeze it?
You can definitely freeze lavash breads and they actually freeze well!
Before freezing or wrapping your breads, make sure they have completely cooled! Place the pieces in resealable airtight bags and before sealing, make sure to remove as much air as possible. Place them in the freezer where they won't get damaged or squashed.
To thaw and reheat them, simply remove them from the freezer and bags, then reheat them on a hot skillet over low heat for a few minutes, until they are soft and flexible again. Now they are ready to be used!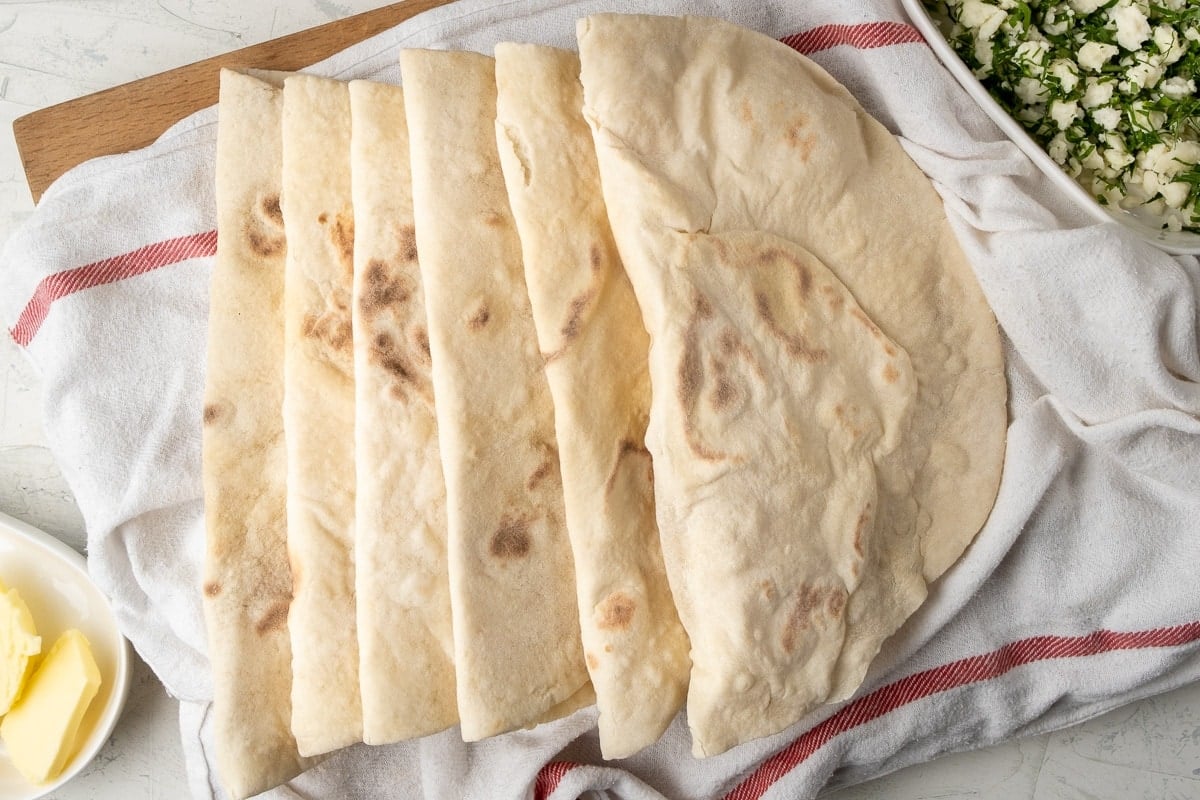 Can I make it gluten-free?
You can easily make this lavash recipe a gluten-free one. The simplest way to do so is to use store-bought gluten-free flour. Also, you might need to learn the gluten-free flour options that work for your specific needs. Keep in mind that the different flours will affect the taste and texture and won't closely resemble traditional lavash.
As always: If you make this recipe, let us know what you think by rating it and leaving a comment below. And post a pic on Instagram too—tag @give_recipe so we can see!
Sign up for the FREE GiveRecipe Newsletter to get the new recipes into your inbox! And stay in touch with us on Facebook, Pinterest, YouTube and Instagram for all the latest updates.
Print
📖 Recipe
Lavash Bread Recipe
Soft and thin bread that you can make wraps with.
Author: Zerrin & Yusuf
Prep Time:

15 minutes

Cook Time:

30 minutes

Total Time:

45 minutes

Yield:

1

0

1

x
Category:

Lunch

Method:

Cooking

Cuisine:

Turkish

Diet:

Vegetarian
3 cup

all purpose flour, plus more when rolling out

1 teaspoon

salt

1 teaspoon

instant yeast

1 cup

warm water, plus 1-2 tablespoon more to use when kneading
Instructions
In a large mixing bowl, combine flour, salt and instant yeast.

Slowly pour warm water over it. Meanwhile mix it with a fork and then when it gets hard to use the fork, continue mixing it with your hand until everything holds together. This might take 5-10 minutes. Alternatively, use a stand mixer to make the dough. 

Slightly wet the bottom of another bowl with your hand, place the dough in it and wet the surface of it as well. Cover with a clean kitchen towel and let it rest for 40-50 minutes so that it doubles in size. 

Dust the counter with some flour and transfer the lavash dough on it. Deflate the dough, give it a log shape and cut it into 10 pieces. Cover these with a dump kitchen towel to prevent them from drying when you are rolling out one of the patties. Let them rest for 15 minutes before you start rolling them out.

Heat a non stick pan over medium heat. 

Meanwhile, flour both the surface and one of the dough balls well. Roll it out using a rolling pin as thin as possible. Make sure it fits the pan you are planning to use. 

Carefully place it in the hot pan and cook it for 30 seconds and flip it over using a spatula and cook the other side for 30 seconds. Don't over-cook, otherwise it will get crispy, not soft and flexible as expected.

Transfer the cooked lavash bread on a clean kitchen towel and cover it with another kitchen towel. Otherwise, it dries out fast. 

Repeat with the remaining dough balls.
Notes
It is very important that you cover both the uncooked dough balls and the cooked lavash bread. Otherwise, they dry out. 

You can stack the cooked lavash on one another and then cover.

Don't overcook the rolled out dough, it gets crispy and hard to wrap otherwise.
Nutrition
Serving Size:
Calories:

138

Sugar:

0.1 g

Sodium:

234.5 mg

Fat:

0.4 g

Carbohydrates:

28.8 g

Protein:

4 g

Cholesterol:

0 mg
Keywords: lavash, lavash bread, lavash bread recipe, homemade lavash, lavaş