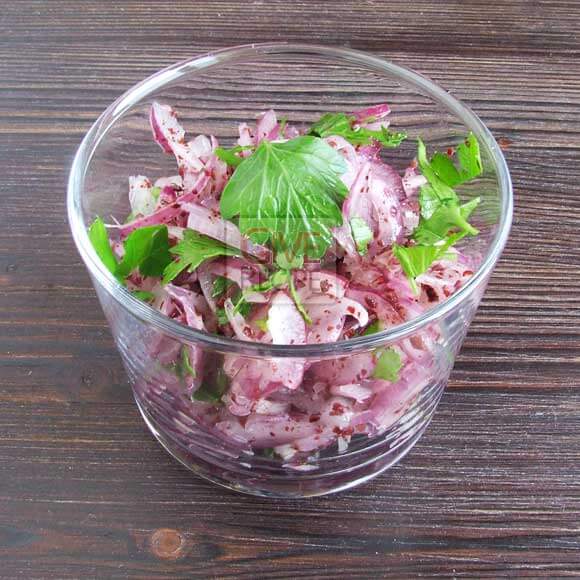 Yes, I know onion smells not good when you eat raw, but nobody here can resist this onion salad! It is a must for original kebab restaurants to serve onion salad on the same plate with kebabs. They serve kebab on lavash bread and grilled tomatoes and peppers with a little onion salad, all on one plate. Perfect combination, isn't it? It is not the only way to serve onion salad though.
We also serve onion salad with lentil balls (mercimekli kofte). We generally make lentil balls more than needed to share with a few neighbors and there is a special presentation of lentil balls and onion salad on a plate to give it to a neighbor. Here is how. We line up lentil balls on a plate leaving the middle empty, then we fill it with a little onion salad, so it is onion salad surrounded with lentil balls.
The key ingredient in this salad is sumac, a red sourish spice from Middle East cuisines. It's very important that onions absorb the sour flavor of sumac, so we rub chopped onions finely with sumac. It also paints onions with its red-purple color, which makes it look more attractive. Another regional ingredient in this salad is pomegranate molasses. It adds a little extra sour-sweet flavor to the salad. If you can't find it in your area, lemon juice is fine too.
You don't of course need to make kebab or lentil balls to enjoy onion salad if you are a big fan of onion. These are just traditional ways of serving onion salad, and you can absolutely eat it with anything just like two of us. We love to have it both with meat and vegetable dishes or in our sandwiches. And it is super easy too! You can use either red or white onion for it, but my favorite is red. Do try it with your favorite dish!
Print
Onion Salad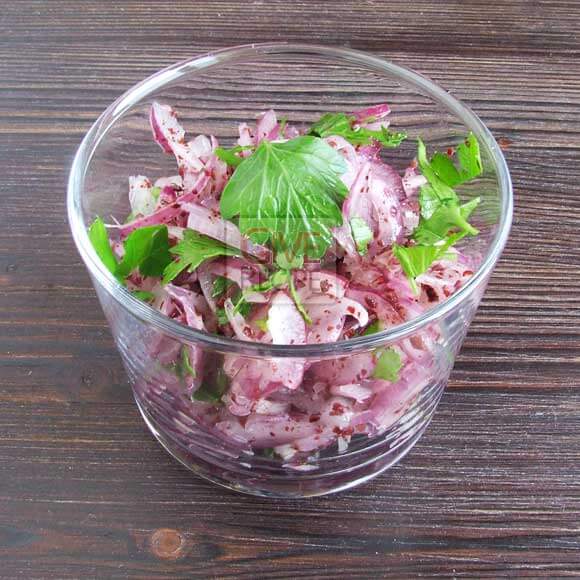 Prep Time:

10 minutes

Total Time:

10 minutes

Yield:

2

1

x
Scale
Ingredients
2

onions

2 tsp

sumac
salt to taste

¼

bunch of parsley, chopped

½

lemon

1 tbsp

extra virgin olive oil

½ tbsp

pomegranate molasses, optional
Instructions
Slice onions in half moon. Sprinkle salt and sumac and rub onion slices with your hand.
Toss in chopped parsley. Squeeze half lemon in it, add extra virgin olive oil and mix.
You can serve it with a few drops of pomegranate molasses.
IF YOU LIKED THIS RECIPE, THEN YOU WILL LOVE THESE: