With their tart flavor, these crispy Sumac Onions will be a perfect partner to your main dishes and will promote your sandwiches, hamburgers and soups with its oriental touch.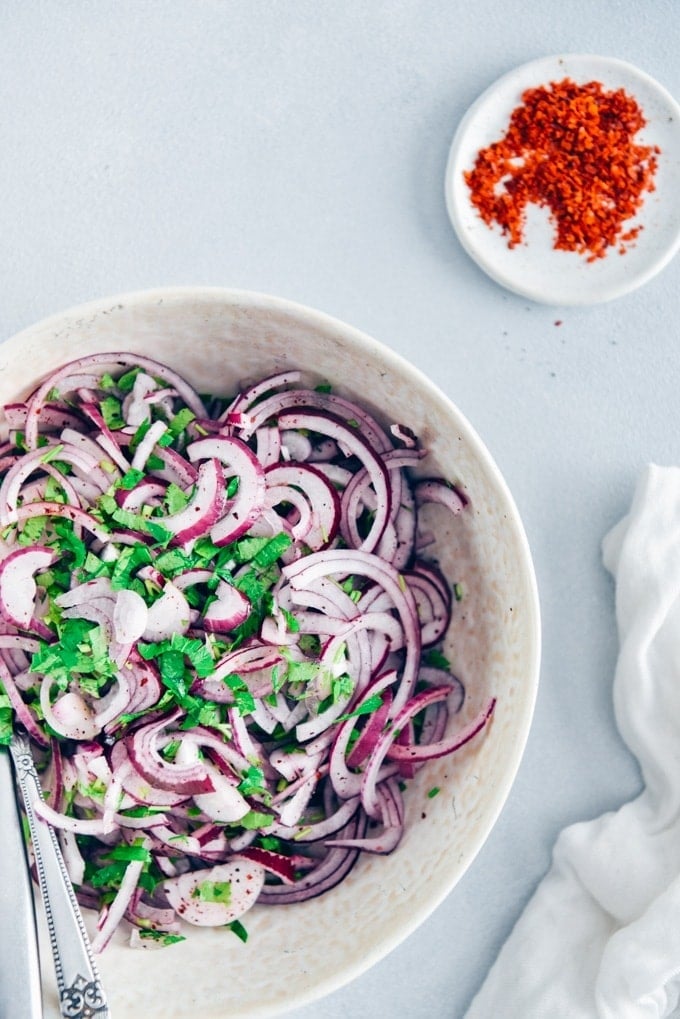 You have guests for dinner and you've made your mind about your main dish and dessert. It is time to find an appetizer. You want something different and good to impress your audience. Well, how about some sumac marinated onions?
Sumac is a spice native to Middle East and the southeast region of Turkey, where I am originally from. It has a mild lemony flavor. It is not as strong as lemon. We use it quite often in marinades and soups. But my favorite way to use it is in salad dressings. Did you see our latest Turkish Eggplant Salad Recipe? Sumac gives an amazing richness to the dressing in that salad.
Onions are another star of our kitchen. I'm a big fan of onions raw (in salads like Mediterranean Green Olive Salad), roasted or caramelized.
If you ask me which two ingredients make a perfect couple, I would give you a long list including sumac and onions. Have you tried them together yet? Now is the time! This simple onion salad is a staple when serving certain Turkish fast foods like Kefta Kabob Skewers or Turkish Doner Kebab Meat.
What Are Sumac Onions?
Sumac with its lemony flavor makes onions softer to eat. The taste and odor of onions mellows when you marinate them in oil and acidic food like lemon, vinegar or sumac. We eat sumac marinated onions at every opportunity such as in Turkish Potato Salad or just as an appetizer to munch on with main dishes.
The key ingredient in this salad is sumac, a red sourish spice from Middle East cuisines. It's very important that onions absorb the sour flavor of sumac, so we massage onion slices finely with sumac. It also paints onions with its red-purple color, which makes it look more attractive. Another regional ingredient in this salad is pomegranate molasses. It adds a little extra sour-sweet flavor to the salad. If you can't find it in your area, lemon juice is fine too.
This red onion salad has an important role in Turkish cuisine. Although this recipe is known as sumac onion salad here, it's not very similar to the regular salads in the states. Just like Indian Raw Onion Relish, these sumac onions are served as a condiment mostly with meat and chicken dishes.
In Turkey, it is a must for traditional kebab restaurants to serve onion salad on the same plate with kebabs. They serve kabobs on lavash bread and grilled tomatoes and peppers and a little onion salad on the side, all on one plate. Perfect combination, isn't it? It is not the only way to serve onion salad though. We love it with several other dishes.
What Goes In Raw Onion Salad?
Apart from onions, we need 5 main ingredients:
sumac
salt
olive oil
lemon juice
parsley
These ingredients are for a classic onion salad recipe. However, it has variations including two extra ingredients, which I think, make the salad even tastier. They are;
red pepper flakes
pomegranate molasses
How To Make Red Onion Salad?
To make this super tasty condiment takes 5 minutes.
First, peel and slice the onions thinly and put them in a bowl. Then, sprinkle sumac, salt and red pepper flakes (optionally) over onions. Gently massage them with your hand so that the onions can absorb the flavors of the spices. Next, add in parsley, lemon juice, pomegranate molasses and olive oil. Now give it a good stir.
If the onions you use are bitter, sprinkle a little salt over the thin slices and soak them in cold water for 1-2 minutes. Gently squeeze them and drain. This step will remove the bitterness.
You can serve it as a condiment alongside chicken or meat dishes. It would be a great idea to bring along some toasted bread or tortilla bread to dive in this delicious side dish.
You can always use these onions as a garnish in sandwiches or wraps to enhance the taste. Keep reading for our suggestions.
FAQs About This Red Onion Salad
Which onion for this sumac marinated onions?
You can use both red and white onions for the sumac onions. Red onions have a better taste and look. They are usually eaten raw, in salads, sandwiches, or dips. So I prefer red onions to make this tangy onion salad. On the other hand, white onions have a milder taste and usually preferred cooked. However, you can go for any of them in this sumac onions recipe.
What can I do when onions are too bitter?
Are onions in general too strong to eat for you? No worries. There are a couple of easy tricks you can do to have a milder taste beside marinating them with oil and sumac. You can squeeze the onions to remove some juice which will make it less sharp and hot. Or you can wash your onions a few times before using. You want them even milder? Soak the squeezed or sliced onions in salted water for 5 minutes. Use about a quarter of a teaspoon of salt per cup of water.
How To Slice An Onion
Cutting onions is sometimes a challenge for me. You know slicing onions is not an easy job when tears go down from your eyes. Waiting onions in the freezer for about 10 minutes works for me, but I had better remember it ahead of time. Lol! What is your way to avoid tears when cutting an onion?
Okay after chilling, we can safely slice them. For this sumac onions recipe, you can slice it either crosswise or lengthwise. Just make sure the slices are thin and fall apart easily.
Are onions healthy?
The health benefits of onion consumption are worth mentioning. Both white and red onions are quite nutritious. They are both low on the glycemic index. 10 percent of the daily value for vitamin C can be taken from onions per serving. Plus, onions are great cancer fighters. It is said that the risk of different cancer types such as stomach, laryngeal and ovarian cancer can be reduced by eating onions. The quercetin and allicin in red onions are very good for both the prevention and treatment of cancer. Consuming onions also helps inflammation.
What To Serve With This Lemon and Onion Salad?
A great aromatic, marinated sumac onions go well with almost everything. However, they are best paired with meat or chicken. I always make them as a side dish when I cook these the following dishes because they go very well together:
You are vegetarian? Vegan? Don't worry. You can match this red onion salad with any dish you substitute for meat. A great one of them is our Vegan Lentil Meatballs.
It's high time to discover sumac onions and give more room to them in your kitchen. You will see that they will be in high demand. 
More Turkish Salads
As always: If you make this recipe, let us know what you think by rating it and leaving a comment below. And post a pic on Instagram too—tag @give_recipe so we can see!
Sign up for the FREE GiveRecipe Newsletter to get the new recipes into your inbox! And stay in touch with us on Facebook, Pinterest, YouTube and Instagram for all the latest updates.
Print
📖 Recipe
Turkish Sumac Onions Recipe
Raw red onions are marinated with salt, sumac and lemon juice. Then it is combined with chopped parsley.
Author: Zerrin & Yusuf
Prep Time:

5 minutes

Total Time:

5 minutes

Yield:

4

1

x
Category:

Side Dish

Method:

Combining

Cuisine:

Turkish
2

large onions

1 teaspoon

sumac

½ teaspoon

salt

½ teaspoon

red pepper flakes, optional

¼ cup

parsley, chopped

1 tablespoon

lemon juice

1 teaspoon

pomegranate molasses

2 tablespoon

olive oil
Instructions
Peel and slice the onions thinly. Put them in a bowl.
Sprinkle sumac, salt and red pepper flakes over onions. Gently massage them with your hand.
Add in parsley, lemon juice, pomegranate molasses and olive oil. Stir to combine.
Serve as a condiment alongside chicken or meat dishes, as a garnish in sandwiches or wraps.
Notes
If the onions you use are bitter, sprinkle a little salt over the thin slices and soak them in cold water for 1-2 minutes. Gently squeeze them and drain. This step will remove the bitterness.
Nutrition
Serving Size:
Calories:

105

Sugar:

5 g

Sodium:

301.6 mg

Fat:

7.3 g

Carbohydrates:

10.2 g

Protein:

1.4 g

Cholesterol:

0 mg
Keywords: onion salad, sumac onions, raw onion salad