Pomegranate molasses is a staple ingredient in Middle Eastern cuisine. It is mostly used as a salad dressing. However, it is much more versatile than that. We have prepared an extensive post about this unique sauce. What is pomegranate molasses? What does it taste like? What are its uses? Where can you buy it? Is it healthy? You will learn everything about it below.
Jump to:
Have you seen our homemade pomegranate molasses recipe? Once you taste it, you will want to drizzle it on everything you make!
What Is Pomegranate Molasses?
Pomegranate molasses is a condiment that is made from pomegranate arils. They are juiced and this juice is cooked until it reduces and thickens.
Although it is called molasses, this condiment is not sweet unlike other fruit molasses and it is not used in desserts. So it won't be a good idea to use it as a substitute for regular sweet molasses (like date molasses, grape molasses) in a recipe.
It has a deep, dark red (sometimes even brown) color, thick syrup-like consistency, and a tangy flavor with slightly sweet undertones. So it is mostly used in salad dressings paired with lemon juice or on its own.
This molasses is the same as pomegranate concentrate, and the terms are often used interchangeably.
You might see pomegranate molasses under the following names: Pomegranate sour, pomegranate syrup, pomegranate sauce, pomegranate paste. They all refer the same ingredient.
What Does It Contain?
Originally pomegranate molasses contains only pomegranate juice made from pomegranate seeds. It doesn't contain any additives like sugar or lemon juice, but most of the store-bought products contain glucose, citric acid and other additives.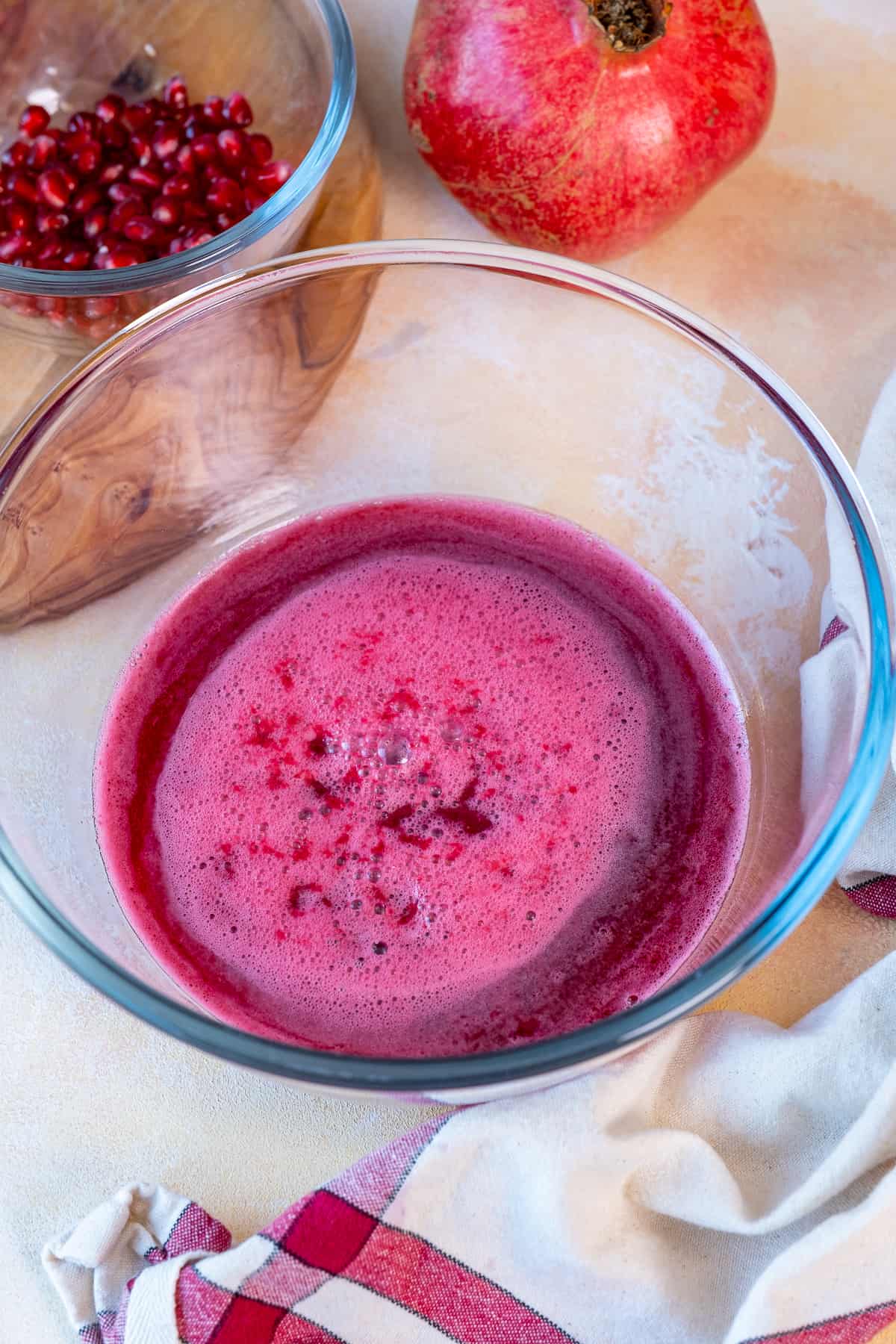 Also, some recipes around the Internet add sugar, which is definitely not a traditional thing. A little sweetness coming from pomegranate itself is ok, but the dominating taste of this molasses should be sour. So pick tart pomegranates if you are planning to make your own molasses.
If the pomegranates you use to make molasses are not tart enough, you can add lemon juice in the pomegranate juice and cook them together.
How Is It Made?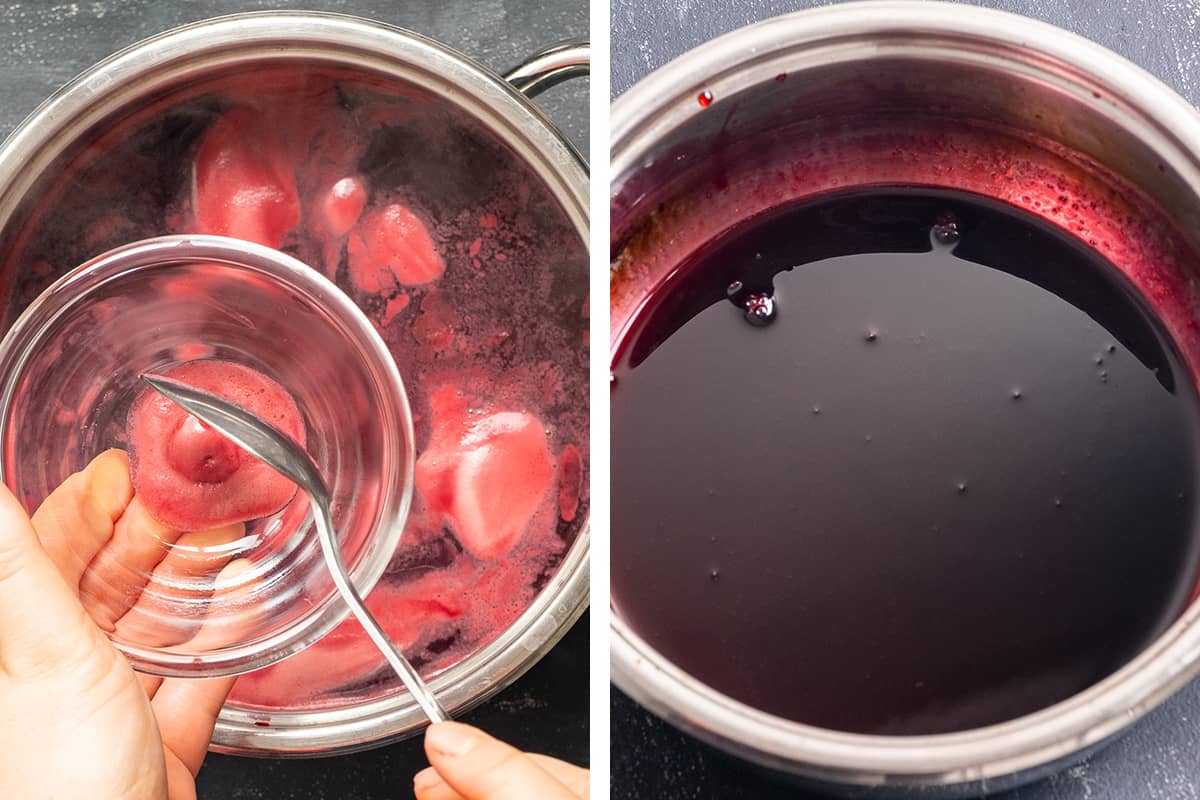 It has a very simple and straightforward recipe. Fresh pomegranate juice is simmered in a pan over medium heat until it reduces and thickens. This might take several hours.
You need to stir it occasionally to prevent the bottom from burning or caramelizing. Let it cool completely and keep it in jars. Check out our pomegranate molasses recipe to learn the full details.
Which Countries Use It?
Pomegranate molasses originate from Middle Eastern countries. In Turkey, it is called nar ekşisi (pomegranate sour when it is translated word to word).
It is known as dibs it-rim-man in Syrian cuisine, dibs rumaan or rub rumaan in Arabic cuisine and rob-e-anar in Persian cuisine, narsharab in Azerbaijan. It is also used in Georgian, Armenian, Iraqi, Israeli and Lebanese cuisines.
Although each cuisine uses pomegranate molasses in different dishes, it is a staple ingredient for them.
Uses
Pomegranate molasses is a key ingredient in several Middle Eastern dishes and with good reason. It can be used before, during or after cooking. And you might be asking how much you need in a recipe. Well, this molasses has a pleasantly sharp taste and using about 1 tablespoon for a recipe would be enough.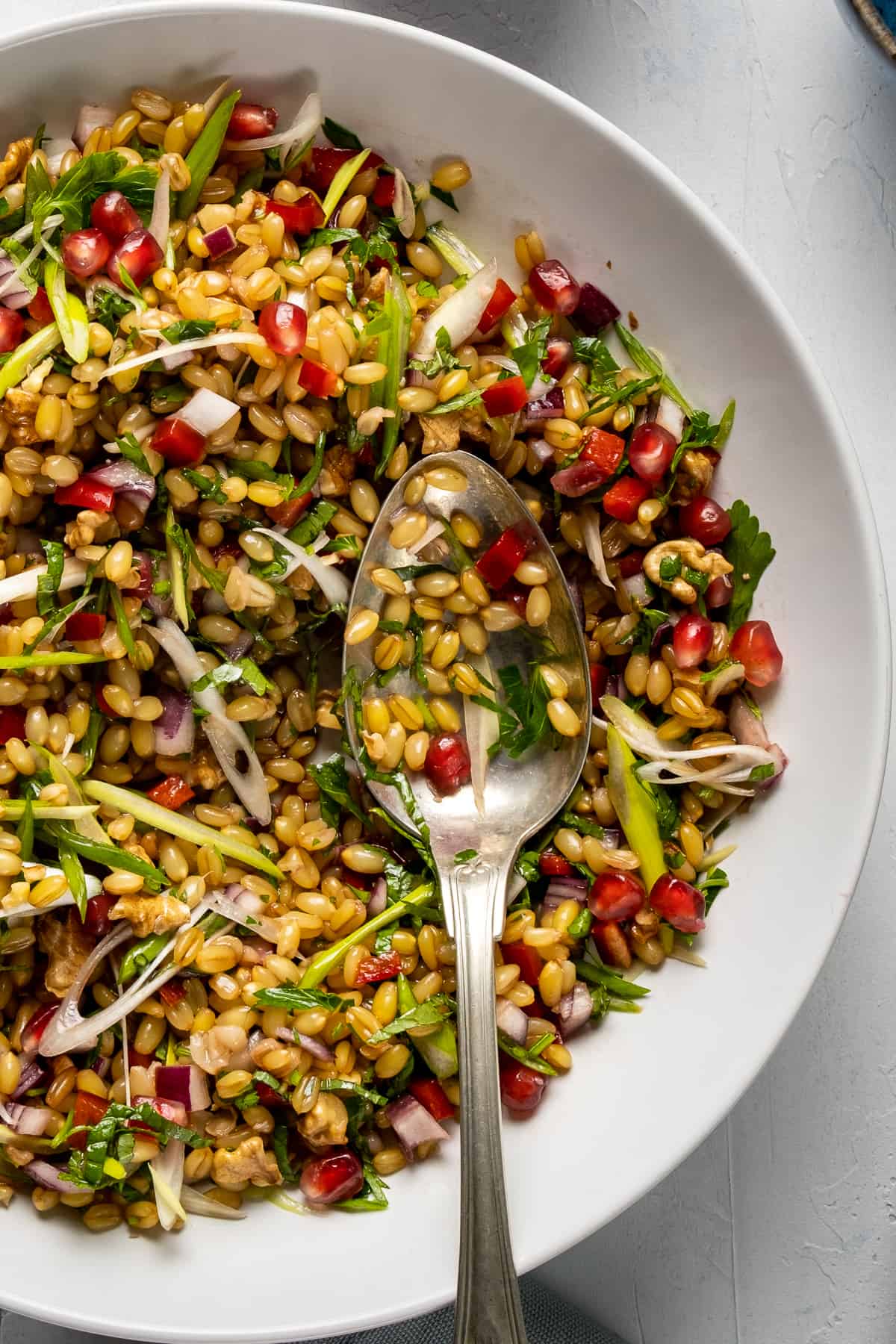 In Turkey, it is used in almost all salads. We can't think of a bowl of fresh Turkish salad without it. The world famous Turkish bulgur salad kisir and wheat berry salad have their unique taste with this condiment. Also, it is a must-use ingredient in Lebanese fattoush salad too.
Besides salads, it is also a great addition to glazes, marinades, and sauces for chicken dishes like fesenjan (Persian pomegranate chicken) or red meat dishes, in the fillings of dolma (stuffed veggies).
It is great in dips like muhammara or as a garnish on hummus, in spreads like sun-dried tomato sauce, in stews like eggplant stew with lentils, in soups like Persian pomegranate soup.
Another use of pomegranate molasses is on roasted vegetables. We do love it on our roasted onions, but you can use it on any vegetable you like to roast.
Where To Buy
You may find it sold under names like pomegranate molasses, pomegranate syrup, pomegranate paste, pomegranate concentrate, pomegranate sos or pomegranate sauce. They are all the same thing.
You can find it at Middle Eastern markets. Also, some big grocery stores might be selling it if they have an International aisle.
Now, where to buy pomegranate molasses online? Amazon is likely your best option. They stock multiple brands and deliver to most areas of the world.
So what are the best brands? Öncü, Sofra and Sadaf are the most famous brands. They are available at online markets like Amazon. Although, they are not made with pure pomegranate juice and they contain sugar, these two are highly used in Turkey. So you won't be disappointed.
That being said, try to look for a product that contains no sugar and is made from pomegranate juice only. Please know that it would be more expensive though.
Alternatively, make your own pomegranate molasses!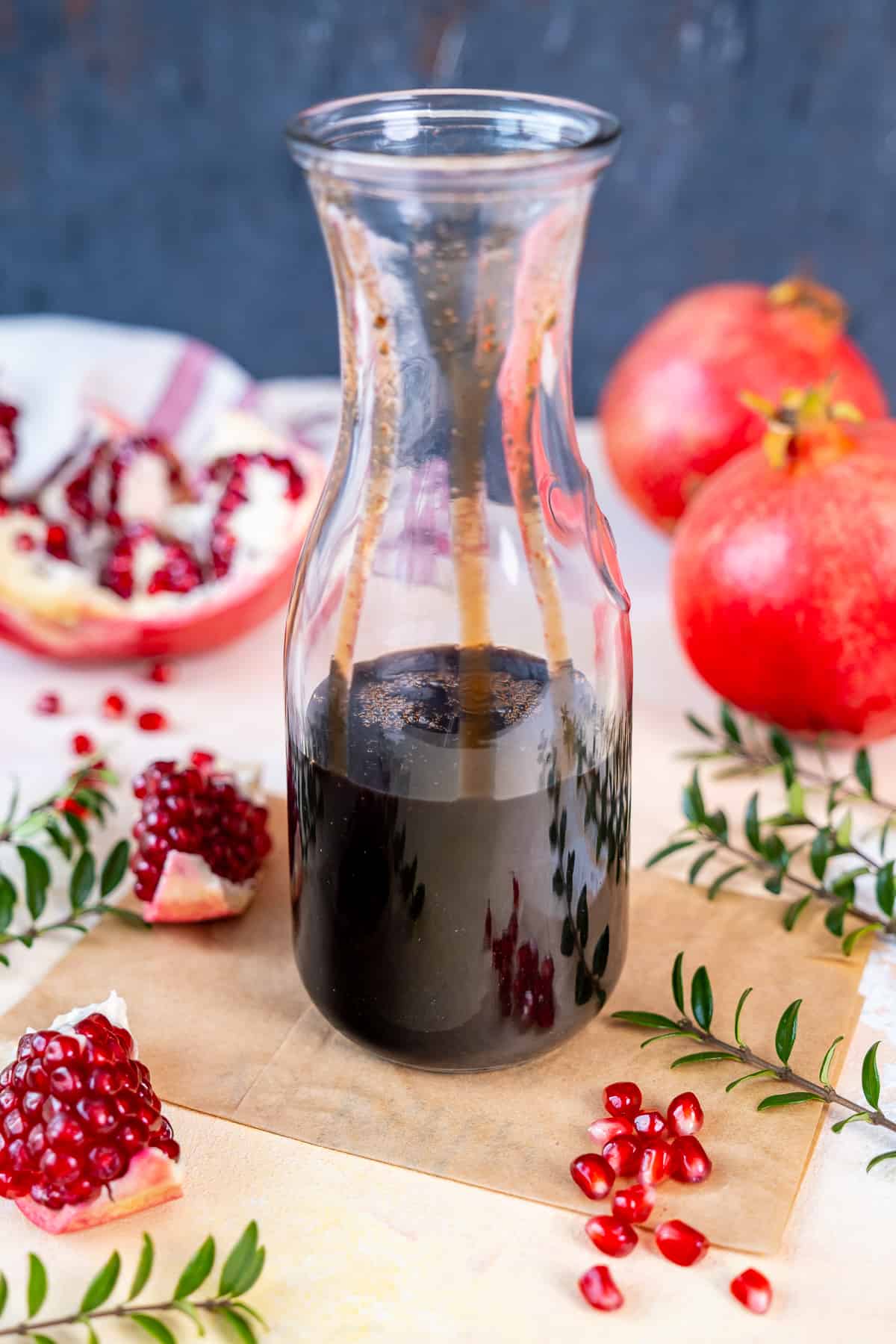 How To Store
Keeping it in the refrigerator may not be the best option if the product you have contains sugar. Otherwise, it gets much thicker and might be hard to drizzle over your food. It doesn't mean that you can't refrigerate it. If you want, you can. And if you see it is too thick, just let it sit on the counter for 15-20 minutes before using.
We use it in our cooking for ages and never keep it in the fridge. Pomegranate molasses won't go bad when kept at room temperature. Just make sure the molasses in the bottle doesn't touch any other food or water when you are using it. This will cause it to go bad in a very short time.
How long does pomegranate molasses last? If stored correctly, it will easily last up to a year.
What Does It Taste Like? Sweet or Tart?
Pomegranate molasses has an intense, fruity flavor with prominent, tangy undertones. It isn't very sweet but has a subtle caramelized sweetness. So expect for a more nicely tart flavor than sweet.
But where does the acidity come from? Is pomegranate juice acidic? The fruit juice is naturally acidic and tangy. That ultimately creates an acidic syrup as well. While the sugars get concentrated through the cooking method, so do the sour flavors.
Is Pomegranate Molasses The Same As Grenadine?
No, grenadine isn't the same as pomegranate molasses. They are both made from pomegranate but for different purposes.
Pomegranate molasses has tart flavor, which makes it perfect for salad dressings. Grenadine is much sweeter and known as a cocktail ingredient.
On the other hand, pomegranate molasses is never used in drinks. At least, traditionally.
Also, the color of the pomegranate molasses is also much darker and a deeper red, almost brown color while grenadine is in between red and pink.
Molasses vs Pomegranate Molasses
Molasses is a thick syrup that is used as a sweetener. It is known as a byproduct of sugar and made from sugar beet and sugar cane. It is like a thick and sticky syrup you can use as a substitute for sugar.
There is also fruit molasses, which is very popular in Turkey. The word "molasses" means pekmez and it is a kind of thick syrup made from simmering crushed fruits. It can be made from grapes (the most popular one), carobs, mulberries and dates.
So it makes the English term "pomegranate molasses" a bit confusing. It is completely different from other fruit molasses. It is not as sweet as other molasses and definitely NOT used as a substitute for sugar.
In Turkish it is called "nar ekşisi" meaning pomegranate sour, which is really meaningful. The word "sour" is used as a noun and it means a thick liquid that is extracted from sour fruit.
Substitutes
Pomegranate molasses is such a unique ingredient with its tart and subtly sweet flavor, so it is not easy to find a substitute for it.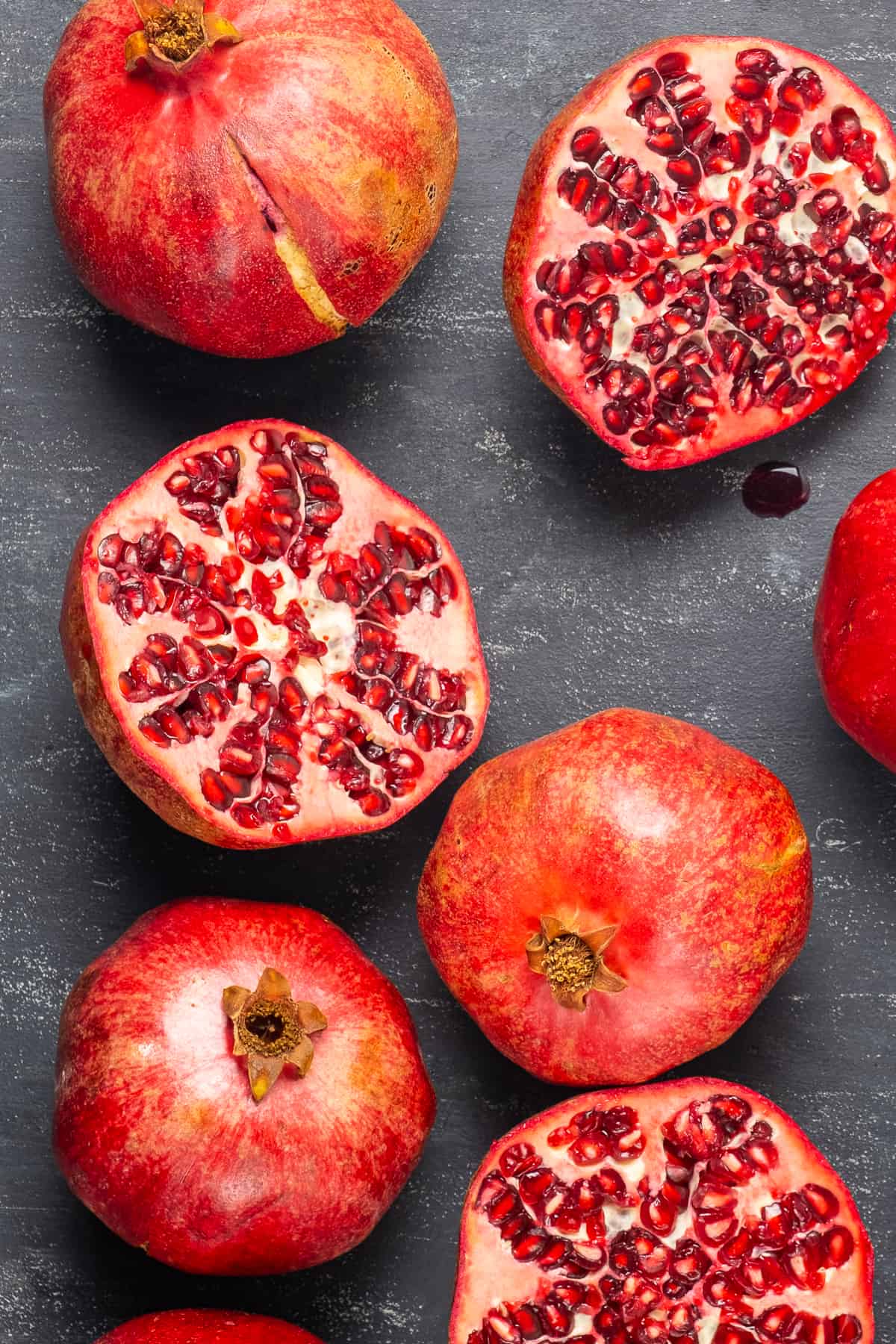 As the original product is made from pomegranate juice only, the best substitute could be pomegranate juice itself or pomegranate arils. You won't feel that concentrated sour flavor but this might work especially in salads.
Another substitute could be a mixture of balsamic vinegar and a little sugar. Simmer this mixture in a pot until sugar melts or it thickens a bit. You can use it in savory dishes, but in small amounts. As it has a dark brown color, the color of your dish will definitely change.
Traditionally, pomegranate molasses is used as a sour ingredient, often as a substitute for lemon juice. So why not use lemon juice as a substitute for the molasses? Just mix it with a little honey (for the subtle sweetness of pomegranate) and use it in your savory dishes. You can even add a little pomegranate juice or cranberry juice for coloring.
We have shared a list of pomegranate molasses substitutes. You might want to check it out too.
Is It Healthy?
Pomegranate fruit has many benefits. It is a low-calorie and fat ingredient, but it contains a ton of vitamins and minerals. It is high in calcium, iron, magnesium, phosphorus, and potassium. It is also exceptionally high in vitamin B9 (folate) and C.
These nutrients can benefit overall heart health and urinary tract health. It is also high in antioxidants, which can help fight cancer.
So homemade pomegranate molasses has similar health benefits. However, we can't say the same for the store-bought versions especially if they contain sugar. As we have explained above, homemade version contains only pomegranate juice, so it is much healthier.
Recipes With Pomegranate Molasses
As always: If you make this recipe, let us know what you think by rating it and leaving a comment below. And post a pic on Instagram too—tag @give_recipe so we can see!
Sign up for the FREE GiveRecipe Newsletter to get the new recipes into your inbox! And stay in touch with us on Facebook, Pinterest, YouTube and Instagram for all the latest updates.
You might also like: