This Turkish pomegranate molasses dressing is one of the easiest salad dressings you can find. It's loaded with tart flavors with a delicate floral, fruity undertone. You will want to use it in every salad you make.
Pair this dressing with your favorite fresh salad or roasted veggies. It makes everything even tastier! And the best part of this dressing, other than how quick it is to make, is that you can store it in the fridge for up to a month!
This is a very simple pomegranate vinaigrette dressing we often use when making Turkish shepherd's salad or white bean salad piyaz.
Jump to:
About The Ingredients
This easy dressing recipe only requires a couple of ingredients. While we can't really say they are all household staples, in some kitchens, they certainly are! And if you don't have any of these on hand, you can either buy some at your local grocery store or make your own.
Pomegranate Molasses: This is a thick syrup made from fresh pomegranate juice. It is also known as pomegranate syrup and very popular in Middle Eastern cuisines. We shared a detailed post about what pomegranate molasses is a while ago. If you want to learn more about it, go check it out!
It is easy to find these days (both in-store and online). But you can even make your own using our Turkish pomegranate molasses recipe. It is what gives this dressing floral, fruity, and primary sweet flavors. If you need an alternative, check out our post about the best substitutes for pomegranate molasses.
Red Wine Vinegar: The tangy flavor of this vinegar matches very well with the subtly sweet flavor of the pomegranate syrup. Balsamic vinegar works well too. And, if you absolutely have to, apple cider vinegar or white wine vinegar will do in a pinch.
Lemon Juice: Use freshly squeezed lemon juice.  
Extra Virgin Olive Oil: It's not a proper Turkish salad dressing if it doesn't have olive oil! This is what gives the dressing its body.
Sumac: This is a Middle Eastern spice that gives another layer of tanginess to this flavorful vinaigrette. We use it very often in salads. If you can't find it, no worries. Your dressing will still taste amazing without it.
Optional Add-Ins:
This easy recipe is the basic form of pomegranate molasses dressing used in Turkey. But you can always get creative and make your additions. Below are some ideas.
Dijon Mustard: It helps add a creamy texture while adding a tart, tangy flavor. It is a great addition especially when you use the dressing on roasted vegetables like potato, sweet potato, pumpkin, onions.
You should really try getting your hands on this specific creamy mustard. It's not the same as the whole-grain counterpart (which will work but will change the texture).
Honey: It helps add more sweetness to the pomegranate dressing and is completely optional. You can even substitute it with an alternative syrupy sweetener, like agave syrup.
When making the swap, just ensure you know the sweetness ratio. Some of these syrups are a lot sweeter than others.
Garlic: If you like garlic flavor in dressings, mash one clove and add it in the bowl.
Shallot: Chop one very finely and add in the dressing mixture. We don't recommend using garlic and shallot at the same time. Choose one and go with it.
Fresh herbs: You can add finely chopped parsley, mint or cilantro to give the dressing a nice herby touch.
Red pepper flakes: If you would like to make this pomegranate molasses sauce a little spicy, use some red pepper flakes or pul biber as we say in Turkish. If you can't find these, use Aleppo pepper or crushed chili.
How To Make
Middle Eastern people don't even make the pomegranate molasses salad dressing separately in a bowl or jar. They just add each ingredient directly into the salad bowl and give it a stir. They don't measure anything at all.
But we love it better when everything is combined together before pouring it over a salad. This is incredibly quick and easy to make.
Whisk the ingredients together: Place all of the room-temperature ingredients in a mixing bowl. Then, whisk them well until you have a uniform, emulsified dressing.
You can also place all of the ingredients in an airtight jar. Place the lid and shake the jar vigorously until the ingredients come together.
Adjust the flavor: If there are any changes you would like to make to the flavor of these pomegranate dressings, you can add the new ingredients and give the jar or bottle a shake again.
How To Store
This pomegranate molasses dressing uses fresh lemon juice. We don't normally keep it at room temperature for more than a day. So, we store this pomegranate dressing inside the fridge.
The best way to store this dressing is inside an airtight jar or container. We prefer using dressing bottles that have caps on them. You can also just reuse an old salad dressing bottle.
This dressing can keep well inside the fridge for up to a month. But, if you see any mold forming or notice any signs of spoilage, it's best to toss it out.
The only exception to this rule is if you leave the lemon juice (or Dijon mustard if using) out of this recipe. In that case, you can store the dressing at room temperature. Just make sure you store it in a cool dry place.
If you use herbs, garlic or shallots in your dressing, keep it for up to a week. The flavor changes as it sits, so don't keep it longer than this.
Uses
Our pomegranate salad dressing works great with any simple green salad. Simply combine arugula or another leafy vegetable like lettuce, kale or spinach with cucumbers and tomatoes in a bowl. Top it with some feta cheese and some pomegranate seeds (arils) and drizzle it with this dressing. Give it a good toss. You have the easiest salad that tastes amazing.
We like it with our fresh arugula fig salad with goat cheese. The pomegranate molasses dressing really compliments the savory, tart flavor of the goat's cheese. And it helps bring forward the fruitiness of the figs.
It also goes well with our black-eyed pea salad. The earthiness of the beans benefits from the sweet, tangy dressing.
And finally, while the dressing pairs best with fresh salads, it can also be served over roasted veggies. Use it over a bowl of roasted carrots, radishes, broccoli and cauliflower. Again, the combination of savory, earthy, and sweet flavors just works incredibly well together! It will take this ordinary veggie bowl to the next level.
If you have any other ways you tried to use this salad dressing with pomegranate molasses, let us know! And remember, the only way to discover new flavor pairings is by trying them!
FAQs
Is pomegranate sauce the same as pomegranate molasses? 
Yes, these are often the two names of the same product. That being said, pomegranate sauce might contain sugar while pure pomegranate molasses is unsweetened and made only from pomegranate juice.
How long does pomegranate molasses last? 
It keeps well for up to 1-2 years if stored properly. You don't need to keep it in the fridge, but make sure it is in a dry place away from sunlight.
Is pomegranate molasses sweet or sour? 
It has a nice sour taste with a subtle sweetness. 
Can I make the dressing without vinegar? 
Of course, you can. Just taste it after shaking and add more lemon juice if needed.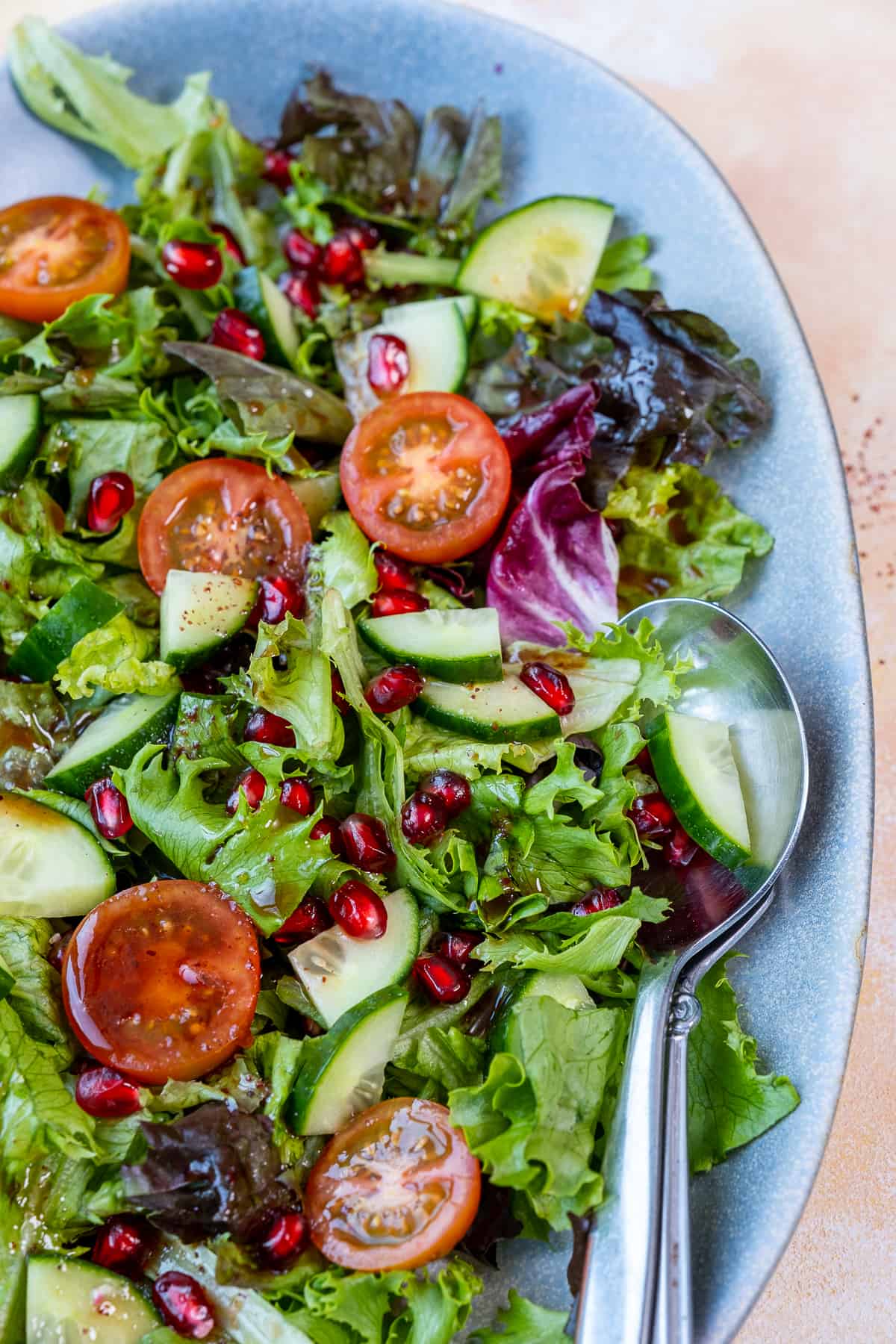 More Ideas To Pair With This Dressing
As always: If you make this recipe, let us know what you think by rating it and leaving a comment below. And post a pic on Instagram too—tag @give_recipe so we can see!
Sign up for the FREE GiveRecipe Newsletter to get the new recipes into your inbox! And stay in touch with us on Facebook, Pinterest, YouTube and Instagram for all the latest updates.
Print
📖 Recipe
Pomegranate Molasses Salad Dressing
A super easy salad dressing with pomegranate molasses. It has an amazing tangy taste with a subtle sweetness.
Author: Zerrin & Yusuf
Prep Time:

5 minutes

Cook Time:

0 minutes

Total Time:

5 minutes

Yield:

4

1

x
Category:

Dressing

Method:

Mixing

Cuisine:

Turkish
3 tablespoons

pomegranate molasses

¼ cup lemon juice

1 tablespoon red wine vinegar

¼ cup olive oil

¼ teaspoon salt

½ teaspoon sumac
Instructions
Combine everything in a bowl and whisk well. Alternatively, you can put everything in a jar and shake well.

Taste and adjust if needed.

Use immediately or keep in the refrigerator for up to a month.
Notes
Optionally, you can add Dijon mustard (1 teaspoon) and honey (1 teaspoon) if you want to enrich your dressing.

This dressing can keep well inside the fridge for up to a month. But, if you see any mold forming or notice any signs of spoilage, it's best to toss it out.

If you use herbs, garlic or shallots in your dressing, keep it for up to a week. The flavor changes as it sits, so don't keep it longer than this.
Nutrition
Serving Size:
Calories:

133

Sugar:

2.4 g

Sodium:

157.1 mg

Fat:

13.6 g

Carbohydrates:

3.3 g

Fiber:

0.2 g

Protein:

0.1 g

Cholesterol:

0 mg
Keywords: pomegranate molasses dressing, pomegranate molasses salad dressing
You might also like: