Kabak Dolma is a popular dish from Turkey. It's made by stuffing zucchini with a tasty mix of rice, ground beef, herbs, and spices. After filling the zucchini, we cook them in a sauce made from tomato paste, which gives them lots of flavor.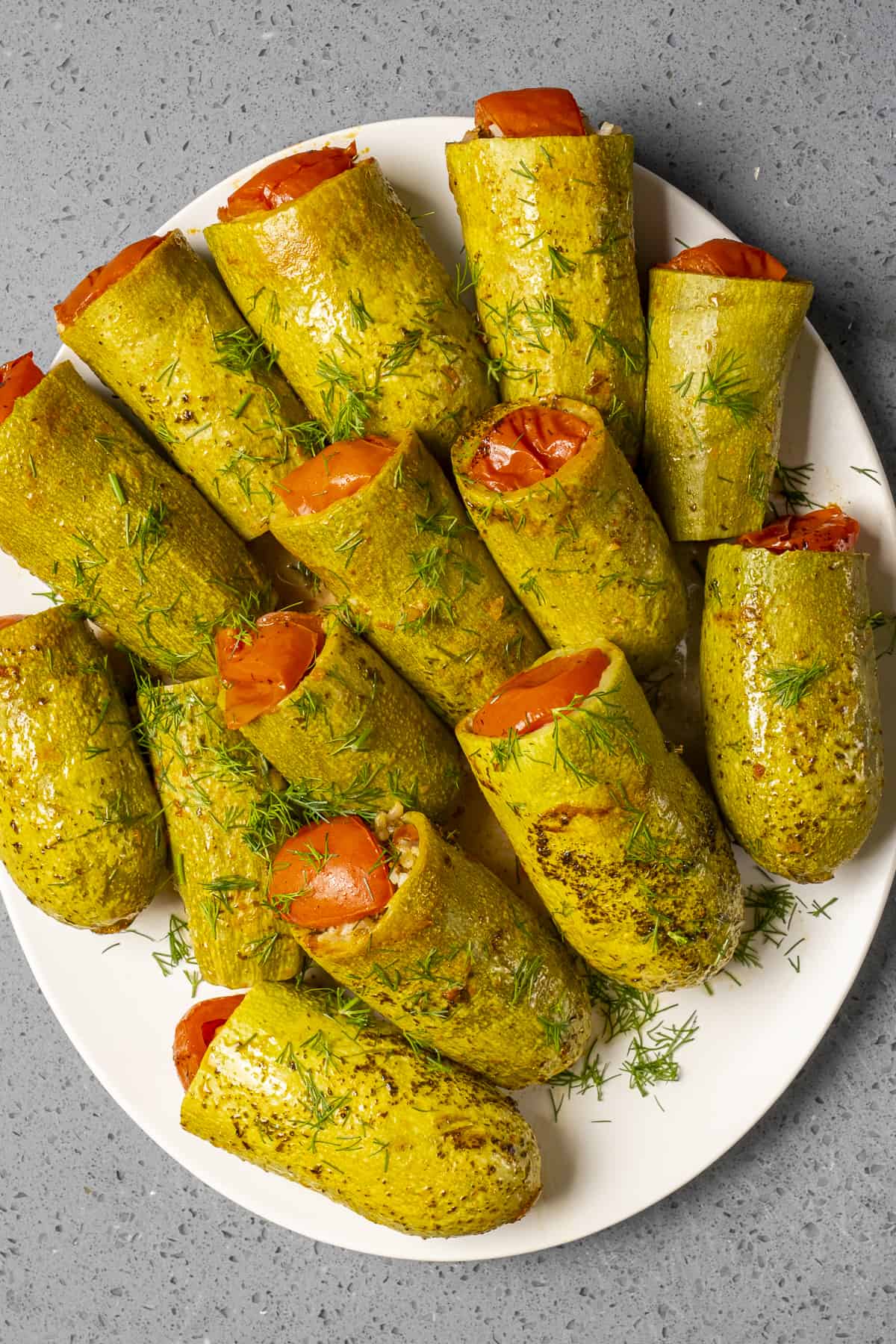 Some dishes are perfect for the summer season, and kabak dolmasi, or stuffed zucchini, is one of those dishes for us.
Summer is when zucchini are at their freshest, so this dish is often found in Turkish kitchens during this time. It's as popular in summer as dishes like taze fasulye (Turkish green beans) and bamya.
Jump to:
Dolma in Turkish Cuisine
Dolma is a very special part of Turkish recipes. The term "dolma" comes from the Turkish verb "dolmak," which means "to be stuffed." As the name suggests, dolma involves stuffing vegetables or leaves with a flavorful filling.
In Turkey, dolma can be prepared with various vegetables like peppers, tomatoes, eggplants, zucchini, and even cabbage or grape leaves.
The filling usually consists of rice mixed with different spices, onions, and sometimes ground meat (beef or lamb), but there are many vegetarian versions too. It is a matter of preference to make it with or without meat.
Some dolma recipes that are popular in Turkey are as follows:
Dolma is often served as a main dish but can also be presented as a side dish or appetizer, especially when smaller vegetables or leaves are used.
Today, we're excited to share with you the delicious and traditional recipe for Turkish stuffed zucchini, also known as kabak dolma.
Ingredients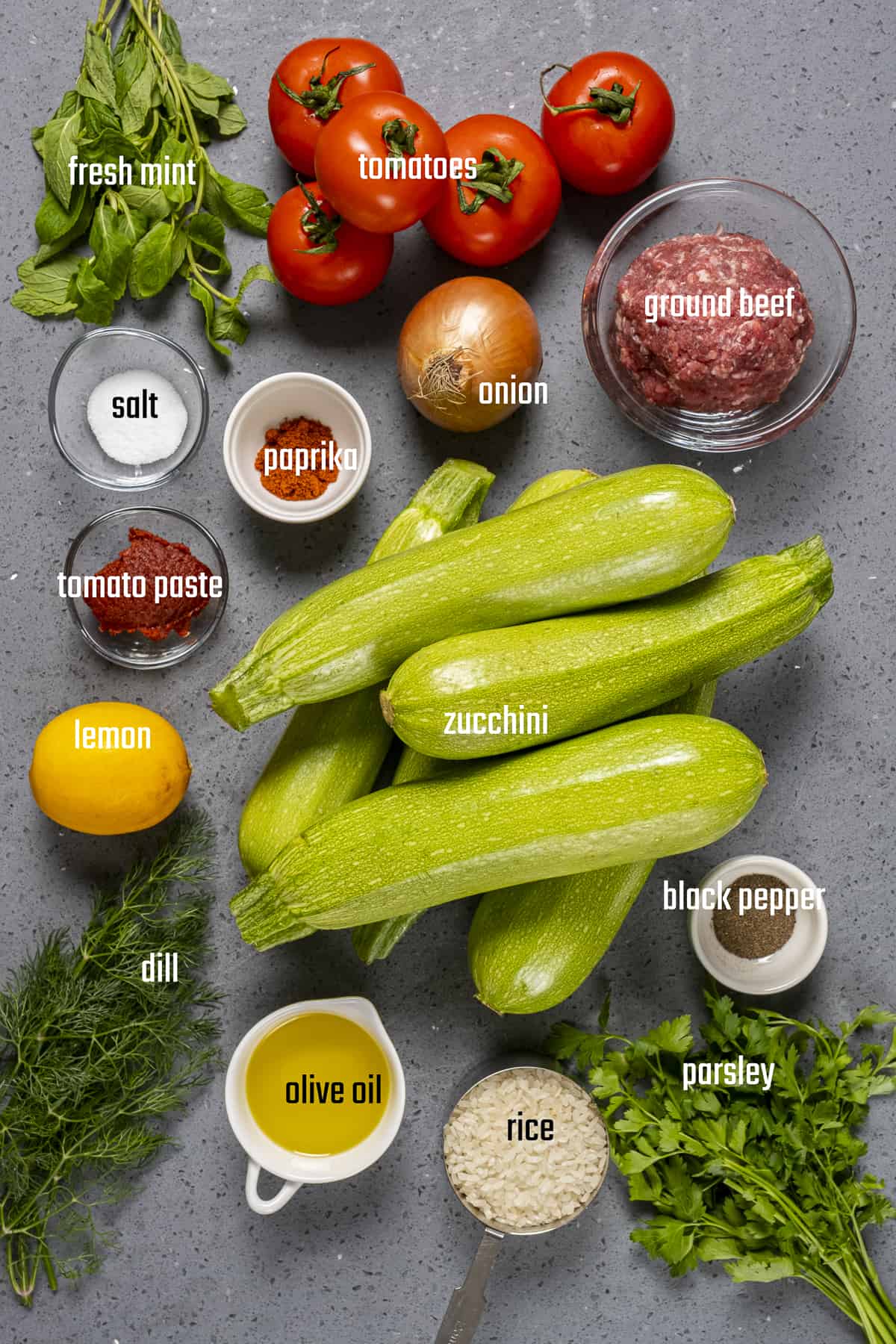 For the Dolma (Stuffed Zucchini):
Zucchini: Look for firm, medium-sized zucchini, as they hold up well during cooking. They'll be hollowed out and filled with a flavorful stuffing.
Tomatoes: These are placed on top of the filling inside the zucchini. They are used to seal the filling, which prevents it from coming out of the zucchini as it cooks.
For the Filling:
Rice: We use Turkish Osmancik rice, but any medium or long-grain rice works.
Ground beef: We prefer 90 percent lean ground beef. You can substitute ground lamb for it. And if you want to make our kabak dolma vegetarian, just leave the meat out.
Onion and tomatoes: They're finely chopped and added to the filling for extra flavor and texture.
Parsley, dill, and mint: These fresh herbs give the filling a wonderful aroma. If you can't find dill or mint, feel free to use more parsley.
Tomato paste and lemon juice: These add a lovely tang to the filling.
Olive oil: It is the oil used in all Turkish dolma recipes.
Black pepper, paprika, and salt: These are the main seasonings. Adjust to your taste.
For the Sauce:
Olive oil: This forms the base of the sauce. You can substitute with any other neutral-tasting oil.
Tomato paste: It gives the sauce a tangy flavor and a rich color. Check out our tomato paste recipe if you want to make it from scratch.
Paprika: We use it for its flavor and nice color.
Garlic: Adds a nice, aromatic flavor to the sauce.
Dried mint: It adds a unique, refreshing flavor to the sauce.
Water: If you want even a more flavorful dolma, use half water, half chicken broth or beef broth.
How To Make It
Be sure to see the recipe card below for the full ingredients list & instructions!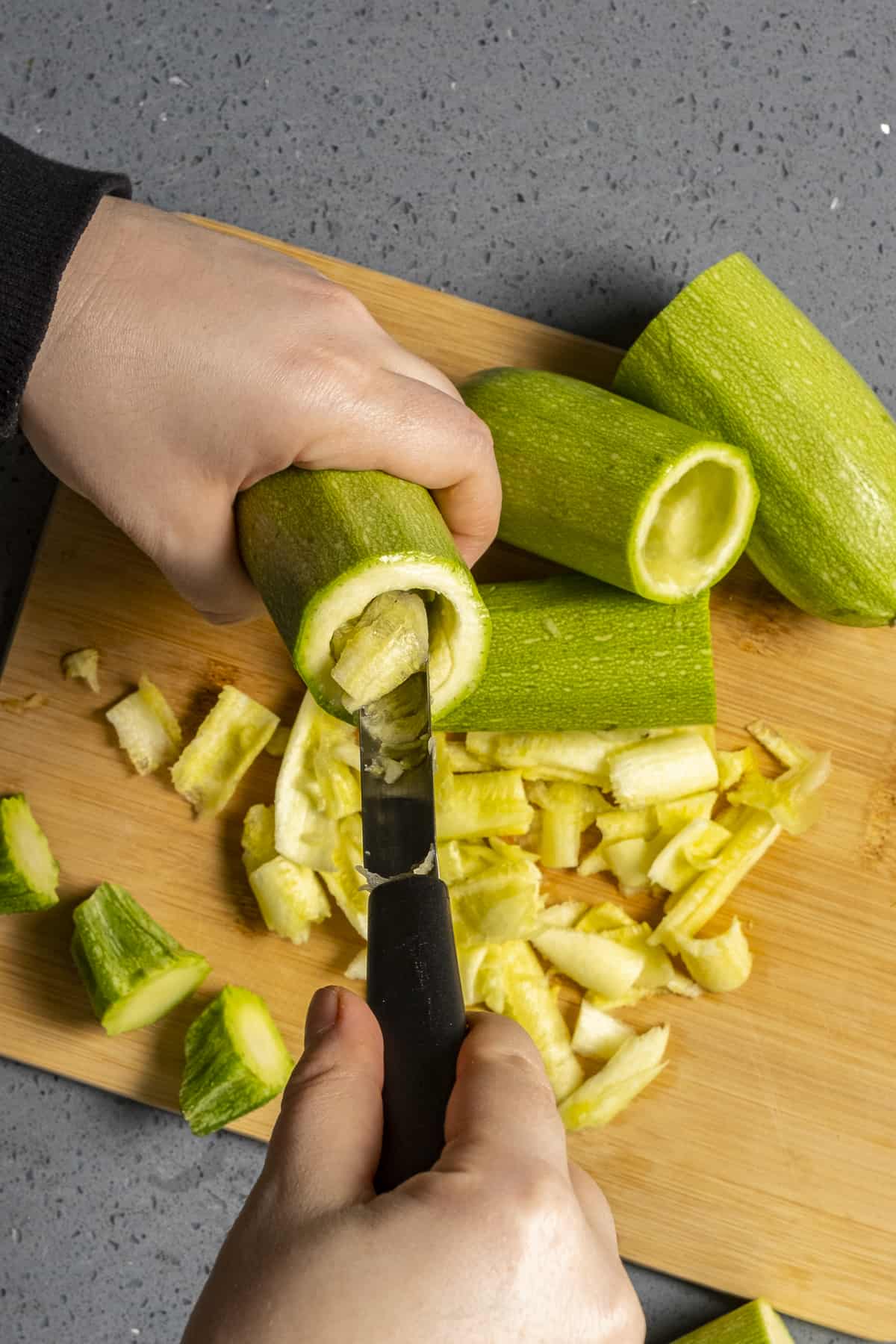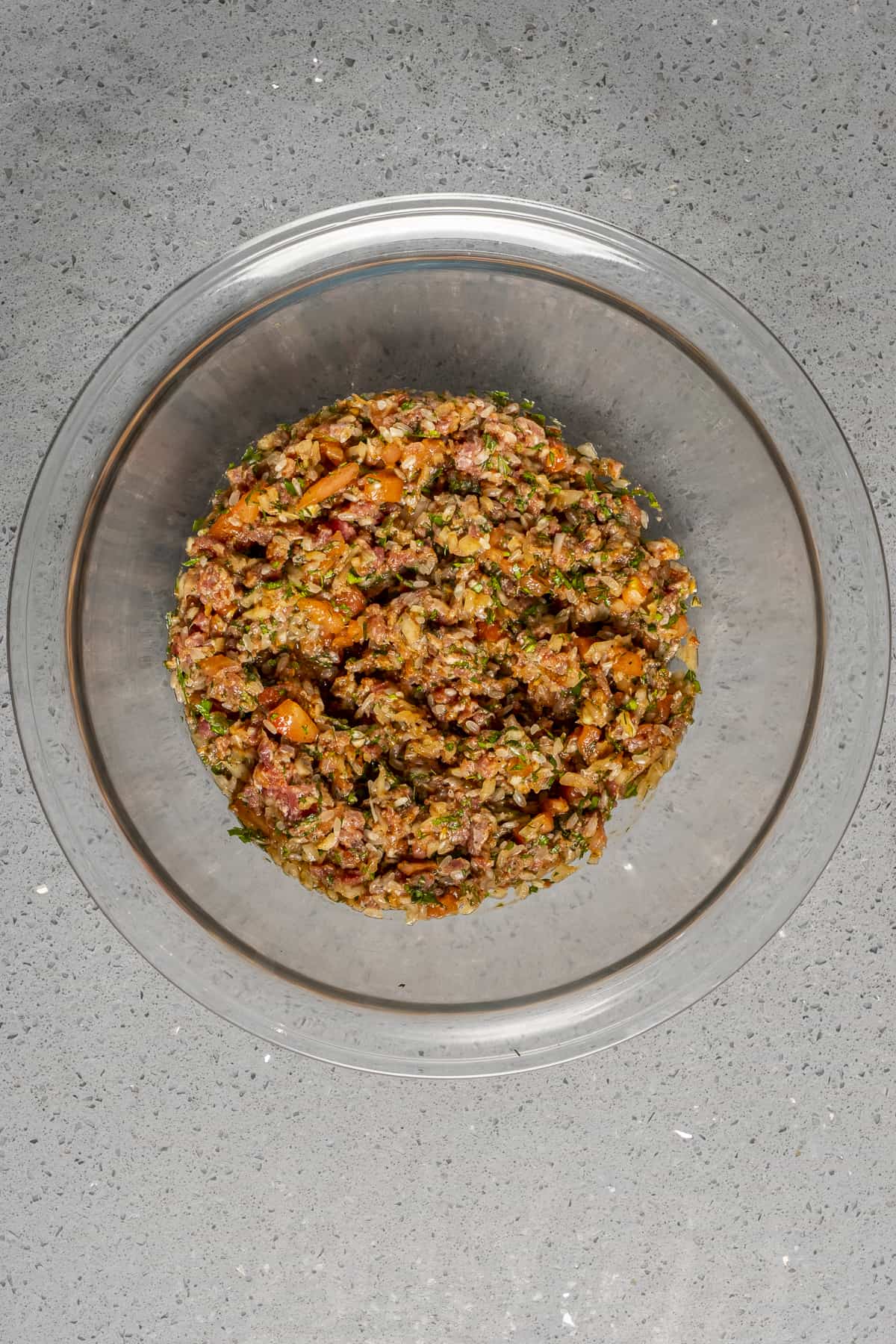 Step 1: Prepare the Zucchini
Cut off the stems and cut each zucchini in half crosswise. No need to cut if they are too small. Use a coring tool (an apple corer works well) to hollow ot the insides. Aim to scoop out as much flesh as possible without puncturing the outer skin.
Tip: Zucchini flesh is soft, so take care not to scoop too hard to prevent tearing.
Step 2: Prepare the Filling
In a bowl, combine your stuffing ingredients. The stuffing should be well-mixed to ensure every bite is filled with flavor.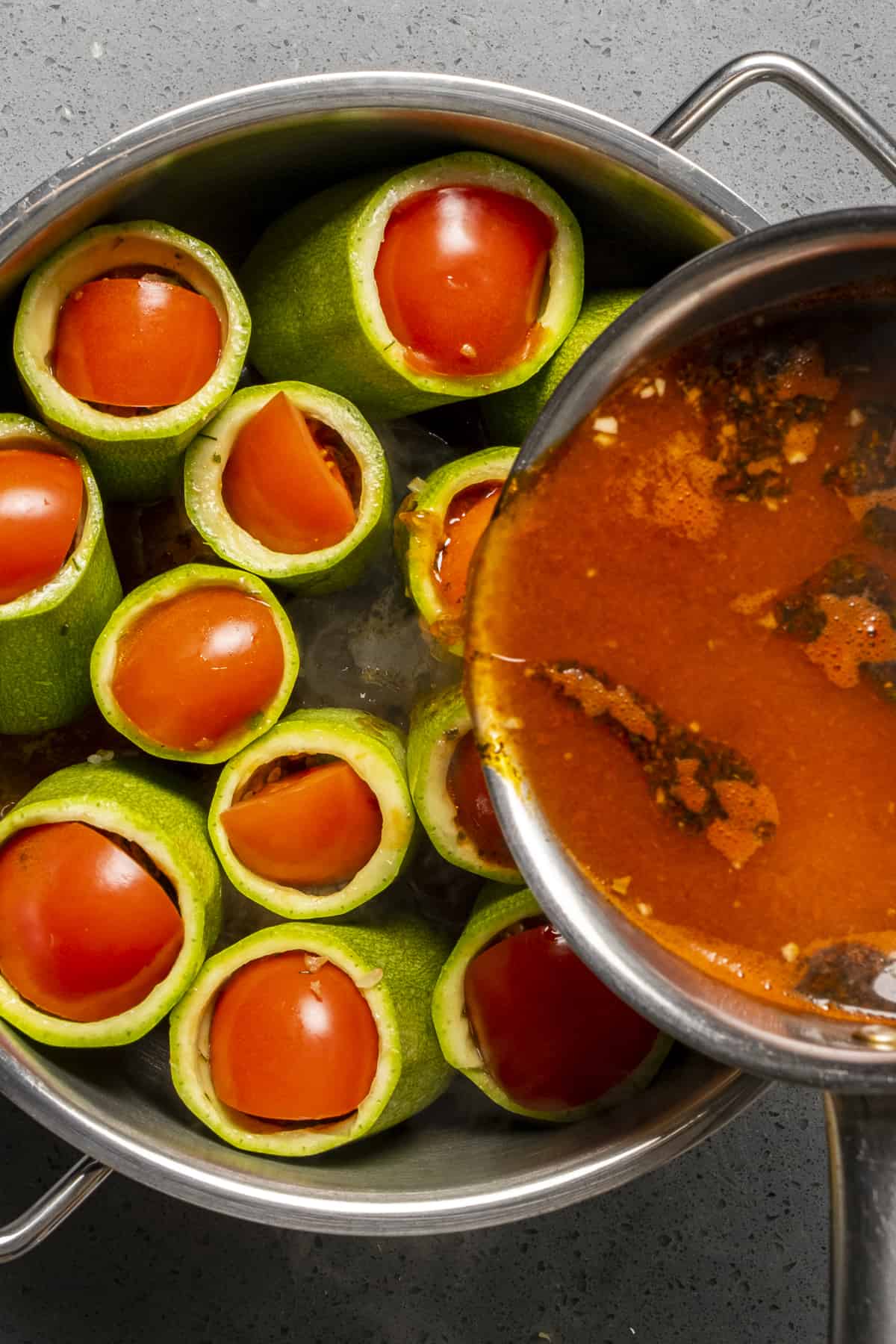 Step 3: Fill the Zucchini
Carefully fill each hollowed-out zucchini with the prepared filling. Use your hands for this, but avoid packing the filling too tightly. Remember that the rice will expand as it cooks, so leave about ½ inch (1 cm) of space at the top.
Step 4: Top with Tomato Wedges
Place a wedge of tomato on top of each filled zucchini. This serves to seal the filling inside and adds a nice touch of freshness and color.
Step 5: Arrange in the Pot
Next, arrange the stuffed zucchini in a pot. Aim for a snug fit to keep them upright during cooking.
Step 6: Prepare the Sauce
In a separate saucepan, combine the olive oil, tomato paste, crushed garlic, and mint. Heat for a minute, stirring occasionally. Add warm water, mix well, and bring the mixture to a boil.
Step 7: Cook the Dolma
Pour the prepared sauce over the stuffed zucchini in the pot. They will cook and absorb flavor from this sauce. Cover the pot and cook over medium heat until it starts to boil.
Step 8: Simmer until Done
Once it boils, reduce the heat to low, and let it simmer covered for about 45 minutes, or until the zucchini and rice are soft.
Tip: The cooking time may vary depending on the size and thickness of your zucchini, so it's a good idea to check for doneness periodically.
Variations
Cooked Filling: Some people prefer to cook the filling before stuffing it into the zucchini. While it's not necessary because the filling will cook inside the zucchini, it is a matter of personal preference. Pre-cooking the filling might reduce the overall cooking time.
Vegetarian or Vegan Kabak Dolma: In the vegetarian version of kabak dolma, the ground beef is omitted. The stuffing may consist of rice, onions, tomatoes, and a variety of herbs and spices. You might also add pine nuts or currants for a bit of added texture and flavor.
Stuffed Zucchini with Bulgur: Instead of rice, some versions of kabak dolma use bulgar wheat in the filling. This gives a slightly nuttier flavor and a different texture to the dish.
Our Tips
Hollowing the Zucchini: When hollowing out the zucchini, be careful not to pierce the skin. If the outer skin is punctured, the filling may leak out during cooking. Using an apple corer or a small spoon can make this task easier.
Using the Scooped Out Zucchini Flesh: Don't let the scooped-out zucchini flesh go to waste. It can be used to create other delicious dishes like Turkish zucchini fritters called mucver. You could also add it to soups or stews for some extra nutrition and flavor.
Filling the Zucchini: Do not overstuff the zucchini. Remember that the rice will expand during cooking, so leave some space for expansion. If the zucchini is too tightly packed, the filling might spill out.
Dealing with Leftover Filling: If you find yourself with extra filling, don't discard it. Cook it in a small pan with a lid, adding a little water (about ¼ cup). Cook it over low heat, much like you would cook a Turkish rice pilav. This can then be served as a side dish or saved for another meal.
Serving Suggestions
Serve Hot or at Room Temperature: Kabak dolmasi is always served hot when it is made with rice and meat. However, its vegetarian version can be served at room temperature.
With Yogurt: Kabak Dolma is often enjoyed with a side of cool, creamy plain yogurt or cacik, Turkish yogurt sauce with cucumber. It is also great when served with cold yogurt drink called ayran. The tanginess of the yogurt complements the savory stuffed zucchini perfectly.
Alongside a Fresh Salad: A crisp, fresh salad can balance out the rich, savory flavors of the stuffed zucchini. A simple Turkish shepherd salad would pair well.
As Part of a Meze Platter: In Turkey, meatless kabak dolma is sometimes served as part of a meze platter - a selection of small dishes served as appetizers. Other items on the meze platter might include hummus, haydari, imambayildi and stuffed grape leaves (Dolma), and more.
Storing & Reheating
Refrigerating: Once the kabak dolma has cooled down, you can store it in an airtight container in the refrigerator. It should last for up to 3-4 days. When you're ready to eat it, you can reheat it in the microwave or on the stovetop until it's heated through.
Freezing: If you want to store kabak dolma for a longer period, you can also freeze it. Place the cooled stuffed zucchini in a freezer-safe container or zip-top bag. It should last for up to 3 months in the freezer. To reheat, defrost it overnight in the refrigerator and then warm it up in the microwave or on the stovetop with a splash of water.
Storing Leftover Filling: If you have leftover filling, store it in a separate airtight container in the refrigerator. It can be used within a few days to stuff more zucchini or other vegetables, or as a filling for stuffed bell peppers or tomatoes. Alternatively, you can cook it on its own. Transfer it into a small pan and cook it covered over low heat until rice is tender.
FAQs
How can I tell when the kabak dolma is done cooking?
The best way to tell if the kabak dolmasi is done is to check the rice and the zucchini. The rice should be soft and fully cooked, and the zucchini should be tender but still hold its shape.
Can kabak dolma be made ahead of time?
Yes, it can be prepared ahead of time. You can prepare and stuff the zucchini a day in advance and keep them in the refrigerator. Cook them the next day. You could also cook them entirely, then refrigerate or freeze for later use. 
Why is my stuffing dry?
The stuffing could end up dry if there isn't enough moisture during the cooking process. Ensure that you have enough sauce and that the kabak dolma is covered while simmering. Also, remember not to pack the stuffing too tightly into the zucchini to allow space for the rice to expand.
More Zucchini Recipes
More Turkish Recipes
You might also like:
As always: If you make this recipe, let us know what you think by rating it and leaving a comment below. And post a pic on Instagram too—tag @give_recipe so we can see!
Sign up for the FREE GiveRecipe Newsletter to get the new recipes into your inbox! And stay in touch with us on Facebook, Pinterest, YouTube and Instagram for all the latest updates.
Print
📖 Recipe
Kabak Dolma - Turkish Stuffed Zucchini
Kabak dolmasi features zucchini stuffed with a flavorful mixture of rice, ground beef, and a vibrant array of herbs and spices. Cooked in a rich tomato paste sauce, these stuffed zucchinis are a summer favorite in Turkish homes and a great way to enjoy this season's harvest. This traditional dish is versatile, customizable to different dietary preferences, and perfect to serve as a main dish or as part of a meze platter.
Author: Zerrin & Yusuf
Prep Time:

45 minutes

Cook Time:

40 minutes

Total Time:

1 hour 25 minutes

Yield:

6

1

x
Category:

Dinner

Method:

Cooking

Cuisine:

Turkish
For the dolma (stuffed zucchini):
6

zucchini

3

medium sized tomatoes, cut into quarters (to be placed on the filling inside the zucchini)
For the filling:
½ cup

rice

200 g

/ 7 ounces ground beef

1

large onion, finely chopped

2

tomatoes, finely chopped

½ cup

parsley, finely chopped

¼ cup

fresh dill, finely chopped (optional)
A few sprigs fresh mint, finely chopped (optional)

2 tablespoons

tomato paste

1 tablespoon

lemon juice

¼ cup

olive oil

1 teaspoon

black pepper

1 teaspoon

paprika

1 teaspoon

salt
For the sauce:
3 tablespoons

olive oil

2 tablespoons

tomato paste

1 teaspoon

paprika

2

cloves garlic, mashed or grated 

2 teaspoons

dried mint

2 cups

warm water 
Instructions
Cut off the stems of zucchini. Cut the zucchini in half crosswise and hollow out the insides with a coring tool (you can use an apple corer). Aim to scoop out as much flesh as possible, but try not to cut the outer skin of zucchini. 
Mix the stuffing ingredients thoroughly in a bowl.
Fill the cored zucchini with this mixture. Fill them with your hands but loosely, not pressing down too hard. There must be enough space for the rice to rise. Leave about ½ inch ( about 1 cm) of space at the top.
Place a wedge of tomato on top of each stuffed zucchini. This is to seal the filling in the zucchini. It will prevent the filling from coming outside. 

Arrange the stuffed zucchini in a pot.

In a saucepan, combine olive oil, tomato paste, crushed garlic, and mint. Heat it for a minute, stirring occasionally. Add in warm water, mix well and bring it to a boil. Remove from heat.
Pour all of the sauce in the pan where you put the stuffed zucchini. They will cook in this sauce. Cook it covered over medium heat until it starts to boil.
Once it boils, reduce the heat and let it simmer covered for about 45 minutes or until the zucchini and rice are soft.
Notes
Preparing the Zucchini:

 Be gentle when coring the zucchini to avoid damaging the skin. If the skin is punctured, your delicious filling might escape while cooking. Tools like an apple corer or small spoon are helpful for this task.

Utilizing the Scooped Zucchini Flesh:

 Don't toss out the zucchini flesh you've scooped out. This can be repurposed in various dishes, such as Turkish zucchini fritters, also known as mucver, or added to soups and stews for an extra dose of flavor and nutrition.

Stuffing the Zucchini:

 Avoid the temptation to overfill the zucchini. As the rice cooks, it will expand, so ensure to leave room for it. Overstuffed zucchini might lead to a messy spill-out.

Making Use of Extra Filling:

 Leftover filling? No problem. You can simmer it in a small, lidded pan with a touch of water, just like preparing a Turkish rice pilav. Enjoy it as a side dish now, or save it for later use.
Nutrition
Serving Size:
Calories:

380

Sugar:

7.9 g

Sodium:

650.4 mg

Fat:

26.9 g

Carbohydrates:

23.9 g

Protein:

15.8 g

Cholesterol:

30 mg
Keywords: Turkish stuffed zucchini, kabak dolma