What is bulgar or bulgur wheat? What are different types of bulgur? What are the uses? Let's learn all things about bulgur wheat today! And see how to cook bulgur wheat of all types with two simple methods: Soaking and cooking on the stove. Both methods are extremely easy!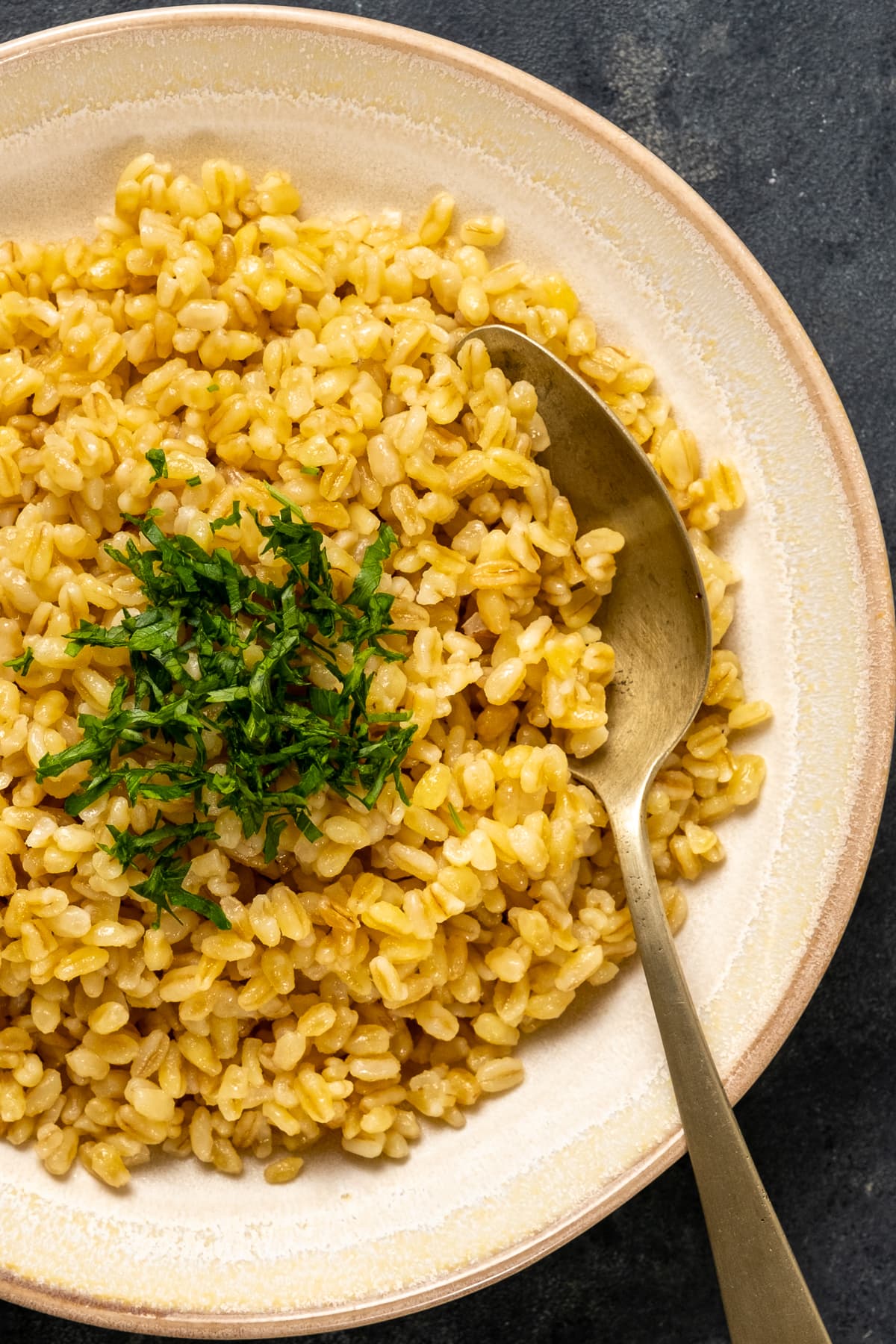 With its amazing nutty flavor, bulgur wheat has been one of the beloved Turkish foods. This versatile grain can be used in many dishes like our delicious bulgur pilaf or famous flavor-packed Turkish tabouleh kısır. Have you tried bulgur yet? Check out our best bulgur recipes and pick one to try!
Jump to:
What Is Bulgur Wheat?
Bulgur is a product derived from whole wheat kernels, also known as groats. Groats are hulled kernels that contain the germ, bran, and endosperm of the grain. These groats are parboiled (partially cooked) and dried. Then they are ground in different sizes and become cracked wheat. Whether to cook or soak bulgur wheat depends on its size.
Bulgur is most often made from durum wheat, but can also come from various other types of wheat grains. It might be confused with wheat berries. The main difference between them is that bulgur is parboiled while wheat berries are raw.
Bulgar wheat has been used in so many delicious recipes in Middle Eastern cuisine for ages, but it is now discovered by the rest of the world as well. One of the biggest reasons bulgur became so popular lately is because it is packed with nutrients!
Bulgur wheat contains a wide range of vitamins and minerals. Also it is one of the best low carb grains and very rich in fiber. What's more, it is way tastier and easier to cook than brown rice.
A big question we get asked quite frequently: Does bulgur have gluten? Unfortunately, considering it is a wheat-based product, it does contain gluten, so we wouldn't recommend it for gluten-free diets.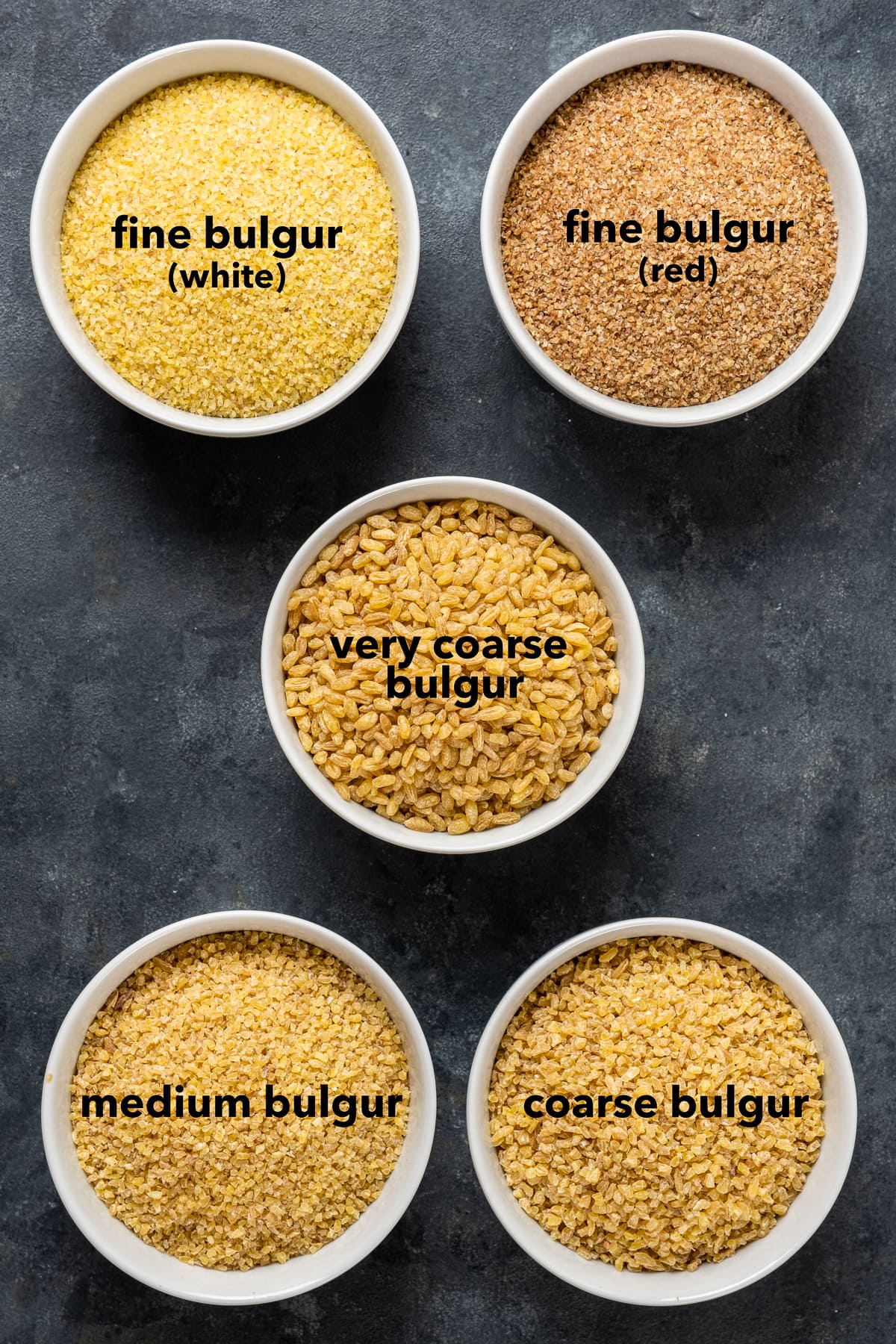 Types of Bulgur
Bulgar wheat can be found in two different colors: Red and white. White bulgur and red bulgur are virtually the same product, the only difference being the type of wheat they come from which gives them their color.
As we've already mentioned, white bulgur mostly comes from the yellow-ish durum wheat grain. Red wheat bulgur comes from red whole grain wheat varieties.
Bulgar wheat can be processed into 4 different sizes: Fine, medium, coarse and very coarse bulgur.
Fine bulgur, also referred to as "quick-cooking bulgur" or "extra-fine bulgur", is the smallest size you will find. We call it 'ince bulgur' in Turkish. Naturally, this size allows it to cook the fastest compared to the other medium and coarse versions. Fine bulgur has special uses in Turkish cuisine.
Medium bulgur is probably the easiest to find. These grains are slightly bigger compared to the fine bulgur version, but still you can just soak it. Many people prefer soaking it, while others prefer cooking it on the stove-top. Both methods work well. You can use medium bulgur when making soups or pilaf.
Coarse and very coarse bulgur are the largest sizes you will find and naturally take longer to cook. Cooking these bulgur types is similar to cooking wheat berries and not suitable for the soaking method and only cooked on stove top. In Turkish cuisine, coarse and very coarse grinds (başbaşi bulgur) are the best for making pilaf.
How To Cook Bulgur Perfectly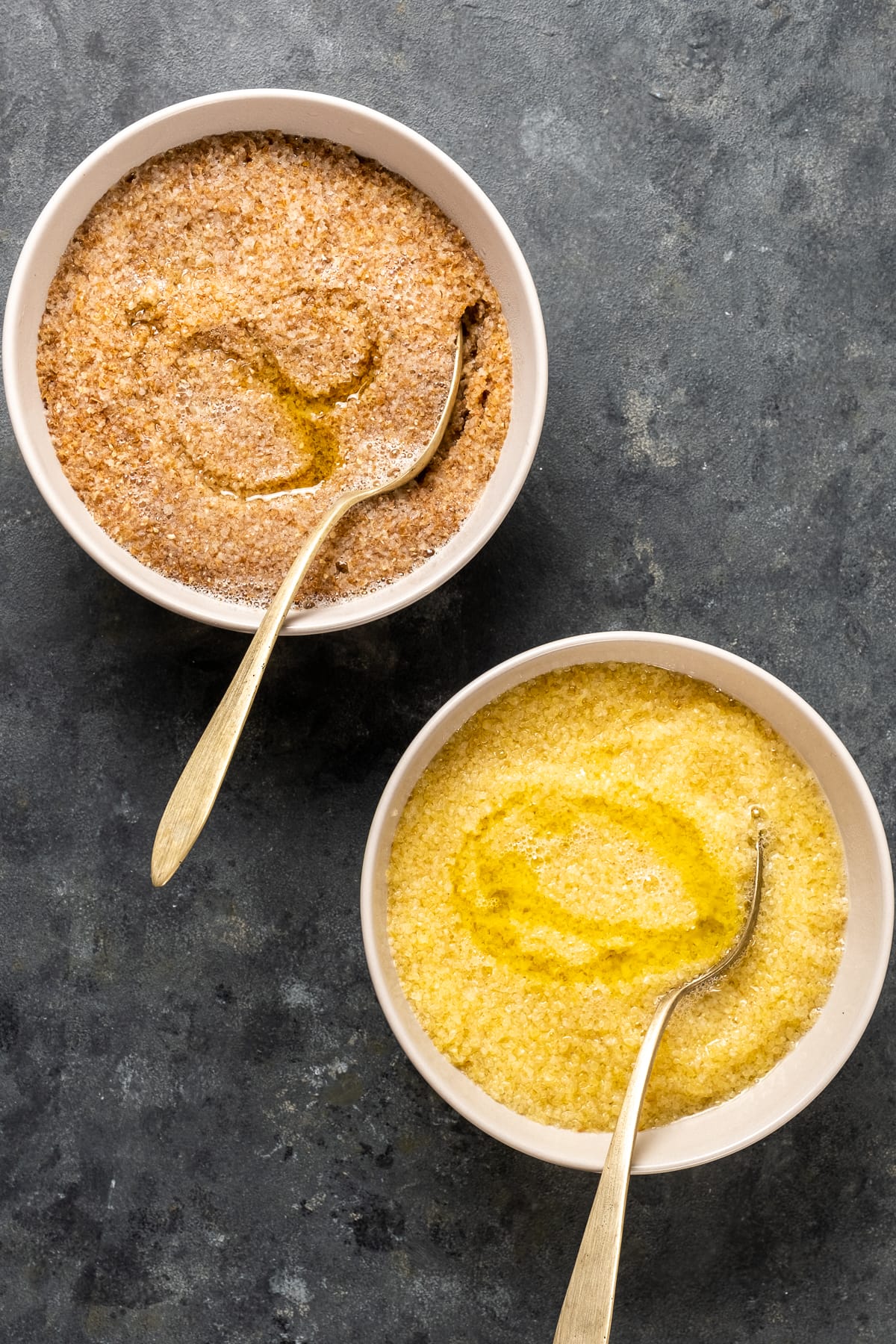 Cooking bulgur has never been this quick or easy! We will share two cooking methods below. Fine and medium grind bulgur can be soaked whereas coarse and very coarse bulgur has to be boiled. No matter which cooking method you choose, your grains will be perfectly cooked for a wide variety of bulgur recipes!
Soaking Method:
First, combine the ingredients. Soak 1 cup fine or medium bulgur in 1 cup hot water. Add in the salt and olive oil, stir to combine, and allow it to rest covered.
Fine bulgur soaking time: 10 minutes
Medium bulgur soaking time: 15 minutes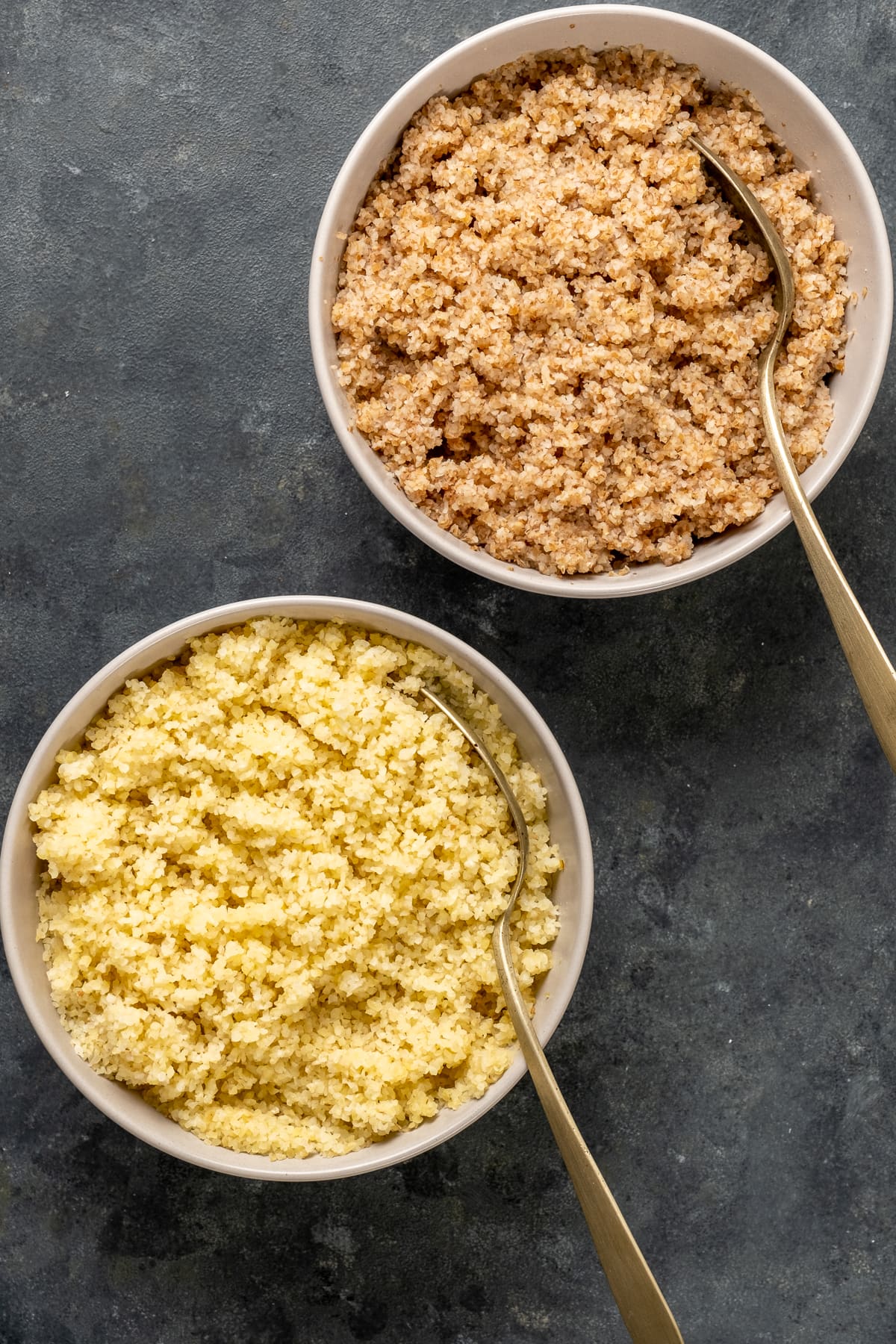 You can add your favorite spices in the bowl when soaking fine or medium bulgur to have a spicy taste. We love it with chili powder, black pepper and dried mint.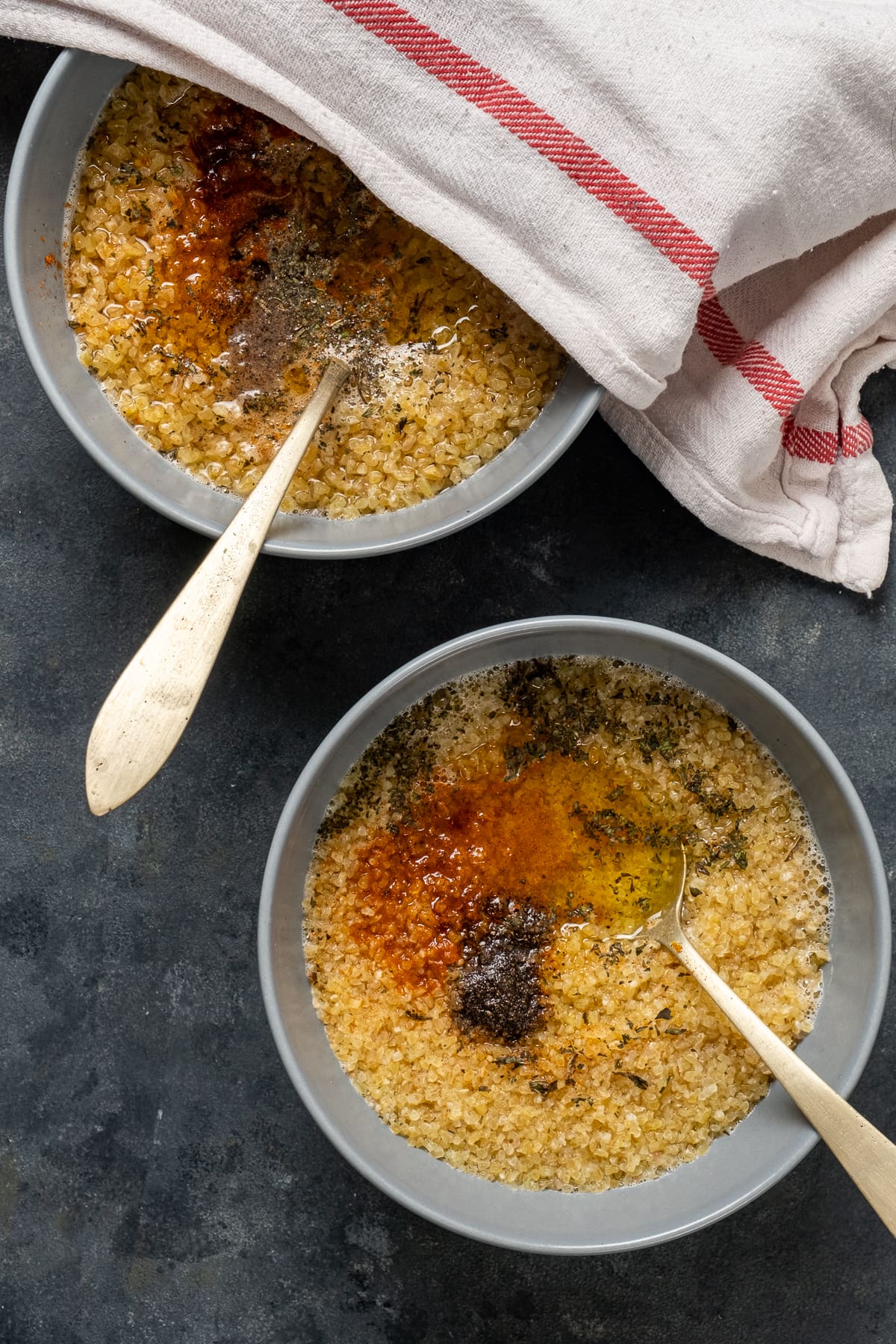 Second, fluff and serve. After the bulgur has rested, gently fluff it with a fork before using it in another recipe, or serving it as is. We mostly combine them with several herbs and serve as lunch or side.
Note: Never use cold water to soak fine or medium bulgur. It just doesn't work! Always soak it in hot liquid like plain water, chicken stock or vegetable stock. And make sure to use a heatproof bowl for this.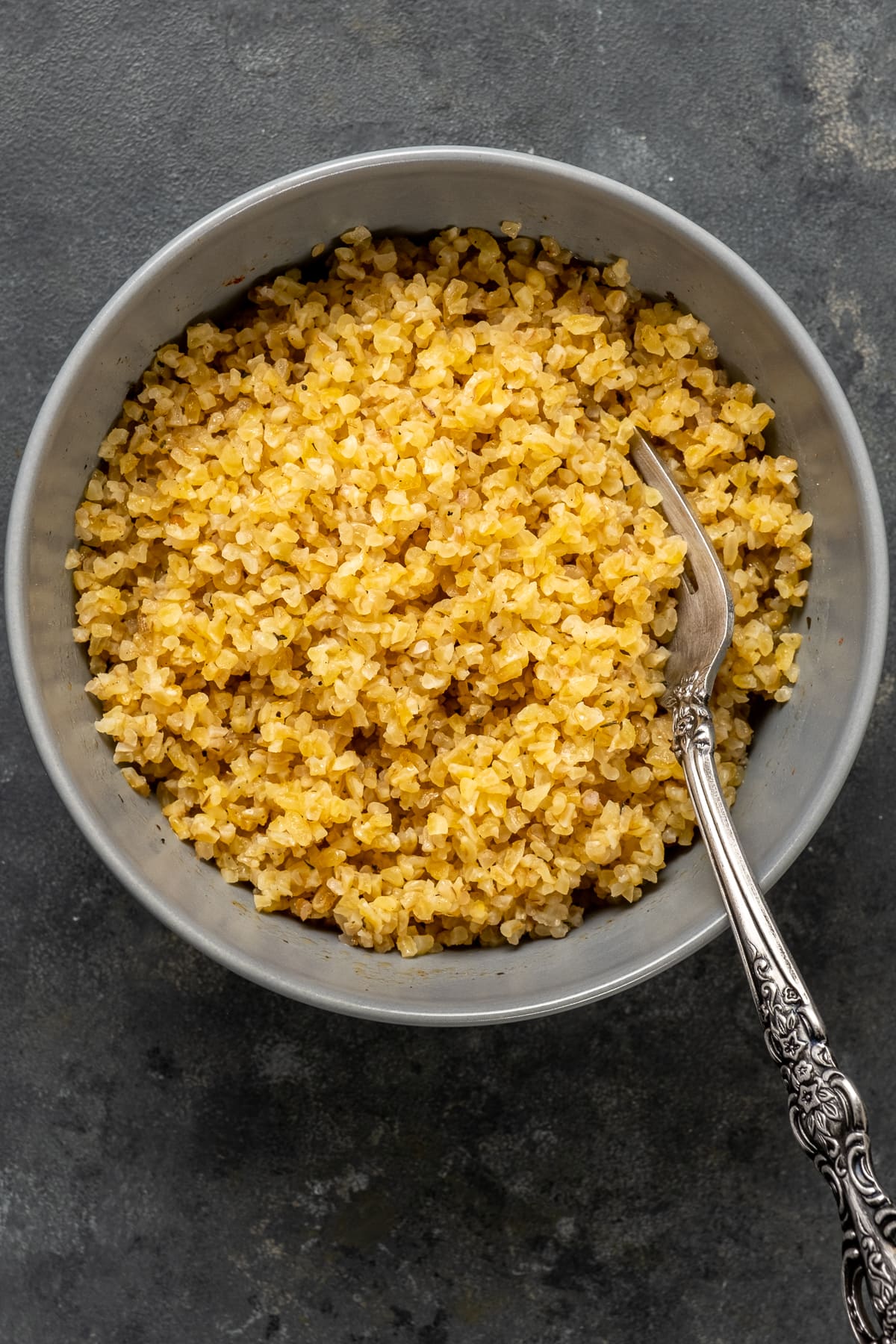 Boiling Method:
We need this basic cooking method for coarse bulgur and very coarse bulgur. Cooking bulgur is almost the same as cooking gluten free buckwheat. Combine 1 cup coarse or very coarse bulgur with 2 cups of hot water in a pot with a lid. Add in salt and olive oil, and bring the mixture to a boil.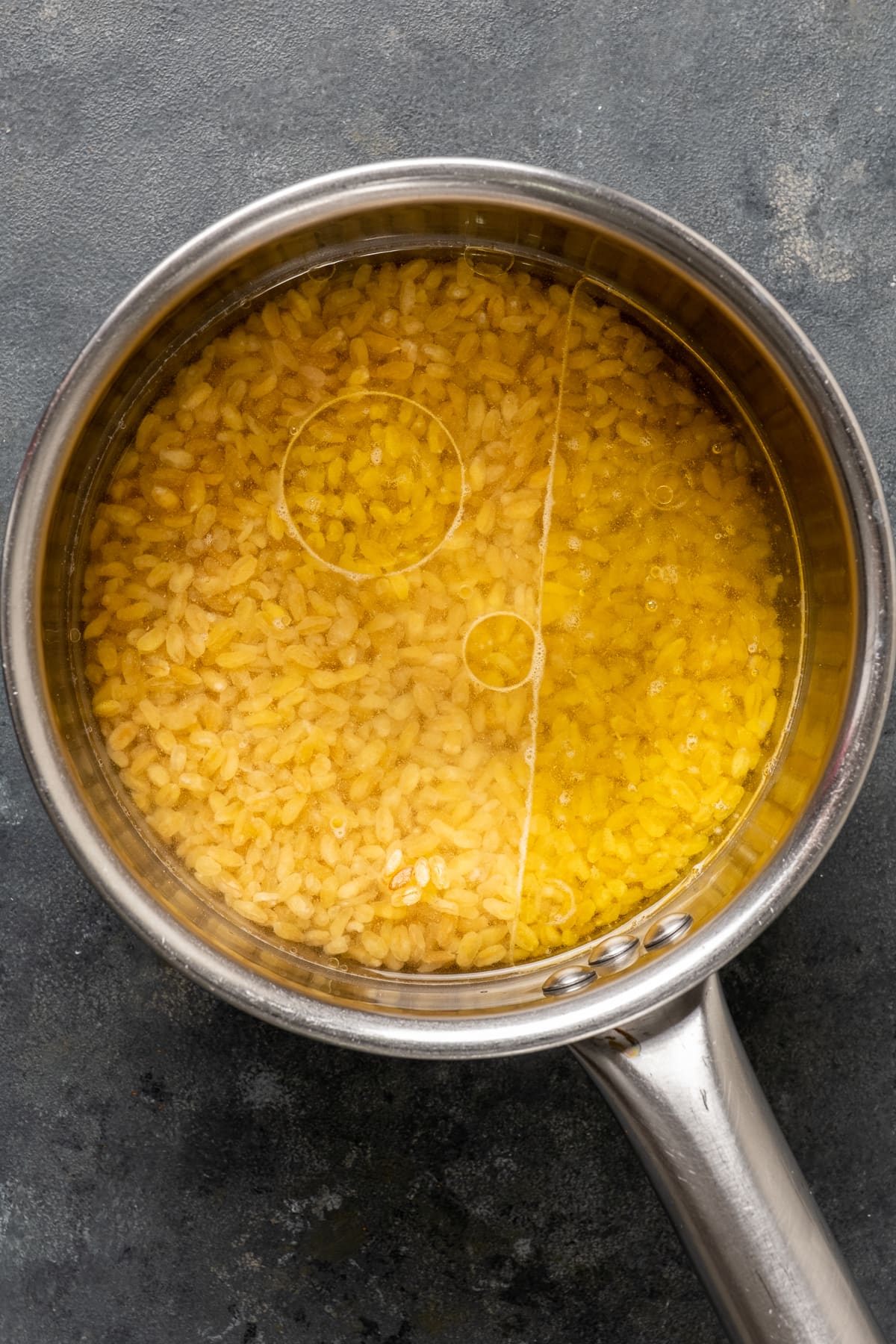 Once boiling, reduce the heat to the lowest and allow it to cook covered for 15 minutes or until the water is absorbed.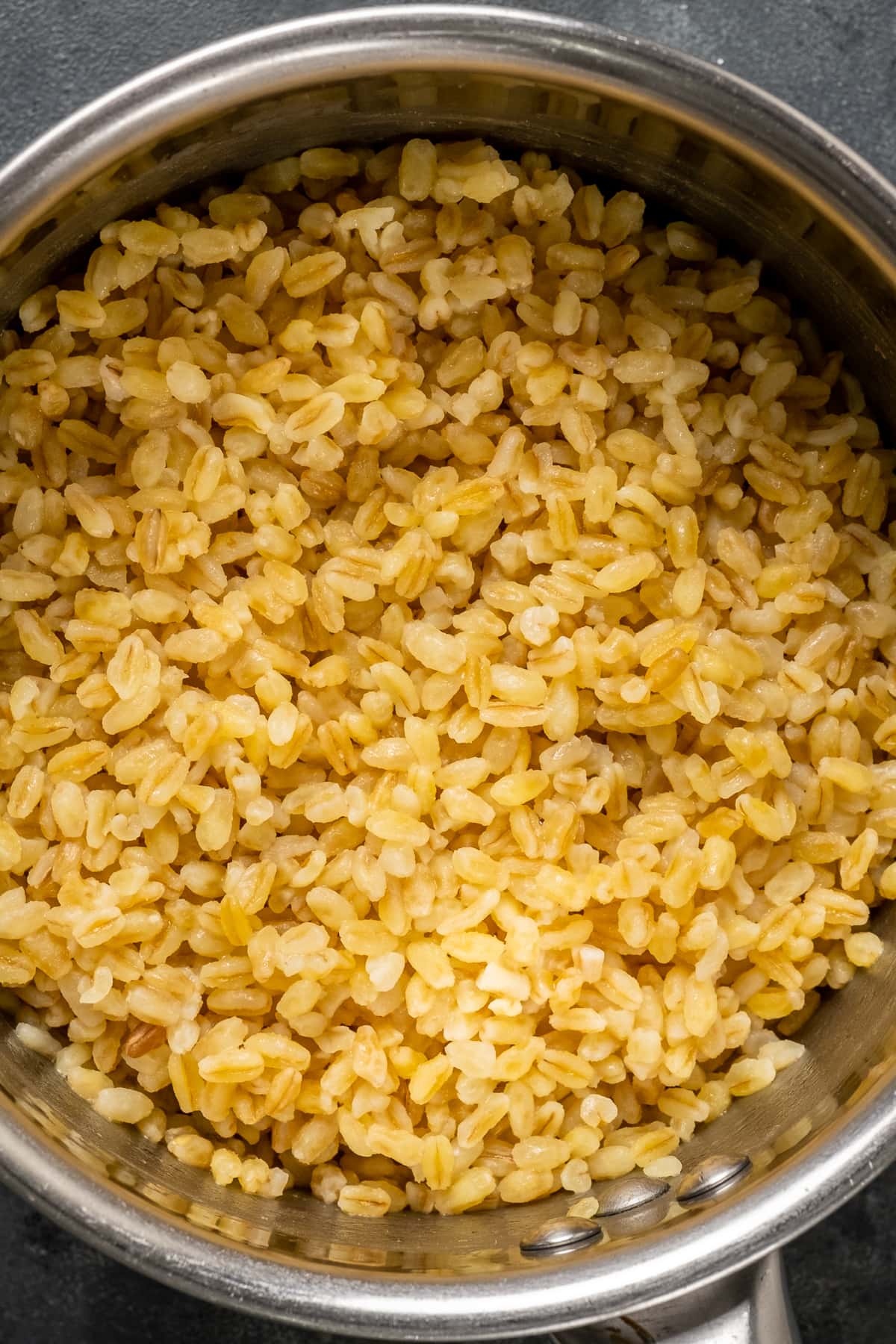 Coarse bulgur cooking time: 15 minutes
Very coarse bulgur cooking time: 20 minutes
Second, allow the bulgur to rest and fluff. Once the bulgur has been fully cooked, remove it from the heat and allow it to rest another 15 minutes. Fluff the bulgur with a fork and serve it as a side.
Note: You can cook this type of bulgur in your rice cooker too. If you want to do so, make sure to use the white rice option to cook bulgur.
Bulgur Water Ratio
The smaller the grain the less water it can absorb, and ultimately the less water you will need. The bulgur water ratio will be determined by the size of the bulgur.
Fine and medium bulgur: 1:1 ratio. You need about 1 cup of water to 1 cup of bulgur.
Coarse and very coarse bulgur: 1:2 ratio. You need to cook these types of bulgur longer and therefore they absorb more water. For these, you can use 1 part bulgur to 2 parts water.
If your water is completely absorbed before the bulgur has been cooked, simply add a bit more and continue until the bulgur has been fully cooked. And if somehow there is excess water after bulgur wheat is soft enough, you can drain it.
Expert Tips
What makes this recipe and method so fantastic is how customizable they are. Instead of water, you can use vegetable, chicken, or beef stock to add additional flavor.
You can also add any type of spice or herb that you'd like. Spices can be added before you start to soak or boil bulgur wheat, whereas herbs can be added fresh before serving.
You can substitute the olive oil with butter when cooking coarse and extra coarse bulgur. However, don't do this for fine and medium bulgur as it will affect their texture too much.
While you are soaking bulgur, cover the bowls with kitchen towels. This will help the bulgur absorb the water much better.
If your water has been fully absorbed before the bulgur has been cooked, add a tiny bit of extra hot water and allow it to soak in for another few minutes.
After your bulgur has been fully cooked and fluffed, allow it to cool before placing it in an airtight container and placing it in the fridge. This way you can use it whenever you'd like in salads or soups.
Uses
In Middle Eastern cooking, different types of bulgur are used in different and specific bulgur wheat recipes.
The most common dishes with fine grind bulgur in Turkish cuisine are bulgur salad named kısır, bulgur lentil balls recipe and vegan bulgur balls named cig kofte. Fine bulgur is soaked when making bulgur salad and bulgur lentil balls. But when making cigkofte, it is not even soaked. You knead it with some tomato puree and spices and it is 'cooked' in your hands.
Although not a traditional use, we love to use fine or medium bulgur in breakfast recipes like in this breakfast bowl with bulgur.
Medium bulgur or coarse bulgur can be used in stuffed green peppers or in stuffed grape leaves dolma with a combination of rice. You can even prepare a traditional drink called boza with medium bulgur.
Medium, coarse, and very coarse bulgur are best used in bulgur rice pilaf as a side dish or as a meal when combined with chicken. Chicken wings recipe with bulgur is one of our classic weekday dinners. This type of bulgur is great in soups like lentil bulgur soup.
In short, you can combine bulgur with almost anything you want from soups and stews to salads and breakfast bowls. You can even use it to make boza recipe, a unique fermented pudding-like drink in Turkey.
How To Store
You can store uncooked dry bulgur in a dry place at room temperature. Put it in a jar or keep it in its package.
To store bulgur after you cook it, first let it cool down completely. Then keep it in an airtight container for up to 4 days in the refrigerator or up to 3 months in the freezer.
FAQs
Does bulgur need to be cooked?
Fine and medium bulgur wheat doesn't have to be cooked and can be soaked. Coarse and very coarse bulgur wheat on the other hand has to be cooked on the stovetop.
How many cups of bulgur wheat per person?
To work out how much uncooked bulgur wheat you need to cook per person, work on about ¼ cup each. So 1 cup of uncooked bulgur wheat will be enough for about 4 people.
In bulgur a carb or protein?
While bulgur does contain protein, its main classification is as a complex carbohydrate. If you're wondering if bulgur is healthy and if it's a carb, fear not as it is still an amazing nutritious whole wheat grain.
How does bulgur wheat taste?
Bulgur has a slightly nutty and earthy flavor with an almost chewy texture that goes great with chicken or meat dishes.
Where is bulgur in the grocery store?
Bulgur wheat will most likely be found in the grains section. If you aren't sure where that is, look out for pasta or rice.

Can I substitute bulgur for quinoa or couscous?
A good bulgur wheat substitute is definitely either couscous or quinoa. They cook in similar ways, have similar flavor and texture profiles, and can also be used in the same recipes. Bulgur however is NOT gluten-free!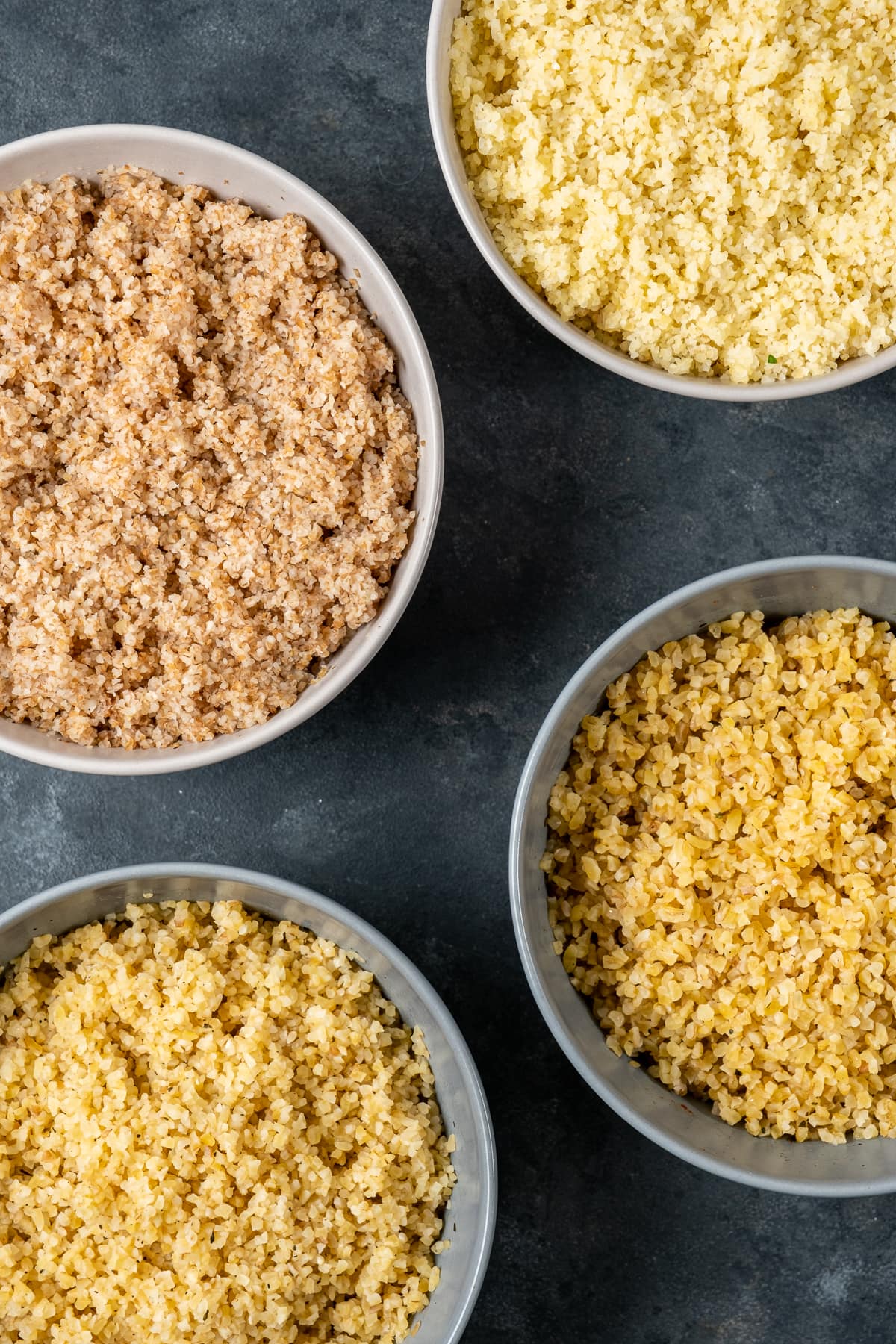 As always: If you make this recipe, let us know what you think by rating it and leaving a comment below. And post a pic on Instagram too—tag @give_recipe so we can see!
Sign up for the FREE GiveRecipe Newsletter to get the new recipes into your inbox! And stay in touch with us on Facebook, Pinterest, YouTube and Instagram for all the latest updates.
Print
📖 Recipe
How To Cook Bulgar Wheat (Fine & Coarse Bulgur)
How to cook fine bulgur, medium bulgur, coarse bulgur and very coarse bulgur with a basic method.
Author: Zerrin & Yusuf
Prep Time:

5 minutes

Cook Time:

15 minutes

Total Time:

20 minutes

Yield:

4

1

x
Category:

Side Dish

Method:

Cooking

Cuisine:

Turkish
1 cup

bulgur

hot water (1 cup for fine and medium types. 2 cups for coarse and very coarse types)

1 teaspoon

salt

2 tablespoon

olive oil
Optional:
black pepper

chili powder

dried mint

chopped parsley
Instructions
Fine Bulgur (red or white): Soak 1 cup bulgur with 1 cup hot water. Sprinkle salt and add in olive oil. Give it a stir. Let it rest covered for 10 minutes.
Medium Bulgur: The same method with fine bulgur. Let it rest covered for 15 minutes.
Coarse Bulgur: Put 1 cup bulgur and 2 cups hot water in a small pan. Add in olive oil. Bring it to a boil and reduce the heat to the lowest. Cook covered for 15 minutes or until the water is absorbed. Remove from heat and let it rest for 15 minutes before serving. Fluff it with a fork and then serve. 
Very Coarse Bulgur: The same method with the coarse bulgur. Cook it for 20 minutes.
Notes
These are the basic steps of cooking bulgur. You can customize it to your liking. For example, you can substitute vegetable stock or chicken/beef stock for plain hot water. Also, you can add any spices or herbs you like. We listed ours above.

It's better to cover the bowls with a kitchen towel when soaking. This helps bulgur absorb water better.

If bulgur is not soft enough after soaking or cooking, you can add a little more hot water and let it absorb it in a few minutes. 

If you like, you can substitute butter for olive oil when cooking coarse and very coarse bulgur. We don't recommend this for fine bulgur though.

When you cook coarse or medium coarse bulgur, let it rest for 15 minutes before serving.

After cooking bulgur, you can store it in airtight containers and use it as needed, in salads, soups or as it is.
Nutrition
Calories:

120

Sugar:

0.1g

Sodium:

587.6mg

Fat:

0.5g

Carbohydrates:

26.6g

Protein:

4.3g

Cholesterol:

0mg
Keywords: bulgur, how to cook bulgur, bulgur wheat, fine bulgur, coarse bulgur