Let's learn how to prepare and how to cook wheat berries in only two simple steps. Wheat berries are incredibly delicious and nutty whole grains that should immediately be incorporated into your diet.
One of our favorite way to use wheat berries is to make herbed wheat berry salad but they work incredibly well in soups and even puddings too. If you like adding such superfoods in your recipes, you might want to learn how to cook bulgur wheat and how to cook buckwheat groats too.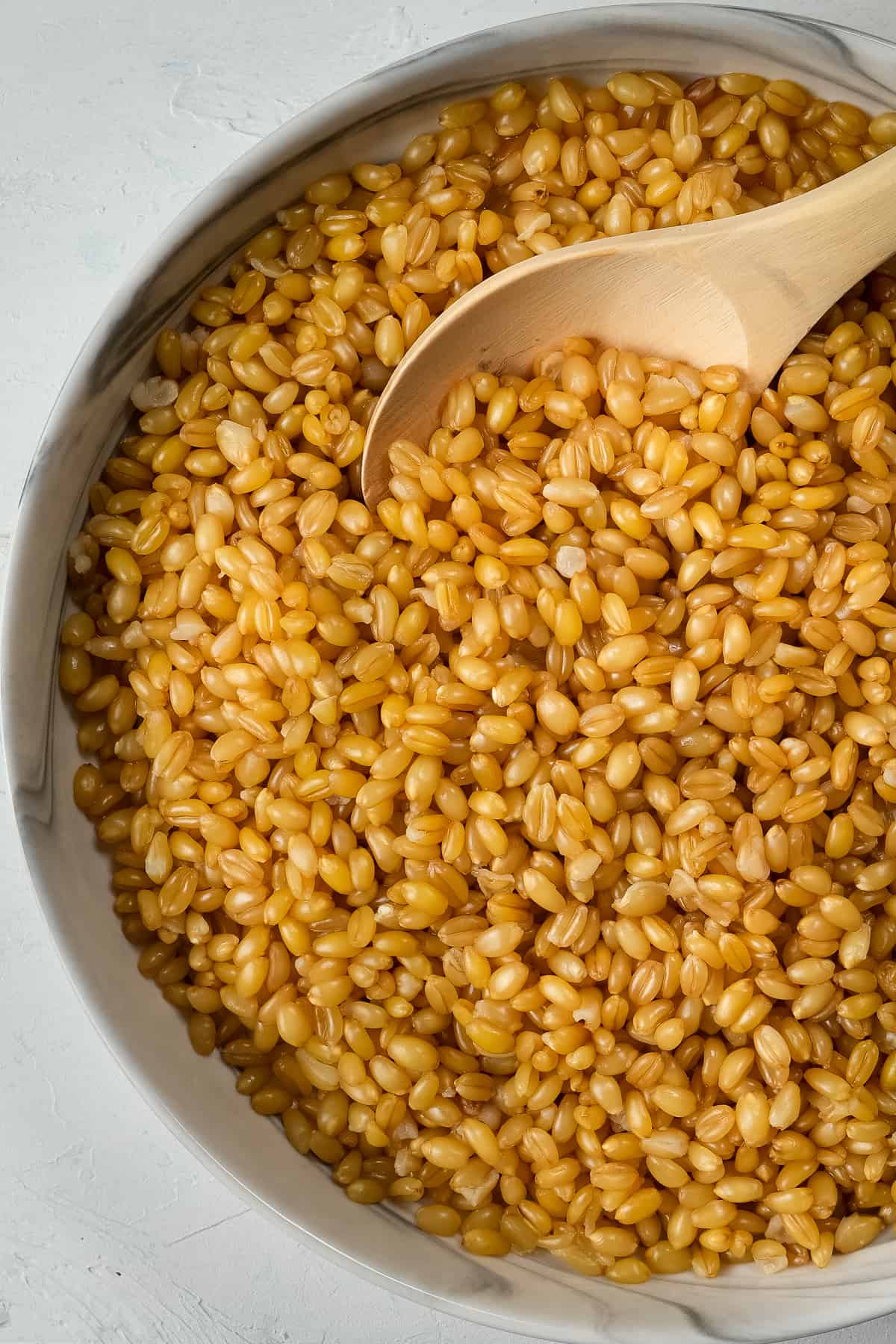 Jump to:
What are Wheat Berries?
Many people have heard of this amazing grain while it is completely new to others. Wheat berries, or bugday as we call in Turkish, are obtained from wheat kernels and are the least processed form of wheat you can find in a store.
They are also considered to be a whole grain because they contain all the parts of a kernel including the bran, germ, and endosperm. Only the outermost inedible hull or husk is removed.
These golden brown berries are considered to be extremely healthy and packed with vitamins and minerals. Naturally, being a wheat product, they are also very high in fiber.
They have a delicious nutty flavor and a slightly chewy texture, making them perfect for a wide variety of dishes including salads, and breakfast bowls.
Wheat berries can be found in virtually any wheat variety including hard or soft, summer or winter, and red or white. Very few companies disclaim exactly which variety you get, but some, especially health-conscious brands, will include that information on the packaging as well.
White wheat berries have a much milder flavor compared to red wheat berries, but both are still equally delicious and bring a variety of similar recipes.
Why We Like Them
Wheat berries are an incredibly versatile grain that is stuffed with nutrients! Unlike many other healthy grains, these have a naturally delicious sweet and nutty flavor with an interesting chewy texture that doesn't need much seasoning or flavoring.
You can even mix cooked and cooled wheat berries with some raisins and walnuts and eat it as a delicious healthy snack. This mixture can be great in breakfast bowls too.
They are the perfect substitute for pasta and most other grains like bulgur wheat, farro, barley, or freekeh.
They also freeze incredibly well! You can whip up a big batch of cooked wheat berries, allow them to cool, portion them, and finally, place them in the freezer to keep for up to 3 months.
Where to Buy
Wheat berries won't be available at your local grocery store, however, they are becoming more and more popular so you won't struggle to find them.
Have a look at any whole foods grocery store. You can also directly contact wheat farmers if you are lucky enough to have some near you. Many farmers' markets will also have wheat berries in stock.
Alternatively, you can browse online sites. They will have an extremely wide variety of species, sizes, and origins.
Nutrition
Wheat berries are classified as a whole grain seeing as none of the parts are stripped away. This means that it contains the most amount of nutrients it possibly can.
100g cooked wheat berries contain roughly 300 calories and have high amounts of protein, dietary fiber, and naturally, carbohydrates (resource here).
Some vitamins and minerals that they contain include manganese, selenium, phosphorus, magnesium, iron, and vitamin B6.
How to Cook
Cooking wheat berries is incredibly easy and doesn't take a lot of work. And what makes it incredibly convenient compared to other grains is that you can pre cook and freeze them to save yourself some time.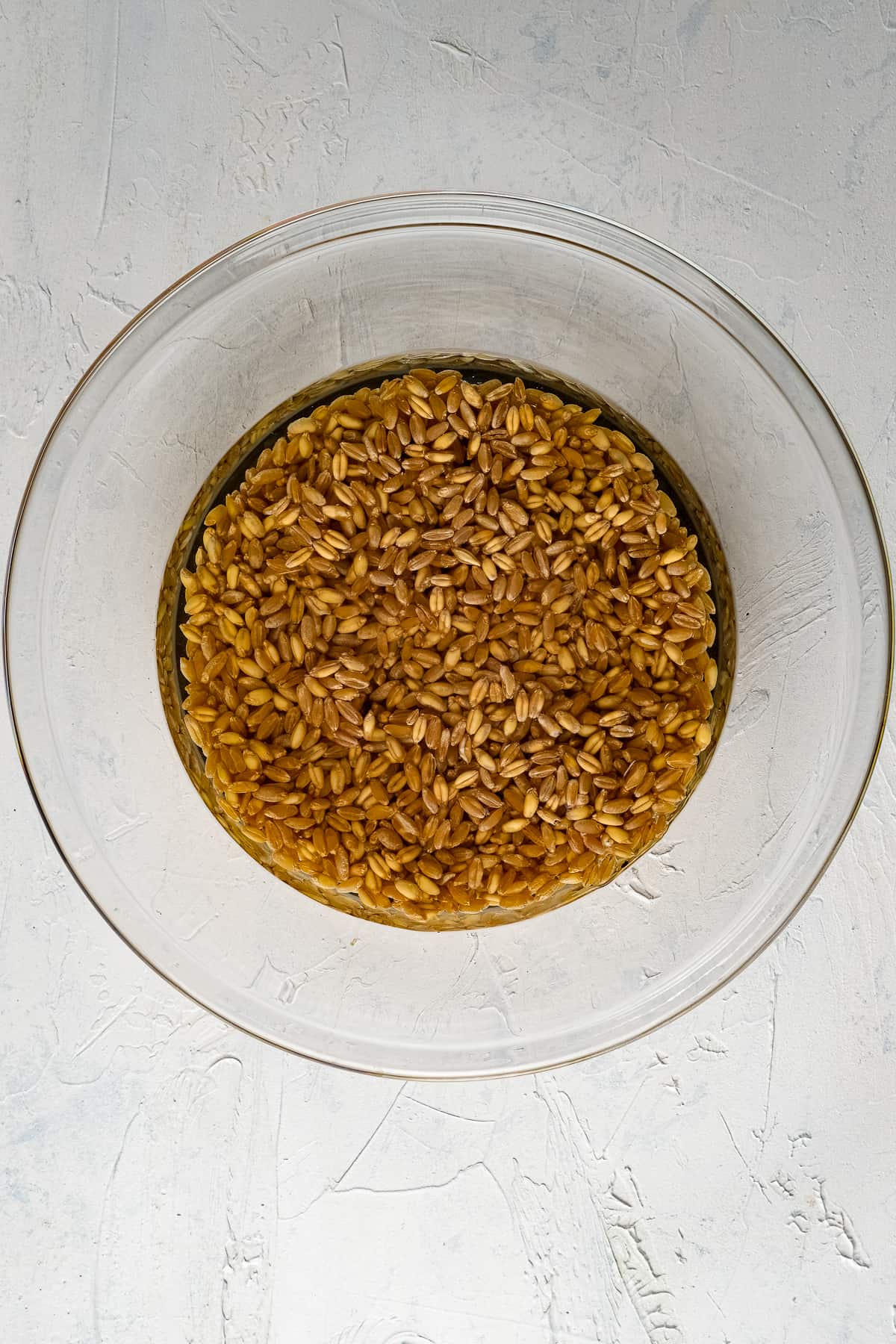 First, prepare the berries. Rinse the berries under cold running water and place them in a large pot. Fill the pot with cold water so that the berries are covered.
Second, cook the berries. Bring the berries to a boil over high heat. Once it starts boiling, reduce the heat and allow the berries to simmer for about 30 minutes, or until they are soft.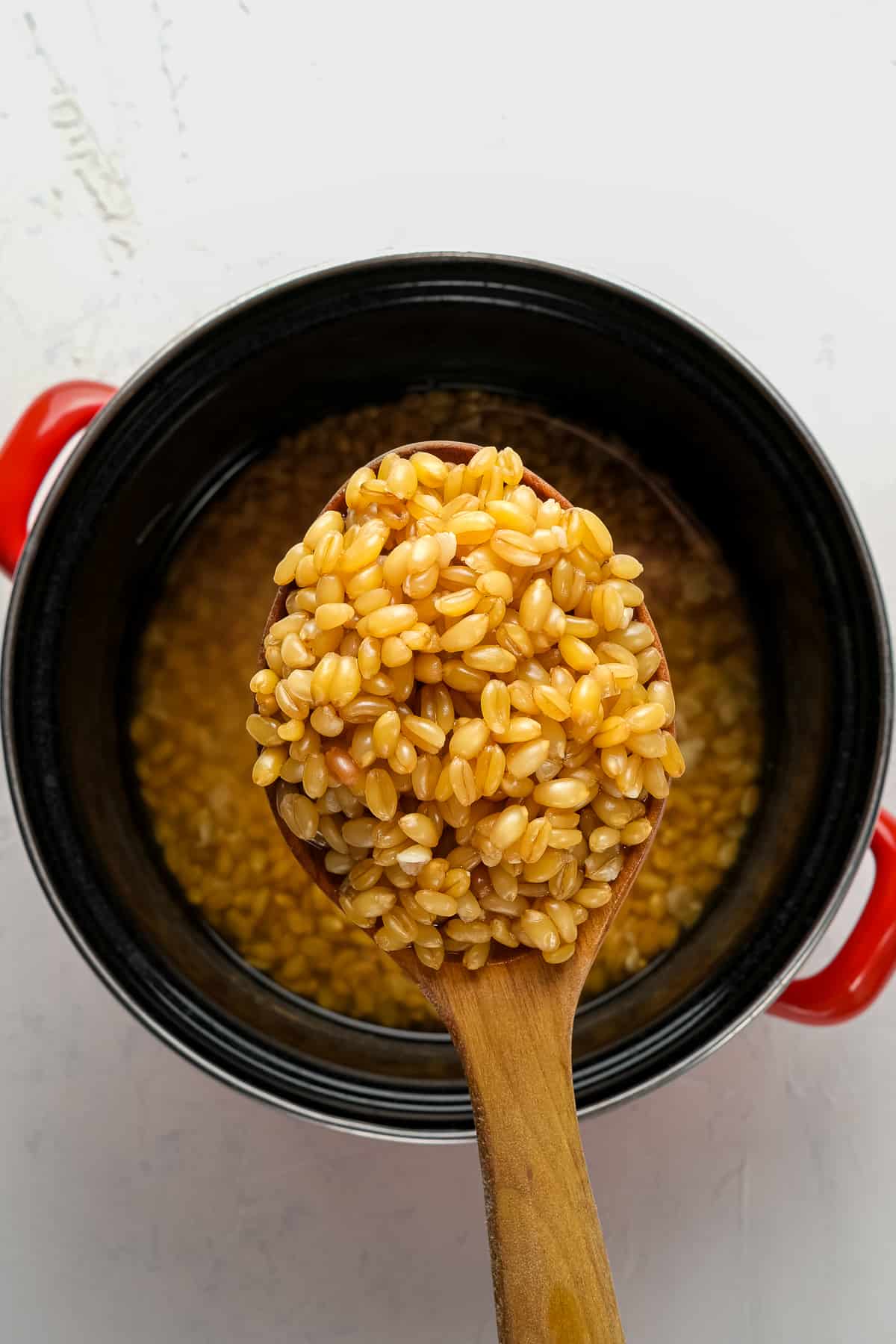 After 20 minutes check the berries to make sure they don't become too soft and mushy – they should be like al dente pasta. Once fully cooked, rinse the cooked berries under water and drain them. Use immediately or store for a later use.
How to Use
After learning how to cook wheat berries, you can create zillions of recipes with them.
FAQs
Are wheat berries good for you?
Wheat berries are incredibly nutritious and contain a ton of good dietary fiber, vitamins, and minerals. They do however still contain things like gluten proteins and carbohydrates. If you are looking to exclude these things from your diet, rather look for an alternative low-carb or gluten-free ingredient.

What is the difference between wheat and wheat berries?
Wheat, or sometimes called a wheat kernel, refers to the entire grain including both edible and inedible parts. Wheat berries on the other hand have the inedible hull (outer shell) removed to make them entirely edible.
Are wheat berries and buckwheat the same?
Despite the misleading name, buckwheat isn't even a type of wheat, making it incredibly different from wheat berries. It is however a fantastic gluten-free alternative to wheat berries and is equally delicious.
Can you substitute bulgur wheat for wheat berries?
You can definitely substitute wheat berries with bulgur wheat and vice versa. Make sure though to choose extra coarse bulgur wheat to match the texture in the closest possible way.
Can I cook them in an instant pot?
You can definitely cook wheat berries in an instant pot, and it actually makes your life incredibly easy! Simply add the ingredients, set the timer, and leave it to cook. You will have to check-in after 20 minutes to make sure the texture is fine.
More Recipes Like This
As always: If you make this recipe, let us know what you think by rating it and leaving a comment below. And post a pic on Instagram too—tag @give_recipe so we can see!
Sign up for the FREE GiveRecipe Newsletter to get the new recipes into your inbox! And stay in touch with us on Facebook, Pinterest, YouTube and Instagram for all the latest updates.
Print
📖 Recipe
How To Cook Wheat Berries
The easiest way to cook wheat berries.
Author: Zerrin & Yusuf
Prep Time:

5 minutes

Cook Time:

40 minutes

Total Time:

45 minutes

Yield:

4

1

x
Category:

Side Dish

Method:

Cooking

Cuisine:

Turkish

Diet:

Vegetarian
1 cup

wheat berries

4 cup

water
Instructions
Rinse wheat berries well. Put them in a pot.

Pour water over them. 

Cook over high heat until it boils. 

Reduce the heat to medium and cook until the wheat berries soften, about 30 minutes. 

Check it often after 20 minutes. Let the wheat berries soften but they shouldn't be mushy, they should be like al dente pasta.

Rinse under water and drain.
Notes
Make sure you don't overcook wheat berries. Otherwise, they get mushy. Check them often after they boil.

White wheat berries and red wheat berries cook in the same way.

You can store cooked wheat berries in the refrigerator for up to a week or for 4 months in the freezer for a later use.

You can add salt either when cooking or when using them in other recipes.
Nutrition
Serving Size:

4

Calories:

121

Sugar:

11g

Sodium:

64.6mg

Fat:

2.6g

Carbohydrates:

23.2g

Fiber:

2.9g

Protein:

2.6g

Cholesterol:

0mg
Keywords: wheat berries, how to cook wheat berries, cooking wheat berries