This Turkish Rice Pilaf With Orzo (Şeyriyeli Pilav) is simple, delicious and a great alternative to heavier side dishes. It turns out perfectly fluffy every time, so will definitely become your ultimate side dish.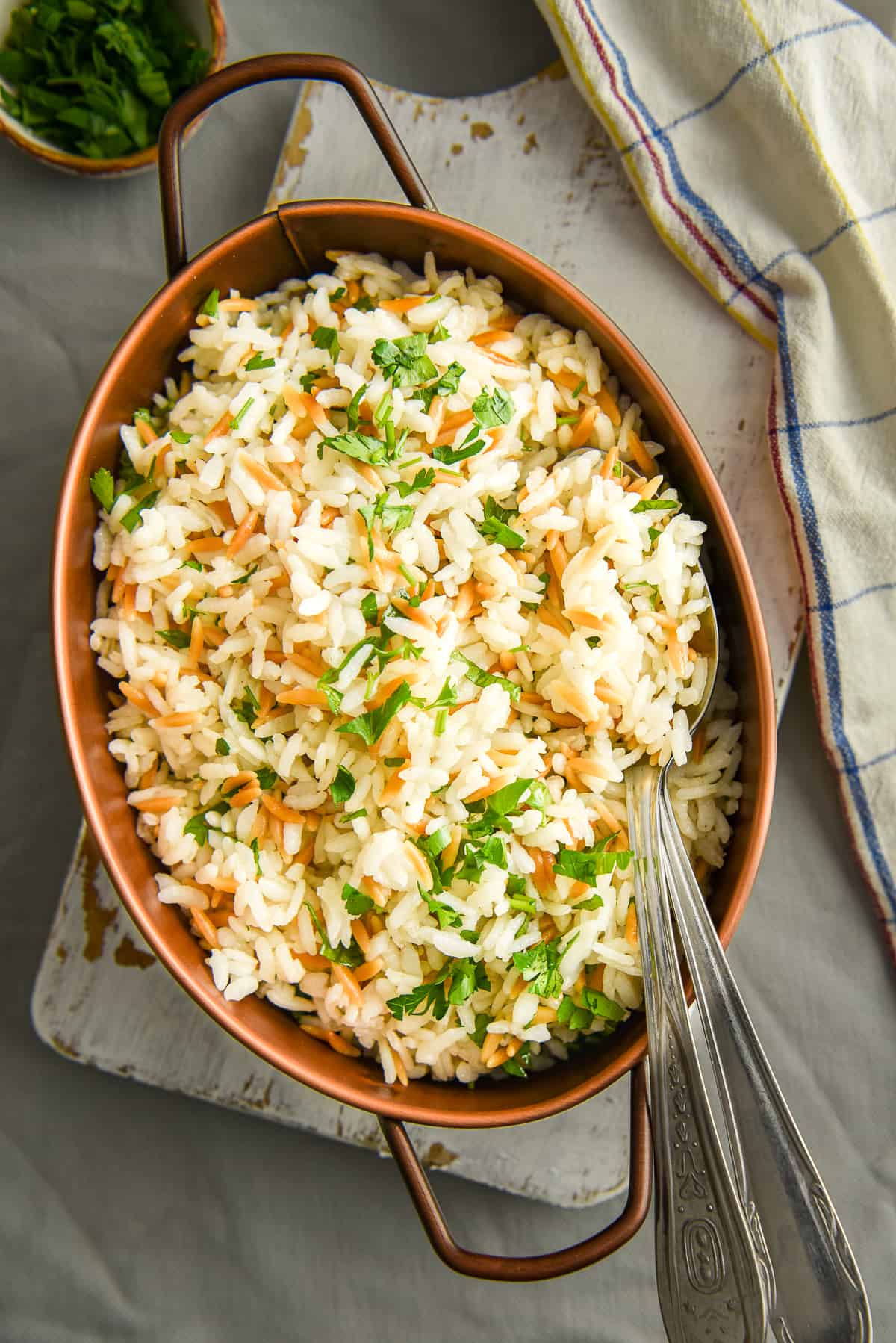 Pilav is the ultimate side dish in Turkish cuisine. We make it either with rice as in this recipe or with bulgur as in our bulgur pilaf recipe. We have these interchangeably to pair any main dish. And we make rice pilaf with raisins on special occasions.
Turkish rice pilav is one of our all-time favorite Turkish recipes because of how easy it is to make. On top of that it's also extremely flexible. The ingredients of this rice dish are something we always have in our pantry.
In fact, this pilav is our go-to side for dishes like lamb stew, Turkish Beans Kuru Fasulye, Roasted Chicken with Veggies or Turkish vegetarian dishes like okra stew bamya.
Orzo in Turkish rice is optional. If you don't have orzo on hand or don't want to use it, you can make this pilaf recipe without orzo following the exact same steps. Alternatively, you can top this rice pilaf with blanched peas or shelled fresh fava beans.
Jump to:
How To Make It
This Turkish rice pilav recipe is so easy with simple ingredients and comes together in about 45 minutes, including resting time.
First, rinse the rice under warm water well. You can do this in a sieve. Put rice in a sieve and hold it under warm tap water. Wash the rice rubbing it with your fingers.
This method will help remove the starch from rice, which will result in a fluffy pilaf. Make sure the water is not too hot.If your hand can't tolerate, reduce the heat. Place the sieve on a bowl to drain it well.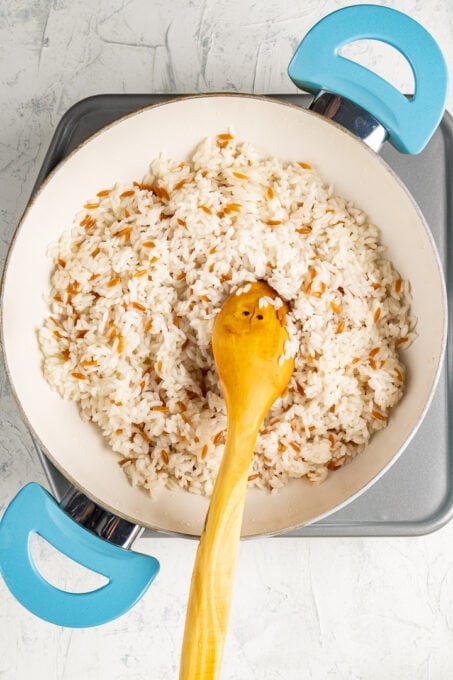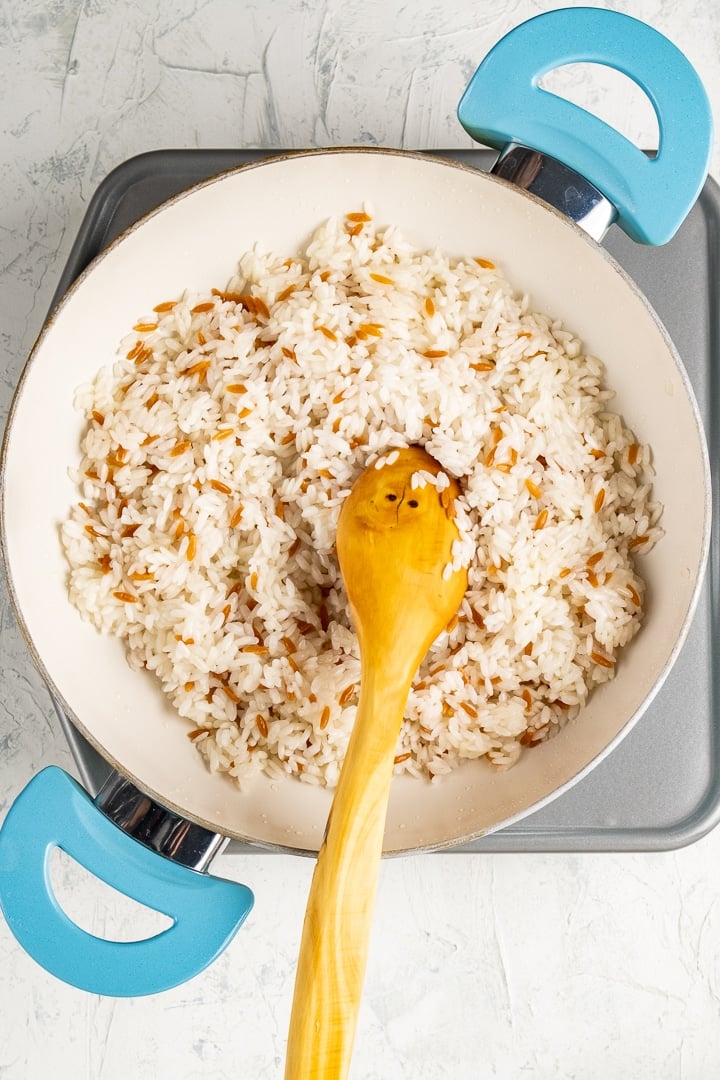 Second, heat olive oil in a shallow pan and toast the orzo stirring occasionally. This will take a few minutes. When it is nicely brown, add in rice and salt. Keep cooking, stirring occasionally about 5 minutes until the color of rice gets brighter. This cooking will help prevent rice from sticking one another.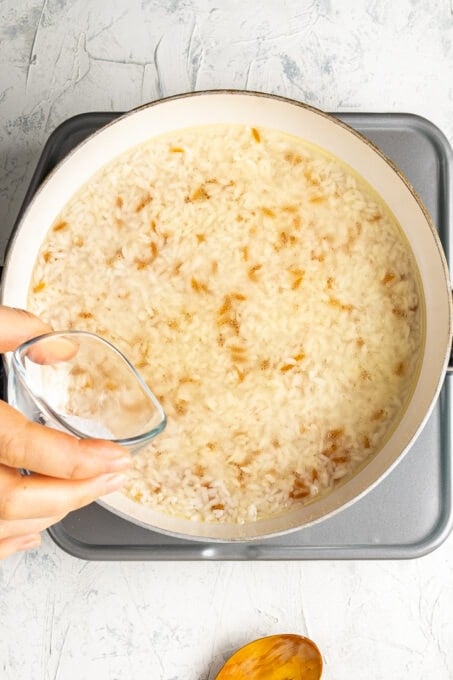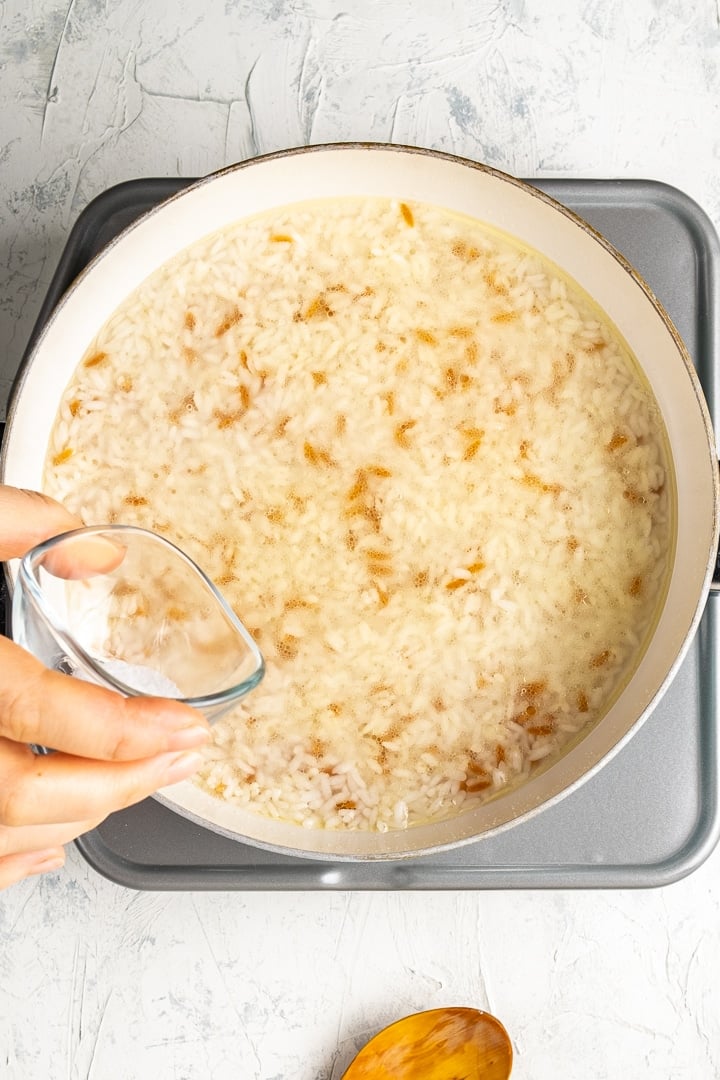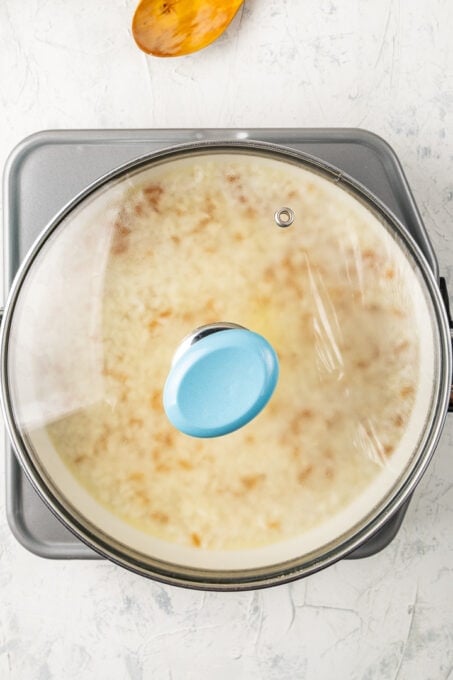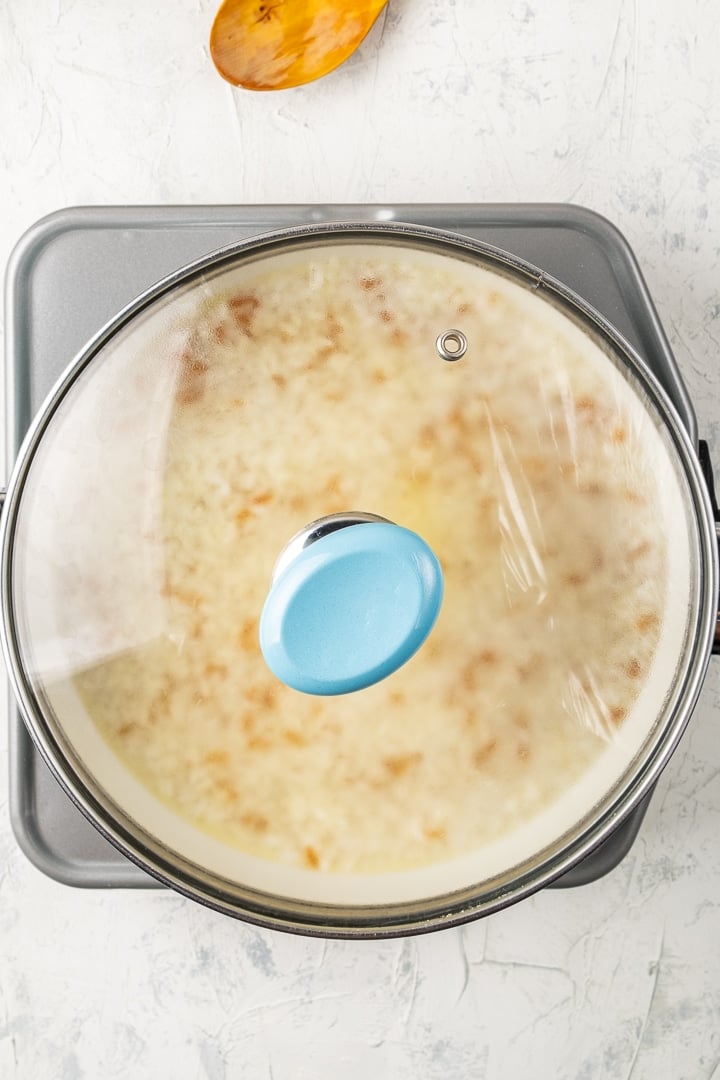 Third, pour hot water over rice, give it a stir, cover the pan and bring it to boil. Reduce the heat to the lowest when it boils and let it simmer until all the water is gone. Depending on the pan and your stove, this will take 20-25 minutes. You can check it after 20 minutes. Please watch the video in the recipe card below.
Fourth, remove it from the heat when there is no water left. Uncover the pan, give a very gentle stir and place a piece of paper towel on the rice. Cover it again and let it rest for 10-15 minutes before serving. This will help remove the steam in the pan when the rice is resting, which is another trick to end up with separate grains in your rice pilaf.
Finally, remove the paper towel, fluff it with a fork or gently stir with a spoon and then serve.
Tips
Make sure you remove the excessive starch of rice. This will make your pilaf extra fluffy because it prevents the rice from sticking together and getting mushy. And how can you do this? There are two methods:
1) Rinse rice in a sieve under hot water very well and drain (please see how to do this in the video in the recipe card below).
2) Add a sprinkle of salt over rice, pour hot water over it, let it sit for about 10 minutes. And then rinse and drain.
Add a few drops of lemon into the pan right after pouring water. The acidity of lemon juice helps stop the rice grains from sticking together.
Cook rice covered and on the lowest heat after the water in the pan comes to a boil. This gives the rice time to absorb the cooking water and develop flavor.
Finally, allow your rice pilaf to rest at least for 15 minutes before serving.
If you want your Turkish pilav to be gluten-free, leave orzo out and make your pilaf just with rice following the same steps.
Which Rice For Turkish Pilav?
Turkish baldo rice is the best rice to make a classic pilaf in Turkish cuisine. But if you can't find it, you can go with Italian arborio rice, which is the closest rice to Turkish baldo. If you can't find either of these, just go with the best quality long-grain white rice at your market such as jasmine or basmati.
Although you can use all these types of rice to make pilaf, they won't have the exact same texture and flavor when cooked. Give each a try and choose the best for your taste.
Another thing that might be different for each rice type or brand is the ratio of water. If it is your first time, try it with 1 cup rice: 1 and ½ cup water. If the rice is not fully cooked, then make it with 1 cup rice: 1 and ¾ cup water in your future cooking. Always make sure it is at the lowest heat when simmering.
If you're using brown or wild rice, increase the cooking time and add a little bit more water to ensure that the rice cooks fully.
One interesting thing about Turkish pilav: It is mostly served in a dome shape at restaurants. If you want to do the same, wet a bowl and put some rice pilav in it pressing over it gently and then transfer it on a plate upside down.
Alternative Flavors
If you'd like to up the flavor in this Turkish rice pilaf with orzo recipe you can use stock instead of water to cook the rice and orzo. Keep it vegan with vegetable or mushroom stock or try chicken or beef stock. Remember that stock usually contains salt, so you can season the pilaf a little less.
You may also want to try adding other flavorings to the pilaf when it's simmering. Try stirring in raisins or chickpeas. Nuts such as pine nuts or chopped almonds can be added during the simmering process and sprinkled on top for texture. When it's time to garnish, feel free to try other herbs such as mint or thyme.
Is This Pilaf Vegan?
Turkish rice recipe is 100% vegan! Since it uses olive oil and water to toast and cook the pilaf there are absolutely no animal products in this sehriyeli pilav. If you're not concerned about this being vegan and prefer the flavor of butter, you can add some when your pilaf is cooked, right before letting it rest.
FAQs
Why is my rice pilaf mushy? Some reasons for mushy rice are adding too much water, cooking it in a pan that is not suitable for pilaf, stirring it too much and soaking rice beforehand for a long time.
Which pan is the best for making pilaf? Shallow non-stick pans with a thick bottom are the best because the heat spreads evenly, which is ideal for the perfect rice pilaf.
What can I make with mushy rice? Don't worry, you won't waste it. You can use it when making rice yogurt soup.
How long does cooked rice last in the fridge? You can keep it up to 2-3 days. The taste won't be as good if you keep it longer than this. Also, if you reheat it once, don't keep it any longer if there is still leftovers.How do you reheat rice pilaf? The best way is to reheat it in a non-stick pan with a splash of water on the stove, over medium or low heat, stirring occasionally. Don't forget to cover the pan with a lid when reheating. Alternatively, you can reheat rice in the microwave again with a splash of water for a few minutes. Make sure the dish you are using is microwave-safe.
We can't wait to see how you make this recipe your own! Please don't forget to rate this recipe and leave a comment below if you make it.
More Side Dishes
As always: If you make this recipe, let us know what you think by rating it and leaving a comment below. And post a pic on Instagram too—tag @give_recipe so we can see!
Sign up for the FREE GiveRecipe Newsletter to get the new recipes into your inbox! And stay in touch with us on Facebook, Pinterest, YouTube and Instagram for all the latest updates.
Print
📖 Recipe
Turkish Rice Recipe (Pilav)
A light and fluffy rice pilaf with orzo recipe that comes out fluffy every time.
Author: Zerrin & Yusuf
Prep Time:

5 minutes

Cook Time:

20 minutes

Total Time:

25 minutes

Yield:

4

1

x
Category:

Side Dish

Method:

Cooking

Cuisine:

Turkish

Diet:

Vegan
1 cup

rice

3 tablespoons

olive oil

¼ cup

orzo

1 teaspoon

salt

1

and ½ cup water, hot
Parsley for garnish
Instructions
Put the rice in a sieve. Rinse under hot water well to remove the starch until the water gets clear. Drain well.
Heat olive oil in a large shallow pan. Add orzo and cook it over medium heat until brown, stirring occasionally.
Add in rice and salt. Cook stirring occasionally until the rice gets bright white, about 5 minutes.
Pour hot water over rice, cover the pan and bring it to boil.
Bring the heat to the lowest when it boils and let it simmer until all the water is absorbed, for about 15 minutes. Remove from heat. Give it a gentle stir.
Line the top of the rice with some paper towel. Let it rest covered for 15 minutes before serving.
Gently stir with a wooden spoon or fluff with a fork, garnish with chopped parsley and serve.
Nutrition
Serving Size:

1 portion

Calories:

177

Sugar:

0.3 g

Sodium:

584.3 mg

Fat:

10.7 g

Carbohydrates:

18.5 g

Protein:

2 g

Cholesterol:

0 mg
Keywords: rice pilaf, rice pilaf with orzo