This Turkish style Homemade Tomato Soup With Fresh Tomatoes is to die for and outdoes store-bought in every way! It is made using fresh tomatoes and a few other wholesome ingredients. What's even better is that it only takes a few minutes to make! Jam-packet with delicious buttery smoky flavors and extremely creamy textures, the perfect soup awaits!
Using only fresh ingredients adds a lot of depth to soups, and this vegetarian tomato soup is the perfect example of that. It is a soup that is traditionally served with grated Turkish kaşar cheese (mozzarella or cheddar works too), but we love it topped with grilled halloumi too.
Because of its very simplistic ingredients, you can add virtually any garnish you'd like. Opt for some creamy goats' cheese, feta, or gorgonzola. Or add some fresh basil and croutons. The possibilities are endless!
Today we will discuss everything you need to know about fresh tomato soup, from ingredients used, how to make it, how to add creaminess, and we even answer some frequently asked questions. Also, check out our Roasted Carrot Tomato Soup Recipe!
Ingredients
Homemade tomato soup has a ton of flavor for the surprisingly few ingredients it contains. It's like that old saying; it's not about what you have to work with, but rather what you can do with it. And this soup gets its unique flavors from the cooking method.
First, we need a roux; a combination of butter and flour. When these two ingredients are combined, they are cooked until they get a nice brown color. This slight browning helps add a ton of buttery and smoky flavors to the soup.
Then we of course have tomato paste. This is basically an extremely reduced form of blended tomatoes. It helps intensify that incredible tomato flavor, especially when the recipe has to cook a while. Did you know making tomato paste at home is not that hard? You should definitely give it a try!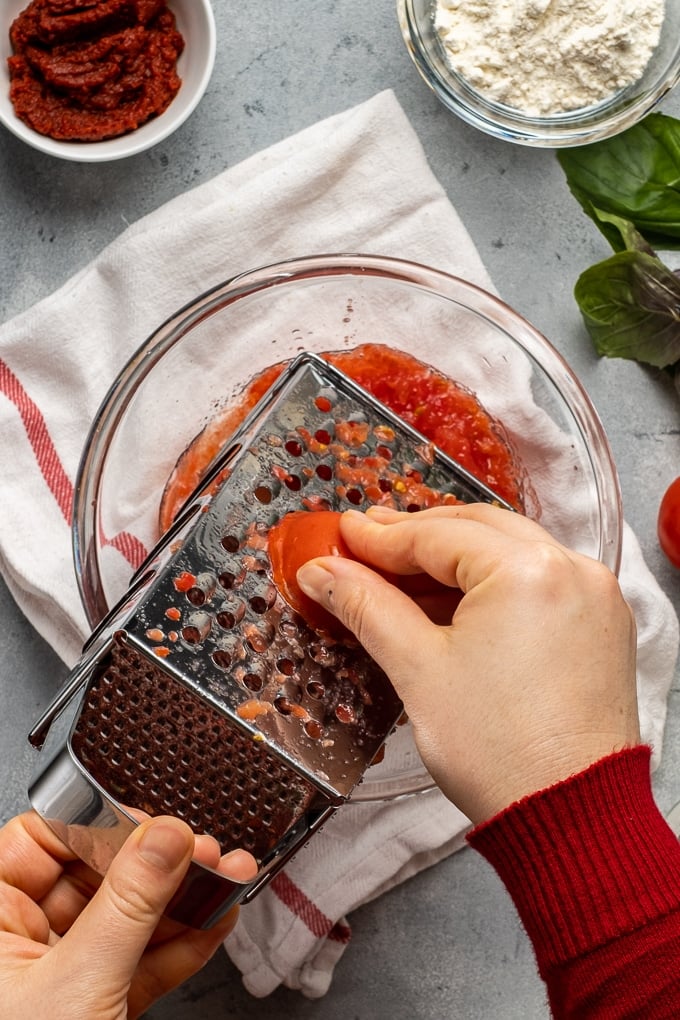 Next, and what this recipe is all about the fresh tomatoes. This recipe calls for the tomatoes to be mashed. In Turkey, most people mash their tomatoes by using a grater. The main reason for this method is so that you don't need to blanch and peel the tomatoes before mashing them. Using the grater easily removes the skin while "chopping" the flesh. It's much easier and far more practical.
If you don't like this method, you can also use a food processor to mash the tomatoes before picking out the skin – this will just take longer. If you still don't like this method, you can blanch your tomatoes in boiling water for 20 seconds, peel them and then chop them up.
Water is used to mainly thin down the soup. Milk is also used for this function but is there to add creaminess to this cream of tomato soup without heavy cream. You can choose to substitute the water with more milk. But this might make the soup too creamy for some people.
Of course, as with any soup, seasoning is very important, but remember to season at the very end to prevent over seasoning.
How to Make It
There is nothing better than a freshly made warm soup on a cold winters' night, especially when it's this fresh tomato soup! This soup only takes a couple of minutes to make and for the most part can be left unattended. It's buttery, creamy, rich, and smoky; everything a homemade tomato soup needs to be!
First, make a roux. Start by melting the butter in a large pot over medium-low heat. Once the butter has melted, add the flour and immediately start mixing until a paste forms. Cook it for about 1 minute, stirring well so the butter browns a bit while cooking the flour.
Second, add the tomato paste. Once your flour has completely cooked, add the tomato paste and mix it through the roux. Once fully incorporated, add the mashed tomatoes.
Third, add in the liquids and blend. Make sure the milk and water is luke-warm before adding it to your tomatoes. Increase the heat and bring the tomato mixture to a boil. Once it starts boiling, remove the pot from the heat and blend the mixture using a hand blender.
Fourth, allow the mixture to cook. Once blended, the mixture will still not be completely smooth. Add the pot back onto medium heat and allow the mixture to simmer until it has a smooth consistency. Once smooth, season with some salt before serving.
Fifth, serve warm with a garnish of your choice. You can add some croutons to the soup just before serving, or add some cheese and fresh basil leaves. We love to pair it with our air fryer grilled cheese too.
More Soups With Tomatoes
How To Thicken Soup
This homemade tomato soup is thickened using a roux. A roux is a combination of melted butter and flour. These ingredients are combined in a specific ratio and cooked. The cooking helps "activate" the thickening characteristics in flour. Once a liquid base is added, the flour and butter thicken the liquid.
If you want to thicken the soup even more, you can add another tablespoon of flour to the melted butter. But keep in mind that the more flour you add, the thicker the paste will be. This means you have to slowly add the liquid while whisking constantly to prevent lumps from forming.
An alternative to roux is to use cornflour/cornstarch (not cornmeal). Cornflour is a natural thickening agent and will help any runny soup. To do this, whisk cornflour and milk until smooth and pour this into the blended soup while constantly whisking, again to prevent lumps.
How To Make It Creamy
This soup gets its creaminess from the added milk. We use milk as a liquid like water, but still it shouldn't be right from the refrigerator. Bring it to room temperature or heat it a little before adding it to hot soup. If you want an even creamier soup, you can use cream instead. The cream is much thicker and will give a smoother texture.
FAQs
Can you add milk to tomato soup without curdling? If you've ever made dishes that require the addition of milk or cream, you might have run across a very big problem; curdled milk. Milk curdles for two reasons in food; the first is that it is added to a too acidic base. The second and the one most people run into is that it curdles when cold milk is added to a hot base. To prevent this, you can slightly heat the milk before adding it very slowly to the warm base. This way there won't be a temperature shock and the milk won't curdle.
Do you need to peel tomatoes for cream of tomato soup? Because you are making a tomato soup with fresh tomatoes, you definitely need to peel them before the blending starts. No matter how much you blend, tomato peel has a very specific and rubbery texture that doesn't disappear during cooking. It's much better to remove it and make your life easier.
Can I Freeze Tomato Soup? Normally, you would be able to freeze a soup, but any soup, like this one, that contains dairy won't freeze well. The texture of milk completely changes when frozen, especially when it is reheated. It will only spoil the texture, so we wouldn't recommend it.
Can You Reheat Homemade Tomato Soup? Like with most foods, you can and should only reheat it once. If you have a larger quantity of soup, rather portion it out before reheating the whole pot. This will help the rest of the soup last much longer, and make your life much easier.
Are tomato puree and tomato paste the same? These are two ingredients that are often substituted with each other, however, they are not the same. Both are made in the same way, the main difference being the cooking time. Tomato puree is cooked for much shorter into a soft liquid, whereas tomato paste is cooked much longer to produce a much thicker product.
As always: If you make this recipe, let us know what you think by rating it and leaving a comment below. And post a pic on Instagram too—tag @give_recipe so we can see!
Sign up for the FREE GiveRecipe Newsletter to get the new recipes into your inbox! And stay in touch with us on Facebook, Pinterest, YouTube and Instagram for all the latest updates.
Print
📖 Recipe
Homemade Tomato Soup With Fresh Tomatoes
Creamy, slightly tasty and super comforting basic tomato soup recipe.
Author: Zerrin & Yusuf
Prep Time:

5 minutes

Cook Time:

25 minutes

Total Time:

30 minutes

Yield:

4

1

x
Category:

Dinner

Method:

Cooking

Cuisine:

Turkish

Diet:

Vegetarian
1 tablespoon

butter

2 tablespoons

all purpose flour

2 tablespoon

tomato paste

4

tomatoes, mashed

4 cups

water

1 cup

milk
Salt to taste
Instructions
Melt butter in a pot and add flour. Cook it, stirring constantly until it gets slightly brown.
Add in tomato paste and mashed tomatoes.
Pour in milk and water. Bring it to boil and blend the soup until smooth.
Let it simmer over medium heat for about 10 minutes.
Throw some croutons on top of each bowl (not in the pot!) when serving.
Nutrition
Serving Size:

1 portion

Calories:

140

Sugar:

11.4 g

Sodium:

982.8 mg

Fat:

5 g

Carbohydrates:

20.1 g

Protein:

5.1 g

Cholesterol:

7.5 mg
Keywords: homemade tomato soup, fresh tomato soup