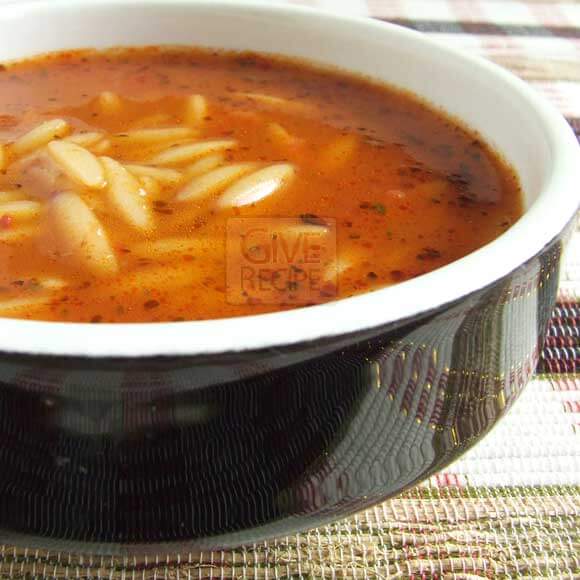 Are you looking for a warming soup for a cold day to start your dinner when you come home tired from work? It was what I was craving for when it started freezing outside a few days ago. I was planning to make my regular tarhana soup but something changed this plan. We were at the market with my husband doing shopping. When I was picking some packages of pasta, he grabbed a small package of orzo and with a great excitement said that he wanted to make a delicious orzo soup. Well, I am always in love with all kinds of warming soup, so there couldn't be a better offer. Besides, he is not much like a soup person, so I was surprised too! And I couldn't wait for the result!

Orzo soup is mom's favorite just like many other moms and she makes it quite often, and unfortunately I was bored of this soup as a child. That's why I hardly ever make it and I was about to forget it completely. I might not even be sharing the recipe with you if it hadn't been for my husband's idea at the market, so I'd like to thank him here. No need to mention the result, it was superb! I loved the feeling of going back to my childhood with its tempting smell  my first sip . Actually, orzo soup is one of the most common soups in our cuisine as it's easy and it doesn't demand for many ingredients. Follow the recipe and make it as soon as possible if winter is just on the corner there!
MY LATEST VIDEOS
Orzo Soup
Prep Time:

10 minutes

Cook Time:

20 minutes

Total Time:

30 minutes

Yield:

4
Ingredients
2 tbsp olive oil
½ tbsp pepper paste
1 tbsp tomato paste
1 tsp dried mint
½ tsp red pepper flakes
1 tomato, grated
5 cup water
1 cup chicken or beef stock, optional
1/3 cup orzo
salt to taste
2 sprigs of parsley
Instructions
Heat olive oil and add pepper paste and tomato paste, stir. If it's thick, add little water to dissolve it and continue stirring.
Sprinkle dried mint and red pepper flakes into it and stir until they combine well.
Pour 2 cups of water and 1 cup chicken or beef stock, keep stirring over medium heat.
Add grated tomatoes and stir for some minutes.
Pour the rest of the water (3cups) and bring it to boil.
You can add orzo when it boils and cook until they are soft.
Now add salt and toss in parsley sprigs as they are, do not chop them. Boil the soup for some more minutes over low heat to let it absorb the parsley flavor. Take the parsley out before serving.
Serve it hot with a lemon wedge. Squeeze lemon into your bowl and enjoy your soup!
IF YOU LIKED THIS RECIPE, THEN YOU WILL LOVE THESE: