This Tomato Orzo Soup is a fuss-free, flavorful dish that's perfect for any meal. t's made with small pasta called orzo and juicy tomatoes. The steps are simple to follow. Perfect for a quick and yummy meal.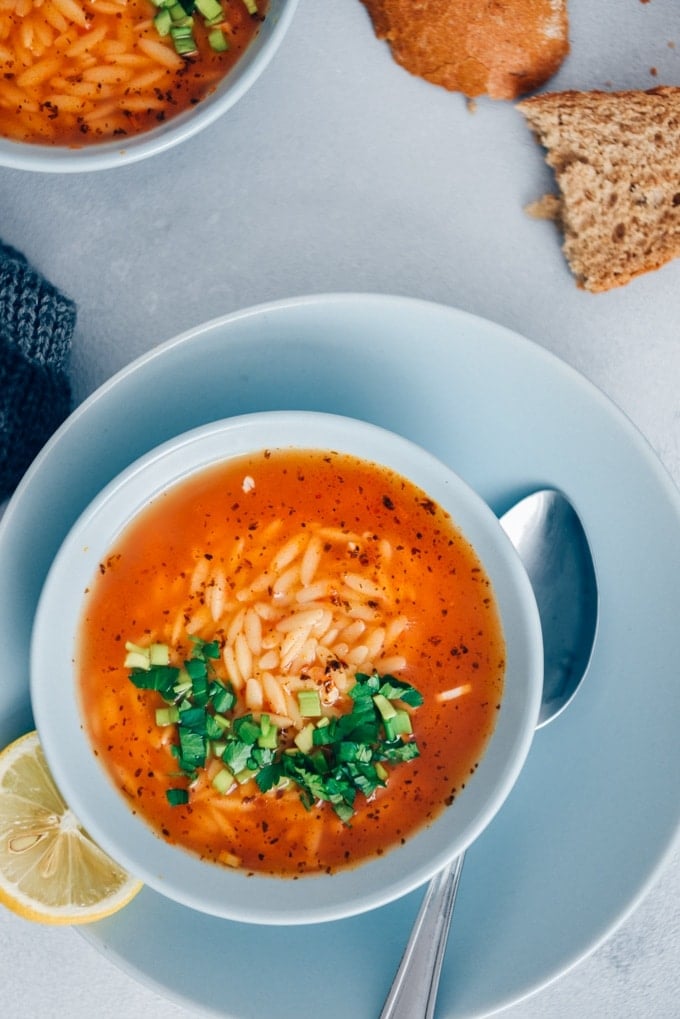 This Tomato Orzo Soup is one of our go-to recipes, especially during the chilly winter months. It's a perfect pair with a feta grilled cheese sandwich, making lunchtime warm and satisfying.
Best of all, it's an excellent choice when you're in the mood for a comforting meal, but don't want to spend a lot of energy in the kitchen. It's quick, simple, and most importantly, delicious!
Jump to:
Why You Will Love This Recipe
If you're wondering why you should give this tomato orzo soup recipe a try, here are a few reasons that make it stand out:
Easy to Make: You don't need to be a top chef to make this. The steps are easy and quick.
Tasty: The soup has a yummy taste from the tomatoes and orzo.
Quick: It doesn't take long to cook, so it's great if you're in a hurry.
Simple Ingredients: The soup is made from simple things you might already have, like tomatoes and pasta.
Comforting: This warm soup is perfect for a cozy meal.
About The Ingredients
Before we start cooking, let's look at the ingredients we need for this orzo tomato soup. If you don't have some of them, we'll give you some easy swaps:
Olive Oil: Used for sautéing the garlic and tomato paste. You could substitute with other cooking oils, like canola, vegetable oil or butter.
Tomato Paste: Adds a depth of flavor to the soup. If you don't have tomato paste, you can substitute with a little extra tomato puree or sauce, but this might alter the soup's consistency slightly.
Garlic: Gives a wonderful aroma and flavor to the soup. If you don't have fresh garlic, garlic powder can be used as a substitute.
Paprika: Adds a touch of warmth and color to the soup. You can substitute it with a bit of chili powder or cayenne pepper for some spice, but be careful as these are usually hotter.
Salt & Black Pepper: Basic seasonings to enhance the flavors. Feel free to adjust according to your taste.
Tomatoes: You can use fresh or canned, diced or pureed. If you only have fresh tomatoes, simply peel, and then chop or puree them.
Water (or Vegetable/Chicken Broth): You can use any of these liquids as the soup's base. Broths will add more flavor, but water works fine if you prefer a lighter soup.
Orzo pasta (uncooked): This is a type of small pasta. We love using it when making Turkish rice pilav too. If you don't have orzo, you can substitute with other small pasta, vermicelli or even broken pieces of spaghetti.
Lemon Juice: Adds a bit of freshness and tang to the soup. You can increase or decrease the amount to adjust it to your taste.
Optional Add-Ins
If you want to jazz it up a bit, there are plenty of extras you can add:
Vegetables: Adding some chopped veggies like carrots, bell peppers, zucchini, celery or spinach can give your soup a bit more body and flavor.
Herbs and Spices: Try including bay leaves while your soup is simmering for a layer of aromatic flavor. Don't forget to remove them before serving! Other spices like dried oregano, thyme or basil can enhance the overall taste, too. Fresh herbs like parsley or basil can be sprinkled on top just before serving.
Protein: For a heartier soup, consider adding some protein. You can add cooked chicken, beef, or even canned beans or chickpeas.
Cheese: Adding some grated Parmesan cheese or crumbled feta cheese on top of each bowl just before serving can give a nice savory touch.
How To Make It
Now that we know what we need, let's jump into making this tasty orzo soup flavored with tomato. Here are the steps:
Garlic and Tomato Paste Base: Start by heating the olive oil in a large pot over medium heat. Add the onion and garlic. Sauté for about a minute until it becomes fragrant. Be careful not to let the garlic burn or it will give a bitter taste. Next, add the tomato paste. Cook this mixture for another 1-2 minutes.
Seasoning and Tomatoes: Now, it's time to season. Add the paprika, salt, and black pepper to the pot. Stir everything together so the seasonings are well distributed. Then, pour in the diced or pureed tomatoes. Stir again, making sure everything is well mixed. Let this mixture cook for about 5 minutes. This allows the flavors to blend together.
Adding the Liquid: Pour your chosen liquid, water or broth, into the pot. Turn the heat up to bring your soup to a boil.
Cooking the Orzo: Once the soup is boiling, it's time to add the orzo. Reduce the heat so the soup is gently simmering, then add the orzo. Let the soup simmer for 10-15 minutes. This gives the orzo time to cook and become tender. Be sure to stir the soup occasionally to make sure the orzo doesn't stick to the bottom of the pot.
Lemon Juice and Final Seasoning: After the orzo is cooked, turn off the heat. Stir in the lemon juice. This will give your soup a hint of freshness. Now, taste your soup. If you think it needs more salt or pepper, now is the time to add it.
Serving the Soup: Carefully ladle the soup into bowls. It will be hot, so be careful. Serve it immediately, while it's still warm.
Serving Suggestions
Here are the best ways to serve it:
With Toppings: For an added touch, consider a few toppings. A sprinkle of fresh herbs, a spoonful of Greek yogurt, a bit of cheese or a handful of croutons can elevate your soup.
On the Side: This soup pairs well with a crusty slice of bread. Consider breads like no flour cornbread, pide bread or our no yeast bread. It would be great with homemade dinner rolls. You can even make our quick bread rolls right before making the soup and serve them together. Or, make it a complete meal by serving it alongside a salad or sandwiches. Our air fryer toasted sandwich would be a perfect match!
Variations
You can make this tomato orzo soup different ways to match your taste or to try something new. Here are some ideas:
With Roasted Tomatoes: Swap out the regular tomatoes for roasted ones as in our roasted garlic tomato soup. Roasting the tomatoes first can give the soup a deeper, richer flavor. Puree the tomatoes using an immersion blender before adding them into the pot.
With Cream: If you like creamy tomato soups, add some heavy cream or coconut milk when the soup is done cooking.
With Protein: To make the soup more filling, add some cooked chicken, beef, shrimps, mini meatballs (like in our meatball stew) or beans.
Gluten-Free Version: You can make this soup gluten-free by replacing the orzo with a gluten-free pasta or a grain like quinoa or rice. Make sure to check the other ingredients to confirm they're also gluten-free.
Storing & Reheating
Here's how to save your soup for later and heat it up when you're ready to eat:
Storing: Once the soup is cool, put it in an airtight container. Keep it in the refrigerator. It can stay good for 3 to 4 days.
Freezing: If you want to keep the soup longer, you can put it in the freezer. It can stay good for up to 2 to 3 months. Remember to leave some space in the container because the soup will get bigger when it freezes.
FAQs
Is orzo a pasta or rice? 
Orzo is a type of pasta. It's shaped like rice, but it's made from wheat, just like other pastas. 
Why is my tomato soup bland?
Your tomato soup might be bland because it needs more seasoning. Try adding more salt, pepper, or herbs to improve the flavor. 
My soup is too thick after reheating, what should I do?
If your soup has become too thick after storing, you can add a bit of water or broth when reheating to thin it out.
Is orzo good for low carb diet?
Orzo, like most pasta, is relatively high in carbohydrates. If you're on a low-carb diet, you may want to substitute the orzo with a lower-carb option like cauliflower rice or spiralized vegetables.
More Soup Recipes
As always: If you make this recipe, let us know what you think by rating it and leaving a comment below. And post a pic on Instagram too—tag @give_recipe so we can see!
Sign up for the FREE GiveRecipe Newsletter to get the new recipes into your inbox! And stay in touch with us on Facebook, Pinterest, YouTube and Instagram for all the latest updates.
Print
📖 Recipe
Tomato Orzo Soup
This Tomato Orzo Soup is a tasty and filling dish. It's made with basic ingredients like garlic, tomatoes, and small pasta called orzo. The recipe is easy to follow, making it perfect for a quick lunch or dinner. You'll enjoy its warm, hearty, and yummy taste!
Author: Zerrin & Yusuf
Prep Time:

5 minutes

Cook Time:

20 minutes

Total Time:

25 minutes

Yield:

4

1

x
Category:

Soup

Method:

Cooking

Cuisine:

American
1 tablespoon

olive oil

1

onion, diced

2

cloves garlic, mashed or grated

1 tablespoon

tomato paste

1 teaspoon

paprika

½ teaspoon

salt 

¼ teaspoon

black pepper

1

and ½ cups diced or pureed tomatoes (you can use canned tomatoes)

5 cups

water (vegetable broth or chicken broth)

½ cup

orzo

½ tablespoon

lemon juice
Instructions
Heat the olive oil in a large pot over medium heat.

Add the onion and garlic to the pot, and sauté them for about 1 minute.

Stir in the tomato paste, ensuring the garlic is well coated. Continue to cook for another 1-2 minutes until the paste darkens slightly.

Add the paprika, salt, and black pepper, and stir to combine.

Pour in the diced or pureed tomatoes, stirring well to integrate the tomato paste mixture with the tomatoes. Let this mixture cook for 5 minutes to allow the flavors to meld together.

Pour in the water or your choice of broth. Increase the heat and bring the mixture to a boil.

Once boiling, reduce the heat to a simmer and stir in the orzo. Allow the soup to simmer for about 10-15 minutes or until the orzo is tender.

Remember to stir the soup occasionally while it is simmering to prevent the orzo from sticking to the bottom of the pot.

Once the orzo is cooked, remove the soup from the heat. Stir in the lemon juice.

Taste and adjust the seasoning if necessary. If you want it a bit spicier, add a bit more black pepper or paprika.

Ladle the soup into bowls and serve hot. Enjoy your homemade tomato orzo soup!

Optional: You can add a bit of fresh chopped parsley or basil on top for garnish, or sprinkle some grated Parmesan cheese for extra flavor.
Nutrition
Serving Size:

1 bowl

Calories:

96

Sugar:

1.5 g

Sodium:

373.1 mg

Fat:

7.3 g

Carbohydrates:

7.6 g

Protein:

1.5 g

Cholesterol:

0 mg
Keywords: tomato orzo soup