Who doesn't love a thick, creamy and tangy Greek yogurt? It makes everything more delicious. You can prepare amazing appetizers and side dishes with some quality homemade Greek yogurt. Turkish cacik or Greek tzatziki, which are very similar sides are best with very well strained yogurt. If you have Very Thick Homemade Greek Yogurt, you are very lucky beacuse no recipe can go wrong with it. We even have it at breakast as a healthy alternative to cream cheese. It is amazing with olive paste. Something weird again? Try before judging me! I'm sure you won't buy it from store again when you see that it's one of the easiest recipes ever!
You might ask why bother making Greek yogurt at home when you can easily buy it from store. I find the store bought ones over tangy and less creamy. Also they go bad very quickly, I mean they get too tangy to eat in a few days. It is easy peasy to make thick Greek yogurt at home and I highly recommend you to use Homemade Yogurt to have the perfect result. I always make my yogurt at home using this recipe and it never fails. Please check it out and don't skip the tips of how to make yogurt I shared in that post.
After making regular yogurt, it's so easy to make Greek yogurt from it that it's embarrassing to write the recipe here; it's not even a recipe at all. But I've received several emails asking how to make very thick homemade Greek yogurt and I decided to write this post. The things you need are a bag made from cheesecloth, a large bowl and a strainer. If you are straining 4 kilos of regular yogurt like me, you need to have these in larger size. If you don't have a cheesecloth bag, then you can use a large piece of cheesecloth and it functions as a filter. From 4 kilos of regular yogurt, I ended up with 1 kilo and 300 grams greek yogurt and it's really so thick. If you don't want it that thick, you can stop straining earlier, but for me the thicker, the better.
I don't want to start a discussion but I really don't know why it's called Greek yogurt, but not strained yogurt. It has been a staple in Turkish kitchen for ages and we call it süzme yogurt, which means strained yogurt. Maybe the Greek people introduced it to the world, and that's why it is named after them. When thinking about the location of two countries and our common history, it's not surprising at all that we have several common dishes with similar names.
No matter what the name is, this thick yogurt is one of the fantastic foods to use in recipes. For one thing, you can make mouthwatering and healthy salad dressings substituting it for mayo. Just mix little homemade greek yogurt with a little water, extra virgin olive oil, lemon juice, finely minced fresh mint and coriander leaves and finely mashed minced garlic. Drizzle over your favorite green salad and see how it becomes everyone's most favorite salad ever! Do you think greek yogurt is just used for savory foods? You should check my yummiest and healthy Chocolate Chip Yogurt Cookies and Easy Banana Split and see how it is a great substitute for butter and ice cream.
Very Thick Homemade Greek Yogurt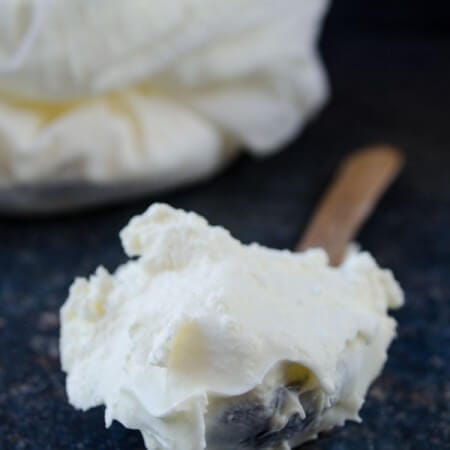 It's very easy to make your greek yogurt at home. Using homemade yogurt is highly recommended.
Prep Time:

8 minutes

Total Time:

8 minutes
Ingredients
4 kilos regular Homemade Yogurt
Equipments:
A strainer
A bowl
A cheesecloth bag
Instructions
Put the strainer over the bowl.
Pour the regular homemade yogurt in the bag made from cheesecloth. If you don't have that kind of a bag, line the top of a bowl with a double layer of cheesecloth and fix it there with an elastic band and pour yogurt on it.
Fold the excessive top of the bag and put something heavy on it. I put a small mortar made of brass, but a large stone works fine too. This helps the straining process better. If you don't have the bag, just skip this part.
Wait it this way in the refrigerator overnight. I let it sit there for 8 hours and it's super thick and creamy, just like cream cheese. If you don't want your Greek yogurt very thick, 3-4 hours will be fine too.
Transfer the strained yogurt into an airtight container and keep in the refrigerator. Use it in whatever recipes you like.
Nutrition
Serving Size:

1300g Greek yogurt
IF YOU LIKED THIS RECIPE, THEN YOU WILL LOVE THESE: