This healthy Greek yogurt coleslaw recipe is surprisingly quick and easy to make. We simply combine freshly chopped cabbage, carrots, and celery with our sweet and tangy low fat coleslaw dressing with yogurt.
We love lightened up salads like tuna salad without mayo, chicken salad without mayo and pasta salad without mayo.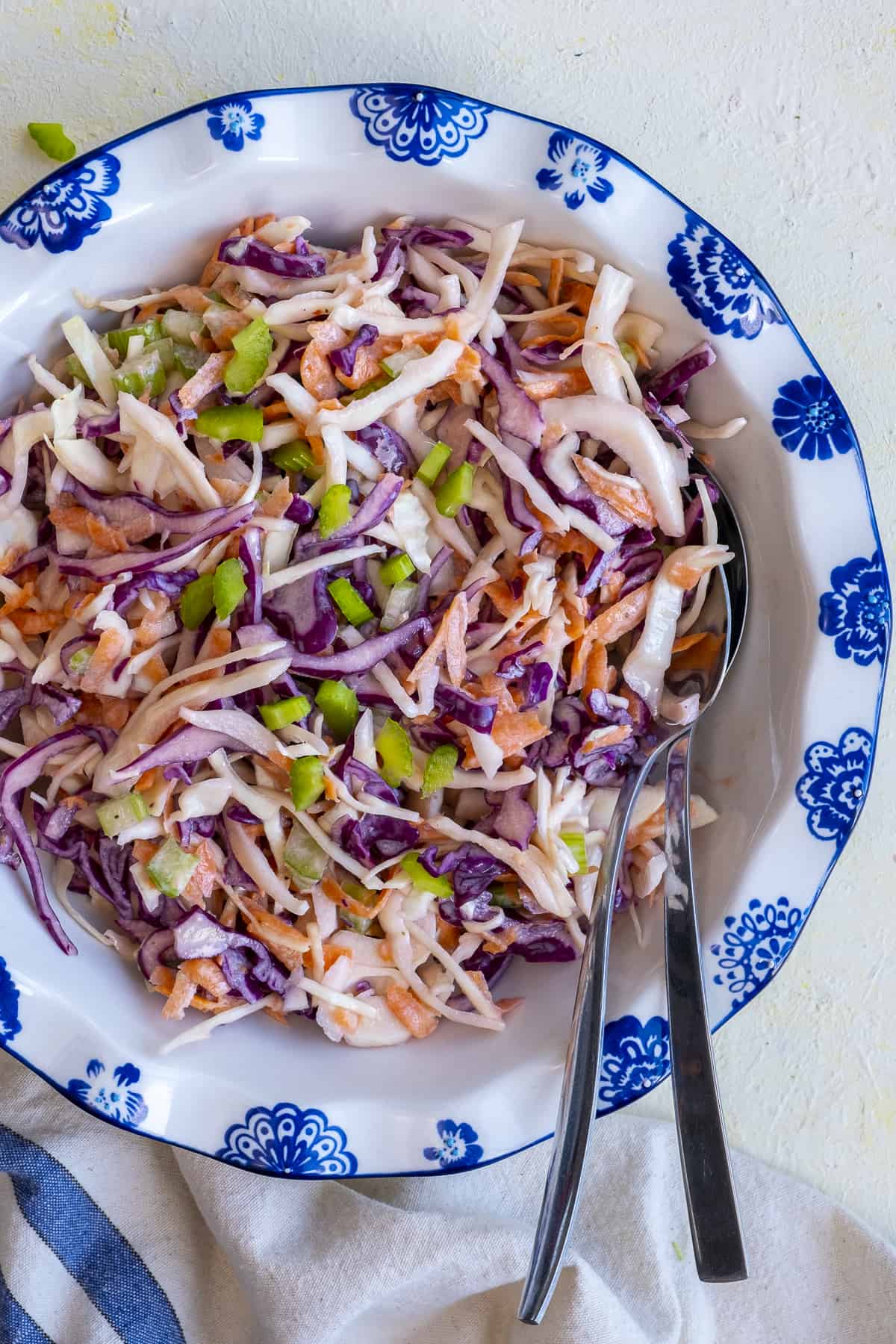 This delicious and healthy coleslaw recipe with Greek yogurt is one of those light salads too. It is packed with a variety of textures and complex flavors. And overall, it is easy to pair with different main dishes. You can include it in your bbq menu or incorporate it into burgers and sandwiches!
If you are not a fan of mayo or in search of a healthier coleslaw recipe, we've got you covered. Our Greek yogurt coleslaw dressing makes this cabbage and carrot salad super tasty. Plus, it is low calorie and healthy too. It is so good that you won't even miss mayonnaise in your coleslaw.
You know we LOVE homemade yogurt and its thicker version, Greek style yogurt, also known as strained yogurt. They are both staple ingredients in our cooking. We often use it to make haydari meze and in recipes like this no mayo coleslaw dressing.
Greek yogurt is a great substitute for mayonnaise. We even use it to make deviled eggs without mayo. They come out perfectly creamy with less calories.
Jump to:
About The Ingredients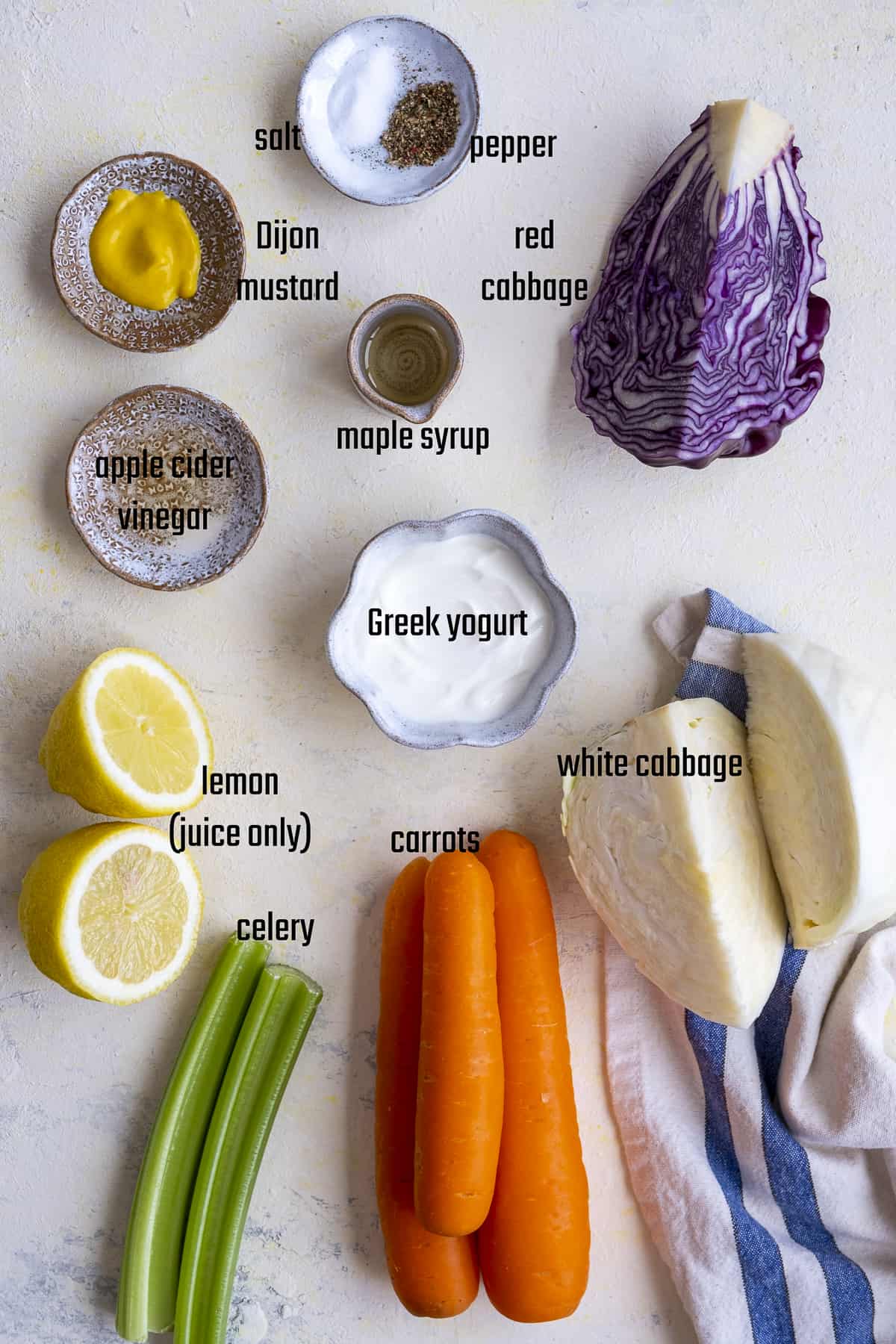 Coleslaw Base:
Cabbage: We like to use a combination of red cabbage, also known as purple cabbage and green or white cabbage. This gives the salad a pop of color and makes it look more appealing. But, you can use whichever type of cabbage you can find.
Carrots: When adding carrots to the recipe, you should add a lot less. This will help create a more balanced flavor and prevent an overly sweet coleslaw.
Celery: We add celery ribs to this recipe to give it more flavor and crunch. If you don't like fresh celery, you can use celery seeds or celery salt in the coleslaw dressing.
Alternatively, you can also use a bag of coleslaw mix if your grocery store sells it.
Optional Add-Ins: You can add some chopped herbs like green onions, parsley or fresh dill. It will help add even more color and texture.
Greek Yogurt Coleslaw Sauce:
Plain Greek yogurt: This is what makes it a healthier coleslaw recipe. You can make your own Greek yogurt or buy it from the store. Full fat, low fat, thick, even plant-based yogurt, all work fine. Make sure it is plain, unflavored yogurt.
Acids: We use lemon juice and apple cider vinegar (or white vinegar) in this recipe. They tenderize the coleslaw veggies and create a tangy taste.
Maple syrup: This is the sweet ingredient that helps counter the tanginess of the dressing. You can also use honey instead.
Seasoning ingredients: And finally, we add Dijon mustard, salt and pepper to round off the flavor of the dressing. Our ratios work nicely, but you can adjust it to your liking.
How To Make
Our Greek yogurt coleslaw recipe is quick and easy to make. And, you can even make it ahead of time.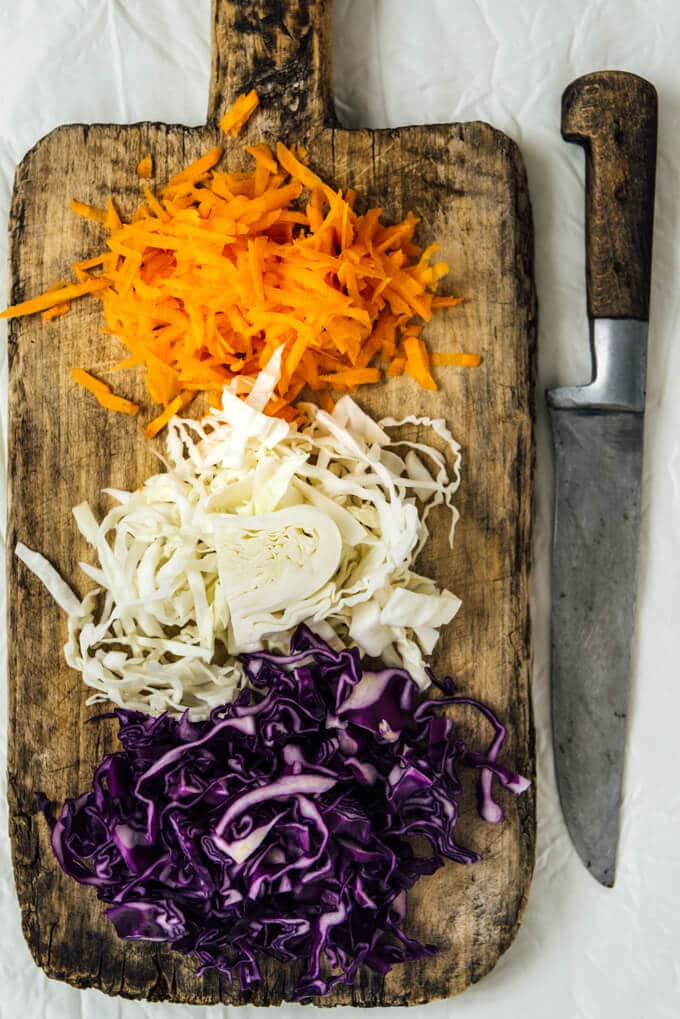 Prepare the base: Simply combine the sliced cabbage, grated carrots, and diced celery in a large bowl. Set it aside.
Prepare the coleslaw dressing with yogurt: In a medium bowl, combine the Greek yogurt, lemon juice, vinegar, maple syrup, mustard, salt, and black pepper. Whisk the ingredients together until you have a uniform dressing.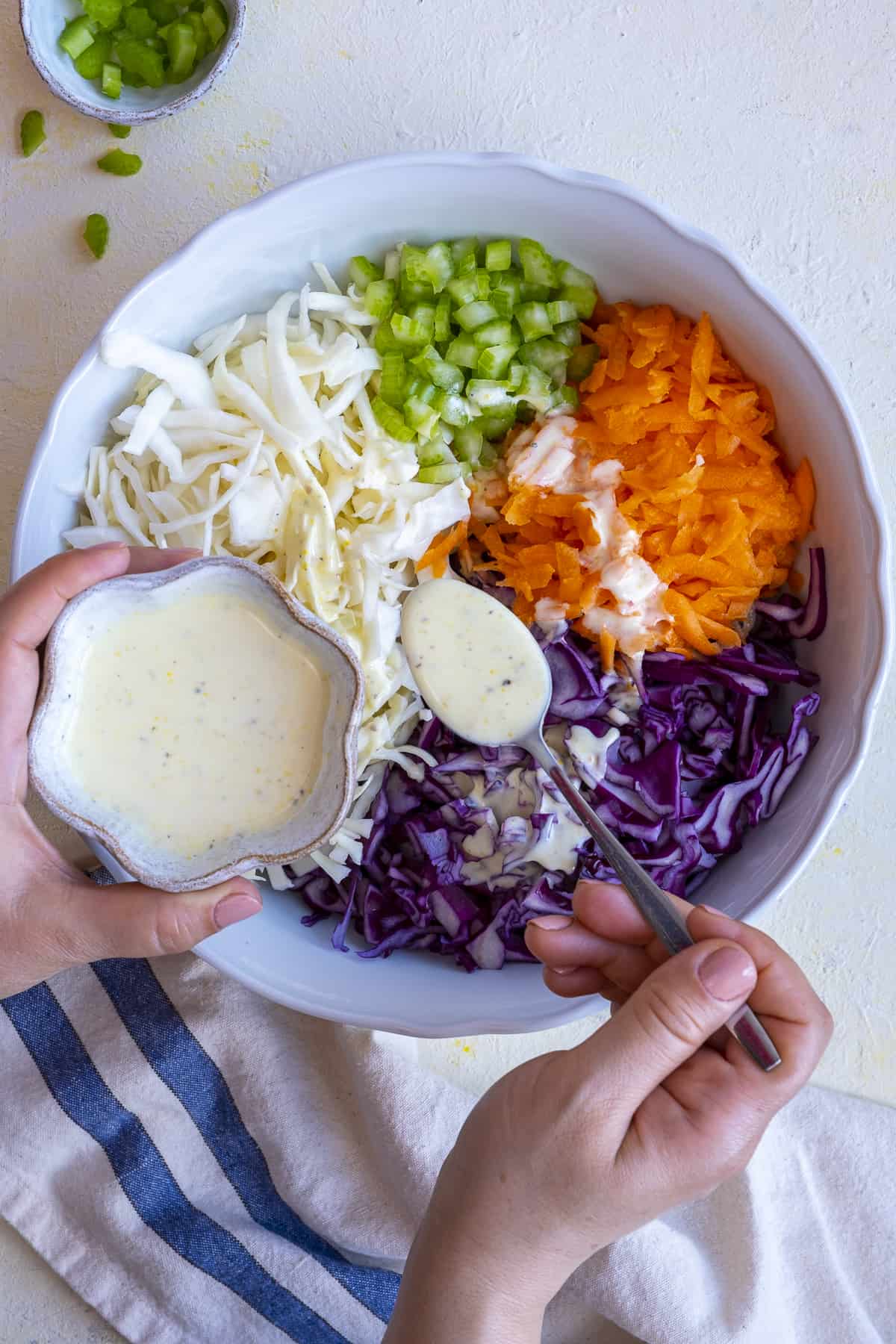 Assemble: Pour the dressing over the vegetables in the bowl. Give them a good toss to coat all of the ingredients with the sauce. Then, if you would like to, garnish the salad with some diced celery (or green onions) and serve it immediately.
Expert Tips
If you want to make a creamier coleslaw dressing with yogurt, then increase the amount of Greek yogurt. Even adding another quarter cup will do the trick!
You can easily substitute celery with green onions. It will give this Greek coleslaw recipe a less spicy flavor, while still keeping the peppery notes. Only substitute the celery with 2 stalks of green onions.
The amount of lemon juice in the recipe can be adjusted according to your liking. For a more tangy salad, add a touch more lemon juice.
Maple syrup helps give a hint of sweetness to the healthy coleslaw dressing. We use only If tablespoon as we don't want our coleslaw very sweet. If you want a sweeter sauce, use 2 tablespoons instead. Or just leave it out if you don't want any sweetener. Carrots are naturally sweet, so it might be enough for you.
You can substitute maple syrup with honey. Just make sure to heat it up a little before using it. This way it will mix better with the other ingredients. You can heat it inside a saucepan over low heat or in a microwave for a couple of seconds.
Serving Suggestions
This Greek yogurt coleslaw recipe is extremely versatile! Naturally, you can serve it as a side dish along with barbecues. It goes great as an accompaniment with tacos, grilled meat, pork or kebabs like lamb shish kebabs, Adana kebab and meatballs.
This coleslaw is great when paired with chicken recipes like air fryer whole wings, dry rub chicken wings, chicken kebabs and cast iron chicken breast.
It goes very well with vegetarian recipes like vegetable kabobs or oyster mushroom kebabs.
You can serve your grilled cheese sandwiches with some coleslaw on the side to have a satisfying lunch. Check out our air fryer grilled cheese and feta grilled cheese.
However, you can also easily incorporate it into other recipes. A sandwich or burger is an easy effortless option to try. And, because the flavors of this Greek yoghurt coleslaw is so well-balanced, it will pair with virtually any type of burger you are making!
How To Store
Storing this low fat coleslaw is very easy. And, it stays fresh for a surprising amount of time!
You can either store the entire assembled salad, or store the coleslaw base and dressing separately. Storing them separately will further increase the shelf life of this salad.
To store the entire salad (once assembled), simply place it inside an airtight container and store it in the fridge. It will still be good for another 2 days, depending on the freshness of the ingredients and temperature of the fridge.
If you store the component separately, place the coleslaw base on a damp piece of paper towel, directly inside an airtight container. Then, cover it with another damp piece of paper towel. It will help seal in the moisture.
Then, store the yogurt coleslaw dressing inside a glass jar or another airtight container. Place both inside of the fridge. The base will stay good for between 3-7 days, and the dressing can easily last up to a week!
Why You Should Make This Recipe
Our Greek coleslaw recipe is packed with delicious flavors. It has a well-balanced flavor profile that uses sweet and tangy ingredients.
It is easy to make. You can even buy a bag of coleslaw mix to make things even quicker. The only thing you need to do is to combine the coleslaw base mix with the Greek yogurt dressing.
It is a healthy coleslaw recipe with Greek yogurt. You can also choose a low fat option to cut back on calories.
It can be made in advance. You can make this coleslaw a couple of hours before serving it. And, the leftovers can be stored in the refrigerator for 1-2 days.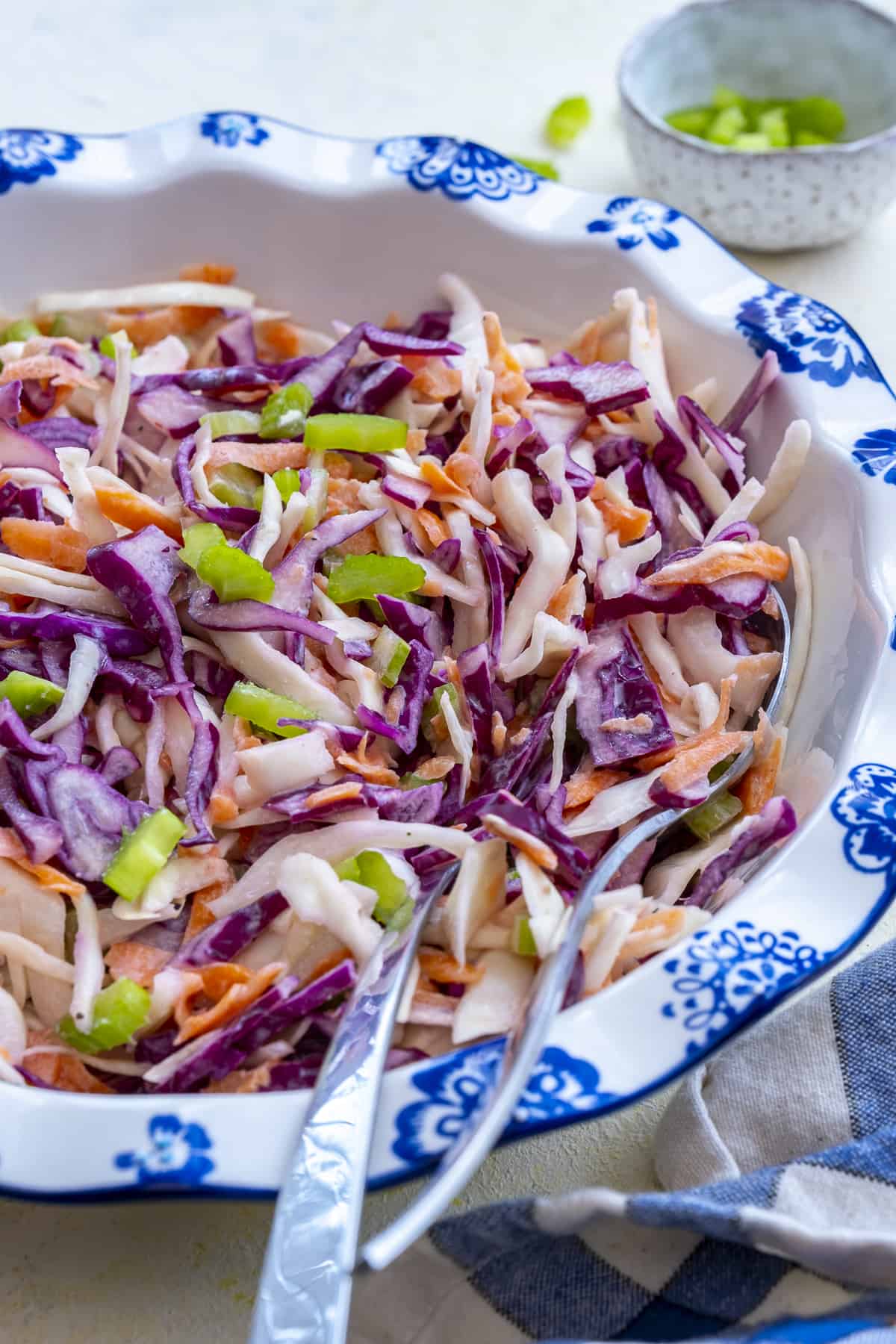 Frequently Asked Questions
What is creamy coleslaw made of?
It is usually made with mayonnaise, lemon juice or vinegar, a sweetener like sugar, maple syrup or honey, salt and pepper. However, we substitute Greek yogurt for mayonnaise.
Is coleslaw healthy to eat?
Yes, it is healthy as long as it is made with a healthier dressing. Coleslaw base is packed with vitamins and fiber, which are good for you. Regular coleslaw at fast food restaurants is often too sweet and contains high amount of fat due to mayonnaise. Our coleslaw dressing is light and has very little sweetness. So this recipe makes a healthy coleslaw thanks to Greek yogurt.
How do you keep cole slaw from getting runny?
You can prevent this with an additional step. Put the coleslaw base in a large mesh strainer and place it over a bowl. Sprinkle salt over the shredded base and toss. Let it sit for about an hour and excessive juice from the shredded cabbage and carrot will release. Press on them so that the juice drips into the bowl. Then pat dry and make your coleslaw.
Is coleslaw gluten-free?
Yes it is. Coleslaw doesn't contain any wheat or gluten.
Other Salad Recipes
You might also like:
As always: If you make this recipe, let us know what you think by rating it and leaving a comment below. And post a pic on Instagram too—tag @give_recipe so we can see!
Sign up for the FREE GiveRecipe Newsletter to get the new recipes into your inbox! And stay in touch with us on Facebook, Pinterest, YouTube and Instagram for all the latest updates.
Print
📖 Recipe
Greek Yogurt Coleslaw
A light and healthy coleslaw recipe with Greek yogurt dressing. It is so good that you won't miss mayo. It tastes even better when made ahead.
Author: Zerrin & Yusuf
Prep Time:

10 min

Total Time:

10 minutes

Yield:

6 servings

Category:

Salad

Method:

Combining

Cuisine:

American
Coleslaw Base:
2 cups red cabbage, thinly sliced

2 cups white cabbage, thinly sliced

1 cup grated carrots

2 celery ribs, diced
Coleslaw Dressing with Yogurt: 
¼ cup Greek yogurt

2 tablespoons lemon juice

1 tablespoon apple cider vinegar

1 tablespoon maple syrup (or honey), optional

1 tablespoon Dijon mustard

1 and ½ teaspoons salt

¼ teaspoon black pepper
Instructions
Coleslaw:
Put sliced cabbages, grated carrots and diced celery in a large bowl.
Coleslaw dressing: 
Whisk together yogurt, lemon juice, vinegar, maple syrup, mustard, salt and pepper.
Assemble: 
Pour the dressing over the coleslaw base and give it a good toss.

Optionally, garnish with diced celery and serve immediately.
Notes
You can increase the amount of the yogurt if you want your coleslaw creamier.

You can substitute green onions for celery or use them both.

You can adjust the amount of lemon juice to your taste. Increase it if you like your coleslaw tangy.

Maple syrup gives a subtle sweetness to the coleslaw. If you like yours sweeter, use 2 tablespoons.

You can substitute honey for maple syrup. But you had better warm it up a bit in a saucepan or in the microwave so it is easier to mix with yogurt.
Nutrition
Serving Size:

1 small bowl

Calories:

46

Sugar:

5.1 g

Sodium:

690.1 mg

Fat:

0.8 g

Carbohydrates:

7.9 g

Protein:

2.1 g

Cholesterol:

1.5 mg
Keywords: Greek yogurt coleslaw, low fat coleslaw dressing