Discover our delicious Tuna Potato Salad, a delightful mix of tender potatoes, juicy tuna, crisp onions and fresh herbs in a zesty dressing. Perfect for any occasion, this simple, nutritious salad offers a vibrant burst of flavor to brighten your meal!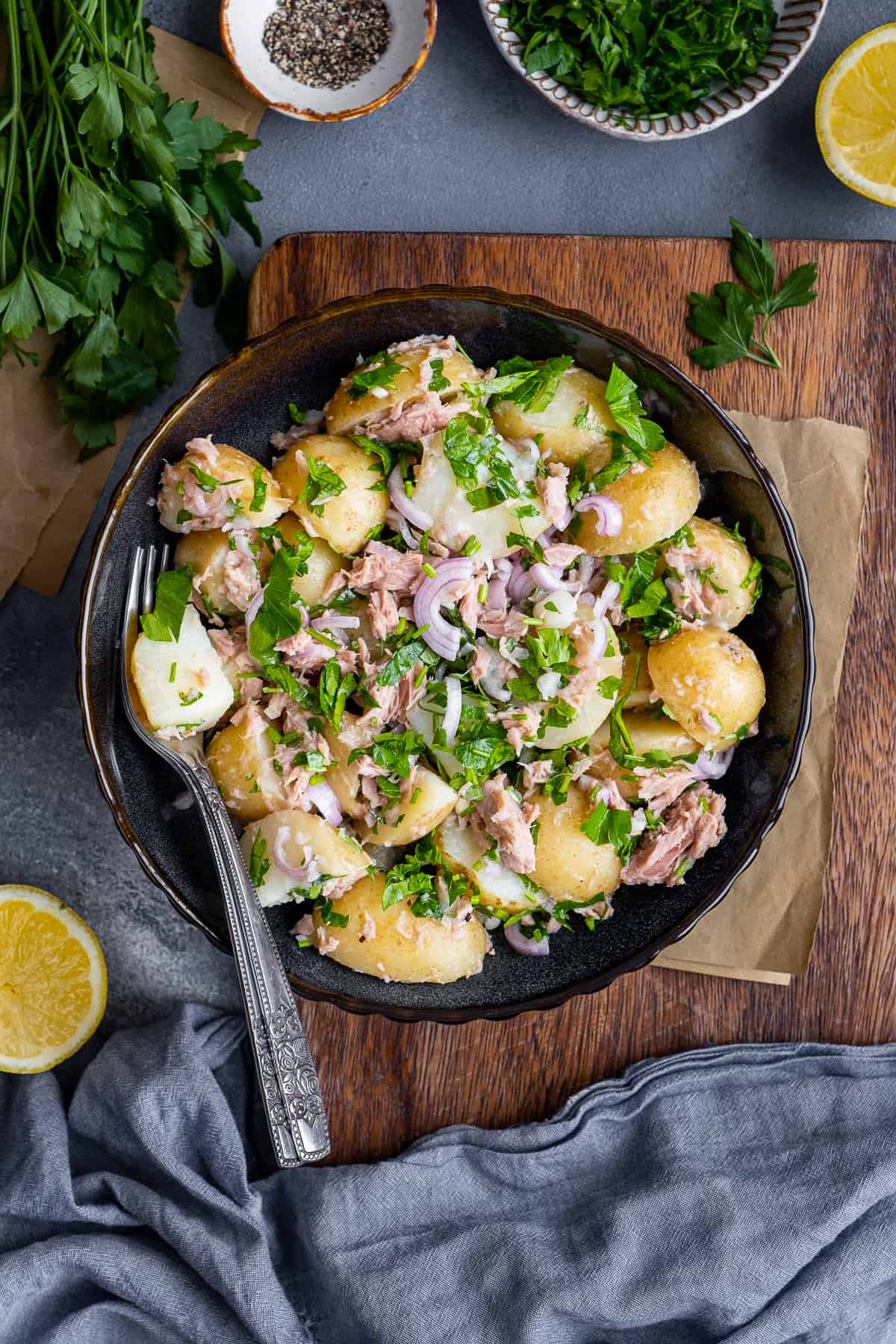 Have you started craving salad for lunch these days? That's how we feel once it gets warmer outside. When it is made for lunch, a salad has to be filling. You know a healthy and filling salad calls for protein. And this potato tuna salad fits the bill perfectly.
If you have never tried a tuna salad with potatoes, now is the time. It will become one of your favorite salads for lunch.
Jump to:
Why You Will Love This Recipe
Easy to prepare: With just a few simple steps, this tuna potato salad comes together quickly, making it perfect for busy days or last-minute meals.
Lower in calories: This is a mayonnaise-free potato salad recipe, just like our no mayo tuna salad. So this makes the salad healthier and lower in calories.
Nutritious: Combining nutrient-rich ingredients like tuna, potatoes, and veggies, this salad offers a balanced and wholesome meal option.
Versatile: This salad is great as a healthy lunch, for picnics, potlucks, or as a weekday lunch, fitting seamlessly into any dining situation.
About The Ingredients & Substitions
So let's learn the essential ingredients that make our potato and tuna salad a hit! In this section, we'll highlight the main components and offer some easy substitutions.
Ingredients For The Salad:
Potatoes: All waxy potatoes work fine in this recipe. You can use fingerling potatoes, new potatoes, baby potatoes or even red potatoes. They all cook quickly and keep their shape well. You can substitute with larger potatoes cut into bite-sized pieces.
Canned tuna: A convenient and nutrient-rich option, canned tuna is perfect for this salad. We prefer tuna in oil as it has a richer taste and creamier texture. Just make sure to drain it well.
Red onions: Their mild, sweet flavor adds a pleasant contrast to the other ingredients. Feel free to use yellow onions or shallots as alternatives.
Parsley: This bright, fresh herb enhances the overall flavor of the salad. You can replace it with dill or basil, depending on your taste preferences.
Ingredients for the Dressing:
Lemon juice: Use freshly squeezed lemon juice. It adds a tangy, refreshing element to the dressing. Lime juice or a splash of apple cider vinegar or white wine vinegar can also work well as substitutes.
Olive oil: Use extra virgin olive oil. It provides a smooth and rich base for the dressing.
Salt and pepper: These seasonings help to balance and elevate the flavors of the salad. Feel free to adjust the amounts to suit your taste buds.
Optional Add-Ins
One of the best features of this potato tuna recipe is its adaptability. You can effortlessly customize the salad by adding more vegetables to suit your preferences or make the most of seasonal produce.
The versatile base of potatoes and tuna welcomes a variety of textures and flavors, allowing you to create a unique and delicious dish every time. Here are our suggestions:
Green beans: Adding a crisp texture and a mild, sweet flavor, green beans can be lightly steamed or blanched before being mixed into the salad.
Radishes: With their crunchy texture and slightly peppery taste, radishes provide a refreshing contrast to the other ingredients.
Artichokes: You can use artichoke hearts or steamed artichokes to add more flavor and nutrition to this salad.
Cherry tomatoes: These sweet, juicy gems contribute a burst of flavor and color, brightening up the dish and complementing the other components beautifully.
Boiled Eggs: You can easily turn this recipe into a potato egg tuna salad. Simply boil the eggs to your desired level of firmness, peel them, and chop or quarter them before incorporating them into the salad. This addition will create a more satisfying and filling meal.
Dijon mustard: Incorporating a touch of Dijon mustard to the dressing adds a tangy and subtle spicy note, enhancing the complexity of flavors and giving the dish a subtle kick.
Spices: Experiment with various spices to customize the flavor of your potato tuna salad to your liking. Consider adding a pinch of chili flakes or garlic powder for a bit of warmth.
How To Make It
Cook the potatoes: Fill a saucepan with water. Add in salt and bring it to a boil. Place halved potatoes in a large pot of boiling salted water and cook for approximately 10-15 minutes, or until they can be easily pierced with a knife or fork.
Prepare the salad ingredients: While the potatoes cook, combine the tuna, finely sliced red onion, and fresh parsley in a large bowl. Set this mixture aside. Once the potatoes are tender, drain and let them cool. Then add them to the salad bowl.
Make the dressing: In a separate small bowl or a jar, combine lemon juice, olive oil, salt, and pepper. Whisk well to create a well-blended dressing.
Assemble: Pour the dressing over the salad ingredients. Toss everything together to ensure even distribution.
Expert Tips
To ensure even cooking, make sure the potatoes are cut into similar-sized pieces. Keep an eye on the cooking time to avoid overcooking, which can lead to mushy potatoes.
Depending on the size of the baby potatoes you use, cut them in half or in quarters.
Let the potatoes cool before adding them to the salad to prevent them from breaking apart or wilting the other ingredients.
Ensure that you thoroughly drain the canned tuna before adding it to the salad to prevent excess liquid from diluting the dressing and making the salad soggy.
Prepare the salad a few hours in advance and refrigerate it, allowing the flavors to meld and develop for an even tastier result.
Storage
Transfer the salad to an airtight container and keep it in the refrigerator. This tuna salad with potatoes is best consumed within 3-4 days of being prepared.
When it's time to enjoy the leftovers, give the salad a gentle toss to redistribute the dressing and ingredients. You may also want to taste and adjust the seasoning or add a splash of lemon juice to refresh the flavors before serving.
Serving Suggestions
There are several ways to serve this potato salad with tuna. Here are some ideas:
As a main course: Serve a generous portion of the salad on a plate or in a bowl, with some homemade bread like our no yeast bread loaf or a green salad on the side, for a satisfying and nutritious meal.
At a potluck or picnic: It is a fantastic option for gatherings, as it can be prepared ahead of time and travels well. Simply pack it in an airtight container and serve it chilled or at room temperature.
As a sandwich or wrap filling: Use it as a filling for sandwiches or wraps, adding lettuce, sliced avocado, or other preferred ingredients for a delicious, protein-packed lunch. Check out our tuna avocado sandwiches to get an idea!
In lettuce cups: For a lighter, low-carb option, serve it in lettuce cups, using romaine, butter, or iceberg lettuce leaves as a crunchy and refreshing base.
Variations
Mediterranean Tuna Potato Salad: Add olives, capers, and sun-dried tomatoes, and use fresh basil instead of parsley for a Mediterranean twist.
Italian Tuna Potato Salad: Incorporate ingredients like green beans, cherry tomatoes, and red wine vinegar in the dressing for an Italian-inspired version.
Spanish Potato Salad (Ensaladilla Rusa): Include boiled carrots and peas, boiled eggs, olives, and pickles in the salad. Leave out the lemon-based dressing and mix everything with mayonnaise (about ½ - 1 cup). It is often served chilled as a tapa or side dish in Spain.
French Potato Salad With Tuna: Use a Dijon mustard vinaigrette dressing made with tarragon vinegar (or apple cider vinegar), olive oil, Dijon mustard, minced shallots, and herbes de provence.
FAQs
Is potato salad junk food? 
No, it is not. A potato salad made with a light, oil-based dressing and packed with vegetables can be a healthy and nutritious side dish or meal. That being said, a potato salad prepared with a heavy, high-fat mayonnaise-based dressing and few vegetables may be less healthy due to the higher fat content and lower nutritional value. 
Does eating potatoes make you gain weight?
Eating potatoes alone doesn't cause weight gain. Weight gain occurs when you consume more calories than your body needs. Preparation methods and toppings can impact calorie content. Consuming potatoes in moderation and as part of a balanced diet should not lead to weight gain.  
Are canned tuna salads healthy?
Yes, they can be healthy, depending on the ingredients used and the preparation method. Canned tuna is a good source of lean protein, omega-3 fatty acids, and various vitamins and minerals. However, the healthiness of a tuna salad depends on the additional components.
Is it OK to put mayo in tuna?
Yes, it is absolutely OK to put mayo in tuna. Mixing mayonnaise with canned tuna is a common way to create a creamy tuna salad.
Other Salads You Will Like
More Potato Recipes
As always: If you make this recipe, let us know what you think by rating it and leaving a comment below. And post a pic on Instagram too—tag @give_recipe so we can see!
Sign up for the FREE GiveRecipe Newsletter to get the new recipes into your inbox! And stay in touch with us on Facebook, Pinterest, YouTube and Instagram for all the latest updates.
Print
📖 Recipe
Tuna Potato Salad
This is a refreshing, flavorful dish that combines tender baby potatoes, protein-rich canned tuna, zesty red onions, and fresh parsley, all tossed in a tangy lemon-olive oil dressing. Perfect for picnics, potlucks, or light lunches, this versatile salad is ready in just 30 minutes and easily customizable with your favorite add-ins.
Author: Zerrin & Yusuf
Prep Time:

5 minutes

Cook Time:

25 minutes

Total Time:

30 minutes

Yield:

4

1

x
Category:

Salad

Method:

Boiling

Cuisine:

American
For The Salad:
2

lbs (1 kg) baby potatoes, cut in half or in quarters

1

can tuna in olive oil (

160g

/

5oz

) drained

1

red onion, finely sliced

1

handful fresh parsley, chopped
Dressing:
1

lemon juice

2 tablespoon

olive oil
Salt and pepper to season
Instructions
Salad:
Fill a saucepan with water. Add in salt and bring it to a boil. 
Put the halved potatoes into the boiling salted water. Let them cook for about 10-15 minutes or until you can easily insert a knife or a fork. 
While the potatoes are cooking, combine tuna, finely sliced red onion and fresh parsley in a large bowl and set aside. 
Drain the potatoes when they are tender enough and let them cool.
Transfer them to the salad bowl.
Dressing:
Put lemon juice, olive oil, salt and pepper into a bowl and whisk well to combine.
Assemble:
Pour the dressing over the salad and toss everything together and serve.
Notes
Cut the potatoes into similar-sized pieces for an even cooking. 
Keep an eye on the cooking time to avoid overcooking, which can lead to mushy potatoes. 
Let the potatoes cool before adding them to the salad.
Drain the canned tuna before adding it to the salad to prevent excess liquid from diluting the dressing and making the salad soggy.
Prepare the salad a few hours in advance and refrigerate it, allowing the flavors to meld and develop for an even tastier result.
Nutrition information is approximate and meant as a guideline only.
Nutrition
Serving Size:

1 bowl

Calories:

318

Sugar:

4.2 g

Sodium:

658.2 mg

Fat:

11 g

Carbohydrates:

40 g

Protein:

16.4 g

Cholesterol:

13.8 mg
Keywords: tuna potato salad, potato salad with tuna