This Green Olive Salad is a delightful combination of green olives, tomatoes, onions, and herbs, unified by a tangy dressing. This colorful salad offers an irresistible fusion of flavors and textures, perfect for enhancing any meal or enjoyed on its own.
The taste of this salad is a delightful mix of flavors. The green olives go well with sweet tomatoes and the sharp taste of onions. The herbs add a nice earthy touch, and the sumac gives a little tang at each bite. Pomegranate molasses and lemon juice add a bright, zesty taste, and the smooth olive oil helps blend everything together for a tasty and balanced salad.
This green olive salad is incredibly easy to make, and we absolutely adore it as a versatile dish. It's a crowd-pleaser at potlucks, a delightful side dish to complement various meals, and even a scrumptious light lunch on its own. The simplicity of its preparation and its universal appeal make it a go-to recipe that everyone can enjoy.
Jump to:
About The Ingredients
Salad
Onion: It adds sharpness and crunch to the salad. You can use red, white, or yellow onions. We often prefer red onion for salads due to their milder taste and vibrant color.
Sumac: With its deep red color and lemony undertones, sumac adds a unique and exotic taste to the salad, making it stand out. Just like in our popular sumac onions recipe, we massage the chopped onion with salt and sumac to remove its bitterness.
Green onions: They are also known as scallions or spring onions. These are a delightful addition to salads, providing a mild, slightly sweet onion flavor. We use one, but you can use more if you want.
Tomatoes: They bring a refreshing, vibrant element to the dish with its sweet flavor. We use cherry tomatoes (halved). You can use other types of tomatoes such as grape, vine, beefsteak, or Roma tomatoes. These are all great choices for salads due to their firmness and flavor. If you use a larger type, dicing them before tossing with other ingredients.
Fresh Herbs: We use flat leaf parsley and fresh dill. You can always use more herbs like mint and basil.
Green olives: We use pitted green olives preserved in brine, also known as pickled olives. Drain them well, rinse under water to remove excessive salt and drain again. You don't need these steps if you use green olives stored in olive oil. And depending on your preference, you can leave them whole or chop them roughly.
Dressing
The dressing, comprised of olive oil, lemon juice, and pomegranate molasses, is key to tying all the flavors together in this Mediterranean olive salad. Olive oil provides a rich, smooth base, while lemon juice adds a zesty, citrusy kick. Pomegranate molasses contributes a sweet-tart note that balances the dressing and creates a well-rounded, harmonious flavor.
If it is hard to find pomegranate molasses in your area, you might want to see our post about the best substitutes or our guide on making your own at home.
As in our ultimate pomegranate molasses dressing, you can add in vinegar (balsamic vinegar or red wine vinegar) too.
Optional Add-Ins
Spices: Red pepper flakes and oregano would be nice additions.
More Vegetables: If you would like to add more texture and flavor to this green olive salad, you can add more veggies like cucumbers, carrots, red bell peppers, canned mushrooms, steamed artichokes or celery. They all add extra fiber and antioxidants, which is great in salads. And add one mashed garlic clove in the dressing if you want garlicky flavors in salads.
Nuts: And finally, don't shy away from using some chopped nuts for a richer flavor and crunchier texture. Walnuts, pecan nuts, and almonds work well with this fresh salad. Toast them before adding to the salad.
Cooked Chickpeas: They would be great to turn this salad into a satisfying vegan lunch on its own.
Tuna: Add some flaked canned tuna to add some protein to your olive salad.
Pasta: Toss cooked orzo pasta with green olive salad. It contributes a subtle, delicate flavor that allows the distinctive taste of the green olives to shine.
Grains: You can add cooked bulgar wheat or wheat berries to make the salad more filling. They both contribute a mild, nutty flavor that complements the briny taste of the olives. Their slightly chewy and tender texture enhances the overall mouthfeel of the salad. Use buckwheat groats or quinoa for a gluten-free option. You might want to see our bulgur salad, buckwheat salad and wheat salad recipes as well.
Best Olives For Salads
Choosing olives for salads largely depends on personal preferences and the flavors you want to achieve. For convenience, you may prefer pitted olives in salads, as they're easier to eat. However, whole olives with pits can be more flavorful, as the pits help retain their natural taste.
Some of the most popular olives for salads include:
Picholine olives: This long, slender, green French variety has a mild, slightly tart flavor and firm texture, making it a suitable addition to a variety of salads.
Manzanilla olives: A Spanish green olive with a rounded shape and mild, briny taste, these olives are often found stuffed with pimientos, which can add another layer of flavor to salads.
Castelvetrano olives: These Italian olives are known for their bright green color, buttery taste, and mild, slightly sweet flavor, making them a versatile addition to salads.
Cerignola olives: Available in green, red, and black varieties, these large Italian olives have a crisp texture and mild, fruity taste that work well in salads.
Niçoise olives: These small, dark brown to black French olives have a firm texture and rich, nutty flavor, making them a key ingredient in Salade Niçoise and other salads.
How To Make The Recipe
This Mediterranean salad with olives is incredibly quick and easy to make, packed with deliciously sweet, tangy, and slightly spicy flavors.
Season and tenderize the onions: Combine the chopped onion, salt, and sumac in a medium mixing bowl. Then, massage the onions with your hands until all the pieces are well coated with the seasonings.
Combine the salad ingredients: Add the chopped green onions, halved cherry tomatoes, parsley, dill, and green olives. Toss the ingredients together to ensure they are well distributed.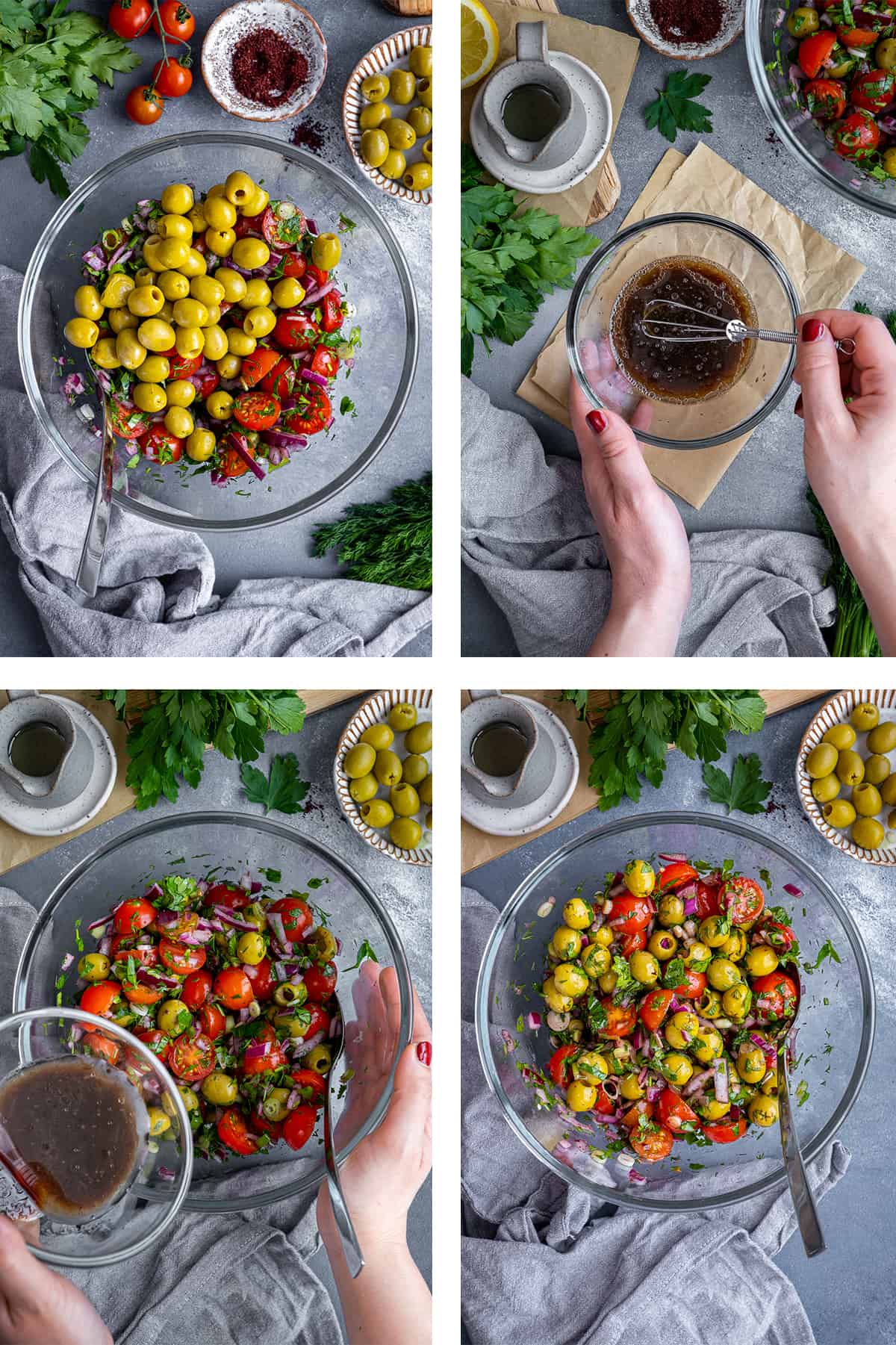 Make the dressing and toss the salad: To make the dressing, whisk together the lemon juice, pomegranate molasses, and olive oil. Once emulsified, pour it over the green olive salad, toss it well and serve it immediately.
Expert Tips
Pick the right green olives. Make sure they are with a firm texture and balanced flavor, such as Castelvetrano or Picholine. Consider using pitted olives for a more enjoyable eating experience
Make sure to drain the olives well before adding them to the salad. The olive brine may ruin the overall balanced flavor of your green olive salad.
Don't forget to pit the olives if you are buying them whole. There are few things worse than biting into a hard pit! It is up to you to add the olives whole or chop them up finely.
Don't add any salt to the dressing as we already add a little on the chopped onions.
You might need to leave the salt out if the green olives you are using are too salty.
Taste your dressing as you make it, adjusting the proportions of olive oil, lemon juice, and pomegranate molasses to achieve the desired balance of richness, tanginess, and sweetness.
Variations
We have a couple of variations for this simple recipe. You can even make your own twist and create your own version.
Feta and Olive Salad (Greek Olive Salad): Combine bite-sized feta cheese with green olives (or pimento stuffed olives) and herbs like basil, parsley and mint. Make a simple dressing with lemon juice, olive oil and mashed garlic. Toss them together well and serve.
Black Olive Salad: Rinse and drain black olives (such as Kalamata or California ripe olives), and halve them. Chop desired vegetables, like tomatoes, cucumbers, red onions, and bell peppers, into bite-sized pieces. Combine with a lemon and olive oil dressing and serve.
Italian Olive Salad: Combine a mix of Italian olives (such as Kalamata olives, Castelvetrano olives, and Cerignola olives) and vegetables (such as carrots, capers, artichoke hearts, parsley). If you want, you can add in finely grated parmesan cheese too. Pour lemon & olive oil dressing over it and toss well.
Serving Suggestions
There is truly no limit to how you can serve this tomato olive salad.
Storage
Store the olive salad in an airtight container in the refrigerator for up to 3-5 days. Keep in mind that the texture and flavor of some ingredients, like tomatoes or herbs, may change slightly over time.
Serve chilled or at room temperature. Give the salad a gentle stir before serving to redistribute the dressing and ingredients.
FAQs
Is olive salad good for you?
Olive salad can be a healthy and nutritious option, depending on the ingredients used. Olives, as the main ingredient, offer several health benefits. They are a good source of healthy fats, which is good for heart health. They provide dietary fiber, which promotes digestive health and helps maintain a feeling of fullness, potentially aiding in weight management. They also contain various antioxidants.
How many olives should you eat a day? 
When consuming olives, you should keep in mind that they can be high in sodium due to the brining process. A general guideline could be to consume a small portion of olives, such as 15-20 olives per day, as a part of a balanced diet.
What is New Orleans olive salad? 
It is a tangy, flavorful mixture of olives, pickled vegetables, garlic and seasonings. This salad is used as a key ingredient in the famous New Orleans sandwich called the Muffuletta. 
As always: If you make this recipe, let us know what you think by rating it and leaving a comment below. And post a pic on Instagram too—tag @give_recipe so we can see!
Sign up for the FREE GiveRecipe Newsletter to get the new recipes into your inbox! And stay in touch with us on Facebook, Pinterest, YouTube and Instagram for all the latest updates.
Print
📖 Recipe
Green Olive Salad
A healthy and tangy fresh salad with green olives for a light summer lunch. A perfect side dish for dinner parties too.
Author: Zerrin & Yusuf
Prep Time:

10 minutes

Total Time:

10 minutes

Yield:

2

1

x
Category:

Salad

Cuisine:

Mediterranean
Salad:
1

red or white onion, chopped

¼ teaspoon

salt

1 teaspoon

sumac

1

green onion, chopped (optional)

1 cup

cherry tomatoes, halved (other type of tomatoes are ok too)

¼ cup

parsley, chopped

¼ cup

fresh dill, chopped

1 cup

green olives (pit removed), chopped
Dressing:
1 tablespoon

lemon juice, freshly squeezed

2 tablespoons

olive oil

1 tablespoon

pomegranate molasses
Instructions
In a medium bowl, combine chopped onion, salt and sumac. Massage them with your hand so that all pieces are coated with salt and sumac.
Add in the chopped green onions, tomatoes, parsley and dill. Toss in the green olives.
Whisk together the lemon juice, pomegranate molasses and olive oil.
 Pour it over the salad and stir well.
Notes
Drain the olives well.
If the olives are not pitted, pit them first.
You can chop the olives or leave them whole.
You can use a combination of black and green olives.
Nutrition information is approximate and meant as a guideline only.
Nutrition
Serving Size:
Calories:

213

Sugar:

13.8g

Sodium:

338mg

Fat:

14.7g

Carbohydrates:

21.3g

Protein:

2.6g

Cholesterol:

0mg
Keywords: green olives, olive salad, summer salad