Roasted Red Pepper Babaganoush without tahini is screaming summer with its refreshing ingredients. Tangy and slightly garlicky, this chunky eggplant dip rocks in this season.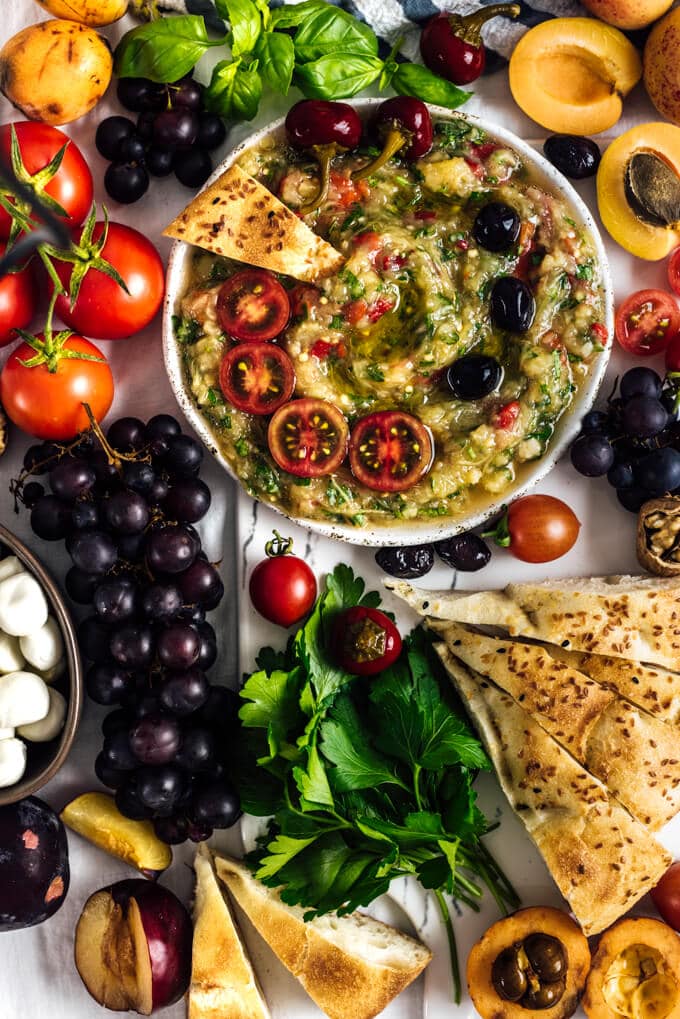 This post was originally published in 2014. We're updating it with new pictures and some changes in the recipe today, June 9 2017.
This Mediterranean style babaganoush is one of the dishes made quite often in my hometown in summer since eggplants are tastier in this season and it makes a perfect lunch that is not heavy. Who craves for a comforting meal when it is the hottest time of the year? Turkish people love Roasted Red Pepper Babaganoush as a meal when they don't feel like eating anything but something refreshing during summer.
This babaganoush is a bit different from its world-wide known version. 1) We don't use tahini. I'm hooked by David Lebovitz's recipe with tahini though and will try it asap. 2)We don't mash the ingredients until smooth, we mash it roughly with a fork. Sometimes we even leave it as it is and call it Roasted Eggplant Salad, almost with the same ingredients. In the original post, I wanted to serve it as a smooth dip and served it as a snack with lettuce leaves, which is not a traditional way to serve it. We either have it with lavash or pita bread or as a side dish with nothing alongside. Lettuce leaves gave a very nice freshness, so I highly recommend you to do the same if you are making this roasted red pepper babaganoush in summer.
In this updated post though, I left it chunky to see and feel the veggies better. It's totally up to you to make it smooth or chunky.
I think it's quite important to make this super easy dip in summer because summer eggplants taste way better than winter eggplants. It is one of my favorite veggies but I never buy it in winter as I find it so tasteless.
Classic babaganoush recipe in my hometown must have roasted red bell peppers, green peppers, parsley and garlic with a generous amount of lemon or lime juice and good quality olive oil.
I roasted the vegetables in oven, but you can roast them over stove as well. I just find the latter more tiresome. Oven method is a lot easier. Just insert fork or knife on the vegetables randomly and roast in oven for about an hour. You need to take the peppers earlier, after about 30 minutes as they cook faster.
about this roasted red pepper babaganoush recipe:
You can cook the veggies on the grill, on the stove or in the oven. If you use the grill, I recommend that you leave some pieces of their charred skin to have extra smoky flavor.
We don't use tahini in this version to get the Mediterranean flavors stand out more. If you want it as smooth as hummus, a little tahini could be a good touch.
I don't use any spices in this recipe because I don't want to lose the smoky flavor.
What to serve with this eggplant dip depends on your taste. To enjoy it on an appetizing snack board, we serve it with pita bread slices, lettuce leaves and lots of summer products.
You can freeze the leftovers and store it up to 3 months. Let it sit in a strainer at room temperature to thaw it. Drain the water well before serving. However, I wouldn't recommend this as I don't like the taste much after it's thawed. Not even close to the freshly made one.
Below are the original post images.
Print
Roasted Red Pepper Baba Ghanoush
Tangy and garlicky baba ghanoush with roasted red bell pepper.
Prep Time:

10 minutes

Cook Time:

1 hour

Total Time:

1 hour 10 minutes

Yield:

4
Ingredients
4 eggplants (about 2 pounds)
2 red bell peppers
3 green peppers
3 cloves garlic, finely minced
3 tablespoons chopped parsley
¼ cup lemon juice
½ teaspoon salt
2 tablespoons olive oil
Instructions
Preheat oven to 375F (190C).
Prick the eggplants randomly in a few places using a fork.
Place the peppers and eggplants in an oven tray and roast them for about an hour so that the eggplants are perfectly tender. Take out the peppers after about 30 min as they are done faster.
When the eggplants get tender enough, take them out. The duration of roasting might differ depending on the type of eggplant you are using. So check yours after 40 minutes using a knife or fork. If a knife can easily be inserted, it's soft enough and ready to be removed from oven.
Peel the peppers and eggplants but don't try to remove their skin completely. Just do it roughly and don't worry about the skin left on them. It gives a nice smokey flavor to your dip.
Mash the peeled eggplants and peppers with a fork. Combine them with chopped parsley, minced garlic, salt and lemon juice.
Transfer into bowls and drizzle olive oil over it. Optionally, top with cherry tomatoes and olives.
Serve immediately.
Eat it on the same day as it contains raw garlic.
IF YOU LIKED THIS RECIPE, THEN YOU WILL LOVE THESE: