There are very few things better than traditional Homemade Turkish Hummus served with fantastic accompaniments. This easy hummus recipe takes less than 5 minutes to make and can be served at any occasion. You can garnish it in an authentic style as we did here or serve it with any topping you'd like.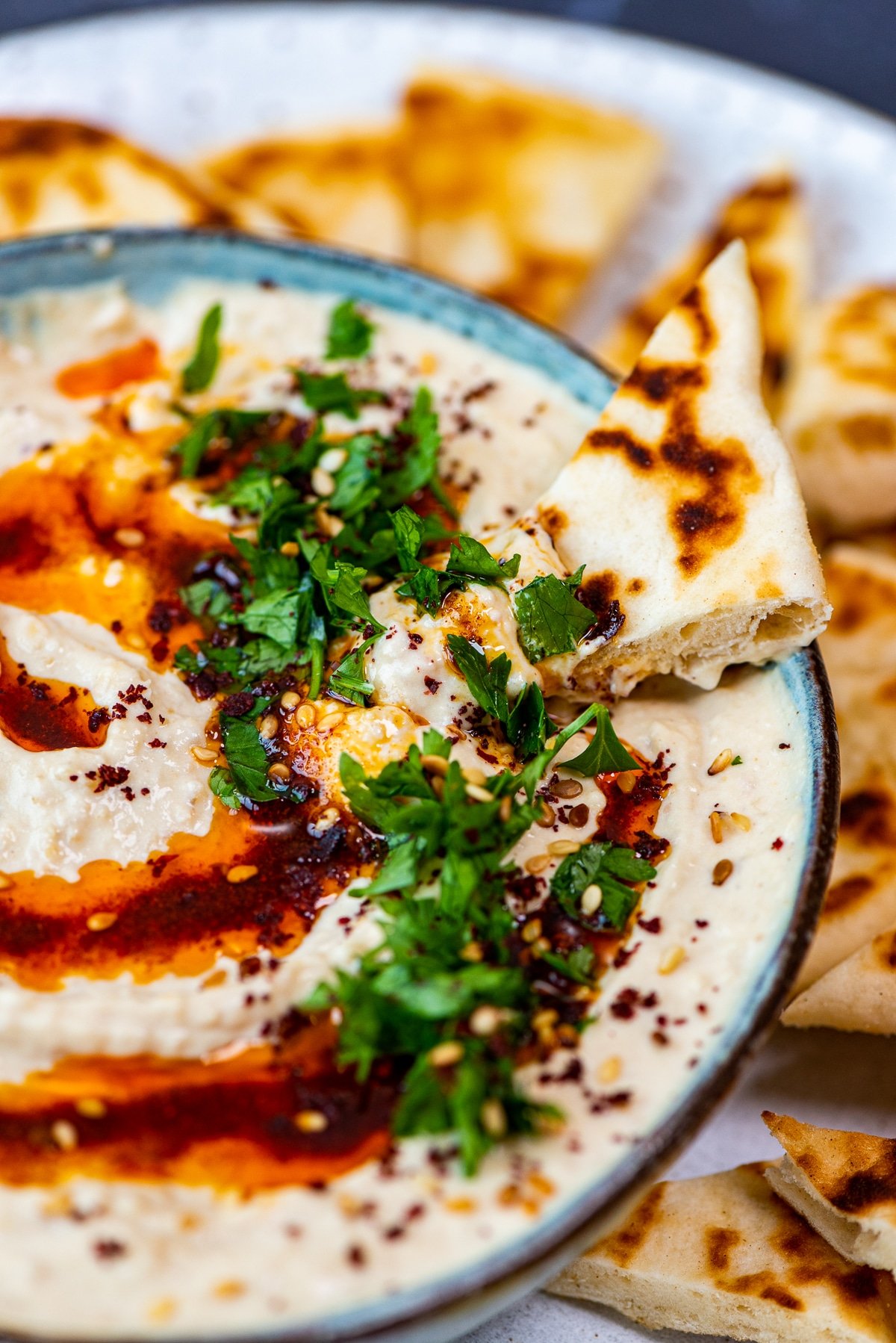 If you love hummus, you should see our hummus without tahini, beet hummus and roasted red pepper hummus too.
There aren't many dishes that have it all, but hummus is one of them. This delicious dip crosses many cuisines, cultures, and flavor profiles, and having an authentic homemade hummus recipe is essential.
Today, we will have a look at the classic hummus recipe from Turkey. We will look at the best ingredients to use, how to make hummus, how to store it, fix its consistency and flavor, and much, much more!
Jump to:
Before diving deep into this traditional Turkish hummus recipe, let's have a look at its origin. Over the years there have been many debates regarding when hummus was invented, however everyone can agree that it is in Mediterranean and Middle Eastern countries.
Believe it or not, no hummus recipe in these countries is the same. Each culture has its own twist on the toppings and sides to serve with it. No matter who invented it though, everybody agrees that it is delicious! Read more information on the history of hummus dip.
Hummus In Turkey
One thing that makes a hummus Turkish is that it is never made in a blender or a food processor. The boiled chickpeas and tahini are pounded in a large pot over the stove top until almost sticky. This video is showing how it is made in its place, how it is served and eaten.
In the Southern cities of Turkey, hummus is one of the popular foods that is served for lunch. There are hummus restaurants making and serving hummus. You can even see how they make it as their kitchen is often open.
Hummus is always served warm and originally eaten as a main meal. You eat spoonful of it and never feel heaviness.
Today hummus has also become one of the staple meze dishes at restaurants. They may not be warm as the traditional ones, but still has similar toppings.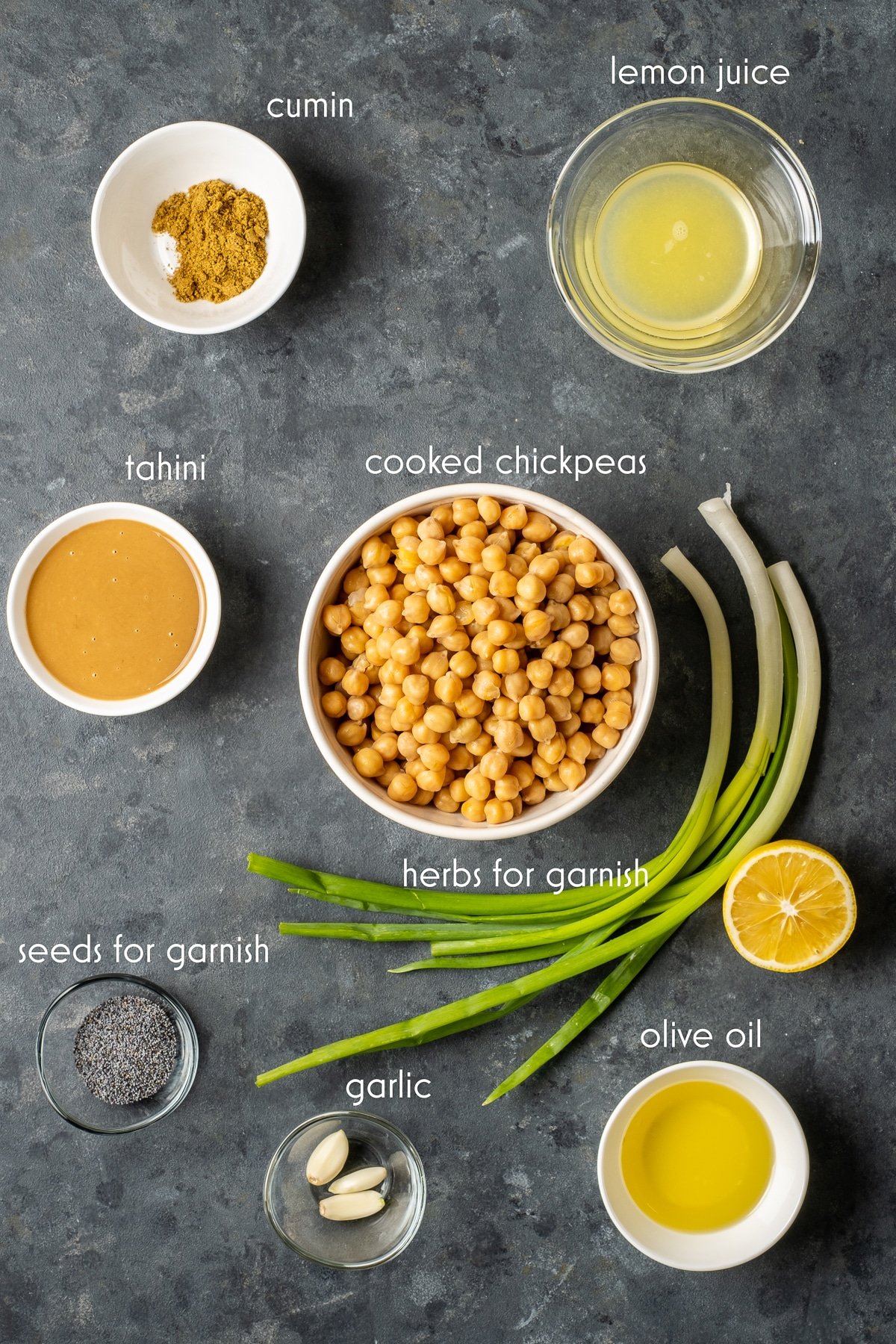 Ingredients
Turkish hummus is made with chickpeas, tahini (sesame seed paste), salt, cumin, fresh garlic cloves, olive oil and lemon juice. These ingredients are blended together to create a perfect balance of acidity and salty-sweetness. We also use water to adjust the consistency to your desired liking.
When making hummus, chickpeas are the most important ingredient. You can either choose dried or canned chickpeas. When using dried chickpeas, you have to soak and boil them before blending them to make hummus. When using canned chickpeas, you have to rinse and drain them to remove the excess sodium. If you want an alternative, you can use lentils too as we do in our red lentil hummus recipe.
Tahini is the second important ingredient when making hummus and therefore its quality is essential. You have to choose a tahini paste that is smooth and doesn't have any bitterness. This unappealing flavor will translate into the final product otherwise.
Spicy Hummus Topping
The Turkish style topping has a great role on the amazing taste of this hummus. It is what makes your taste buds dance!
Olive oil: It is always heated with some spices and then poured over hummus.
Spices: We use only paprika (kırmızı toz biber) in this recipe but red pepper flakes (pul biber) or Aleppo pepper can also be added for even a spicier taste. These spices are cooked with the oil to make a spicy oil sauce. Also, there is another spice that is sprinkled directly over hummus: Sumac, which gives a nice tangy taste.
Herbs: Parsley is the number one herb to top a hummus bowl. It balances the spicy flavor with its refreshing flavor. When you can't find parsley, fresh dill could be the second option. You are even free to use chopped green onions.
Seeds: Toasted sesame seeds always makes a nice connection with the tahini in hummus. Although it wouldn't be traditional, we sometimes use nigella seeds or poppy seeds too.
How to Make It
This homemade Turkish hummus recipe is incredibly easy and quick to make. We would highly recommend using canned chickpeas for this quick result.
Although we are aware that it is not the traditional way of making hummus, we will be using our blender to make it easier and quicker.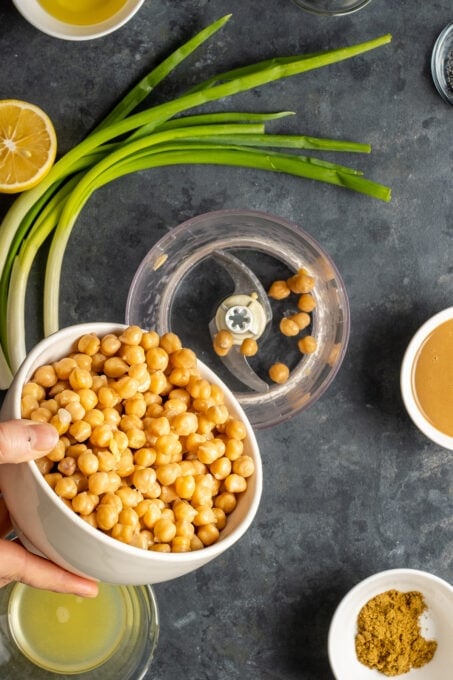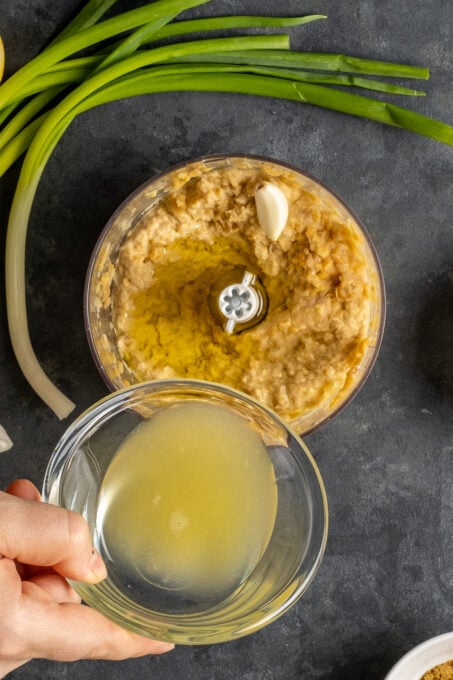 Prepare the chickpeas: If you are using dried chickpeas, make sure to soak and boil them first until tender. If you are using canned chickpeas, you HAVE TO rinse them well to remove the excess salt.
Blend the chickpeas with water in a food processor: Add in the rest of the ingredients and blend well. Adjust the consistency by adding more water until you reach the desired creaminess. Transfer it into a bowl.
Make the hot oil sauce: We will be serving this hummus in the traditional Turkish way. Heat some olive oil in a saucepan and add in paprika. Heat them together for 15-20 seconds on low heat.
Garnish and serve: Drizzle the hot sauce over the creamy hummus and top with chopped parsley and sumac. You can sprinkle red pepper flakes and sesame seeds as well if you like. Serve with bazlama bread, pide bread or pita chunks on the side.
Variations
With Yogurt:
Although it is not traditional, a thick strained yogurt (Greek style yogurt) is sometimes added along with tahini. It adds a nice creaminess to the final result.
With Cheese:
This is another variation of Turkish hummus you can find in Adana, a city in the south of Turkey. Hummus is transferred into small earthenware clay pots (or any oven-proof bowls) and topped with a generous amount of grated cheese. They use an unsalted local cheese for this recipe and you can substitute grated mozzarella for it.
Then the cheese topped hummus is baked in the preheated oven until the cheese melts. It takes only a few minutes.
With Pastirma:
If you are a meat lover, you will fall in love with this hummus with pastirma topping. Pastirma is cooked with some oil or butter in a saucepan and then placed over hummus when serving.
Serving Suggestions
There are thousands of modern and trendy ways hummus is being served, however, very few beats the traditional ways.
As you can see from the recipe, we use a hot oil paprika drizzle. There are various hummus toppings to choose from, but we love topping our creamy hummus with chopped parsley and sumac. Sometimes we use hot red pepper flakes or seeds like sesame or poppy seeds as well.
As a side, we serve it with delicious bread like lavash and lemon on the side. In local restaurants in the Southern part of Turkey, they always serve hummus warm for lunch accompanied by sliced cucumbers, tomatoes, pickles and onions on the side.
Also, we love to pair hummus with several dishes like grilled halloumi cheese, chicken kabobs and vegetable kebabs.
Storage
Unfortunately, homemade hummus doesn't have an infinite shelf life. Because it is made from fresh ingredients, it will generally only last a few days. Hummus should be stored in the refrigerator in an air-tight container.
Your homemade hummus will last between 3-5 days. When kept in the freezer, it will last up to 8 months – but only if stored following proper procedure and food safety guidelines.
Also, if you are looking for ways to use hummus in other dishes, check out the things to do with hummus.
How To Fix The Consistency
Sometimes the consistency of the hummus dip turns out a bit strange, but don't fear, as we have all the solutions you'd need. If your consistency is too thin, simply add more chickpeas.
If your consistency is too thick, simply add more water. You can also slowly add the water instead of all of it at once. This way you can control the consistency better.
Sometimes the lemon-flavor is too overpowering, but again, it is very easy to fix by simply adding more chickpeas.
Be careful when seasoning your homemade hummus, as too much salt is very difficult to fix and can only be done by adding a ton more chickpeas.
Tips
If you are using canned chickpeas, check if they are soft enough. If they are firm, I'd suggest you to cook them in boiling water for 10-15 minutes so that they are wonderfully tender and fall apart. Blend them when they are still hot. I find this results in a creamier hummus.
Use a food processor to have the best hummus. You won't have a good result with anything else.
Don't leave cumin out. Besides giving a nice subtle flavor, cumin relaxes your stomach. Your belly needs this after having chickpeas and tahini, which might cause indigestion and gas.
You can create your own toppings for your hummus bowl. Check out how we sometimes get creative about garnishing ours.
FAQs
Can you make hummus in advance?
Yes, you can make hummus a few days in advance, however keep in mind that it will only last around 3-5 days in the refrigerator.
Can you freeze hummus?
Hummus freezes very easily if you follow the correct steps. It will increase the shelf life to around 6-8 months. Place the hummus, without any toppings or oil drizzles, in an airtight, odor, and stain-free container. Make sure the container is freezer safe. Place a sheet of plastic or saran wrap on the skin of the hummus, and close with an airtight lid. To thaw, place the hummus in the refrigerator a day before you need it. It should slowly thaw to prevent an excessive build-up of water and a major texture change.
Is it cheaper to make your own hummus?
Hummus isn't very expensive to buy or make. The real difference comes in the quality. Store-bought hummus will never be the same excellent quality that homemade hummus is. Making your own hummus will also result in better taste and texture.
Should you remove the skin of the chickpeas before using them?
It is not necessary to remove the skin of the chickpeas. If you boil dried chickpeas, or if you are using canned chickpeas, the skins are already soft enough and when blended, they won't even be noticeable. If you are one of those perfectionists who want their hummus as smooth as mayo though, I found an interesting method on Cook's Illustrated to skin chickpeas easily. They suggest using baking soda. Please go read the article to learn how.
Is Hummus Vegan?
Hummus is 100% vegan, no matter which recipe you make! The only way to make it non-vegan is by using non-vegan toppings.
As always: If you make this recipe, let us know what you think by rating it and leaving a comment below. And post a pic on Instagram too—tag @give_recipe so we can see!
Sign up for the FREE GiveRecipe Newsletter to get the new recipes into your inbox! And stay in touch with us on Facebook, Pinterest, YouTube and Instagram for all the latest updates.
Print
📖 Recipe
Turkish Hummus With A Spicy Topping
A classic creamy hummus with simple ingredients. Quick and easy to make.
Author: Zerrin & Yusuf
Prep Time:

5 minutes

Total Time:

5 minutes

Yield:

4

servings

1

x
Category:

Appetizer

Method:

Blending

Cuisine:

Middle East

Diet:

Vegan
1

can chickpeas (15oz/425g/1 and ½ cups), rinsed and drained

⅔ cup

water or more if needed

1

clove garlic

1 tablespoon

olive oil

3 tablespoons

lemon juice

½ teaspoon

cumin

½ teaspoon

salt

½ cup

tahini
Optional Topping:
2 tablespoons

olive oil

½ teaspoon

paprika

1 tablespoon

chopped herbs like parsley, fresh dill or green onions

¼ teaspoon

sumac

¼ teaspoon

seeds like sesame seeds, poppy seeds or nigella seeds
Instructions
Put chickpeas and water in a food processor and blend until chickpeas are mashed. 

Add in garlic, olive oil, lemon juice, salt, cumin and tahini. Blend until smooth. Add more water if needed for a creamy result. 

Taste and make adjustments. You might need to add a little extra salt or lemon juice or maybe tahini depending on your taste.

Transfer the hummus in a bowl and make swirls using a teaspoon.

For the topping, heat olive oil in a saucepan. Add in paprika and heat them together for about 15-20 seconds on low heat.

Drizzle the hot oil sauce over the hummus. Garnish with herbs, sumac and seeds. Serve with pita or pide bread. 
Notes
Store the leftover hummus covered in the refrigerator for up to 5 days. Bring it to room temperature before serving.

Don't leave cumin out. Besides giving a nice subtle flavor, cumin relaxes your stomach. Your belly needs this after having chickpeas and tahini, which might cause indigestion and gas.
Nutrition
Serving Size:
Calories:

246

Sugar:

0.3 g

Sodium:

419 mg

Fat:

19 g

Carbohydrates:

14.8 g

Protein:

7.1 g

Cholesterol:

0 mg
Keywords: classic hummus recipe, authentic hummus dip, homemade hummus, how to make hummus
You might also like: