Have you ever tried cooking with clay pots? You can make nutritious and juicy casseroles and stews with these special earthen cookware. Let's learn how to choose clay pots for cooking and how to take care of cooking clay pots including how to season them, clean them, and store them effectively.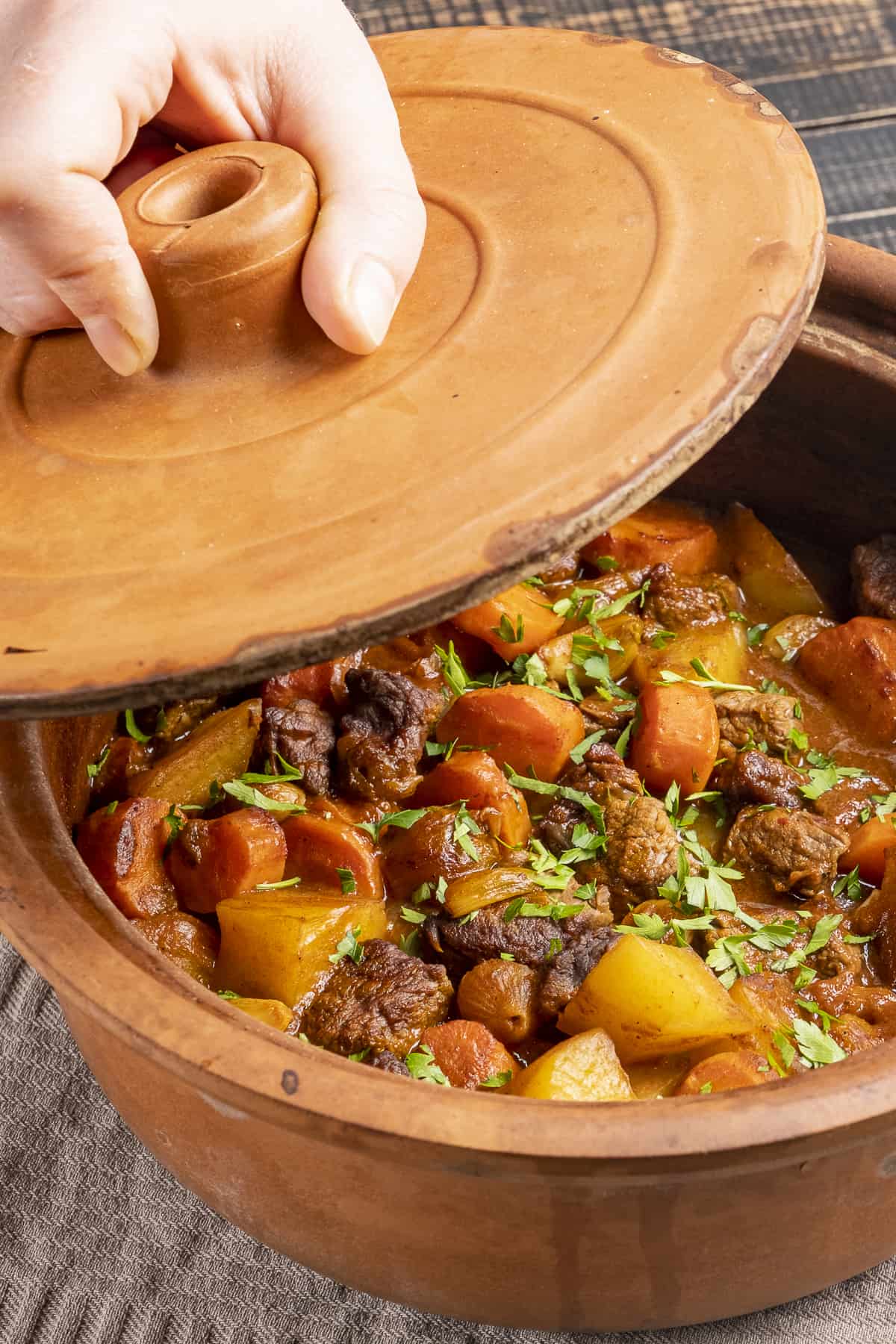 Clay pots are famous for their slow-cooking. The dish becomes richer with an authentic flavor when cooked in these all-natural earthen cookware. If you have no experience with them, our flavor-packed Turkish casserole with beef could be a good start.
Did you know you can even bake desserts in clay pots? If you have a sweet tooth, you might want to see our Turkish rice pudding baked in small clay bowls.
Jump to:
What is a clay pot?
These pots are used to make a ton of one-pot dishes including chicken, lamb, beef, vegetables, beans or seafood. You can even cook puddings or bake bread in this earthen cookware. All the dishes cooked in these authentic pots come out tastier with an aromatic smoky taste.
Clay pots are a broad category of glazed and unglazed earthen cookware. There are a variety of designs, but they are generally round pots of varying sizes which also come with lids. As the name suggests, they are made of clay, so they are not the same as regular stainless steel cookware in terms of cooking and cleaning.
What makes these clay pots so incredibly great is the benefits they often have. Cooking with clay pots helps trap moisture a lot better as compared to more modern materials, like aluminum. It also helps retain natural oils from the food which prevents you from constantly adding more.
Furthermore, they are an excellent conductor and retainer of heat and can be used on flames, electric stovetops, and even inside of an oven. Essentially, they are a type of clay dutch oven.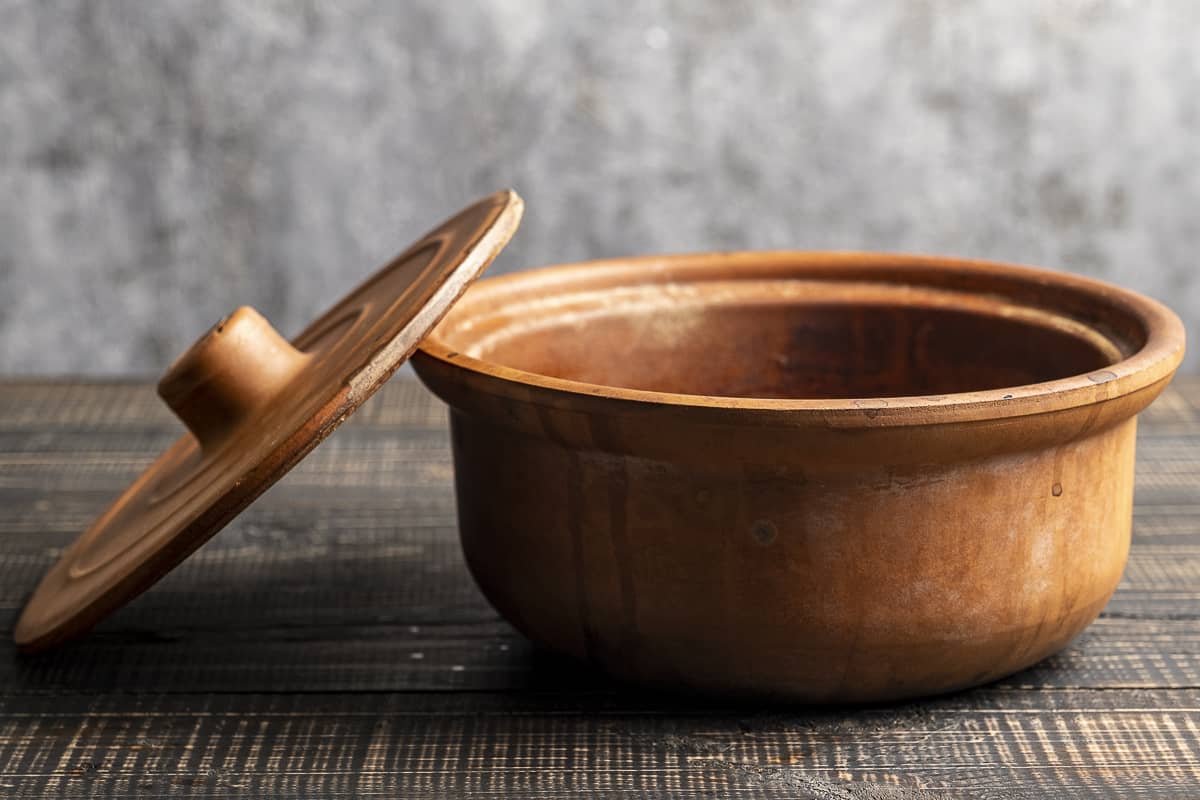 Are Clay Cooking Pots Safe?
You can find clay cookware in two categories: Unglazed and glazed. It is safe to use both of them as long as they are produced properly.
The clay itself doesn't contain any harmful or toxic materials. So the cookware should be made from pure clay. A purity test has to be conducted before and after the production process. Unglazed earthenware made from pure clay is safe to use (source).
However, a lot of companies produce glazed clay cookware to reduce leaks when you cook food inside them. Also glazed pots look more attractive and they are naturally non-stick and much easier to clean. When buying glazed clay pots, make sure they are lead-free. Lead-based glaze might be hazardous to health if it is not formulated and applied properly (source). If you are concerned about the toxicity of the glaze itself, make sure to read the label. It has to be labeled as "food safe".
Avoid cooking in highly decorated clay pots as it is a sign showing that they might contain harmful substances. It is always better to buy earthen cookware from big and reliable companies as they have to follow the regulations by law.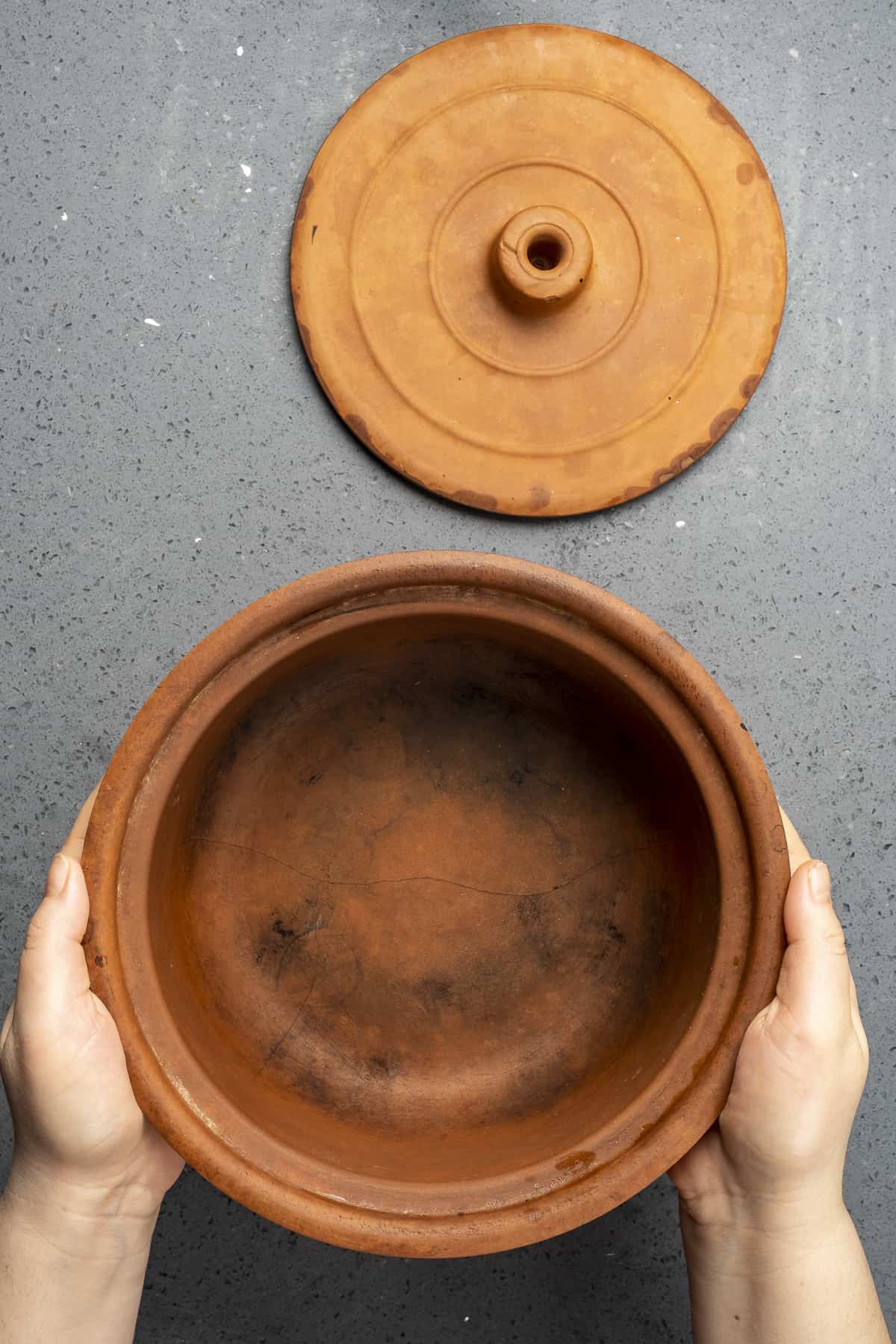 How to Choose Clay Pots for Cooking
If you can, before making any other considerations, choose a product that is made from only primary clay. This clay doesn't contain any natural contaminants. Because the material itself is very elastic, producers also don't have to add chemicals to shape it. Therefore, it is a completely safe material without additives.
Next, you can decide on the shape and size you want. Generally, these pots are spherical in some way and always come with a lid. However, there are also other forms of pots like mini clay pots for individual portions.
You can also consider glazed and unglazed pots. Each has its pros and cons. For example, glazed pots are less porous and can even be washed in the dishwasher. Look for lead-free products if you are buying glazed clay pots. Unglazed pots, which are naturally safe to cook food, should only be washed by hand to prevent them from absorbing too much water. Also, they often retain moisture much better and evenly conduct heat.
And finally, make sure to choose something that is of high quality and affordable. Most of these pots are very durable and functional, so read some reviews on the specific model you are looking at.
How to Season Before First Use
Cooking with unglazed clay pots need some preparation, especially before their first use. This will help them be more durable and last for a long time.
Soak the pot and lid in water overnight. The next day, dry the pot completely.
Then with a piece of paper towel, rub all the unglazed areas (inside and outside of the pot and the lid) with some oil or use a brush for this. Make sure it is very well oiled. Place the pot and the lid in a cold oven and heat it to 325°F (170°C) for 2 hours. Then, turn the oven off and allow the pot to cool for 4 hours (in the closed oven).
Wash it with water and let it dry completely.
How to Clean
We don't recommend a dishwasher for cleaning clay pots. High temperature and detergent in the dishwasher damages the seasoning of clay cookware.
To clean a type of clay casserole dish or pot, first, make sure that it has been cooled completely. If there is any food stuck in the pot, soak it before simply scraping away. Lukewarm water works best for soaking. But, when cleaning the pots, always use hot water.
Never use soap or chemicals on unglazed or partially glazed clay pots and dishes. They are extremely porous and will be affected by detergents. If you are concerned about the growth of harmful bacteria, you can always heat the pots in a dry oven for about 30 minutes. This will kill any remaining bacteria.
You shouldn't use metal scours when cleaning any type of clay cookware. But, you can use hard bristle sponges with warm water.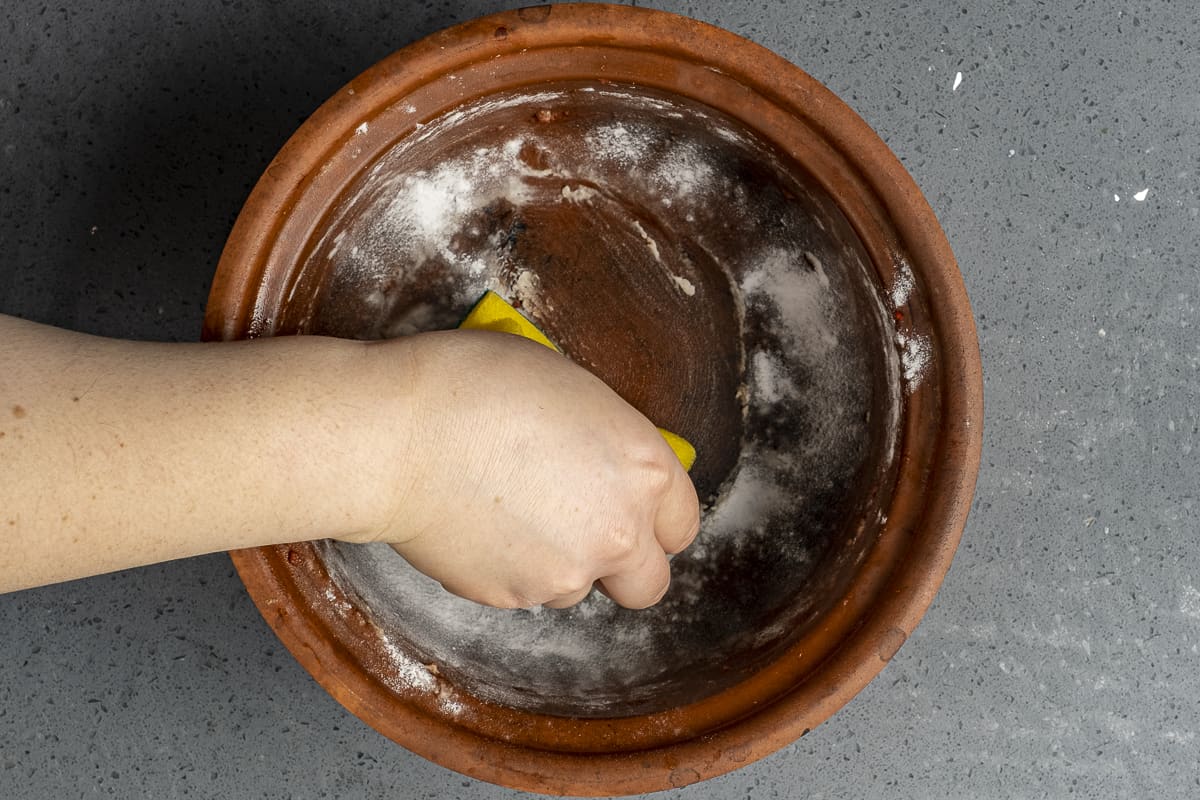 After several times of usage, you might feel an unpleasant smell in clay pots. To get rid of that smell, sprinkle about a tablespoon of baking soda and a splash of hot water in the pot and rub with a sponge. Rinse well and let it dry completely.
How to Store
Always store the lid inverted inside of the pot. This will protect the lid handle from breaking off. Then, you can always add a layer of kitchen towel between the pot and lid to further prevent any scratches or chipping.
Always make sure that your pot has been completely dried and cooled before storing it. Place it in a cool dry place.
If any mold starts to form on the pot, simply apply a baking soda paste on the pot. You can make a mixture of 1 part baking soda and 1 part water. Allow the mixture to sit for 30 minutes before scrubbing the pot with a sponge. Rinse it well, allow it to dry completely, and store it again.
Expert Tips
Don't put the hot pot directly on the cold or cool counter. Place a thick kitchen towel on the surface and then out the pot on it. Otherwise, you might damage both the pot and the surface.
Don't keep the leftovers in a clay pot. Otherwise, the pot will absorb all the flavors and the smell of the food.
It might be better not to cook savory and sweet dishes in the same clay pot. The flavors might be affected otherwise.
To remove unpleasant smell or stubborn stains from your clay pot, clean it using a sponge, baking soda and hot water.
Clay Pot Recipes
There is no shortage of recipes you can make in clay pots. As we have said before, it's essentially a clay dutch oven. So, you can use this pot to make delicious casseroles, stews, soups, rice puddings, and roasts.
Some traditional Turkish güveç recipes include a dish called türlü güveç, which is a vegan vegetable casserole, chicken guvec, which is made with vegetables and chicken and kuzu guvec, which is made with diced lamb.
You also get a seafood version, baked prawns called karides güveç which contains shrimp, tomato, and mushroom. It is also quite traditional to cook braised green beans with tomatoes and kuru fasulye (Turkish beans) in clay pots.
It is also traditional to use clay pots for making yogurt. You have a thicker yogurt when you make it in a clay pot.
You can even explore different cuisines for other ideas. Have a look at the dishes specifically designed for clay pot cooking such as Hong Kong style clay pot rice, Chinese chicken and mushroom clay pot rice and roast clay pot lemon chicken.
FAQs
Can you cook in clay flower pots?
You can, as long as the pot is completely new and made from the right materials. Many fine dining restaurants use these pots to make individual bread. You can follow the same preparation techniques, cooking techniques, and cleaning techniques we have mentioned above.
Can you use clay pots on an electric stove?
You can use these pots on an electric stove, but take great care when doing so. Do not use instant high heat as thermal shock may cause the clay cookware to crack. Clay pots will not work on induction tops as they contain no metal that heats the pot.
Are clay pots healthy?
Cooking in clay pots is considered healthy as they retain a lot of nutrients including calcium, phosphorus, iron, and magnesium. They also retain moisture in your food and allow you to add less oil. But make sure they are unglazed or lead-free if glazed.
As always: If you make this recipe, let us know what you think by rating it and leaving a comment below. And post a pic on Instagram too—tag @give_recipe so we can see!
Sign up for the FREE GiveRecipe Newsletter to get the new recipes into your inbox! And stay in touch with us on Facebook, Pinterest, YouTube and Instagram for all the latest updates.