It is always healthier to make something at home and yogurt is not an exception! To make your own yogurt is so easy when you know the necessary tips, and it just needs time. However, people don't bother making their yogurt these days, they just buy it from grocery. Women don't think of making yogurt until they are pregnant or have a baby. I was very lucky as a child because I don't remember a single time when mom bought it from grocery. Actually, it wasn't that common about 20 years ago in Turkey, so moms would always make yogurt at home. Mom didn't give up making yogurt even after markets started to sell it. As a lifetime learner in kitchen, I absolutely owe her a lot. I've been making yogurt since she taught me how. Before taking about the tips, I want to share a tradition we had when packaged yogurt wasn't yet on the market. To make yogurt, you need a starter (a little yogurt to mix with milk). I remember moms send their children to a neighbor to ask for the starter when they ran out of yogurt. As a child I did it too, but not very often as my mom was such a wise woman that she would always save a little yogurt to use as a starter before we finished it up. Moms would give their children an empty tea glass (little one) and send them to a neighbor. They would use that small tea glass meaning that they needed just little. They would ring their neighbor's door and say "Mom asks if you could borrow a little yogurt as a starter?" giving the empty glass. And the neighbor would glady take the glass and fill it with yogurt. Nice tradition, isn't it? Maybe it still lives in small places.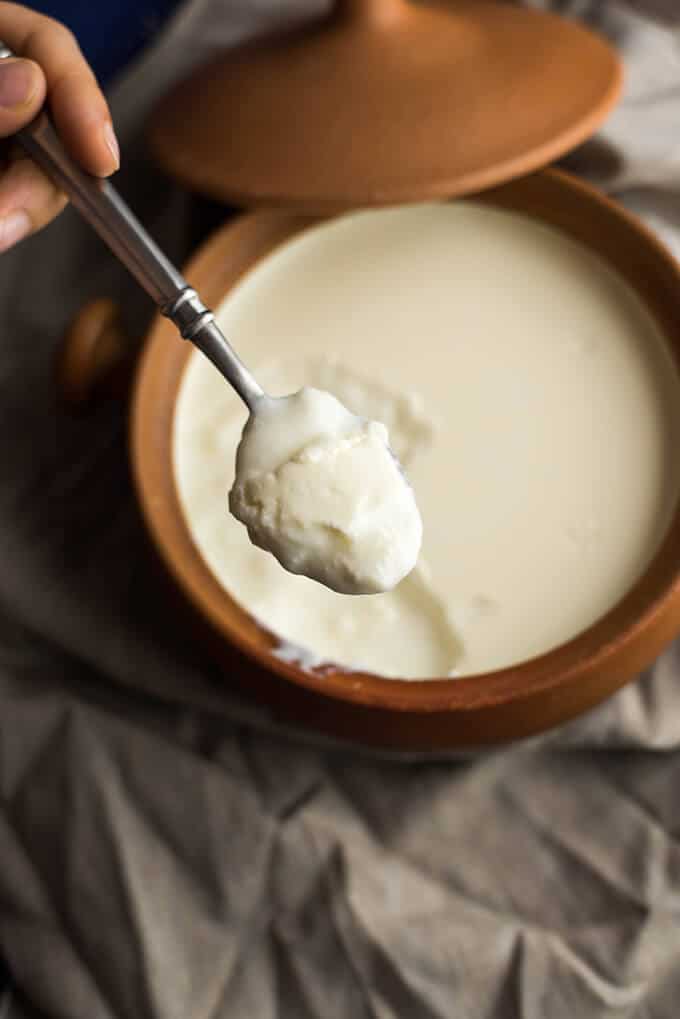 We need some tips to reach perfection!
Don't take milk from stove just when it boils. Keep boiling it for about 15 minutes to have thicker yogurt.
To understand whether milk reaches the right temperature, use your finger if you don't have a thermometer. dip your finger into hot milk, if your finger can bear its heat inside for some seonds (not more), it's ok. It mustn't be too hot or less hot than necessary. If it is too hot, you will get a sourish yogurt and if it doesn't reach the right heat, it takes longer time to get the result.
Wait the milk-yogurt at the warmest place of your home. Take the pot with hot milk to this place and wait it here to reach the right temperature. It warms this place at the same time, which is a necessary step for thick yogurt.
Put a thick blanket or under the pot (one of your pullowers will work just fine for this, its arms can hug the pot to protect it from cold). And then mix it with the starter in the way explained above. You can pour it into jars at this step if you like.
Put the lid on the pot, but don't cover it completely as your milk-yogurt needs some air inside. You can even use a suitable colander instead of its lid. This will help evaporation and yogurt will not be watery.
Then cover the pot with another blanket very well. Don't forget we must protect it from cold.
Wait it about 3 hours in summer when it is very hot, and at least 6 hours in Winter. Check it after this given time and if it is still not thick enough, keep waiting for some more hours.
Uncover it completely and wait it for 1 or 2 hours even without the lid.
Gently place it refrigerator and wait it there for a day to have a better result.
You can place paper towel on the surface of yogurt if it's still so watery. These will absorb excessive water in it. You can throw the paper towel away and put a new one each time you take yogurt from the pot.
So how can we make perfect homemade yogurt?
Print
Homemade Yogurt
Homemade yogurt is the best!
Scale
Ingredients
1

liter milk

1 tbsp

yogurt, as a starter
Instructions
Basicly boil milk in a pot.
After taking it from stove, let it reach the right temperature (about 45 C).
Put 1 tbsp yogurt in a small bowl. Mix it with a few ladles of hot milk until smooth and pour it into hot milk. Mix well.
Take the pot to a warm place. Cover the pot with a thick blanket to protect it from cold.
Wait it for 3 hours, uncover it wait for about an hour and then put it into refrigerator.
Wait it there for about at least 6 hours (24 hours is the best) and then you can enjoy this delicious homemade yogurt.
IF YOU LIKED THIS RECIPE, YOU WILL LOVE THESE TOO: