Turkish Borek with Cheese and Herbs is the best savory pie you can ever have in your life time. Flaky, tender and filling, these make perfect savory snacks.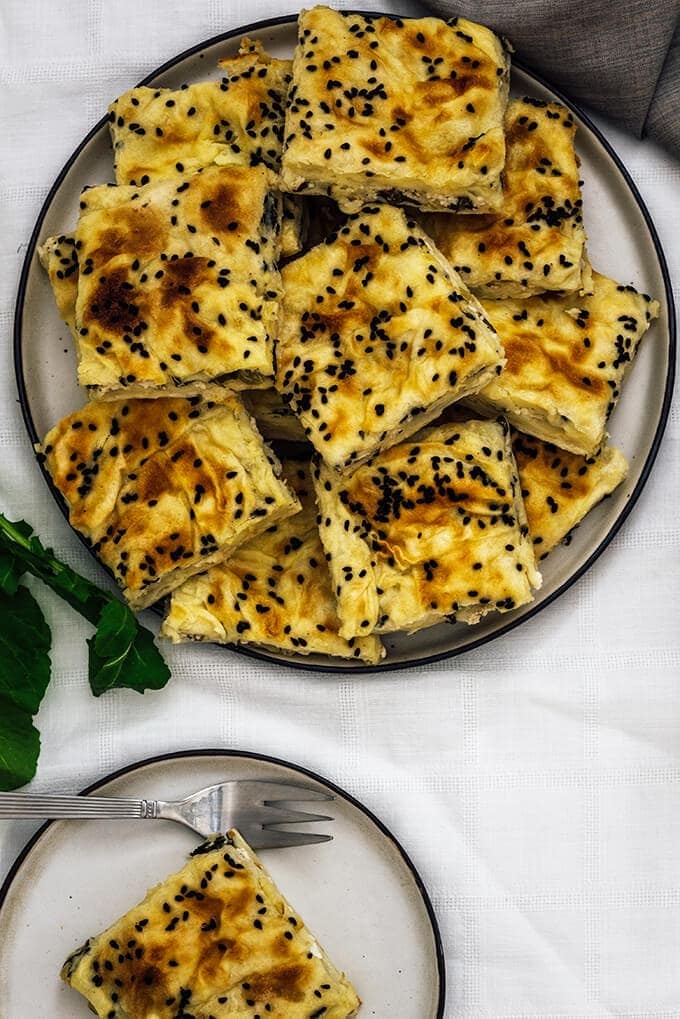 You might have noticed that I've been posting our favorite dishes from Turkish cuisine for some time. After posting Homemade Turkish Meatballs and Turkish Potato Salad, it's time to share a good borek recipe with you. Layered with super thin phyllo sheets that are sticked one another with a yogurt, eggs and olive oil mixture, filled with a mixture of cheese and herbs and topped with nigella seeds, Turkish borek is the best vegetarian treat too.
In Turkey, there are small shops where local women make and sell phyllo sheets called yufka in Turkish. These shops are the best place to buy phyllo sheets as they are wonderfully thin and always fresh there. They are made only with 3 ingredients; flour, water and salt but it's not easy to make them that thin at home. You really need to be skilful for that. If you want to try the recipe for Turkish borek, you can look for Turkish yufka or Turkish phyllo sheets in Middle Eastern markets or online stores. If they are frozen, bring them to room temperature first and then start making your borek.
MY LATEST VIDEOS
You can see several types of Turkish borek recipes all around the country. Although their shapes and the fillings might differ, they all require the same thing: phyllo sheets. I'm sharing the easiest classic borek recipe here.
My favorite filling is a mixture of cheese and herbs but you can use whatever you like. Ground beef sauted with onion, boiled potatoes or other vegetables like spinach or zucchini make great borek fillings too. You can even use chicken in borek as in this amazing Cullama which was generously made and photographed by one of my favorite bloggers Ilke when I was about to deliver my son nearly 4 years ago. Thank you so much Ilke for your help!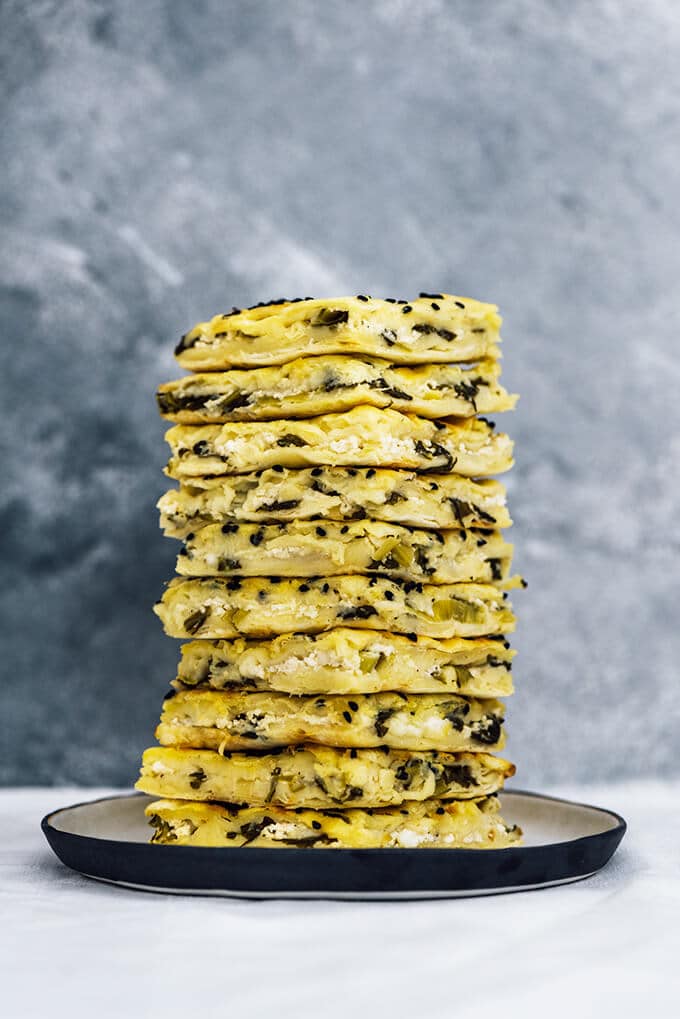 Unlike the cheese filling, you need to cook those fillings before spreading on the sheets.
If you have any ideas about traditional Turkish breakfast, you know how big and rich it is. Borek is one of the best breakfast foods. Moms always make a kind of borek in the morning of a special occasion. As a working mom, I love the idea of making a big baking sheet of borek, put it sliced in the refrigerator and heat in the morning for a quick breakfast. Turkish borek freezes well too.
See our other chocolate recipe videos here:

Print
Turkish Borek with Cheese and Herbs
A wonderful savory pie layered with super thin phyllo sheets, cheese and herbs. Each phyllo sheet is brushed with an egg, yogurt and olive oil mixture so that they stick together and have a tender result.
Author:
Prep Time:

15 minutes

Cook Time:

40 minutes

Total Time:

55 minutes

Yield:

8

Category:

Breakfast

Cuisine:

Turkish
Ingredients
4 phyllo sheets
4 eggs
2 cups yogurt
¼ cup tablespoons olive oil
For the Filling:
½ cup feta cheese, crumbled
¼ cup parmesan or any cheese you love
3 green onions, chopped
2 leeks, chopped
½ cup parsley, chopped
¼ cup fresh dill, chopped
For the Topping:
2 tablespoons nigella seeds
Instructions
Combine all the ingredients for the filling and put it aside.
Mix eggs, yogurt and olive oil. Set aside.
Preheat the oven to 350F (180C).
Slightly grease a baking sheet (mine is 14X16 inches). Layer the first phyllo sheet in the baking sheet in a way that the sides are overhanging. Brush its top roughly with the egg and yogurt mixture. Tear the overhanging parts and just place them on the phyllo sheet that is brushed with the mixture so that they cover the first layer as much as they can. They don't have to be perfect. Brush the top of torn phyllo sheet pieces with the mixture. Place the second phyllo sheet in the same way. Brush with the mixture. Torn its overhanging pieces, place them on the top and brush with the mixture.
Spread the filling evenly on the top of this layer. Place the third phyllo sheet over the filling, brush with the mixture. Tear the overhanging pieces, place on the third layer. Brush with the mixture. Finally, place the fourth pyllo sheet and brush with the mixture. Tear the overhanging pieces, place them on the last layer and drizzle all the rest of the egg and yogurt mixture on the top. Spread it evenly using a brush.
Slice the borek in squares and sprinkle with nigella seeds.
Bake it for 40-45 minutes or until its top is golden.
Remove it from the oven and cover it with a large clean towel and let it cool. This will keep your borek remain tender.
IF YOU LIKED THIS RECIPE, THEN YOU WILL LOVE THESE: