Layers of super thin and flaky buttered phyllo sheets are filled with nuts and sweetened with baklava syrup to make the best Turkish Baklava. Make it at home with this easy baklava recipe and enjoy a whole pan with your beloved ones.
Syrup desserts have a special place among all Turkish foods. Although baklava is on top of the list, we are not limited to it. Pistachio kadayif, kanafeh and tulumba are just a few examples.
How much do you know about Turkish food? I'm sure you are familiar with our shish kabob. What about desserts? You probably know Turkish delight lokum too but there are a lot more sweets in Turkish cuisine.
Are you one of those big fans of Turkish Baklava? Do you sigh whenever you crave it because you don't know how to make it at home? Don't worry! Please read on. As a Turkish couple, we love to share recipes from our cuisine on the blog from time to time. Hope you love it too!
Where Is Baklava From
Well, this is a very controversial topic and several nations including Turks, Greeks, Arabs, Armenians and Bulgarians claim that they own the origin of baklava. There is no agreement on where it was first made, but it's obvious that every nation has made its twist on baklava. Since it is the historians' job to find the reality, I just want to say a few things about Turkish baklava history.
The world-famous baklava dessert, which we always have room for, had a very important place in the Ottoman Empire, especially in the fifteenth century. It is said that the form of baklava changed a lot in the past and it had its current form in Topkapi Palace kitchen in Istanbul during the Ottoman Empire period. Baklava was served at all special occasions like wedding ceremonies, festivals and religious events. It was the dessert of any celebration.
It still keeps its special place in Turkish culture today although sweets like cakes or chocolate is in competition with it.
Making Baklava Dessert
Making Turkish baklava at home is a tradition to celebrate religious events like Eid. Other than this, it's not really common to make it at home. People prefer to buy it from pastry shops or small baklava shops.
By making baklava, I mean making Authentic Baklava Recipe from scratch. Not everyone has that skill to make baklava leaves at home though. As you can imagine, older ladies don't leave the job to anyone else. There is at least one lady in each neighborhood who is very good at making baklava and they certainly have more visitors during these religious celebrations.
On the other hand, younger people mostly prefer the easy way of making baklava. With packaged baklava phyllo sheets. Believe it or not, these baklavas come out as good as the authentic ones. There is no doubt it depends on the quality of the ingredients you use. So, try to use the best products when you decide to make this recipe.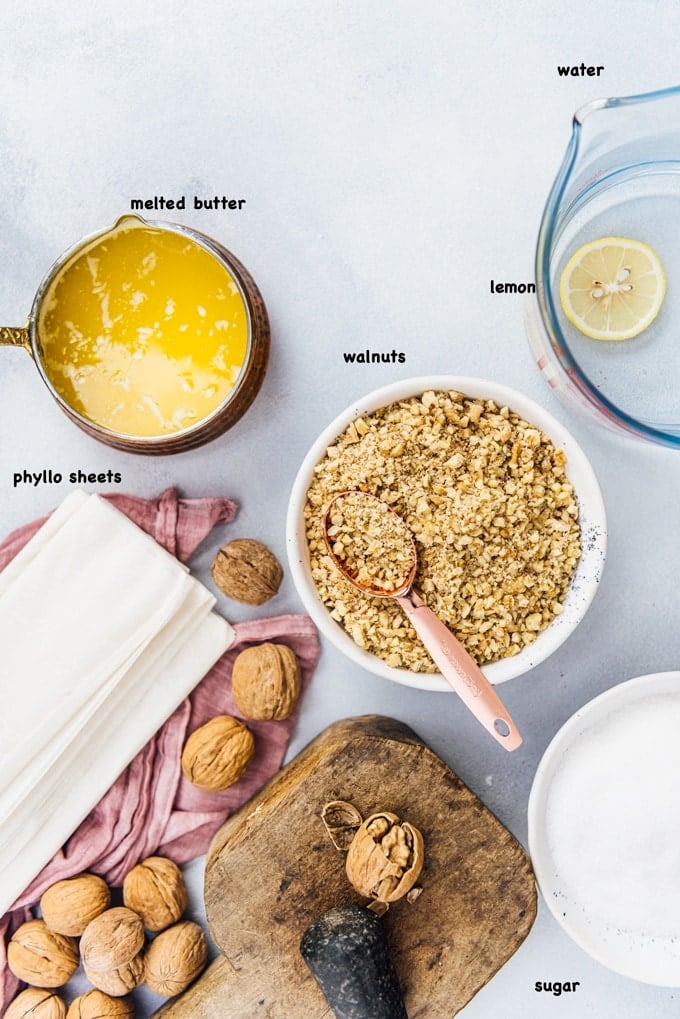 What Is Baklava Made With
Although it is a very special Turkish pastry that everyone craves for, it doesn't require anything fancy. Baklava is made with very simple ingredients:
Melted butter
Walnuts
Sugar
Water
Lemon wedge
What Is In Baklava Filling
As for the filling, there is a variety of it depending on the region it is made. Although Turkish baklava is well known with its pistachio filling, it's definitely not limited to it. Maybe because pistachio is not a very cheap product around the country, homemade baklava is mostly made with walnuts. Plus, every region has its own filling.
For example, because pistachio nuts are grown in the south east of Turkey, pistachio baklava is famous there whereas in central Anatolia, the filling is crumbled walnuts. In the west region of the country, it is possible to see baklava with almond filling and in the north, the filling is hazelnuts.
Here in this recipe, I use walnuts in the filling and ground pistachio as garnish on the top because I love them both. What to use for baklava filling is completely up to your taste. You can even use a mixture of all nuts together.
Turkish Baklava Recipe Easy
If you are not making phyllo sheets from scratch, it is really so easy to make baklava using packaged phyllo. What makes it a challenge for most people is the duration of preparing the layers of baklava in baking pan.
This easy baklava recipe has 6 easy parts:
First, make the syrup with water, sugar and a slice of lemon. Let it cool until you prepare and bake your baklava.
Second, trim the phyllo sheets to fit your baking pan.
Third, place the phyllo sheets in the pan, brushing each with melted butter. Sprinkle walnuts after every 5 phyllo sheets. You don't need to butter the phyllo on which you spread walnuts.
The order is as follows:
4 buttered phyllo sheets, 1 phyllo sheet with no butter, ½ cup walnuts (makes 5 phyllo sheets, 1 layer walnuts)
4 buttered phyllo sheets, 1 phyllo sheet with no butter, ½ cup walnuts (makes 5 phyllo sheets, 1 layer walnuts)
4 buttered phyllo sheets, 1 phyllo sheet with no butter, ½ cup walnuts (makes 5 phyllo sheets, 1 layer walnuts)
4 buttered phyllo sheets, 1 phyllo sheet with no butter, ½ cup walnuts (makes 5 phyllo sheets, 1 layer walnuts)
5 buttered phyllo sheets. Butter the top.
In total, we have 25 phyllo sheets with 4 layers of walnuts.
Fourth, brush the top with melted butter, cut it and bake until golden.
Finally, pour cooled syrup over hot baklava and let it sit until it absorbs the syrup, at least 4-5 hours.
How To Cut Baklava
Traditionally baklava is cut in diamond shapes. It might be a big deal if you have never tried it before, but it is not as hard as you think.
First, cut the raw baklava into vertical strips. Use a sharp knife for this and cut it all the way to the bottom of the pan so that the syrup spreads evenly. Then cut it diagonally to make that diamond shape.
Alternatively, you can just cut it into squares or rectangles. Shape doesn't matter at all. It is still your super tasty baklava. Right?
Turkish Baklava Syrup
The ingredients for syrup are water, sugar and a slice of lemon. Combine these in a pot. The ratio here is 2 and ½ cups sugar to 2 cups water. You can just put the lemon slice into the sugar and water combination and heat until it boils. Let it simmer over medium low heat for 15 minutes and cool completely. Lemon gives the consistency needed for the syrup. The best syrup is neither too thick nor too thin.
There is no additional flavorings in Turkish baklava syrup, but there are recipes with rosewater or orange blossom water. So if you want to enrich the syrup, go ahead and use them.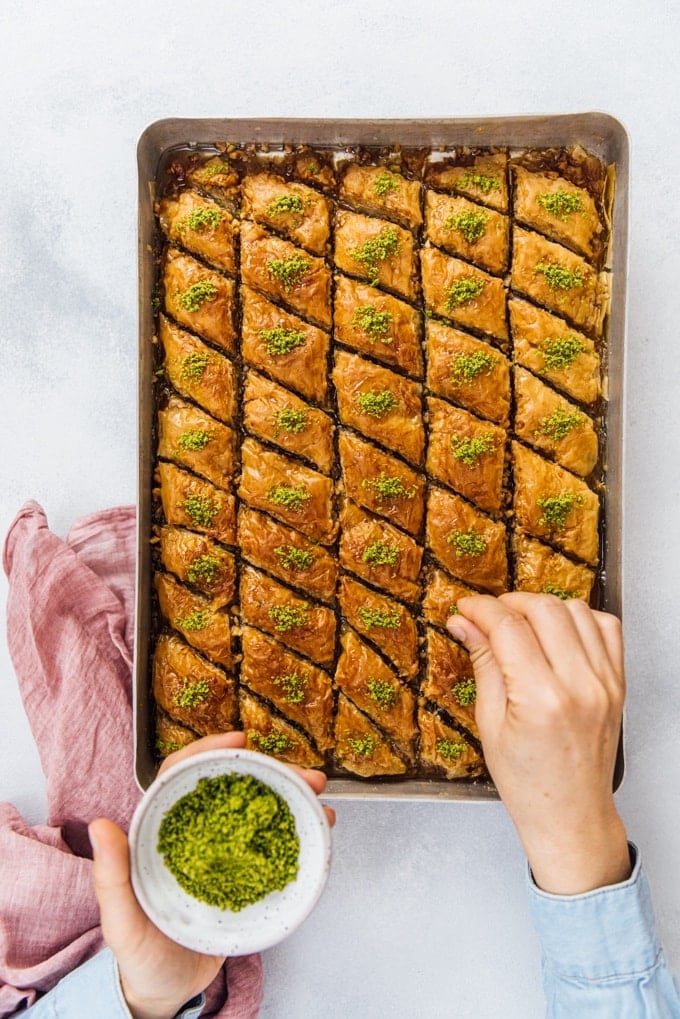 FAQs About Turkish Baklava Dessert
How Long Does Baklava Last?
Keep it covered in a container at room temperature for 1-2 weeks. Don't store it in the refrigerator, its texture might change as sugar crystalizes and the dessert will lose its moistness.
Can I Freeze It?
Yes, you can freeze it. Bake it, pour the syrup over it and let it cool completely before placing it in the freezer. Keep it in small batches in freezer bags so that you don't have to thaw all of them at once. Bring it out of the freezer in the refrigerator one day before you serve.
What To Serve With It
We either serve it with Turkish Tea or Turkish coffee, preferably with no sugar added as the dessert itself is already sweet enough.
Besides tea or coffee, some people love to pair their baklava with Turkish Ice Cream.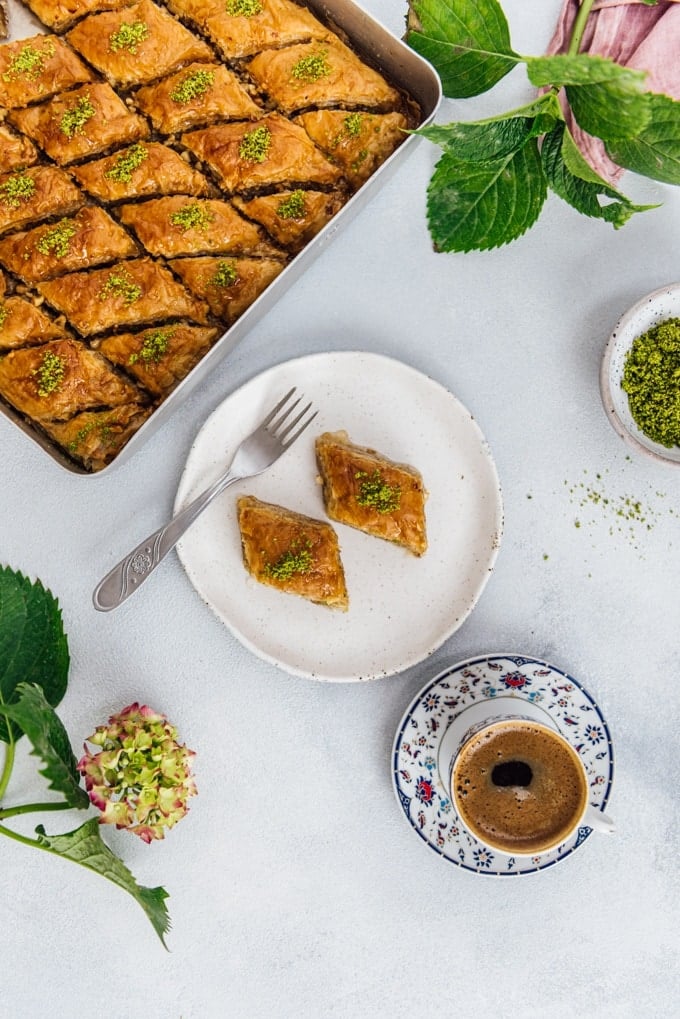 Best Baklava In Turkey
The best Turkish pistachios are produced in Gaziantep, which is a city in the south east of the country. So it's not surprising that the best baklava is found in this city. It is also famous for its baklava masters. The phyllo leaves made by these masters are so thin that you can clearly see the object or person behind it.
If you ever happen to visit Gaziantep, you have to see the Baklava Museum there. You will enjoy watching how the masters make baklava. It is like a live show of making baklava.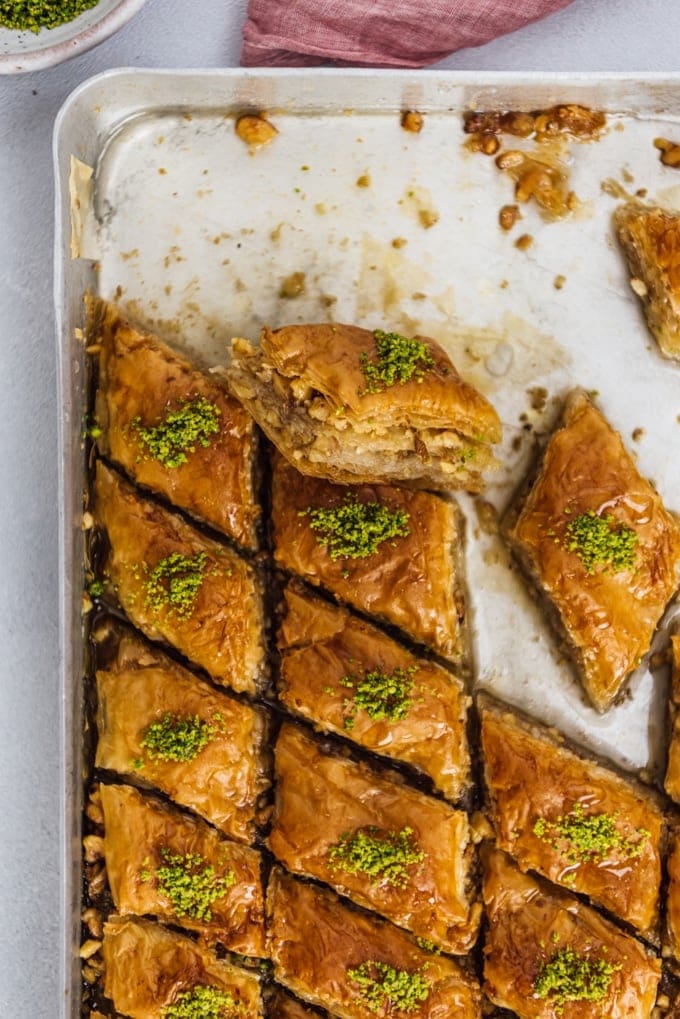 Other Turkish Desserts
As always: If you make this recipe, let us know what you think by rating it and leaving a comment below. And post a pic on Instagram too—tag @give_recipe so we can see!
Sign up for the FREE GiveRecipe Newsletter to get the new recipes into your inbox! And stay in touch with us on Facebook, Pinterest, YouTube and Instagram for all the latest updates.
Print
Easy Turkish Baklava Recipe
Super thin baklava leaves filled with walnuts and sweetened with baklava syrup to make the best Turkish baklava recipe.
Author: Zerrin & Yusuf
Prep Time:

1 hour

Cook Time:

30 minutes

Total Time:

1 hour 30 minutes

Yield:

40

1

x
Category:

Dessert

Method:

Baking

Cuisine:

Turkish
Baklava:
1

package phyllo dough (mine has

25

sheets), thawed

¾ cup

unsalted butter, melted (at room temperature not hot)

2 cups

walnuts, chopped

2 tablespoons

ground pistachio, for garnish
Syrup:
2

and ½ cup sugar

2 cups

water

1

slice of lemon
Instructions
Thaw the phyllo dough overnight in the fridge and then let it sit on the counter for about half an hour. Put it aside.
Prepare the syrup. Put the syrup ingredients in a pot. Heat until it boils. Let it simmer over medium low heat for 15 minutes and cool completely.
Trim the phyllo sheets to fit your baking pan. I used 25 sheets in this recipe and trim them all together. Cover them with a damp cloth so that the sheets won't dry out when you are working. Each time you place a phyllo sheet into the pan, make sure you cover the rest. They can easily dry out otherwise.
Preheat the oven to 390F.
Butter the bottom and the sides of a 9x13 baking pan.
Place one phyllo sheet in the pan and brush it with melted butter. Place the second phyllo over it and butter it too. Repeat this until you have 5 sheets in total.
Spread ½ cup walnuts over the 5th sheet evenly.
Repeat this until you have 4 layers of walnuts. Top the 4th layer of walnuts with 5 phyllo sheets, buttering each. Make sure you butter the top as well.
Using a sharp knife, cut the raw baklava into vertical strips and then cut diagonally. Make sure you cut it all the way to the bottom of the pan. Bake it at 390F for 30 minutes or until tops are golden.
Remove it from oven and using a ladle, pour cooled syrup over hot baklava. Let it sit uncovered for 4-5 hours so that the syrup spreads well into the layers.
Garnish with ground pistachio and serve.
Notes
The butter should be melted and at room temperature, not hot. And don't try to cover the surface of each phyllo sheet with butter. Just gently brushing it with butter will be enough.
You can adjust the amount of the syrup you pour over baklava. You don't have to use all the syrup for a less sweet baklava.
Don't forget to cover the phyllo sheets with damp cloth when buttering one phyllo sheet in the pan. Otherwise, they dry out and tear.
Nutrition
Serving Size:

1 slice

Calories:

188

Sugar:

5 g

Sodium:

82.1 mg

Fat:

15.7 g

Carbohydrates:

11 g

Protein:

1.3 g

Cholesterol:

10.9 mg
Keywords: baklava with walnuts, easy baklava, turkish baklava, baklava recipe