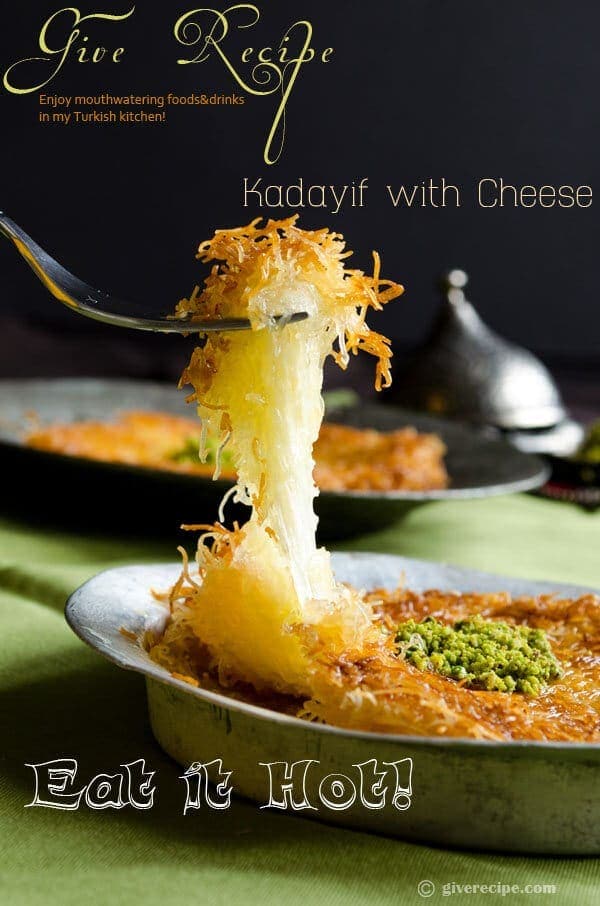 Kunefe is a heavenly Turkish dessert made with cheese and shredded Kadayif dough soaked in sweet syrup. If you find kadayif or baklava too sweet, you must absolutely try this sweet cheese pastry. What makes this dessert different from others is that it must be eaten hot, right after it is cooked. Also, it has a very well balanced combination of cheese and sugar, so it's not heavy and you can even ask for a second plate! The quality of cheese inside is pretty significant to reach this perfection. It must be an unsalted melting cheese so that it complements sweetness of the dessert.
Kunefe has two layers of shredded kadayif dough, which is combined with butter and a special cheese between them. You can die for the moment when the cheese inside melts and stretches by the time you grab a piece with a fork. It is mostly served with pistachio powder on the top or a dollop of ice cream or Turkish kaymak, clotted cream.
MY LATEST VIDEOS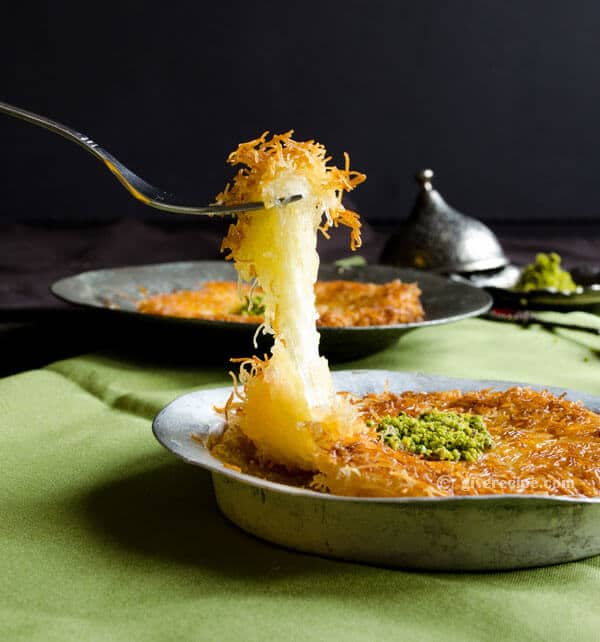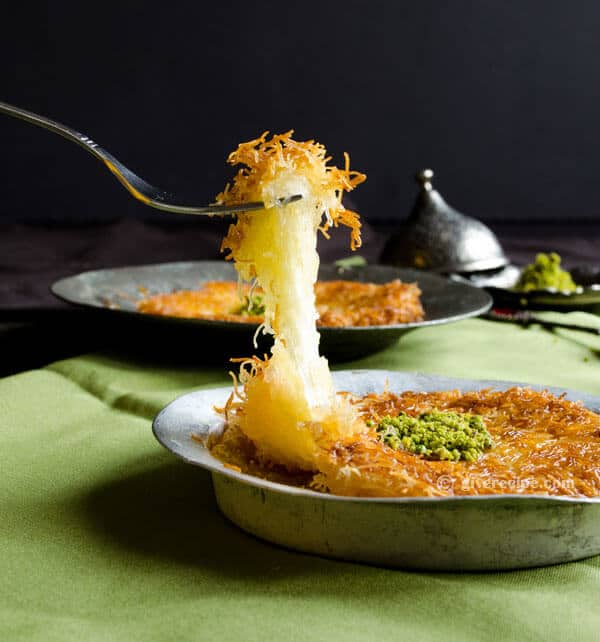 Kunefe is a dessert originally from Hatay(Antioch), a city on the South of Turkey, so it's the best when you use ingredients originally from this city. I know it's not possible for everyone, even for me! That's why I don't prefer making it at home.
We are so lucky that there is a great kunefe restaurant in our neighborhood, Amcabey Hatay Tatlıları and we can eat genuine kunefe there since they bring it frozen from Hatay.
We had a small interview with the owner of Amcabey for you to learn a bit more about kunefe. He was so kind that he saved some time to us when it was the busiest hour of day in the shop. It is Ramadan month here and people love desserts after iftar (dinner after fasting), right?
What he highlights about kunefe is that it is originally cooked over wood fire in very large trays. It has a very unique taste this way. However, since it's not possible in small shops out of Hatay, they bring it in small portions frozen from Hatay and cook in oven here. They prepare the syrup themselves though. Another significant ingredient for him is the cheese between kadayif layers. He says in a genuine kunefe, the cheese must be from Yayladağı, a town in Hatay borders, not all unsalted cheese kinds give the same flavor.
They have a very friendly and welcoming staff.
Although their most special dessert is kunefe, they also serve other desserts like baklava, kadayif, dilber dudagi, etc and cookies special to Hatay. What's more, they have some very unique products like pomegranate molasses, walnut jam, bitter orange jam, pepper paste and a special cheese of Hatay. You feel like you are in Hatay bazaar when you enter this shop. One shouldn't go there hungry, otherwise you spend a lot on these extremely tasty foods!
If you ever happen to visit Eskisehir, you must definitely visit Amcabey Hatay Tatlıları and taste their kunefe! I guarantee you will want to come back!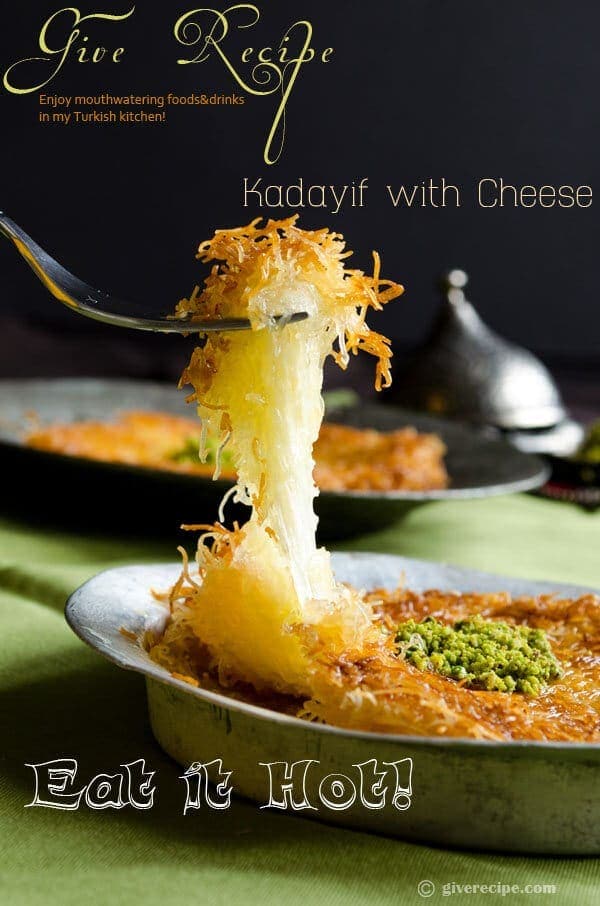 I totally understand what they mean with genuine ingredients for a good kunefe, but not everyone has the chance of finding these ingredients, so personally I think there could be substitutions. You will find the common homemade kunefe recipe below.
See our other chocolate recipe videos here:

Print
Kunefe Sweet Cheese Pastry
A heavenly hot dessert with kadayif shreds and unsalted melting cheese.
Prep Time:

15 minutes

Cook Time:

40 minutes

Total Time:

55 minutes

Yield:

6
Ingredients
Syrup:
1 cup water
1 cup sugar
Kunefe Kadayif:
150g shredded kadayif dough
100g butter
1 tbsp extra butter to brush the pan
100g unsalted melting cheese, chopped
1 tsp ground pistachio for topping
Instructions
Start with preparing the syrup. Pour water and sugar in a pot and bring it to boil.
Reduce the heat to medium low and simmer for about 30 minutes until it gets a little thicker. Let it cool.
Preheat oven to 190C.
Cut shredded kadayif dough into small pieces. You can do it in a food processor too.
Melt butter and combine kadayif shreds with butter very well.
Brush the bottom of a 9 inch pan with 1tbsp butter.
Spread half of the shreds in the pan evenly.
Toss over chopped cheese evenly.
Finish it by spreading the remaining kadayif shreds on cheese and press on them with your palm.
Bake it for about 40 minutes, until golden.
Pour lukewarm syrup over it as soon as you take it out of oven.
Let it absorb the syrup and serve immeidately while it's still hot with ground pistachio on the top.
IF YOU LIKED THIS RECIPE, THEN YOU WILL LOVE THESE: