Here is the best dry rub for chicken (chicken seasoning) that can be made in under a minute with pantry staples. It's an incredibly diverse spice blend that will help make the meat juicy, tender and add a ton of delicious savory flavors.
Chicken needs a good seasoning rub for a delicious taste. And you can easily make it at home with spices like paprika, garlic powder, onion powder and dried herbs. With this homemade rub, your BBQ chicken, baked chicken or air fried chicken will taste AMAZING!
Jump to:
What Is Dry Rub For Chicken?
A dry chicken rub, also called as dry marinade for chicken, consists of a mixture of dried herbs and spices that creates a delicious coating of flavor on the meat. They can also be used to help add some texture. For chicken specifically, it consists of only ingredients that pair well with the natural flavors of this meat.
These kinds of rubs are similar to marinades and basting sauces. The main difference is that they are dry. So, they work differently. Dry rubs are not used to tenderize meat but for their flavors.
A dry rub is applied before the cooking process starts. And it stays on the meat during the cooking process. This allows the meat to absorb the most flavor.
About The Ingredients
What we love about homemade spice blends like this is that you have the control about which spice to use. You can always play with the amount of them too.
Our dry rub ingredients are as follows, but feel free to add extra spices that you love.
Paprika: you can use sweet or smoked paprika depending on your preference. It makes up the bulk of the dry rub and adds a beautiful reddish-brown color to the meat.
Onion powder (or granules): A delicious savory flavor addition.
Garlic powder (or granules): Pairs incredibly well with chicken and adds a ton of savory flavors.
Brown sugar: Helps the caramelization process on the surface of the meat which simultaneously adds sweetness and balances the salty flavors.
Chili powder: An optional, but recommended addition. You can substitute cayenne pepper for it.
Dried oregano: You can also use Italian seasoning or dried parsley.
Dried thyme: Adds a delicious savory herbaceous flavor that pairs great with chicken.
Freshly ground black pepper and kosher salt: Must-add additions and can be increased or decreased to your liking.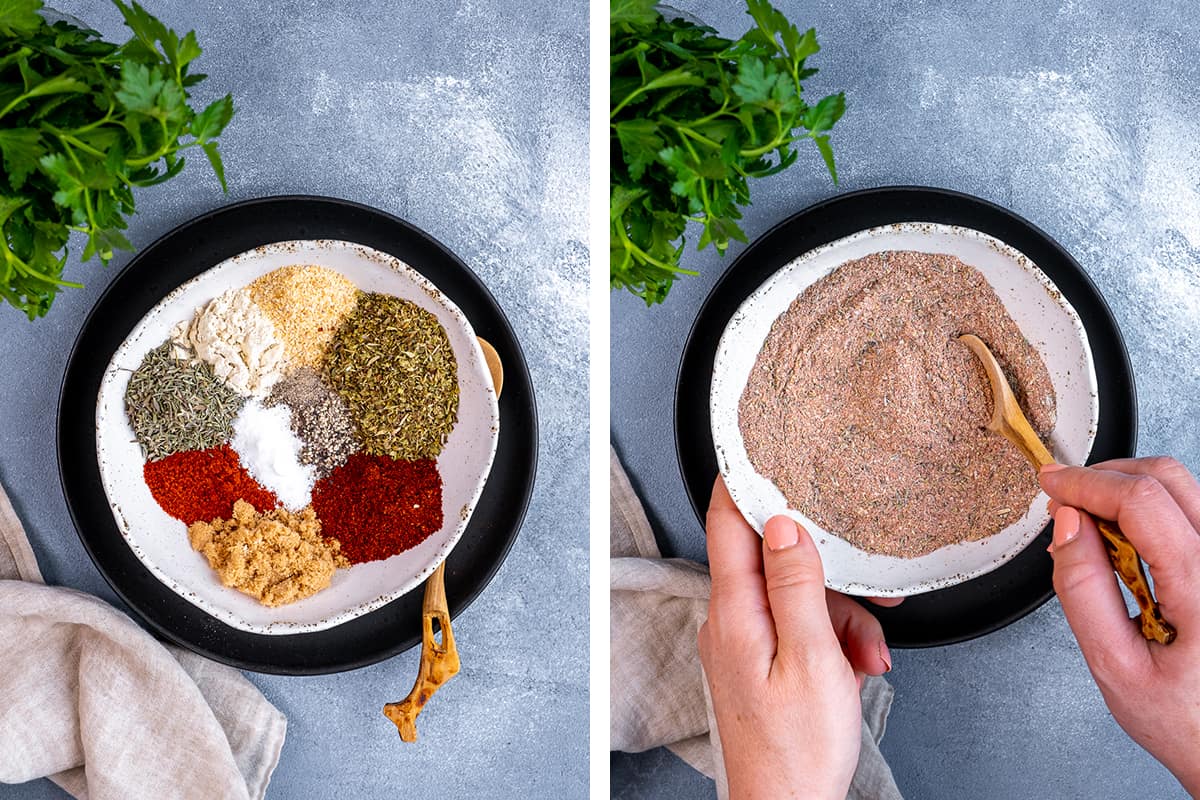 After preparing and measuring the spices you will use, the instructions are pretty simple. It literally takes one minute to make the best chicken dry rub recipe. Put the spices in a small bowl and stir them up. You can use it immediately or store in an airtight container at room temperature.
Make Your Own Twist
There are a couple of easy changes you can make to our dry rub for chicken recipe.
Add ground coriander or cumin that will pair well with the chicken and give it a heartier flavor profile.
You can also include some dried mustard powder, which will add a nice kick to the chicken seasoning.
And finally, if you love zesty flavors, incorporate some dried lime, lemon, or orange zest. Don't use fresh zest especially if you are planning to store your homemade rub.
How To Use It
Making a chicken spice rub is easy, but using it correctly requires a little bit more care than what most people expect.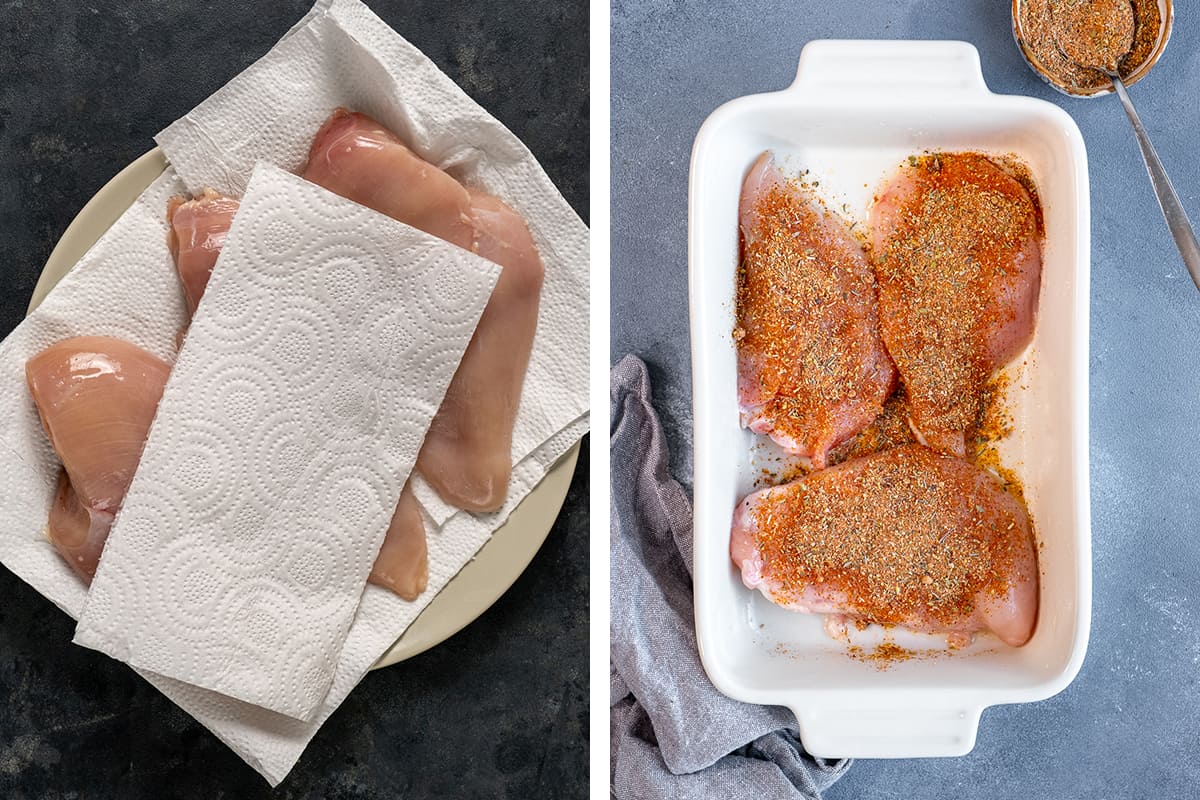 Pat dry the chicken: Before seasoning chicken, you will need to pat the meat dry using paper towels. This will help the dry rub stick to the surface and avoid clumping. Ultimately, it will help evenly distribute the flavor.
Apply olive oil: You can use your (clean) hands or a brush to apply a thin layer of olive oil all over the chicken. This helps the dry marinade stick on the chicken more easily.
Apply dry rub: Before cooking the chicken, you can add the dry rub. Use about 1 tablespoon of dry rub for every 1 pound of uncooked chicken. You can use more if you want.
Cook the chicken: Once the chicken seasoning rub is applied, you can either cook it immediately or let it sit in the fridge for up to 12 hours so that the flavors are absorbed by the meat better.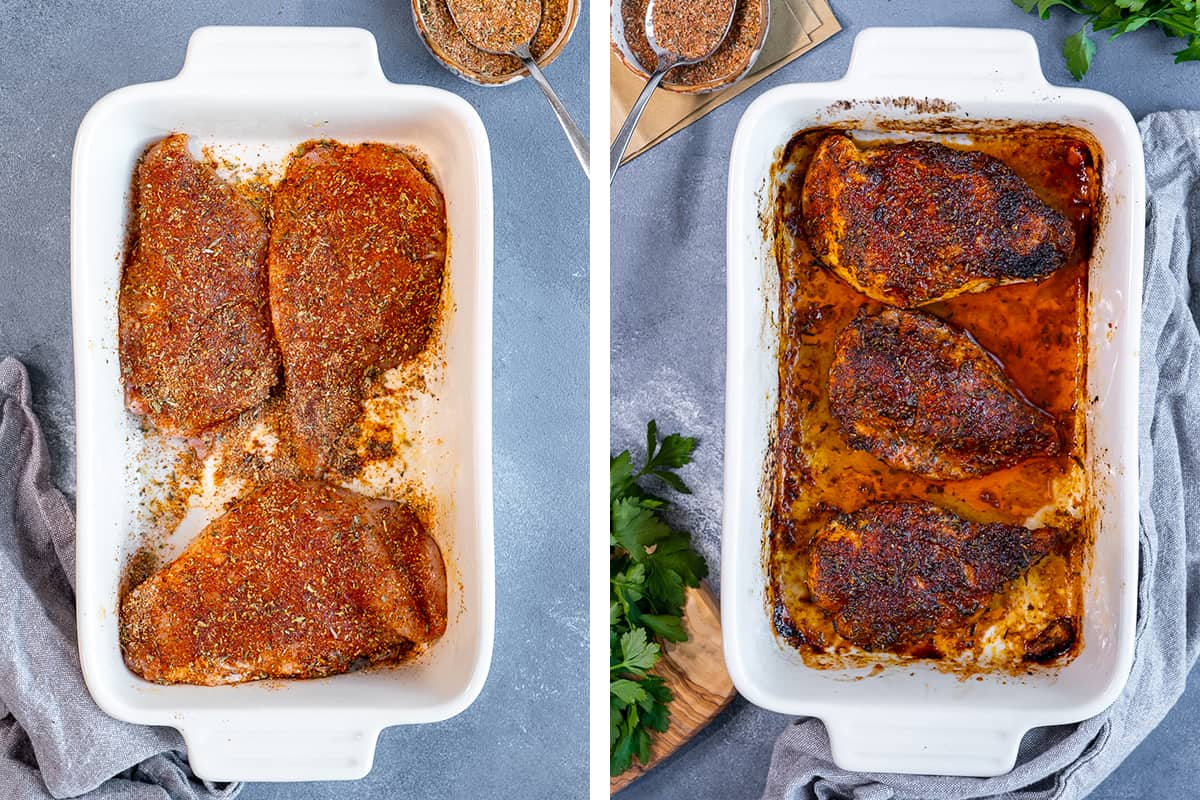 A handy tip: To get crispier skin and add more flavor, rub the spice mix underneath the skin if the chicken you use is with skin.
If you have any leftover rub that became wet or had any contact with the chicken, discard it.
Suggested Cooking Methods
This chicken rub recipe is great for several cooking methods. You can use it when baking chicken, cooking chicken on stovetop, air frying chicken or grilling chicken.
Baking: Baking is one of the easiest methods for dry rubbed chicken, and it still works today! Oil an oven proof baking pan. Rub the chicken with oil and your seasoning blend and place them in the pan in a single layer. Bake the chicken at around 400ºF for 30-40 minutes depending of the size of the chicken pieces. Keep in mind that it might take longer for bone-in chicken.
Stovetop: This technique works better for smaller cuts. Preheat some oil in a non-stick pan. Season the cuts with some dry rub (you don't have to rub them with oil) and add them to the pan. Leave them to cook until they have reached an internal temperature of 165ºF.
Air-frying: This seasoning rub for chicken works great in air fryer. It will give you super crispy and tasty chicken without the excessive amounts of oil that deep-frying use. Preheat the air-fryer to 360ºF and leave the meat to cook for the correct amount of time (20-25 minutes) or until the internal temperature reaches 165 degrees F.
Grilling: Last but not least, this is the best chicken dry rub for grilling. You don't even need any barbecue sauces. Just don't leave the chicken unattended for too long, or the spices may start burning.
If you are a fan of smoky flavors, turn it into a smoked chicken rub recipe by adding in some smoked paprika. Rub the chicken with this spice mix and cook it on a smoker or on the grill. Check out this smoked chicken recipe for details.
Which Cuts Of Chicken Can Be Dry Rubbed?
You can use this homemade chicken rub for literally any cut. It works wonderfully for whole chicken, as a dry rub for chicken breasts, drumsticks or chicken thighs. You can make delicious dry rub chicken wings with it.
Break down whole chicken wings in portions, rub them with this seasoning and cook. And you can even use it on skinless and boneless cuts too!
Some chicken wing recipes you can use this dry rub with:
This chicken rub seasoning works well with other meats like beef, lamb or pork too.
Don't forget to prepare and season the meat well for the best results!
How To Store It
A chicken rub seasoning can be stored inside an airtight container or resealable bag.
Store the container in a cool, dry, and dark place (the pantry) and keep it for up to 2 years. That being said, it's best to use our spice rub for chicken (and any other) within a year. The flavors fade over time.
Make sure to write chicken seasoning on the container and the date when you make it.
Dry Rubs Vs Marinade
A dry rub consists of spices only. It doesn't have any wet ingredients unlike a marinade. Blend your favorite spices together and your rub is ready to use. Dry rubs are applied on the meat and you don't have to wait before cooking, you can immediately cook it. And you feel a ton of flavors at each bite.
Marinades on the other hand, are made of spices and some wet ingredients like olive oil, lemon juice or vinegar, yogurt, milk or buttermilk. Unlike dry rubs, a marinade can include fresh herbs, fresh garlic and onions too. You can let the protein sit in the marinade, which helps the meat to tenderize.
So which one is better on chicken; dry rub or marinade?
Well, it is completely a matter of preference. Dry rubs are great if you want a ton of flavors and a light crust on chicken. They also lock all the juice inside the meat.
Marinades often have an acidic ingredient and this gives you a super tender meat.
FAQs
How long can dry rub stay on chicken?
You can leave a chicken rub on the chicken for up to 12 hours. It will start affecting the meat after only 30 minutes. But, the longer you leave it, the better the flavor and texture of the dry rub chicken will be.
How do you get dry rub to stick to chicken?
There are two crucial steps to make easy seasoned chicken with a rub. The first is patting it dry so that there is no moisture (water) on the surface of the meat. The second is to coat the meat with a thin layer of olive oil. It will make the spices stick, give the chicken a beautiful golden color, and make the skin crispy.
Do you oil chicken before dry rub?
Yes, we do. Oil helps the rub stick on the chicken better.
More Chicken Recipes
As always: If you make this recipe, let us know what you think by rating it and leaving a comment below. And post a pic on Instagram too—tag @give_recipe so we can see!
Sign up for the FREE GiveRecipe Newsletter to get the new recipes into your inbox! And stay in touch with us on Facebook, Pinterest, YouTube and Instagram for all the latest updates.
Print
📖 Recipe
Dry Rub For Chicken - Chicken Seasoning
A super easy homemade dry rub made with the spices in your pantry. It works well on any cut of chicken.
Author: Zerrin & Yusuf
Prep Time:

1 minute

Cook Time:

0 minutes

Total Time:

1 minute

Yield:

½ cup

1

x
Category:

Seasoning

Method:

Blending

Cuisine:

American
¼ cup

paprika

2 tablespoons

onion powder

2 tablespoons

garlic powder

1 tablespoon

brown sugar

1 tablespoon

chili powder

2 tablespoons

dried oregano

1 tablespoon

dried thyme

1 teaspoon

black pepper

1 tablespoon

kosher salt
Instructions
Combine everything in a small bowl. Stir until well blended.
To use: Pat dry the chicken cuts you are using with paper towels. Rub them with olive oil. Then rub the seasoning over the chicken pieces and cook in the oven, air fryer, instant pot, slow cooker, on the stovetop or grill.
Discard any rub that has come in contact with raw chicken.
Store the remaining rub in an airtight container for 2 years.
Nutrition
Serving Size:

½ cup

Calories:

276

Sugar:

13.9 g

Sodium:

3998.8 mg

Fat:

5.6 g

Carbohydrates:

60.2 g

Fiber:

20.6 g

Protein:

10.6 g

Cholesterol:

0 mg
Keywords: dry rub for chicken, chicken dry rub
You might also like: