Don't refrain from buying whole chicken wings when you see them at the market next time. Today we will show you how to cut chicken wings easily into drumettes, wingettes, and wing tips in two simple steps. Then you can easily prepare them for long-term storage or use them in baked, air-fried, deep-fried or roasted wing recipes.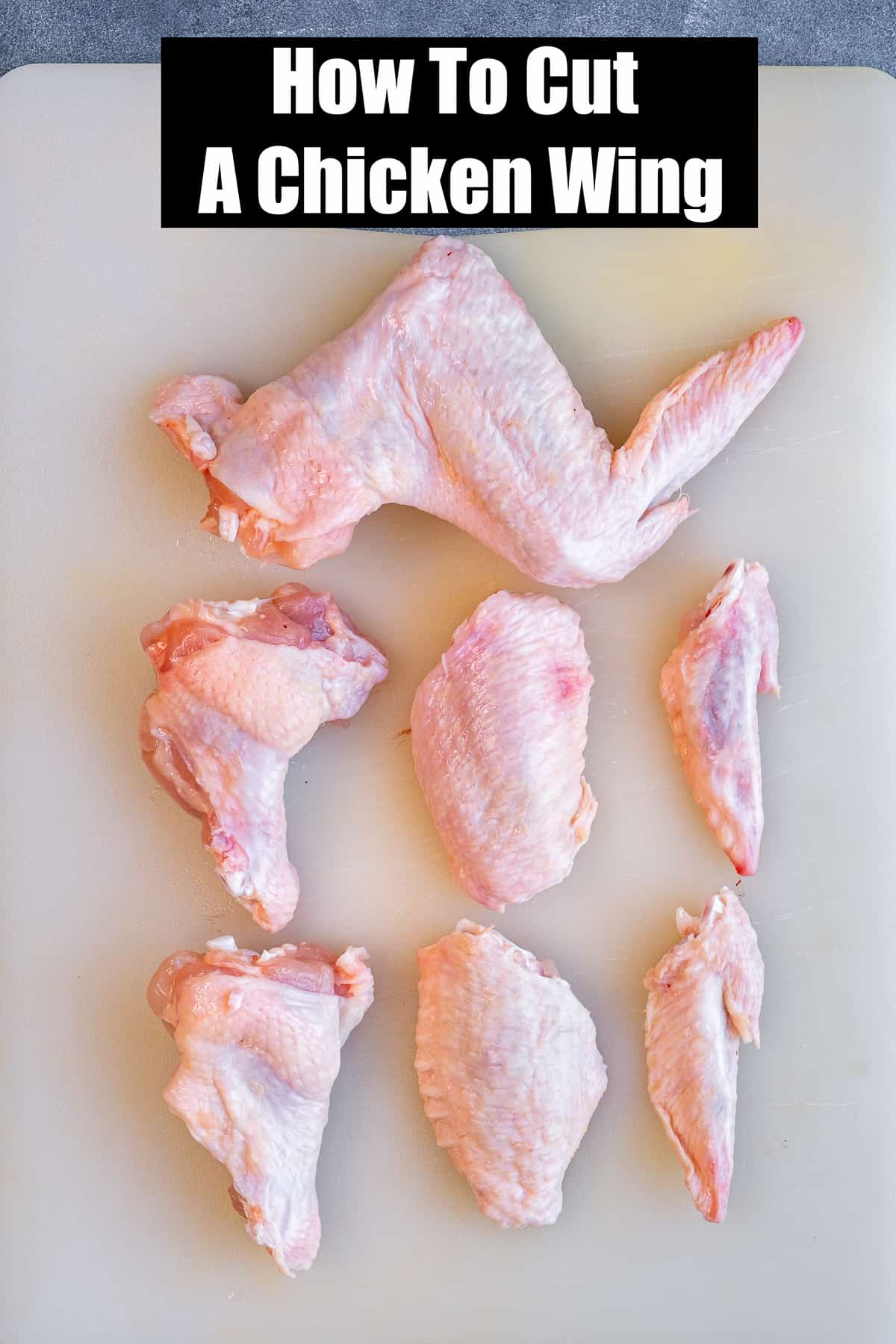 Are you a fan of chicken wings recipes? They are one of our go-to weeknight meals and we make them quite often. They are easy and quick to make and everyone in the family loves it, especially if they have a crispy skin.
Obviously, you love wings as much as we do. One of the most popular recipes on Give Recipe is oven baked baking powder chicken wings, which is a great healthy option.
If you cook chicken wings often, you know they are sold in two versions at the grocery store; either cut up and ready to cook or whole. People mostly prefer buying ready-split chicken wings, so they are sold out fast. Then whole chicken wings might be the only option for you to buy.
No problem. Just grab that whole wings package and cut them into sections yourself. It is really easier than you might think.
So let's learn the sections on a whole chicken wing first.
Jump to:
Three Parts of A Chicken Wing
There are three chicken wing sections. Before looking at how to cut up a chicken wing, it's crucial to understand what you are working with. So let's learn the name of chicken parts first.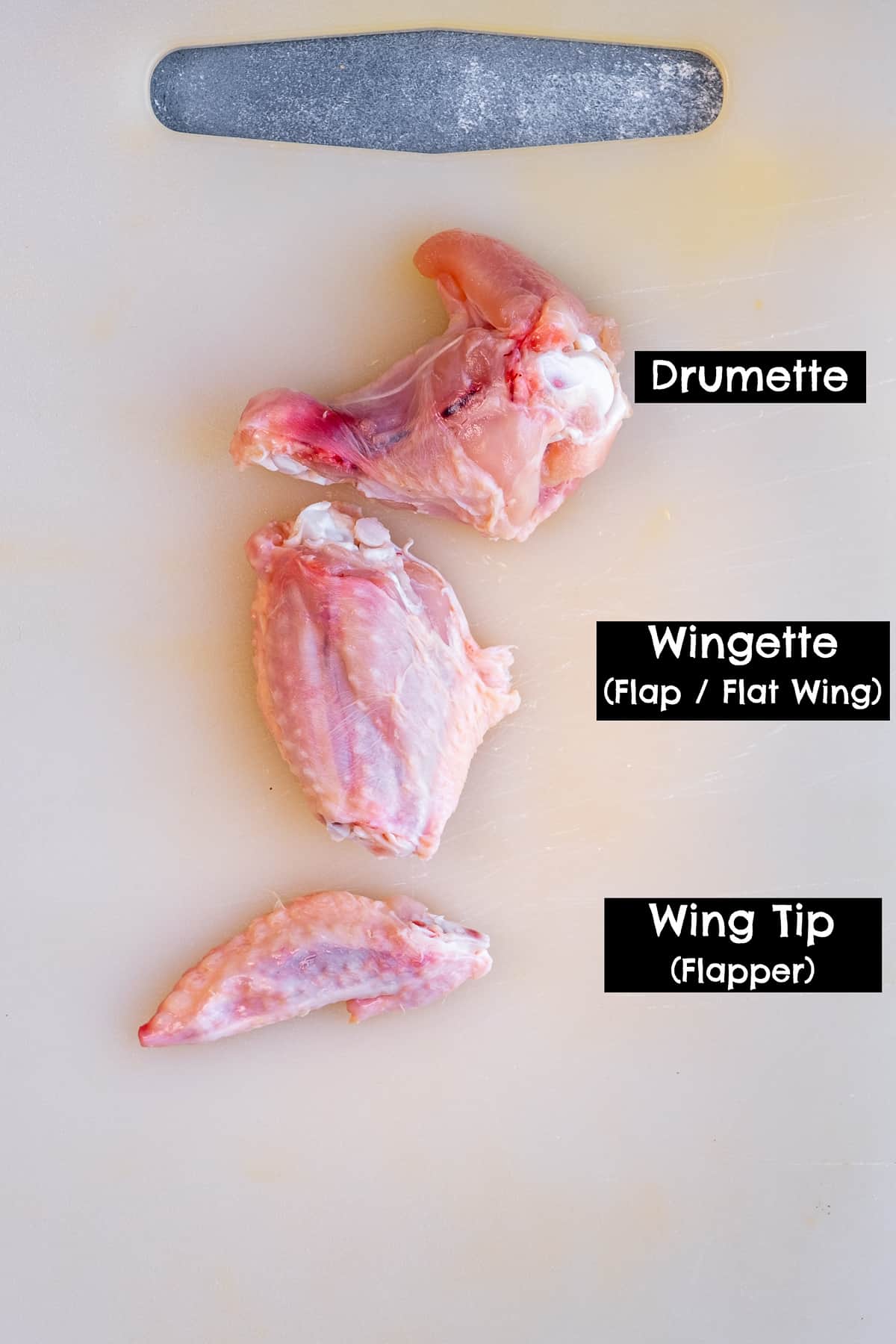 Drumette:
The drumette is the part that is directly attached to the chicken. So, as you can image, it also known as the meatiest part of all the chicken wing parts. It's primarily made up of dark meat and has a juicy and tender texture. These are perfect to cook on the grill.
If you aren't sure what it looks like, it's basically a smaller version of a drumstick.
Wingette:
The wingette, also called a "flat wing" or "flap", is the middle part of a whole chicken wing. When you buy chicken wings from restaurants, the wingette is usually still attached. It gives the wing it's signature look and makes it easier to handle.
This cut doesn't have a ton of meat on it. But, it does crisp up beautifully when cooked because they are much thinner. These are perfect for frying.
Wing Tip:
And finally, the wing tip, also known as the "flapper," is the smallest part of the wing at the very end. It has virtually no meat on it and consists mainly of bone and skin.
Many people trim chicken wings by removing only this part. You can still use it to make homemade chicken stock and chicken broth.
How To Split Whole Chicken Wings
Separating chicken wings into drumettes, wingettes and wimg tips is really easy now that you know the sections on a wing. Once prepared, they are ready for long-term storage or you can use them in your favorite wing recipe immediately!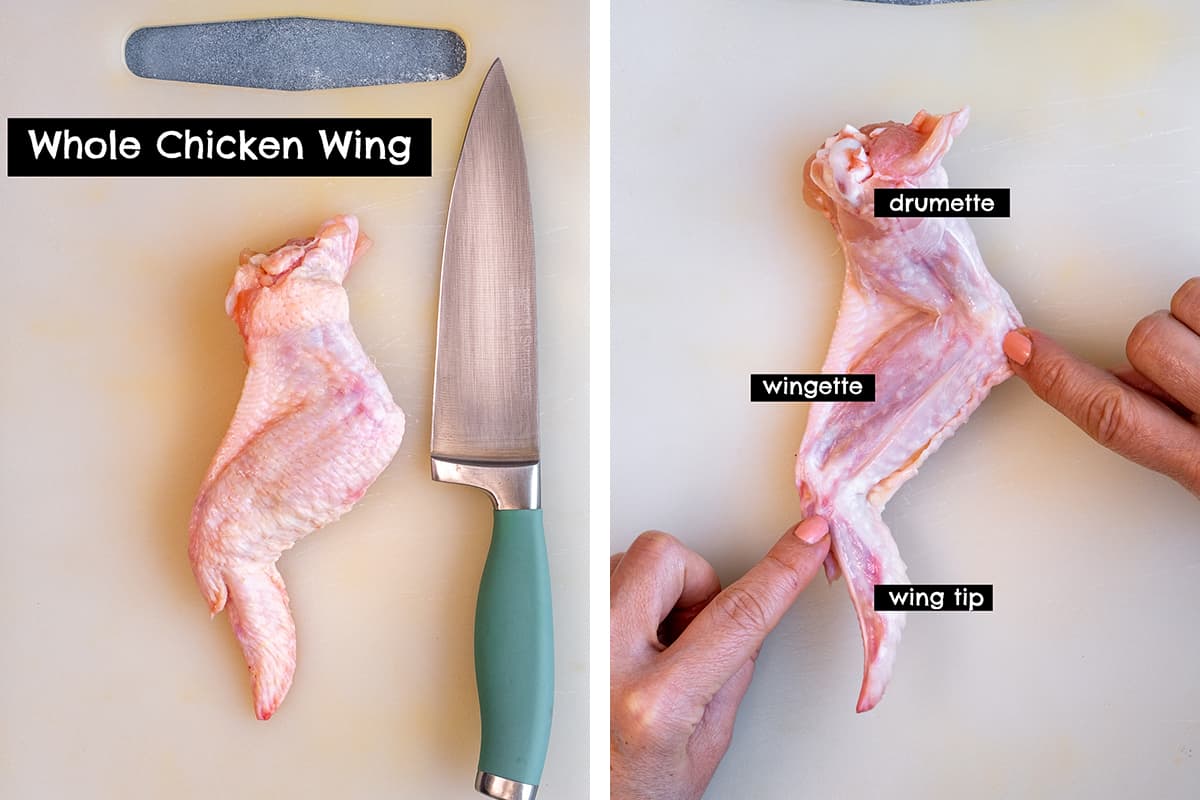 Before you start, prepare a sharp knife or kitchen scissors for a clean cut. We find cutting them with a sharp knife is easier but it's our preference. Also, keep in mind that wooden cutting boards are not recommended for cutting raw meat. And you can wear gloves if you don't like touching raw chicken wings.
Now, let's learn the tricks about how to cut chicken wings into portions in two easy steps.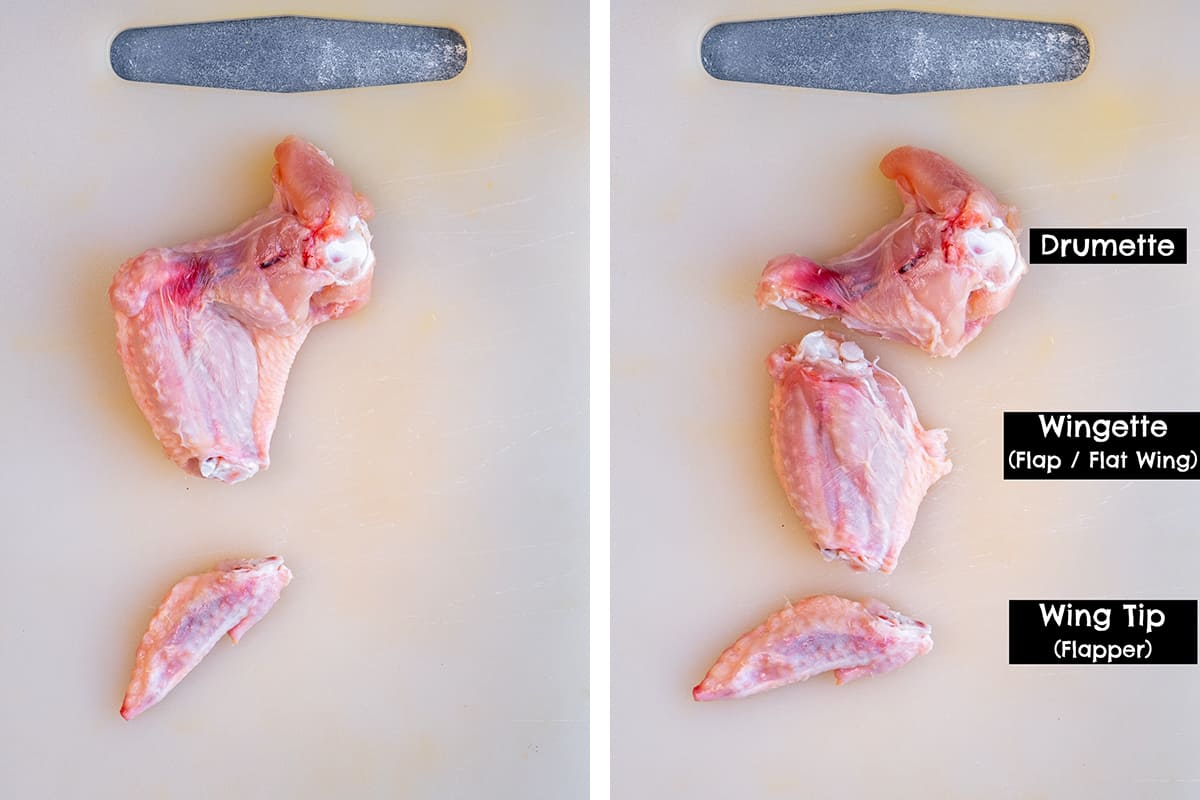 Remove the wing tip: To break down a whole chicken wing, first place it on a cutting board with the skin-side down. Use your fingers to locate the joint between the wingette and wing tip (the smaller side of the entire wing). Place the knife there and cut through the joint.
You can discard the tips or store them for later use (in homemade chicken stock).
Separate the drum and flat: Next, find the joint between the drum and flat using your fingers. It will also bend and create a noticeable cutting area.
Use the knife or scissors again to cut through this joint. You may need to wiggle the knife just a little to make your way through it.
Once the parts are separated, you are left with drums, wingettes, and tips.
You can rub them with a chicken seasoning if you want and cook air-fried chicken wings, deep-fried wings or oven baked wings.
Expert Tips
A sharp chef knife works the best to break down a chicken wing.
Pull the full chicken wing from both sides to see the sections and joints better.
Make sure to cut the cartilage on the joints. It is the softest part of the bone and easier to cut. Don't try to cut the hard bones.
Don't use a wooden cutting board for cutting chicken wings. It is not recommended for raw meat and poultry.
Do You Cut Chicken Wings Before Cooking?
Well, you don't have to cut wings before cooking. You can of course cook them whole. Check out our air fryer whole chicken wings to get an idea. If you don't have any time to separate chicken wings into sections, go ahead and use them whole in your recipe.
That being said, if you have a little time (about 10 minutes), you might prefer cutting them first into sections. Why? As we have explained above, wing tips don't have meat on them, so they will probably be not eaten by anybody even if they are cooked.
So if you don't want the wings to take up much space in your air fryer basket or baking pan, you had better remove the wing tips before cooking. Then you can either leave the drumettes and wingettes attached each other or separate them as well.
Can You Eat Chicken Wing Tips?
The tips of chicken wings are still completely edible. But, as we've mentioned before, there isn't much to chew on.
You will basically only get a little bit of skin (which is delicious if it is nice and crispy) and some flavor from the rub or basting sauce.
Most of the bone on the tip is mostly soft and edible as well, but the small bone in the center is not.
Storing The Chicken Wing Parts
When preparing chicken wings, you may be left with some excess amounts. In that case, you will need to store any leftovers that you cannot cook immediately.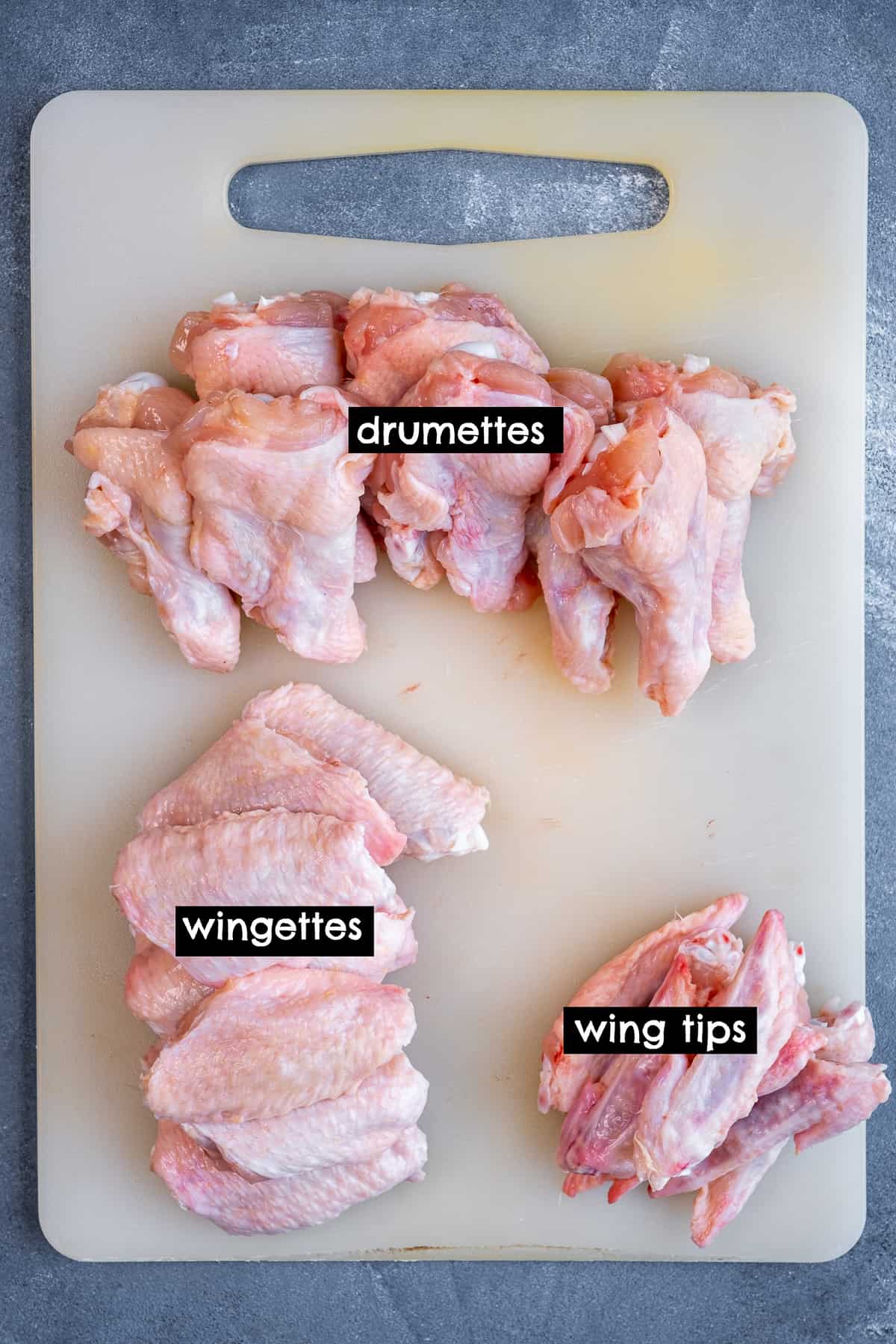 First, if you are planning on using the fresh meat within a day or two, you can simply keep them in the fridge. Store them in an airtight container or resealable plastic bag (Ziploc bag).
Secondly, if you are not using them soon, it's best to store them in the freezer. Here they will last about 3-6 months. But, as we always say, it's ideal to use them as soon as possible for the best taste and texture.
When freezing the parts of a chicken wing, we like to place them on a parchment paper lined baking tray. Keep the wingettes and drumettes separately on a single layer. Don't let the pieces touch each other.
Then, place the chicken wing pieces inside the freezer for 1-2 hours. Once they are completely frozen, store the parts in separate freezer bags or container so they are easier to use later. Don't forget to label the packaging with the contents and storage date.
FAQs
What part of the chicken wing do you cut Off?
Out of all the parts of wings, you don't need the wing tips. They have virtually no meat on them at all and basically just consist of skin and bone. 
Then, you can either separate chicken wings into the drumette and the wingette (flat) or keep these parts attached to each other.
How can I understand when the chicken wings are cooked?
Use a meat thermometer to check it. The internal temperature of the thickest part of the chicken wings (drumettes) should be 165 F / 74 C degrees.
Do you cut skin off wings?
No. The skin on chicken wings gets nicely crisp when cooked and it makes the wings taste delicious. So nobody removes it.
Other Chicken Dishes
As always: If you make this recipe, let us know what you think by rating it and leaving a comment below. And post a pic on Instagram too—tag @give_recipe so we can see!
Sign up for the FREE GiveRecipe Newsletter to get the new recipes into your inbox! And stay in touch with us on Facebook, Pinterest, YouTube and Instagram for all the latest updates.
Print
📖 Recipe
How To Cut Chicken Wings Into Sections
Here is an easy way to cut up chicken wings into three sections. You will have drumettes, wingettes and wing tips after two simple cuts. Then you can use them in your favorite chicken wing recipe or store for later use.
Author: Zerrin & Yusuf
Prep Time:

10 minutes

Cook Time:

0 minutes

Total Time:

10 minutes

Yield:

6

1

x
Category:

Dinner

Method:

Preparation

Cuisine:

American
2

lbs (900 g) whole chicken wings
Instructions
Place a chicken wing on a cutting board skin side down.
Use your fingers to locate the first ridge between the wing tip and the wingette. Using a sharp knife or kitchen scissors, cut through the joint. Discard these tips or store them in an airtight container in the fridge to make chicken stock later.
Place a sharp knife just besides this ridge on the joint between the flapper and the drumette. Cut all of the way through it. Wiggle the knife a bit if needed.
Use these cut wings in any wing recipe you like.
Notes
A sharp chef knife works the best to break down a chicken wing.
Pull the full chicken wing from both sides to see the sections and joints better.
Make sure to cut the cartilage on the joints. It is the softest part of the bone and easier to cut. Don't try to cut the hard bones.
Don't use a wooden cutting board for cutting chicken wings. It is not recommended for raw meat and poultry.
Nutrition
Serving Size:
Calories:

189

Sugar:

0 g

Sodium:

121.5 mg

Fat:

5.3 g

Carbohydrates:

0 g

Fiber:

0 g

Protein:

33 g

Cholesterol:

85.5 mg
Keywords: how to cut chicken wings, how to prepare chicken wings