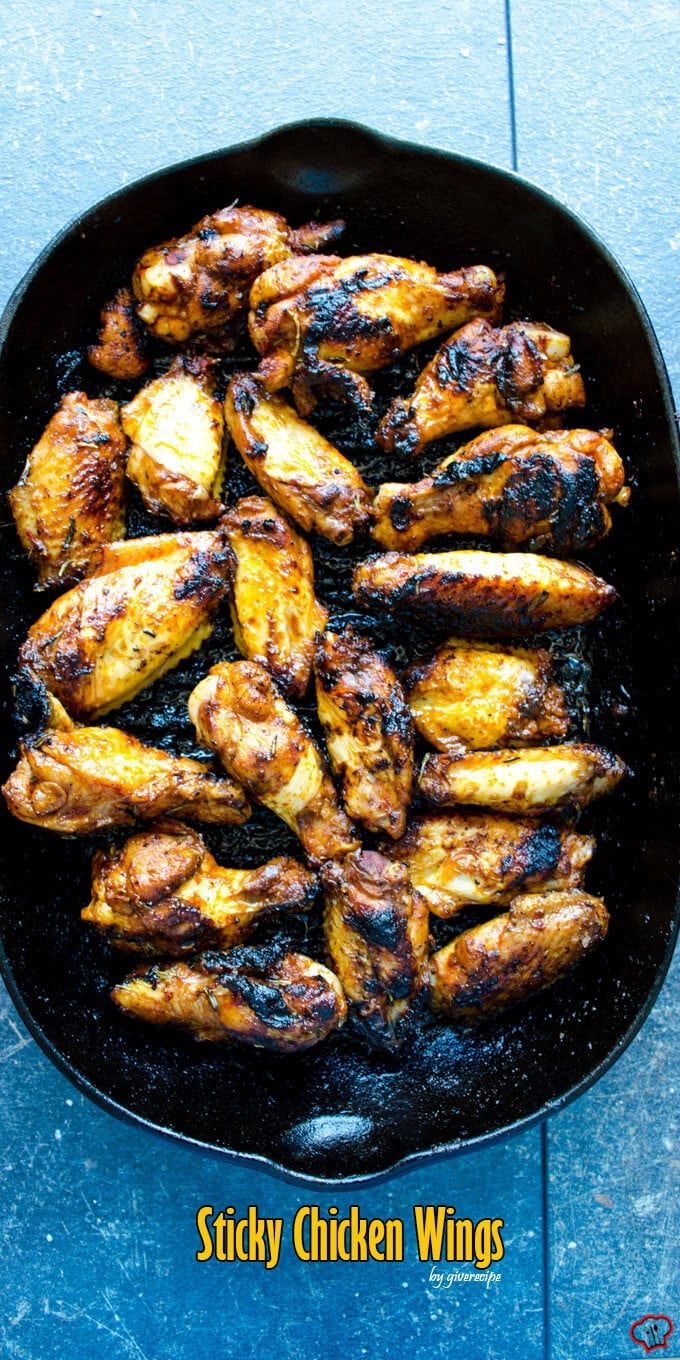 If you love eating chicken off the bone, licking your fingers ignoring table etiquette, you will LOVE these sweet-savory Sticky Chicken Wings. Some people find it disgusting and they prefer their chicken boneless, sorry but I'm not that kind. When it comes to meat of any kind, I don't think fork and knife are required. Don't you think the fun is hidden behind this?
Our favorite part of chicken is its wings. For one thing, I like their almost-bite size, they look cute. Also, wings can be served in various ways to satisfy a crowd. And they make amazing party foods too! Who can resist golden brown sticky chicken wings on a barbecue at a garden party? I can't!
MY LATEST VIDEOS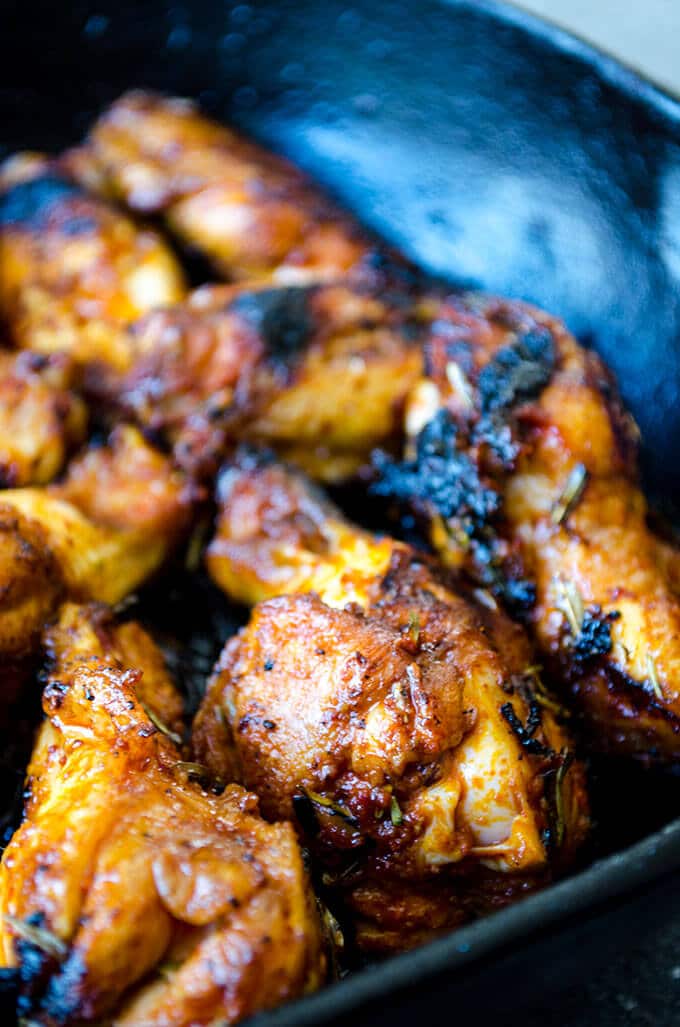 Sticky chicken wings are really easy to make, as easy as Honey Sesame Chicken Wings. We prefer roasting them on a cast iron pan as it is faster but you can roast them in oven too especially when you don't have enough time to turn over the wings in the pan occasionally.
What makes these wings sticky is not honey this time. I used a little grape molasses and it gives a very nice sweet flavor. I prepared a mixture to coat the chicken wings using grape molasses, olive oil, mashed garlic, little cinnamon, lemon juice, black pepper and salt. Put the wings in a ziplock bag and pour the sauce in it. Shake the bag to coat all the wings equally and refrigerate at least for 2 hours. Then roast them in your cast iron pan flipping over occasionally. You can drizzle over the sauce when you think the wings are sticking to the pan and continue roasting until done.
If you are planning to make these sticky chicken wings in oven, just transfer the wings in a baking dish with all the sauce and bake for about 50 minutes.
We ate these wings dipping into Pistachio Pesto Hummus . You should definitely give this match a try.
Sticky Chicken Wings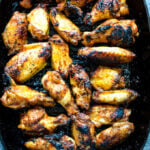 Chicken wings are marinated in a sweet-savory sauce and then roasted in a cast iron pan.
Prep Time:

2 hours 10 minutes

Cook Time:

20 minutes

Total Time:

2 hours 30 minutes

Yield:

4
Ingredients
Marinade:
¼ cup grape molasses
1 and ½ tablespoons olive oil
2 tablespoon lemon juice
4 cloves garlic, mashed
1/8 teaspoon cinnamon
½ teaspoon salt
¼ teaspoon black pepper
1 taspoon dried thyme
1/2 teaspoon chili
Instructions
Whisk the marinade ingredients in a bowl until combined.
Place the chicken wings in a ziplock bag and pour the marinade mixture in it. Shake it to coat the wings equally and refrigerate for 2 hours.
Heat a cast iron pan.
Carefully place the wings in the pan and roast about 5 minutes. Turn them over and roast the other side for 5 minutes. Then keep roasting turning them over occasionally until they reach a desired softness and golden brown color. It takes 15-20 minutes in total. You can drizzle over the remaining marinade sauce when you think the wings are sticking to the pan.
Serve hot.
IF YOU LIKED THIS RECIPE, THEN YOU WILL LOVE THESE: