Are you ready for the best baked chicken drumsticks recipe? These are yummy, juicy and easy to make. Crowned with delicious herbs like rosemary and thyme sprigs and coated in a marinade with garlic, olive oil, lemon and spices, these Oven Baked Chicken Legs will be the king of the chicken kingdom.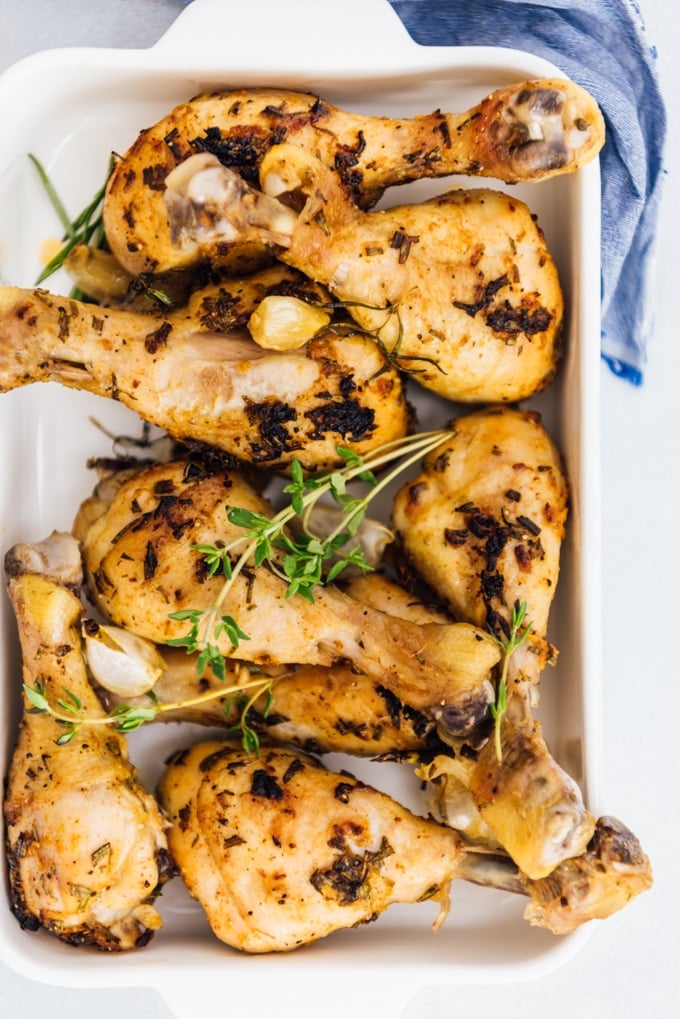 Love chicken recipes? Check out our baked lemon chicken recipe and chicken shish kebab too!
Chicken is a standby food in our kitchen. It is one of those food that everyone at home loves. I am super happy with that because chicken makes a perfect lunch or dinner. It is easy to make and healthy to eat. Gluten-free, low in carbs and protein packed chicken makes a lighter and cheaper alternative to meat.
So I went with oven baked chicken legs this time with an out-of-this world marinade and herbs. I've tried different recipes but everybody at home agreed that this one is the best. Marinated with garlic, olive oil, spices and lemon juice, they turned out to be so tasty and flavorful but much lighter. These chicken legs disappear in no time!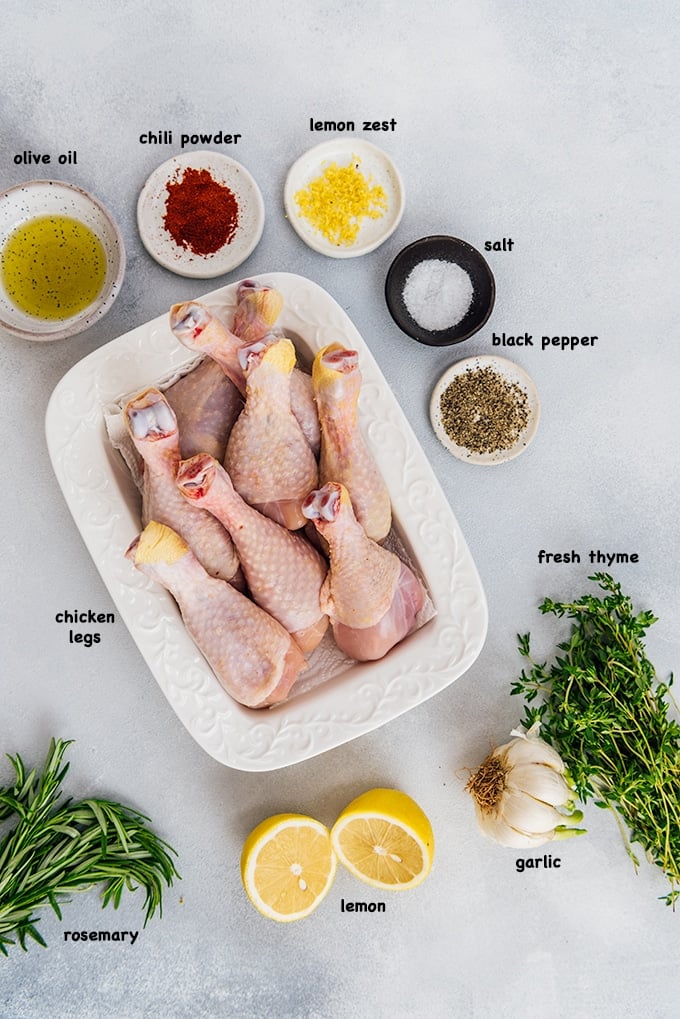 Why Does This Recipe Work?
Any ideas how to cook chicken legs? Have you ever tried roasting cut up chicken? This recipe has exactly the same method. I can easily tell you that these are the best baked chicken legs. Unlike in most baked chicken leg recipes, you don't have to keep chicken marinated for some time which makes you reach the wanted flavor faster. Wink wink!
This does not mean they sacrifice their taste for being easier. Actually, these chicken drumsticks are deliciously tender and juicy. It is just mouth-watering even talking about them. (I guess I've just fixed tonight's menu.) Certainly, chicken drumstick marinade with garlic and herbs has its part in this amazing flavor.
On the other hand, if you like your chicken always crispy, there is something you can do. Turn on your broiler and let them crisp when the baking cycle ends. It can take one to five minutes. It depends how crispy you want your chicken legs. Watch them carefully though not to burn them.
The Best Marinade
There are many recipes for marinades but this is absolutely my favorite one. Rosemary and thyme in it take the chicken legs up to another level of deliciousness with the exquisite flavor and the rich scent they offer. And the trio of garlic, olive oil and lemon turn everything they touch into gold. They make even the plainest food so tasty. So, no doubt that chicken drumstick marinade has the biggest share in the amazing flavor of this meal.
Alternatively, you can use our chicken dry rub.
How To Make
Baking chicken legs is no big deal. You can have easy baked chicken legs in three quick steps:
First, prepare the marinade with rosemary, thyme, garlic, salt, pepper, chili powder, olive oil and lemon. Now this is the easiest step. In a small bowl, combine all the ingredients for marinade. Whisk them all together and put it aside.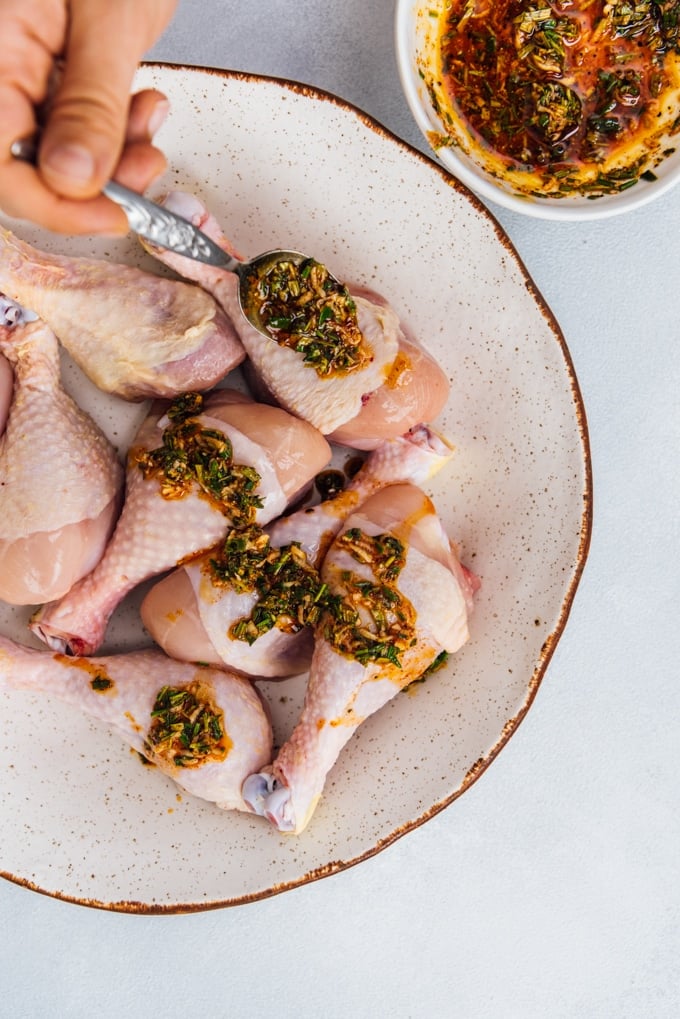 Second, coat the chicken legs with this marinade. If you don't want your hands to get chicken and sticky, put the chicken legs and the marine in a big zipper bag and massage the chicken with the marinade. Or you can simply pour the marinade over the chicken legs in a deep dish and coat each of the legs well with the marinade using your hands.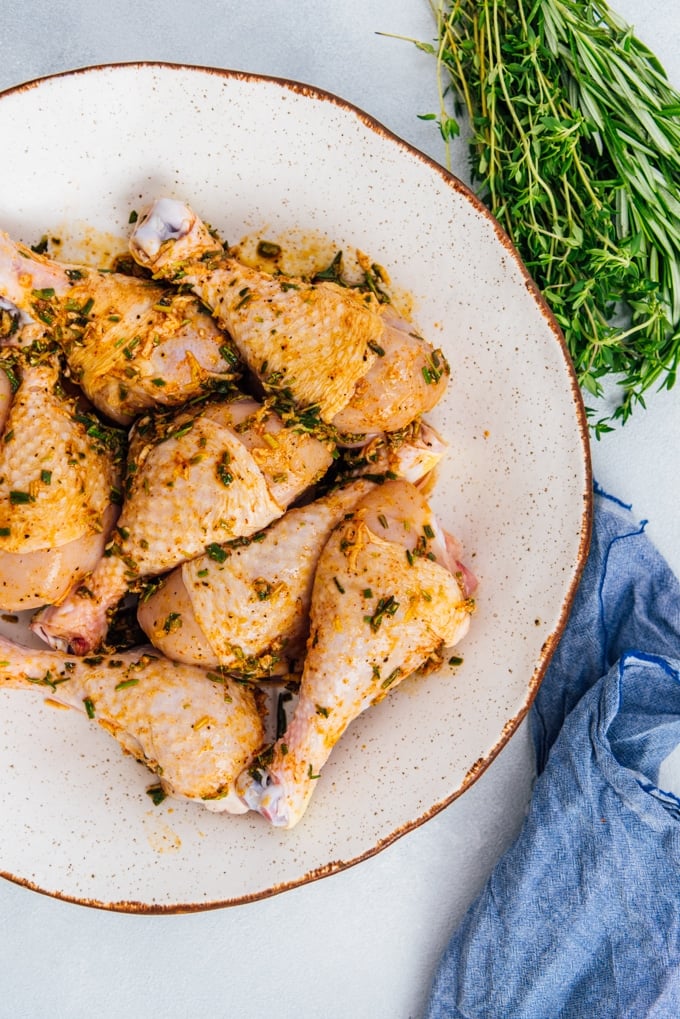 Third, bake the chicken legs. I bake them like in my easy roasted chicken pieces recipe. So, it is really really simple. Place chicken legs on a baking sheet lined with parchment paper. Put extra garlic cloves and rosemary and thyme sprigs among the chicken legs for extra flavor. Bake in the preheated oven. Chicken drumstick cooking time is around 50 minutes in total. First, bake them for 30 minutes at high temperature. Then, bake for another 20 minutes at a lower temperature. You can check if they are tender enough by poking a knife. And your oven baked chicken legs are ready.
How Long To Bake
How long do you bake chicken legs? I give them 50 minutes in total. 30 minutes at high temperature and 20 minutes at a lower temperature. The important thing here is that I preheat the oven.
What Temperature?
I bake them at 400F the first 30 minutes. Then, I reduce the temp. to 375F and bake them another 20 minutes.
Serving Suggestions
You have many options as what to serve with baked chicken drumsticks. Any kind of salad pair up very well to complete your light meal. My favorite salad with chicken legs is definitely Turkish Shepherd Salad.
If we need something more filling with the chicken legs, Turkish Rice is the first thing that comes to my mind. In Turkish cuisine, this pair is inseparable.
Lemon garlic potatoes are a yummy option to as a side dish to chicken legs. I'll definitely give it a try next time I have make these chicken legs.
Notes About The Recipe
Here are important tips about oven baked chicken legs;
Remember to preheat the oven. This is so important.
Don't leave any marinade ingredients out. They work as a great combination that have all the flavors your chicken needs.
You do not need to let the chicken legs sit in the fridge for hours in this recipe.
Make the marinade in a bowl and coat the chicken legs with it. No need to put them in a plastic bag unless you mind getting your hands oily and chicken.
If you are looking for extra flavor, add extra garlic cloves and thyme and rosemary sprigs.
You can certainly add veggies like potatoes, carrots, asparagus, etc to make your meal richer.
You should bake these chicken legs uncovered.
If you are not planning to serve immediately, covering them with aluminum foil is a good idea to keep them warm.
Remember to bake at high temperature first and then at low temperature.
Other Chicken Recipes
As always: If you make this recipe, let us know what you think by rating it and leaving a comment below. And post a pic on Instagram too—tag @give_recipe so we can see!
Sign up for the FREE GiveRecipe Newsletter to get the new recipes into your inbox! And stay in touch with us on Facebook, Pinterest, YouTube and Instagram for all the latest updates.
Print
📖 Recipe
Oven Baked Chicken Legs With Herbs
Chicken legs coated with an amazing marinade with garlic, herbs and spices and then baked in oven.
Author: Zerrin & Yusuf
Prep Time:

10 minutes

Cook Time:

50 minutes

Total Time:

1 hour

Yield:

4

1

x
Category:

Dinner

Method:

Baking

Cuisine:

American
For Marinade:
1 tablespoon

rosemary, minced

1 tablespoon

fresh thyme, minced

1 teaspoon

lemon zest

1

clove garlic, mashed

1 teaspoon

salt

1 teaspoon

black pepper

1 teaspoon

chili powder

2 tablespoons

olive oil
Half lemon, squeezed
For Oven Baked Chicken Legs:
8

chicken legs (also called drumsticks)

7

cloves garlic
rosemary and thyme sprigs
Instructions
Marinade:
In a small bowl, combine all the ingredients well and put aside. 
Oven Baked Chicken Legs:
Preheat oven to 400F.
Line a baking sheet with parchment paper.
Pour the marinade over the chicken legs and using your hand coat each of them well with it.
Place the chicken legs on the parchment paper.
Put extra garlic cloves and rosemary and thyme sprigs among the chicken legs.
Bake for 30 minutes uncovered. Reduce the heat to 375F and bake for another 20 minutes or until tender when poked with a knife.
Garnish with fresh herbs when serving.
Nutrition
Serving Size:

2 legs

Calories:

156

Sugar:

1.7 g

Sodium:

657.1 mg

Fat:

9.7 g

Carbohydrates:

7.3 g

Protein:

11.7 g

Cholesterol:

51.6 mg
Keywords: spicy chicken legs, chicken drumsticks marinade, spicy marinade