Let's learn how to make the easiest and quickest pickled cabbage recipe! Use either red cabbage or white cabbage. Ready to eat on the same day! Add it to any dish you like and get a nice tangy crunch.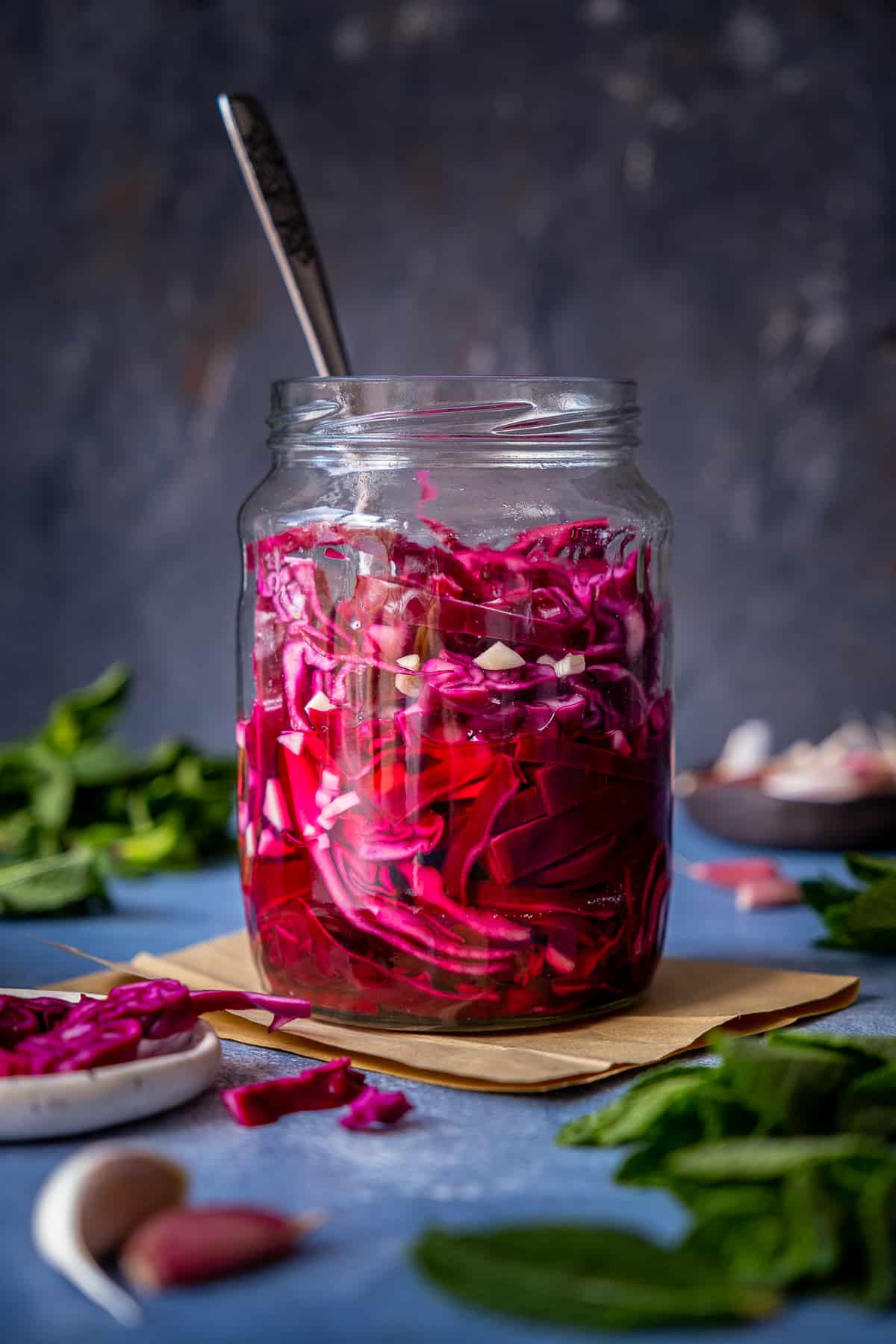 This delicious crispy condiment is a staple in our kitchen. We often use it as a garnish in our burgers, kofte sandwiches or in chicken doner wraps. And it is great to know there is always some pickles in the fridge thanks to the quick method we use in this recipe.
Have you ever tried making quick pickles, also known as refrigerator pickles at home? You don't have to wait for weeks to eat them.
We will share this super easy way of pickling cabbage with you today. If you want to take your sandwiches, fish tacos, burgers, wraps or side dishes like healthy coleslaw to a new level, try this quick pickled cabbage recipe.
And if you want to learn more ideas about what to do with white or red cabbage pickle, you can check out our section below. There are more options than you may think!
Jump to:
Why You Will Love This Recipe
It is easy and super quick.
No special equipment is needed.
It pairs well with almost any dish.
It keeps well in the refrigerator for several weeks.
About The Ingredients and Substitutions
This easy recipe for homemade pickled cabbage is super basic and versatile, so you can customize it to your liking.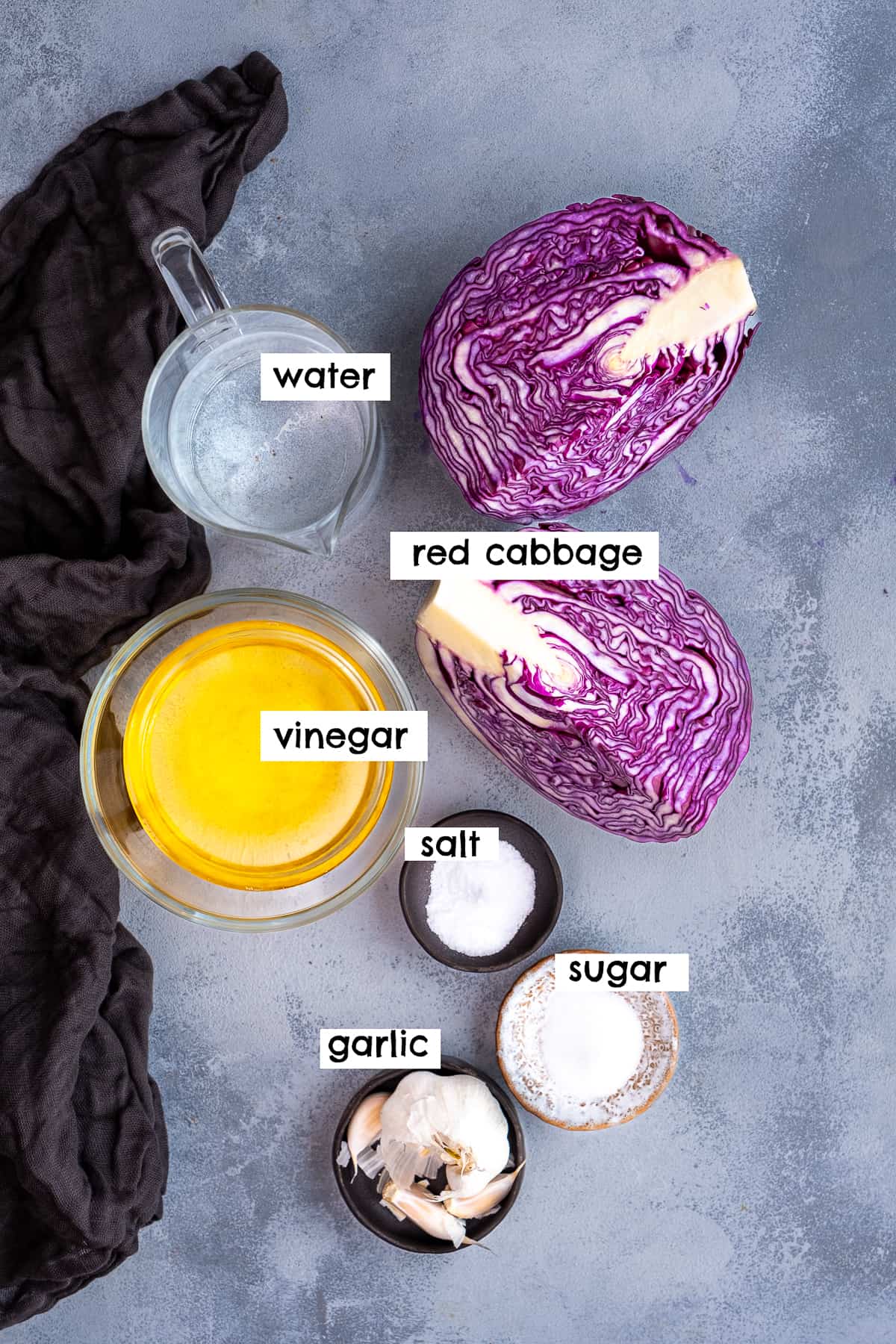 Cabbage: We often use purple cabbage, also known as red cabbage, for pickling. That purple color is just amazing! Any dish garnished with it looks more tempting. Also, it is packed with vitamin C and other nutrients, so it has several healthy benefits.
Both white cabbage and purple / red cabbage work well for this recipe. They both keep perfectly firm and crunchy.
Garlic: This is a must-add ingredient for this recipe. We use two cloves garlic, but you can add more. Garlic helps add a ton of spicy, savory, and umami flavors to this cabbage pickle. We use minced garlic, but you can simply crush it under a knife or slice it into smaller pieces. The tinier the pieces are, the more flavor they will release in a short amount of time.
Vinegar: Apple cider vinegar pairs beautifully with any quick cabbage pickle recipe. It has a strong flavor that will quickly penetrate the cabbage to tenderize and impart flavor. You can use regular white vinegar, rice vinegar or even red wine vinegar too. If you are not a fan of vinegar, use lemon juice instead.
Sugar: This will add a subtle sweetness to the marinated cabbage and will create an overall more balanced flavor profile.
Salt: Use pickling salt or kosher salt. It helps tenderize the ingredients, adds a savory flavor, and neutralizes the acidity of the vinegar.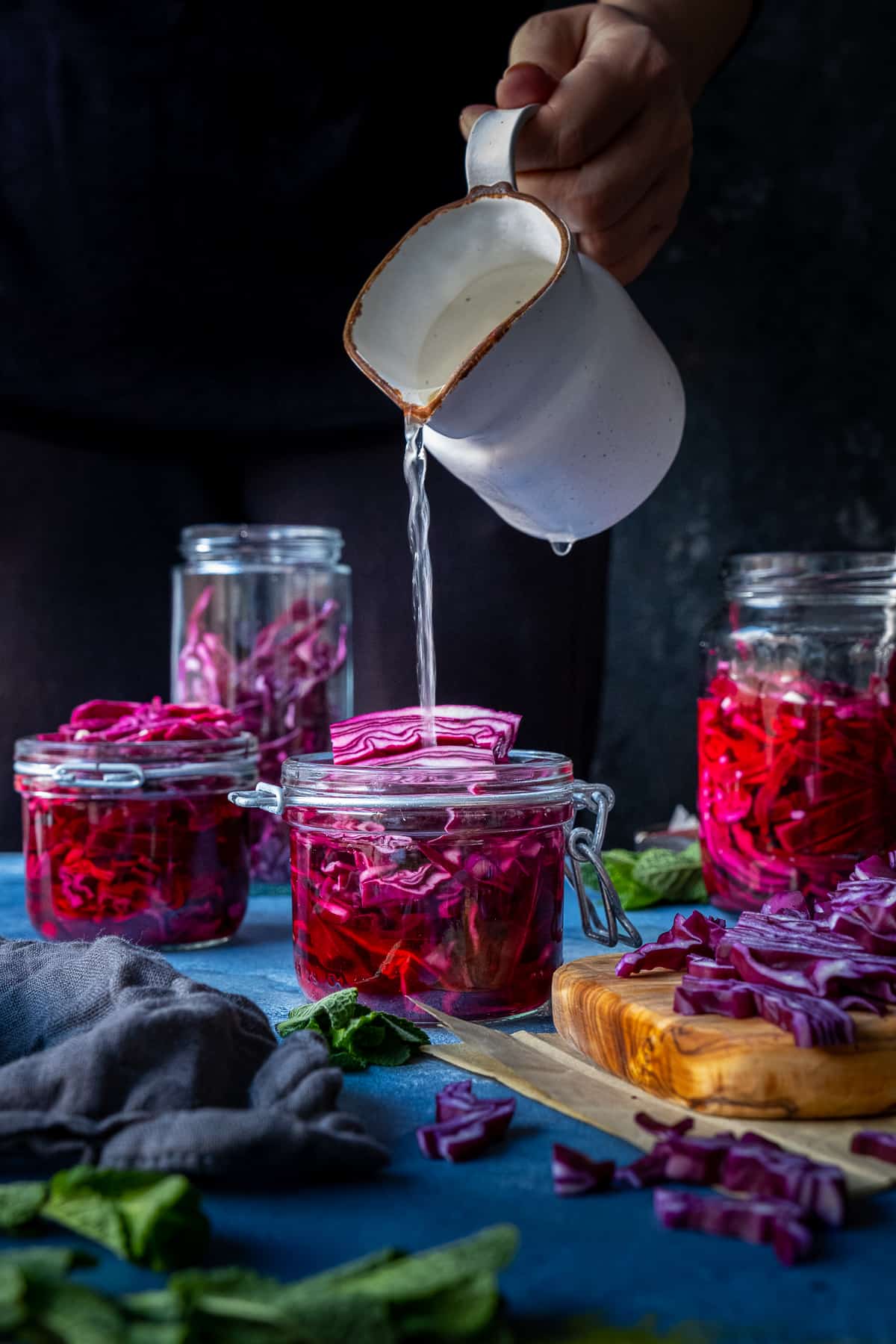 Optional Add-Ins
This is a basic recipe for pickling red cabbage (or another type of cabbage) and you can always customize it to your liking. So, here are some fun ideas.
More seasonings: Mustard seeds, coriander seeds, black peppercorns, red pepper flakes would work fine. Add dried herbs like bay leaf and dill. Alternatively, learn how to make pickling spice and use it.
More vegetables: Shredded carrots, red onions or cauliflower florets would be good additions to the shredded cabbage mixture.
How To Pickle Cabbage Quickly
Pickling cabbage at home is so easy. You will love the result so much that it will become one of your weekly routines. Pickle some cabbage at the weekend, keep it in the refrigerator and enjoy during the week.
Prepare the cabbage: Use a sharp knife or a mandoline slicer to shred the cabbage into thin pieces. Divide the shredded cabbage between two 1-pint (570 ml) glass jars. Divide the minced garlic as well. If you want to add shredded carrots and / or onions, you can add them too.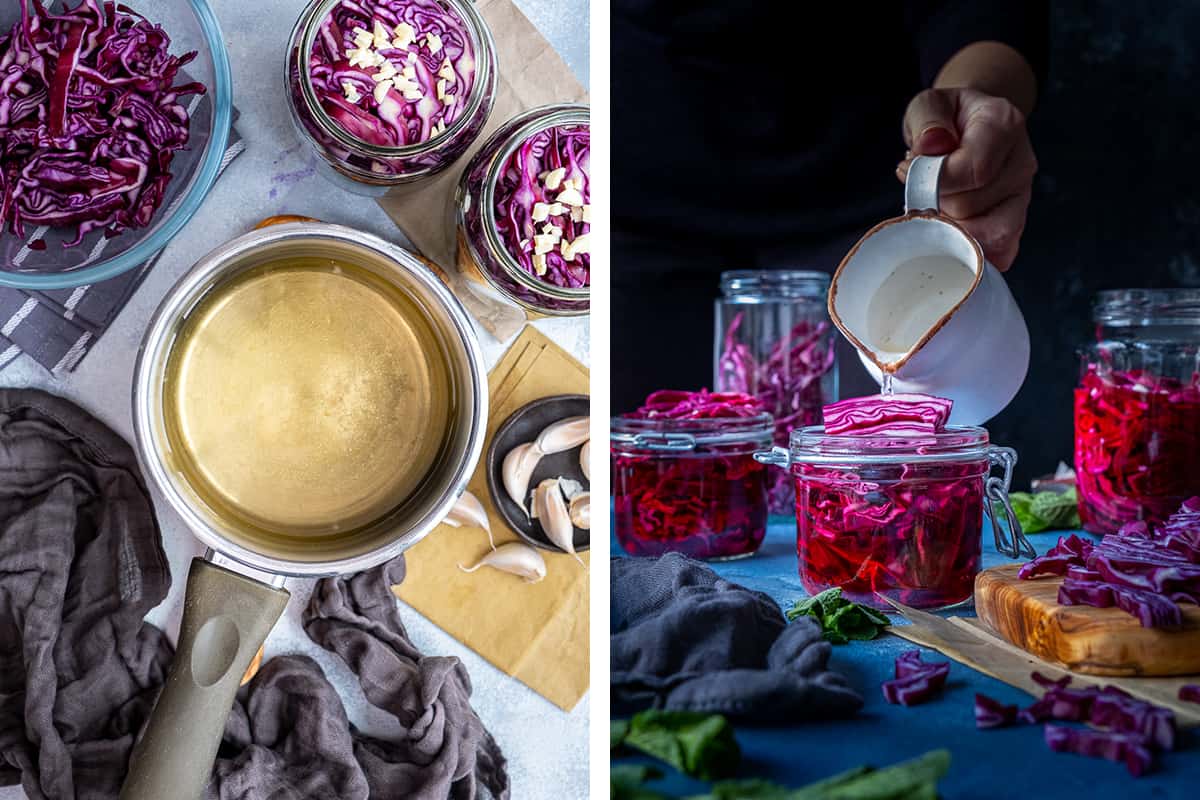 Make the brine: We use our basic pickle brine here. Combine water, apple cider vinegar, sugar and salt in a saucepan. Here, you can add more pickle seasoning if you want. Bring the liquid to a rolling boil over high heat. The sugar and salt should be dissolved by the time the liquid boils.
Pickle the cabbage: Pour the hot brine over the shredded cabbage and minced garlic in the jars. Place their lids and leave them at room temperature to cool completely. Once cooled, place the pickled cabbage slaw in the fridge. Allow it to rest for 1 hour before eating it.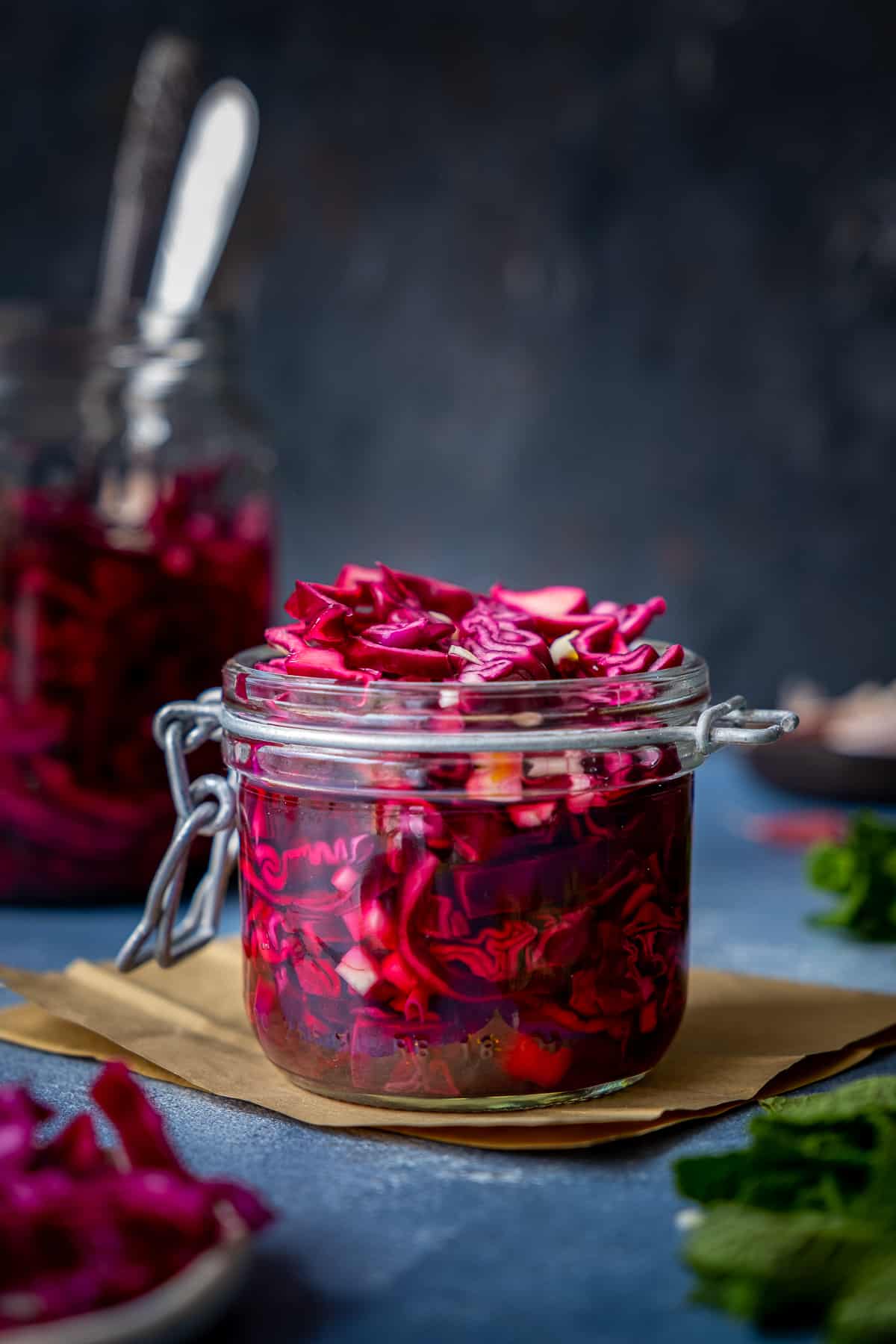 Spiced Variation With White Cabbage
We have another version of pickling cabbage with spices. We often make it with white cabbage, especially when we make cabbage rolls and have leftover cabbage pieces. So we need:
½ small head white cabbage
1 and ½ cups water
1 lemon, freshly squeezed
1 cup vinegar
1 and ½ teaspoons salt
½ teaspoon sugar
4 cloves garlic, smashed
1 teaspoon red pepper flakes
1 teaspoon black peppercorn
Chop the cabbage roughly. Makes 3-4 cups. Put water, lemon juice, vinegar, salt and sugar in a pot. Bring it to boil. Put the chopped cabbage, garlic, red pepper flakes and black peppercorn into this boiling water. Give it a good stir and remove
from heat. Cool completely and chill at least for an hour before using. Keep the leftovers in a jar or in an airtight container in the fridge.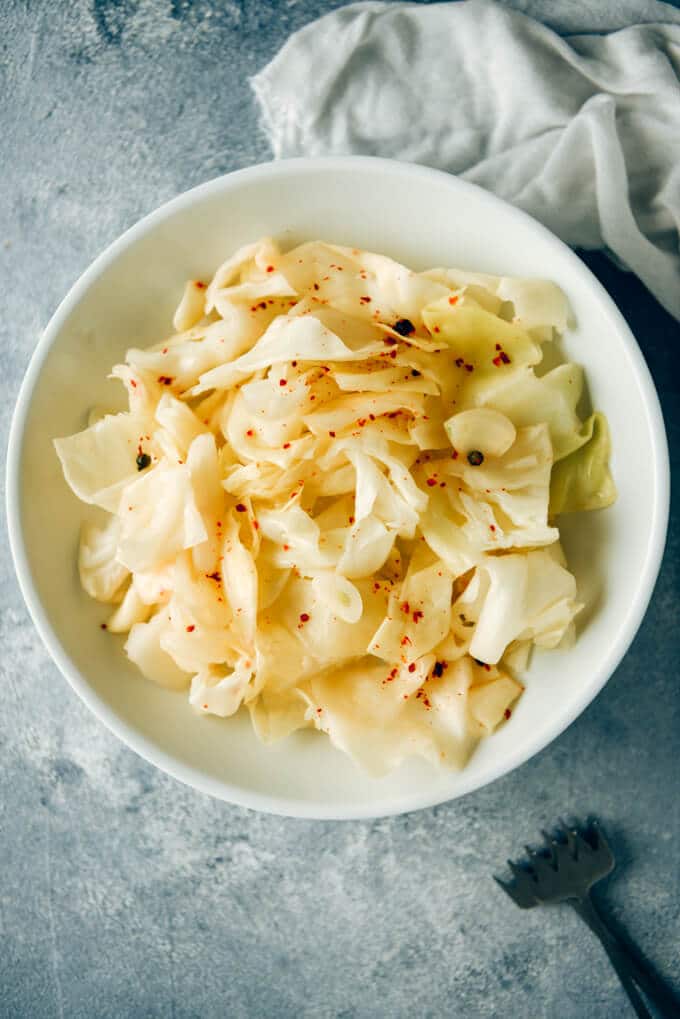 Storage
Make sure that the jars cool down to room temperature before putting them in the refrigerator. This is a quick pickled cabbage, so it is not as shelf-stable as fermented pickles.
Always use glass jars to store it. Plastic containers or bowls without lids are not recommended.
It will last up to 6 weeks if stored in glass jars with tight lids in the refrigerator.
Tips
You can make this recipe with any cabbage. Red cabbage, white cabbage, green cabbage and savoy cabbage all work fine.
If you prefer a sweeter pickled purple cabbage, add a little more sugar before boiling the liquid.
You can add some additional spices to this red cabbage pickle. It can be anything from mustard seeds, coriander seeds, black peppercorns and dill seeds.
It is crucial that the jars are at room temperature before you put them in the refrigerator. Don't refrigerate them when they are still hot.
Because this is a quick pickled red cabbage recipe, you have to store it in the fridge at all times. If you don't, mold may start to grow and ruin your entire batch.
The longer it sits, the tastier it gets.
What To Do With Pickled Red Cabbage
We love red cabbage pickle so much that we can pair it with any dish. Here are some amazing uses.
It makes a wonderful topping or addition to dishes like sandwiches, tacos, burritos, wraps or burgers. It adds a wonderful tang and crunch.
Then, you can also use them in salads like buckwheat salad, wheat salad, tuna salad or black eyed bean salad. It's lower in calories and will add a TON of flavor to your salads.
And finally, you can use it on appetizers like deviled eggs or as a garnish on soups like black bean lentil soup.
FAQs
Is pickled red cabbage healthy for you? 
Yes, it is. Red cabbage is rich in vitamin C, antioxidants, fiber and potassium. So it is definitely a healthy vegetable. That being said, pickled cabbage contains salt, so keep that in mind if you are watching your sodium intake.
What is the difference between fermented cabbage and pickled cabbage? 
Fermented cabbage is pickled but pickled cabbage doesn't have to be fermented. Quick pickles like this one is not fermented. When cabbage is soaked in an acidic brine (with vinegar), it is pickled and has a sour flavor. 
Fermented cabbage doesn't contain vinegar or any other acidic ingredient. Salt is the crucial ingredient when fermenting. Bacteria ferment the natural sugar in cabbage leaves in 10-15 days and this results in lactic acid bacteria. This is fermentation and the cabbage has a sour flavor as a result.
Is quick pickled cabbage sauerkraut? 
No, it is not. It is a quick way of pickling cabbage with a vinegar brine whereas sauerkraut is fermented cabbage with salt.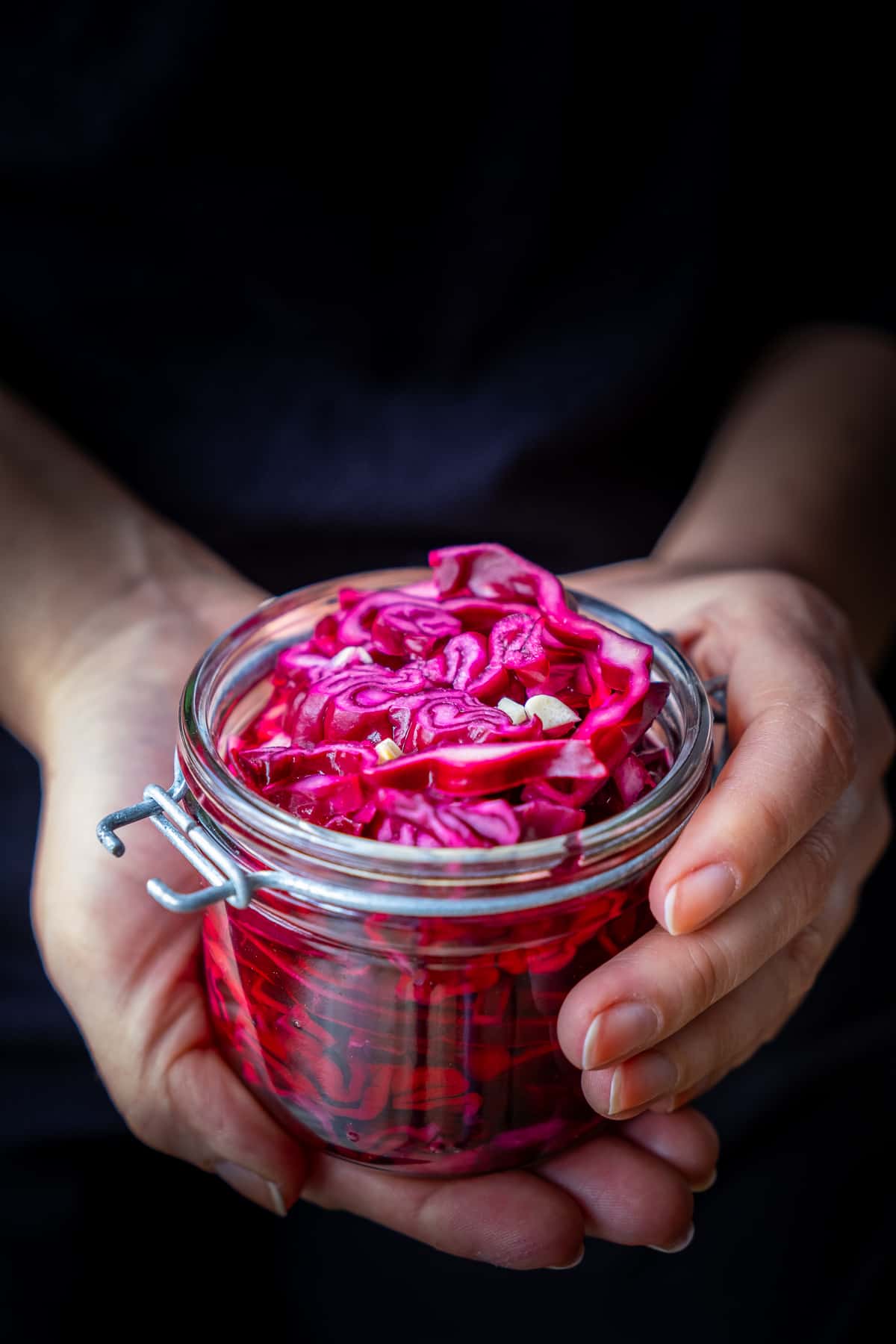 Other Pickle Recipes
Other Cabbage Recipes
As always: If you make this recipe, let us know what you think by rating it and leaving a comment below. And post a pic on Instagram too—tag @give_recipe so we can see!
Sign up for the FREE GiveRecipe Newsletter to get the new recipes into your inbox! And stay in touch with us on Facebook, Pinterest, YouTube and Instagram for all the latest updates.
Print
📖 Recipe
Quick Pickled Cabbage Recipe (Red & White)
In just 30 minutes or less, you can have a jar full of tangy, colorful quick pickled cabbage that's sure to add to any meal.
Author: Zerrin & Yusuf
Prep Time:

10 minutes

Cook Time:

5 minutes

Total Time:

15 minutes

Yield:

8

1

x
Category:

Appetizer

Method:

Pickling

Cuisine:

Turkish
1

medium head red cabbage or white cabbage (2 pounds /

900 g

) 

2

cloves garlic, minced

2 cups

(

473

ml) water

2 cups

(

473

ml) apple cider vinegar

1 tablespoon

sugar

2 teaspoons

kosher salt
Instructions
Cut the cabbage into four quarters. Remove the core of each and slice them using a knife or a mandoline. Put it in two 1-pint (570ml) jars. 
Add in garlic. If you use two jars, share it evenly.
Make the brine: Put water, vinegar, sugar and salt in a saucepan. Bring to a boil over high heat and remove from the heat. Stir well.
Pour hot brine over the cabbage in the jars. Place the lids on the jars and let them cool down to room temperature.
Put the jars in the refrigerator. Let them sit there for at least 1 hour before eating. 
Keep them in the refrigerator for up to 6 weeks.
Notes
Increase the amount of sugar if you like it sweeter.

You can add some seeds like mustard seeds, coriander seeds, etc. for more flavor.

You can always double the brine and keep the leftovers in the refrigerator for up to 2 months. You can use it for another batch of quick pickles.

Bring the cabbage pickle to room temperature before refrigerating.

This is a quick pickle recipe, so always keep it in the refrigerator.

Nutrition information includes the marinated chicken only and is approximate and meant as a guideline only.
Nutrition
Serving Size:
Calories:

64

Sugar:

7.2 g

Sodium:

353.8 mg

Fat:

0.2 g

Carbohydrates:

12.8 g

Fiber:

3 g

Protein:

2.1 g

Cholesterol:

0 mg
Keywords: pickled cabbage, quick pickled cabbage