Looking to cut back on some pickling prep time? Want your homemade pickles burst with flavor? Our Homemade Pickling Spice Recipe is here to help! It's incredibly simple, using just a few basic ingredients. Whether you're making quick refrigerator pickles or canning them for later, pickling will be super easy!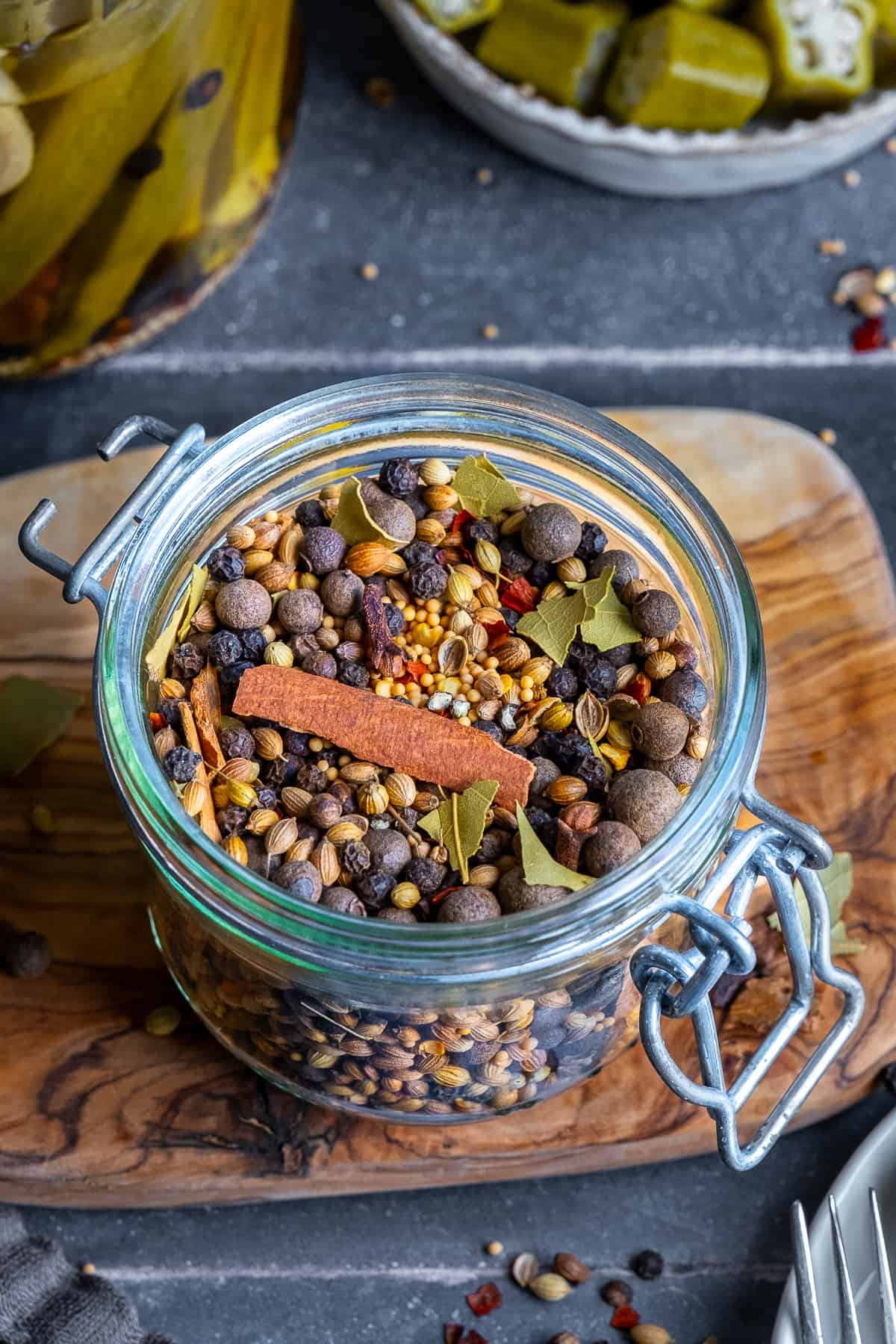 This pickle spice recipe is super simple and only needs a couple of dried whole spices and herbs. You can use it to pickle virtually any type of vegetable. So, give it a try and let us know what you think! 
Jump to:
What Is Pickling Spice?
Simply put, a pickling spice or seasoning is like a magic blend of flavors that transforms plain veggies into delicious pickles. This special blend typically includes mustard seeds, coriander seeds, cloves, and more.
When you soak your veggies in pickling brine, this spice mix steps in to make them taste extraordinary. It brings a touch of spice, a hint of sweetness, and a dash of earthiness to your pickles.
As we're huge fans of pickling, we always make our very own spice mix for pickling, and we're excited to share our super simple recipe with you. 
You might wonder, "Why not just buy it from the store?" Well, because making your own is super easy, and it lets you customize the flavors to match your taste buds. Also, you feel proud of yourself afterwards. 
A really important note about this mix: The spice seeds and berries are always used whole. This is the best way for their flavor to stand up to the vinegar.
Ingredients
Our homemade pickling spice mix is a carefully crafted blend of flavors, each ingredient playing a unique role in making your pickles taste incredible. So we need: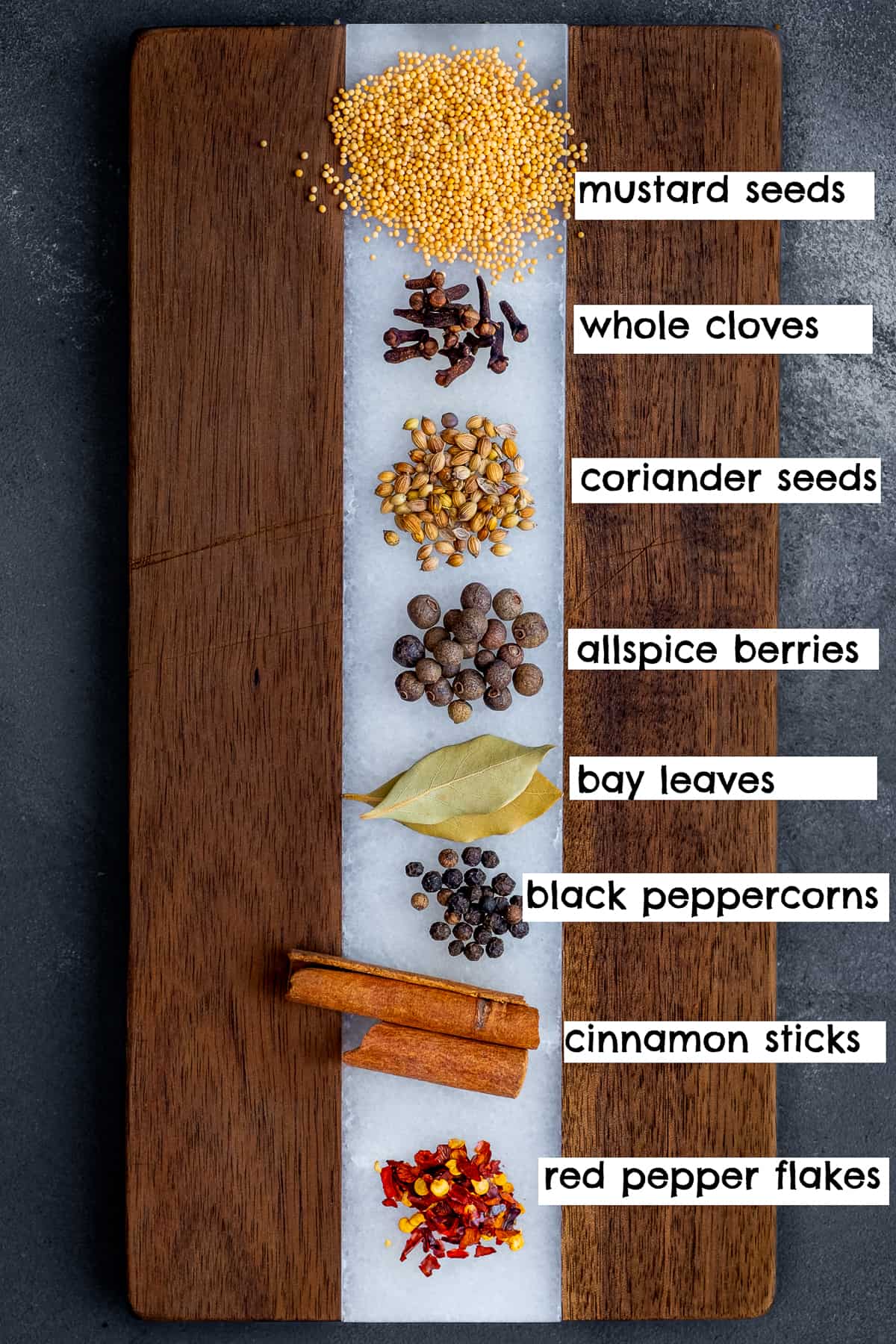 Whole Mustard Seeds: They bring a mild, slightly tangy flavor with a touch of heat. They add depth to your pickles and are a must-have in any pickling mix.
Whole Cloves: They offer a warm, sweet, and aromatic flavor. They give your pickles a hint of sweetness and a delightful aroma. While you can omit them, they contribute to the unique character of our spice mix.
Whole Coriander Seeds: They provide a citrusy, slightly floral note with a mild spice.
Whole Allspice Berries: These are berries that taste like a combination of cinnamon, cloves, and nutmeg all in one. They contribute warmth and a hint of pepperiness to your pickling spice mix. If you can't find it, just leave it out and increase the amount of cinnamon and cloves a little.
Bay Leaves: Bay leaves offer a subtle, earthy flavor with herbal undertones. They infuse your pickling liquid with a touch of complexity. You can omit them, but they're worth keeping.
Whole Black Peppercorns: Black peppercorns bring a mild, steady heat and a classic peppery kick to your pickles. They're a staple ingredient for adding zing.
Cinnamon Sticks: Cinnamon sticks provide a sweet, woody warmth with a hint of spice. They add a touch of cozy flavor to your pickles. You can leave them out if you prefer.
Red Pepper Flakes: Red pepper flakes are the spice in your mix, providing a fiery kick. Adjust the amount to control the heat level in your pickles. They're optional if you prefer milder pickles.
While each of these ingredients plays a crucial role in creating a well-balanced spice mix for your pickles, feel free to adjust the quantities to suit your taste. You can also omit or add other spices and herbs to create a personalized blend. 
More Spices To Add
Here are some other ingredients you can consider when creating your own pickle spice mix:
Dill Seeds: If you love that flavor of classic dill pickles, dill seeds are a fantastic addition. They bring a refreshing, herbal note that pairs perfectly with cucumbers.
Fennel Seeds: They contribute a mild, anise flavor and a hint of sweetness.
Celery Seeds: Celery seeds offer a subtle celery-like flavor and a touch of bitterness.
Juniper Berries: They have a piney, slightly citrusy taste. They're a great choice for a unique twist to your spice blend.
Turmeric: This vibrant spice not only adds color but also imparts an earthy, mildly peppery flavor to your pickles.
Ground ginger: It adds a zesty, warm kick to your pickles.
Cardamom Pods: They add a fragrant, slightly citrusy and spicy flavor.
Star Anise: It brings a sweet, licorice-like flavor with a hint of warmth. It's an excellent choice for adding a touch of complexity to your spice blend.
If you love making your own spice mixes, you might want to see our homemade chicken seasoning too!
How To Make It
Ready for learning how to make pickling spice mix at home? It is a simple and rewarding process. Here's a step-by-step guide for the easiest way of preparing it: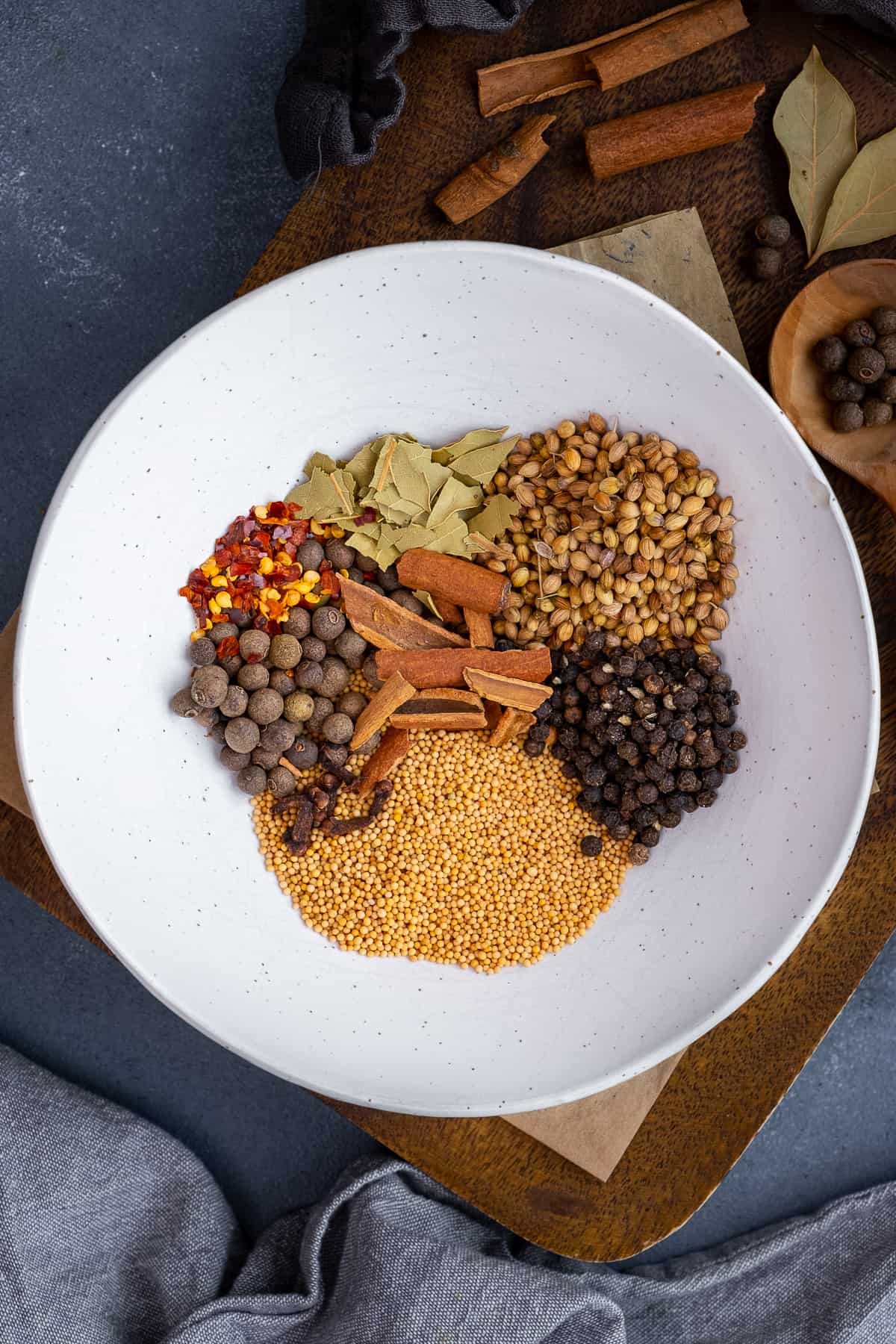 Prepare Your Ingredients: Gather all the necessary spices and ingredients. Use a mortar and pestle to crush the cinnamon sticks and bay leaves into a few pieces. This will release their flavors and aromas.
Combine the Spices: In a small bowl, combine the crushed cinnamon sticks and bay leaves with the mustard seeds, cloves, coriander seeds, allspice berries, black peppercorns, and red pepper flakes. Stir well.
Transfer the mix into an airtight container or a glass jar with a tight-sealing lid. Remember to label the container with the name "pickling spice" and the date of preparation.
Simply measure out the desired amount and incorporate it into your pickling recipes.
Need pickle recipe ideas? Check out our Armenian cucumber pickles, quick beet pickles, pickled cabbage.
Using it When Pickling Vegetables
Now that you've got your homemade pickle spice blend ready, it's time to pickle like a pro! The vegetables that are perfect for pickling are cucumbers, green beans, red onions, radishes, cauliflower, beets, cabbage, okra, chili peppers or bell peppers.
Check out our basic pickling brine recipe and then continue with one of the options below when using your spice mix.
Simmer with the Brine:
Prepare Your Vegetables: Start by washing, slicing, or preparing your vegetables as you prefer. Cucumbers, carrots, and onions are popular choices.
Create Your Brine: In a saucepan, mix water, apple cider vinegar (or white vinegar), salt, and any sugar if you like sweet pickles.
Add Your Spice Mix: Drop a few tablespoons of your spice mix directly into the saucepan with the brine. Stir everything together.
Simmer the Brine: Gently heat the mixture to a simmer and let it cook for a few minutes to infuse the spices into the liquid.
Assemble: Pour the spiced brine over your prepared vegetables in a clean jar or container, place the lid and let it cool completely.
Refrigerate: Refrigerate for at least 24 hours, letting the flavors meld and develop.
Add Directly Into Jars:
Pack Your Jars: Place your prepared vegetables into the sterilized jars, leaving some space at the top.
Add Your Spice: Sprinkle a few tablespoons of your spice mix over the vegetables in each jar.
Create Your Brine: In a pot, combine water, vinegar, salt, and any sugar for sweetness. Gently heat the mixture to a simmer and let it cook for a few minutes.
Pour in the Brine: Carefully pour the hot brine into the jars over the vegetables and spices, ensuring they are well-covered. Secure the lids.
Cool and Store: Let the jars cool and keep in the refrigerator.
Note on Canning:
When using our homemade pickling spice mix for canning, the process is versatile and can be applied to various pickled vegetables. After pouring the brine over the jars, follow these additional steps:
Seal the Jars: Secure the lids onto the jars, ensuring they are tightened enough to create a seal but not overly tightened, as air bubbles should be able to escape during the canning process.
Process in a Canning Pot: Carefully place your packed jars into a canning pot using tongs. Make sure they don't touch each other. Cover the jars with 1-2 inches of water. Bring the water to a boil. Process for 15 minutes or refer to your specific recipe or canning guidelines for the recommended processing time, which might vary depending on the type of vegetable you use.
Remove and Cool: Once the processing time is complete, carefully remove the jars from the canning pot. Place them on a thick kitchen towel. Let them cool for the next 12-24 hours.
Check for Seals: After the cooling period, check the seals by pressing down on the center of each lid. If the lid doesn't flex or move, the seal has formed successfully.
Unsealed Jars: If a seal doesn't form on a jar, simply refrigerate it and enjoy the contents within a few months.
Tip: For even a richer flavor, add fresh garlic cloves and sprigs of fresh dill into your pickling jars along with your homemade pickle spice mix.
How Much To Use in Pickles
Determining the right amount of spices for your pickling project is essential to achieve the perfect balance of flavors. Here's a general guideline to help you get it just right:
For Cucumbers and Similar Vegetables: As a rule of thumb, you can use approximately 1 to 2 tablespoons of pickle spice per pint-sized (16-ounce) jar. If you're using quart-sized (32-ounce) jars, you can double this amount.
Adjust to Your Taste: Keep in mind that pickling spice blends can vary in intensity, so it's best to start with the lower end of the range and adjust to your taste. You can always add more spice for a bolder flavor.
Other Uses
While pickling spice is a staple in creating delicious pickles, its versatility extends well beyond pickling projects. Here are some creative ways to incorporate it into other dishes:
Brining Meats: It enriches the flavor of your meat brines. Try adding some to your chicken, pork, turkey, or corned beef brine for a unique and savory twist.
Soups and Stews: It adds warm and aromatic flavors to broths, soups and stews.
Roasted Vegetables: Sprinkle a pinch over roasted vegetables like carrots, potatoes, and squash. It will elevate their taste and provide a delightful aroma.
Marinades: Create flavorful marinades for grilled or roasted meats and vegetables.
Tip: When using pickle spice in the dishes mentioned above, consider grinding the spices for a smoother flavor integration. Use a grinder or crush them using a mortar and a pestle.
Storage
Remember, all of the ingredients for pickling spice mixes are dry. So, storing them is extremely easy.
Choose an Airtight Container: Start by placing your pickle spice blend into an airtight container. We recommend using glass jars to avoid any staining or odor absorption that plastic containers might cause.
Ideal Storage Conditions: Sore it in a cool, dark, and dry spot. These conditions help preserve the quality and flavor. A pantry or cupboard works perfectly.
When stored this way, your homemade pickle spice blend can stay flavorful for up to a year.
FAQs
What if I don't have all the listed ingredients for pickle spice?
Feel free to adapt. Substitute missing spices with similar ones you have on hand, or adjust quantities to your taste.
Do I need to toast the spices for my pickle spice mix?
It's not necessary and we don't toast it. But you can toast them to add depth to your blend.
Is there a substitute for pickling spice?
In a pinch, you can create a basic substitute using common spices like mustard seeds, cloves, and black peppercorns. However, the unique flavor of pickle spice is hard to replicate.
What herb is commonly used to flavor pickles?
Dill is commonly used to flavor pickles. Fresh dill and dill seeds are both popular choices for adding a distinct, herbaceous flavor to pickled cucumbers and other vegetables. 
Our Favorite Pickling Recipes
Also Recommended
As always: If you make this recipe, let us know what you think by rating it and leaving a comment below. And post a pic on Instagram too—tag @give_recipe so we can see!
Sign up for the FREE GiveRecipe Newsletter to get the new recipes into your inbox! And stay in touch with us on Facebook, Pinterest, YouTube and Instagram for all the latest updates.
Print
📖 Recipe
Homemade Pickling Spice Mix
Create your own aromatic and customizable pickle spice mix at home. This easy-to-follow recipe allows you to craft the perfect blend of spices for pickling and beyond. 
Author: Zerrin & Yusuf
Prep Time:

5 minutes

Cook Time:

0 minutes

Total Time:

5 minutes

Yield:

½ cup

1

x
Category:

Spice Blend

Method:

Blending

Cuisine:

American
2 tablespoons

mustard seeds

8

whole cloves

2 tablespoons

coriander seeds

1 tablespoon

whole allspice berries

4

bay leaves, crumbled

1 tablespoon

black peppercorns

2

cinnamon sticks, broken into a few pieces

1 teaspoon

crushed red pepper flakes, optional
Instructions
Put everything in a small bowl and stir to mix.
Measure out the desired amount and incorporate it into your pickling recipes.
Keep the leftover mixture in an airtight jar or container. It keeps well for up to one year.
Notes
Use a mortar and pestle to crush the cinnamon sticks and bay leaves into a few pieces.
All the spices in this recipe are whole spices. Don't substitute ground spices for them.
You can always play with the amounts to make your own blend.
Once your pickle seasoning blend is ready, label the container with the name and date of preparation to keep track of freshness.
When pickling, consider adding fresh garlic and dill to complement the spice blend and infuse extra flavor into your pickles.
Nutrition
Serving Size:

½ cup

Calories:

204

Sugar:

1.6 g

Sodium:

59.5 mg

Fat:

9.8 g

Carbohydrates:

37.9 g

Fiber:

19.9 g

Protein:

7.2 g

Cholesterol:

0 mg
Keywords: homemade pickling spice