Warm up with our quick and easy Tomato Rice Soup! It is made with simple ingredients like onions, garlic, tomato paste, tomatoes, and rice. Top it off with fresh basil for a delicious, cozy meal. Perfect for any day!
Jump to:
We are big fans of tomato based soups, often whipping up favorites like Roasted Tomato Soup and Roasted Carrot Tomato Soup. But on busy days, our go-to is this tomato soup with rice. It's quick, budget-friendly, and deliciously satisfying.
And what makes this recipe even better is that it stores incredibly well in the fridge and freezer. Give it a try and let us know what you think.
Why Should You Make It?
We know this old fashioned tomato soup with rice will become a favorite of yours too. Here is why:
Easy and Simple: This recipe is straightforward and foolproof, ideal for any cooking skill level.
Economical Ingredients: Made with budget-friendly, pantry staples, it's kind to your wallet.
Filling Meal: Packed with rice, it's a complete and satisfying meal on its own.
Better as Leftovers: The flavors enhance overnight, making it a great option for meal prep.
Freezer-Friendly: Easily frozen and reheated, it's perfect for busy days or unexpected guests.
Ingredients & Substitutes
You only need a couple of basic ingredients to make this rice and tomato soup recipe. There are also a bunch of ways to change it up and even make it heartier.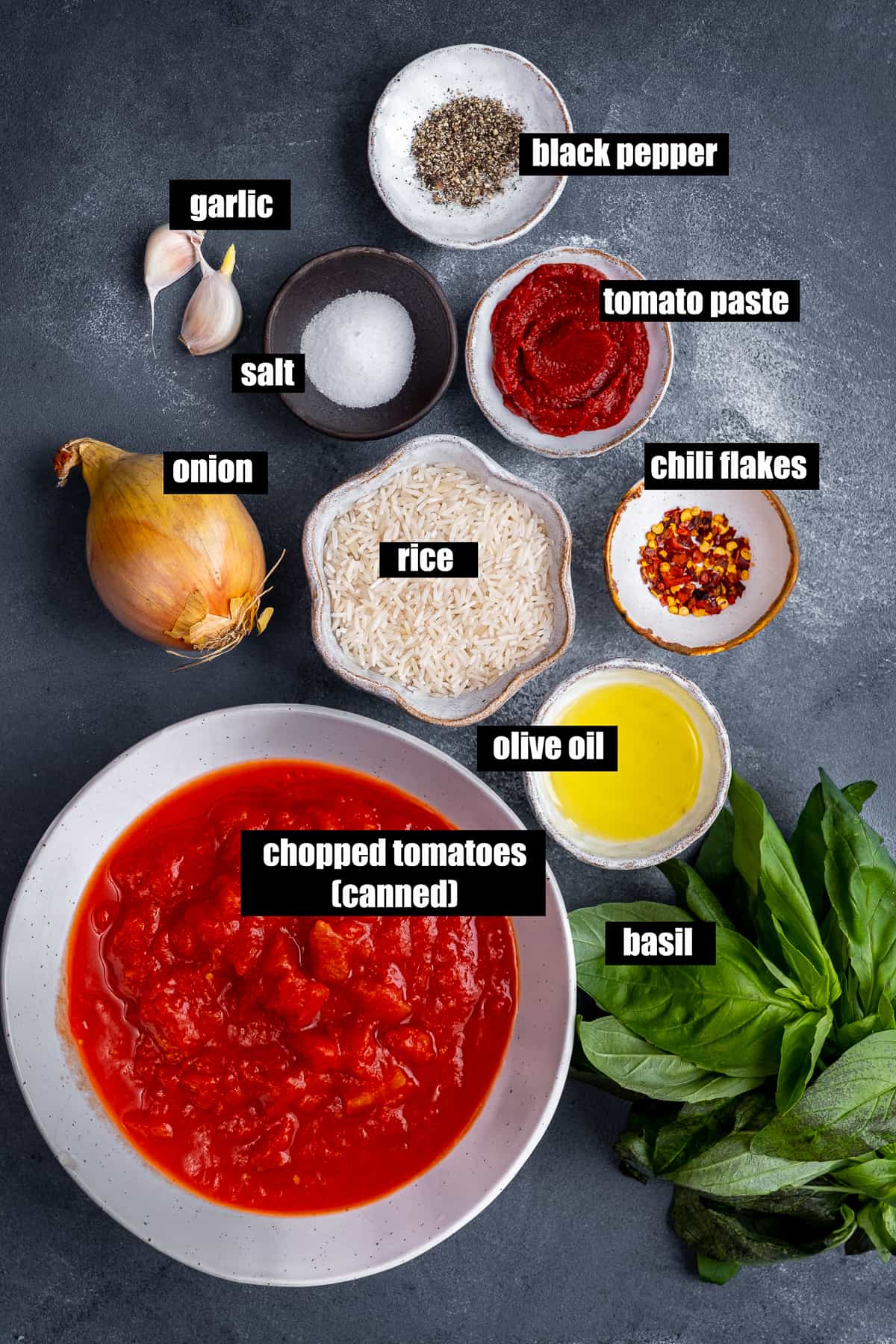 Olive Oil: The base for sautéing. If you don't have olive oil, any vegetable oil or even butter will work.
Onion: Adds a sweet, aromatic base. No onion? Try shallots or skip it altogether.
Garlic: For that essential kick.
Tomato Paste: It deepens the tomato flavor. If you can't find paste, use tomato puree instead. Alternatively, you can add in about ½ cup tomato juice when adding the tomatoes.
Tomatoes: We use canned tomatoes. You can use fresh diced tomatoes too. The canned alternative is just quicker and tastes just as good.
Water: You can substitute the water with some vegetable broth or chicken broth. They will make it more savory. But water alone works just fine as well.
Salt and Black Pepper: For seasoning. Adjust according to your taste.
Red Pepper Flakes: For a hint of heat. Optional, or substitute with a dash of cayenne or paprika.
Rice: We use basmati rice but any rice works fine for this rice tomato soup. If using leftover cooked rice, add it towards the end of cooking to prevent it from over-softening.
Fresh basil: This is a fantastic way to add a herby touch. You can replace it with dried basil, thyme or oregano if you'd like.
Choosing The Best Rice
The choice of rice can significantly influence the texture and overall enjoyment of your tomato and rice soup. Here's a guide to help you choose the best rice and make necessary adjustments to the recipe:
Basmati Rice: This is our top pick for its fragrant aroma and non-sticky texture. It holds its shape well in the soup without becoming mushy.
Jasmine Rice: Similar to basmati, jasmine rice has a lovely aroma and slightly stickier texture. It's a great alternative if you want a slightly thicker consistency in your soup.
Long-Grain White Rice: A good all-purpose choice. We use it often when making Turkish yogurt soup called yayla corbasi. It has a neutral flavor and firm texture. You may need to cook it a bit longer than basmati, so check the rice for doneness and adjust the cooking time accordingly.
Brown Rice: If you prefer a healthier option, brown rice works well. Keep in mind it has a chewier texture and requires a longer cooking time. You may need to add more liquid and extend the cooking time by 20-30 minutes, or until the rice is tender.
Arborio Rice: We often use it when making Turkish rice pilaf or ic pilav (rice with raisins and nuts). Arborio rice creates a creamier soup. However, it tends to absorb more liquid, so you might need to add extra water or broth. Monitor the soup as it cooks and adjust the consistency as needed.
Wild Rice: A unique, nutty option that adds texture and robust flavor. It takes longer to cook, so you might need to simmer the soup for an additional 30-40 minutes. Check the rice for tenderness and add more liquid if needed.
Leftover Cooked Rice: A convenient and quick option. Simply add it towards the end of cooking just to warm it through, as it doesn't need to cook further.
How To Make It
Be sure to see the recipe card below for the full ingredients list & instructions!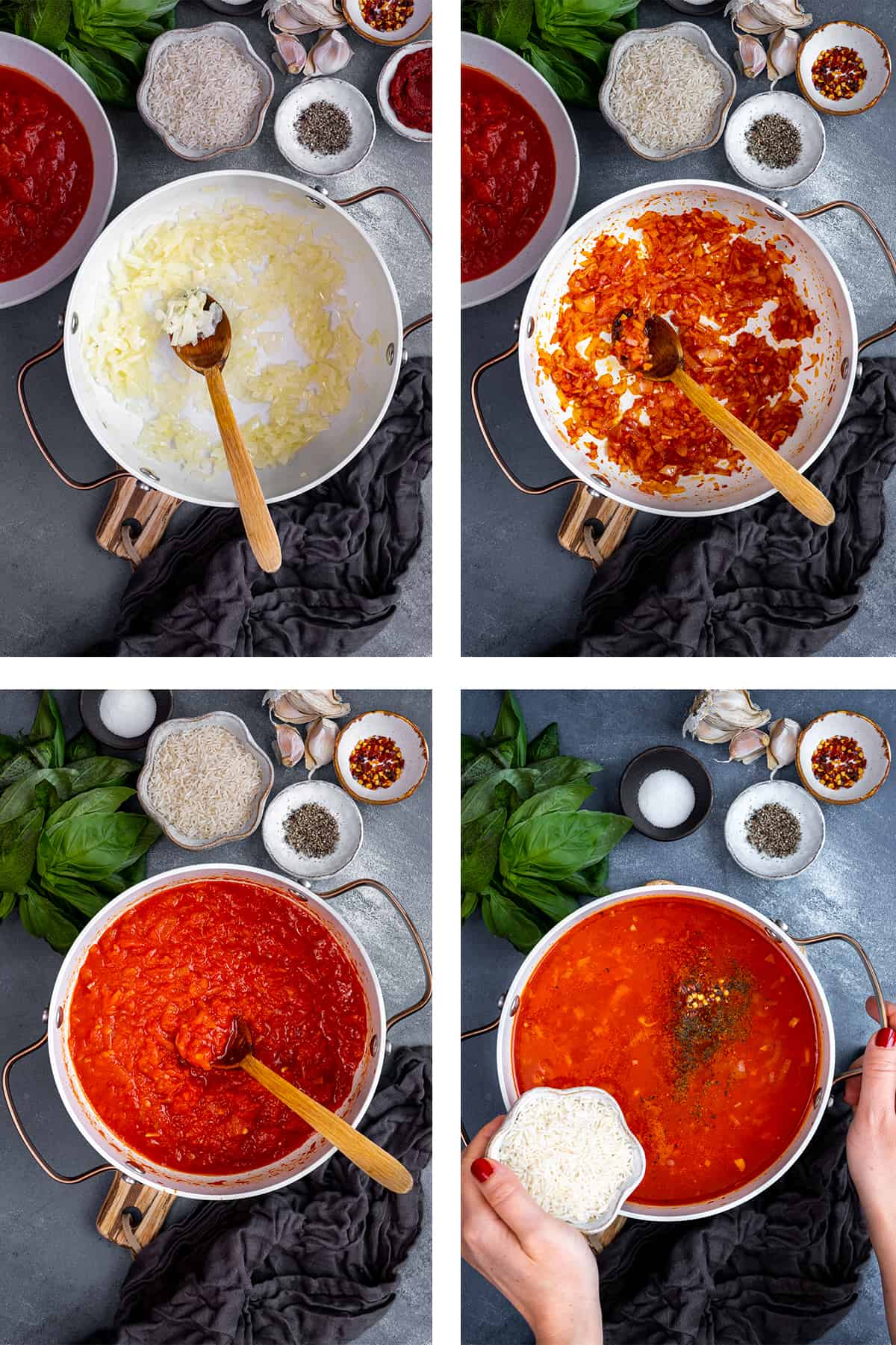 This homemade tomato rice soup recipe takes less than 30 minutes to make. It is straightforward and rewarding. Here's how to make it:
Start with the Base: Heat olive oil in a large saucepan over medium heat. Add diced onions and cook until they become translucent.
Build the Flavor: Add diced garlic and tomato paste to the saucepan. Cook them together for about a minute.
Add Tomatoes and Simmer: Stir in the crushed tomatoes. Cover the saucepan and let it cook for about 5 minutes. This allows the flavors to meld together.
Season and Boil: Pour in the water, then season the mixture with salt, black pepper, and red pepper flakes. Cook uncovered until the soup reaches a boil.
Incorporate the Rice: Add the rice to the boiling soup and give it a good stir. Let it simmer uncovered until the rice is tender, which should take about 10-15 minutes. Remember to stir occasionally to prevent sticking and ensure even cooking.
Adjust Consistency: If the soup seems too thick for your liking, feel free to add extra hot water or broth.
Garnish and Rest: Once the soup is cooked, remove it from the heat. Sprinkle chopped basil on top for a fresh burst of flavor. Cover the saucepan and let the soup sit for 10 minutes. This resting period lets the flavors come together beautifully.
Serve and Enjoy: Your Tomato Rice Soup is now ready to be served. Ladle it into bowls and savor the comforting, rich flavors.
Tip: For a less chunky soup, use an immersion blender to puree the tomato mixture before adding the rice. It creates a silky base, perfect for those who prefer a less chunky texture. Just be careful of hot splashes!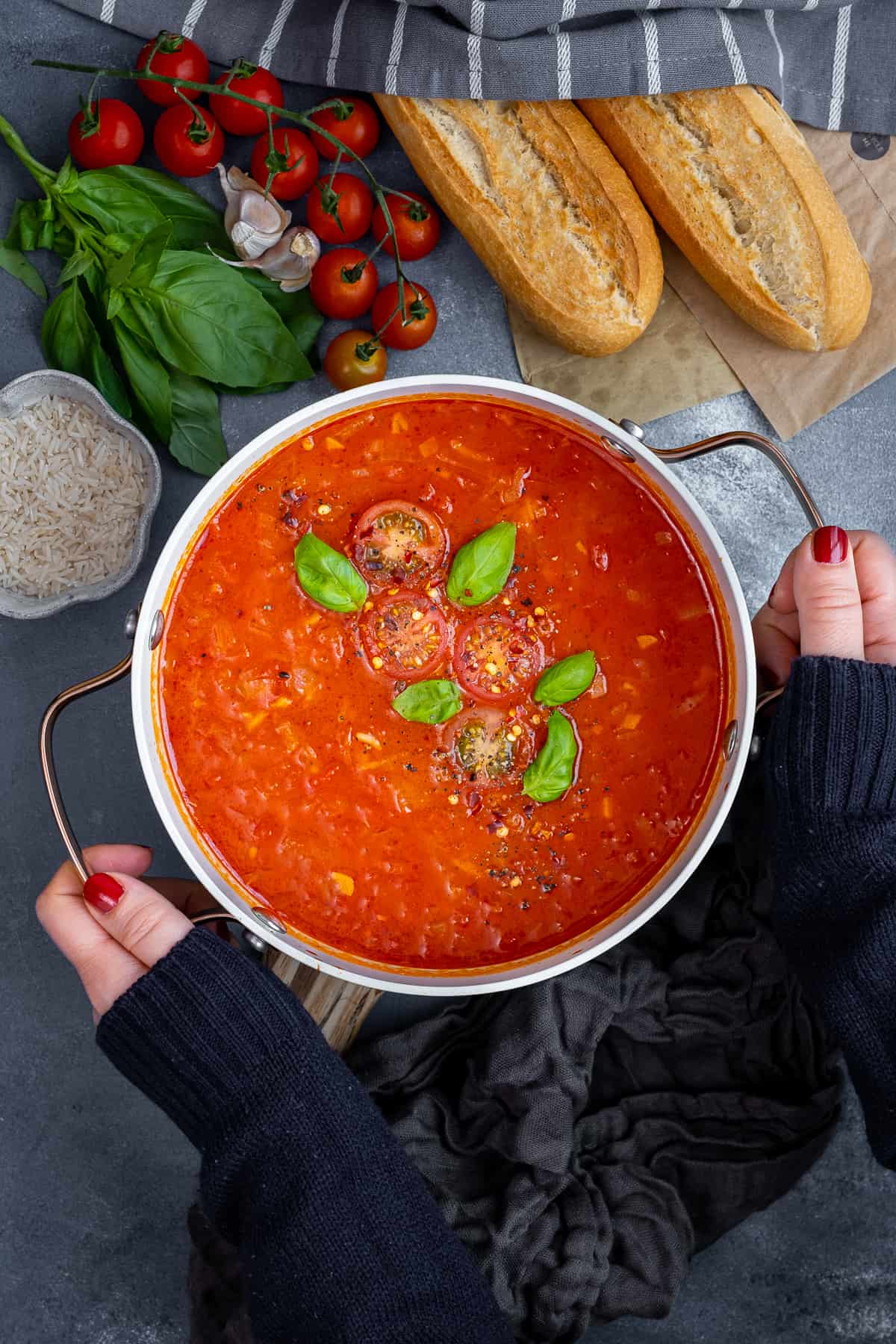 Variations
This rice and tomato soup is wonderfully versatile, allowing for various adaptations to suit your taste and dietary preferences. Here are some variations to consider:
Adding Ground Beef: For a meatier version, add some ground beef over the cooked onions. Cook it until it's no longer pink and there
Other Protein Options: Besides ground beef, consider adding cooked chicken, turkey, or shrimp. If you're vegetarian, consider stirring in some cooked chickpeas or beans for a protein boost.
Veggie-Loaded: Amp up the nutrition by adding diced carrots, celery, or bell peppers when you sauté the onions. Spinach or kale can be added towards the end for extra greens.
Low-Carb Alternative: Replace rice with cauliflower rice to reduce carbs. Add it later in the cooking process as it cooks faster.
Creamy Twist: For a creamier texture, stir in a bit of cream or coconut milk towards the end of cooking.
How to Keep Rice From Getting Mushy in Soup
To prevent rice from getting mushy in the soup, consider these tips:
Right Timing: Add the rice only after your soup base is boiling. This ensures the rice starts cooking immediately and doesn't sit in lukewarm liquid.
Monitor Cooking Time: Keep an eye on the cooking time. Different types of rice have varying cooking durations. For instance, white rice typically cooks within 18-20 minutes. Overcooking can lead to mushy rice.
Rinse the Rice: Rinse the rice under cold water before adding it to the soup. This removes excess starch, which can cause the rice to become gummy.
Control Heat: Once the rice is added, maintain a gentle simmer. Vigorous boiling can break down the grains, making them mushy.
Consider Parboiled Rice: If you frequently encounter this issue, using parboiled rice can be a solution. It's less likely to become mushy.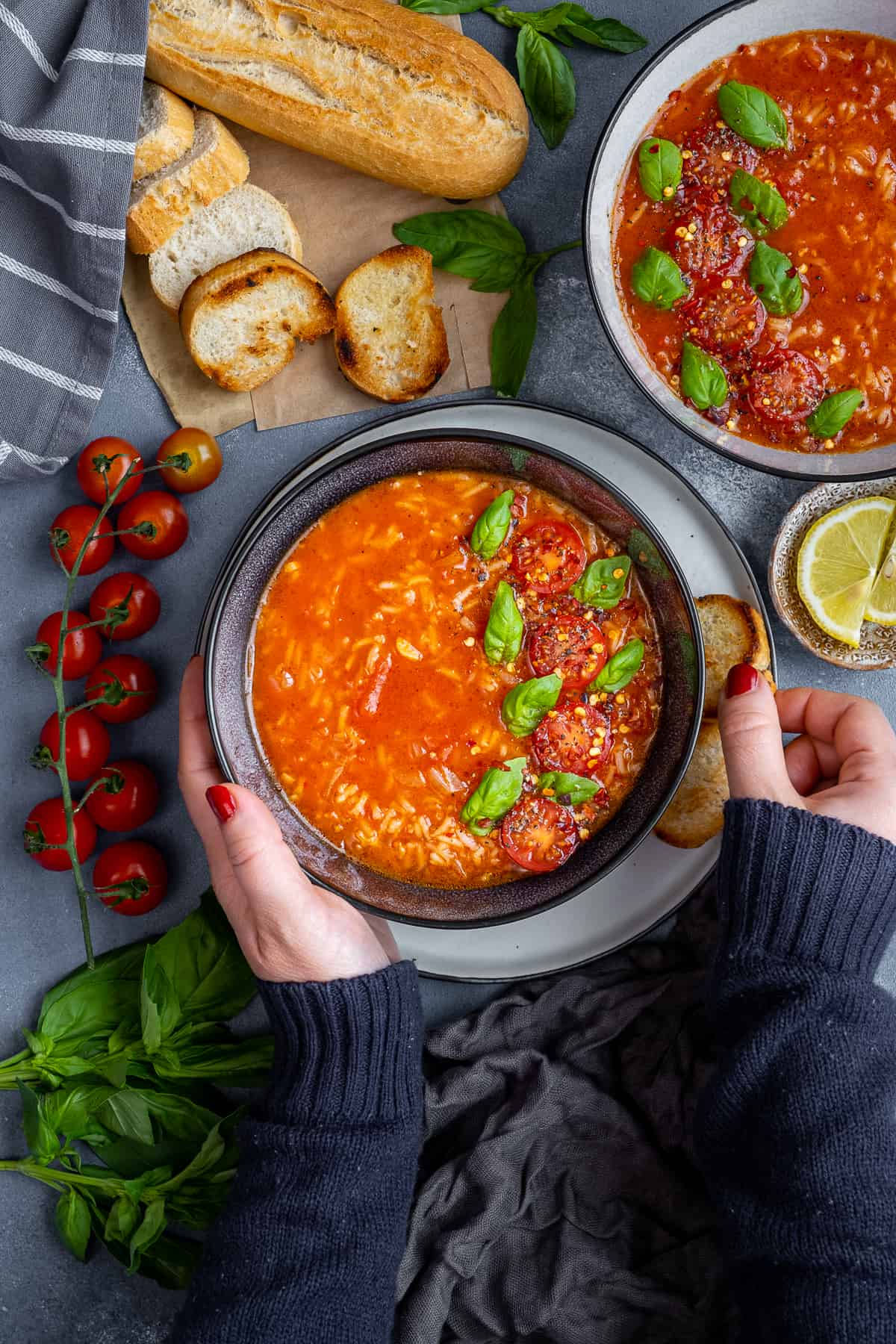 Serving Suggestions
Here are some of our favorite pairings that can take your tomato rice soup to the next level:
Storage & Reheating
Proper storage and reheating are key to enjoying your tomato rice soup for more than just one meal. Here's how to do it:
Storing:
Cool Down: Allow the soup to cool to room temperature before storing. This prevents condensation and bacterial growth.
Refrigeration: Store the soup in an airtight container in the refrigerator. It should stay fresh for up to 4 days.
Freezing: Tomato rice soup freezes well. Pour it into a freezer-safe container or zip-lock bags, leaving some room for expansion. It can be frozen for up to 3 months. Thaw overnight in the refrigerator before reheating.
Reheating:
Stovetop Method: Pour the soup into a saucepan and reheat it over medium heat. Stir occasionally to ensure even heating. If the soup is too thick, add a little water or broth to adjust the consistency.
Microwave Method: For a quicker option, place the soup in a microwave-safe bowl. Cover it with a microwave-safe lid or vented plastic wrap. Heat on high for 2-3 minutes, stirring halfway through, until hot.
From Frozen: If reheating from frozen, thaw the soup in the refrigerator overnight. Then, reheat using one of the above methods.
Tip: Remember, the rice in the soup may absorb some of the liquid upon storing, so add a splash of water or broth when reheating to bring it back to your desired consistency.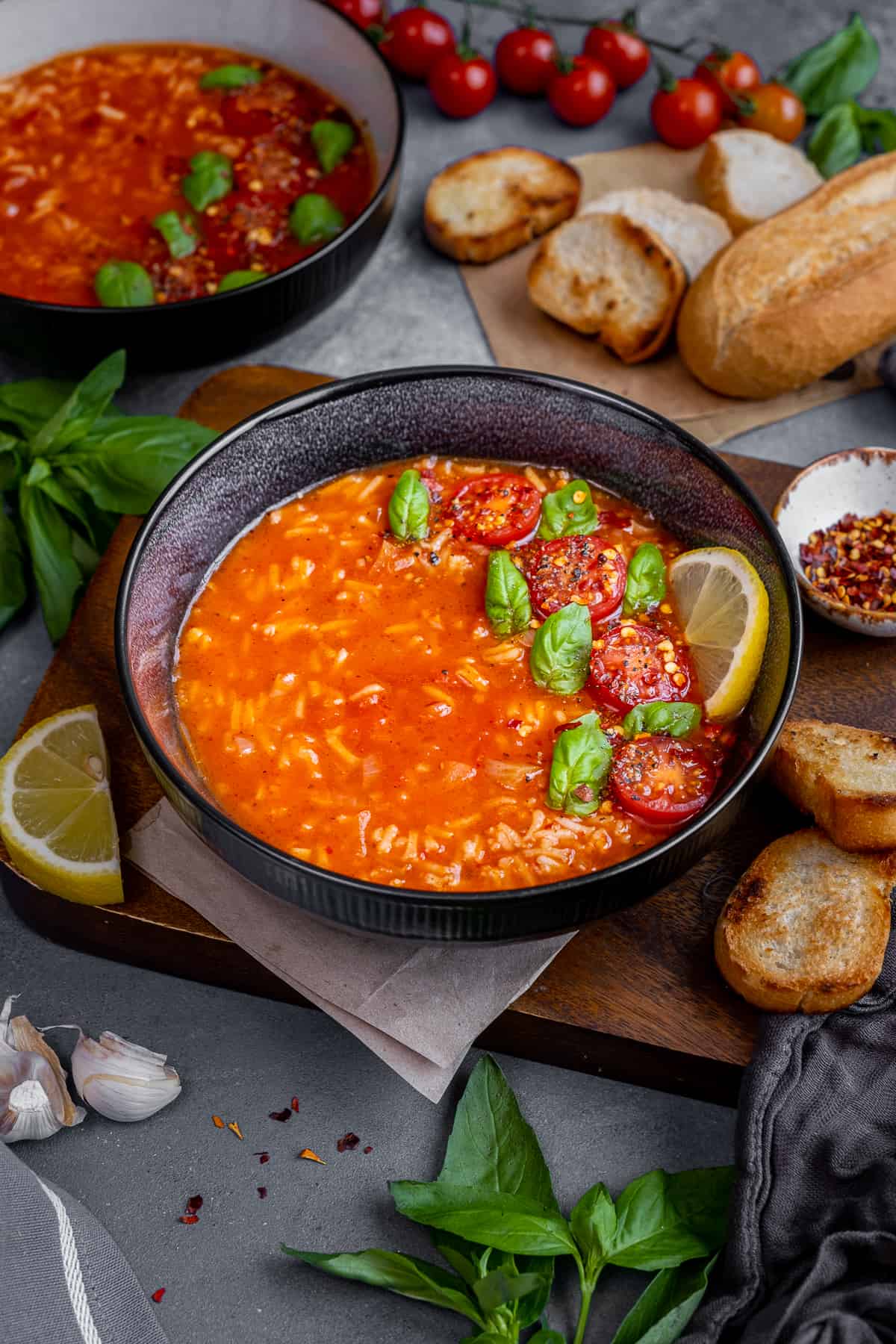 FAQs
Should you cook the rice before adding it to the soup?
No, there's no need to cook the rice beforehand. The rice cooks directly in the soup, absorbing the flavors of the tomato and spices, which enhances its taste.
When should I add rice to the soup?
Add the rice after the tomato base has been prepared and brought to a boil. This ensures that the rice cooks evenly and absorbs the flavors of the soup. 
How can I thicken the soup if it's too watery?
If your soup is too thin, let it simmer uncovered for a few extra minutes to reduce. Alternatively, you can blend a portion of the soup and add it back in for a thicker texture. 
Can I make this soup with orzo pasta?
Absolutely! Orzo pasta can be a delicious substitute for rice in this soup. Just like rice, add the orzo after your soup base is boiling and cook until the orzo is tender. Keep in mind that orzo might cook faster than rice, so adjust the cooking time accordingly.
What kind of rice is best for soup?
For this tomato soup with rice, you can use any kind that you want. None of them is "better" than another. You can use white rice, brown rice, black rice, sushi rice, short, medium, or long-grain rice.
How does this homemade tomato rice soup compare to Campbell's Tomato Rice Soup?
While Campbell's Tomato Rice Soup offers convenience, our homemade recipe allows for customization, fresher ingredients, and no preservatives. It gives you control over flavors and ingredients, ensuring a heartier, healthier, and potentially more flavorful version. Plus, you can adjust the texture and thickness to your liking, something canned options like Campbell's don't offer. 
As always: If you make this recipe, let us know what you think by rating it and leaving a comment below. And post a pic on Instagram too—tag @give_recipe so we can see!
Sign up for the FREE GiveRecipe Newsletter to get the new recipes into your inbox! And stay in touch with us on Facebook, Pinterest, YouTube and Instagram for all the latest updates.
Print
📖 Recipe
Tomato Rice Soup
This Tomato Rice Soup combines the rich tang of tomatoes with the heartiness of rice, resulting in a comforting bowl of warmth. Perfect for cozy nights or as a quick, wholesome meal!
Author: Zerrin & Yusuf
Prep Time:

5 minutes

Cook Time:

20 minutes

Total Time:

25 minutes

Yield:

4

1

x
Category:

Lunch

Method:

Cooking

Cuisine:

American, Turkish
2 tablespoons

olive oil

1

onion, diced

4

cloves garlic, diced

1 tablespoon

tomato paste

1

can (15 oz / 450 g) crushed tomatoes

5 cups

water

½ teaspoon

salt

¼ teaspoon

black pepper

¼ teaspoon

red pepper flakes

½ cup

rice (we use basmati)

Chopped fresh basil for garnish
Instructions
Heat olive oil in a large saucepan over medium heat. Add in diced onion and cook until translucent. 

Add in diced garlic and tomato paste. Cook for a minute.

Add in crushed tomatoes, give it a stir and cook covered for 5 minutes.

Pour water, season with salt, black pepper and red pepper flakes. Cook uncovered until it boils.

Add in the rice and give it a stir. Let it simmer uncovered until the rice gets tender, for 10-15 minutes. Make sure to stir occasionally.

Check the consistency and add extra water (hot) or broth if it is too thick for you.

Remove from the heat and sprinkle chopped basil on the top. Let it sit covered for 10 minutes before serving.
Notes
Use up the veggies in the fridge:

 You can chop the veggies and throw them into the pot when cooking the tomatoes. 

Stir Regularly

: Prevent sticking and ensure even cooking by stirring the soup occasionally, especially after adding rice.

 

Adjust Thickness

: If the soup is too thick after the rice is cooked, add a bit of hot water or broth to reach your desired consistency.

 

To Store:

 You can store the leftovers for 4 days in the fridge and 2 months in the freezer.

To Reheat:

 Add ¼ cup water or broth when reheating because the soup thickens as it sits.
Nutrition
Serving Size:
Calories:

142

Sugar:

6.2 g

Sodium:

515.5 mg

Fat:

7.4 g

Carbohydrates:

18.4 g

Fiber:

2.7 g

Protein:

3 g

Cholesterol:

0 mg
Keywords: tomato rice soup