This cornbread recipe without flour will replace all those that came before. It has the most beautiful golden color, the richest buttery, and crumbly texture, and a simply divine flavor that can only be achieved over years of perfecting ratios and technique.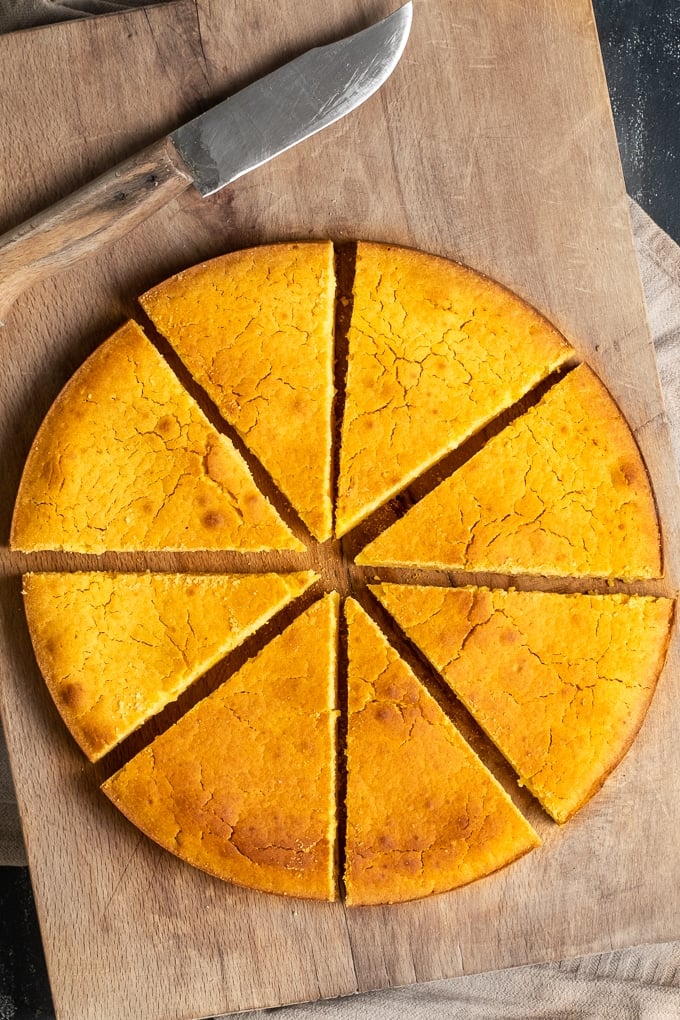 Corn flour cornbread is a great bread to pair comforting soups like Turkish lentil soup, roasted garlic tomato soup or an easy cabbage soup bowl during winter.
This is a crumbly bread that is perfect on soups. It is so yummy when you spread a little butter on it when it is still warm. This is definitely NOT a kind of sandwich bread, but makes an amazing companion for soups.   
This homemade cornbread recipe is very easy to make and most of the time goes into the baking part. You can even make this cornbread in advance and freeze it for later use. It's easy, affordable, and delicious; what more could you want?
Today, we will be discussing all things cornbread, from what it is, ingredients used, some substitutes, and how to actually make it.
Jump to:
What Is No Flour Cornbread?
This old fashioned cornbread is made with cornmeal, butter for richness, some seasoning, and boiling hot water. The combination of these ingredients, their ratios and the production method used gives the final product a very crumbly and buttery texture.
This cornbread is not soft or fluffy, but rather very dense and almost heavy, therefore it is best served with accompaniments like soups, homemade yogurt, and dips.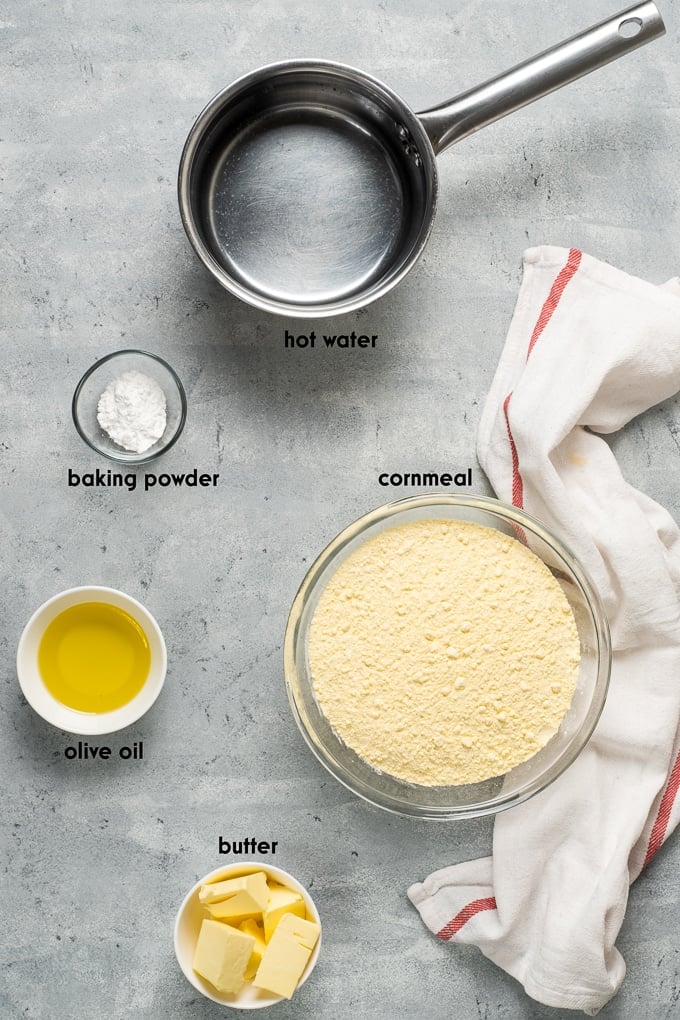 About The Ingredients
Cornmeal: The most important ingredient for this old fashioned no flour cornbread is cornmeal, also known as maize flour. It is a gluten free flour with a crumbly texture. Please read more about it below.
Butter: We add butter to this cornmeal bread for three reasons; the first being it adds richness and flavor. The second is that it helps bind the other ingredients together, and the third is that it helps add that beautiful sunshine golden color.
Hot water: The last ingredient for this old fashioned cornbread is the water. This is a cornbread recipe with cornmeal only, meaning it needs to be hydrated thoroughly before the baking starts. Using boiling hot water helps speed up this process and softens the otherwise hard cornmeal granules before they are baked to prevent an uncooked, unpleasant bread.
What Is Cornmeal?
Cornmeal, corn flour, and cornstarch are often confused with each other, when in fact they differ quite a bit, mostly in function and use.
Cornmeal is also known as maize flour. It is yellow and has a coarse, almost sand-like consistency whereas cornflour or cornstarch looks like powdered sugar both in texture and color. Cornmeal is a crucial ingredient for this cornbread with water and cannot be substituted easily.
When mixed with water, the granules hydrate and help for a batter that eventually helps give a crumbly and buttery texture.
Corn flour and cornstarch are often the same product, they just go by different names. We learnt that what we know as cornstarch in Turkey is called corn flour in the UK. These are made from corn as well but ground into an extremely fine, powder-like consistency. This form of processed corn is much better suited as a thickening agent and won't be able to function as flours in breads do.
When they're mixed with water, they will form a paste and won't be suitable for bread baking.
What we know as corn flour is sold under the name cornmeal in most of the European grocery stores.
Corn flour and cornstarch should never be used as a substitute for this cornmeal bread. You can however use polenta. Polenta is a form of cornmeal, but its texture is even coarser, perfect for making the polenta dish, hence the name. You can substitute these in equal parts.
 Read more >> Cornmeal vs Polenta.
Another substitute a lot of people make is a combination of all-purpose flour and cornmeal. The softer all-purpose flour helps you make a softer bread, however, personally, this cornbread's texture is part of what makes it unique and appealing.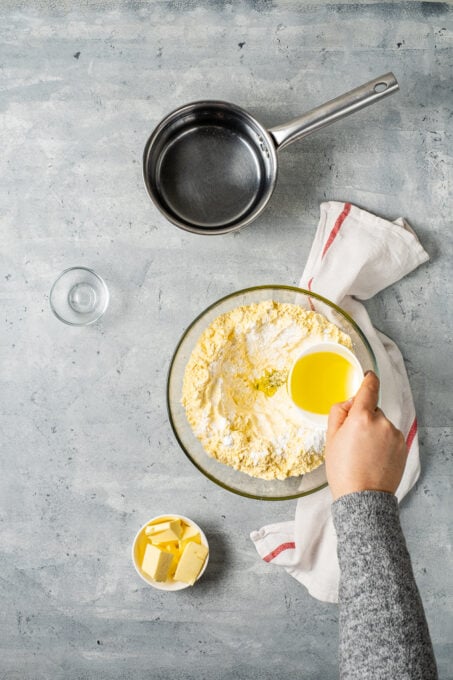 How To Make It
Is there anything better than freshly baked cornbread? Even more so when it only takes a few minutes to assemble before being baked. You'll be in awe of its deep golden brown color, irresistible taste, and perfect texture!
First, prepare your equipment. Preheat your oven to 400˚F/200˚C. Once your oven has been heated, preheat a 9-inch square or round baking pan until needed.
Second, mix your ingredients. Combine the cornmeal, softened butter, salt, olive oil, and baking powder in a large mixing bowl. Mix using a spatula until all the ingredients have been evenly distributed.
Third, add the hot water. Make sure you have boiling hot water and add it to the cornmeal mixture. Use a whisk to incorporate the water until you have a smooth, runny, and thin batter, very similar to crepe batter. If your batter is too thick and like normal bread dough, add more water until you achieve the correct consistency.
Prepare the heated baking pan. Once the pan has heated, brush it with melted butter or olive oil that will help prevent the batter from sticking. Pour the batter into the pan and bake for 40 minutes on the middle shelf.
Cool and serve. Cornbread can be served hot or cold, either way, it needs to rest for a minute or two.
What Can I Substitute For Butter?
Your best alternative for butter in this recipe would have to be clotted cream. This thick cream has a very similar consistency to that of softened butter and you can substitute them in equal parts.
Another substitute that will do in a pinch is either crème Fraiche or buttermilk. Crème Fraiche would be the better between these two as its consistency is similar, whereas buttermilk is much runnier.
When using buttermilk as a substitute for softened butter, you need to start with half the amount and add more until the required consistency is achieved. The buttermilk will make the batter runnier; that is why you should start with less.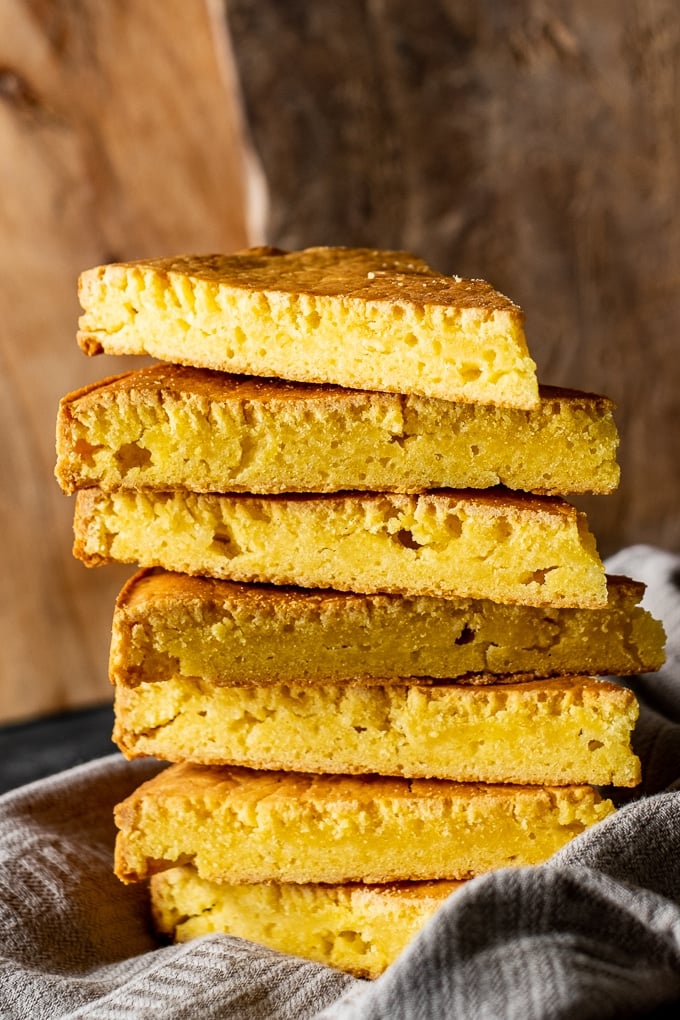 Other Bread Recipes Without Yeast
More Bread Recipes
As always: If you make this recipe, let us know what you think by rating it and leaving a comment below. And post a pic on Instagram too—tag @give_recipe so we can see!
Sign up for the FREE GiveRecipe Newsletter to get the new recipes into your inbox! And stay in touch with us on Facebook, Pinterest, YouTube and Instagram for all the latest updates.
Print
📖 Recipe
Cornbread Without Flour
A wonderful smelling crumbly cornbread that goes perfect with soups!
Author: Zerrin & Yusuf
Prep Time:

10 minutes

Cook Time:

40 minutes

Total Time:

50 minutes

Yield:

1

0

1

x
Category:

Bread

Method:

Baking

Cuisine:

Turkish
3 cups

(500 gr.) Cornmeal

150

gr. butter, softened at room temperature

1 teaspoon

salt

¼ cup

olive oil

2 teaspoons

baking powder

2

+

¾ cup

(650ml) boiling water
Instructions
Preheat the oven at 400F/200C and heat the pan (9-inch square or round) you will use in the oven.

In a mixing bowl, mix together corn flour, softened butter, salt, olive oil and baking powder with a spatula.

Pour boiling water in it and mix with a hand whisk. 

The mixture should be runny and thin compared to normal bread dough. Like a crepe mixture.

If the consistency is not runny enough, you can add a little more water.

Brush the heated pan with melted butter or olive oil and pour the dough mixture into it.

Bake on the middle shelf of the oven for 40 minutes.
Nutrition
Serving Size:
Calories:

363

Sugar:

0.3 g

Sodium:

314.3 mg

Fat:

23.9 g

Carbohydrates:

36.4 g

Protein:

3.9 g

Cholesterol:

40.3 mg
Keywords: cornbread with water, turkish cornbread, hot water cornbread