Green olives are great snacks that you can easily brine at home. Do you know how to brine olives? They are much tastier and healthier than the store bought ones. Why don't you try it before fall ends?
This post was originally published in 2012 and we're updating it today with new information and new pictures.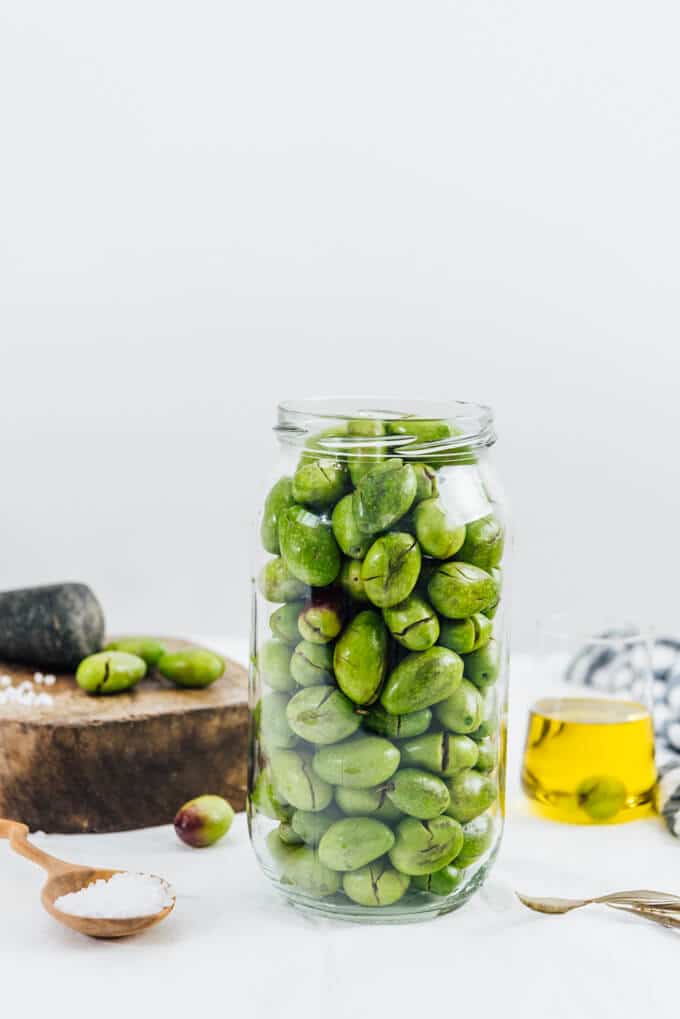 Have you ever heard about Turkish breakfast? Olives are staple for us in the morning in addition to lots of other foods like cheeses, sliced tomatoes and cucumbers, eggs, pastries, jams, butter and tea. Although olives are considered as breakfast food in Turkey, I love to snack on them between meals. They make awesome appetizers too, with a generous amount of olive oil on them. That's why I was so excited when I saw the first products of the year at our local market last week. We bought about 10 pounds and started brining them. Can't wait to taste it once their bitterness goes away! Do you know how to brine olives? It is a fun activity that you can do as a family. Kids love cracking green olives!
Brining olives is not as hard as you think. It is as simple as water and salt. You just need some patience because you need to wait more than 10 days. I promise, it's worth every single day. One of the first recipes I will try with these green olives is Green Olive and Pimento Hummus. I know how tasty it sounds. I can't believe that I haven't tried it even once until now.
How To Choose The Best Green Olives
They shouldn't be damaged. It's perfect if the olives are picked by hand.
They should look firm enough. Don't use any mushy olives.
They shouldn't be overripe. If you are planning to brine green olives, make sure they are green. The darker colors show that olives are riper. You can find the best green olives in late September and October.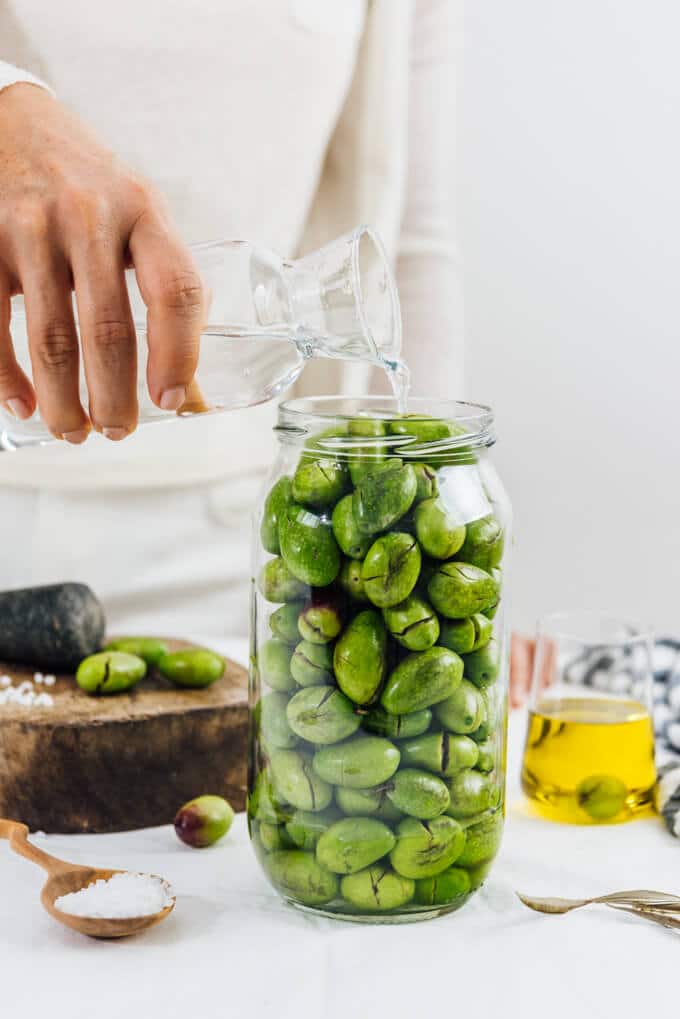 How To Brine Olives At Home
Start with cracking the olives. After washing them well of course. You can use a mallet, the bottom of a jar (just like mom does) or simply a stone to do this. Just smack the mallet once or maybe twice to crack them. It's enough if the flesh tears. Also, try not to mash them or damage their pits. I saw a device at the local market doing this for you and I tried it but it was a complete frustration. Almost all the olives were mashed, not cracked at all. The best way is to do it yourself one by one.
Another method to prepare the green olives for brining is to slit them with a knife. It is not my favorite method though because I think olives remain firmer when cracked.
Place the olives in a big jar or in separate jars. Pour cold water over them and make sure they are all covered. It is a good idea to weigh them down with something like a small plate or grape leaves (that's what my mom does). Drain the olives and fill the jar with cold water at least once a day for ten days. Taste one of the olives after ten days and keep changing the water for another week if it's still bitter.
Now you can prepare the brine. It is simple the combination of water and salt. Mom never measures their ratio, she uses the egg method and I love this method. Add salt into water until an unbroken raw egg floats in the water.
I suggest that you use boiled and cooled water for the brine. When the bitterness of the olives is gone, drain them and fill up the jar with the brine. They'll be ready to eat after about a week. You can keep them for more than a year in a place away from sunlight.
Below is the original post that was published in 2012 (sorry for the photography quality):

I always prefer making things at home, I feel that I have all the control then. Green olives are one of those homemade things I love. Curing green olives is one of our preparations for Winter. You know a typical Turkish breakfast must have both black and green olives. We've learnt how to cure green olives from mom. We can't find fresh green olives in Eskisehir, its extremely cold climate is not good for olive trees, so my parents send about 10 kilos of fresh olives from the South in Autumn, we cure them and have until the end of summer, so we never buy it from markets. I haven't tried to make black olives. Yet! Mom II makes it for us every year, so we never have to buy its market version, either. I can hear what you say, "how lucky you are!"
Fresh olives are picked by hand in October in the South part of Turkey, so this month is the ideal month to cure green olives. My dad says that it's very important to pick them with hands so that they are not damaged. If there are any olives which drop on the ground and damaged, these are kept separately and taken to olive oil factories. Producers sell their best crops at open markets and have the rest transformed into olive oil. Some producers even cure olives in jars and sell them at bazaar.
Suggested recipes with green olives:
Green Olive Salad For Breakfast 
Print
How To Brine Olives
Brining olives at home is so easy. It just needs some patience.
Author:
Prep Time:

30 minutes

Total Time:

30 minutes
Ingredients
green olives
water
kosher salt or sea salt
unbroken raw egg, for deciding the brine ratio
Instructions
Using a mallet or the bottom of a jar, crack the olives. If you see the pit, it's fine. Make sure you don't damage the pit.
Put the cracked olives in jars.
Fill jars completely with cold water.
Place a small plate or cheesecloth or grape leaves on the top as a weight to keep the olives submerged. Otherwise, olives on the top change color because of oxidation.
Change the water in the jars once or twice a day for ten days or until the bitterness of olives is gone.
Drain the olives for the last time when they are not bitter any more (taste one olive to understand this).
Put the olives back into jars and prepare the brine.
Pour cold water in a large bowl. You can decide the amount depending on your jars. You can start with 2 liters for two big jars. Add 1/4 teaspoon kosher salt and mix well. To understand if it is the right ratio, place an unbroken raw egg into the water. It is the perfect ratio if the egg floats. Add more salt if it doesn't float.
Pour it in jars. Olives must be completely covered with water.
Place a  cheesecloth on the top to prevent olives from floating on the surface of water.
Keep the jars in a dark place. Ready to eat after about a week.
IF YOU LIKED THIS RECIPE, THEN YOU WILL LOVE THESE: