Fried Eggs with Spinach is an easy dish you can make in one pan. It is packed with great flavors and nutritious foods. You need 6 ingredients only. It makes a delicious lunch or dinner that is ready in no time!
This post was originally publishes in 2009 and we're updating it today with new photos and additional in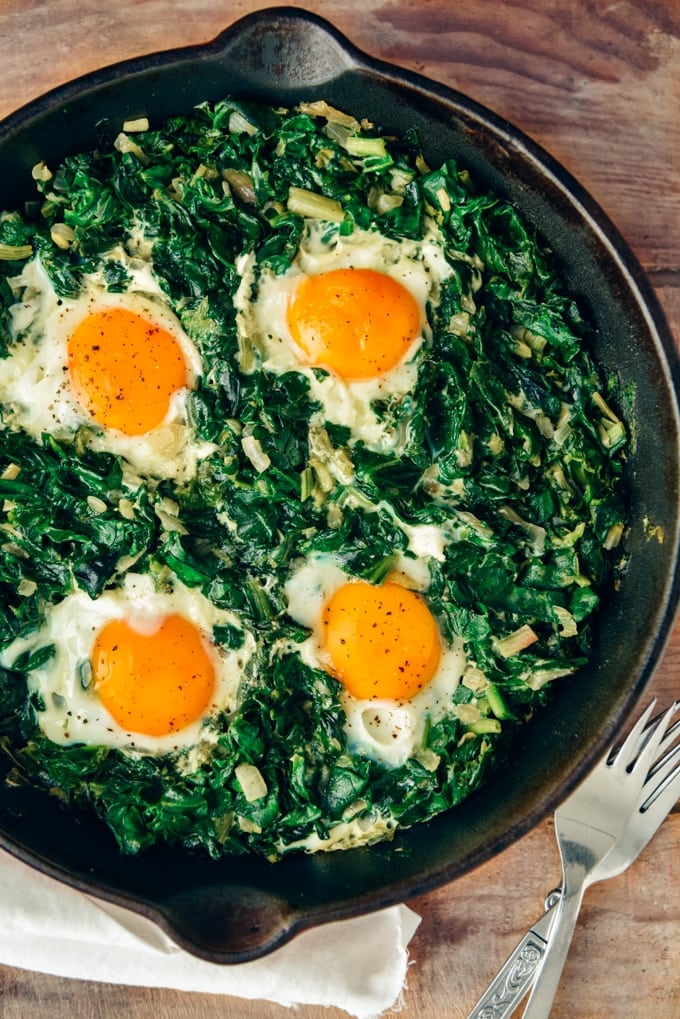 I am so obsessed with eggs, especially fried and sunny-side up. I can crack eggs on any vegetable I cook in a pan and this Fried Eggs with Spinach recipe is one of my favorites. My mouth starts to water once I see that the yolk leaks on the cooked spinach. YUM! We mostly have this for a busy weeknight dinner, but you can have it for breakfast as well if you need a change on your regular breakfast pancakes or cereals. Personally, I prefer to use avocado for mornings as in Scrambled Eggs with Avocado, which is healthy and tasty too.
How to Make Fried Eggs with Spinach
This is a super easy recipe that you can make for dinner on weekdays. Heat olive oil in a pan, add in onions and cook until transparent. Chop the spinach leaves if they are large, but no need for this if you are using baby spinach leaves. Just add them as they are. You can even find washed and chopped spinach leaves in packages at the market, so use them if you need to be quicker. Cook stirring occasionally until tender and no juice left. Season with salt and black pepper.
Make wells for eggs. You can add as many eggs as you like. Crack one eggs into each well and cook until the whites set, about 3-4 minutes. Sprinkle salt and black pepper on each egg.
I don't whisk the eggs before adding them into the pan in this recipe because I love to keep the yolks slightly runny and dip bread right in the center of them. If you want, you can whisk them first and then pour over the cooked spinach. Make sure you don't overcook the eggs if you try this version. Remove the pan from the heat after 3-4 minutes when eggs are still  a bit loose.
Are eggs and spinach healthy?
Eggs are one of the healthiest foods packed with protein. Also, they keep you full for a long time, so they make perfect breakfast, lunch and dinner. When you combine eggs with spinach, you have one of the healthiest meals because just like eggs, spinach is a nutrient-dense vegetable. It is a great source of calcium and iron. What's more, there is no ingredient that increases the calorie of this recipe.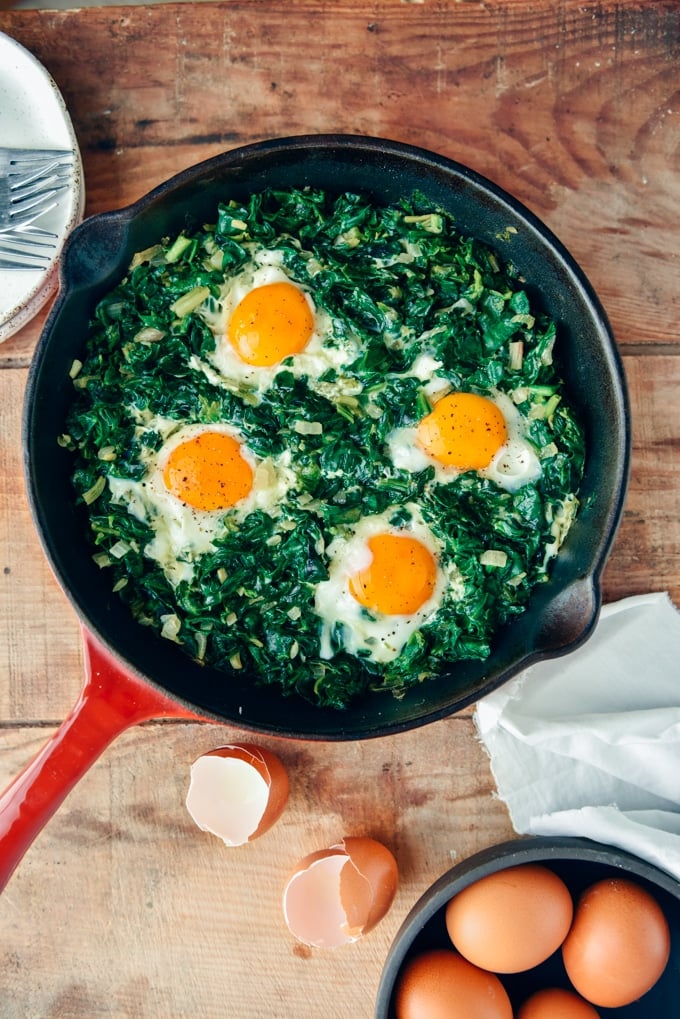 In Turkey, generally people love spinach dishes with yogurt, but experts say that when you eat it with yogurt, the calcium in yogurt and the iron in spinach combine, which causes zero benefit. If you don't care about vitamins and you are just in search for good taste, go ahead. I sometimes do that as they are perfect pairs but generally, I cook it with eggs and no yogurt is needed that time.
Print
Fried Eggs with Spinach
A super easy meatless recipe with eggs and spinach.
Author:
Prep Time:

10 minutes

Cook Time:

25 minutes

Total Time:

35 minutes

Yield:

4

Category:

Dinner

Cuisine:

Turkish
Ingredients
3 tablespoons olive oil
1 onion, diced
1pound spinach, washed well and roughly chopped
½ teaspoon salt
½ teaspoon ground black pepper
4 eggs
Instructions
In a large skillet, heat olive oil over medium heat. Add in onions and cook until transparent, about 5 minutes.
Add in the spinach and season with salt and black pepper. Cook it stirring gently until the spinach leaves wilt.
Make 4 wells in the spinach mixture when it is tender enough. Crack an egg into each well. Cook for 3-4 minutes until the egg whites are set.
Sprinkle salt and black pepper on each egg.
Serve hot.
Nutrition
Serving Size:

1

Calories:

180

Sugar:

1.9g

Sodium:

369.3mg

Fat:

15.3g

Carbohydrates:

4.6g

Protein:

7g

Cholesterol:

186mg
IF YOU LIKED THIS RECIPE, THEN YOU WILL LOVE THESE: