Let's learn how to make eggy bread for a tasty and satisfying meal. It is the perfect breakfast or brunch to make with a few simple ingredients and a quick preparation. Plus, it's a great way to use stale bread!
This is one of the easy breakfast recipes you can make with egg and bread. Whether you call it French toast, gypsy toast or simply eggy bread, this recipe is sure to be a hit.
You can serve it on its own or with a sweet or savory topping. So it is a classic dish that can easily be customized.
We love ours paired with fried eggs. We are huge fans of eggs for breakfast. So it is never too much for us. Eggy toast can definitely be paired with eggs (fried or poached).
Jump to:
What Is Eggy Bread?
Eggy bread goes by several names like gypsy toast, Bombay toast and poor knights. But you may also be familiar with its much more famous variation: French toast.
It is one of the easiest breakfast foods that you can prepare in less than 15 minutes. Slices of bread are dipped in a mixture of eggs and milk, then fried up to golden perfection.
And the way it is served is unique. Instead of the classic syrup and berry sides, eggy toast is often served with savory accompaniments like bacon, cured meats, cheeses, savory spreads or sauces and more eggs!
Eggy Bread Vs French Toast
Traditionally, French toast is served with sweet accompaniments like maple syrup, honey, sweet preserves, and whipped cream.
On the other hand, eggy bread is essentially a savory French toast recipe. That means that it is served with savory accompaniments like bacon, cheese and eggs.
So basically these two breakfast dishes are the same but how they are served makes them what they are.
Also, the term eggy bread is used interchangeably with the term French toast in the Uk.
About The Ingredients
Before looking at exactly how to make egg fried bread, let's first look at what you need. The ingredients are really simple.
Bread
We use plain soft white bread. Brioche, Challah, French bread all work great for this recipe.
We don't recommend bread with large wholes like ciabatta. While it will create delicious flavors, the bread itself won't soak up the egg mixture very well.
So, use any white loaf with a dense, soft, and fluffy porous texture.
Eggs
The key ratio is one large egg per slice of bread. You may be able to get more bread slices from the eggs, but this is the minimum amount we'd recommend. You can easily increase the quantities using this ratio if you are cooking for a crowd.
Using room-temperature eggs allows the bread to soak up the mixture better.
Milk
The milk in this recipe helps thin the egg mixture a little so the bread slices can absorb it better.
Want to make it dairy-free?
It's exactly the same as how to make French toast without milk. You can either leave it out completely or substitute it with water or a plant-based alternative like almond milk, oat milk or soy milk.
Spices
We use only salt and pepper. You can also add cinnamon for a subtle sweetness or chili flakes for a little heat.
Butter
It helps create that crispy texture, beautiful brown color and nice buttery taste for sure. You can use olive oil instead if you want to make the recipe dairy-free or with less calories.
Step-By-Step Instructions
Making eggy bread is extremely quick and easy. You can enjoy it as a part of lazy weekend breakfast or on its own as a quick weekday breakfast.
Make the egg mixture: Whisk together the eggs in a shallow bowl. Add in milk. Then, season this beaten mixture with salt and pepper to taste.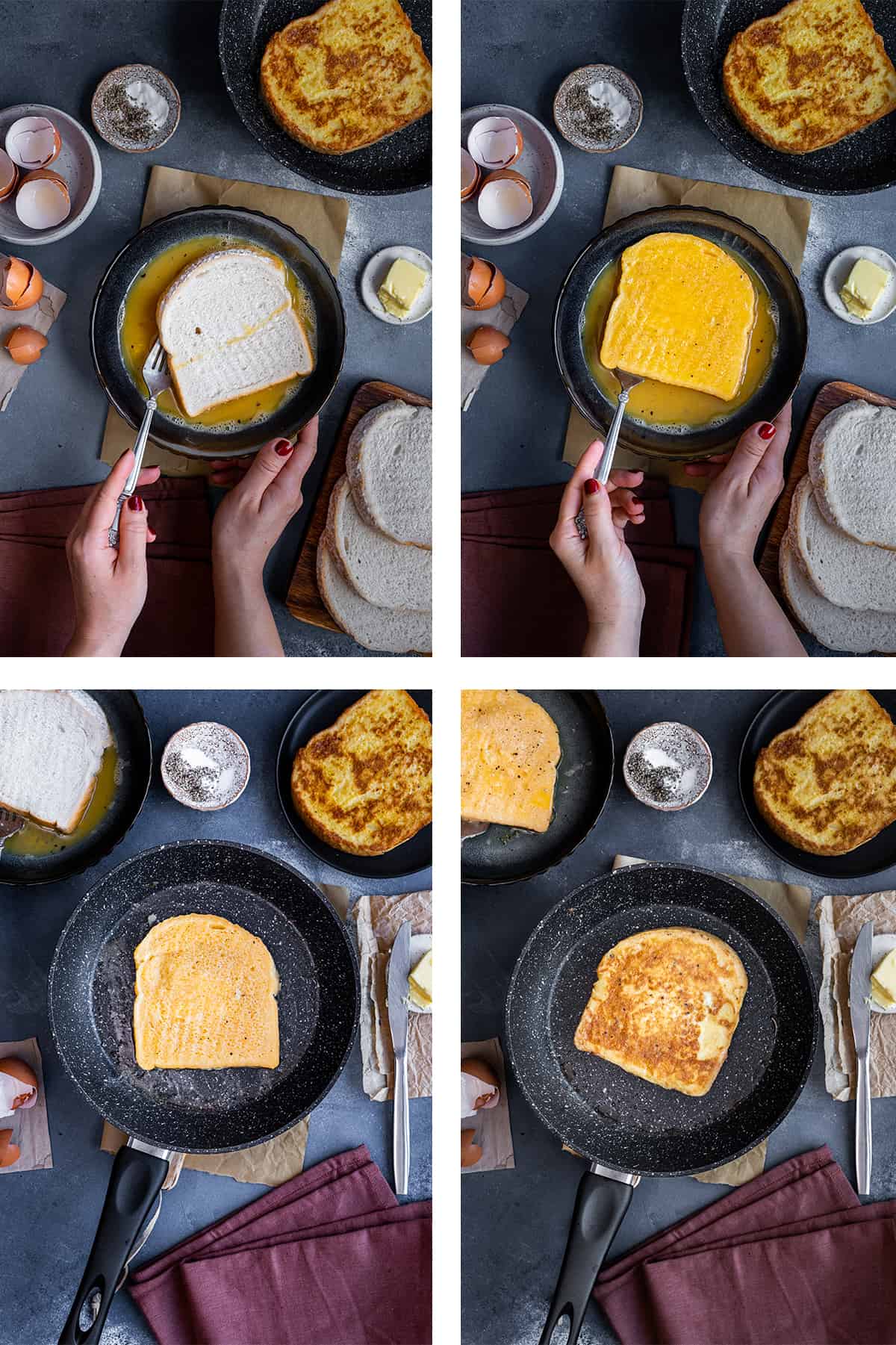 Soak the bread: Work with one slice at a time. Dip the bread slice inside the egg mixture wait until the bottom of the bread is well coated. Flip it over. Make sure that both sides have soaked up the egg before moving on to step 3.
Fry the egg-soaked bread slice: Heat a frying pan over medium heat. Add about ½ tablespoon of butter (or as much as you like) and let it melt. Then, place the slice of bread inside the pan. Allow it to fry for about 2 minutes or until it has turned golden brown. Flip the slice of bread over and leave it to fry on the other side until it is golden as well.
Serve: Transfer the cooked slices to a plate. You can either serve them immediately with fried or poached eggs (and crispy bacon) on the side.
Alternatively, you can keep them warm in a warm oven on the lowest setting (200 F / 90 C) while frying the rest of the slices.
Variations
Cheesy Eggy Bread: Add finely grated cheese such as cheddar or mozzarella in the egg mixture. Place the bread slices in it, let them soak up a little of the mixture on both sides and then fry them in a pan. They will have a nice cheesy crust on the outside. You can even turn them into grilled cheese sandwiches after frying them. You might want to see our grilled cheese recipe in air fryer.
Sweet Eggy Bread: Add a pinch of cinnamon and 1 teaspoon of vanilla extract in the egg mixture and then soak the bread slices in it. Drizzle maple syrup or honey over them when serving. You can top these with some fresh berries.
Eggy Bread For Babies: With its soft texture, this egg fried bread is a perfect breakfast food for babies starting from 6 months old after they start eating food containing gluten, dairy and eggs. Remove the crust of bread slices for younger babies who don't have any teeth yet. And you can cut them in strips or bite-sized pieces before soaking them in the egg mixture. Your baby can manage them easily this way.
Soggy or Crispy?
Eggy bread should be crispy on the outside and soft on the inside. However, the inside of the bread slice should not be soggy in any way!
To avoid soggy French toast (eggy bread), keep the following in mind:
Try to use a slightly stale bread, a few days old. Fresh bread absorbs too much of the egg mixture and you get a soggy result.
Don't let the bread slices sit in the egg mixture for too long. Soak them for about 20 seconds.
Don't add too much milk in the egg mixture. We use just 1 tablespoon.
Don't cook them over too high heat. This causes the outside cooks too fast while the center is undercooked. Fry them over medium-high heat for 2-3 minutes per side.
Eggy Bread Toppings
Savory Toppings:
This fried bread with egg is often served with savory accompaniments. You can go as simple as tomato ketchup or another sauce you like. Crispy bacon is always a good choice. Smoked salmon could be a nice addition too.
And don't hesitate to add fried, scrambled, or poached eggs as well. Also, you can serve sliced avocado, tomatoes and some salad leaves on the side.
If you want to take them to the next level, you can turn them into a sandwich with ham and cheese. Check out our French Toast Breakfast Sandwiches to get an idea.
Sweet Toppings:
You can also serve it with sweet accompaniments just like you do when serving crepes or pancakes. These include all the classics like powdered sugar, cinnamon sugar, whipped cream (or yogurt) maple syrup, honey and berries or any fresh fruit you like.
It is even possible to turn these into a nice dessert by spreading some Nutella or peanut butter and jam on the slices.
Storage
Now that you know how to make egg toast, let's look at how you should store it.
Eggy toast is best served immediately. It helps you serve the best possible texture and flavor.
If you have to store any leftovers (but we doubt you will have any), place them inside an airtight container. Then, the slices have to be kept inside the fridge. It will keep well for about a day or two.
You need to re-heat the slices with some melted butter or oil in a hot non-stick skillet to revive their crisp, soft texture.
Tips
We use milk to thin the egg mixture a little. It makes it easier for the bread to soak up and makes much better egg-fried bread. Leave the milk out if you'd like, or replace it with a vegan alternative.
If you want to make eggy bread sticks (especially for kids), cut the bread slices in strips before soaking them in the egg mixture.
The key to making eggy bread perfectly crisp is temperature control. If your slices are browning too quickly (without cooking the eggs on the inside), then lower the heat slightly.
Leave the bread slices while they cook. If you play with them too much or constantly flip them, they won't get a nice crispy texture and beautiful golden color. You only have to turn them once and fry them on each side once.
Store the cooked eggy bread in a warm oven while making the rest of the slices. This is only needed for big batches. Preheat the oven to its lowest temperature (200 F / 90 C). Place the cooked slices inside an oven-safe baking dish.
Can I Make It Gluten-Free?
Yes, you can! Use your favorite gluten-free bread. As they don't contain gluten, they might easily fall apart when soaking them in the egg mixture. Just carefully flip the slices without letting them sit in the mixture for too long and immediately transfer them into the hot frying pan.
FAQs
How do you know when eggy bread is cooked?
The center should be set and firm when you cut it. You can achieve this by frying them in a hot skillet over medium-high heat for 2-3 minutes.
Is eggy bread healthy? 
It depends on your diet. It is not bad unless you eat too many or you are trying to avoid carbs. Also, the topping is another thing to consider if you want to keep it healthier. You can serve it on its own or use toppings like yogurt and fruit.
Where does eggy bread come from? 
It is a staple food in France. Originally it is called pain perdu in French, which means 'lost bread', reflecting the use of stale bread.
According to Wikipedia, the earliest known reference is in the Apicius, a collection of Latin recipes dating to the 1st century CE. There are similar recipes in German cuisine in the 14th century, in the Italian cuisine in the 15th century and in the Ottoman cuisine.
How does Gordon Ramsey make eggy bread?
He makes it with an addition of cinnamon in the egg mixture and serve it with stewed apples.
Other Egg Recipes
Menemen (Turkish Tomato Scrambled Eggs)
As always: If you make this recipe, let us know what you think by rating it and leaving a comment below. And post a pic on Instagram too—tag @give_recipe so we can see!
Sign up for the FREE GiveRecipe Newsletter to get the new recipes into your inbox! And stay in touch with us on Facebook, Pinterest, YouTube and Instagram for all the latest updates.
Print
📖 Recipe
Eggy Bread
Bread slices dipped into a beaten egg mixture and then fried. One of the easiest and quickest breakfast recipes.
Author: Zerrin & Yusuf
Prep Time:

5 minutes

Cook Time:

16 minutes

Total Time:

21 minutes

Yield:

4

1

x
Category:

Breakfast

Method:

Frying

Cuisine:

British
4

large eggs

1 tablespoon

milk, optional

A pinch of salt

A pinch of black pepper

4

slices white bread

2 tablespoons

butter
Instructions
Whisk the eggs in a shallow bowl. Add in milk. 

Season with salt and pepper. Mix well.

Dip one slice of bread into the egg mixture. Make sure both sides soak up the egg mixture well.

Heat a frying pan on medium heat. Melt ½ tablespoon of butter in it. 

Place the egg soaked bread slice into the pan and fry for about 2 minutes or until golden.

Turn it over and fry the other side until golden.

Transfer onto a plate and repeat the same steps for the remaining bread slices. 

Serve immediately on its own or with crispy bacon, fried egg or poached egg on the side.
Notes
We use milk just to thin the mixture a bit. We find it easier to soak the bread. You can leave it out if you want. 

If you want to make eggy bread sticks, cut the bread slices in strips before soaking them in the egg mixture.

If you think the bread slices turn brown too fast when cooking in the pan, turn the heat down.,

Don't play with the bread slices much when cooking. Let them fry well and get a nice crust.

To keep the fried eggy bread slices warm while you are working with the other slices, place them on an oven-proof plate and keep it in a warm oven on the lowest setting (200 F / 90 C) while frying the rest of the slices. 

Eggy bread is mostly served with savory companions like bacon and eggs. But if you want, you can serve it with maple syrup, honey or fruit jam just like you would serve French toast.
Nutrition
Serving Size:

1 toast

Calories:

239

Sugar:

4.3 g

Sodium:

598.2 mg

Fat:

11.8 g

Carbohydrates:

26.6 g

Protein:

6.4 g

Cholesterol:

201.7 mg