These Almond Milk Crepes are completely dairy free and come out wonderfully thin. They are extremely easy to make, sugar-free, and very low in calories. Their neutral flavor profile makes them easy to pair with an endless variety of sweet and savory fillings and toppings.
If you are looking for dairy free breakfast ideas for a reason, look no further. We are sharing a perfect no milk crepe recipe with you today. Serve them with your favorite toppings and enjoy them at breakfast, lunch or dinner.
Almond milk is our favorite milk substitute. We use it when making pancakes too. They come out wonderfully fluffy every single time. Go check out our almond milk pancakes if you haven't yet. And you can make oat milk pancakes in exactly the same way.
And today, we are using almond milk to make delicious thin crepes.
Jump to:
Why You Should Make This Recipe
These almond milk crepes come out perfectly thin and flat, so you can easily wrap them with your favorite fillings.
They are so easy to make. You don't need any special equipment. A whisk to prepare the batter, a non-stick pan and a spatula do all the work.
They are so versatile. You can serve them as sweet crepes for breakfast or dessert or as savory crepes for lunch or dinner.
They taste no different from regular crepes. You won't notice any difference.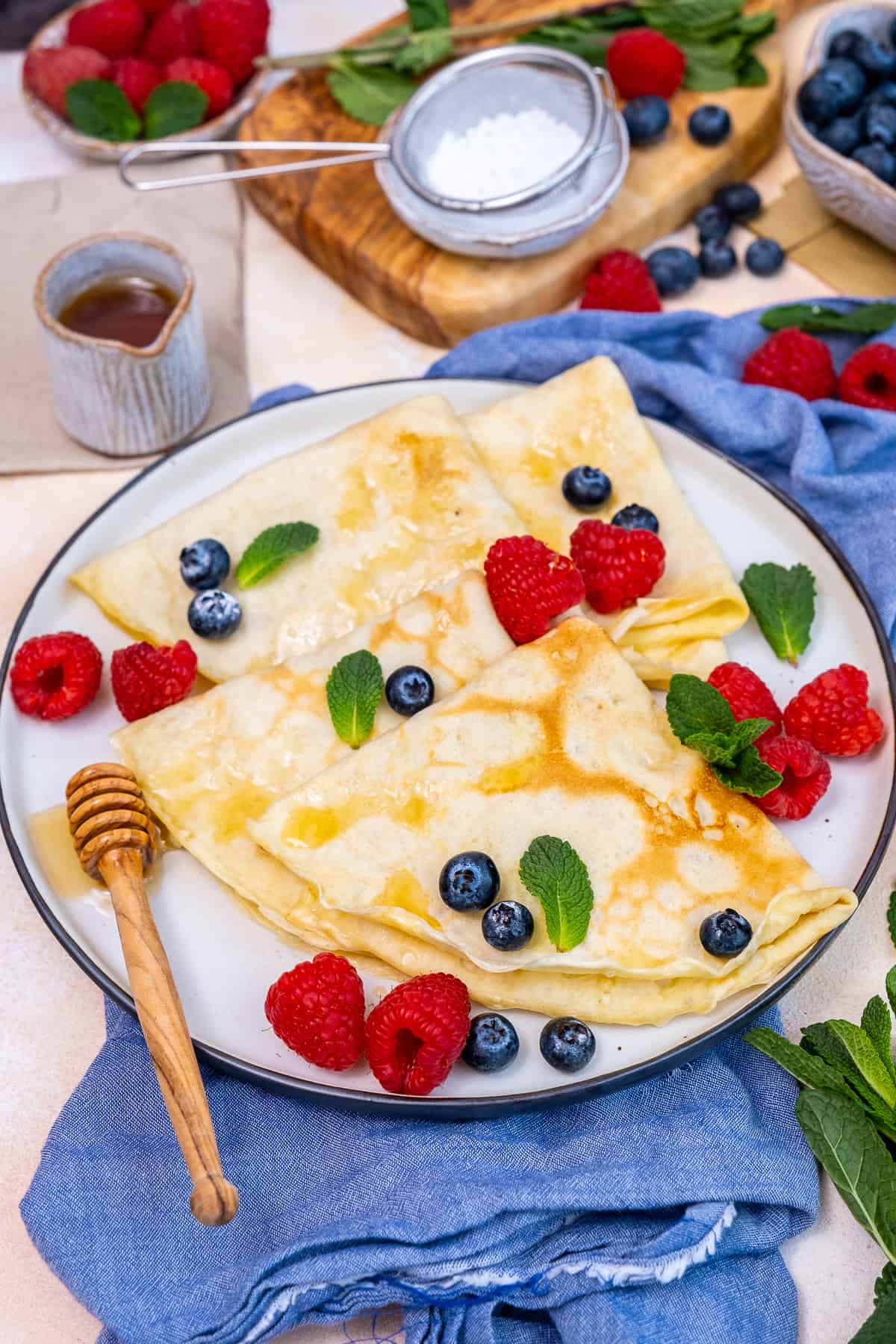 What Are Crepes?
Crepes are also known as thin pancakes. They are a type of unleavened pancake that is extremely thin.
The ingredients of crepes are almost the same as American style pancakes: Eggs, milk, flour and a pinch of salt).
A basic crepe batter has more eggs and less flour than a basic pancake batter. Also, unlike pancakes, crepes don't use baking powder as they are supposed to be thin and flat.
As they are made from a runny batter, crepes cook much more quickly than thick pancakes.
You can get two types of crepes: crêpes sucrées (sweet) and crêpes salées (savory). The biggest thing that makes a crepe either is the filling that is used.
While these can be served as-is, more often than not, they are filled with a variety of fruits, vegetables, grated cheeses, spreads, and cooked or cured meats.
You can serve crepes cold, warm, or fresh from the pan while they are still piping hot.
So can you make crepes with almond milk? Yes, you can! And nobody will notice the difference. This is the best dairy free crepe recipe we have made so far!
About The Ingredients
This almond milk crepe recipe is extremely simple and it doesn't require any special ingredients.
Flour: Use plain white flour, also known as all purpose flour. You can use whole wheat flour or your favorite gluten-free flour blend too. Do not use bread flour or self-raising flour. They will change the density and texture of the crepes entirely.
Salt: It's a stabilizer, preservative, and flavor enhancer. Even if you are making sweet almond milk crepes, you still need to add a pinch of salt.
Eggs: Always use eggs at room temperature. If they are too cold, they won't easily create a smooth batter.
Almond milk: Use unsweetened almond milk. That being said, you can use the sweetened option if you are making sweet crepes. And you want to make your own almond milk, check out our roasted almond milk recipe.
Oil: It is to grease the pan before pouring the crepe batter. We use olive oil, but you can use coconut oil, vegetable oil or cooking spray too.
Optional Add-Ins
There aren't a ton of additional ingredients you can add to a crepe batter. Remember, most of the flavor for these dairy free crepes comes from the filling you use.
Sugar: You can add some sugar or another sweetener to make the batter sweet. Check out the "Make Sweet Crepes" section below.
Vanilla extract: To add a little more flavor to crepes.
Spices: You can add ground spices like nutmeg, cinnamon, cloves, etc. Just bear in mind that this will steer you into a very specific filling/topping pairing.
Cocoa powder: You can add a little cocoa powder to give it a subtle chocolate flavor.
Lemon juice: To add a subtle refreshing flavor.
How To Make Crepes With Almond Milk
This 5-minute no-milk crepe recipe is low in calories, extremely versatile when it comes to flavor pairings, and super easy to make. You won't regret keeping this one on hand!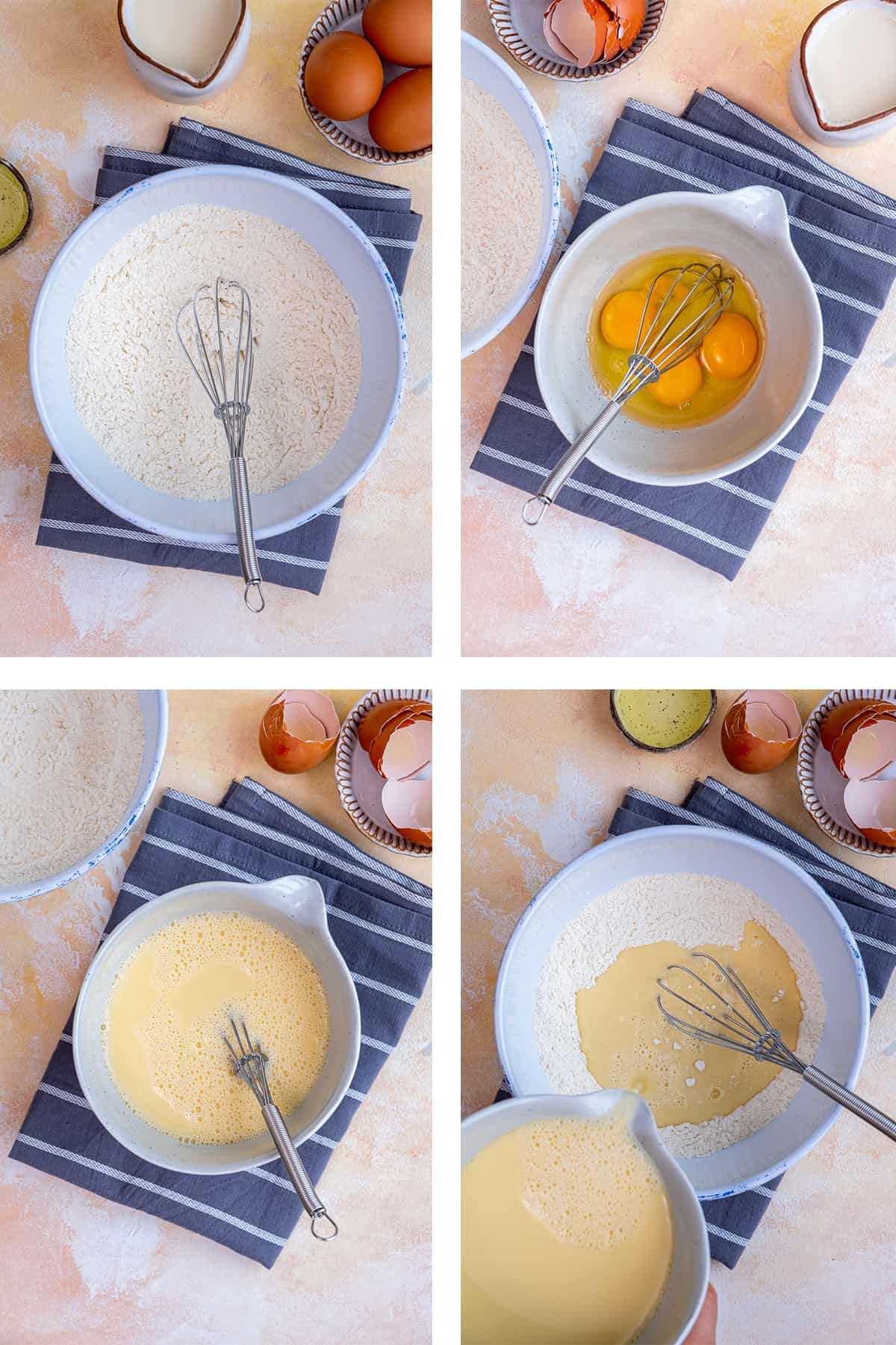 Prepare the dry ingredients: Whisk together the flour and salt in a large bowl. Set it aside.
Prepare the wet ingredients: In another large bowl, whisk the eggs, add in almond milk and whisk well.
Combine the wet ingredients and dry ingredients: Pour the egg and almond milk mixture slowly into the flour and salt mixture. Whisk constantly until you have a uniform smooth mixture. Alternatively, you can make the batter in a blender.
Prepare the pan: Heat a non-stick pan over medium heat. Add about 1 teaspoon of oil and swirl it around the entire pan to make sure it's well-coated. The oil should be extremely thin and just acts as a lubricant.
Cook the crepes: Add about ¼ cup of batter to the pan. You can use a ladle for this. And immediately swirl the pan so the batter runs across the entire base area. Cook the crepe until it becomes golden, about 1-2 minutes for the first side.
Using a spatula, check if it is golden after 1 minute. Flip it over and continue cooking it on the other side for only 10-15 seconds. Once cooked, remove the crepe and set it aside on a plate.
Repeat for the remaining batter: Before adding more batter, re-coat the pan with a little bit of oil ( about ½ teaspoon). The crepe absorbs the oil every time it is added, so you cannot skip this step.
Serve: Once all of the batter has been used, serve your crepes warm or chilled with your favorite topping, filling, or accompaniment.
Make Sweet Crepes
If you want to transform this crepe recipe with almond milk into a sweeter option, you can add 1 tablespoon maple syrup or sugar in the batter.
Use the sweeteners sparingly! If you add too much, it may change the consistency of the batter.
If you use maple syrup, whisk it together with eggs and almond milk. If you use sugar, whisk it together with flour and salt.
Tips
Instead of whisking the batter together by hand, you can also simply combine all of the ingredients in a blender. It will remove any lumps and distribute the ingredients evenly.
Just half a teaspoon of oil is enough to coat the pan. Don't use more than needed. Otherwise, your crepes will be greasy.
Cook your crepes over medium heat.
Swirling the batter to coat the whole pan needs to happen extremely quickly. If you don't work fast enough, you will end up making a thick crepe, not a traditional paper-thin crepe.
If the amount of batter you added didn't cover the entire base of the pan, quickly add a little bit more.
Crepes cook really fast, so keep an eye on them not to burn them.
Use a spatula to check if it is cooked before flipping the crepe. Try to lift up one edge of the crepe. If it doesn't easily come away, wait for another few seconds and then flip it.
Suggested Fillings/Toppings
There is no limit to the fillings or toppings you can use for these crepes with almond milk!
Sweet Fillings
For sweet spreads, try something like peanut butter or almond butter and a drizzle of maple syrup or agave syrup. You can use chocolate sauce or caramel sauce too.
Another sweet filling could be whipped cream (vegan if you prefer) and top it with some jams like mulberry jam, orange jam or lemon jam.
A simple powdered sugar would be a nice sweet topping too. Some fresh fruit like fresh berries (raspberries, blueberries and strawberries) and bananas could accompany.
For a crunchy topping, chopped nuts would be a good choice.
And don't forget that you can pair some savory ingredients with sweet ones too. Think a combination of maple syrup and goat cheese or cream cheese if you don't have a dairy restriction.
Savory Fillings
For savory crepes, it's best to choose a cuisine or meal, which will help you narrow down a specific flavor profile you want.
Some combinations we can recommend are:
Sauteed mushrooms, spinach and feta cheese. Skip the cheese if you have a dairy-free diet.
Hummus, arugula, Gorgonzola cheese (for those who don't have to eat dairy-free) and raisins or dried berries.
Scrambled eggs, ham or sausages and cheese.
You can find a lot more savory crepe fillings here.
Storage
Any leftover almond milk crepes can be stored in an airtight container in the fridge. They will last for roughly 4 days.
You can store uncooked almond milk crepe batter too if you want to serve them fresh. Put the remaining batter in a bowl, cover with a plastic wrap and keep it in the refrigerator for a day or two. Whisk it well again before using it.
You can also store them in the freezer for up to 6 months. Put a tiny sheet of parchment paper or wax paper between each. This will prevent them from sticking to each other or becoming mushy. Thaw the frozen crepes in the fridge overnight and serve at room temperature or reheat them in the microwave before serving.
FAQs
What can I substitute for milk in crepes?
Our favorite option is almond milk. But you can use another plant-based milk like oat milk, coconut milk and soy milk too. Water can be used as well.
Do I need a crepe pan to make crepes? 
No, you don't. A crepe pan just makes it easier to flip crepes, but you can use a regular non-stick skillet instead. 
Does almond milk change the taste of crepes? 
No, it doesn't. Almond milk has a neutral taste.
More Breakfast Recipes
More Almond Milk Recipes
As always: If you make this recipe, let us know what you think by rating it and leaving a comment below. And post a pic on Instagram too—tag @give_recipe so we can see!
Sign up for the FREE GiveRecipe Newsletter to get the new recipes into your inbox! And stay in touch with us on Facebook, Pinterest, YouTube and Instagram for all the latest updates.
Print
📖 Recipe
Almond Milk Crepes Recipe
These are the best dairy free crepes made with almond milk. They come out super thin. Fill them with whatever filling you like; sweet or savory.
Author: Zerrin & Yusuf
Prep Time:

5 minutes

Cook Time:

15 minutes

Total Time:

20 minutes

Yield:

8

1

x
Category:

Breakfast

Method:

Cooking

Cuisine:

American
1 cup

all purpose flour (

125 g

)
A pinch of salt

3

eggs

1

and ½ cup (

325

ml) unsweetened almond milk
Oil for greasing the pan
Instructions
In a large mixing bowl, whisk together the flour and salt.
In a medium bowl, beat the eggs. Add in almond milk and whisk well.
Pour the liquid mixture over the flour slowly, whisking constantly until smooth. (You can do this in a high speed blender if you want).
Heat 1 teaspoon of oil in a non-stick skillet over medium heat. Swirl the oil and make sure the pan is coated with oil evenly.
Pour ¼ cup of 1 ladle of batter into the pan and tilt the pan immediately to spread the batter on the base of the pan evenly.
Cook it until golden, for about 30 seconds. And flip it using a thin spatula. Cook the other side until golden, for about 10 seconds.
Transfer the cooked crepe on a plate. Remove the pan from the heat, put ½ teaspoon oil in the pan, heat it and cook the second crepe.
Repeat the same steps for remaining crepe batter.
Serve with your favorite topping / filling.
Notes
You can whisk everything in a blender if you want.
Don't increase the amount of oil to grease the pan.
Cook them over medium heat.
Swirl the pan immediately after pouring the batter into it.
If the batter you pour doesn't cover the pan, quickly add a little and keep swirling.,
Crepes cook fast, keep an eye on them.
Before flipping the crepe, check if it is golden by lifting one side of it with  spatula.
Nutrition information is approximate and meant as a guideline only.
Nutrition
Serving Size:
Calories:

103

Sugar:

0.1 g

Sodium:

78 mg

Fat:

4 g

Carbohydrates:

12.3 g

Fiber:

0.4 g

Protein:

4 g

Cholesterol:

61.4 mg
Keywords: almond milk crepes