Let's learn how to make orange jam marmalade without store-bought pectin. We make natural pectin using the pulp and seeds of citrus fruits. This recipe is super easy and loaded with delicious sweet and tart citrus flavors.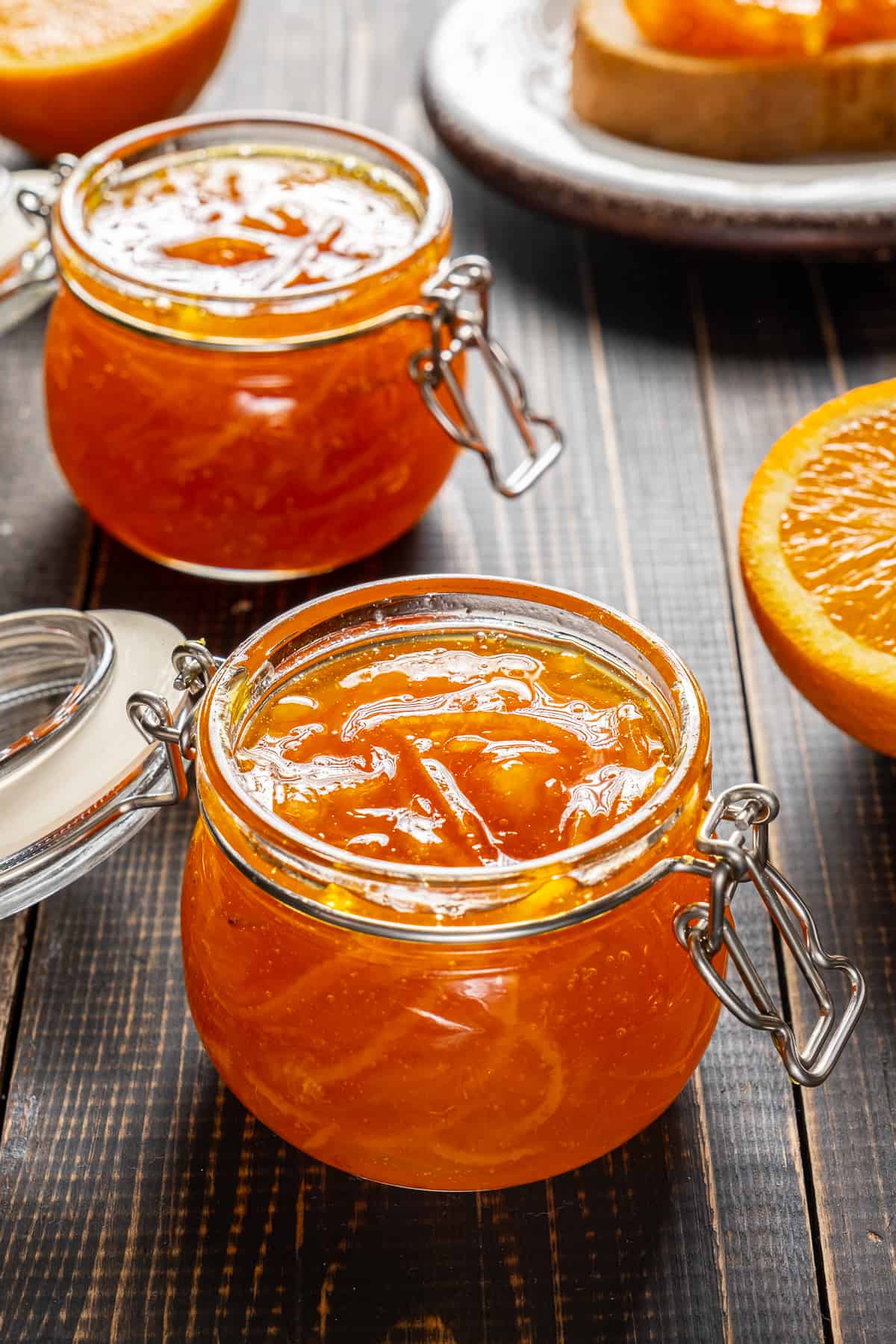 If you have a basket full of oranges waiting in your kitchen and if you don't know what to do with them, make this homemade orange jam! You will love it so much that your family will finish it in a very short time and you need to buy more oranges to make it again.
If you love quick breakfast, just spread a good amount of good butter on a toasted bread and top it with this orange peel jam. A great way to start your day!
Jump to:
About The Ingredients
Oranges: You can use any juicy orange variety you can find. The best options include Mandarin (Tangerines), Clementines, Kinnow, Malta, Seville oranges and Blood Oranges. Keep in mind that this will affect the flavor. But the technique and sugar ratio doesn't change at all.
Lemon: Adding lemon to the orange jam recipe is crucial for us. It helps create a more balanced flavor that isn't just sweet. And it also helps add pectin so that the jam can thicken.
Sugar: For this recipe, we use a 1:1 ratio of citrus mixture to sugar. A low-sugar marmalade will obviously contain less. However, the marmalade won't have the same consistency. Sugar both acts as a preservative and helps jams to set.
How To Make Natural Pectin From Oranges
Most of the pectin comes from the peel of citrus fruit. However, you can make natural pectin by squeezing the pulp and seeds of the citrus.
This is the technique we will use today. All you need to do is combine the pulp and seeds in a muslin cloth. Then, turn the ball tightly so that the pectin can be squeezed out of this mixture, directly into the juice bowl.
This is the secret to how to make orange jam without pectin. And before you ask, no. You cannot make marmalade without pectin. But you can make it without store-bought pectin.
How To Prepare Oranges
This orange peel jam recipe is incredibly easy, packed with well-balanced sweet and tangy citrus flavors, and has a perfect consistency.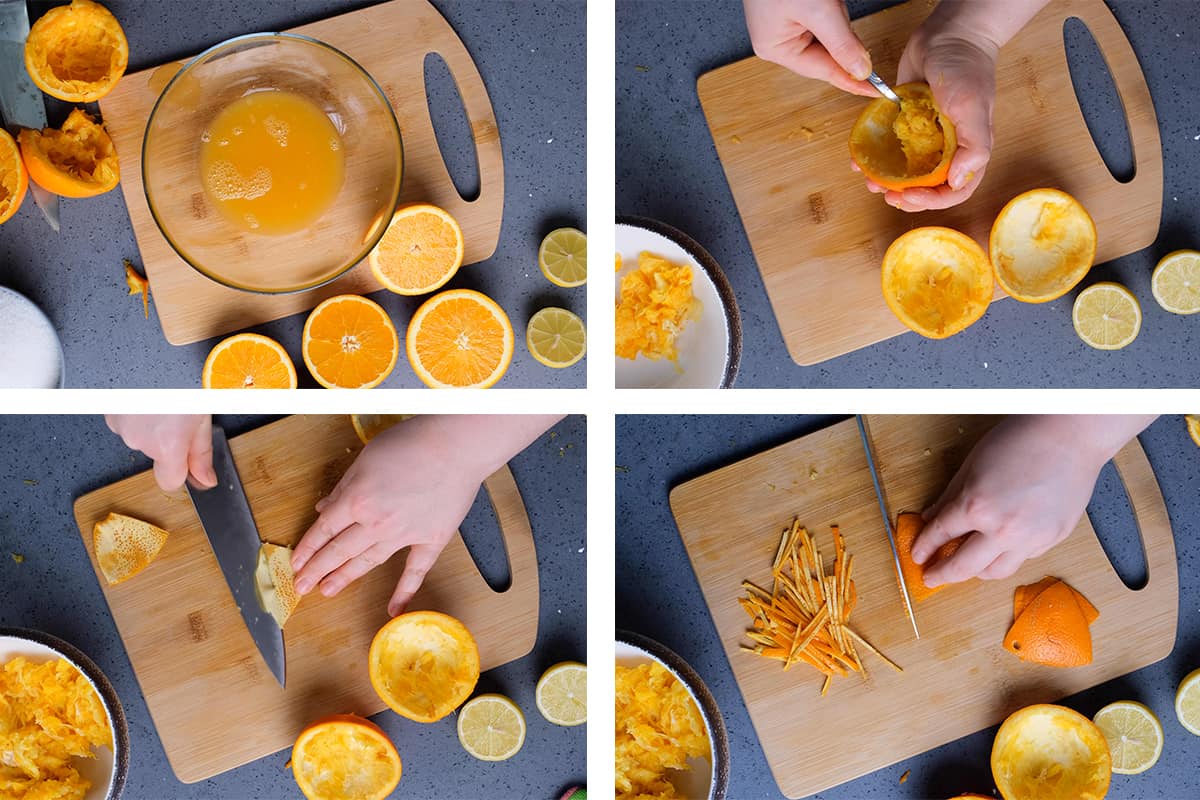 Juice the oranges: Cut 6 oranges and 1 lemon in half. Juice them as best as you can. It's perfectly fine if any pulp goes into the juice. Remove the seeds and set them aside. Keep the orange and lemon skins.
Remove the pulp and squeeze out the pectin: Use a teaspoon to scrape out the pulp inside the orange and lemon skins. Then, place the pulp with the seeds in a muslin cloth. Turn it tightly so it creates a firm bundle. Set it aside for later use.
Prepare the citrus skins: Place the skin on a flat surface. It's fine if it tears. Slice or scrape off the white pith. Once all of the lemon and orange skins have been cleaned, slice them very thinly. Set them aside.
Prepare the final two oranges: Peel them completely and discard the zest and white rind. You should only use the juicy fleshy parts. Chop them roughly.
How To Make Marmalade Jam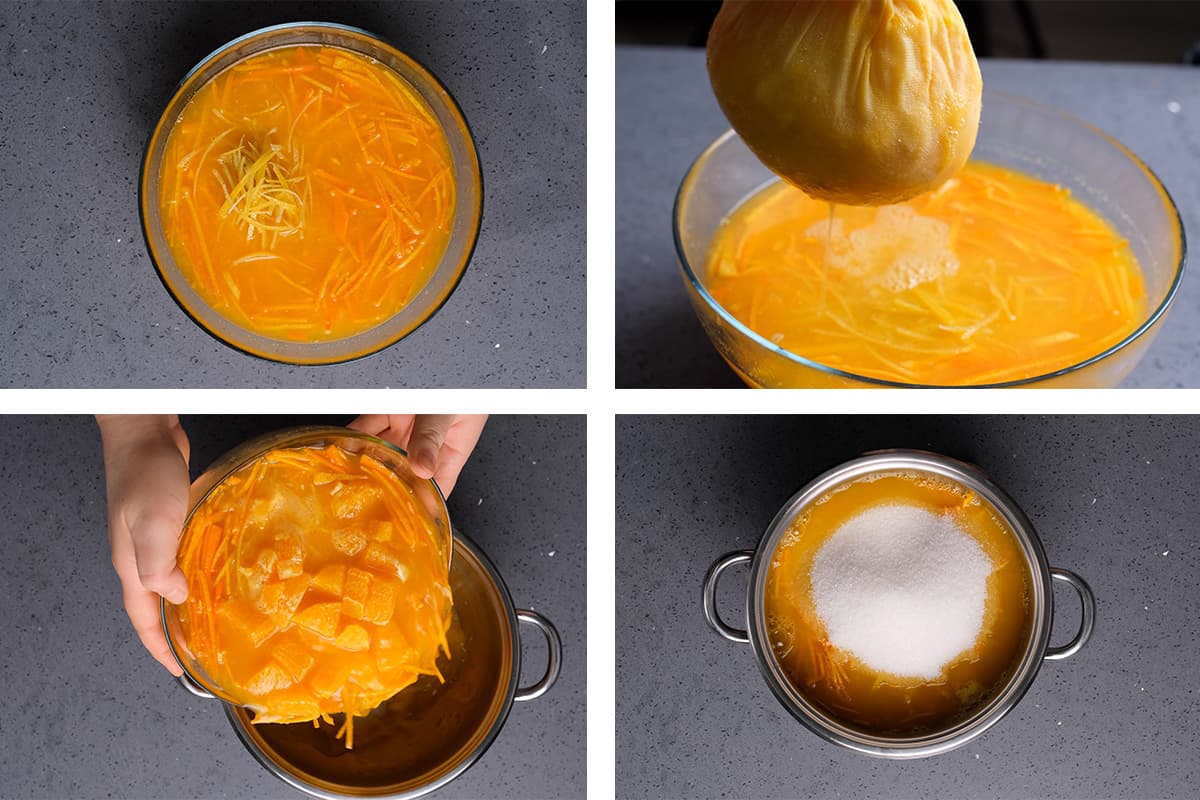 Create the orange marmalade base: In a large mixing bowl, combine the freshly squeezed orange juice and lemon juice, the thinly sliced prepared citrus skins, and the chopped orange slices.
Add the natural fruit pectin: Hold the muslin cloth ball over the marmalade base. Then, squeeze it tightly so that a ton of sticky juices come out. This is the natural pectin that will help the marmalade thicken.
Adjust the orange mixture and sugar ratio: Weigh your orange mixture in a pot (remember to deduct the weight of the pot). Ours weighed 700 grams (1.540 pounds). Add the exact same weight of sugar. In other words, add 700 grams of sugar.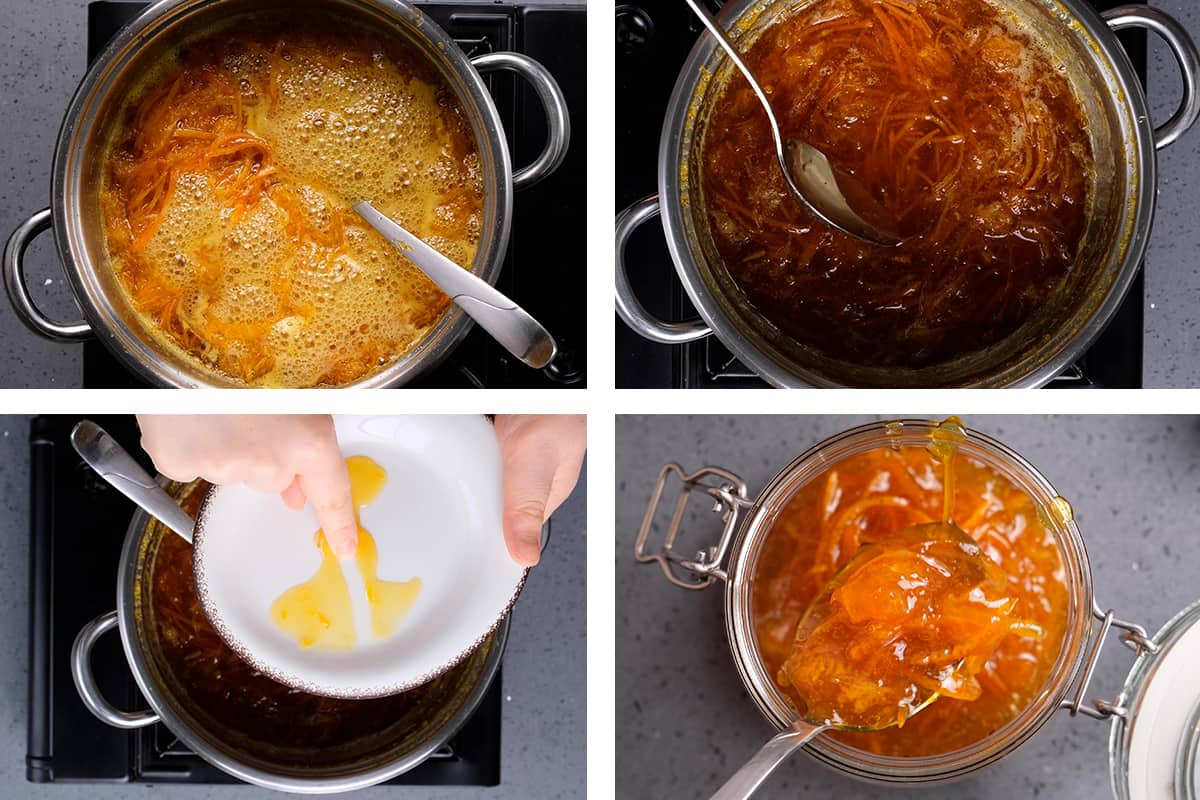 Cook the mixture: Bring the ingredients to a boil over high heat. Leave it to simmer for 20-30 minutes or until it starts to thicken. After 30 minutes, lower the heat to the lowest setting.
Do a plate test to check the consistency: Drop a tablespoon of orange jam on a plate. Place it inside the fridge for 10 minutes. Shake the plate. If the ham doesn't flow quickly, the consistency is perfect. But, if it runs all over the plate, it is too runny, and you need to continue cooking it for another 5 minutes.
Cool and store the orange jam: Once you are happy with the consistency, remove the pot from the heat and leave it to cool completely. As it cools, it will thicken some more. It will be a spreadable orange jam but not as thick as store-bought jellies.
Orange Marmalade vs Orange Jam vs Orange Jelly
Is Orange Marmalade The Same As Orange Jam?
No. Marmalade and jam are not the same thing. A regular recipe for orange jam only uses the pulp and juice of the citrus fruit. It doesn't contain any peel. A homemade marmalade, on the other hand, uses juice and peel, not pulp.
Is orange marmalade the same as orange jelly? No. You make jelly using the juice only. It doesn't contain any fiber like pulp or peel of the fruit.
So, because we use juice, pulp, and peel, this becomes a hybrid recipe that we like to call an orange jam marmalade. It combines the best of both in terms of texture and flavor.
How To Fix A Too Firm Marmalade
If your orange marmalade jam comes out too stiff, you can easily fix it.
Add the stiff jam into a saucepan again. Melt it over medium-low heat. Once melted, add a little bit of water and give it a stir. The exact amount depends on how overcooked the marmalade is.
Once your water has been incorporated, you need to reboil it to bring it to the setting point. Do the plate test again before cooling and setting it in the fridge.
Storage
Transfer the orange peel jam into sterilized half-pint jars using a ladle once it is completely cooled. Make sure to stir it well before each transfer so that the orange zest and pulp distribute evenly. Leave about ½ inch of headspace.
Wipe the rim of the jar with a wet paper towel and place the lids on the jars. It will keep at room temperature (unopened) or in the fridge for up to a month.
Use the water bath canner method if you want to store your orange preserves for longer. You can check out this preservation tutorial.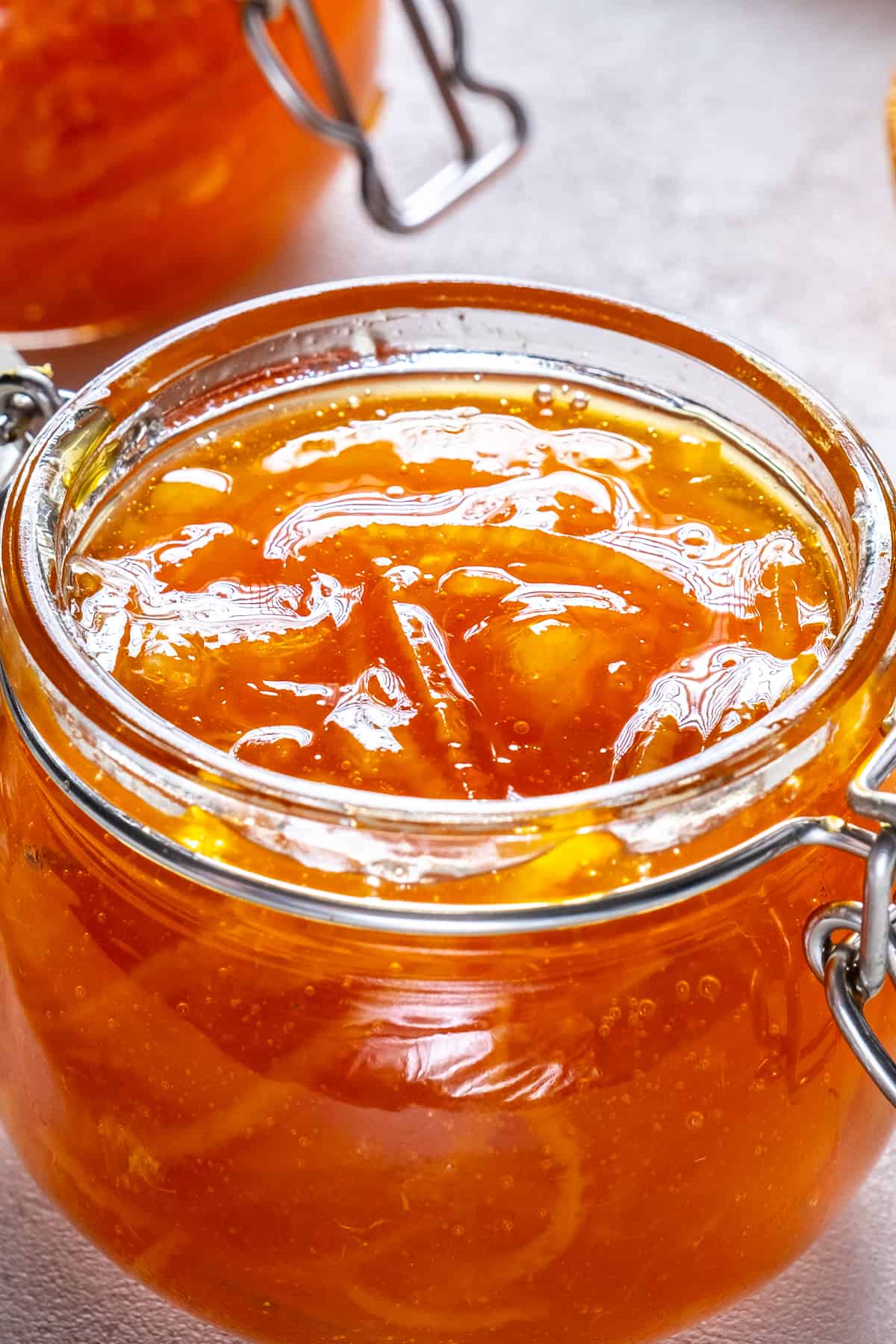 Tips
The ratio of the orange mixture and sugar is one to one (1:1). As we've mentioned, you should weigh the citrus juices, prepared thinly sliced skin, sliced orange segments, and natural pectin together. That amount, for our recipe, came to 700 grams. That means you have to use 700 grams of sugar.
It is crucial that you remove the white parts from the citrus skins. They make the marmalade bitter if you don't.
FAQs
How do you reduce the bitterness in orange jam?
Discard the white pith inside the peel as much as you can. This is to avoid the bitterness. Alternatively, you can use the blanching and rinsing method in our lemon jam recipe.
Can I use this recipe to make low sugar orange marmalade?
You can definitely use less sugar, but the consistency won't be the same. Also, you need to finish it in a shorter time. As sugar acts as a preservative, a low sugar marmalade or jam will keep well for up to 2 weeks.
More Jam Recipes without Pectin
As always: If you make this recipe, let us know what you think by rating it and leaving a comment below. And post a pic on Instagram too—tag @give_recipe so we can see!
Sign up for the FREE GiveRecipe Newsletter to get the new recipes into your inbox! And stay in touch with us on Facebook, Pinterest, YouTube and Instagram for all the latest updates.
Print
📖 Recipe
Orange Jam Recipe
A very easy orange jam marmalade that you can easily make without using pectin.
Author: Zerrin & Yusuf
Prep Time:

20 minutes

Cook Time:

1 hour 10 minutes

Total Time:

1 hour 30 minutes

Yield:

2 jars (500ml)

Category:

Dessert

Method:

Cooking

Cuisine:

Turkish
8 large oranges (700g/1.540 lbs after juiced and sliced. Please read note 1 to get a clear idea about the measurement)

1 lemon

700g/1.540 lbs sugar (Please read note 1)
Also you need:
A small piece of muslin or cheesecloth to fold the orange pulp and seeds in and make a bundle
Instructions
Put 2 oranges aside.

Cut 6 oranges and 1 lemon into half and juice them. It is okay if any pulp goes into the juice. Remove the seeds and put them aside. Don't throw the skins away.

Use a teaspoon and take out the pulp inside the skins. 

Put the pulp and seeds in a muslin and make it a bundle. 

Now with a knife or a spoon, scrape the white parts in the skin of oranges and the lemon. These make the jam bitter, so throw them away. 

Slice the skins of oranges and lemon thinly. 

Now peel the remaining 2 oranges, discard the zest and white parts. Chop the remaining fruit roughly.

In a large bowl, combine orange and lemon juice, sliced skins, chopped oranges. Squeeze the muslin bundle over these. The juice coming from it will act as a natural pectin and help the jam thicken. 

Weigh this mixture on your kitchen scale. Ours weighed 700g (1.540 lbs). Pour it into a large pot.

Add in exactly the same amount of sugar (700g).

Cook this over high heat until it thickens. It might take 20-30 minutes. 

After 30 minutes, bring the heat to the lowest and make a plate test. Drop a tablespoon of the jam on a plate and refrigerate it for 10 minutes. If it doesn't flow fast when you shake the plate, the jam has the right consistency. If it is too runny, cook the jam for another 5 minutes.

Remove the pot from the heat and let it cool. It will thicken a bit more as it cools down.

Store in jars when it is completely cool. It keeps well for a month at room temperature or in the fridge.

If you want, you can store the jam when it is still hot in sterilized jars. They keep well for several months.
Notes
The ratio of the fruit (oranges and lemon) and sugar is 1:1. We gather orange juice, lemon juice, zest and peeled and sliced oranges in a pot. And then measure this. Ours weighed

700g/1.540 lbs

. So we use exactly the same amount of sugar, which is

700g/1.540 lbs

sugar.

Make sure to scrape the white parts before slicing the orange and lemon zest. Otherwise, your jam will taste bitter.
Nutrition
Serving Size:

500ml jar

Calories:

1634

Sugar:

397.5 g

Sodium:

9.3 mg

Fat:

0.9 g

Carbohydrates:

421.8 g

Protein:

5.2 g

Cholesterol:

0 mg
Keywords: orange jam, orange marmalade, orange peel jam