These Almond Milk Pancakes make a perfect dairy free breakfast. They are so fluffy that nobody will notice they don't have any dairy products. So easy to make too! You don't need those store-bought pancake mixes any more.
Do you like pancakes? Have you ever tried making them without regular milk? We first tried it on a day when we noticed that the only milk in the refrigerator to make some pancakes was almond milk. They turned out super fluffy and as tasty as regular milk pancakes. So these almond milk pancakes have become our (and your) favorite pancake recipe since then.
On weekdays, we are more in the mood of a grab-and-go breakfast, something like Banana Oatmeal Breakfast Cookies. On the other hand, weekends require a lazy Turkish style breakfast with several food options. Aaaaand these no milk pancakes are definitely in our top list.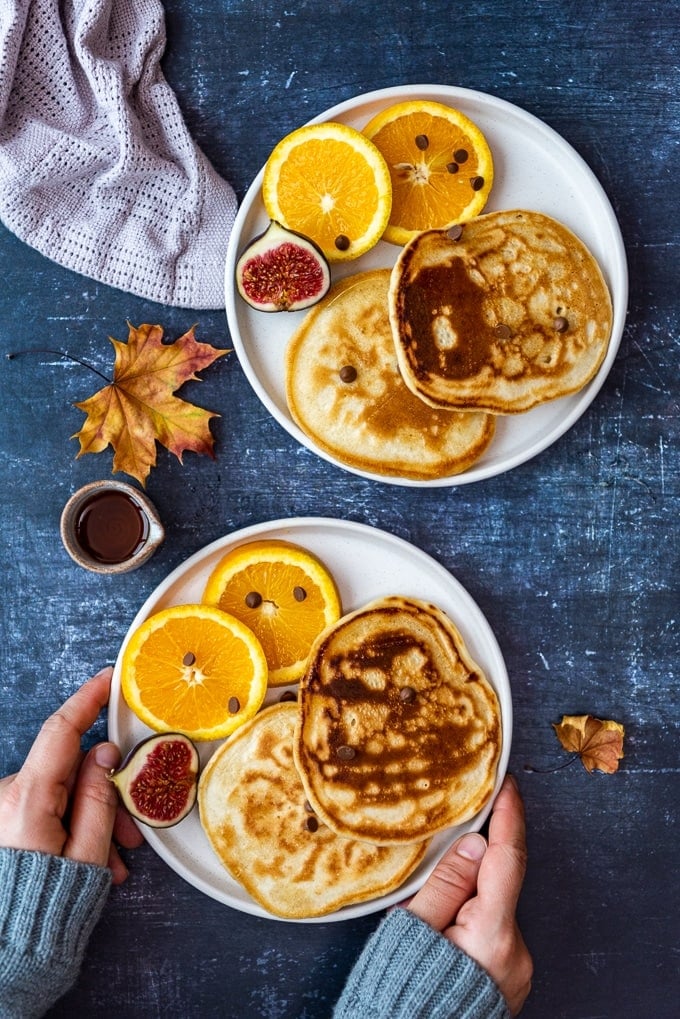 Are These Pancakes Dairy Free?
Yes, they are completely dairy free. This recipe doesn't call for any dairy products. The only milk in these pancakes is from almond milk, which is a plant-based milk. It is a great substitute for milk in pancakes. Also, instead of butter, use a type of oil like sunflower oil, olive oil, canola oil or coconut oil in the batter and to coat the pan before cooking the pancakes. Apart from these two ingredients, you will need flour, sugar, salt, baking powder and eggs. So go ahead and try the recipe yourself if you are staying away from or allergic to anything dairy. But wait, how come are these pancakes dairy free if they are made with eggs?
Are Eggs Dairy?
Eggs are definitely not a dairy product. We've received several emails 'warning' us about this recipe. They claim that these pancakes can not be considered as dairy free because they are made with eggs. We noticed that there is a common misunderstanding about this only when we saw those emails. Let's understand it right: Eggs are NOT dairy.
So which foods are dairy? What does dairy mean? As it is explained in dictionaries, dairy refers to foods that are made from milk, such as cream, butter, and cheese. Eggs are not made from milk, they don't contain any milk at all. You can check out the list of dairy products and see that eggs are not included.
These almond milk pancakes are dairy free, NOT egg free.
Check out => Pancakes Without Eggs
These pancakes are NOT vegan either.
Can I Make Vegan Pancakes with Almond milk?
Yes, you can. These pancakes are not vegan, but I know that almond milk is a great option to make vegan recipes. You can prepare flax eggs if you want, but you really don't need it when making pancakes. Add extra almond milk or water to the batter if you leave the egg out.
Can I Use Store-Bought Pancake Mixes?
Yes, you can use them but read the ingredients first. If you are on a dairy free diet, boxed pancake mixes might not be a good option for you. Some brands contain milk protein or milk powder in their mixes. So beware of this.
Making pancakes from scratch is way easier than you think and you don't need those ready mixes indeed.
Almond Milk Pancakes From Scratch
Homemade Raw Almond Milk is the best for this recipe because of the amount and quality of almonds. It is always great to make things at home when you can, but there is always an easier and quicker way if you don't have time for it. Just go and buy it from the market to get ready for one of the fluffiest pancakes ever.
This recipe is no different from making a simple cake batter.
First, whisk the dry ingredients well in a large mixing bowl. Then, add in the wet ingredients and whisk until smooth. The batter should be slightly thicker than a classic cake batter. Lightly oil the bottom of a non-stick pan and heat it over medium heat.
When it is hot enough, use an ice cream scoop or a measuring cup (¼ cup) and drop batter in the pan. Make sure you give enough time(about 2 minutes) before flipping. It's the time when you start seeing bubbles. Then flip and cook the other side for 1-2 minutes. Transfer the pancakes on a plate and repeat until all batter is used. Make the pancakes in batches. If you are using a large pan, you can make 4-5 pancakes at a time.
My Almond Milk Pancakes Toppings
We love having a variety of serving options. These pancakes are not so sweet so that you can adjust the sweetness to your taste by drizzling them with maple syrup, agave syrup or honey. Another sweetener could be powdered sugar. If you like, sift a little powdered sugar on the pancakes. Also, you can serve whatever fruit you like on the side for some refreshment. Some fruit options could be blueberries, strawberries, oranges, figs or watermelon depending on the season.
If you are a fan of marmalades, serve your pancakes with some homemade tangy lemon marmalade. It would make a great topping. We sometimes use our Homemade Easy Strawberry Jam for pancake toppings and love it too.
If it's the right season, you can even consider easy fresh fig recipes to pair these pancakes with.
And a dollop of simple applesauce would make a big change.
Substitute For Milk In Pancakes
Almond milk is our favorite substitute for milk in pancakes. But you are definitely not limited to it. While you can use plant-based milks like almond milk, soy milk, coconut milk(carton or boxed, not canned) as an alternative to regular milk, there are some other options too. For example, you can use citrus juice as much as needed and give your pancakes a refreshing flavor. Another substitute could be mashed banana, which gives a nice aroma too. You can even use plain water, but I'd recommend adding vanilla extract then. Otherwise it might taste bland.
Other Pancake Recipes You Might Like
Other Dairy Free Breakfast Ideas You Might Like
Print
Fluffy Almond Milk Pancakes
Soft and fluffy dairy-free pancakes with almond milk.
Author:
Prep Time:

5 minutes

Cook Time:

10 minutes

Total Time:

15 minutes

Yield:

14

small pancakes

1

x
Category:

Breakfast

Method:

Cooking

Cuisine:

American
1

and ½ cups all-purpose flour

2 tablespoons

sugar

2 teaspoon

baking powder
A pinch of salt

1

and ¼ cups almond milk

2 tablespoons

oil

1

egg

1 tablespoon

oil, to coat the pan
Strawberries and powdered sugar for topping
Instructions
Whisk together the flour, sugar, baking powder and salt in a large bowl.
Add milk, oil and egg. Whisk until smooth.
Coat the pan with oil and heat it over medium heat.
Pour the batter into the hot pan using an ice cream scoop or a ¼ measuring cup. Let it cook until you start to see bubbles. Turn them over and continue cooking for 2 minutes. Transfer them on a plate and repeat the same steps with the remaining batter.
Stack them on a plate. Sift powdered sugar over them and garnish with fresh strawberries.
Notes
Toppings and garnishing ingredients are not included in the nutritional facts.
If your batter is too runny, add one or two tablespoon extra flour and mix.
Keywords: almond milk pancakes, dairy free pancakes
OTHER RECIPES WITH ALMOND MILK