These French Toast Breakfast Sandwiches combine the best of both worlds - crispy and buttery french toast with a cheesy grilled sandwich! You only need the simple breakfast ingredients and about 20 minutes!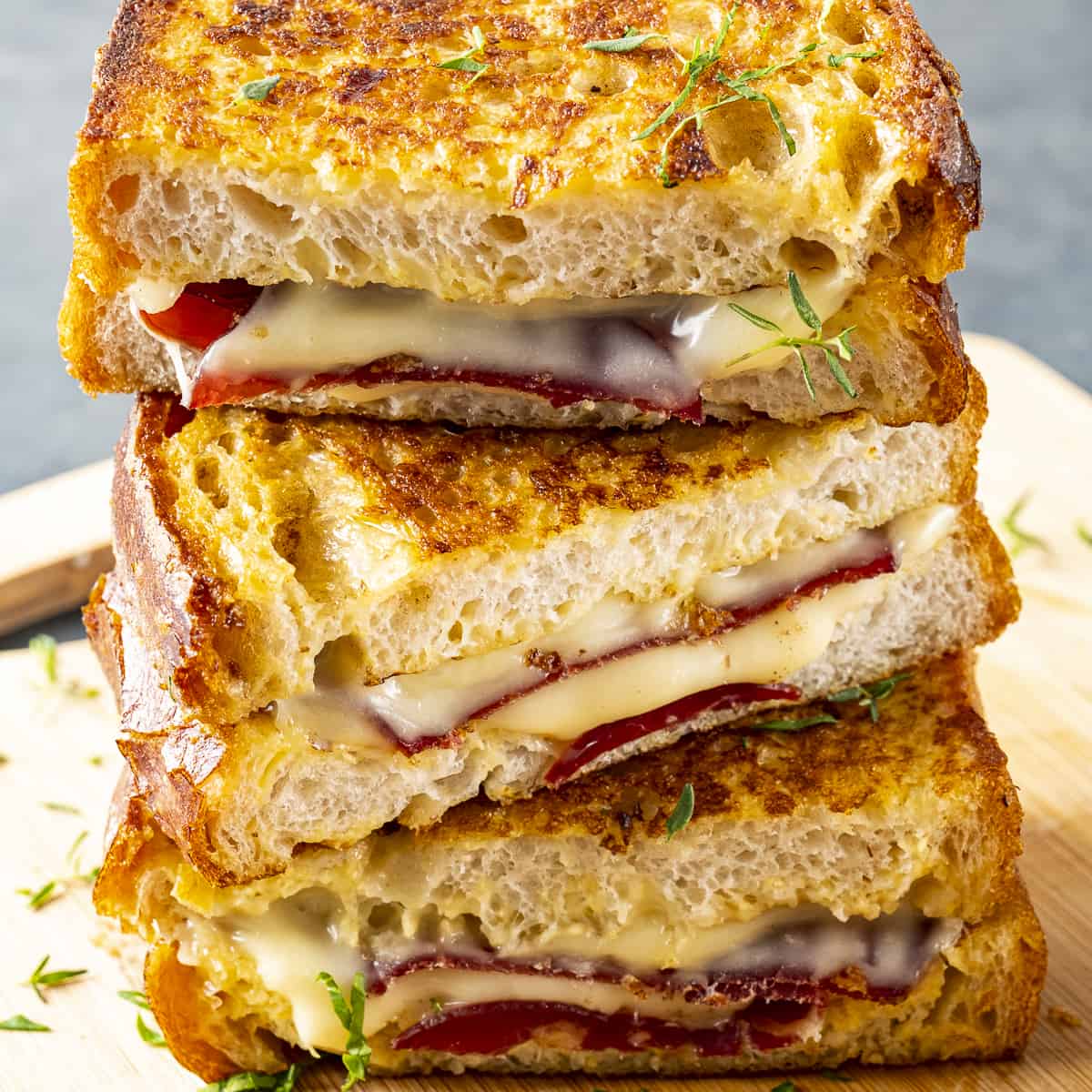 Now, you can move away from bland breakfast dishes and make something you want to eat! And you can even turn this sandwich made with French toasts into a hearty lunch or dinner.
Just add your favorite cold meat slices like ham and cheese in your eggy bread slices, which are also known as French toast and cook in the pan. So easy and satisfying!
Why Should You Make This Recipe
These are fun breakfast sandwiches to make, especially if you can't choose between french toast and grilled cheese sandwiches! The solution is simple: Make French toast grilled cheese!
For this recipe, you only need traditional breakfast ingredients you likely already have in your kitchen.
It doesn't take hours to make. You can make this recipe in less than 20 minutes!
Our recipe is very customizable. You can substitute most of the ingredients.
About The Ingredients And Substitutions
The recipe for these French toast breakfast sandwiches is easy to make, and you only need a few classic breakfast ingredients. However, its simplicity allows you a ton of creative freedom!
Eggs: Always use large eggs, free-range or cage-free if you can.
Milk and salt: These two ingredients get added to the beaten eggs. Salt helps add some flavor. Milk has two important functions. The first is that it thins down the beaten egg so it can be easily absorbed into the bread.
The second is that it helps add sugars to the mixture. These will help create a much more beautifully browned slice of fried bread.
White bread: White bread works the best when making sandwiches from french toast slices.
But you can ultimately use any bread that you'd like. Soft-crumb types of bread (like white bread) will more easily absorb the beaten egg mixture. But, if you do choose something like ciabatta or sourdough, leave the slices in for longer to soak.
Meat: We use pastrami. You can use ham just like in a classic Monte Cristo French toast. Also, any cold meat slices like turkey, chicken, beef, pork would work fine. Cured meats are another great way to play around with very different flavors. You can even use them to create an entire dinner with our french toast sandwich recipe.
Cheese: We have three kinds of cheese options that work exceptionally well for this french toast grilled cheese recipe: Mozzarella, cheddar or gruyere cheese. These are all cheeses that melt perfectly. So use whichever you like. Something like feta cheese will taste good too, but it won't melt like the other ones.
Butter: The butter in this recipe is used to help toast the bread slices. It will brown the bread while adding a nice flavor. You can use olive oil too if you want, but you won't get that nice buttery flavor then.
How To Make
Our french toast sandwiches are very easy to make and quick too. You can use alternatives for almost every ingredient to make it suit you perfectly! It's super filling, packed with flavor and texture, and fun to make and eat!
Prepare the wet mixture in a bowl: To start, whisk together your eggs, milk, and salt. Make sure that the eggs are well beaten.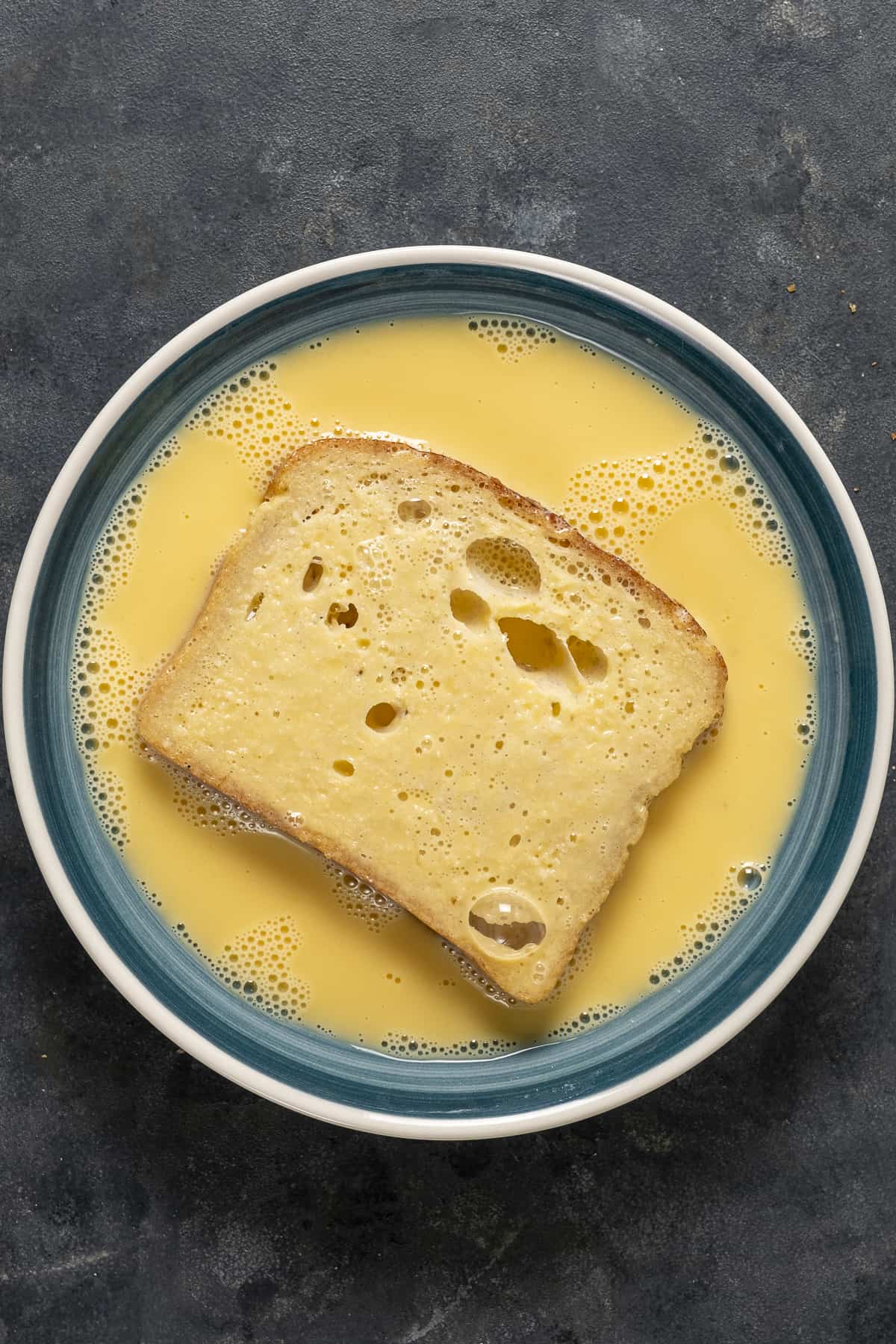 Prepare the bread slices: If you aren't using sliced bread, slice the loaf into even ½-inch slices. Then, dip the slices of bread into the beaten egg mixture. Make sure that both sides are very well coated. You can leave them in for about 5 minutes.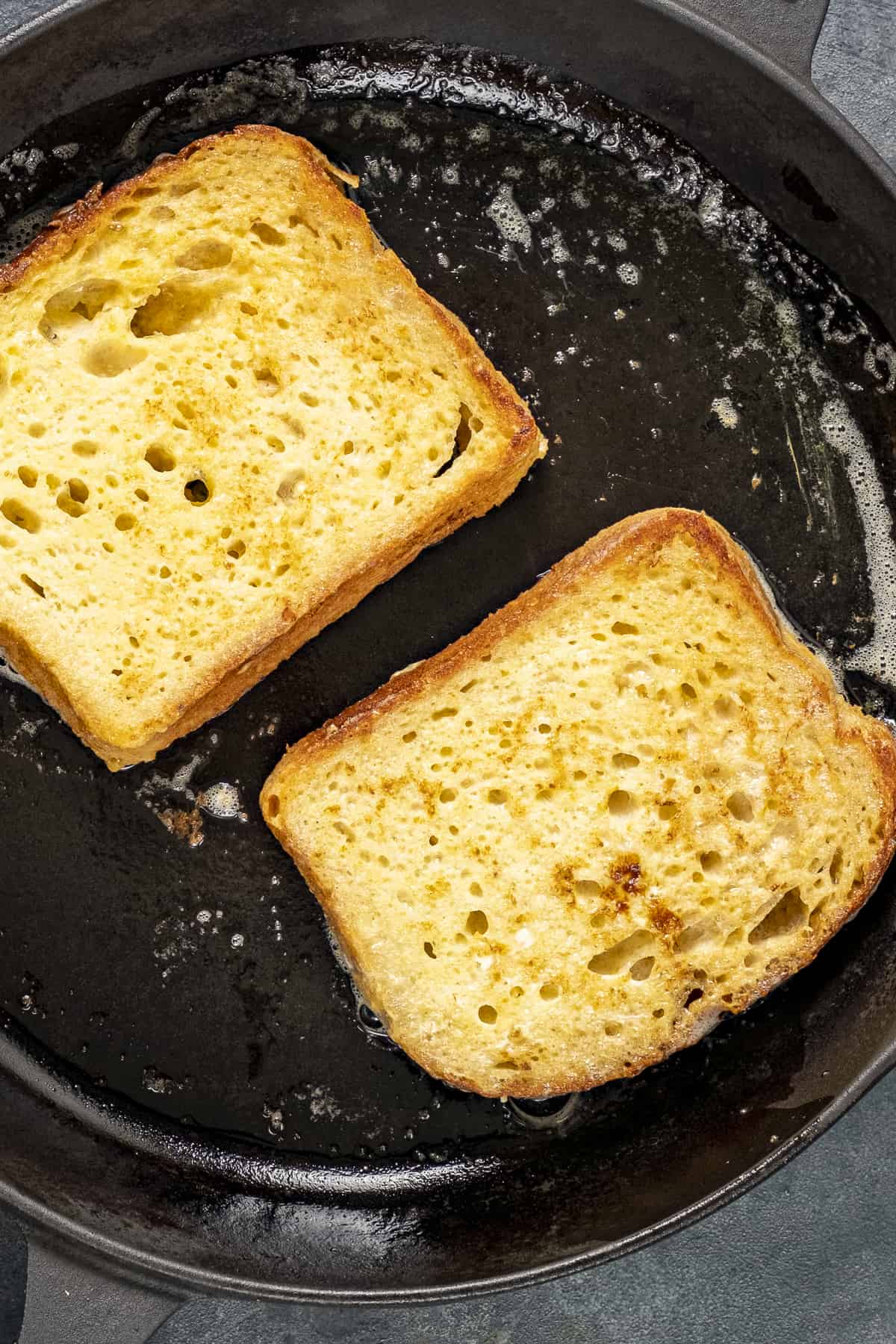 Make french toast: Add ½ tablespoon of butter into your non-stick large skillet and melt it over medium-high heat. Then, place two slices of egg and milk-soaked bread into the pan. Allow the slices to toast for about a minute on each side.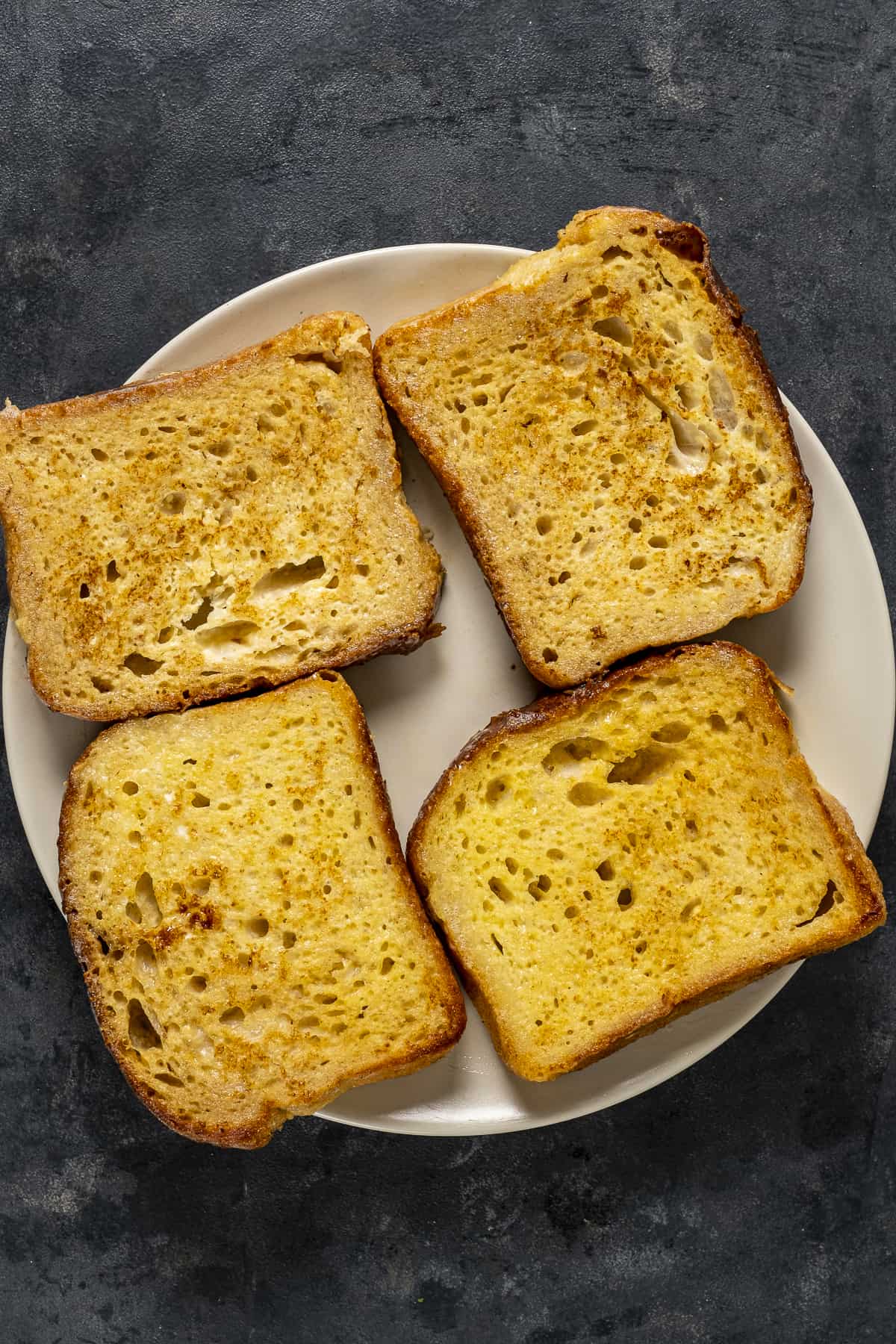 For these french toast sandwiches, you don't want them to be completely cooked just yet. Once they start browning, transfer them to a plate. Repeat this step for the remaining slices of bread.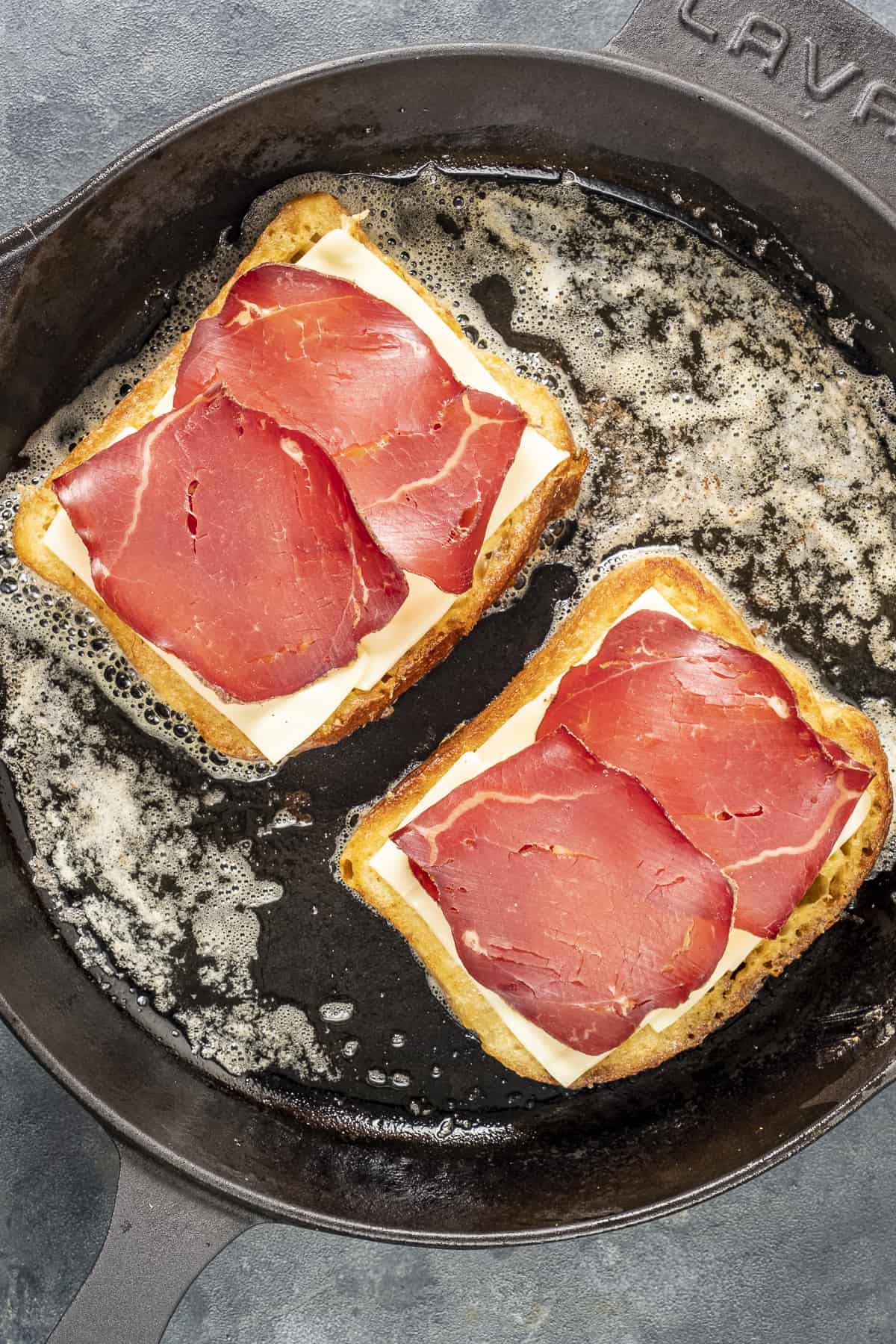 Make the french toast sandwiches: Add another ½ tablespoon of butter into a hot pan. Allow it to melt. Then, add two semi-cooked french toast slices. On top of each slice, add the sliced cheese and pastrami (ham or any cold meat slice you like ). Then, top them with two more slices of semi-cooked french toast.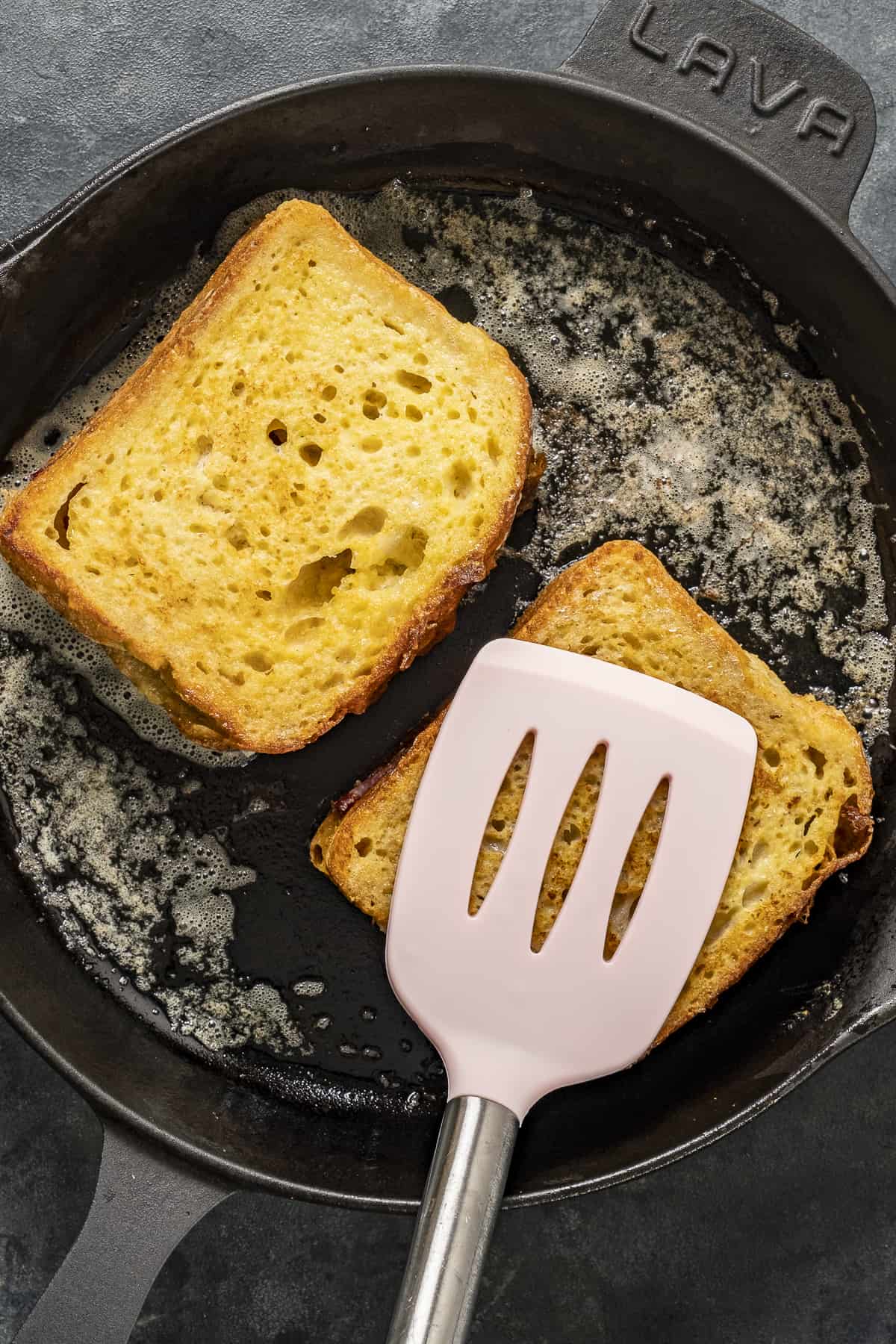 Fry each side of the french toast sandwich for about 3 minutes per side. Or until it becomes golden brown and crispy. The cheese should also start melting. It helps to press down the sandwich with a spatula so it browns evenly.
Serve: Once the sandwiches are fully toasted, transfer them to a plate and serve immediately. You can add any of your favorite accompaniments as well!
Sandwich or French Toast?
You might be asking: Are these sandwiched French toasts or French toasted sandwiches? In other words, do we make the sandwich first and cook it like a French toast or do we make French toasts first and then make a sandwich from them?
In our cooking method explained above, we first make French toasts (partly cooked), sandwich them with meat and cheese filling and then give them a second cooking.
Alternatively, you can make your sandwich first and dip it into egg and milk mixture and then fry in the pan.
We prefer the first method, which is making the sandwich with French toasts. Because it has a better crispiness even on the inside.
Variations
There are endless variations you can use for this cheese french toast recipe! Here are some of our personal favorite additions! They are all super easy and don't require extra work!
Eggs:
These would make the ultimate french toast breakfast sandwiches!
It will be a great way to incorporate protein into your breakfast. And, you can leave off the ham if you don't want to ingest any meat-based protein. Furthermore, eggs will add moisture and a ton of delicious flavors!
You can incorporate them in a couple of ways. Personally, we like making soft fried eggs or poached eggs. You can add it between the layers of bread. This way, once it is cut open, it releases the delicious gooey egg yolk.
If you don't feel like investing much effort into making soft eggs, you can always make scrambled eggs or just boiled eggs.
Cream Cheese:
If you love extra cheese in your French toast, use cream cheese in addition to the melting cheeses. Spread some softened cream cheese on the semi-cooked slices of bread before assembling the sandwiches.
Spices:
Spices are an obvious way to change up the flavor of your french toast sandwiches. You can add almost any type of dried herb like oregano (or fresh if you have some) in the egg-milk mixture.
Spices like cumin, pepper, paprika are also a great way to go. It will help make the recipe different every time you make them and create a richer flavor. If you want a subtle sweet touch, you can add cinnamon or vanilla too.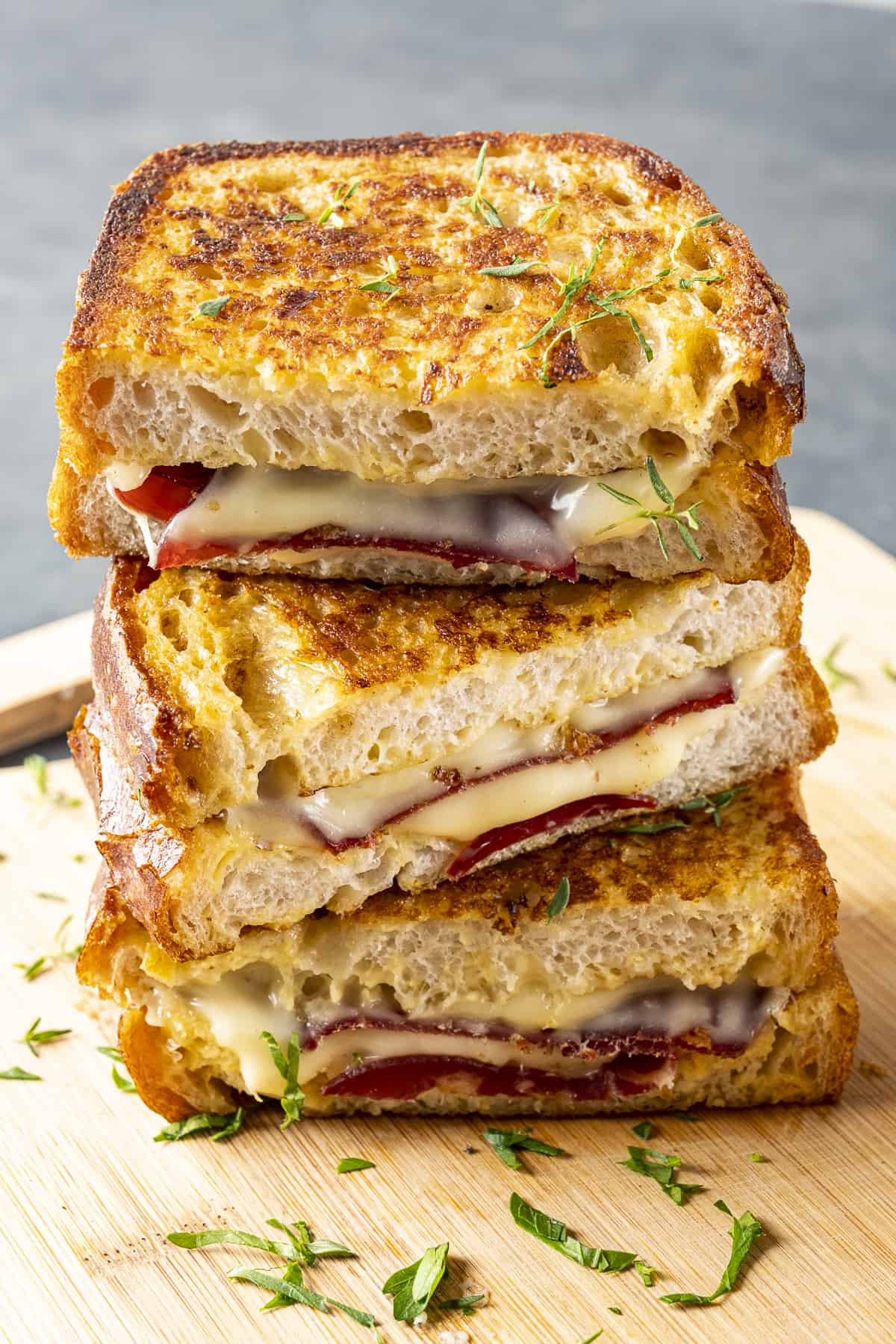 Serving Suggestions
More often than not, these french toast sandwiches will be served for breakfast. But, keep in mind that they can also make excellent options for lunch and dinner. You can serve them plain, but there are some ways you can make them even more special.
A simple serving suggestion would be to drizzle them with maple syrup or sprinkle a little powdered sugar over them. Just like traditional french toast is!
Then, you can also serve them alongside fried eggs or Turkish Eggs, sausages, fresh-cut fruit, and even granola bowls. And don't forget, nothing makes a better accompaniment than crispy fried bacon!
If you are serving these French toast sandwiches for lunch, pair them with a bowl of hearty soup like roasted tomato garlic soup or carrot tomato soup.
More Sandwich Ideas
More Breakfast Ideas
As always: If you make this recipe, let us know what you think by rating it and leaving a comment below. And post a pic on Instagram too—tag @give_recipe so we can see!
Sign up for the FREE GiveRecipe Newsletter to get the new recipes into your inbox! And stay in touch with us on Facebook, Pinterest, YouTube and Instagram for all the latest updates.
Print
📖 Recipe
French Toast Breakfast Sandwiches
French toast sandwiches stuffed with cheese and cold meat slices like ham make a perfect breakfast or lunch. 
Author: Zerrin & Yusuf
Prep Time:

5 minutes

Cook Time:

15 minutes

Total Time:

20 minutes

Yield:

4

1

x
Category:

Breakfast

Method:

Sandwich

Cuisine:

American
2

large eggs

½ cup milk

½ teaspoon salt

4 sliced white bread

4 slices ham or Turkish style bacon called pastrami (or any cold meat slices you like)

4 slices mozzarella or cheddar or gruyere cheese

2 tablespoons butter
Instructions
Prepare the wet mixture: In a large flat bowl, whisk together eggs, milk and salt.

Prepare the bread slices: Soak the bread slices into this mixture. Make sure they are well coated.

Make French toasts: Melt ½ tablespoon of the butter in a non-stick pan. Place two of the egg and milk mixture coated bread slices into the pan. Fry both sides for a minute. Don't let them cook completely. Transfer them onto a plate. Melt ½ tablespoon butter in the pan and repeat the same steps for the remaining two bread slices. 

Make Sandwiches: Melt the remaining butter in the pan. Place two half-fried bread slices in the pan. Put 2 slices of cheese and 2 slices pastrami or ham on each slice. Place the other two bread slices on these. Fry until brown on both sides, about 3 minutes per side or until the cheese melts. Press down with a spatula firmly when frying.

Serve immediately.
Notes
When making the French toasts, don't fry them completely. We are going to give them a second cooking after turning them into a sandwich. So just cook the bread slices partly.
Alternatively, you can make your sandwich first and dip it into egg and milk mixture and then fry in the pan.
Nutrition
Serving Size:
Calories:

536

Sugar:

6.7 g

Sodium:

1222 mg

Fat:

31.8 g

Carbohydrates:

32.9 g

Protein:

28 g

Cholesterol:

236 mg
Keywords: french toast sandwich, french toast breakfast sandwiches, French toast grilled cheese