Simple Oven Roasted Figs couldn't be easier! Put the figs in oven and forget them for 40 min! Cinnamon, rosemary and honey make these really addictive!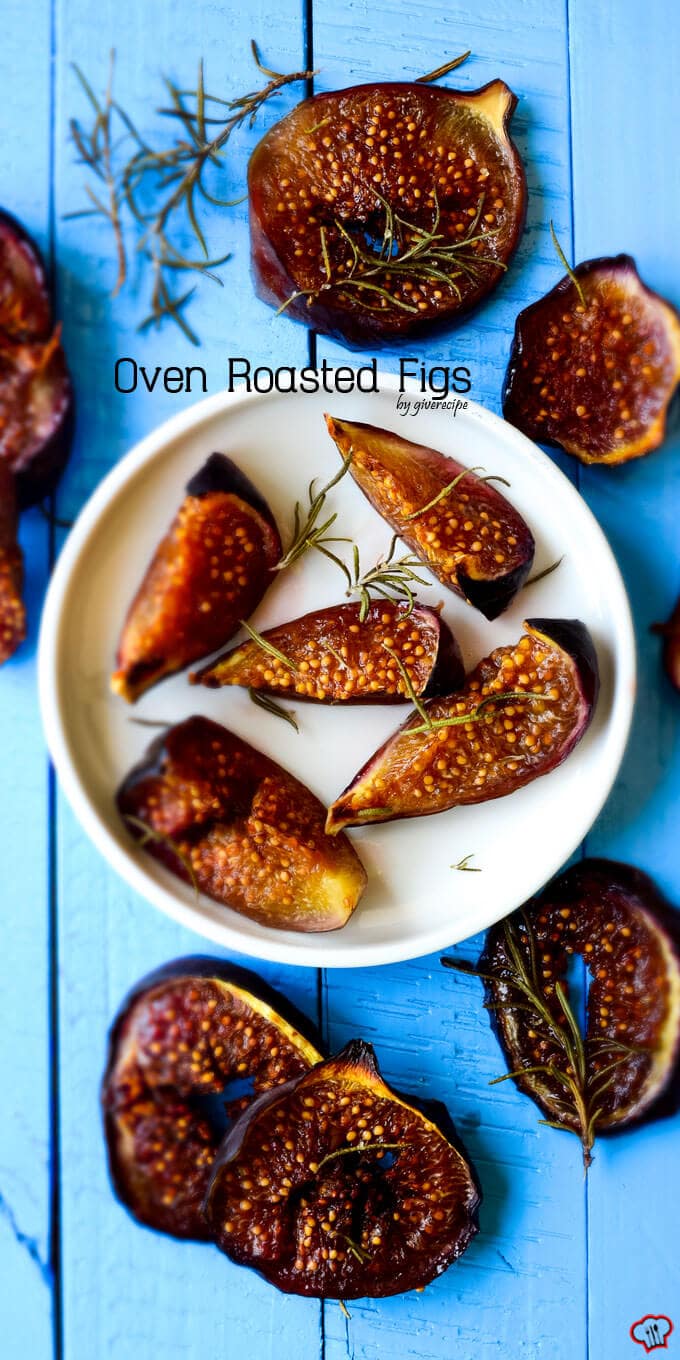 Here is a surprisingly easy way to celebrate fresh fig season. Did I tell you how I feel excited when fig season finally comes? I love to experiment on new recipes based on figs as in Honeyed Figs with Cheese, which I shared with you the other day. This time, I want to keep things simple and make these Simple Oven Roasted Figs which combine the flavors of cinnamon, rosemary and honey.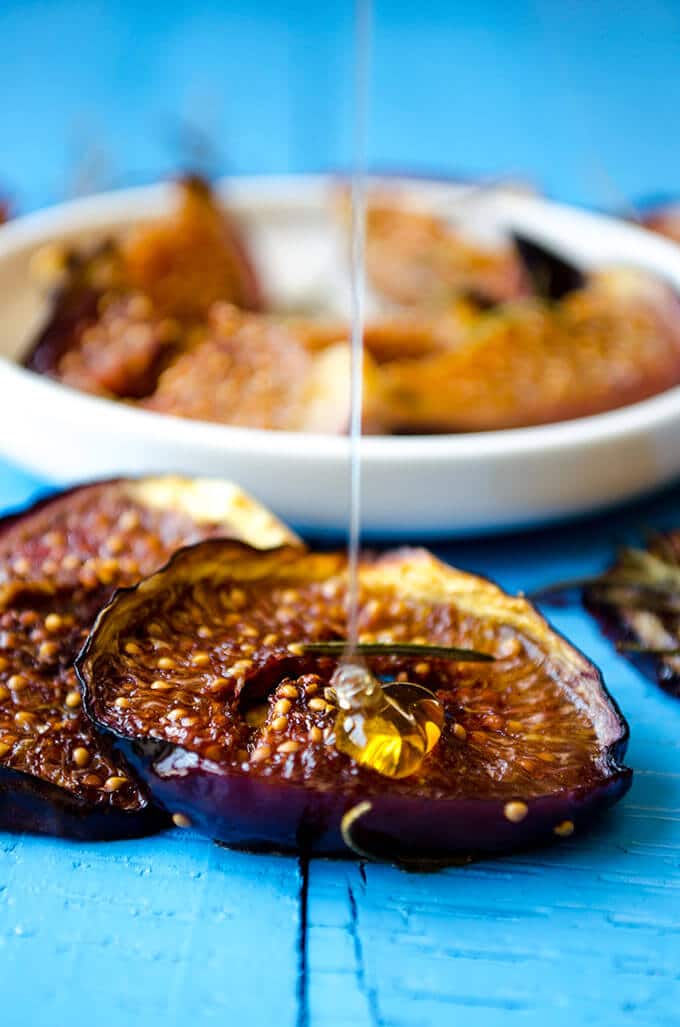 This is one of those easy oven recipes. Just combine everything in a baking dish, put in a preheated oven and forget about it for 45 minutes. The sweetness of figs stand out better when roasted. If you like fig jam or any kind of jam, but don't want to waste time making a full pot of it, make these oven roasted figs. They release their juice as they cook for about 30 minutes, you can just stop at this point and remove the figs from oven and enjoy the easiest fig jam ever. I wanted to serve my figs as a dessert, so roasted them for an extra 10 minutes so that their juice was almost gone and had a nice a little wrinkled texture.
Oven roasted figs might look simple, but trust me these are bursting with flavors! This is a satisfaction-guaranteed fig dessert recipe. Figs are not too soft, you can still pick them with your hands. Brown sugar on each of fig slice adds a little more sweetness and a slight caramelization. Don't overuse the sugar though because I recommend you to drizzle honey on each after they are done.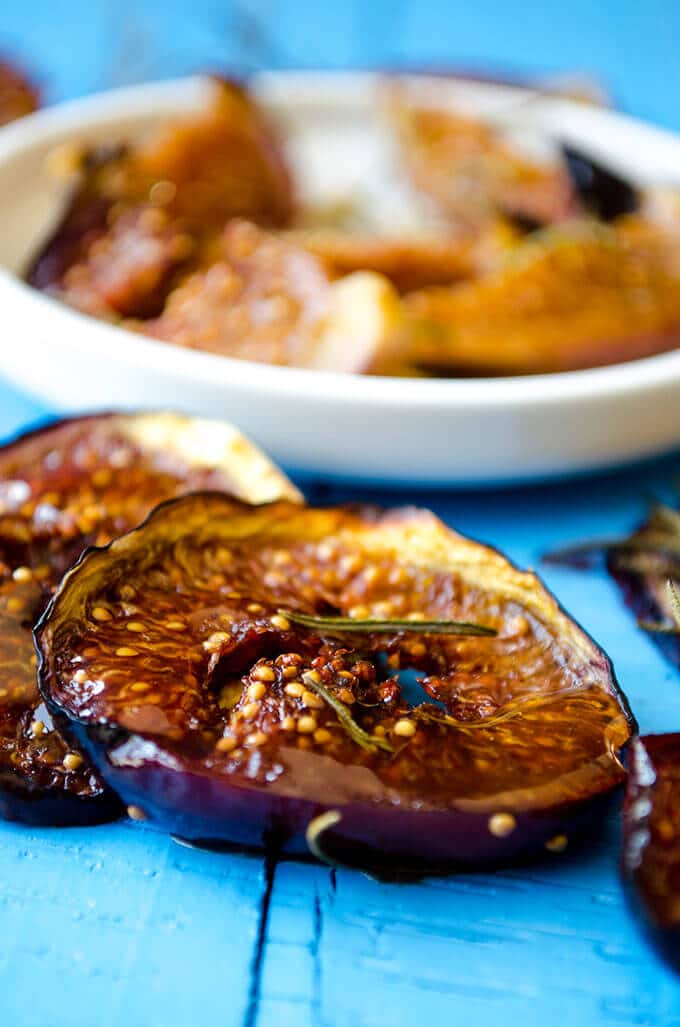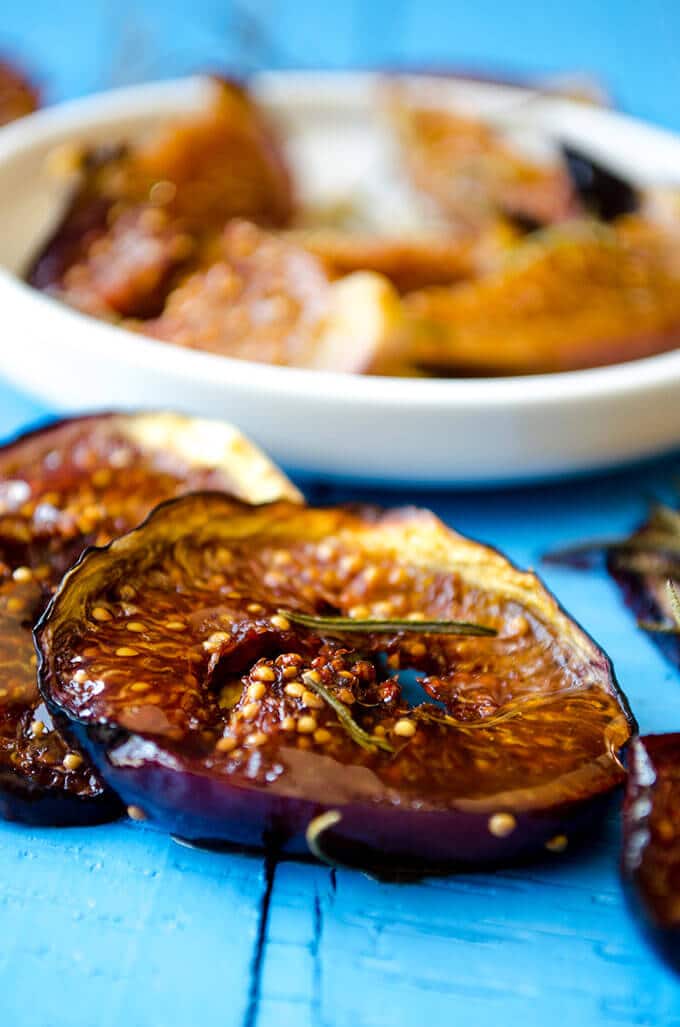 The cinnamon and rosemary complement the sweetness of these roasted figs, so don't leave them out.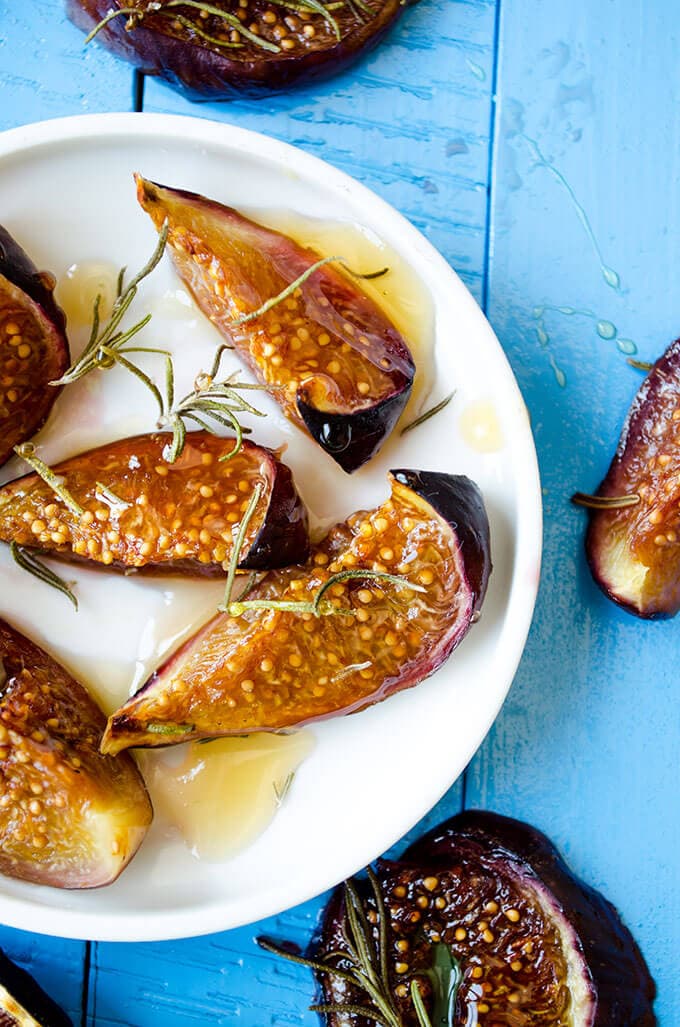 You can serve simple oven roasted figs just as they are or with a little cheese. These can be preserved in an airtight container in the refrigerator for a later use. You can top your breakfast yogurt, top your favorite cake or even make a sandwich with these yummy figs.
See our other chocolate recipe videos here:

Print
Simple Oven Roasted Figs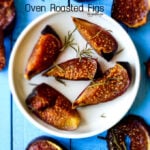 The easiest fig dessert bursting with flavors. Cinnamon, brown sugar, rosemary and honey make these roasted figs so addictive!
Prep Time:

5 minutes

Cook Time:

40 minutes

Total Time:

45 minutes

Yield:

2
Ingredients
5 fresh figs
1 tablespoon brown sugar
½ teaspoon cinnamon
A handful of rosemary sprigs
1 and ½ tablespoon honey
Instructions
Preheat oven to 350F (180C).
Slice the figs as you desire and place in a baking dish.
Sprinkle brown sugar and cinnamon on fig slices.
Toss rosemary springs over them.
Roast for 40 minutes and remove from oven.
Cool for 10-15 minutes and serve with honey.
IF YOU LIKED THIS RECIPE, THEN YOU WILL LOVE THESE: