These Cinnamon Baked Pears are the perfect example of a straight-forward, easy, and minimalistic recipe that is also extraordinarily good. This baked pears recipe only requires 4 ingredients that infuse together beautifully to create a symphony of earthy and caramelized flavors.
Pears are as popular as apples in our kitchen. And obviously nobody can resist against a newly baked loaf cake with pears. Go check out our Caramelized Pear Bread Recipe if that's what you are craving for. How about making the easiest and quickest pear dessert this time, which could also be considered healthier.
These cinnamon baked pears only take a couple of minutes of preparation, and truly the least amount of work – simply cut, garnish and bake. The flavors are also very simplistic, making it very easy to garnish with whatever you'd like!
Today, we will be looking at how to make the perfect roasted pear dessert. We will be discussing the ingredients, specifically the type and quality of the pears, how to bake pears, and also look at some nutritional elements of this fruit.
Ingredients
This recipe doesn't require an excessive amount of ingredients, making it the perfect last-minute dessert. And because of its simplicity, you can garnish it any way you like.
The most important ingredients are the pears. If you are in a pinch, any type of pear will have to work. However, if you have a bit of time on your hands, pay closer attention to the pears. To get the most out of any baked pears recipe, your pears have to fulfill specific requirements. Some varieties of pears are better suited for baking than others. You can also pay close attention to the physical characteristics of the pears, for example, their ripeness, how firm they are, and their color. Avoid using overripe pears in this recipe.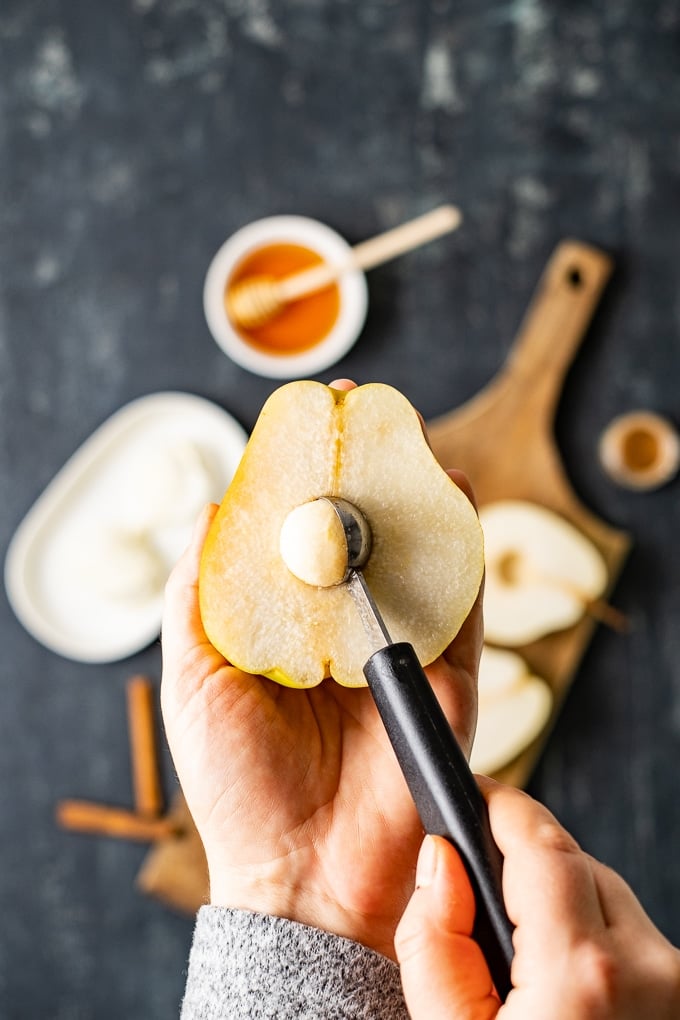 Next, we have some cinnamon powder. The cinnamon powder adds a ton of earthy flavor and helps add some color to an otherwise bland-looking dish. You can also garnish the pears with some cinnamon sticks for added flair.
Our third ingredient is honey. It is what really gives these cinnamon baked pears their color. During baking, the sugars in the honey caramelizes and gives a beautiful rich and deep flavor and brown color that pairs perfectly with the earthy notes of the cinnamon.
You can use a bunch of honey substitutes if you don't want to use honey because you want a vegan dessert or just because you don't have it on hand. Some examples are agave syrup, maple syrup, brown sugar or coconut sugar.
When it comes to garnishing your cinnamon pears, the possibilities are endless. If you want to keep it simple, you can use whipped cream, thick Greek yogurt or clotted cream(our favorite).
How To Make
This quick pear dessert recipe is incredibly easy to make and yields the best juicy, crunchy, and flavor-packed baked pears.
First, prepare your equipment. Start by preheating your oven to 350°F. Next, line a baking pan with non-stick parchment paper or a silicone sheet. For added protection, you can also spray the sheet with non-stick cooking spray.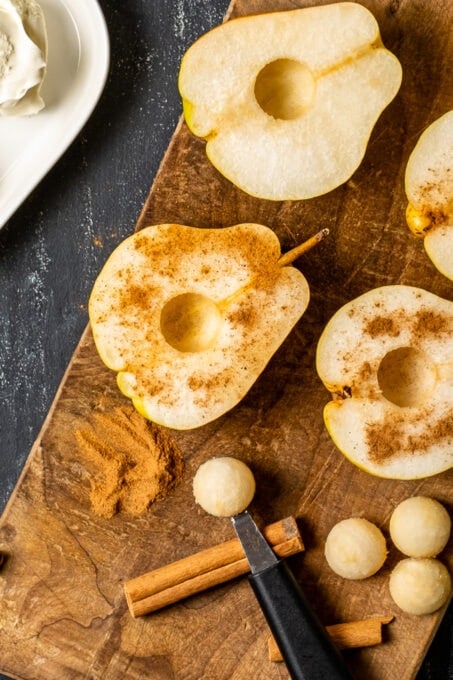 Second, cut the pears. Slice off a tiny strip from the bottom of the pear to help it stand upright. Then cut the pears in half.
Third, remove the seeds. To remove the seeds, you can use a teaspoon or a melon baller. Make sure all of the seeds are removed.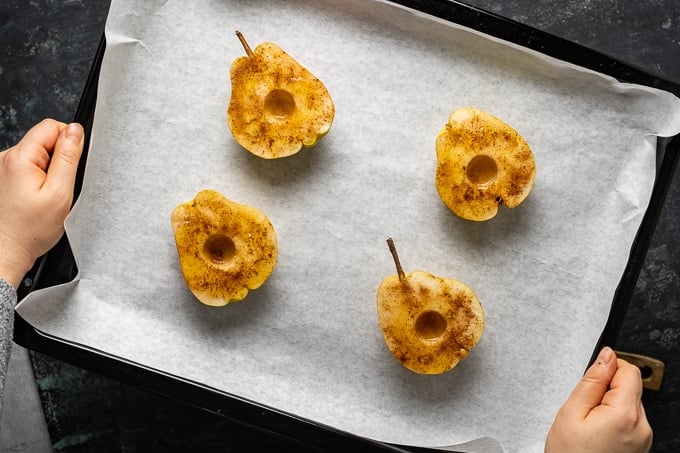 Fourth, add the cinnamon and honey. Lay the pears flat on the baking sheet with the cut side facing upwards. Sprinkle each half with some cinnamon powder, followed by ½ teaspoon drizzle of honey over each half.
Fifth, bake the pears. Make sure the baking sheet is on the middle rack in the oven, and bake them for about 30 minutes. To make sure the pears are fully cooked through, a toothpick or testing needle should easily go straight through. The pears should also have turned a beautiful golden brown color.
Sixth, allow the pears to cool and serve. Many people love piping hot baked pears, but you can also cool them completely. Either way, these are amazing with a dollop of clotted cream or Greek yogurt.
What Pears Are Best?
Like we've previously mentioned, any pear will do for a roasted pear dessert, however if you really want the best out of the baked pears recipe, some varieties are better than others.
When choosing a variety to bake, it is important to choose those that hold their flavor and color very well during baking. You don't want to spend all that time preparing them, and not have their flavor come through, or their flesh turns an unappealing brown.
Bartlett, Anjou and Bosc pears are the best for those exact reasons. For more information on them, have a look at this article: Pear Guide.
How Ripe Should Pears Be For Baking?
It is very important that your pears are firm-ripe (the period when they are starting to become ripe). When you gently press the pear near its stem, it should only give slightly.
If you can only find very hard pears, they can take several days to ripen naturally. Alternatively, you can place the pears in a brown paper bag to help speed along the process.
FAQ
Can you bake unripe pears?
Yes, you can bake unripe pears although the results won't be as great as with semi-ripe pears. When using semi-ripe pears, their flavor is more prominent and they are generally sweeter. The texture of the semi-ripe baked pear will also be much more appealing compared to an unripe baked pear.
Should pears be hard or soft?
As we've already mentioned, your pears should be semi-firm. This means somewhere between hard and soft. Your pears shouldn't be fully ripe, but definitely not rock hard.
Are pears high in sugar?
Pears are considered high-sugar fruits, and one medium-sized pear can have as much as 17 grams of sugar. Putting it into perspective, that is about 4 teaspoons of plain granulated sugar (Source). You should definitely be cautious of consuming pears if you are monitoring your sugar intake.
Can diabetics eat pears?
When people think of diabetes they automatically think "no sugar – at all!", however, this is not the case. Each diabetics requirement differs, meaning some diabetics might be able to eat pears, while others won't.
In general, pears are very safe to eat for diabetics, however, their sugar levels should still be monitored due to a pears high sugar content. Please read this additional information regarding pears in a diabetic diet.
More Fruit Recipes
As always: If you make this recipe, let us know what you think by rating it and leaving a comment below. And post a pic on Instagram too—tag @give_recipe so we can see!
Sign up for the FREE GiveRecipe Newsletter to get the new recipes into your inbox! And stay in touch with us on Facebook, Pinterest, YouTube and Instagram for all the latest updates.
Print
📖 Recipe
Cinnamon Baked Pears Recipe
A light pear dessert recipe with honey and cinnamon.
Author: Zerrin & Yusuf
Prep Time:

10 minutes

Cook Time:

30 minutes

Total Time:

40 minutes

Yield:

2

1

x
Category:

Dessert

Method:

Baking

Cuisine:

Turkish

Diet:

Gluten Free
2

ripe pears

¼ teaspoon

cinnamon powder

2 teaspoons

honey

4 teaspoon

clotted cream (one for each half)
Instructions
Preheat the oven to 350F.

Halve the pears and place them in a baking pan. You can cut a stripe from the bottom so that they can stand still. 

Remove the seeds with the help of a teaspoon. 

Sprinkle cinnamon on each and drizzle about ½ teaspoon honey over each.

Bake them for 30 minutes. 

Let them cool and serve with a dollop of clotted cream
Notes
You can substitute maple syrup, agave syrup or brown sugar for honey.
You can serve these with ice cream or Greek yogurt too.
These can be served warm or cold.
Nutrition
Serving Size:
Calories:

119

Sugar:

19.6 g

Sodium:

3.1 mg

Fat:

2 g

Carbohydrates:

27.6 g

Protein:

0.7 g

Cholesterol:

5.6 mg
Keywords: baked pears, roasted pear dessert
You might also like: