Stuffed Figs with Goat Cheese. An easy yet elegant appetizer recipe with simple ingredients. They are naturally sweetened and gluten free. A perfect combination of sweet, tangy and savory flavors. And there are loads of add-ins you can try to customize it to your liking!
If you like baked fruit desserts like this one, you have to go look at our simple roasted figs and baked pears too! They are equally easy and tasty.
Ripe figs are our all time favorite fruit. Their jammy center is just irresistible! Although they make amazing snacks on their own, we do love creating fresh fig recipes too. And these goat cheese stuffed figs are always a hit during fall.
Jump to:
About Figs
Figs are a unique and delicious fruit known for their sweet, honey-like flavor and soft, jam-like texture. They come in various colors, including green, purple, brown, and black, depending on the variety.
Inside, you'll find a sweet, jam-like flesh filled with tiny edible seeds. The combination of the sweet flesh and crunchy seeds gives figs their unique texture and flavor.
Figs are known for their relatively short growing season, typically in the late summer and early fall, although it can vary depending on the region.
In Mediterranean climates, like southern Europe and parts of California, figs are at their peak from late June through September and even October.
When figs are in season, we always have some in our fridge. We really like them. They're good to eat as a snack, put them on our fruit parfait and use them in several recipes with figs.
Selecting the Perfect Figs
Choosing the right figs is like picking the ripest, juiciest gems for your recipe. Here's how to do it in simple steps:
Check for Color: They can be purple, brown, or greenish, depending on the variety. Avoid figs that are too pale or have green spots; they might not be ripe yet.
Feel the Texture: Gently squeeze the figs. They should be slightly soft to the touch, like a ripe fruit. If they feel hard or mushy, they may not be at their best.
Check the Skin: The skin of ripe figs should be smooth and unbroken. Avoid figs with wrinkles or blemishes, as they might be overripe.
Storing Figs for Later Use
If you're not using your figs right away, here's how to store them briefly:
Use a clean container with a lid. Put a paper towel at the bottom to absorb moisture. Place figs in a single layer; avoid stacking. Store it in the fridge. Try to use them within a week for the best flavor and texture.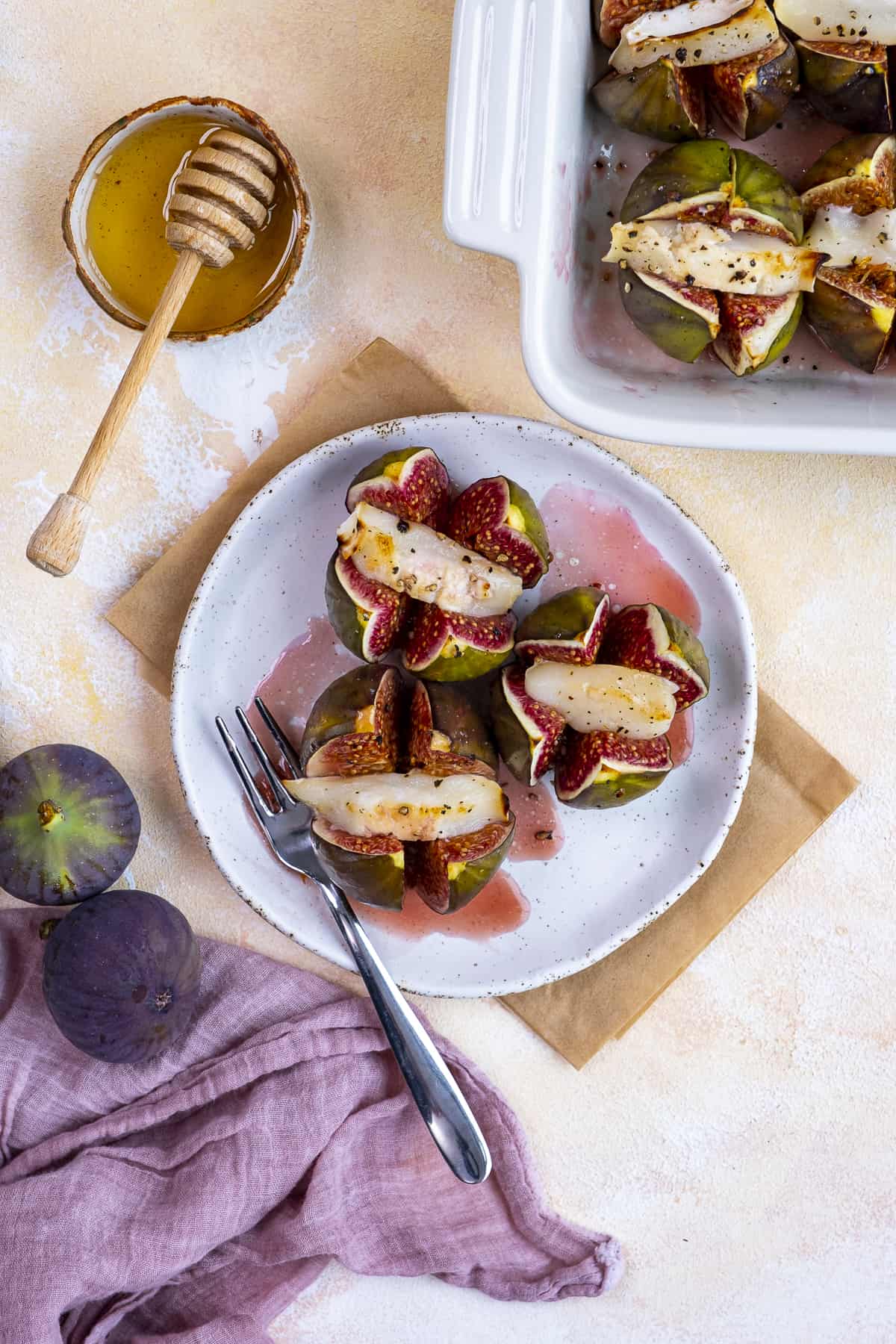 About The Fig and Goat Cheese Combo
The combination of figs and goat cheese is believed to have originated in Mediterranean countries. People started pairing figs with cheese because they complement each other in taste.
Figs are wonderfully sweet while goat cheese is creamy and slightly tangy. When you put them together, you get a delicious contrast of flavors.
This combination has become popular in many cuisines around the world, and it's often used in salads, appetizers, or desserts.
So, whether you're sharing a fig and goat cheese appetizer with friends or treating yourself to a dessert, you're savoring a bit of that Mediterranean magic in every bite.
Why We Love This Recipe
This is a "fancy" appetizer with figs that is really easy to make. Ready in 15 minutes. It isn't very labor-intensive, but the flavors used help give that impression.
You only need a few ingredients to make them. While there are many variations and add-ins, you technically only need 5 ingredients to make these bites.
They make great finger foods that are easy to serve too.
About The Ingredients
Today's stuffed figs with goat cheese are incredibly simple but packed with sweet, savory and tangy flavors just like our fig salad recipe.
Figs: Always use fresh figs. Green figs are perfectly fine too if that's all you can find. Make sure that the figs are firm but tender. They shouldn't be too ripe and soft.
Goat Cheese: Today, we are using soft goat cheese. If you need a substitute, mascarpone, creme fraiche, and ricotta will be your best options. If you are looking for an equally sharp or pungent flavor, try aged cheddar or blue cheese like gorgonzola.
Balsamic Vinegar: It adds a delicious tanginess to the figs. You can substitute it with balsamic reduction, sherry or red wine vinegar.
Honey: A drizzle of honey adds a nice sweetness to these baked figs. The best alternative that will pair well with these fig appetizers is maple syrup.
A little freshly ground black pepper (and maybe salt) could enrich the taste even more.
Alternative Add-Ins
Because these figs stuffed with tangy goat cheese are pretty simple, there are loads of room for add-ins. Just make sure that the ingredients and flavors you add pair well with figs, goat cheese, and balsamic.
Nuts: You can sprinkle some chopped walnuts. Pecan nuts and almonds are great alternatives as well. Toast them first if you want a richer taste.
Herbs: If you want to incorporate some savory herbs, rosemary, sage, and thyme will be your best option.
Meat: And, for meatier bites, you can wrap the figs in bacon or prosciutto.
How To Make The Recipe
Be sure to see the recipe card below for the full ingredients list & instructions!
Prepare The Figs
Before we look at how to make this fig and goat cheese appetizer, let's look at how to prepare figs. It's very easy!
To start, rinse the figs under cool running water. Then, pat them dry with a damp piece of paper towel.
Trim off the stems of the figs. Cut a cross on top of each fig, slicing from the top to bottom. But don't slice through the entire fig. Leave the two halves connected at the bottom of the fig.
Once you have finished cutting all of the figs, place them inside your baking dish.
Assemble and Bake Them
Once your figs are prepared, you can start assembling and baking your figs with goat cheese and balsamic. This recipe is incredibly easy, surprisingly filling, and loaded with delicious, savory and sweet flavors.
Prepare your tools and ingredients. Preheat your oven to 350ºF (160ºC). Then, prepare the figs according to the instructions above. You can also measure the rest of your ingredients and set them aside.
Stuff the figs. Add about one teaspoon of soft goat cheese to each fig. You can either slice the goat cheese and put a slice in the figs or mash it with a fork and then put a teaspoon of it in the figs. Don't let it peek out the sides too much, or it will leak out. Repeat this step until all of the figs have been filled.
Season the stuffed figs. Brush each of the figs with some olive oil. Drizzle them with balsamic vinegar and honey. Sprinkle black pepper on each.
Roast: Place the figs on the center rack in the preheated oven. Then, bake them for 12 minutes or until the goat's cheese becomes slightly browned.
Serve. Transfer the baked stuffed figs to a plate or a serving platter. Serve them warm or at room temperature with an extra honey drizzle.
Variations
There are quite a few variations for this goat cheese and fresh figs recipe.
No-Bake Variation:
The process of making these figs are the same. Just with a difference: Don't bake the stuffed figs in the oven.
Once you fill them with goat cheese, you can drizzle over the balsamic vinegar and honey. If you want to, you can drizzle over some olive oil. But, it's optional. We'd also recommend adding some crunch to the appetizers. Toasted pecan nuts are a wonderful addition!
Meat Wrapped Variation:
You can also turn them into wrapped fig and goat cheese appetizers. To do this, you can use either bacon or prosciutto. If you use bacon, you have to bake the figs. But, if you use prosciutto, you can make them baked or unbaked.
Simply wrap the stuffed figs in the streaky meat. If you are making baked options, brush them with oil and drizzle them with vinegar and honey.
If you make an unbaked version with the prosciutto, simply drizzle over the honey and balsamic vinegar.
Serving Suggestions
Now that your fig and goat cheese creation is ready to be enjoyed, let's see how you can serve them:
As an Appetizer: Serve your fig and goat cheese combo as an appetizer at your next gathering. Arrange them on a platter with some basil leaves. Pair them with some thinly sliced prosciutto or crispy bacon.
As a Dessert: Turn this combination into a simple dessert by serving it alongside vanilla ice cream or Greek yogurt. A drizzle of caramel, chocolate sauce or date syrup can take it to the next level.
On a Cheese Platter: Include figs and goat cheese on your cheese board when entertaining guests. Pair them with other cheeses, fruits, and crackers.
With Wine: A glass of red wine, like Merlot or Cabernet Sauvignon, or a white wine, such as Chardonnay or Sauvignon Blanc, can be a perfect pairing to complement the flavors of figs and goat cheese.
FAQs
What cheeses go with fresh figs?
Mild and sharp cheese works best with fresh figs. These include options like Gorgonzola, aged Cheddar, Gouda, Edam, Swiss cheese, and Monterey Jack). If you use dried or preserved figs, your cheese pairings will differ.
Do you eat the skin on figs?
The skin on fresh figs is edible. However, some people don't like the skin of fruit and vegetables. So, it is perfectly fine to eat around it. Just remember to properly remove the inedible stem of the fig.
What flavors compliment figs?
Fresh figs have loads of delicious flavor pairings. Some of the best fruit options are oranges, raspberries, and pears. They also work well with walnuts, hazelnuts, almonds, and pistachios.
And make great flavor matches with honey, balsamic vinegar, olive oil, maple syrup, and candied ginger. 
As always: If you make this recipe, let us know what you think by rating it and leaving a comment below. And post a pic on Instagram too—tag @give_recipe so we can see!
Sign up for the FREE GiveRecipe Newsletter to get the new recipes into your inbox! And stay in touch with us on Facebook, Pinterest, YouTube and Instagram for all the latest updates.
Print
📖 Recipe
Stuffed Figs with Goat Cheese
Fresh figs stuffed with goat cheese, flavored with balsamic and honey and then roasted in the oven. A wonderful appetizer that is easy to make!
Author: Zerrin & Yusuf
Prep Time:

5 minutes

Cook Time:

12 minutes

Total Time:

17 minutes

Yield:

8

1

x
Category:

Dessert

Method:

Cooking

Cuisine:

American
8

fresh figs

3 oz

(85g) soft goat cheese

1 teaspoon

olive oil

1 tablespoon

balsamic vinegar

1 teaspoon

honey

¼ teaspoon

freshly ground black pepper
Instructions
Preheat the oven to 350F (175C)

Trim off stems of figs. Cut a cross on top of each fig, slicing from the top to bottom. But don't slice through the entire fig. Leave the two halves connected at the bottom. 

Arrange the figs in a baking pan.

Place about 1 teaspoon of goat cheese into each.

Brush them with olive oil, drizzle with balsamic vinegar and then honey.

Sprinkle black pepper on them.

Bake for 12 minutes or until there are brown bits on goat cheese.

Serve warm or at room temperature. 

You can drizzle more honey on each fig when serving.
Notes
You can use fresh green figs too.

Make sure figs are firm but tender.

When preparing the figs, cut a cross on top of each fig, slicing from the top to bottom. But don't slice through the entire fig. 

You can use blue cheeses instead of goat cheese if you want.

Balsamic vinegar enriches the flavors. You can substitute it with sherry or red wine vinegar. 

If you want them sweeter, add more honey when serving.
Nutrition
Serving Size:
Calories:

85

Sugar:

11.4 g

Sodium:

50 mg

Fat:

3 g

Carbohydrates:

13.4 g

Protein:

2.5 g

Cholesterol:

4.9 mg
Keywords: figs with goat cheese, fig appetizer